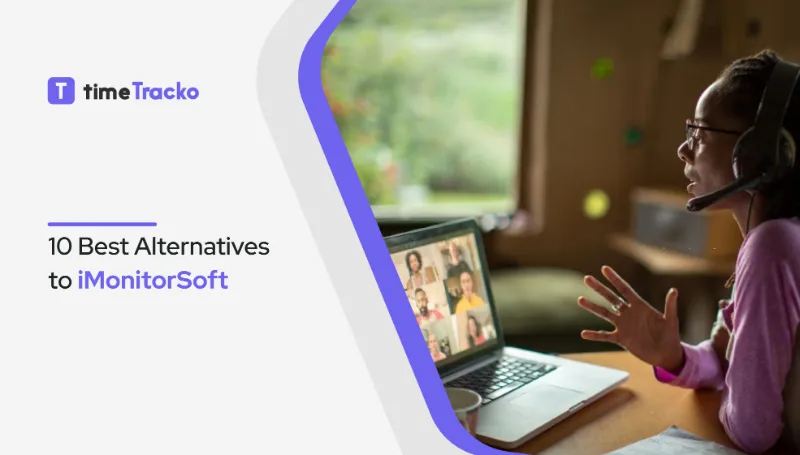 iMonitorSoft is a centralized, all-in-one, and top-level employee monitoring application. It detects and tracks inappropriate employee behavior such as copying, deleting, or sending important documents and files. With iMonitorsoft, you can identify employee fraud and prevent data loss through smart rules and real-time alerts.
This application controls user activity and permits website filtering to reduce non-work-related activities among employees so that employees become more productive at work.
You can set up rules to encrypt files to avoid a data breach, and automatic data backups are performed on employees' workstations to ensure data security.
This app creates monthly, weekly, and daily reports on employee productivity, including details about applications used, websites visited, keyboard actions, idle time, and active working time.
Data breaches are costly for a business if they are not detected and prevented. Employer monitoring is a well-established method used by employers to boost workers' engagement and optimize working processes.
Through computer monitoring, companies can see how their work is done both in the office and outside of it. In addition to boosting employees' engagement, it also optimizes their workflows.
Working from a remote workplace may lead to disengagement among employees. Organizations can reduce risks and increase profits by using computer surveillance software.
You can use the gathered data to analyze bottlenecks, irregular patterns, and other possible problems. This app can help managers gain productivity by improving business processes.
If you are looking for another monitoring software alternatives to iMonitorSoft, you should consider getting one of the 10 employee tracking software discussed below. Please have a read:
10 Best Alternatives to iMonitorSoft
timeTracko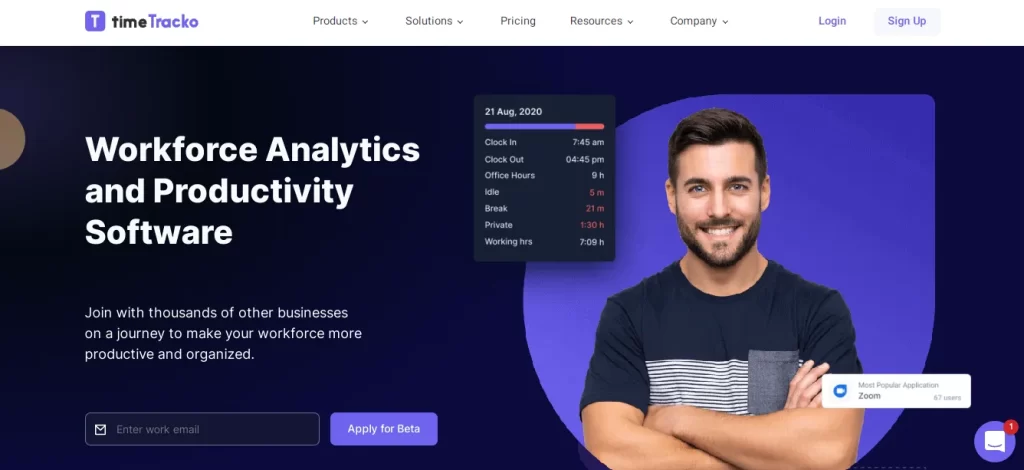 The time tracking app timeTracko provides a simple way to measure employees' productivity. During the workday, it tracks employees' online activities, applications, and URLs they visit.
timeTracko lets you keep track of your teams' activity and inactivity during the day. Employees can use the app to clock in and out and pause the timer when needed.
The app starts tracking employees' online activity when they clock in. The remote time feature lets the app stop tracking their activities if they need to complete their private tasks between work.
Based on the employee's job, timeTracko categorizes the website and apps visited based on productivity: productive, unproductive, and others.
The app also functions as an attendance management system, and you can also keep track of an employee's billable and non-billable hours.
Features of timeTracko
Customizable alerts and notifications for idle time and schedules
Attendance keeping using the timesheet feature (records clock-in and clock-out time)
Pomodoro timer
Project management: updates on project status, budget, and time.
Report of employee productivity
TimeDoctor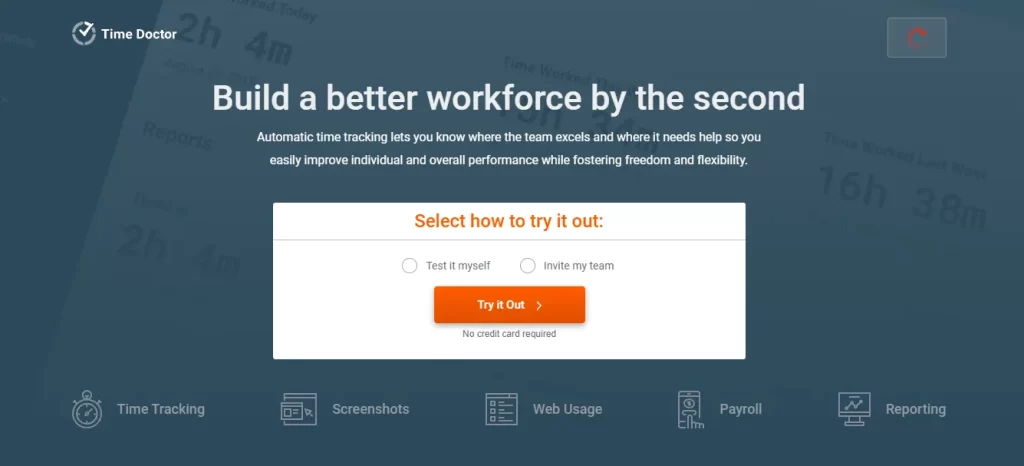 TimeDoctor is an employee time tracking software that allows companies to keep track of employee time and increase productivity. This solution provides teams of all sizes with the tools they need to accomplish more every day.
Team leaders can monitor employee activities during office hours by tracking app and website use and screenshots. Organizations can then be sure that each of their employees is utilizing their time to the fullest.
Even better, TimeDoctor provides a payroll module that you can customize. With the module, businesses can pay their employees based on a fixed salary or the number of hours they work.
More importantly, the platform is fully integrated with various third-party apps, including CRM, help desk, attendance keeping, project management, etc.
Features of TimeDoctor
Screenshots enabled
Monitoring employees and attendance keeping
Time tracking
Project management
ActivTrak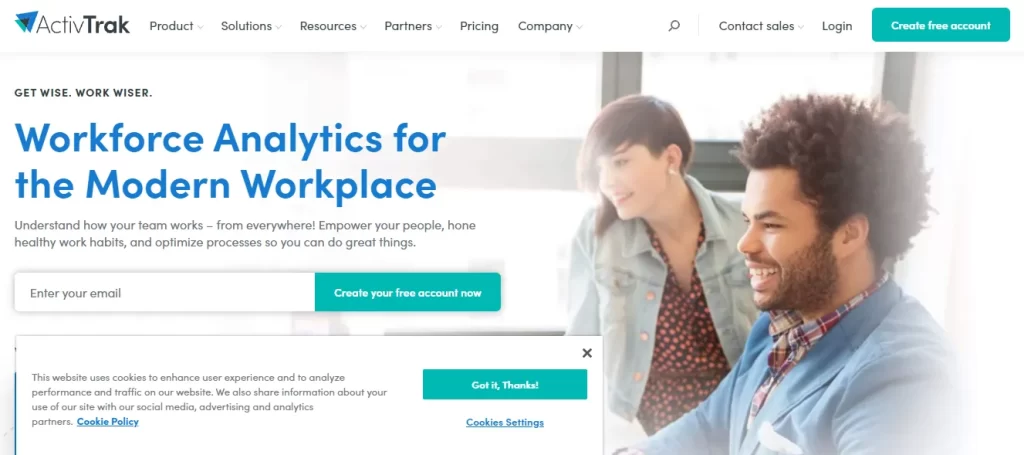 ActivTrack is software that monitors and boosts employee productivity. It randomly takes screenshots of employee PCs while working and shows their online activities at work.
Your employees' activities, their productive hours, and the hours they have wasted can all be viewed on one dashboard.
An employee productivity pie chart is created to display the total time spent by employees over some time.
The app categorizes employees' applications and websites as productive and unproductive during work hours and blocks or limits access to unproductive apps.
Employees who use unproductive apps for a long time receive a notification from Slack and Microsoft. Microsoft Team, Slack, Jira, ZenDesk, among others, are among ActivTrak's integration options.
Feature of ActivTrak
Categories productive and unproductive apps
Display employee productivity chart
Multi-layer security features
Unlimited data storage
Desktime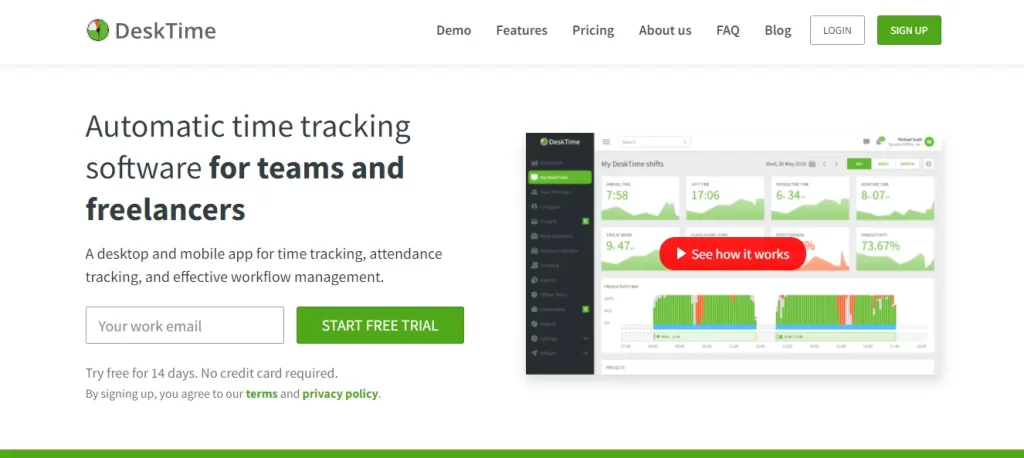 Desktime is simple time tracking software that keeps track of the team's performance. With the shift planning feature, you can create shifts, manage staff absences, track the productivity of your employees, or track the progress of projects to see who is working on what and for how long.
When you're looking for a way to boost productivity and enhance your work management skills, automatic time tracking is the way to go.
It is good to use an automatic time tracker if you constantly feel like you don't have enough time in the day.
In the case of a rate-by-the-hour business, you can easily bill customers for all phone calls, meetings, and onsite work made.
You will see the offline time in your billing report once you have added it to the daily report. That will let you make sure that you don't lose pay for any work you've done.
Features of Desktime
Automated time tracking with screenshots
Tracks URL's and apps
More accurate billing
Managing attendance and schedules
Hubstaff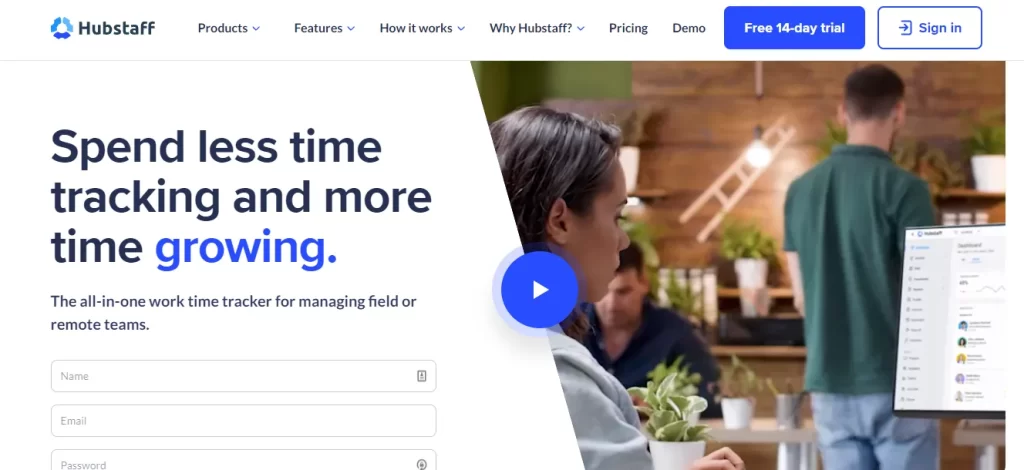 Using Hubstaff, organizations with remote teams and distributed teams can track time and monitor employee performance. It scans employees' PCs, reports their time, and automates their payroll.
Tracking the apps and websites employees use during work hours helps them concentrate on their work. To determine employees' active and inactive hours, it captures their mouse and keyboard activity.
It tracks employees' locations using geofences. It shows the time and route employees take during the workday. Also, you can automatically start and stop the GPS based on the employees' needs.
In addition to managing projects, budgets, and deadlines, the app allows you to keep track of projects. You can see on the dashboard what the status of your project is, as well as its deadline.
In addition to sending you notifications once the budget limit is reached and nearing your project deadlines, the app also sends you reminders. As well as scheduling features for employees, it gives you the ability to send notifications about employees' shifts.
Features of Hubstaff
Online payroll features
Optimizable screenshot features
Time tracking and managing timesheets manually
Veriato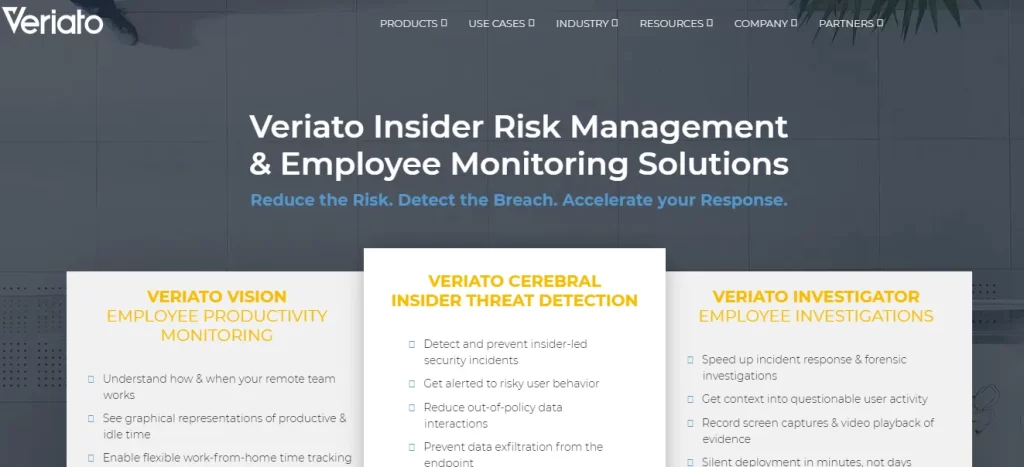 Veriato is an app that monitors employees, tracks their time, and measures their productivity. The app allows you to keep track of your employees' online activities while they work.
It is possible to measure the total number of work hours spent by employees, the time spent on each app and website. The application even tracks employees' locations, IP addresses, connections, and bandwidth.
The application records all the communication between team members after they log in. During the session, the application records the time of each employee.
You'll also receive an alert when employees access .onion sites since the app records keystrokes, including hidden characters.
In addition to taking random screenshots, the app records activity on the employees' PCs. The app even offers chronological views of the screencasts. Members of the team can also track their files and documents.
Features of Veriato
Keep track of every website and app visited
Notification alerts
Track employee time and productivity
Exporting screencasts
Teramind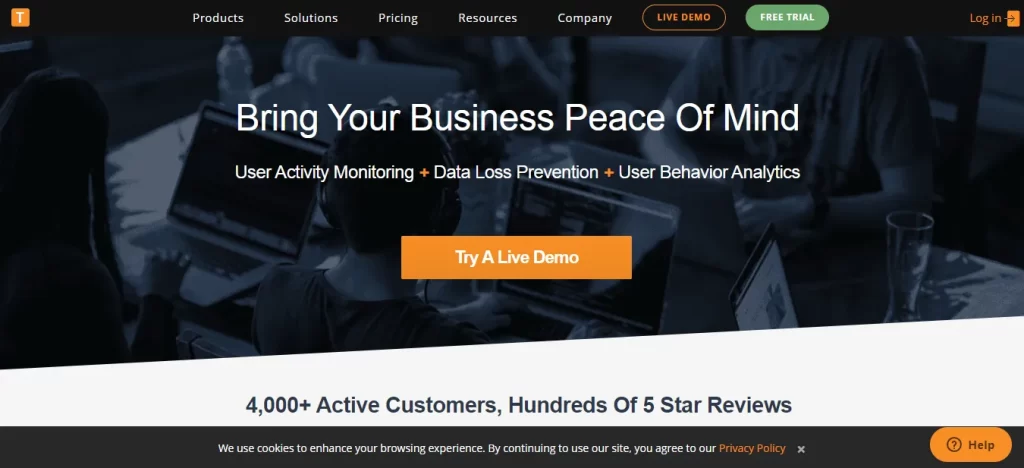 With Teramind, you can monitor and control employees' online activities while they are on the job. It detects and stops insider threats on your computer by monitoring and detecting them.
A software program measures an employee's active and inactive work time and productivity by tracking keystrokes and copy-paste actions.
You can use an anti-logging feature preventing bank account numbers, credit card numbers, and passwords from being recorded.
A feature of the app is the ability to monitor all incoming and outgoing mails. When an email is sent to an account that appears suspicious, the feature automatically sends an alert.
Besides tracking file activity, such as creating and transferring files, it notifies you when files are uploaded to Google Drive, Dropbox, and OneDrive. Furthermore, the security software prevents outsiders from gaining access to your files.
Teramind allows you to view employees' activities in real-time. In addition to assessing productivity during office hours, it records employees' idle time using productive and unproductive apps.
Features of Teramind
Recording employee activities
See social media activities
Employee productivity report
Time tracking and attendance keeping
Work Examiner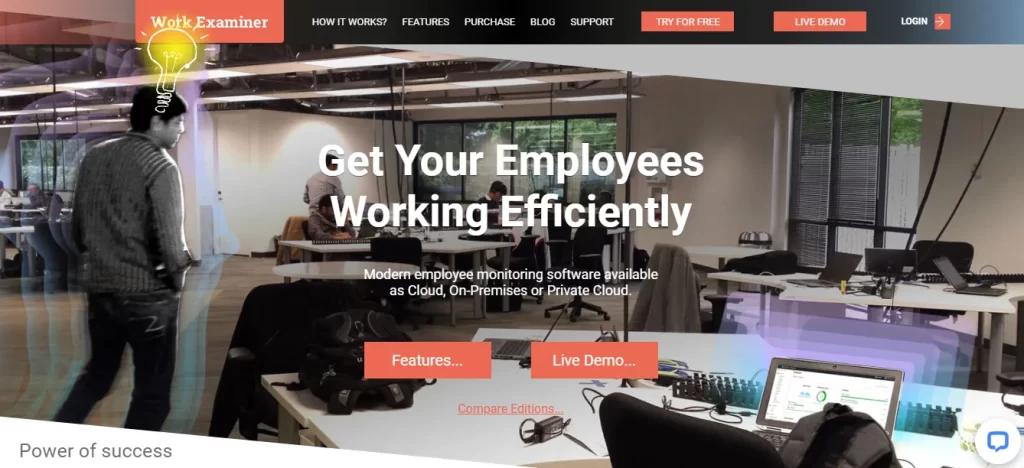 The Work Examiner monitors employee productivity. You can use a work examiner for tracking remote employees and onsite employees for businesses of all sizes.
You can ensure your employees' complete focus on their jobs by using the app. You can track what your employees do online and what apps they use while working.
Your employees can see their real-time activity, as well as their active and inactive statuses. A random screenshot is taken, and screens are recorded while employees are at work. You can even adjust videos and images in JPEG quality.
Websites and apps are filtered and blocked, and unproductive websites are redirected. When employees try to access blocked websites, the employer will receive an alert. Based on mouse and keyboard activity, it determines whether an employee is active or inactive.
You can view details of employee work performance, compare it, and analyze it. You can email the manager reports in PDF format and download them to your computer.
Features of Work Examiner
Employee activity status
Screen recording/ video recording of employee's PC
Keylogging feature
Email spying
Employee productivity report
Network Lookout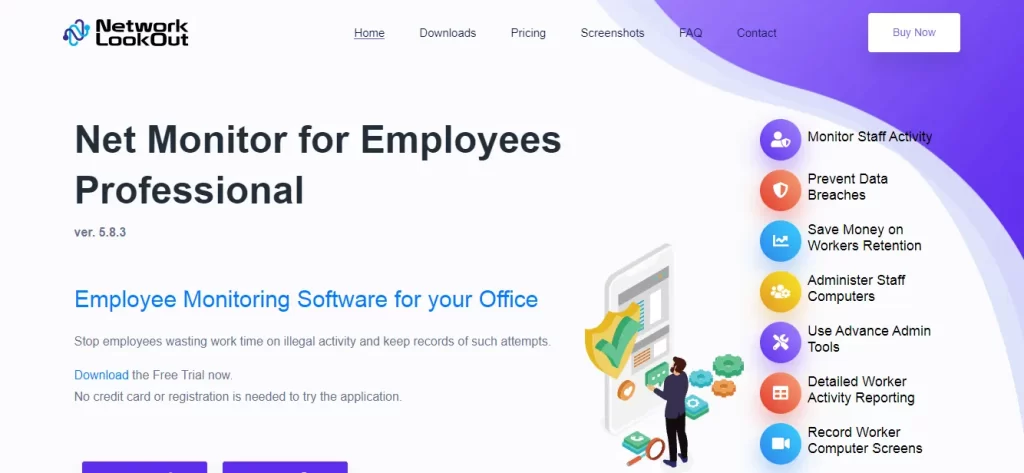 The Network Lookout app is the best employee activity tracking software. The app allows you to supervise staff activity by watching and recording live computer screens, web browsing history, and application uses.
With this application, you can see your employee's computer screen. You can see all your employees' screens at once in small sizes. Depending on what you want to see, you can zoom in or out.
The app also watches employee activity and reports it. It also generates reports about websites visited and application usage.
It prevents employees from accessing certain websites or starting prohibited applications, and reports will show all prohibited web browsing attempts.
Features of Network Lookout
Stealth mode
Screen recording and reporting
Internet blocking and applications
Monitoring employees through the cloud
Workpuls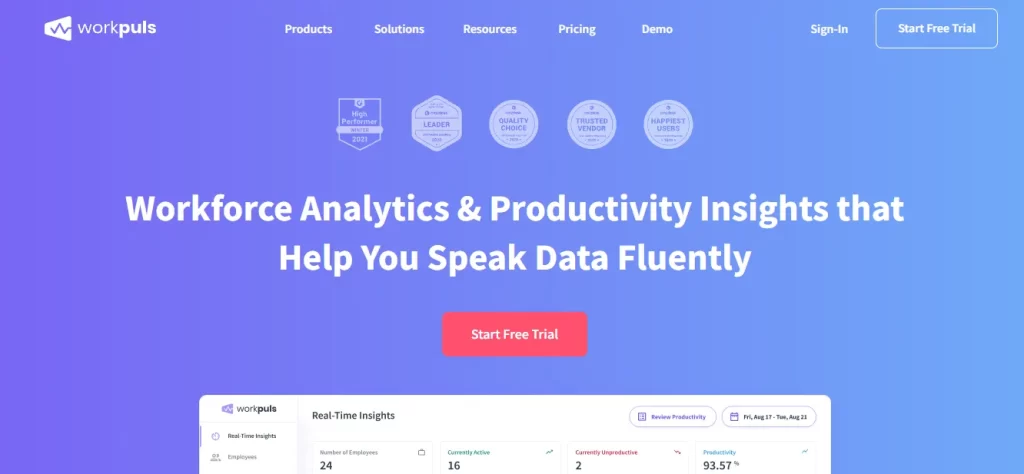 With Workpuls, employees can monitor their productivity and track their time, helping them become more productive.
It can even record an employee's clock in and clock out times and work as an attendance system. Staff can even manually enter their work hours into the app.
Employees' PC screens are randomly captured at regular intervals to track their activities. It is possible to turn on a stealth mode that tracks employee activity without waking them up.
Using the application, you can categorize websites based on how productive or unproductive they are. Using this tool, you can track which websites your employees visit, determine whether they are productive or unproductive, and prepare reports based on the data.
Workpuls provides a view of how much each employee spent on a project. It also tracks the budget and the progress of each project.
The program automatically calculates and exports employee productivity level reports. This report minimizes errors that might occur when calculating payroll.
Features of Workpuls
Real-time activity monitoring
Categorizes websites (productive, unproductive, and neutral)
Productivity reports and project reports
Conclusion
Listed above are the 10 best employee monitoring software that provides the best features like iMonitorSoft. If you are looking for an alternative to iMonitorSoft, you should get one of these.
Related articles