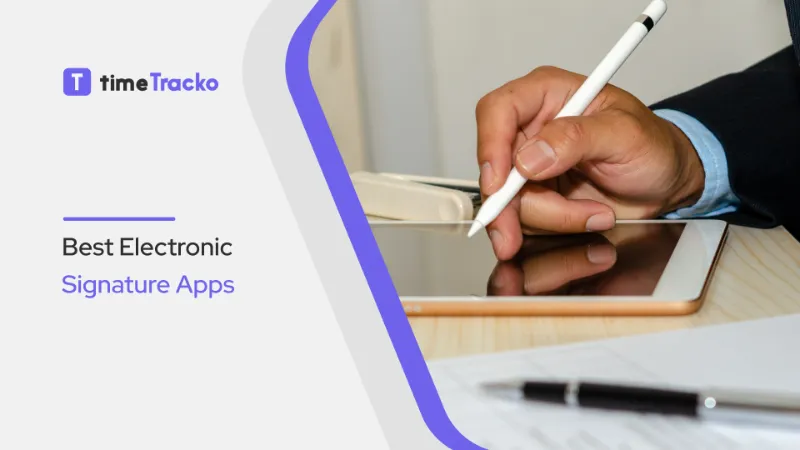 The corporate world is rapidly moving toward electronic signatures. More and more businesses are going paperless, shifting away from paper workflows to digital alternatives.
It takes a long time to sign online documents. Before sending a digital document to the recipient, you need to open it, change its format, print it, sign it, scan it back, then reformat it again.
Today, however, this isn't necessary, thanks to electronic signature apps. Good electronic signature apps come in handy here. It takes only a few seconds to sign and send documents back.
Electronic signatures are legally binding. These signatures are used to verify the integrity and authenticity of documents signed electronically. With electronic signature apps, multiple recipients can sign documents online from different locations at the same time.
Electronic Signature Apps are an effective tool for reducing business paperwork. Document management and collaboration become easier with its implementation. You can use electronic signature apps to create, edit, and sign documents by swiping your finger or typing your signature on a tablet, computer, or smartphone.
Electronic signature apps are essential for all businessmen who sign a lot of documents every day. Electronic signatures have many advantages. They help you reduce paper costs and accelerate your business workflow.
Therefore, it is good to consider electronic signature software because any business can benefit from them. Furthermore, most e-signatures come with additional features which make them far more useful and secure than paper signatures.
Choose electronic signature software that is easy to use, compatible with a variety of devices and operating systems, as well as secure. It will help you protect sensitive and confidential information.
7 Best Electronic Signature Apps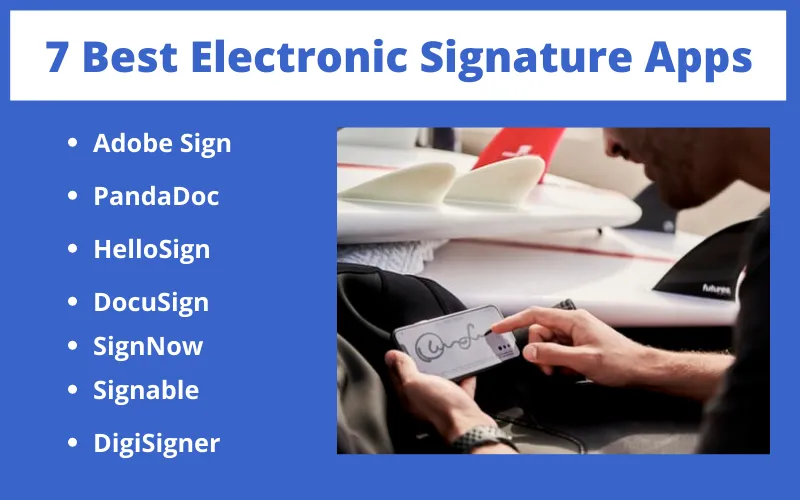 Business is all about paperwork. We are no longer limited to one city, state, or country. Although that's great for business, paperwork can be a real pain. Fortunately, there are many fantastic electronic signature apps that help you to handle documents.
Here is a list of the 7 Best Electronic Signature Apps, along with a brief description. There are both free and paid Electronic Signature Apps on this list.
Adobe Sign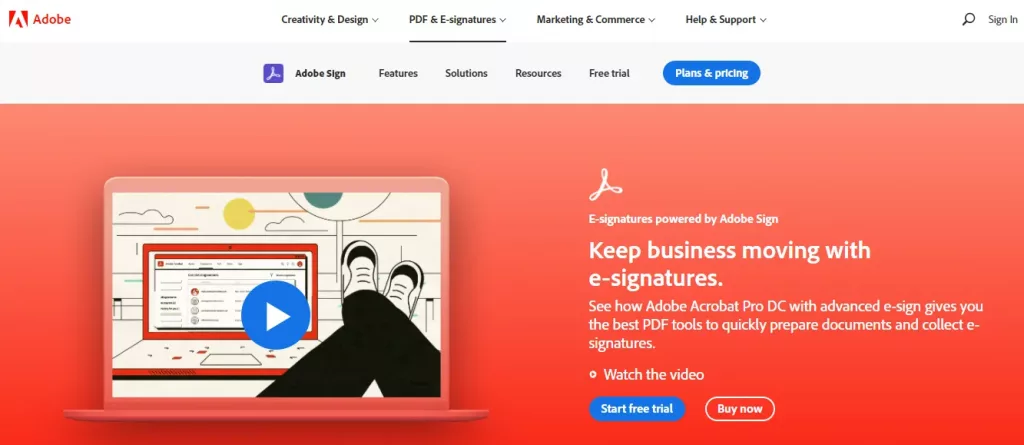 Adobe Sign allows you to sign PDFs and other documents or send them to others to sign. Using this feature-rich software, you can remotely manage the signing process. You can manage your signing workflows from anywhere and on any device.
It is an electronic signature application that allows you to sign documents instantly. It allows you to collect customer signatures to keep your business moving.
Furthermore, you can export PDF documents to Word, PowerPoint, and Excel formats. It's also compatible with Office 365 and Google Drive.
An online signature service lets businesses easily collect and send legally binding electronic signatures.
Adobe Sign integrates with third-party tools such as Microsoft, Workday, Salesforce, and others. It has both electronic and digital signatures.
Features
Easily convert paper documents into online forms.
Notified when the document is signed or viewed.
If the form is approaching its expiration date, you will receive an alert.
Can add custom branding to e-signature requests.
Can electronically sign your documents and then collect them remotely.
Customers can pay you directly through electronic forms using PayPal and Braintree.
Platform
Windows, macOS
Pricing
Adobe Sign has no free plan. You can get a free trial of this software, so you can test it before you buy it.
| | |
| --- | --- |
| Plan | Price |
| Acrobat PDF Pack with e-sign | USD9.99 per month |
| Acrobat Pro DC with e-sign | Free Trial, USD14.99 per month |
| Acrobat Pro DC with advanced e-sign | Free Trial, USD19.99 per month |
PandaDoc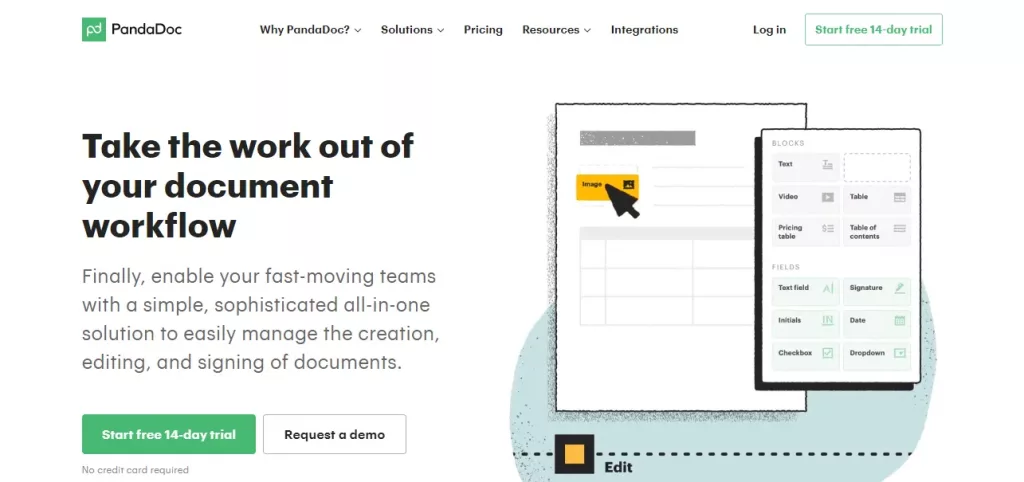 PandaDoc is something you should consider if you are looking for an end-to-end solution for contract and document management.
It is well known for its easy-to-use features and streamlined user interface. Aside from eSignatures, its document management solution also offers drag-and-drop form integrations, automated workflows, and a full audit trail.
By using this document automation software, you can speed up the process of completing deals, agreements, and contracts. It allows your customers to sign documents from anywhere and from any device. You can also create and edit contracts, quotes, and proposals.
Moreover, PandaDoc integrates with various payment gateways like Stripe, PayPal, Square, etc., to provide seamless payment transactions.
Features
Allows the automation of approval processes and collects signatures in just a few clicks.
Cross-Platform support
Reduce risk with workflows
Custom integrations
Alerts and Notifications
Template Creation and Flexibility
Regulatory Compliance
Platform
Windows, Android, macOS, iOS
Pricing
PandaDoc offers a free plan that includes unlimited signatures and payment options.
| | |
| --- | --- |
| Plan | Price |
| Free eSign | Free |
| Essentials | $19/month per user |
| Business | $49/month per user |
| Enterprise | Custom Pricing |
HelloSign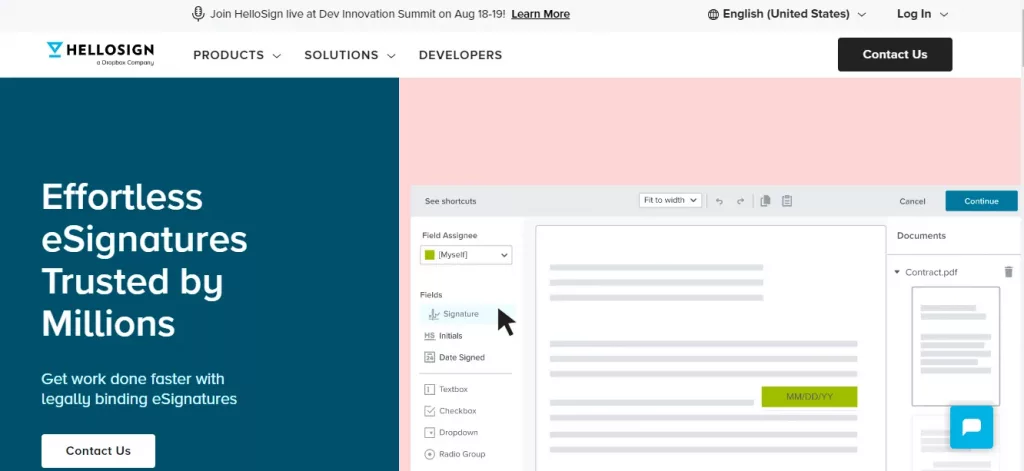 HelloSign offers APIs that enable branding and signature customizations on all documents. Using this tool, you can add legally binding signatures to any document, from hiring employees and loans to NDAs.
By providing customized eSignatures, outstanding customer service, and a flexible and competitive price, HelloSign stands out in the electronic signature market. By using it on the web, you can have free access to an electronic signature app.
HelloSign is highly customizable and very user-friendly. Electronic signatures are an ideal choice for large companies. HelloSign allows integrations and branding with Slack, HubSpot, Eventbrite, etc.
Features
Offers custom branding
Two Factor Authentication
Compliant with all major eSignature laws and completely secure
HIPAA Compliant
Auto-filling for documents
Reminders and real-time notifications
Can embed a contract into your site via an iframe
Can implement HelloSign in your application
Integrations with Salesforce, Zapier, and other software
Platform
Windows, macOS
Pricing
HelloSign offers a free plan that lets you sign up to three documents per month.
| | |
| --- | --- |
| Plan | Price |
| Free | Can sign three documents per month for free. |
| Essentials | $15 per user per month |
| Standard | $25 per user per month (Min 2 users) |
DocuSign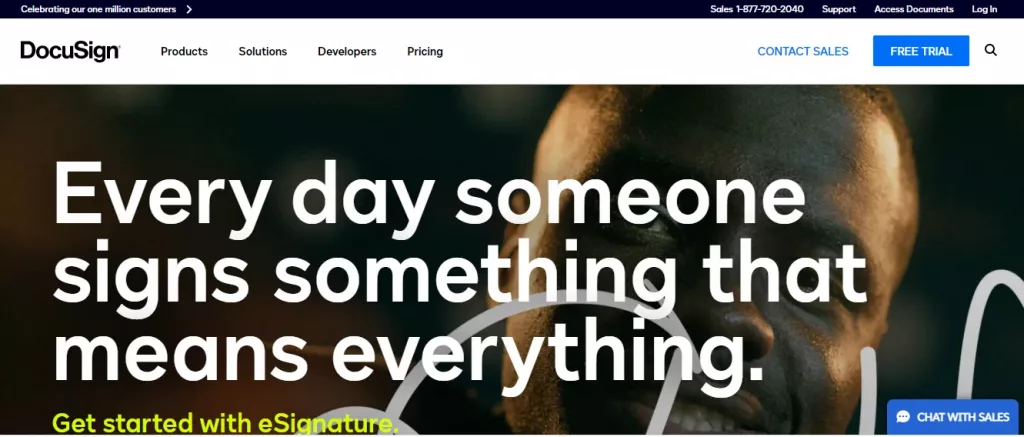 DocuSign is one of the best electronic signature apps with the most integrations. DocuSign is pretty easy to use. Sign up, and within minutes it will ask you to upload a file.
The template and reporting features of DocuSign are also impressive. When you are sending the same contract repeatedly, you can create a template in the Templates dashboard.
The application integrates with a variety of third-party tools. Furthermore, APIs are available for custom integration with existing systems. If you have more than one signer, drop the tags, and DocuSign will handle everything.
It helps you speed up agreements, reduce manual work, and connect to tools and systems you already use with ease.
The most important feature is that all documents are encrypted and have a complete audit trail, i.e., you can see who signed where and when.
DocuSign has received a wide range of high-level security certifications both in the United States and Europe.
Features
Can sign and send agreements from almost any device.
Can eliminate manual tasks and increase customer convenience with it.
Automatic notifications and reminders at every step.
Store frequently used agreement
User and Access Control
Delegated Administration
Feature Access Control
44 languages available for signing experiences
Platform
Windows, Android, macOS, iOS
Pricing
A 30-day free trial is available.
| | |
| --- | --- |
| Plan | Price |
| Personal | $10 per month |
| Standard | $25 per user per month |
| Business Pro | $40 per user, per month |
| Advanced Solutions | Custom Pricing |
SignNow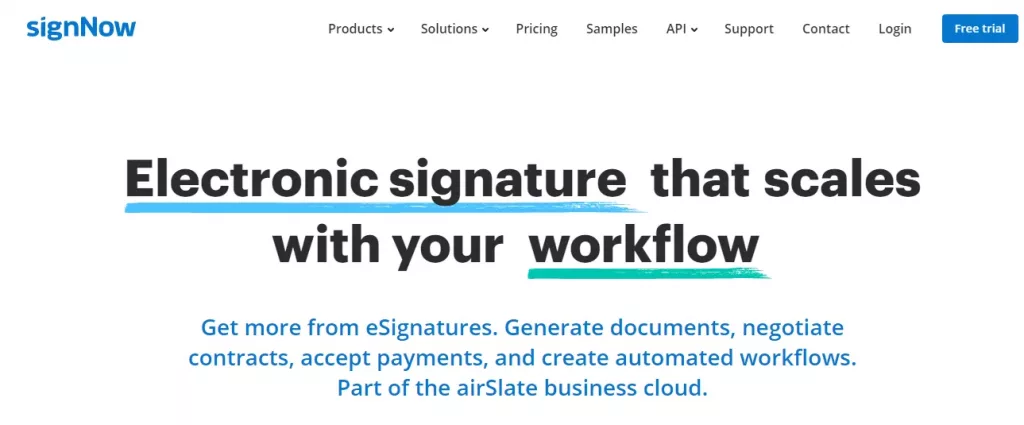 SignNow provides e-signature solutions to different industries: from finance to sales, tech, healthcare, human resources, education, and so on. SignNow has been recognized with numerous awards.
SignNow offers a simple, straightforward interface, and it is a good choice for small businesses. It provides multiple integrations, including APIs, focusing on features.
SignNow is a comprehensive, cost-effective e-signature solution that is focused on boosting productivity and teamwork. It's easy to create a team and manage personalized documents, custom templates, and signatures. You can access documents from anywhere, anytime.
Additionally, you can embed e-signatures into websites, forms, applications, etc., without writing complicated codes.
Features
Generate documents and create automated workflows.
Payment requests and Accept payments
A powerful and straightforward API
CRM/ERP integration
Access documents from anywhere, anytime.
Phone support and automation
Supports multiple languages
Mass signature
Allows you to add a signature with just a click.
Using APIs, you can assemble e-signatures that integrate from apps or websites.
Platform
Windows, Android, macOS, iOS
Pricing
| | |
| --- | --- |
| Plan | Price |
| Business | $8 per user per month |
| Business Premium | $15 per user per month |
| Enterprise | $30 per user per month |
| airSlate Business Cloud | $50 per user per month(5 users minimum) |
Signable

Signable is an easy-to-use electronic signature software. If you're looking for simple eSignature software with access to UK support and the flexibility of a pay-as-you-go model, Signable is ideal.
You can integrate various apps and services using this tool. The API access is also free with all plans.
Signable is available for use on a pay-as-you-go basis (along with a monthly plan). Since it is mainly available in Europe, it complies with European laws.
Features
All plans offer unlimited users
Branding and API access
Team management with permissions
Access control based on IP
Sign documents wherever you are
SSL encryption ensures that your documents are safe at every step
Platform
Windows, Mobile Browser, macOS
Pricing
A pay-as-you-go plan is based on a per-document basis. The business plan supports a maximum of 50 documents, and the Corporate plan supports up to 750 documents.
| | |
| --- | --- |
| Plan | Price |
| Pay As You Go | £1 per envelope |
| Small Business | £21 per month (plus VAT) / 50 envelopes per month |
| Medium Business | £49 per month (plus VAT) / 150 envelopes per month |
| Large Business | £119 per month (plus VAT) / 400 envelopes per month |
| Corporate | £199 per month (plus VAT) / 750 envelopes per month |
DigiSigner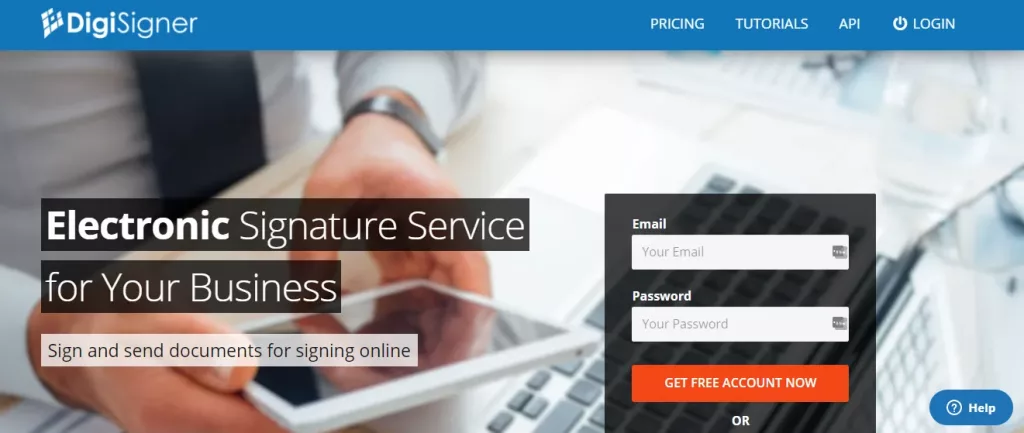 DigiSigner allows you to view and digitally sign documents in portable document format. DigiSigner lets you sign your documents directly from your Gmail account.
The DigiSigner platform is compliant with all major electronic signature laws, including UETA, European eIDAS, and ESIGN. DigiSigner creates legally binding signatures.
For best results, it is recommended you subscribe to the Pro version, which is available on a per-user basis.
Features
It is possible to upload a document to the server over a secure connection.
Secure your documents behind a firewall and verify every document request against user sessions.
Can sign a document using the mouse, typing text, or adding a signature image.
Invite others to sign and get notified when they are done.
Sign up in just two clicks
Using your mouse, you can create handwritten signatures.
Platform
Windows, Linux, and Mac OS X
Pricing
| | |
| --- | --- |
| Plan | Price |
| Free | Free |
| Pro | $12 per month if paid annually |
| Team | $40 per month if paid annually |
| Enterprise | Custom Pricing |
Benefits of Electronic Signature
E-signatures are on the rise due to modernity and mobility. Among legal, business, and government, electronic signature apps have become increasingly popular.
Listed below are the proven benefits of using e-signatures that you should consider.
Using electronic signature apps can save time that would be wasted on printing, faxing, and scanning papers.
Secure your documents and ensure they reach the right people with robust security controls, including automatic independent verification.
You can sign large numbers of files in a matter of seconds.
No matter what the client's location is, they can sign documents right from their phones or tablets.
You can easily track who has opened, viewed, signed, or approved a document, as well as who is holding you up.
You will save a lot of space if you stop using physical documents. Your office will no longer be littered with stacks of documents.
Ensure document security and minimize risks.
Using an e-signature is generally more legal than using a wet-ink signature.
Enhance the customer experience and increase customer loyalty.
Positive return on investment.
Conclusion
If you have a busy schedule at work and you need things to run more efficiently, then digital electronic signature apps will be the right choice for you. So, don't rely on paper signatures. Instead, use eSign services.
Let us know if you found this information useful, and don't forget to subscribe to the timeTracko blog for more interesting blogs.
Related articles