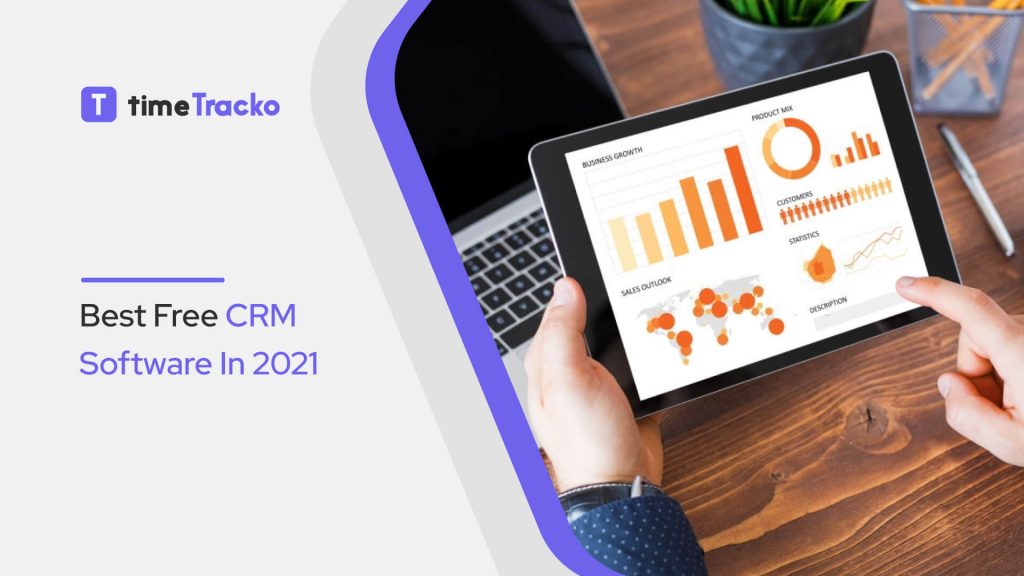 Customer relationship management (CRM) software is a streamlined system that helps organizations in improving customer service and interactions. A CRM system can help you combine all of your client information onto one platform, whether your company uses spreadsheets to handle operations, wants to update its sales procedures, or is a startup that's just getting started.
Every company needs a strong relationship with its consumers. That is always a challenge, but it's been made much more difficult by the epidemic. Many organizations have struggled to remain in touch with their top customers due to the inability of both consumers and sales personnel to interact in the way they're used to.
If you find yourself in this condition, it's time to examine customer relationship management (CRM) software.
The value of a CRM goes well beyond simply keeping a client contact list. These systems also keep track of every interaction your employees have with any specific consumer and allow you to measure those conversations.
It can include everything from the customer's first purchase to their support history to the topic of conversation they had with your regional sales agent over their previous lunch. CRMs are more than simply a collection of comment boxes; they also store this information securely so that it can be tracked, analyzed, and presented as needed.
Check out the Best Free CRMs of 2021 we have listed below.
Best Free CRM Software
Here I have listed the eight best free CRM software in 2021.
Hubspot CRM
HubSpot CRM is a free implementation of a customer relationship management platform known for its unique features that help clients build deeper relationships with their customers, increase conversations, and increase revenue across numerous interaction channels.
As previously said, HubSpot CRM is an essential component of the HubSpot ecosystem, which seamlessly integrates sales, marketing, and customer support capabilities.
HubSpot CRM allows businesses to collect and analyze customer data, extract connections from different data sources to reveal insights, show opportunities, create sales funnels, and run loyalty campaigns.
It was created with a focus on customer and client engagement in mind. The company's free model includes all of the capabilities most businesses require to begin tracking client and prospect interactions, as well as access to some of HubSpot's marketing tools.
Lead and contact monitoring, ticketing systems for managing customer service, and marketing tools like email templates and a website messenger tool are included in HubSpot's free CRM solutions. With the HubSpot Sales Hub, Marketing Hub, and other products, users can upgrade to add CRM and marketing solutions as their needs expand.
Features of Hubspot CRM
Some of the best features of Hubspot CRM are listed below:
Contact Management
Contact & Company Insights
Gmail & Outlook Integration
Lead Analytics Dashboard
Contact Activity
Email Templates
Email Scheduling
Email Tracking
Canned Snippets
Benefits of Hubspot CRM
It is free and easy to use.
It provides social media and website integrations.
It tracks communication.
It allows customization and real-time updates.
Tracks and shares documents.
Let's you to held live chat sessions.
Drawbacks of Hubspot CRM
Some features are clunky and hard to use.
It needs more integrations.
Limited features in a mobile app.
Availability: Web, Mac, Windows, iOS, Android
Zoho CRM
Zoho CRM is a cloud-based business management tool for companies of any size. It provides sales and marketing automation solutions, as well as helpdesk, analytics, and customer service.
It is a customer relationship management solution that helps users sell more effectively, efficiently, and quickly. It has modern features that enable them to contact prospects at the right point. They can engage clients through a variety of channels. Businesses of all sizes can use this CRM software to close more transactions more efficiently.
For up to three users in a business, Zoho CRM provides robust free CRM tools. Basic sales administration features for leads, contacts, and accounts, as well as call logs, workflows, and standard reports, are all available for free.
Basic email templates can also facilitate communication, and online forms can be used to capture new leads. Businesses who start with the free Zoho CRM can upgrade to a paid subscription, which starts at $9 per user per month, for more customization options and more features.
Features of Zoho CRM
Some of the exciting features of Zoho CRM are as follows:
Workflow management.
Advanced analytics.
Sales and marketing automation.
Territory management.
Predictive sales and integrations.
Team collaboration.
Customization.
Omnichannel.
Benefits of Zoho CRM
Simple and easy to use.
It provides better customer satisfaction.
It provides integrations with third-party applications.
Automation of tasks saves time and money.
It provides reports, insights, and analytics.
It has transparent and affordable pricing.
Drawbacks of Zoho CRM
It requires a lot of customization.
Customer service is limited.
Forms are not optimized for conversions.
Availability: Web, iOS, Android
Insightly
Insightly is a cloud-based CRM solution for developing mid-sized companies. Insightly, CRM saves all of your existing and future client data in one location to maximize your productivity.
Insightly CRM is a customer relationship management system that is both visually attractive and functionally intuitive. Larger SMBs will benefit from the wide range of capabilities and integrations.
Manufacturing, professional services, health & wellness, media, education, retail, construction, and other industries may benefit from Insightly's unified customer relationship management (CRM) platform.
Insightly's free version can manage up to 2,500 records, including contacts, leads, and accounts. Users can also add up to two custom fields per record type, allowing businesses to customize the tool to their own needs.
Features of Insightly
Some of the exciting features of Insightly CRM are:
API Access
Automatic address books.
Contact Management
Database Management
Funnel Reporting
Integrations
Performance Reporting
Pipeline Management
Excellent calendering and events.
Benefits of Insightly
It is easy to use.
It provides a fluid and dynamic design.
It has a robust set of features with built-in project management capabilities.
It has options for a wide range of integrations.
Provide multiple integrations, so it helps to work better.
Drawbacks of Insightly
The free version has limited storage.
Leads require further support.
Availability: Android, iOS, Web.
Freshworks CRM
Freshworks CRM is a web-based customer relationship management (CRM) solution that helps businesses manage their current and future customer relationships across various industries.
It is an excellent CRM software option that strikes a good balance between a simple and cost-effective small business solution and a feature-rich corporate solution.
Freshworks CRM can boost sales productivity while also making salespeople's life easier and more organized.
It has excellent features for managing a team of salespeople, and as a result, it is a suitable CRM software solution for larger organizations with a high number of salespeople.
Freshworks CRM's Forever Free plan includes CRM and marketing tracking features. The free plan of Freshworks CRM offers unlimited users, contact management, lead management, and marketing tracking via lead capture forms and website monitoring.
Features of Freshworks CRM
Some of the features of Freshworks CRM are as follows:
Task management.
Sales sequences.
Automation.
Effective workflows.
Internal notification.
Contextual collaboration.
Deal management.
Event tracking.
Benefits of Freshworks CRM
It provides high-quality leads.
It is easy to use.
It provides the best customer satisfaction.
Strongly connect your sales and marketing teams.
Have relevant conversations with customers.
Improve sales pipeline management.
Drawbacks of Freshworks CRM
Reporting needs improvements.
It lacks many integrations.
Availability: Android, iOS, Web.
Agile CRM
Agile CRM is a customer relationship management tool aimed at small and medium-sized businesses. This cloud-based software integrates sales, service, marketing, social media, and other forms of engagement to offer a single centralized center for customer reporting, analytics, and marketing.
Agile CRM allows you to track and manage client interests, behaviors, and profiles across various channels, including telephony, email, mobile, social media, and the Web.
It is a free CRM system that allows organizations to handle up to 50,000 contacts and companies for up to 10 users. It also includes email monitoring, custom sales funnels, and lead scoring, making it a comprehensive free tool for small enterprises.
Features of Agile CRM
Some of the best features of Agile CRM are as follows:
Contact and Account Management.
Opportunity and Pipeline management.
Lead management.
Customer support portal.
It has a knowledge base and support analytics.
Social networking and collaboration.
Manage mail delivery.
Benefits of Agile CRM
It is intuitive and has a complete interface.
It automates marketing, sales, and customer support processes.
Easy to convert website visitors directly into leads.
It enables multi-channel communication.
It tracks customer behavior and gets real-time alerts for customer activity.
Drawbacks of Agile CRM
Issues with third-party integration.
Buggy email capabilities.
Lack of reporting.
Availability: iOS, Android, Web
Apptivo
Apptivo CRM is a powerful tool that helps sales and marketing teams work more efficiently.  Apptivo is a cloud-based system that includes CRM, marketing, sales, project management, and much more. It's made to provide you with a full 360-degree view of your consumers.
It provides solutions for managing numerous aspects of a business. It is a cloud-based platform that interacts with all of the company's business products. Its CRM creates a connection between your clients and contacts, allowing you to manage them both in one place.
You can see all of their information at once, making it simple to figure out what customers want from your company. It's also easier to give them offers or follow up on leads because Apptivo provides those options. Custom fields in Apptivo provide even more customization options.
It is ideal for small businesses looking for an all-in-one solution to manage many aspects of their operations. Also, a business that wants o to customize its CRM interface can use it.
Features of Apptivo
Here are some of the features of Apptivo CRM.
Project management.
360 Degree View
IMAP Email Integration
Custom Attributes
Drag & Drop PDF Templates
Developer API
Opportunity management.
Customer data management.
Invoices
Benefits of Apptivo
Intuitive and straightforward interface to transfer information without hassles.
Convert current leads into opportunities, and keep track of potential revenue.
It provides an advanced data protection facility.
It can easily connect with G Suite for better performance.
It tracks all sales activity effectively.
Drawbacks of Apptivo
Support service still insufficient.
Needs improvement in documentation.
Availability: Web, Android, iOS.
Capsule CRM
Capsule CRM is a simple, versatile, and easy-to-use CRM platform for small businesses. It's an excellent way to keep track of your clients or other organizations with which you do business, as well as your communication with them, activities or tasks that need to be completed, and sales opportunities.
All of your contact relationships—clients, leads, and vendors—are efficiently managed with Capsule. Furthermore, the application allows you to efficiently manage your sales pipeline by keeping track of proposals, deals, bids, and other opportunities.
It can also organize your emails, papers, conversations, and notes for you, ensuring that you have a complete history of all of your business files and records in one location. The Capsule can be used to exchange assignments and projects with your team.
You can use Capsule to create and track tasks, assign them to team members, and track milestones and deadlines. You can also have personalized information about contacts and customers using Capsule.
Features of Capsule CRM
Some of the best features of Capsule CRM are as follows:
Performance and reliability.
Contact and Account management.
Pipeline management.
Desktop integration.
Email marketing and lead management.
Case management.
Reporting and forecasting.
Benefits of Capsule CRM
It is easy to use.
It provides lots of integrations.
It is budget-friendly.
Monitor and implement the sales pipeline.
The mobile app is super helpful.
Excellent task management tool.
Contact and lead management.
Drawbacks of Capsule CRM
There are no built-in email marketing features.
No official Office 365 integration.
Availability: Android, iOS, Web.
EngageBay
EngageBay is a marketing, sales, support, and CRM solution for small and medium businesses that helps them recruit, engage, and convert website visitors into customers. The cloud-based platform enables businesses to employ marketing tools to build long-term customer relationships.
Its goal is to give small and growing businesses a single platform that allows them to automate routine and manual marketing tasks, manage contacts, track deals, and sales pipelines, and provide customer support.
It provides users with marketing automation, site analytics, service automation, live chatting for rapid customer support, and many other additional services. It allows SMBs to handle all of their marketing and sales demands, allowing them to concentrate on expanding and creating value.
Features of EngageBay
Some of the exciting features of EngageBay are as follows:
Lead and Deal management.
Contact Management
Funnel Reporting
Integrations
360-degree customer view.
Partner Tracking
Performance Reporting
Pipeline Management
Sales Gamification
Task Assignment
Benefits of EngageBay
It provides free CRM services.
It has better customer support.
Effortless landing page design.
It has a faster response time.
It helps in business growth and performance.
Drawbacks of EngageBay
The landing page template is limited.
The landing page does not support a reusable header and footer.
Availability: iOS, Web, Android, Desktop.
Conclusion
CRM has become crucial to businesses in their drive for excellent customer relationship management.
To summarize, customer satisfaction and customer wow are no longer just superlatives in the dictionary but are now relevant and straightforward to implement using CRM.
Which of the software mentioned above do you like the most? Do not forget to mention them in the comment section below. Also, do not forget to subscribe to us for more articles and blogs.
Related articles