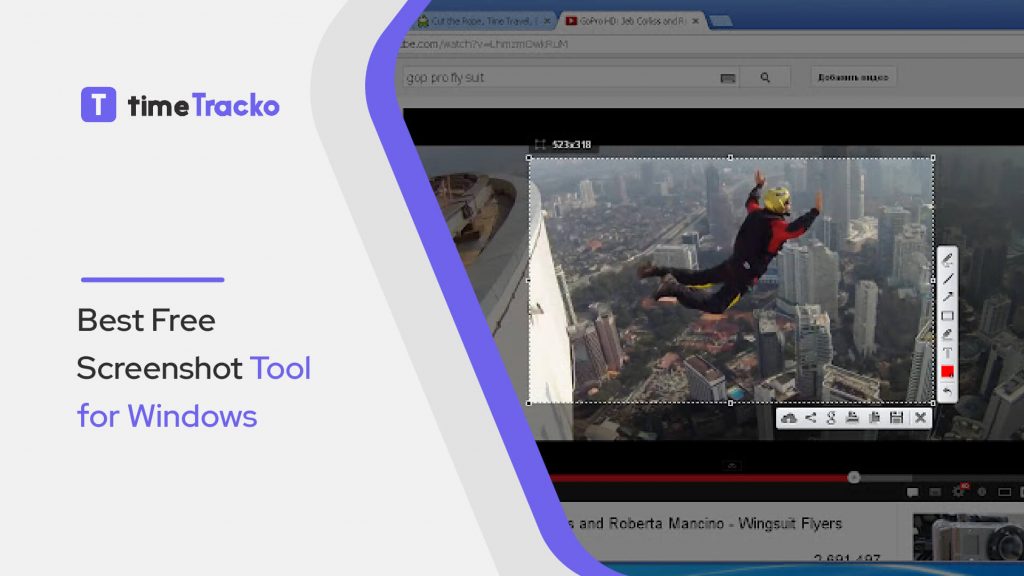 Screenshots were not very common a few years ago. Its primary purpose was to display the error notice on the screen.
However, screenshots are now commonly and widely utilized in our daily lives. A screenshot is required to show that you see something unusual on the screen. Mockup screen designs are also presented with clients in the form of a screenshot.
A good screenshot software is a necessity in your Windows toolkit. Screenshots allow you to record both funny and crucial information and document problems to show others.
There are various screen capture apps available on the market nowadays, which will allow you to snap a snapshot of the entire desktop or screen. These applications may differ in terms of screenshot size, quality, supported operating systems, file format types, and so on.
But which is the best free screenshot tool for windows? Let's look at some of the most excellent screengrab options and decide which one is ideal for you.
Best Free Screenshot Tool for Windows
Snipping Tool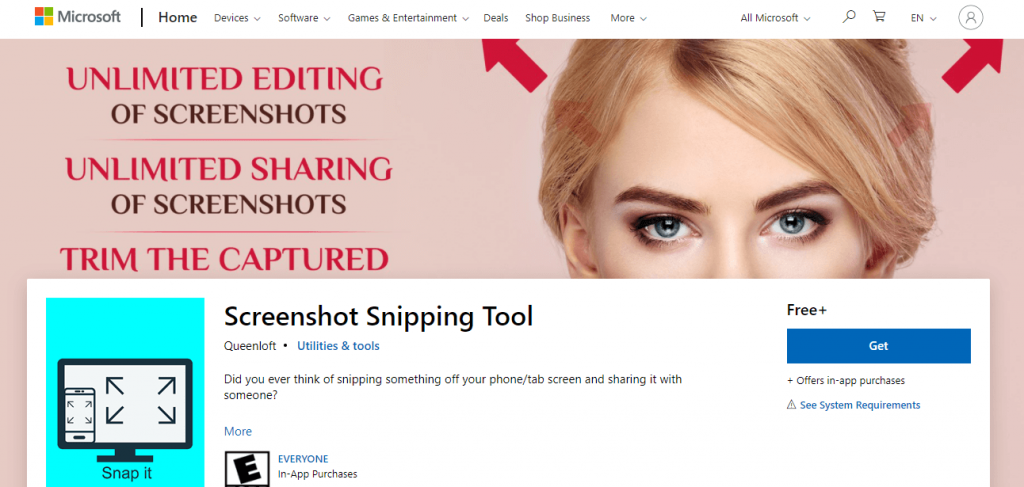 Snipping Tool is an application that is included in Windows Vista and later editions. You can capture a screenshot of your screen using the Snipping Tool.
Snips may then be annotated using a mouse or a tablet saved as an image file (PNG, GIF, or JPEG file) or emailed. With multiple colored pens, an eraser, and a highlighter, the Snipping Tool offers a primary image editing facility.
In the case of hover, it may be delayed for a few seconds while recording the screen. It enables the user to take a rectangle image of the entire screen or a user-specified area.
Snipping Tool not only captures entire screenshots but also allows you to design custom snips and do window-specific snips. Also, it allows adding notes to the screenshots.
Features of Snipping Tool
Some of the exciting features of the snipping tool are as follows:
On a Windows PC, the Snipping Tool is the default tool.
It is a free and straightforward application included with the Windows operating system.
Photos can be edited using a colored pen, highlighter, or other tools.
Snipping Tool enables users to write on screen captures, save them, and share them with others.
Images captured can be saved in PNG, GIF, and JPEG formats.
After capturing the screen, it is automatically copied and can be pasted as needed.
It has four screen capture modes: Free-form Snip, Rectangular Snip, Window Snip, and Full-screen Snip.
Benefits of Snipping Tool
It allows annotation images.
It provides an image library.
Helps in creating GIFs.
Enables image editing
Record videos.
Drawbacks of Snipping Tool
It lacks cloud storage capabilities.
Greenshot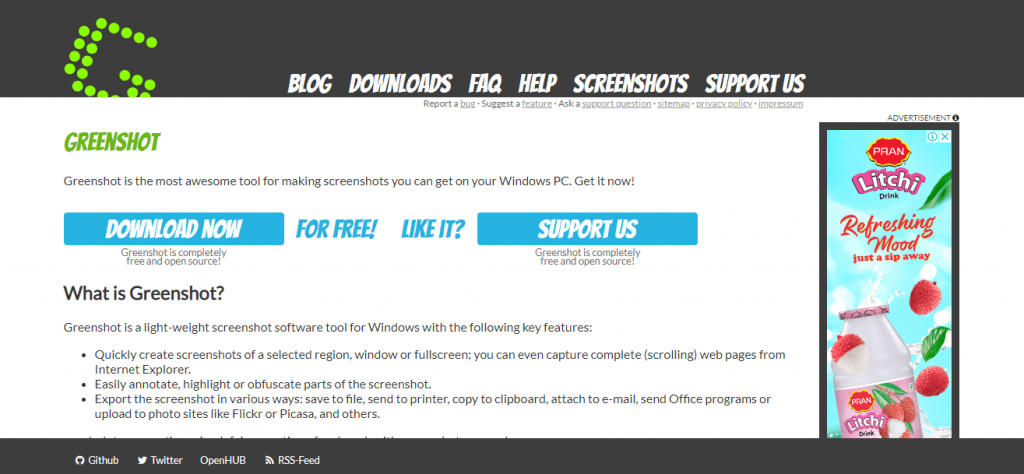 Greenshot is a free Windows snipping tool with markups and integrations. Greenshot can capture fullscreen and window photos, snippets of a selected area, and scrolling web pages on Internet Explorer.
Greenshot quickly and captures a snapshot. It captures photos of a full-screen window or any user-selected area on the screen by scrolling a web page.
The screen capture can be annotated and highlighted. The recorded image can be stored in a variety of formats for later editing.
The markup tool in Greenshot contains arrows, text, drawing, image manipulation, blurring, paint, and shapes. After you've annotated your snip, you can save it, print it, copy it to your clipboard, email it, or post it to photo sites or Microsoft Office products.
Overall, Greenshot is a fantastic free alternative to Windows Snipping Tool, with improved markups and integrations. Greenshot comes with free plug-ins for Jira, Box, Imgur, and Microsoft Office.
Features of Greenshot
Here are some of the best features of Greenshot.
It is a free and open-source program.
Lightweight apps for Windows OS.
Built-in image editor
Captured images are sent directly to the printer, email, clipboard, etc.
Greenshot is simple to understand and much simpler to set up.
Greenshot features a memory utility that remembers the previously captured region.
It is offered in 26 multiple languages.
It has several capture options, including "Capture Region," "Capture Last Region," "Capture Fullscreen," and "Capture Window."
Benefits of Greenshot
It is user-friendly and straightforward.
Facilitate with a built-in image editor.
It supports multiple languages.
Drawbacks of Greenshot
Hard to make GIFs.
No free version for Mac.
Lightshot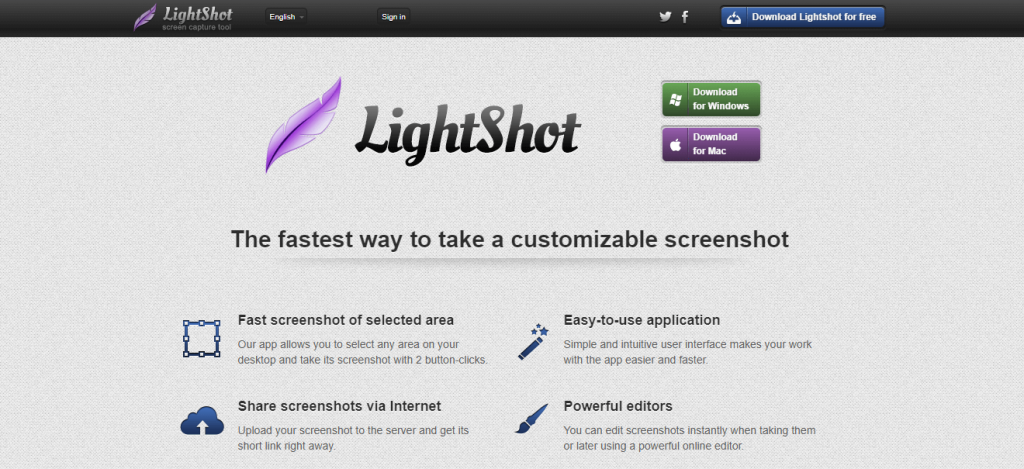 Lightshot is a user-friendly and convenient screen capture tool. It instantly captures a screenshot, and the screenshot is also customizable. The Lightshot tool allows the user to capture a screenshot of a specific region, which may then be resized or moved with ease.
When you press the Print Screen button on your keyboard, Lightshot allows you to alter your snapshot. When you press PrtScn in Lightshot, a transparent overlay appears over your screen, along with cropping tools.
The software is ideal for students, employees, or contractors that need to save crucial information from their screen.
Features of Lightshot
Some of the best features of Lightshot are as follows:
Lightshot is a free screenshot application.
It only takes two button clicks to record the screen.
Easy and user-friendly.
The user can modify the screenshot while it is being captured.
The editor allows you to add text, arrows, effects, and other features.
Lightshot is compatible with Windows, Mac OS X, Firefox, Opera, Chrome, and Internet Explorer.
They produced high-quality screenshots.
Benefits of Lightshot
It is free to use for windows.
It is simple and has a good interface.
It doesn't take more system resources.
It automatically uploads screenshots for online sharing.
Drawbacks of Lightshot
It lacks an additional editing screen.
No capture modes.
PicPick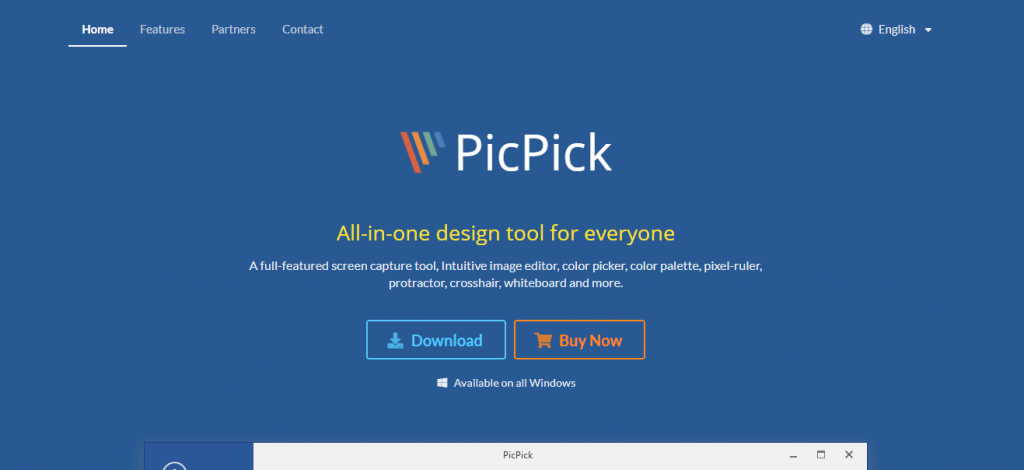 PicPick is yet another snipping tool designed specifically for Windows, containing full screenshots, snips, scrolling shots, and markup tools.
PicPick is a free and easy-to-use screen capture and editing application. It includes editing tools such as a color picker, protractor, brightness, color contrasts, and a pixel ruler. It has an editor to add comments, text boxes, various shapes, arrows, and other elements.
PicPick integrates with the following services: Box, Dropbox, Google Drive, Facebook, and Microsoft Office. You can also copy your snip to the clipboard or print it directly from the tool.
PicPick is 100% free for personal use; however, it charges $25 for commercial usage. You don't need to install it. Instead, it can be stored in flash drives.
Features of PicPick
Some of the exciting features of PicPick are as follows:
It captures anything on the screen.
Edit your images with annotations.
Enhance screenshot quality with different effects.
Integration with multiple platforms helps to share easily.
Graphic accessories.
Customizable settings
Benefits of PicPick
It is simple to use and has a simple UI.
Easy to capture scrolling screen.
It supports multiple cloud services.
You can not only save images as .png, jpeg, gifs but also PDFs.
Drawbacks of PicPick
No Video Support.
Scrolling Screenshot has to be configured.
ShareX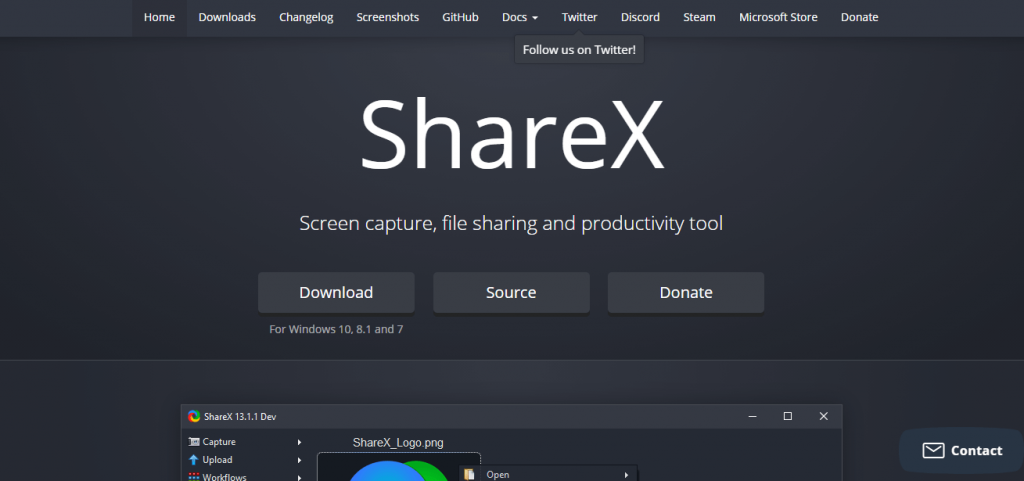 ShareX is a free and open-source tool that allows you to capture or record any part of your screen and share it with the touch of a single button. It also allows you to upload photos, text, or other forms of data to over 80 recognized destinations.
It can capture the active window or monitor and submit your content to dozens of predefined sites.
It also has screenshot tools that you won't find in many other applications, such as the ability to take a "Scrolling Capture" of any application on your computer, taking a screenshot of a single long document in any application, and taking a "Webpage Capture" of any web address.
This software is potent, and those who want to take simple screenshots should generally stick to something simpler. However, if these advanced features appeal to you, ShareX is the best choice.
Features of ShareX
Some of the exciting features of ShareX are as follows:
Being able to identify borders on screens allows effortless captures.
Customizable keyboard shortcuts.
Capture while scrolling.
Capture a web page.
Easy annotations in captured images.
Benefits of ShareX
It is open-source, so it is free to use.
It enables the recording of any area of a screen.
It offers to upload images to over 50 online destinations.
It has an image editor.
You can record videos too.
Drawbacks of ShareX
Scrolling windows capture doesn't work consistently.
Complex to customize.
Screenshot Captor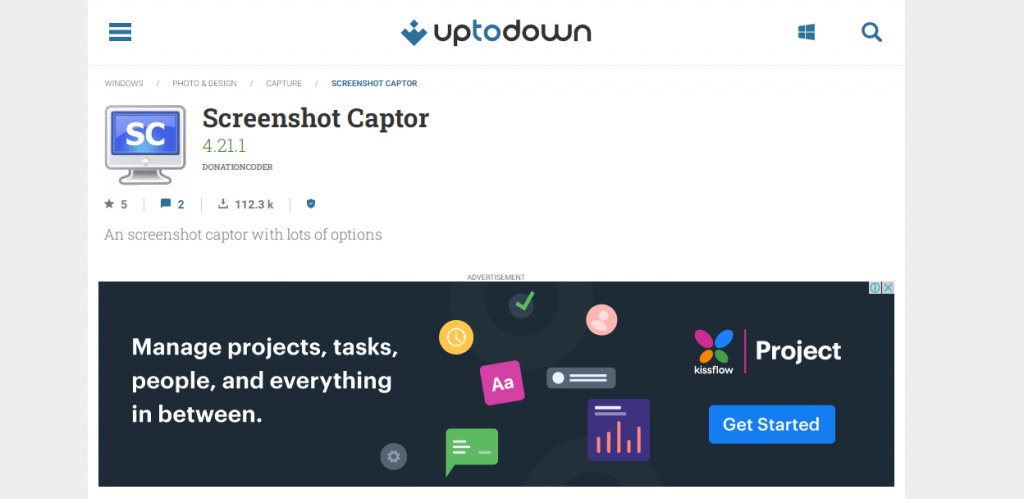 Screenshot Captor is a free, easy-to-use screen capture tool for Windows PCs. It allows you to record the screen in various ways and includes several unique effects and filters to enhance visuals.
It can capture images in full-screen mode, a specific region, a scrolling window, a fixed-size window, and so on. The captured photographs can be zoomed in up to 999 percent, allowing the user to see every single pixel. It is user-friendly and takes few resources.
It does not only capture screenshots but helps to add annotations and different effects on the snapped images.
It is an excellent tool for people who often work with screenshots and needs more than just a regular image to complete their tasks.
Features of Screenshot Captor
Some of the best features of Screenshot Captor are as follows:
It is free for windows.
Highly flexible.
It captures images from the webcam.
It can captures screenshots from multiple monitors.
It automatically removes excess margins from taken photos.
It creates thumbnails of taken photographs automatically.
It has a built-in editor.
Benefits of Screenshot Captor
It is intuitive to use.
It enables screen capture directly from webcam and scanner.
It produces high-quality images.
Flexible tool for windows.
Drawbacks of Screenshot Captor
It lacks some valuable integrations.
TinyTake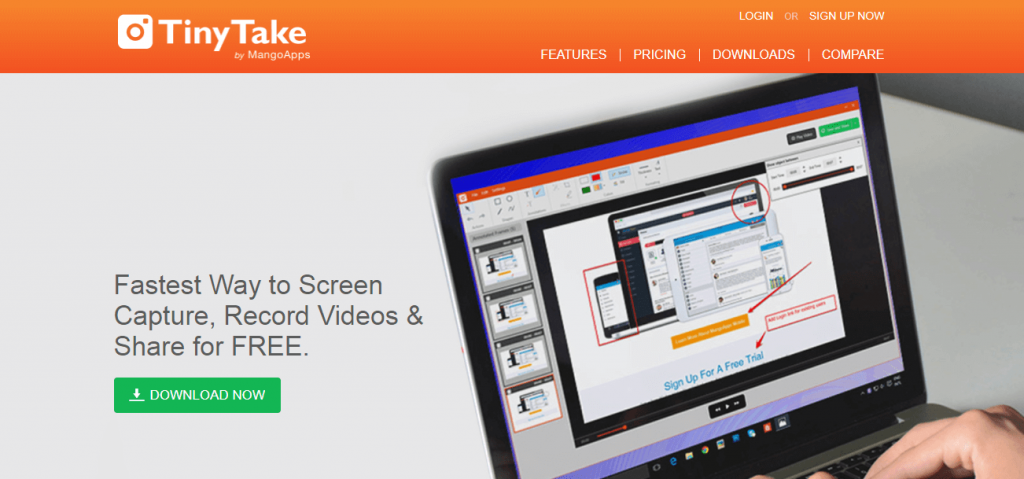 TinyTake is a screen capture and recording application by MangoApps that works on both Windows and Mac computers.
This approach makes annotations, captions, shapes, and watermarks easy to use to screen captures and recordings. TinyTake enables users to record whole desktop screens or only highlighted areas.
Any screen is instantly taken based on the user-specified area or region. These photos may be highlighted with a colored pen and edited with an arrow, textbox, or picture caption.
It is available for Windows and Mac OS. It can create high-quality images and videos without watermarks.
Features of TinyTake
Some of the best features of the TinyTake app are as follows:
Free screen recording and video recording tool.
Screenshots of the specified area.
Capture images using the webcam.
Local images editing and sharing
Records screen activities.
They have an inbuilt file viewer.
Benefits of TinyTake
Screen capturing, recording, and annotating.
Flexible storage and sharing.
It has an in-built file viewer.
Easy to use.
It produces high-quality images and videos.
It can handle large videos.
Drawbacks of TinyTake
Most features are available only in the paid version.
Conclusion
Through this article, we learned about the most popular screen capture tools on the market, as well as their significant capabilities.
Screenshots are a popular asset to store important notes, issues, and memories for future use.
I have mentioned some of the best screenshot app available in the market with their benefits and drawbacks. If you haven't read screen recorder apps, read it too.
Decide which one is suitable for you and your business? Do not forget to mention which app do you like the most and why in the comment section.
Related articles