Best Time Management Apps To Keep You Productive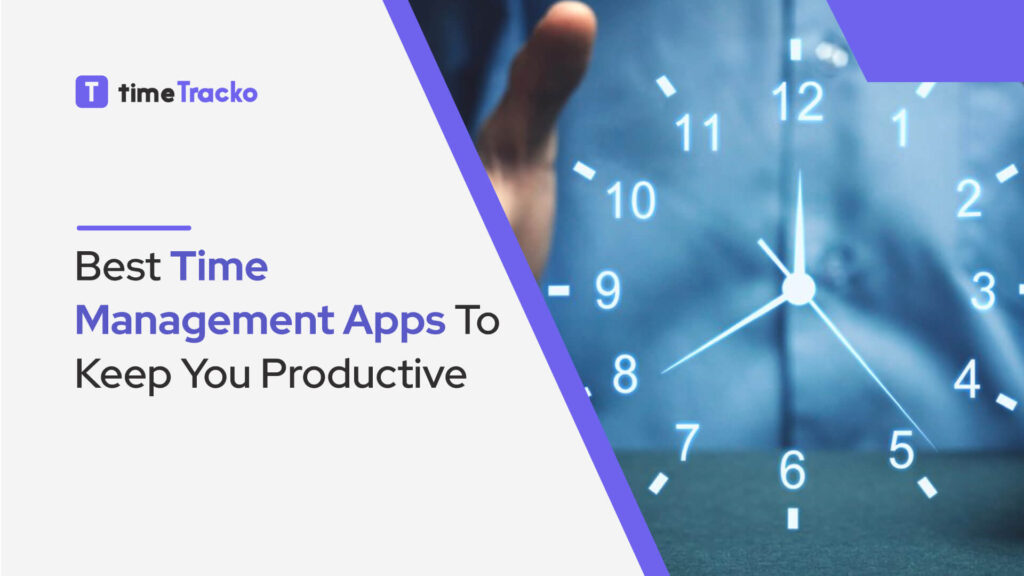 When you have a busy schedule and have lots of tasks to complete in a day, you may get confused on which one to complete at first and end up doing nothing at the end of the day.
Before starting your work, you need to make a schedule that helps you complete your task efficiently.
Creating a schedule removes chaos and problems that are likely to appear while completing tasks and helps to keep you productive to complete your task on time.
If you are a remote employee and always have difficulty managing your time and staying productive, you should use time management apps.
Many time management apps help you manage your time efficiently and enhance your productivity at the same time. Here are some of the best time management apps that help you stay productive.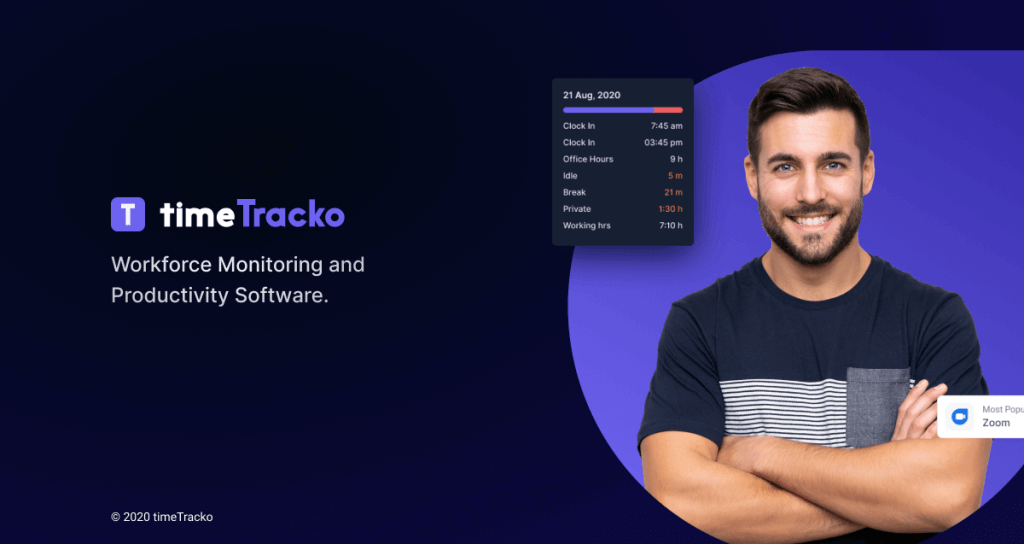 timeTracko is a time tracking and productivity tool for freelancers and remote employees. It is a cloud-based tool that helps increase distributed teams' productivity.
It is suitable for all small and big corporate houses. You can quickly check your team productivity and time spent on projects within a single dashboard.
The app seamlessly runs on your PC background and monitors clock in, break time, and employee privacy using timeTracko.
The app screenshots employee online activities during their work hour. It even tracks apps and URLs that you visit while working. The app sends an alert if you stay idle for more than 6 minutes.
Features of timeTracko:
It offers integration with Slack, Airtable, WordPress, Github, Trello, and many more.
Has attendance management features.
It provides an online timesheet feature to clock in, clock out, and break.
Monitor your keyboard and mouse activity.
Offline tracking features enable you to track your team even if they are offline.
Benefits of timeTracko:
Sends an alert notification when you stay idle
Provides accurate pictures of time spent during working hours.
Enhances team productivity
Provides payroll management functions and generates payslips.
Price of timeTracko:
timeTracko offers four price plans, which are:
timeTracko Lite: It is free of cost and offers all the essential features.
timeTracko Team: It costs $7 per user per month and is suitable for beginners.
timeTracko Business: It costs $12 per user per month and is ideal for large businesses.
timeTracko Enterprise: It has custom pricing and ideal for large enterprises.
Available on iOS, Android, Windows, and Web.
RescueTime is a time management app that helps you and your team stay productive. It tracks applications and websites that you visit during your work hour.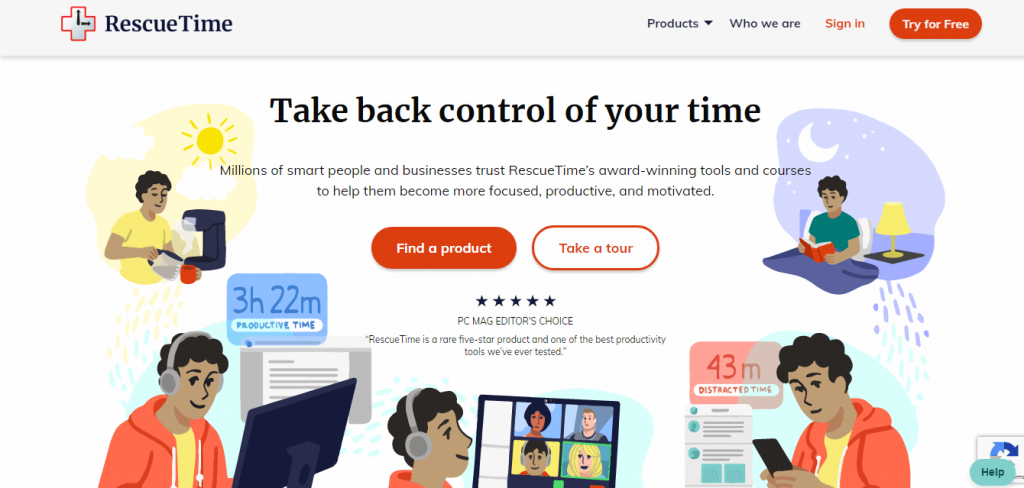 It is a cross-platform app that runs on all your devices and tracks your online activities during office hours. The app runs on your pc or mobile background without disturbing you.
The most exciting feature of the app is its website blocking feature. This feature automatically blocks all the distracting websites you use a lot during office time. When you have some personal tasks to do, you can pause the app.
Feature of RescueTime:
RescueTime gives you an accurate picture of your time spent online.
Set a time limit on your favorite websites and applications. It can even block these websites and applications.
It keeps your daily goals in front, which helps you focus on your plan.
Measure phone calls, meetings, and break time using its premium plan.
It sends weekly reports to team leaders and members.
This app can be better if they update their interface regularly. It can also be improved by adding offline time tracking features.
Benefits of RescueTime:
Helps to get things done quicker
Keeps you productive
Stops you from procrastinating
Block distracting sites.
Price of RescueTime:
RescueTime Lite is for free
Its Premium cost $9/ month or $72/year
Available on iOS, Android, OS X, Windows, and Linux.
Toggl is a cross-platform time management app that keeps track of the number of hours on your project and task.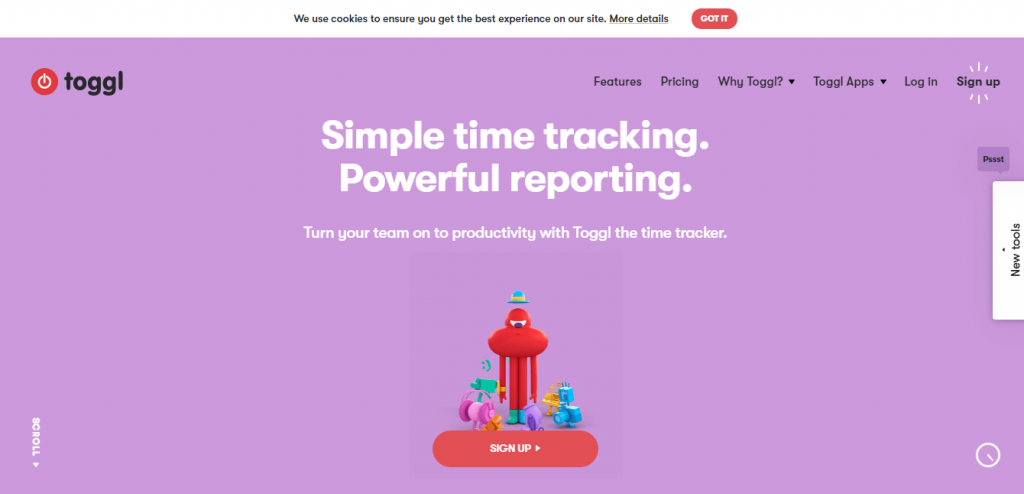 You can visualize the difference between the planned and actual time you spend on a project. The app provides your productivity reports and allows you to download them on Excel, CSV, or PDFs.
It measures the time you took to complete a project. When you start your project, click on the start button and click on the stop when you complete it.
If you stay on any website for more than 10 seconds, it automatically records the website.
Features of Toggl:
Keeps track of the time you spend on your project.
You can work both online and offline.
This app provides you daily, weekly, or monthly reports and graphs of the time you spend on your project.
You can also share this report with your client, boss, or project team members.
Provides discounts for large teams and students.
The app can be better if it adds features like scheduling and invoicing.
Benefits of Toggl:
Easy to use
Provides detail report
Can sync with all your devices
Price of Toggl:
Free version
Starter costs $9/month
Premium costs $18/month
Customized price for organizations
Available on iOS, Android, macOS, Windows, and Linux.
Remember The Milk is a web-based time and task management app that allow you to create a list and manage your projects.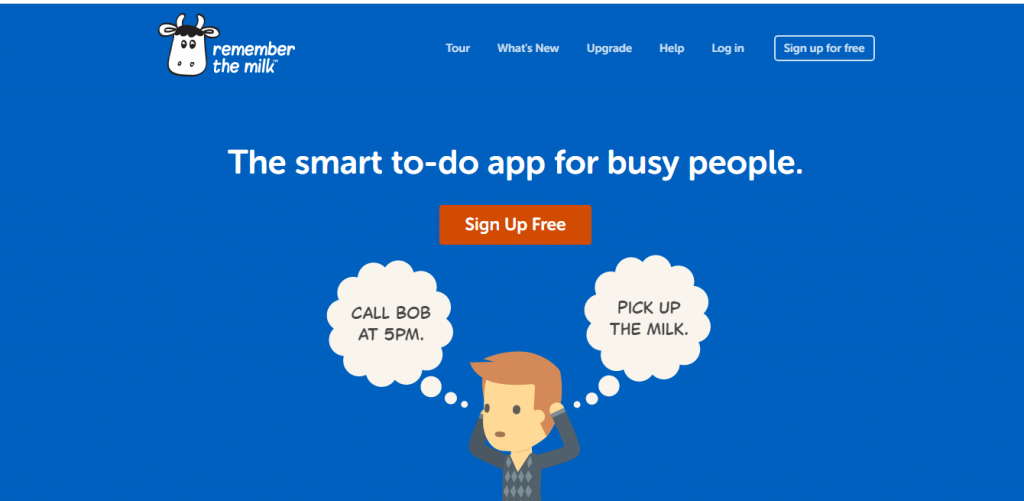 It was launched in 2005, and it comes with features like making a smart list, setting due dates, and reminders. It also offers integration with Gmail, Evernote, Google Calendar, and more.
Set reminder notifications, break down your tasks, organize your tasks with color tags using its pro version. It even allows you to share your lists with unlimited users.
Features of Remember the Milk:
Get task reminder notifications on your mobile, email, text, Twitter, and IM.
Share to-do tasks with your colleague to get tasks done quicker.
It customizes your to-do list based on prioritized tasks.
Organize your tasks using colorful tags.
Allow you to prioritize your task by sorting and grouping them.
The customizing to-do lists should be available both in the free and pro versions.
Benefits of Remember the Milk:
Reminds your tasks
Works both online and offline
Can syncs with all your device
Price of Remember the Milk
Free version
Pro version $39.99/year
Available on IOS, Android, Firefox, Chrome, Safari, Windows, Linux, and Apple Watch.
Forest app is a productivity app that helps you stay away from your phone and be productive. It allows you to stay focused on your tasks and tracks your work progress over weeks.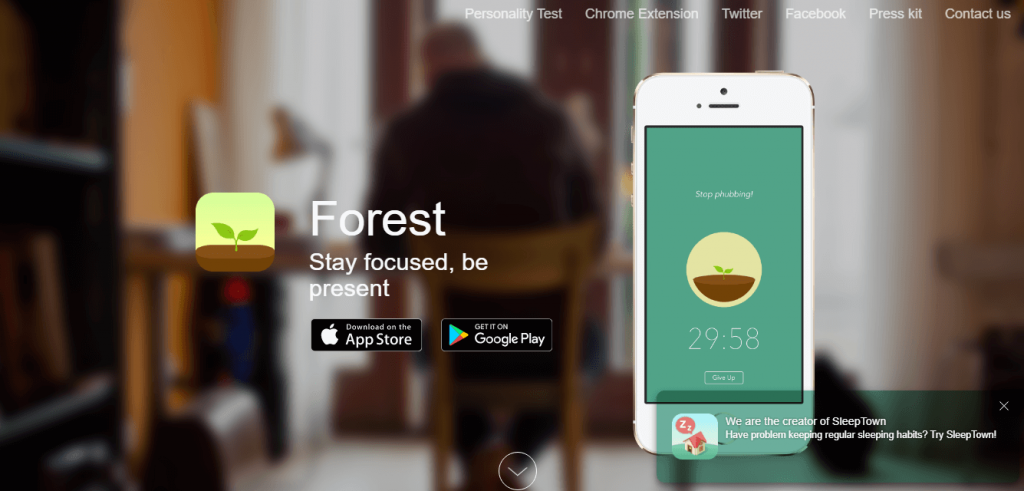 You can download the app and plant a virtual tree. Once you plant the tree, keep your phone aside. As long as you leave your phone, the tree will finish growing. And this tree will be added to your app screen.
But if you keep using your phone after planning the tree, your tree will die.
Features of Forest:
Earn virtual coins by planting a tree.
Plant the tree with your colleague and team members.
Earn rewards and unlock new tree species.
The app can be better if it makes its more features free.
Benefits of Forest:
Stops you from procrastination
Keeps you motivated and focused
Increase your productivity
Price of Forest:
Free version
$1.99 for iOS
Available on iOS, Android, Firefox, and Chrome
Trello is a web application for time management and lets you collaborate with the project team and get things done quickly. This app is excellent for keeping track of project tasks.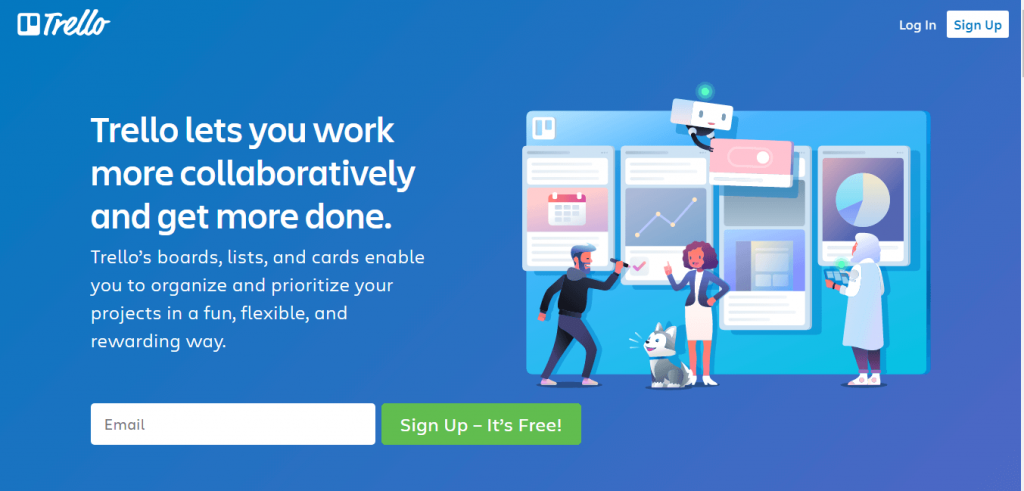 It provides you with boards, cards, a list that helps to do your task in a fun way. You can use the card and board to update your project status. Millions of people use the app, which is available in 21 languages.
One plus point of the app is that it allows you to invite as many members as possible.
Features of Trello:
Keep track of your daily activities.
It has notification features so that you will not miss any deadlines.
The app can work offline, as well.
Allow uploading files from local devices, Dropbox, Google Drive, and Box.
Has a mobile-friendly view
Since it has limited storage, the app can be improved by expanding its storage capacity.
Benefits of Trello:
Notification features remind you of your due works.
Provides reports of your daily activity.
Helps to get things done quickly
Price of Trello:
Free version
Business Class $9.99/user/month
Enterprise $20.83/user/month
Available on iOS, Android, OS X, Windows, and Linux.
Asana is a productivity app that helps in time management and team collaboration. It is one of the popular time management apps used by some of the world's largest companies, like Sky News, Spotify, NASA, and many more.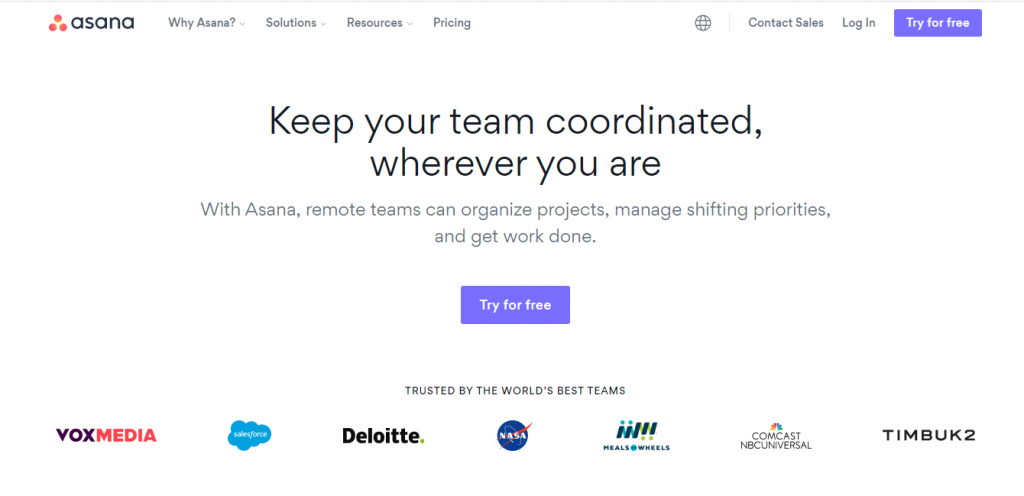 With this app, you can manage multiple teamwork and any significant projects using various workspaces. It allows you to prioritize your tasks and project and organize them.
Using Asana, you can have real-time communication with your teammates and allow you to comment, mention, and share projects with them.
You can create your team page and have group conversations with your team members.
Features of Asana:
It has a focus mode that allows you to work on one task at a time.
Notification and reminder feature to remind you about your deadlines.
Allow you to set your goals and due dates.
Offer a customizable dashboard that displays your projects, work progress, and group conversation.
Offer a customizable calendar.
Asana has too many features; hence it may not be suitable for small organizations.
Benefits of Asana:
Gantt Charts are used to show your task achievement.
Easy to use
It has strong security measures
Price of Asana:
Asana basic is free
Asana Premium costs $13.49/month/user
Asana Business costs $30.49 per user per month
Asana enterprise price is customizable.
Available on iOS, Android, and Chrome.
Focus@will is an app based on human neuroscience, mainly concerned with increasing productivity. This app is based on music that helps you stay focused on your work.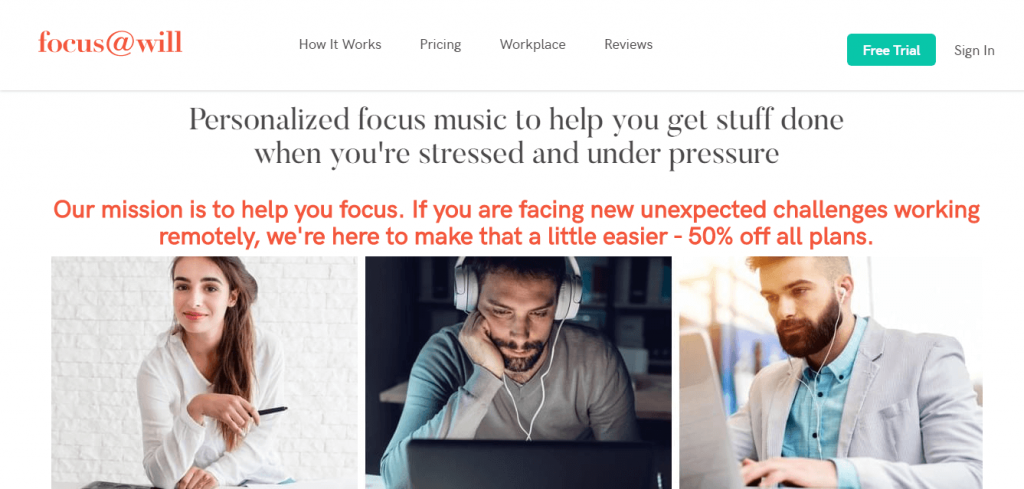 The app contains types of music that keep the brain active. It has more than 50 music channels, and you can select music based on personality.
It helps keep your mind away from distracting elements and keeps you focused on your work.
Features of Focus@will:
Customize music based on the information you provide.
Has a timer feature.
At the end of the time, the app asks you if the session was productive or not.
Allow you to rate your productivity.
Can sign in using Google+, Facebook, or email address.
The app can be improved by adding a productivity measurement tool.
Benefits of Focus@will:
Customized music according to your personality
It increases your productivity
It cut of distraction
Helps you to stay focused
Price of Focus@will:
Free trial for 30 days
Annually $35/year
Two Year $30/year
VIP $150 one-time billing lifetime access.
Available on iOS, Android, and Web.
Pocket is a bookmarking app that allows you to save the web content. It is one of the great apps to cut off distractions while working.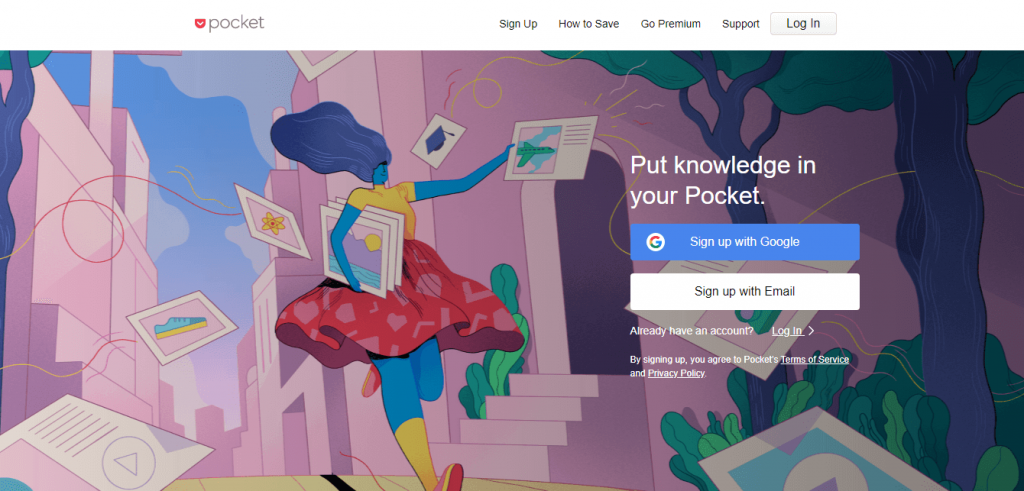 Plus point of the app is that it provides recommendations of content based on your preference.
It provides you with a tag that you can use on the article you are reading and also allows you to adjust text settings.
Its premium version allows you to add an absolute highlight to articles while reading them. And you can add saved article links into your permanent library.
Features of Pocket:
It has an offline feature that allows you to download web content and read/watch it later.
Allow you to save new articles, stories from any publisher.
Allow saving content from more than 1500 different apps.
Organize the content you save by using the tag.
Provides eight font options.
Application developers can work on web pages that cannot be saved.
Benefits of Pocket:
Help you to focus on your work
Cuts distracting element while working
Help to discover related content.
Price of Pocket:
Free Pocket account
Pocket premium and annual member $44.99/year
Pocket premium monthly membership $4.99/month
Available on iOS, Windows desktop and mobile, Android, macOS, and Blackberry.
Todoist is a task management app suitable for small and midsize businesses. This app is ideal for remembering day-to-day activities and managing project tasks in the office.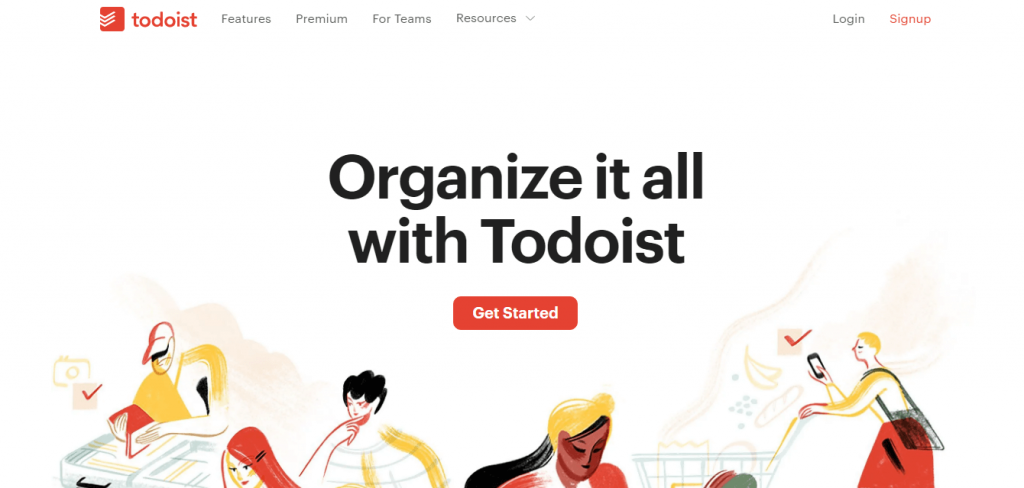 More than 25 million people use Todoist, and it is best for capturing and organizing tasks that you are likely to forget and rank them based on priority.
In its premium version, it allows you to personalize your to-do list. You can even add a label to your task to organize and find it easily.
Features of Todoist:
Offer integration with Gmail, Google Calendar, Slack, and many more apps.
It has notification features to remind you about due dates and deadlines.
It can collaborate with your project team members to complete tasks and projects.
Allow you to customize the theme of the app.
Allow you to divide your task into sections and sub-tasks.
In the free version, many features are unavailable. The app can be better if developers add more features in the free version.
Benefits of Todoist:
Simple to use and organize daily task
You can integrate with apps like Slack, Google Drive, Gmail, and many more.
The "Karma Points" features will give you bonus points if you complete your task.
Price of Todoist:
Free Todoist version.
Todoist premium $3/month.
Available on iOS, Desktop, and Android.
Harvest is a time tracking app that is suitable for all kinds of businesses. It tracks time, expenses, creates invoices, reports, and timesheets. With this app, you can create invoices within a minute.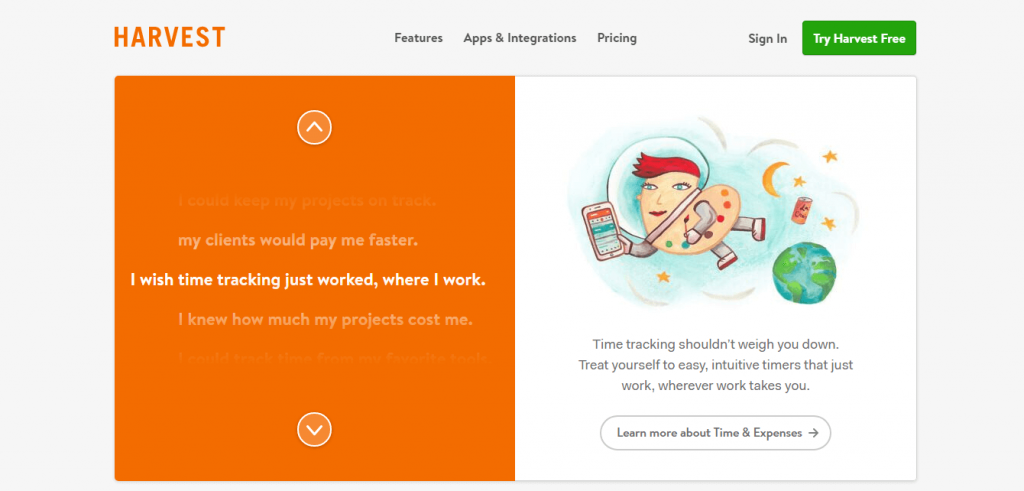 Harvest was launched in 2006, more than 50000 businesses and brands are using this app. Some popular brands like Ashton Design, Made By Many, Hypermarket, and many more.
It has a simple user interface, making the app easy to use. It provides a timesheet, a visual graph that keeps track of employee working hours.
Features of Harvest:
Has both online and offline time tracking features.
Offers integration with apps like Asana, Slack, Zapier, GitHub, Xero, and many more.
It allows you to customize your report.
Keeps track of time and expenses.
Allows you to schedule time for future projects
One drawback of the app is that it has the least option for bill increment.
Benefits of Harvest:
Helps manager to find out work done by the team
The manager can make the team's schedule for projects
You can time track the number of hours you spend on your project
Price of Harvest:
Free for one person and two projects
Harvest pro version cost $12/person
Available on iOS, Android, and Web.
How to Do Effective Time Management While Working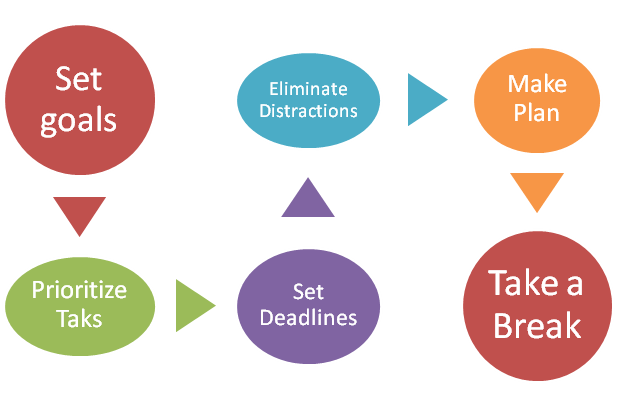 Here are some tips for effective time management while working:
Set Goal
Everyone has their own goal. You have your own goal to work in an organization. Likewise, organizations also have their purposes.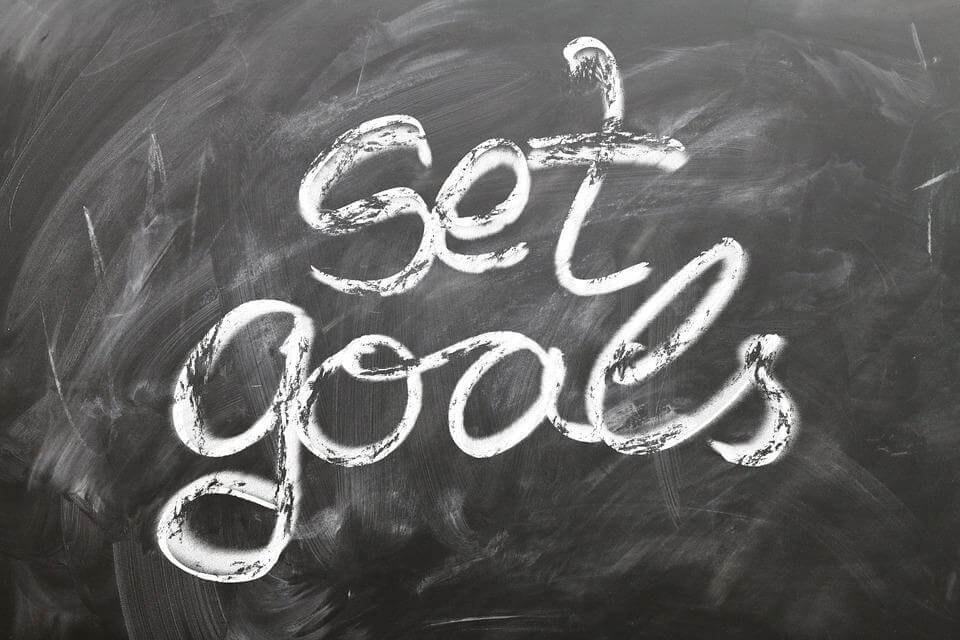 Usually, organizations have two types of goals, i.e., short-term and long-term plans. When you work in an organization, you should achieve organizational goals and personal goals.
Goals should be SMART, which stands for specific, measurable, achievable, realistic, and time-bound.
You should know what your plan is exactly, learn how to achieve the goal within a particular time, and be measurable. 
Rank Your Task
To achieve your goal, you have to perform some tasks. First, you should rank your functions based on importance and time sensitivity before working on them.
You should make sure that you complete the right task at the right time. To know which task is right to do at a particular time, you can rank tasks.
You can categorize tasks as:
Importance and urgent:
You should do these types of tasks immediately. This type of task requires high priority and is time-sensitive.
Important but not urgent:
This type of task is to achieve long-term goals. Hence are less time-sensitive. You need to allocate more time to accomplish these tasks. You don't need to do the task right away.
Urgent but not essential:
Some of the activities that include this task are making urgent phone calls, sending emails, helping colleagues, etc.
This type of task has less contribution to goal achievement. They are time-sensitive and thus need to perform it immediately.
Not urgent and not important:
These tasks don't have any contribution toward goal achievement. Activities like shopping, watching TV, and using social media fall under these categories.
Set Deadlines
Once you rank your tasks, you need to set deadlines for the tasks. The urgent and essential tasks need a short deadline, while crucial but not critical tasks can have an extended deadline.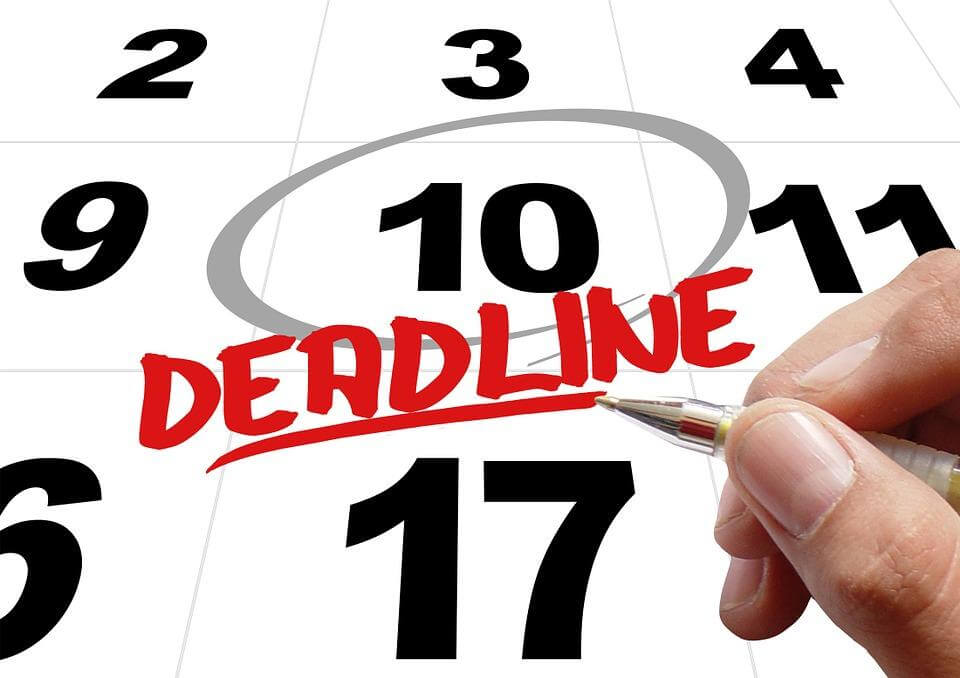 When you set deadlines for your tasks, you will be determined to complete the task within the given time.
One of the crucial benefits of deadlines is that it reduces procrastination. Deadlines are also an excellent option for increasing productivity. When you set deadlines, it can help in time management.
Cut Distraction
Once you start to work on your task, you should cut distractions. Smartphones can be your number one distracting element while working.
You might get calls, emails or might get distracted while surfing social media. You should make sure that you divide separate times for phone calls, emails, and social media.
You should give all your focus on your work during your work hour. Sometimes you might get distracted by your colleague's talks. Thus, you should work in a peaceful environment with less distraction.
You should be able to distinguish between important and unimportant tasks. It helps to make you more focused on your job, and you will automatically reduce distracting activities.
Make Plan
When you start working on your task, you need to plan how much task needs to get completed in a day. If you are not aware of where to start the job, things might get complicated.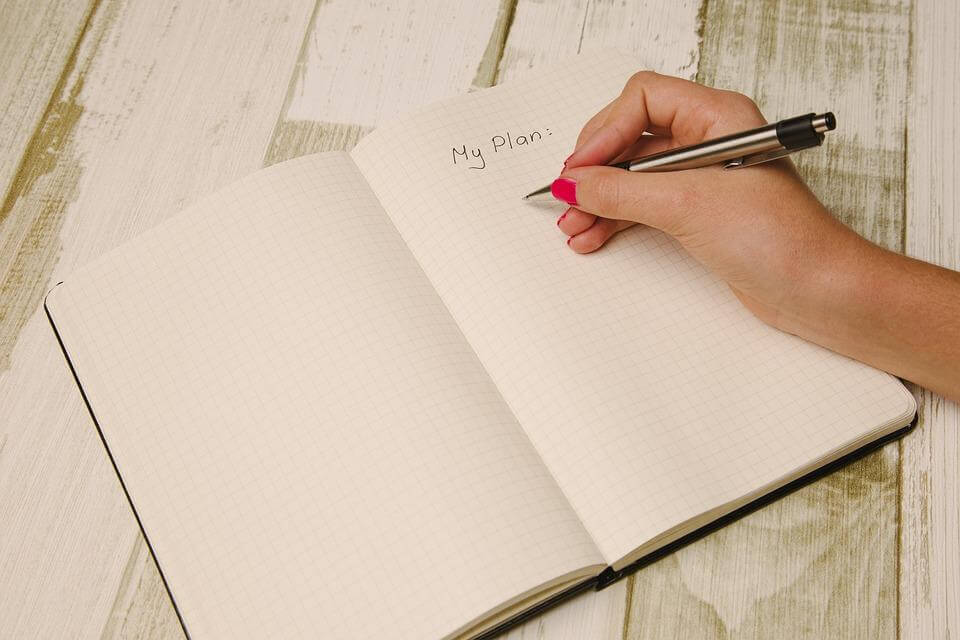 When you do one part of the task one day, ad complete the task, you will not complete your task on time if you start another task the next day. Instead, it will create much confusion.
To avoid such confusion and complication, you can make your daily plan either in the morning or the night before.
Take a Break
During your work hour, you should take some short breaks. When you keep doing your work without a break, it might help you stay focused. But it can harm your mental health.
To increase your creativity and productivity, you need to take a proper amount of sleep and rest.
Benefits of Time Management
Everyone needs to complete their work on time. Thus, time management skill is necessary not only for students or employees but also for homemakers. Here are some of the benefits of time management:
Complete Work Before The Deadline:
If you have to do a vast amount of work, divide the work into small parts. And then, you can make a schedule to complete each part within the deadline.
When you schedule to meet your career within a certain period, you will stop procrastinating.
Reduce Stress:
Work stress is the main reason to reduce your productivity. Work stress also deteriorates your mental health.
Good time management skills will reduce your mental pressure by more than 50% and increase productivity.
Better Quality of Work:
You can divide your work into small tasks and assign time according to their priority. You can give more time to jobs with the highest priority and less time for fewer priority tasks.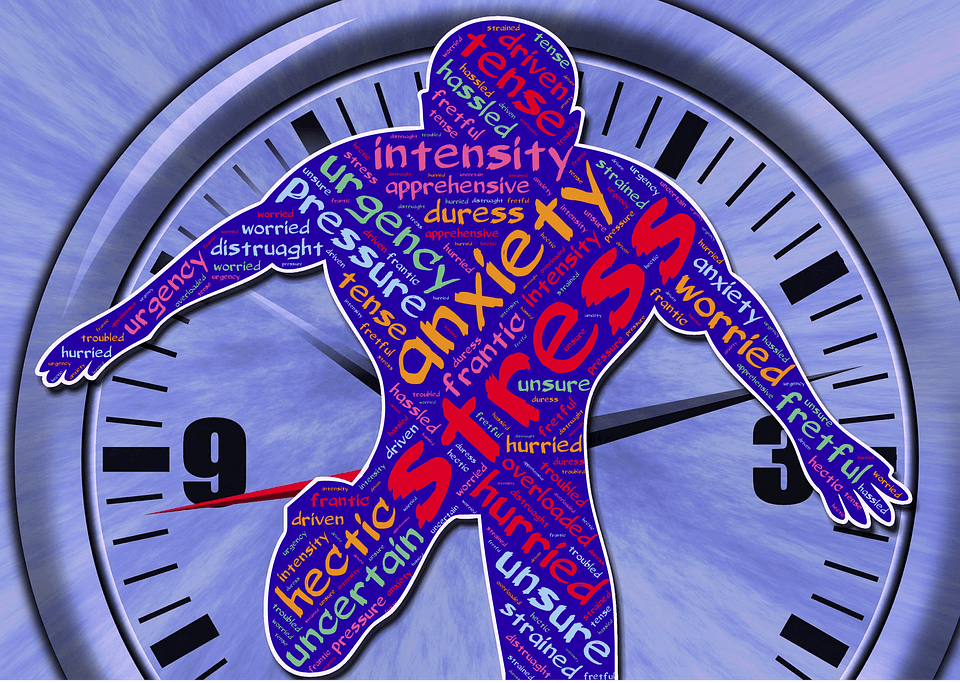 Managing time to complete specific tasks in a particular period will allow you to be creative, think out of the box, and stress less to complete the job. This results in a better quality of work.
Increase Your Productivity:
Practical time management skills will reduce procrastination. You can complete more work in less time. You will be able to deliver quality work. As a result, you can open many doors of opportunities.
Better Quality Of Life:
Practical time management skills will reduce your stress. You don't have to spend extra hours in an office or school to complete your work and give time.
You can have time to spend on your hobbies, improve your skills, and gain knowledge. You will be able to balance your work life and your personal life.
Maintain Your Image:
If you have time management skills, you can create an image of a punctual and disciplined person.
This skill also makes you confident to complete any task within the deadline. All employers want their employees to have these characteristics.
Benefits of Time Management Apps:
Here are some benefits of time management apps:
Help to increase your productivity.
It is an excellent solution for work stress reduction.
It makes you punctual.
Easy to manage any kind of project.
With time management apps, you can share your work progress with your team members.
Easy for managers to calculate work rates.
Why is time management important for productivity?
Improves your time management skills at work
It enables you to improve your results and accomplish your objectives with less commitment and more successful tactics. 
Making plans for your time removes stress and frees up resources. 
It provides a better sense of control and makes you more productive during the day.
Conclusion:
To complete your task on time and stay productive, you need to use the right time management app. These are my top favorite time management apps. Let me know your favorite time management app in the comment section below.
Related articles