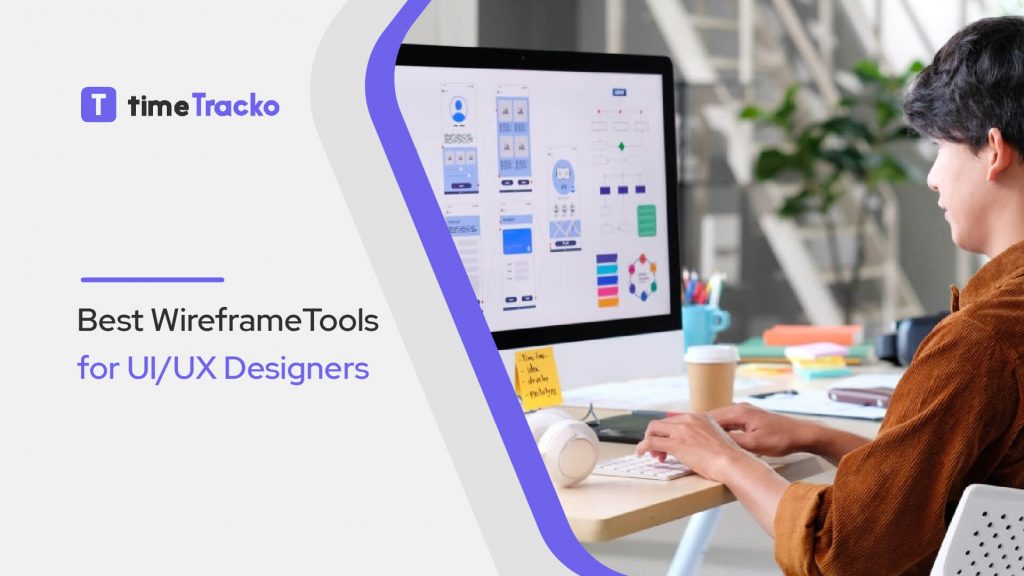 Every creative design starts with a vague concept. A website wireframe, also known as a page schematic or screen blueprint, is a graphical representation of a website's skeleton architecture.
Starting your product design process without wireframing is like starting on a round-the-world journey without a map: you're sure to get lost along the way.
Wireframes provide a clear and fundamental sketch of your product's page structure, layout, and overall direction. Most importantly, wireframes are critical for getting vital user feedback, which will help you fine-tune your product concept.
Designers can use UI design tools to create realistic hi-fi wireframes, mockups, and prototypes and produce minimally viable products. They depict a design's nuts and bolts, expressing its functionality.
UX design tools are focused on the user and how they will interact with the content. UX tools are intended to help designers paint a larger picture of how content and organization will affect user experience.
We'll look at some UI and UX tools that you can find helpful during the design process.
Best Wireframe Tools for UI/UX Designers
Adobe XD
Adobe XD is a powerful and user-friendly vector-based experience design platform that provides teams with the tools they need to create the best experiences in the world.
Adobe XD was initially introduced as "Project Comet" during the annual Adobe MAX conference in 2015.
It's entirely compatible with other Adobe products like Photoshop and Illustrator and with services like Adobe Fonts and Adobe Stock.
Adobe XD is perfect for vector-based UI design, wireframing, interactive design, prototyping, and high-fidelity web/app design, for single designers or whole teams.
It's also primarily focused on making the process of sketching wireframes for designers as simple as possible, from designing site maps, flowcharts, and storyboards to producing functioning prototypes.
A 'Repeat Grid' for quick design, auto-animation, voice triggers, and powerful collaborative capabilities are among the best notable features. Adobe XD is free to trial, but you'll need a Cloud subscription to access the complete set of features.
Features of Adobe XD
Some of the exciting features of Adobe XD are given below.
Design tools for prototyping
3D transformations
Transitions and animations
Dynamic components
Third-party plugins and extensions are supported.
Responsive content and layout resizing
Repeat grids
Voice control
Benefits of Adobe XD
It provides a clean and straightforward interface.
It offers a repeat grid feature.
It provides all types of artboards.
It provides a basic tutorial for every component.
It works seamlessly with other Adobe products.
One-click animations.
Easy collaboration with developers.
Drawbacks of Adobe XD
It does not allow to design of customized shapes.
Repeating objects does not work as it should do.
Cannot export CSS for design.
Pricing of Adobe XD
It does not allow a free trial, but you can use a limited free version. In addition, it offers a single-app plan.
Creative Cloud Photography: $9.99/mth
Creative Cloud Single App: $20.99/mth
Creative Cloud All Apps: $52.99/mth
Availability: Windows, macOS, iOS, Android
Figma
Figma is a browser-based UI and UX design application that includes robust design, prototyping, and code-generation tools. It is now (arguably) the industry's premier interface design tool, with extensive capabilities that help teams working on all stages of the design process.
Figma enables designers to create dynamic prototypes and mockups, test them for usability, and keep track of all progress.
It provides a collaborative environment in which multiple people can work on a project simultaneously, allowing you to see who has it open for real-time collaboration.
Wireframing with Figma is easy and quick. Then, when it's time for your development team to take over, they can pull CSS code from the design file and export individual elements to utilize as needed.
Features of Figma
Some of the best features of Figma are as follows:
Accessibility and team collaboration
It has the iterative capability and the ability to develop deliverables.
It can build prototypes and tests.
Define product design easily.
Smooth handoff
API integrations
Benefits of Figma
Collaboration is simple and familiar in Figma
Sharing in Figma is uncomplicated and flexible.
Best team communication using Slack
Best for design review feedback
It provides real-time updating of embedded files.
It facilitates developer handoff.
APIs offer third-party integrations.
Prototyping is easy.
It provides a rich library for designs.
Drawbacks of Figma
Limited range of decision tools.
It lacks some useful plugins.
Pricing of Figma
It offers three different plans as below.
Starter plan: Free to use
Professional plan: $12/editor/month
Organization plan: $45/editor/month
Availability: macOS, Windows, Linux, Web
UXPin
UXPin is a specialized wireframing tool with a delightfully easy design, clear icons, and a great library of UI elements you can drag and drop into your wireframes, as well as Bootstrap, Foundation, iOS, and Android components.
It is a fantastic design tool for interactive prototyping, design systems, and documentation. You can start your wireframes with UXPin's built-in collection of UI elements, which you can drag and drop immediately onto your canvas.
UXPin can read Sketch and Photoshop files, so you can use those to develop your basic wireframes into high-fidelity prototypes.
It stands out in a crowded area of wireframe because of its live presentation and documentation capabilities.
UXPin makes it simple to display a working prototype of your design through the Preview mode, get feedback, and include specs/documentation all at once.
Features of UXPin
Some of the exciting features of UXPin are as follows:
Built-in contract checker.
It has Hi-fi visual design and UI prototyping.
Fast wireframing
It has integrations with Sketch, Ps, and many more.
Advanced collaborations
Documentation and developer handoff
Benefits of UXPin
Best collaboration with teammates.
Rapid prototyping
Sharing and requesting feedback.
Version branching
Allows you to simply share previews of your projects with your clients.
It has annotation capabilities.
It provides spec modes for developers.
Drawbacks of UXPin
It lacks anchor links.
Customer support is only available via email.
Pricing of UXPin
It offers four different pricing plans for both monthly and yearly plans. You will get a 20% discount if you take service annually.
Basic plan: $24 per editor/month.
Advanced plan: $39 per editor/month.
Professional plan: $83 per editor/month
Enterprise plan: You should contact the vendor for a custom price.
Availability: Web, macOS, Windows
Sketch
Sketch is a macOS vector graphics editor created by the Dutch company Sketch BV.
Sketch is an excellent tool for creating simple wireframes, and its Symbol feature allows you to automatically repeat elements across your layout.
It is mainly used for website and mobile app user interface and user experience design and does not contain print design features. Sketch has recently added prototyping and collaboration tools.
Since Sketch is only available for macOS, third-party software and handoff solutions are used to see Sketch drawings.
Sketch makes collaboration difficult since there is no way for multiple designers to work on the same design file simultaneously.
You may, however, sync your design to Sketch Cloud, which allows you to share a link to the most recent version of your design and collect comments and other feedback without having to waste time with a time-consuming export procedure.
Features of Sketch
Some of the exciting features of Sketch are as follows:
Plenty of toolsets
Vector editing
Code export
Export presets
Grids & guides
Symbols
Libraries
Plug-Ins
Instant preview
Benefits of Sketch
It has exporting capabilities.
Non-destructive editing.
It has reusable components.
It supports a collaborative platform.
It provides customer support.
Grids and Guides.
Drawbacks of Sketch
It does not have a repeat grid.
It is a heavy tool.
Need plugins to get a more responsive design.
Availability: Mac
Axure RP
Axure RP is a software tool for wireframing, prototyping, documentation, and specification for online and desktop applications. It supports widget placement, resizing, and formatting through drag and drop.
Axure helps in prototyping and workflow management. In addition, it has an easy-to-use interface for documenting as you go.
It allows you to not only create low-fidelity wireframes but also add functionality and produce high-fidelity ones. It allows you to create interactive HTML mockups for both websites and apps, and you can view your app design on your phone using the built-in share option.
It enables testing of functionality and brings everything together for an easy developer handoff.
Features of Axure RP
Some of the features of Axure RP are as follows:
Design Interactive Prototypes, Wireframes, and Diagrams
Annotations on prototypes and diagrams.
Organize Notes for Various Audiences
Content that changes on the fly
Flow with Conditions
Animations
Adaptive Perspectives
Projects with Password Protection
View Mobile Device Prototypes and Diagrams
Simple Team Collaboration
Check-In/Check-Out System
Benefits of Axure RP
It is easy to use.
Enhance collaboration.
Share projects with ease.
It provides a documentation feature.
Create Prototypes, Wireframes, and Diagrams in Minutes
Distribute Projects and Collect Feedback.
Drawbacks of Axure RP
Team and cloud functionality need more features.
It is challenging for beginners to use.
Pricing of Axure RP
It offers different pricing plans. It provides a free trial as well.
Axure RP 9 Pro: $29/user/month or $495/user for a perpetual license.
Axure RP 9 Team: $49/user/month or $895/user for a perpetual license.
Axure Cloud for Business: plans start at $30/month for up to 5 users.
Availability: macOS, Windows
InVision Studio
InVision Studio is a prototype and animation tool that allows you to quickly develop advanced, vector-based screen designs. It's widely considered as one of the most excellent high-fidelity prototyping tools available.
It is a digital whiteboard that allows team members to share their ideas, communicate, and get that all-important sign-off before continuing.
InVision provides all of the UI design tools required for designers to build fully realized and functioning prototypes with dynamic features and animations.
The UI is simple to learn, and the preloaded icons are clean and well-designed. Thanks to features like comments, transitions, and desktop synchronization, it is a competent tool for creating everything from low-fi wireframes to full-featured prototypes.
It excels at responsive design capabilities and works well with Invision Freehand for real-time collaboration with others.
Features of InVision Studio
Some of the best features of InVision Studio are given below.
Image editing without masks.
Fix elements on scrolling
Link several artboards into single animations.
Create a prototype without writing codes.
Mirror images for the phone.
Short cut keys
Benefits of InVision Studio
It is a simple and intuitive interface, effortless to use and share.
Great for collaboration with multiple users and stakeholders.
It has an adaptive layout for responsive design.
It has rapid prototyping and advanced animation.
It has a shared design pattern to connect with team members.
Drawbacks of InVision Studio
It does not have sufficient integrations.
It is expensive.
Pricing of InVision Studio
It provides a free version to use it. Also, it has three other pricing plans as below.
Starter: $15 per month/3projects
Professional: $25 per month/Unlimited projects
Team: $100 per month/ Unlimited projects upto five team members
Availability: Windows, Mac
Justinmind
Justinmind is a wireframing and prototyping tool for creating high-fidelity prototypes of online and mobile apps.
It is not only simple to use and fun to learn; it also focuses on allowing you to develop a wireframe that can be tested as a functional prototype straight away.
It is designed for all sizes of businesses and aims to improve user experience through visual designs, web interactions, and mobile gestures. Furthermore, the platform enables designers to publish UI designs with a single click and invite comments from teams and other stakeholders.
In addition, the ease with which realistic wireframes can be created and shared may save you hours or days of work on any given project.
Features of Justinmind
Some of the exciting features of Justinmind are as follows:
Mobile transactions and gestures
Management of requirements.
Navigation based on conditions.
Shapes and sketches
Pre-built UI Libraries.
Responsive design.
Interactive prototypes.
Management of comments and reviews.
Benefits of Justinmind
Comprehensive prototyping tools.
It supports the construction of codeless wireframe designs.
Distribute wireframes and solicit comments.
Management of Reviewers.
It has an AIO package.
Data Grids and Smart Forms
Drawbacks of Justinmind
Problems in customizing
It is not a free version.
Pricing of Justinmind
It offers a free version. Also, it offers other plans as:
Standard: $9 per user/month or $8 per user/month billed annually
Professional: $29 per user/month or $19 per user/month billed annually
Enterprise: Contact the vendor for details.
Availability: Windows. macOS
Balsamiq Wireframe
Balsamiq Wireframe is a UI design tool that allows you to create wireframes. It is used to make digital sketches of your idea or concept for an application or website to facilitate discussion and understanding before writing any code.
Balsamiq's user-friendly interface makes it simple to produce low-fidelity wireframes. As a result, even somebody having no prior knowledge of wireframing could step in and create some that look good.
It includes both UI and UX, but its low-fidelity wireframes particularly stand out. Hence, this is an excellent choice for non-techies and lean UX teams with well-integrated communication tools and user testing.
Features of Balsamiq Wireframe
Here are some of the best features of Balsamiq Wireframe.
Collaboration tools.
It has data linking feature.
It has a drag and drops editor.
Feedback management.
It has mockup creation and presentation tools.
Software/UI prototyping
Revision history
Benefits of Balsamiq Wireframe
It has an iteration and versioning tool so, it helps to save wireframes in versions.
It tracks changes in UI easily.
Small learning curve.
It is quick to use.
Drawbacks of Balsamiq WIreframe
It does not include photo-realistic UI elements.
It does not support high-fidelity prototypes.
Pricing of Balsamiq Wireframe
It offers its pricing plan based on several projects.
For 2 projects: $9/mont or $90/year
For 20 projects: $49/month or $490/year
For 200 projects: $199/month or $1990/year
Availability: Mac, Windows, Linux, Web Browser
Conclusion
The free wireframe tools listed above are among the best UX designers can use to enhance their website optimization.
Choosing a wireframe tool is not as simple as you might think — you must consider several aspects such as the usage of the wireframe, the expected outcome, the system specs, and the team's design process.
Which tool impresses you the most and why? Mention your thought in the comment section below.
For more blogs and information, subscribe to timeTracko.
Related articles