Best Expenses Tracker App for Small Business
Best Expenses Tracker App for Small Business
An organization must deal with several expenditures every day, which are hard to record. In business, tracking all expenses can be challenging; this necessitates the use of business expense trackers. 
Depending on the situation, you may have to hire people to look after your financial activities, like business credit or business loans, which are costly. In such cases, expense tracking apps keep track of all your organization's expenses. Expense tracking apps and accounting software are helpful, as they 
Create a financial report.
Monitoring finances is easy.
Digital data receipts reduce paperwork.
Secure to save data.
Help in building business strategies.
Best Expense Tracker Apps For Small Business
It's important to find the best one for your business organization among the various expense tracking applications available. Here are some of the best:
1. Zoho Expenses
Zoho Expense is expense monitoring software that tracks all your business, travel, and credit card expenses. You can use your mobile phone to record, organize, and calculate total costs.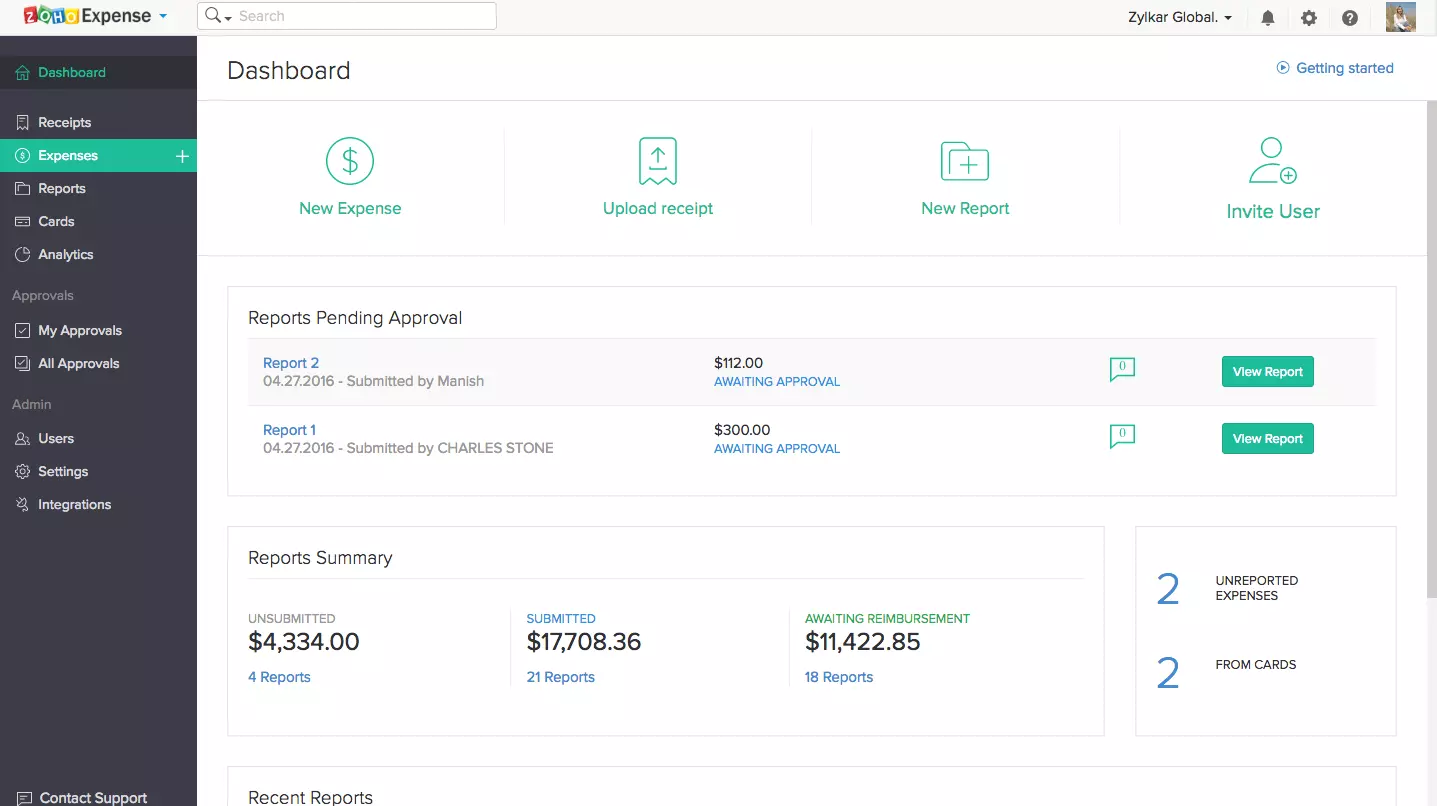 After the users enter expenses, the data automatically merges with similar costs, and the app calculates and stores receipts. As an employer, you can create an approval flow for your employees and approve and reject expenses with a single click. 
Zoho Expenses is Best For 
Features of Zoho Expense
Cloud storage capacity of 5 GB.
Support multi-currencies.
Provide project tracking features.
Integration with Xero, Slack, Dropbox.
The auto-scan option.
Also Read:
Proven Productivity Hacks For Business Owners
How Safe is Zoho Expense App?
Multi-factor authentication.
Data encryption with SSL.
Single sign-on configuration.
Users cannot log in from different IPs.
Account Links
Bank accounts
Credit Cards
Paypal and others.
Expense Categorization: Yes
Benefits of Zoho Expenses
Per diem rate for limiting employees' expenditure.
Store receipts digitally for safety.
Feature to send billing reports to customers.
Drawbacks of Zoho Expenses
Pricing of Zoho Expenses
Free of cost (3 Users).

Premium Plan: Costs $3 /user/ month (paid monthly).
Enterprise Plan: Customizable.
Available on 
Windows
Mac
Android, IOS
Web.
Recommended For you
Best Employee Monitoring Software For Small Business(Low cost)
2. Intuit QuickBooks
QuickBooks is an online software for tracking your business income, expenses, customer invoices, and project profitability. Users can store data in the cloud securely, and you can easily keep track of your sales, accept credit cards, and calculate sales tax with Quickbooks accounting.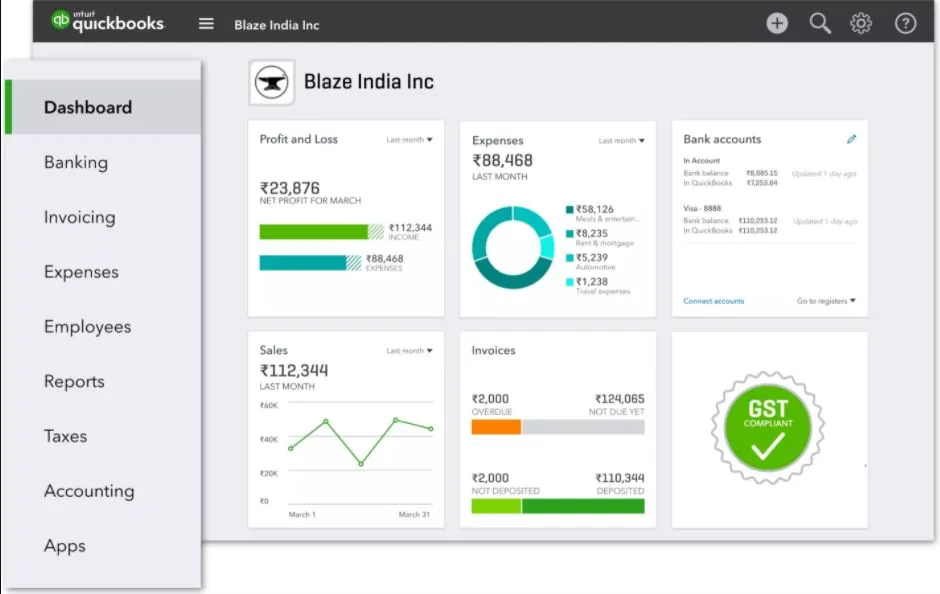 It allows you to track your bill status, helps you manage and pay bills on time, and record the payments personal and business-related. The app tracks your incoming and outgoing VAT, calculates your VAT, and generates your VAT report. 
Intuit QuickBooks is Best For 
Features of Intuit QuickBooks
Tracks incoming, outgoing expenses, and VAT.
Report generation with payment recording.
Integration with third-party apps.
Time tracking for employees' billable hours.
Multi-currency features with transactions.
It provides project tracking features.
How Safe is Intuit QuickBooks App?
PIN and customer id by VeriSign.
Message encryption with SSL, RSL.
Password feature for financial data.
Multi-factor authentication for login.
Account Links
Banks
Credit cards
Paypal, Square, and others.
Expense Categorization: Yes
Benefits of Intuit QuickBooks
It offers a 30-day free trial.
Provides highly customizable reports
Inventory management features.
Drawbacks of Intuit QuickBooks
No invoice design tools.
Direct professional support is missing.
Pricing of Intuit QuickBooks
Simple Start: $7.50/ month.
Essential: $12/ month.
Plus: $21/ month.
Advance: It costs $45/month.
Available on 
3. Expensify
Expensify is an expense tracking and reporting app that makes it easy for businesses to manage their expenses with accounts and credit cards. The app automatically generates your expenses report once you import your credit card transaction, and the expense tracker app is worth it.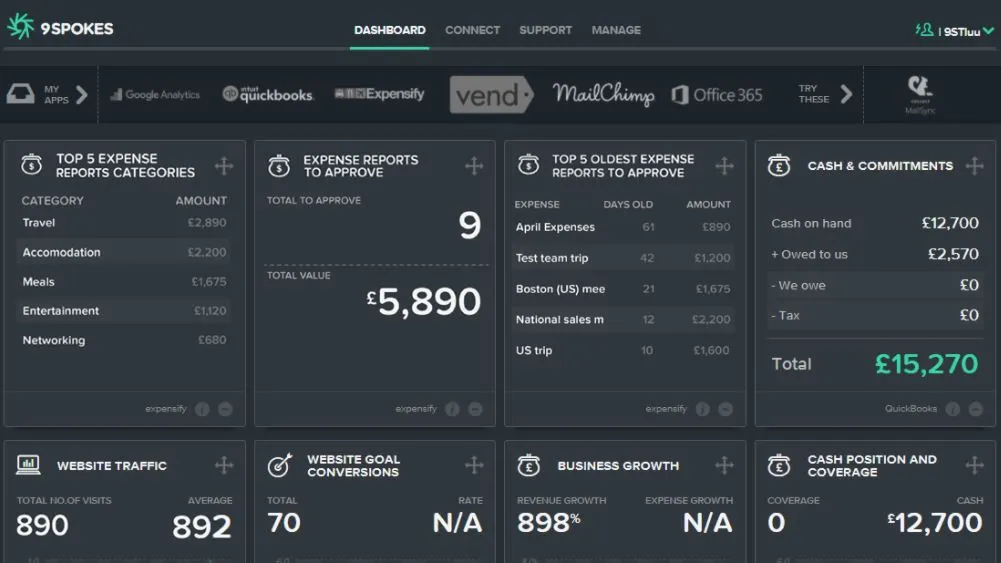 You can summarize your transaction according to the dates, maintain transparency in the partnership business, and easily collaborate with team members of the company.
Expensify is Best For 
Personal expense tracking.
Small businesses
Receipt saving.
Features of Expensify
Tracks taxes.
Multi-currency GPS for travel expenses.
Allows sending reports to the auditor.
Integration with Oracle, Uber.
It provides multi-level coding features.
Feature of receipt scanning, storing.
How Safe is Expensify?
Some security features of Expensify are
Standards: SSAE 16, PCI-DSS compliance.
Encryption ,HTTPS+TLS for web connection.
Dual control, split knowledge key for account safety.
Account Links
Bank
Credit cards
Paypal 
Debit cards
Expense Categorization: Yes
Benefits of Expensify
Easy to use.
Direct receipt uploading.
Drawbacks of Expensify
Web-version is confusing.
Prices keep increasing.
Pricing of Expensify
Expensify offers different plans, and their prices are
Individual plan
Track(track your expenses): $4.99
Submit(report others): $4.99
Groups Plan
Collect: $5 / user/ month 
Control: $9 / user / month 
Available On
Windows
Linux
Mac, IOS
Android
Windows phone, Web.
4. Fyle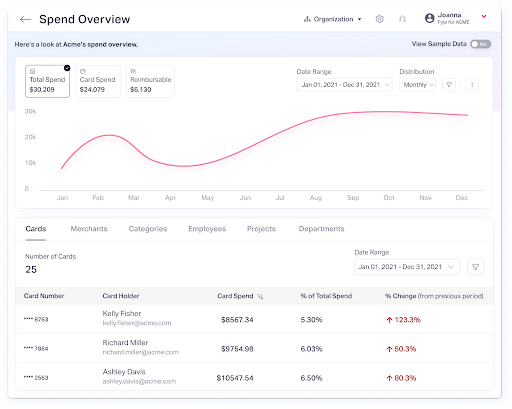 Say goodbye to outdated bank feeds and manual statement uploads! Fyle is here to revolutionize your expense management workflow. With Fyle's real-time credit card feeds, your expense system gets updated as soon as you swipe your card. Employees receive instant SMS alerts about their transactions and can simply reply with a photo of the receipt, which Fyle will automatically match. Ditch the time-consuming reconciliation process and get things done in under two minutes with Fyle!
Fyle is Best For 
Features of Fyle
Direct integrations with Visa and Mastercard for real-time transaction feeds

Receipt submission via text messages

Expense tracking from daily apps like Slack, Gmail, Outlook, Slack, etc

Automated compliance 

Two-way integrations with accounting tools like Quickbooks, Netsuite, Xero, and Sage
How safe is Fyle?
SOC-2 compliance

Single sign-on configuration

GDPR Compliance

PCI DSS compliance
Expense Categorization: Yes
Benefits of Fyle
Real-time credit card feeds on all business credit cards

Receipt tracking via text messages

Automated compliance 

Two-way integrations with accounting tools like Quickbooks, Netsuite, Xero, and Sage
Drawbacks of Fyle
A slight learning curve for new users
Pricing of Fyle
Standard:

6.99 per active user*/month, billed annually

Business:

$11.99 per active user*/month, billed annually
Available On
5. Shoeboxed
Shoeboxed is a business expense tracking and document management service that scans your receipt, extracts critical data, prepares reports, and organizes them.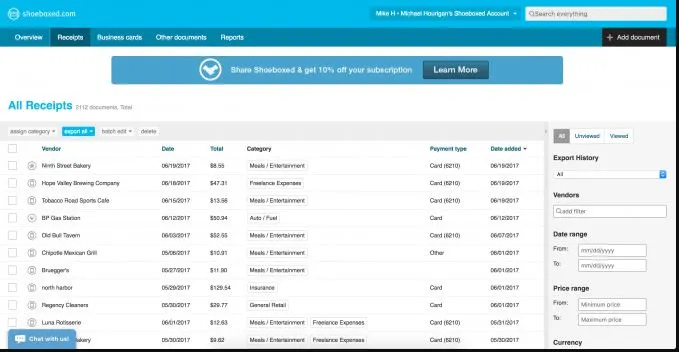 You can get all your business receipts using the magic envelope or mobile app to send receipt images. And they organize the ticket and send you your expenses reports.
Shoeboxed is Best For 
Sole proprietors 
Small businesses
Public administrators
Features of Shoeboxed
Receipt organization to make it audit-ready.
Expense tracking with report generation.
Scanning, OCR feature (digitization).
Easily port receipts and reports via Gmail.
Integrations with Evernote, HP.
How Safe is Shoeboxed?
Some security features of Shoeboxed are:
SSL encryption, single sign-on.
Networks monitored 24 hours.
Security policies from USPS.
Account Links
Expense Categorization: Yes
Benefits of Shoeboxed
Easy to organize receipts.
All the data is digitized.
Drawbacks of Shoeboxed
Problems in the android app.
Limited features.
Pricing of Shoeboxed
Shoeboxed offers three plans, which are:
Startup:$22/month.
Professional:$45/ month.
Business:$67/month.
Available on
Windows
Mac
Android
IOS
Web
6. Rydoo
Rydoo is a cloud-based expenses management and reporting solution that tracks your business and travel expenses with travel insurance. It is available in nine languages and is suitable for all business sizes.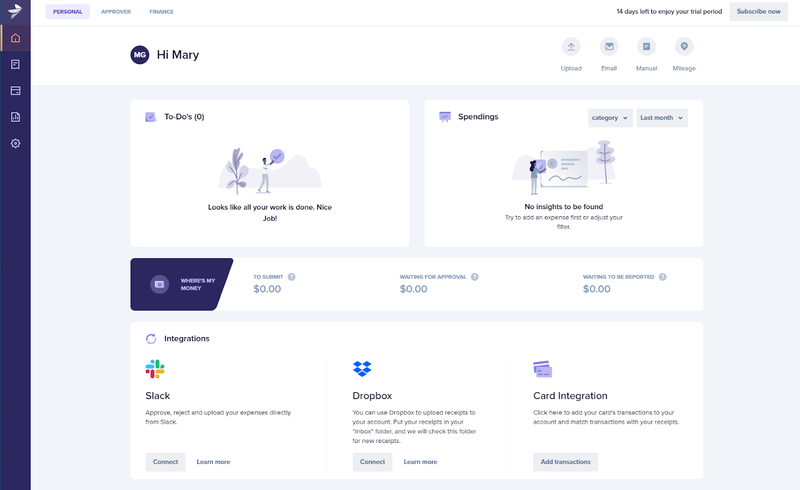 You can use the app's web scanner to scan your receipts and upload them to the app. Once your receipts are on the app, the app organizes your tickets.
Rydoo is Best For 
Features of Rydoo
Receipt scanner feature.
Integrations with Slack, Uber, Dropbox.
Automated approvals save time.
Receipts storage in the cloud.
Multicurrency feature for traveling.
How Safe is Rydoo?
Some security features of Rydoo are:
System Protection: Uses data encryption firewall, DMZ.
Cloud supported by the EU.
Access management with NDA.
Regular pen-tests by ZionSecurity.
Keycard access in offices.
Account Links
Credit cards
 Visa card
Master card
Expense Categorization: Yes
Benefits of Rydoo
Reduce paperwork.
Easy to track international expenses.
Available in multiple languages.
Drawbacks of Rydoo
No system for reimbursement.
Missing expense card option.
Pricing of Rydoo
Rydoo has three plans, which are:
Team: It costs $7/user/month. 
Growth: It costs $9/user/month. 
Enterprise: Customizable.
Available on
Windows
Mac,IOS
Android
Web
7. Concur
Concur is a business expenses and travel management app that captures and records expenses from multiple sources and prepares expense reports.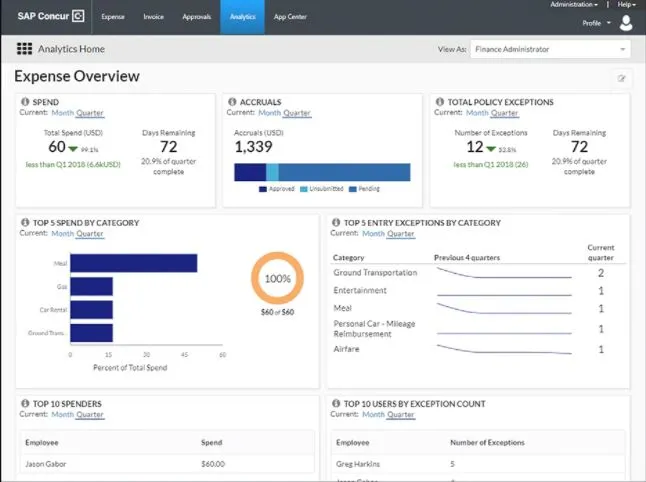 In this app, all you have to do is enter your invoices; the app automatically sorts those invoices and eliminates redundant data and errors. It tracks your payment and simplifies the payment method. 
Concur is Best For
 Business personnel. (traveling)
Features of Concur
More than 25 templates.
Travel expense tracking with GPS.
Convert receipts to reports.
Itinerary organization
Payment tracking.
How Safe is the Concur App?
SAML-based Single sign-on.
Standards: PCI DSS, ISO 27001 & 9001
Privacy standard: BS 10012:2017
SOC report via SAP Trust Center.
Sarbanes-Oxley Act.
Account Links
Expense Categorization: Yes
Benefits of Concur
Suitable for all sizes of organizations.
Easy to use dashboards.
Drawbacks of Concur
Manual data entry.
Confusing to use.
Pricing of Concur
Standard Edition: It costs $8. 
Professional Edition: It has custom pricing.
Available on
Windows
Linux
Mac
Android
Blackberry
Windows Phone
IOS
8. Freshbooks
Freshbooks is a cloud-based accounting and expenses tracking app that tracks your mileage manages expenses and receipts.
It is a popular app among small business entrepreneurs for time tracking, managing expenses, and finance.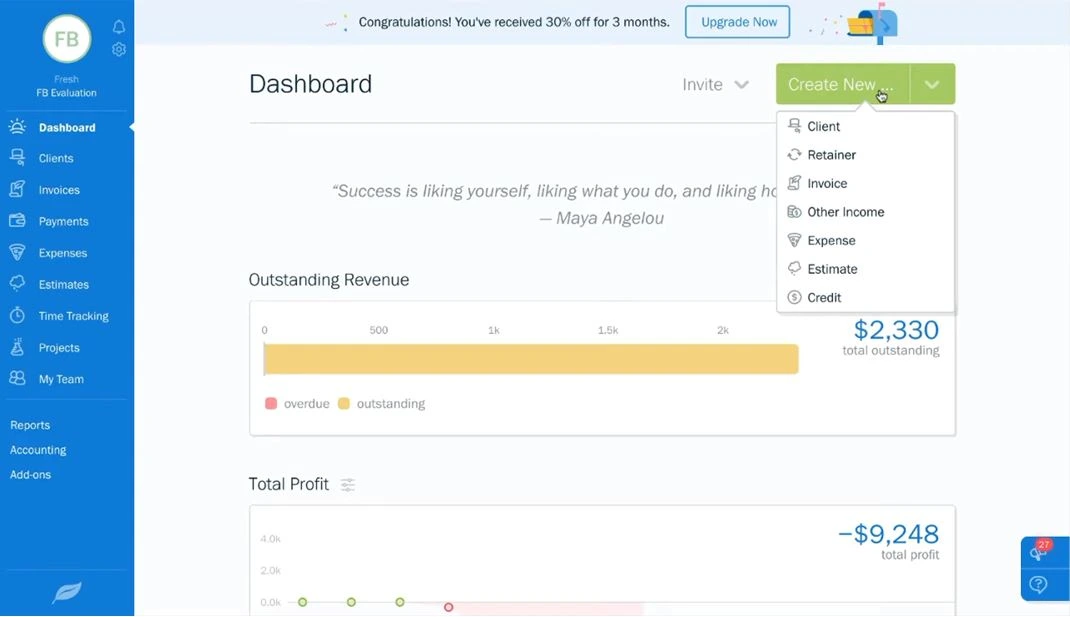 You can create all your invoices, customize them, and even add a logo, making your invoices look professional using the app. Users get an accurate picture of profit and loss using the accounting features of Freshbooks.
You can see a summary of your activities, tax summary, accounting and expenses report, and many other reports on the dashboard.
Freshbook is Best For 
Sole proprietors
Small businesses.
Features of Freshbooks
Project time tracking features.
Accounting feature for financial reports.
Create professional invoices.
Chat and collaborate with clients.
Mileage tracking feature.
How Safe is Freshbook?
Some security features of Freshbooks are:
Vulnerability scanning using Sikich LLP.
256-bit SSL Encryption.
 PCI Data security standard.
Google Cloud Platform for security.
Account Links
Bank
MasterCard
Apple Pay
AMEX
VISA
Expense Categorization: Yes
Benefits of Freshbooks
Multiple expenses tracker 
Calendar features.
Double-entry bookkeeping system.
Drawbacks of Freshbooks
No inventory tracking.
No vendor management.
Pricing of Freshbooks
Lite: $7.50/month.

Plus: $12.50/month.
Premium: $25/month.
Select Custom pricing.
Available on
Windows
Mac
Android
Web
IOS
9. Personal Capital
Personal Capital is a free financial management tool that monitors your expenses, checks your accounts, and gives investment advice. You can view all your financial plans and status in a single dashboard.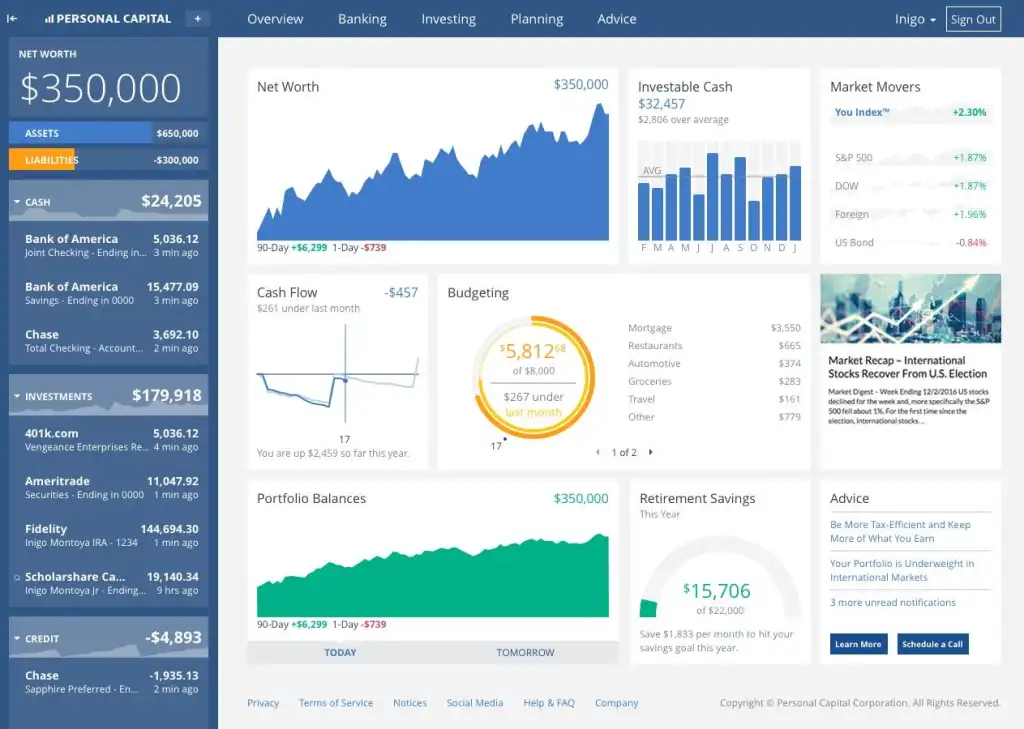 You can easily manage your wealth using its wealth management features. The financial advisor will help you review your investment, make financial decisions, and plan wealth.
You can even customize your portfolio, monitor and rebalance them, and optimize tasks. The app helps you to invest in those companies that value your investment. 
The app also helps you to plan your retirement with its retirement planner. All you have to do is set your retirement goal, provide you with your saving amount, and alert you if you are spending too much.
Personal Capital is Best For
Features of Personal Capital
Tracking net worth.
Build personalized plans.
Get advice from experts.
Retirement and saving planner.
Cash management & monitoring. 
Allows tax optimization.
How Safe is Personal Capital?
Some security features of Personal Capital are:
Multi-factor authentication via fingerprint scan or code.
Data encryption with AES-256.
Security Bounty Programs.
Account Links
Expense Categorization: Yes
Benefits of Personal Capital
Help you to optimize tax.
Plans for your retirement. 
Drawbacks of Personal Capital
Pricing of Personal Capital
The pricing structure of Personal Capital is quite different from other expenses apps. The pricing plan for the app is based on your Balance:
| Balance | Annual Fee (in % of Balance) |
| --- | --- |
|   |   |
| $100,000-$1,000,000 | 0.89%  |
| $1 Million- $3 Million | 0.79% |
| $3 Million- $5 Million | 0.69% |
| $5 Million- $10 Million | 0.59% |
| $10 Million or above | 0.49% |
Available on
10. PocketGuard
PocketGuard is personal financial management and expenses tracking app available only in the USA and Canada. The app monitors your financial activities, helps you create a budget, and reduces expenses.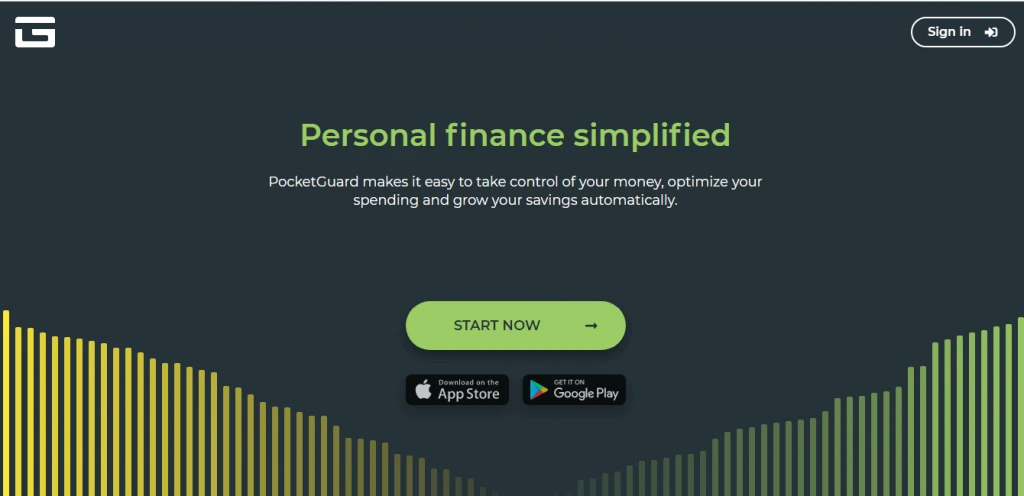 You can view the remaining amount after paying all your bills, saving, and deciding on future expense goals. Users can track cash flow as it tracks withdrawals from an ATM too.
PocketGuard is Best For
Features of PocketGuard
Tracking expenses.
Auto-saving feature.
Analyze costs with a pie chart.
Goal setting for saving.
How Safe is PocketGuard?
 256-bit SSL encryption.
Use of PIN code and biometrics.
Account Links
Expense Categorization: Yes
Benefits of PocketGuard
Drawbacks of PocketGuard
Available only in the USA and Canada.
Pricing of PocketGuard
PocketGuard offers two plans, which are:
PocketGuard Basic: Free.
PocketGuard Plus: $3.99/month.
Available on
11. Mvelopes
Mvelopes is web-based budgeting and expenses tracking app that manages your cash flow, budgets, and expenses.
You can integrate your bank account and credit cards with the app that helps to manage your expenses.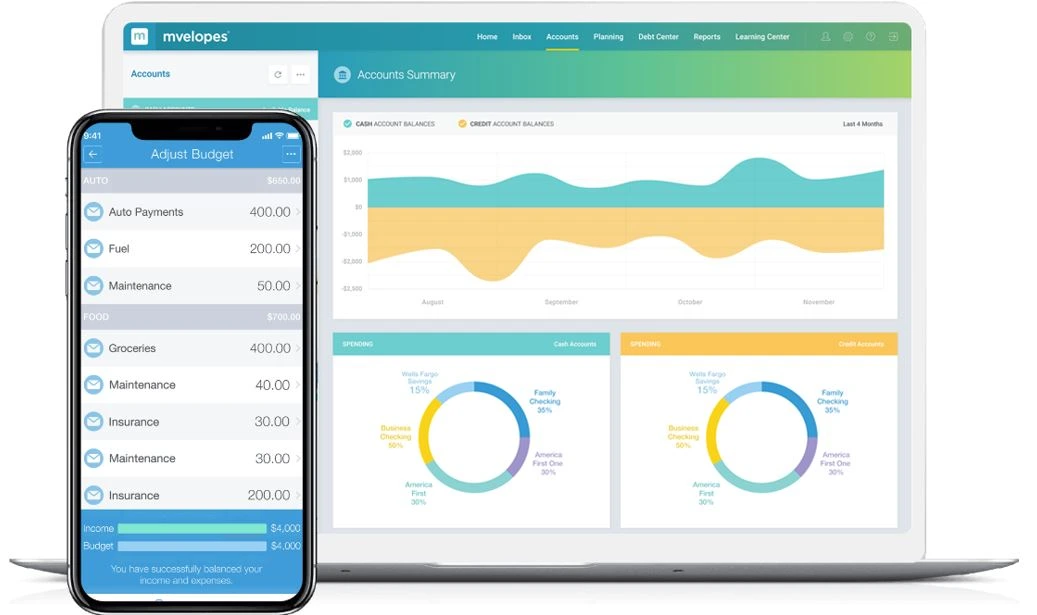 Once you integrate the app with your bank and credit card, it automatically tracks your spending and income and creates a budget. The budget is sent in a digital envelope, which you can edit as per your need.
One of the app's exciting features is that the envelope turns red if you spend more on some overhead than your allocated budget. You can even download your spending reports in PDF and CSV format.
Mvelopes is Best For
Small, medium businesses 
Enterprises.
Feature of Mvelopes
Financial planning, real-time budgeting.
Digital envelope system.
Email support feature.
Network tracking features.
Option for debt elimination plan.
Coach for personal finances.
How Secure is Mvelopes App?
Encryption with SSL/TLS.
Layered system for backups.
Account Links
Bank account
Credit cards.
Expense Categorization: Yes
Benefits of Mvelopes
Drawbacks of Mvelopes
Pricing of Mvelopes
Mvelopes has three plans, which are:
Basic: $4/month.
Plus: $19/month.
Complete: $59/month.
Available on
12. Everlance
Everlance is a cloud-based app for freelancers to track their miles, revenues, and expenses. You can upload unlimited receipts and sync in bank and credit cards.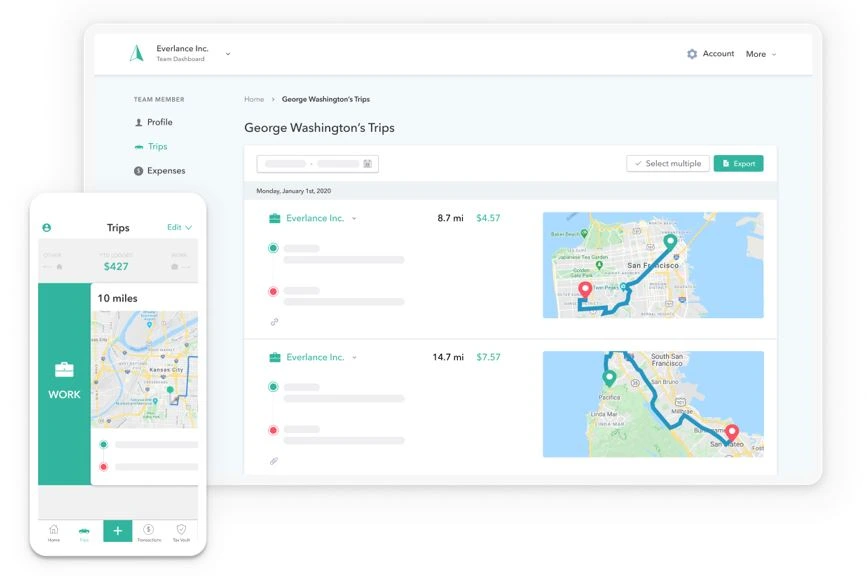 It stores your business and personal expenses separately. For support, users can receive one-on-one training with an account manager. You can upgrade the app to a premium version. 
Everlance is Best For
Features of Everlance
Mileage tracking with GPS.
Track revenue expenses.
Upload/ store receipts.
Integration with Xero, Freshbooks.
Download transactions.
Export expense reports.
Deduction finder for tax.
How Safe is Everlance?
Cloud security via Amazon.
256-bit encryption for data security.
It is a read-only app.
Account Links
 Bank account
 Credit cards.
Expense Categorization: Yes.
Benefits of Everlance
Reports in PDF,CSV format. 
Drawbacks of Everlance
Pricing of Everlance
Basic: Free.
Premium: $8/month.
Premium+: $10/month.
Available on
13. Mint
Mint is a simple, accessible, and personalized expenses tracker app that customizes your budget and helps your budget management. You can organize and manage all your digital bills and paper bills in one place.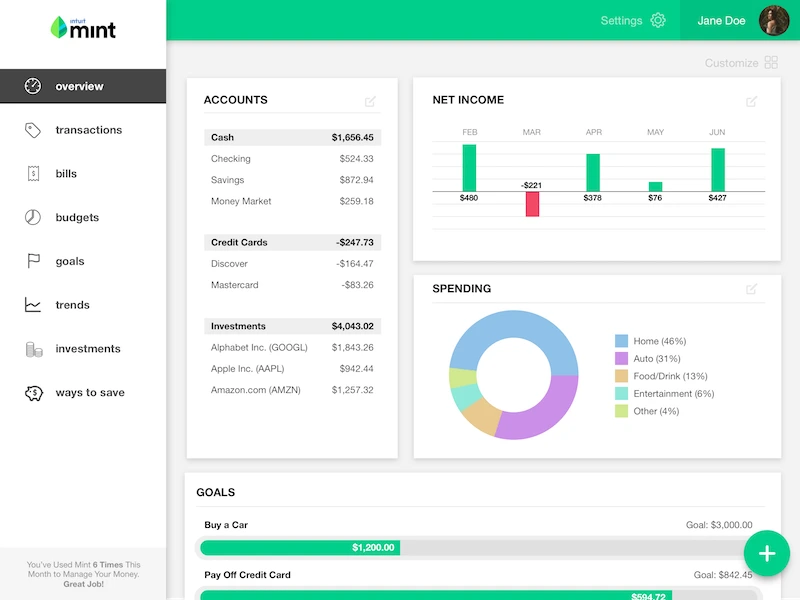 While making a budget, sometimes you might go over budget; the app notifies you in such cases. You can categorize your budget, add tags, and organize transactions. 
Mint App is Best For 
Features of Mint
Track income investment with expenses.
Alerts on suspicious transactions.
Notification alert for credit transaction.
Allow you to personalize your budget.
Reminders for bills with credits.
How Safe is it to Use Mint App?
Multi-factor authentication.
PIN Code
Scanning with VeriSign
Touch Id mobile access
Hardware/Software Encryption
Account Links
Expense Categorization: Yes, editable by users.
Benefits of Mint
Easy to use.
Credit score availability.
Drawbacks of Mint
No investing features.
Ads appearance.
Pricing of Mint
Available on
Benefits of Expenses Tracker App
Small businesses require applications to track expenses with inventory management. Expense tracking makes it easy to know your past expenditure that is automatically tracked and present spending and make budget plans for the future. Some benefits of expenditure tracker tools are:
Helps You Prepare a Budget
You need a budget to determine your cash flow with expenses when you start a business. It is easier to determine net income, return on investment, overhead costs, recurring payments.
You can create a budget for your organization using an expense tracking app by entering your net income. Some tracking apps automatically do all the accounting activities by calculating your net profit revenue and creating a budget for the next month.
Get a Clear Picture of Expenses
The expenses tracking app shows all the overheads spent in the month, and you get a clear picture of your expenditure habits. 
For example: In your business, if you find your expenditure is increasing more than required, then you can use an expense tracking app to check where the cost is rising.
Cut Down on Unnecessary Expenses
As an entrepreneur, you may not keep track of all the organization's activities with business credit. With accounting software, you will identify all the business expenses and determine which costs are necessary to cut off business loans. Some expense tracking apps themselves determine which expenses need to be cut off. 
Prepare for Income Tax
Expenses tracking apps help you organize receipts and store them. You can prepare invoices and track income and all the organization's expenditures. If you don't use the app, you have to hire someone to design a tax report and income statement, increasing your expenses; hence, the app also reduces such costs.
Create Investment Strategy
Expense tracking apps are beneficial for increasing your organization's savings. These apps help generate disposable income and utilize such savings by investing them in profitable sectors.
The perk of an expense tracking app is that they work as your financial advisor and help you decide where you can spend and remove bad credit.
Conclusion
In conclusion, expense tracking is crucial for an individual, but it is equally essential in serving business and personal needs. You can find apps in Google Play to calculate profit and loss and measure mileage on business travel.
Expense tracking apps help get a clear picture of organizational expenditure and prepare a budget. These apps also help decide where to invest with profitability. It is better to compare the price ranges to purchase an app worth the cost.
FAQ's Regarding Expenses Tracker Tool
How can small businesses track expenses?
Small businesses can use expense tracking applications that monitor spending in real-time and provide reports. By linking banks and credit cards, users can stay updated on business spending and make budget plans accordingly.
What are the best applications to track expenses for small businesses?
The best apps to track expenses for small businesses are Mint, Evelerance, Mvelopes, PocketGuard, Personal Capital. Others include Freshbooks, Rydoo, Concur, ShoeBoxed, Expensify, QuickBooks, and Zoho Expenses.