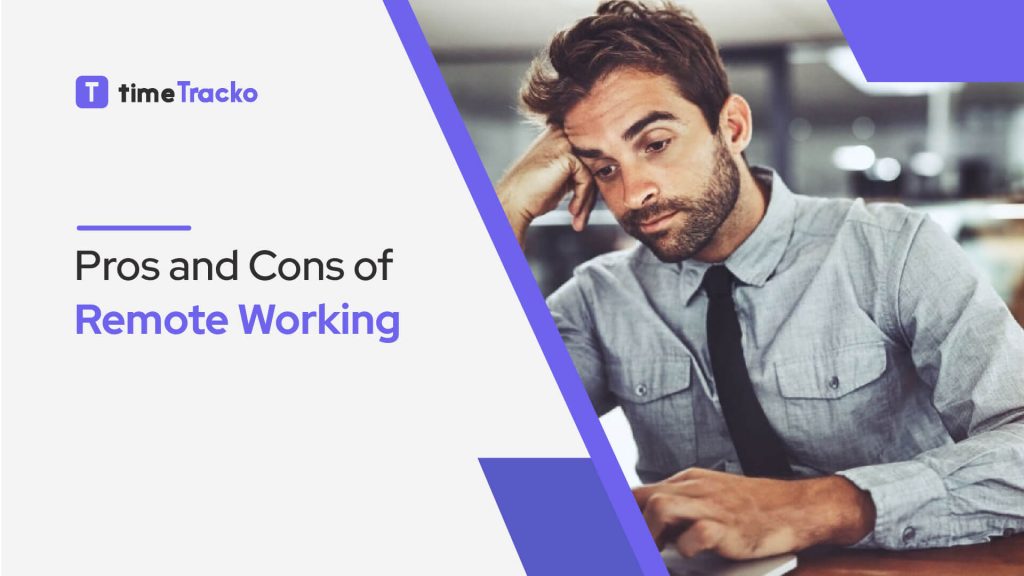 Sometimes you might be working from a co-working space, and even while traveling. It doesn't matter where you are from, but you must focus and dedicate yourself to work.
The organization hires employees from several places or countries to enrich productivity and achieve organizational goals in remote working.
If you travel as a part of work, conduct meetings, demos, work with different groups, etc., remote work is beneficial for you and your organization to increase productivity.
Why is Remote Work a Trend?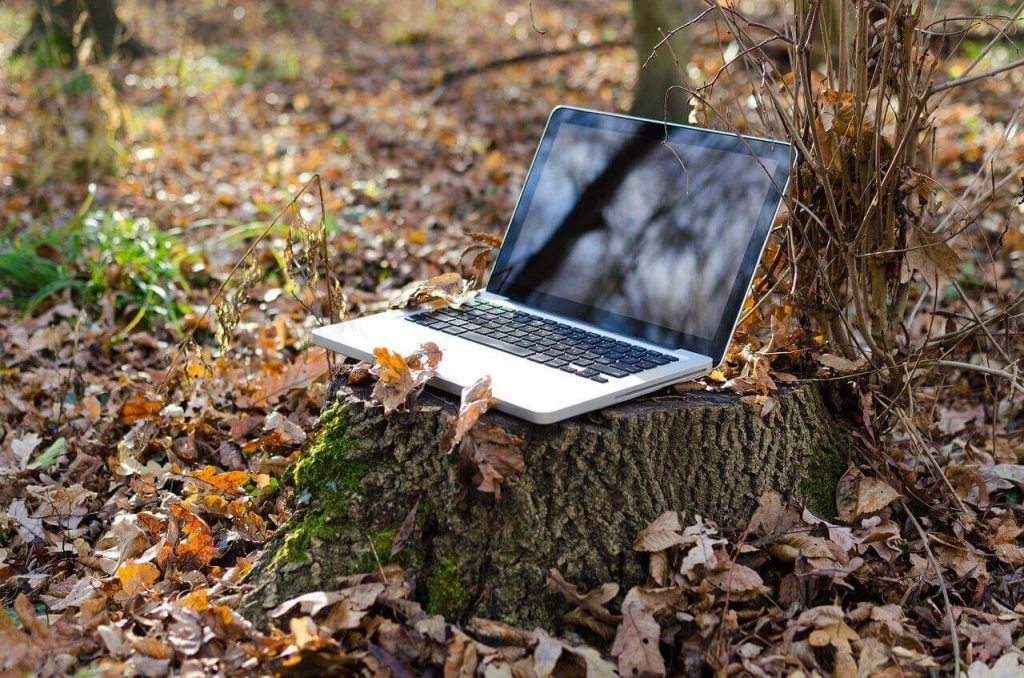 Remote working is not a new trend, as hundreds of companies have hired remote employees for years. 
However, the trend of remote work reached a new height in 2021 with the increment of COVID-19.
Because of the fear of virus transmission from one person to another, work from home became famous worldwide.
As per a research study, compared to traditional employees, remote workers are more productive. Employees and the organization can also be productive as there are few chances of employees taking sick leave or any extra leave. 
The employees can be hired from anywhere, so sometimes hiring more skilled and trained employees to achieve common goals has more chances.
The advancement of technology has made remote working more accessible and more productive with various tools and applications.
Remote Employees work using various applications such as timeTracko, Zoom Meeting, Slack, Google Meet, Focusmate, Toggle, Spark, etc.
Supervisors can communicate with each other via video conferencing and track employees every time to know whether they are working on the assigned task or not. 
These applications are used for group meetings, seminars, training, and collaboration among employees. You can work productively on a team with colleagues to achieve organizational goals.
Pros and Cons of Remote Work
Remote work is a new kind of thing for many people who have never worked outside an office.
Thus, the advantages and disadvantages can be anticipated. The few terms regarding the upsides and downsides of remote work for both employers and employees are discussed below:
Pros of Remote Working
Here are some of the pros of remote working.
Flexibility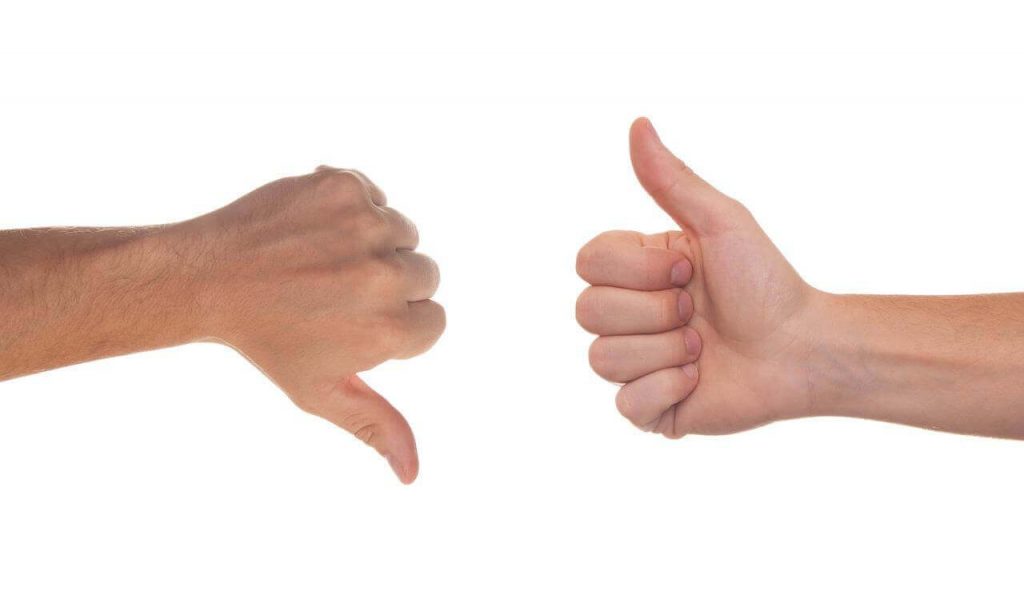 Working remotely allows one flexibility. You can work anywhere, including your favorite place or environment, which will automatically boost your energy to work. With just a laptop and wifi connection, you can knock out your day's work.
You can choose any place on the planet which is flexible for you, including your house, beach, different country, coffee shop, and so on.
Similarly, working in a place that makes you happy will lead to better work. A comfortable working environment will increase and enhance the productivity of an organization.
Increase in productivity
Remote work or work from home increases the productivity of an organization. Generally, employees are more productive as they can focus on work while working remotely.
They can take a break according to their wish, which will make them fresh all day. All thanks to developing technologies that have made remote work much more effective.
Many employees admire that working from home has made them more responsible and given them more freedom for completing the job in a peaceful and non-pressurized zone. 
They can work in their comfort zone, so work increases, and it will be more productive.
Save money and time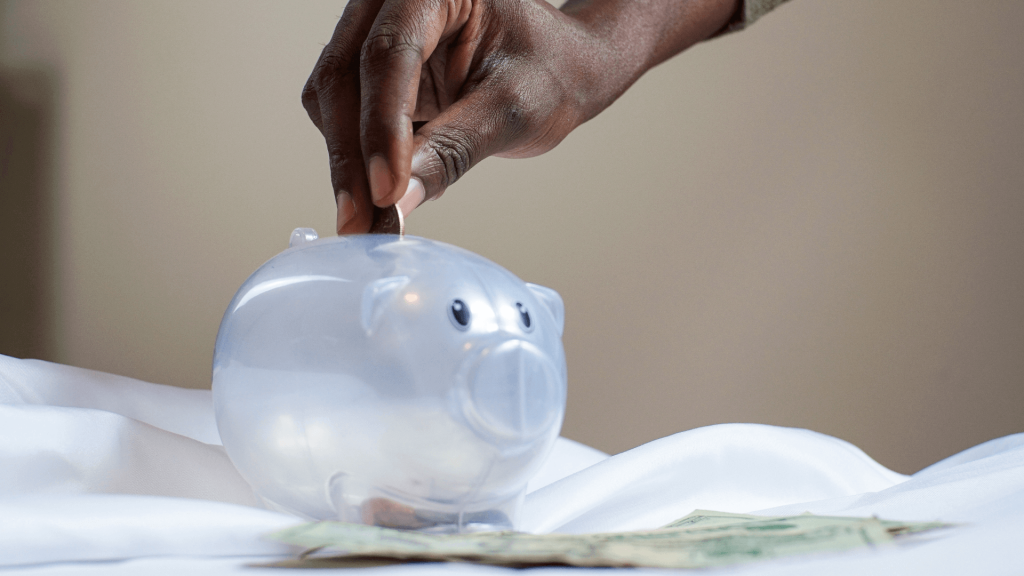 When you work remotely, you don't have to spend more money on canteen food. 
Similarly, your travel cost will also be saved when you work from home within your environment. You can save regular dry cleaning expenses.
It allows you to save money spend on vehicle fare. Eating lunch outside daily will be more expensive. While working at home, you can eat leftovers at lunch. There will be many alternatives to eat at home, which will save money.
You can save time as you can work even while eating some snacks inside the home.
The time that will be consumed while going to the office can be utilized for your works.
It can also be beneficial to an organization as they don't invest in workspace or employee expenses.
No commute
The employees no longer have to commute to work while working remotely. Commuting is challenging, due to which many employees quit their jobs. 
Sometimes heavy traffic will disturb you, and you will not reach the office on time.
A regular long-distance journey will make them tired and frustrated. In some cities, transportation is more hectic.
Employees who have to travel in public vehicles will sometimes miss their route because the supervisor can be dissatisfied, and employees get demotivated. Saving daily commute time is one of the most significant advantages of working remotely.
Better health
Health is an essential factor in our lives, so one needs to have better health to perform the work productively. Working remotely will reduce mental stress, and you will have a healthier life. 
Similarly, you can eat a healthy diet inside your home. You can get time for exercise, which will keep you fit and fine. There will not be any pressure of work if you can manage time properly for everything.
Custom environment
The environment where you work should be comfortable. You can only enjoy the work when you are inside a suitable environment where nobody distracts you, and you can focus on work.
While working remotely, you can have a free and comfortable setup that helps to lead to increased and enhanced productivity.
Everyone has a different preference, so the office cannot help maintain and fulfill every employee's choice. Employees often complain about the room's environment, co-workers' noise, etc., in an office.
While working remotely, you can change rooms so that you should not work in the same place. Therefore, you can enjoy the setup with a peaceful environment to work at home.
Increase creativity
When you become more responsible towards work, the creativity of the mind increases automatically. Being independent and accountable is a primary key while you work remotely.
You can be more dependent on co-workers or bosses while working at the office for a minor problem.
But when you work remotely, every major problem should be solved by yourself, and you will start doing more research, which will increase creativeness.
No distraction
There is a chance of distraction by co-workers inside an office. They often keep talking to each other rather than working. They also get distracted by others' communication inside the office.
The mind will get distracted, and it will result in a lack of quality work. It would help if you avoided those factors which distract you from working.
Remote working reduces distraction, and the employee can be responsible for completing the task in a short time.
You can even enjoy working in your way and a comfortable environment. You can also enjoy work by adding your favorite music in the background when you feel bored.
Spend quality time with family members and friends
It is challenging to spend quality time with family members and relatives for the technical employees who need to work every day by going to the office.
Spending quality time with family is very important for your refreshment and motivation as family members are most important.
Sometimes you feel very demotivated, and you will undoubtedly miss your close friends and family.
Working remotely allows you to spend quality time with family and friends as soon as complete your work. 
You can stay with your family and get proper care when you become sick as well. One can manage time for family and friends and make them happy.
Cons of Remote Working
Here are some of the cons of remote working.
Domestic obligations
There are certain obligations from your family members, and also, there are several social situations to be considered while working remotely.
Fixing lunches, giving time to your children, household activities, and managing your daily schedule come with your work.
So you need to manage time for everything, and there is no workspace as you need to complete tasks and domestic work. It will be challenging to manage both at the same time. 
Due to family bonds, you can lose your work track sometimes and may not complete the work on time.
You can get distracted by relatives and several family get-togethers. Your productivity will undoubtedly decrease as you tend to spend more time with family members than work life.
Loneliness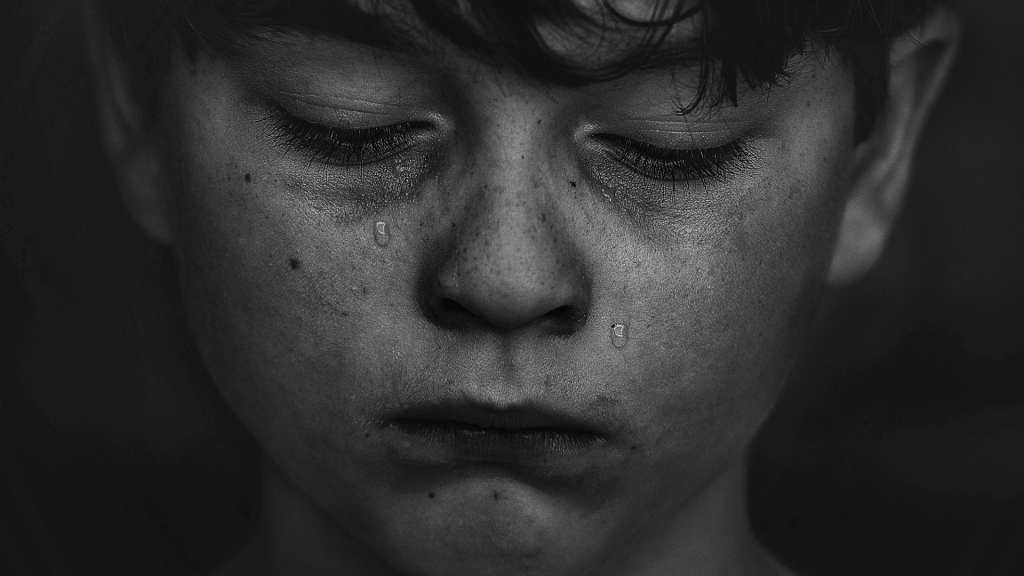 Working alone can be more challenging sometimes for those who prefer to have a work partner together.
The feeling of loneliness may decrease your energy to work, and productivity will get reduced. Loneliness can also create stress and anxiety.
It can be challenging to develop a habit of working online alone without colleagues for new ones.
Using online every time will make you alone as there is no one beside you to talk and guide or help you immediately.
Since we are habituated to working with colleagues, it can be challenging to cope up alone.
Less collaboration
Remote workers don't get the opportunity to work with colleagues together. Working on the office desk helps people meet more and more people, get a chance to know and explore, and make the team.
There will be a communication gap between co-workers, which can reduce productivity while working remotely.
Putting employees together and collaborating with them is very important to perform work effectively and achieve work goals.
Technical drawbacks
Working remotely demands good internet connectivity. You cannot get a good internet connection everywhere while traveling from one place to another place.
So the remote workers should face technical drawbacks most of the time, and there will be a delay in work. In most places, there is a challenge of good internet connectivity.
Also, the home internet is not as stable and faster as that in the office. It may cause delays in work. 
Slow performance of work
Compared to the work in the office desk, there is no one to supervise the speed, and the output could be delayed compared to the job done in an office space.
When you consult about the problem you are facing, there will be a delay in getting the response.
The staff will work according to their wish and desire. There will not be any steady pressure from top-level managers to speed up the work.
It will decrease the productivity of an organization, and the organization cannot achieve the desired goals.
Cause of isolation
To develop a community, many workers start working in public spaces. As human beings are social creatures, it is tough for them to become isolated and stuck in one place continuously.   
They always need some opportunities to talk with people and share their frustration.
Remote work can be one of the causes of isolation. The employees can lack moral support from co-workers due to sequestration.
You can feel more worried and anxious as compared to those employees who work inside an office desk.
Health issues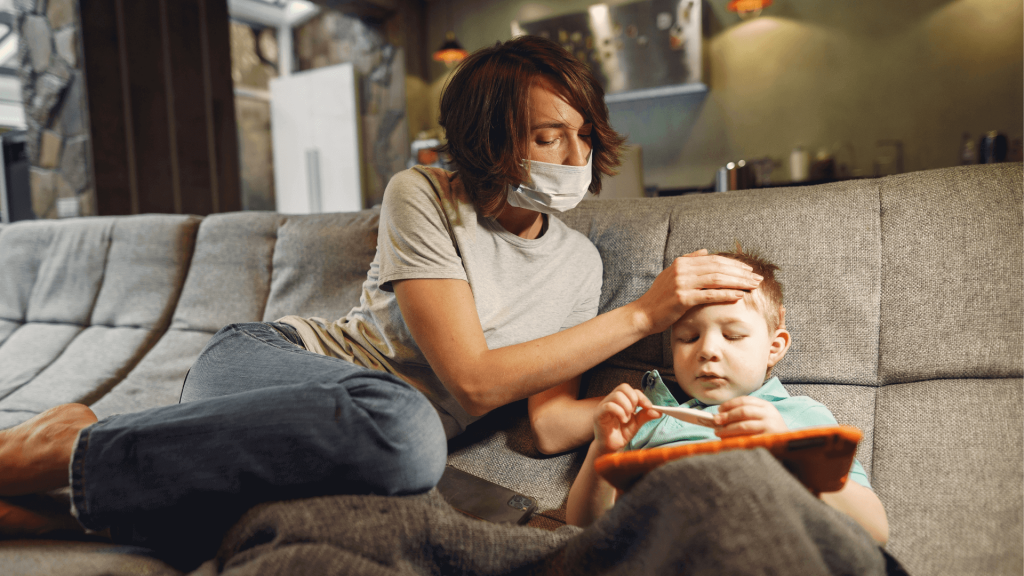 Working from home can be a risk to your health as health is always an essential factor in life. If you are healthy, you can undoubtedly become wealthy.
You might be stuck in one place and work continuously without any break to complete work earlier. It can cause health issues like depression, stress, anxiety, heart disease, mental problems, etc. You cannot give proper focus on work.
Similarly, while going to the office, you can walk a few distances and reduce the chances of diseases like sugar, pressure, etc.
Sometimes talking and communicating with co-workers can also help maintain your work stress and balance your mental peace.
Time zone issues
There is a time difference between various countries, so when the company hires an employee from other continents rather than a local person, then the time mismatch. It will be a problem for employees to manage their time.  
You might be waking up and working, whereas another country's employee might be sleeping, which will create problems in grouping and collaboration.
The effect caused by the time difference is there is no collaboration among the team members, and there will not be time to communicate.
Facts About Remote Working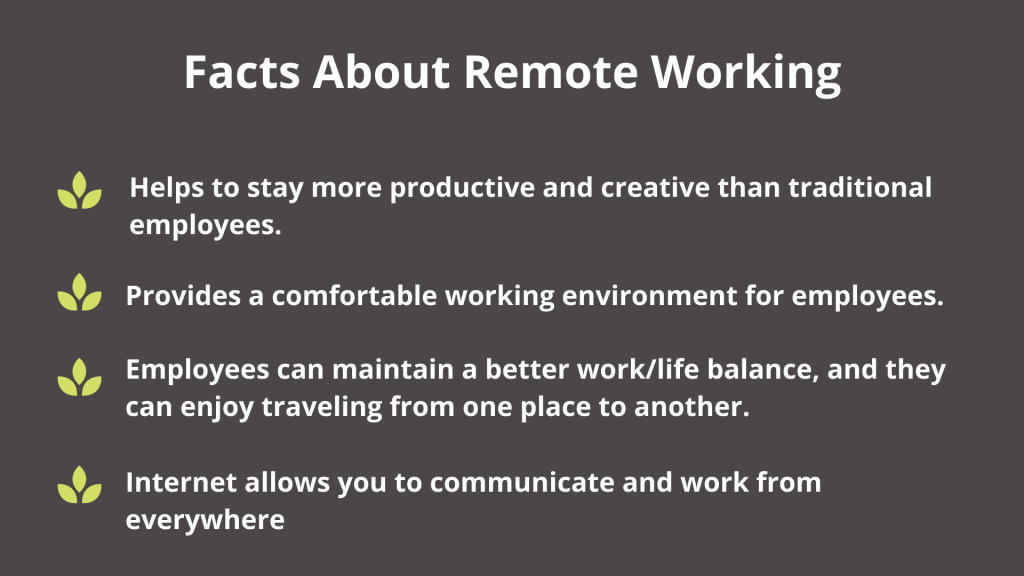 Remote working was famous in some countries before. Recently due to the outbreak of the novel coronavirus, the world has been in a pandemic situation.
Willingly or unwillingly, people are forced to work remotely to increase self-productivity and the organization's goal.  
Organizations are hiring subcontractors from other different countries to enhance and increase productivity. Therefore, remote working has become a trend all over the world.
COVID-19 has harmed work from the office desk. Due to the fear of virus transmission, people prefer to continue their work remotely. Similarly, the lockdown has made people stuck in their areas.
Social distancing for employers and employees' safety is taken very seriously, and office works are done online. The exciting fact is how fast remote work is growing and getting a trend.
Even in a pandemic situation, the works are given continuity, which is possible only remotely. Do you know the essential facts about remote work? Some of them are listed below:-  
Remote working helps employees to stay more productive and creative than traditional employees.
Remote work can provide a comfortable working environment for employees.
The demand for remote work increases as employees can maintain a better work/life balance, and they can enjoy traveling from one place to another.
The company that hires remote employees can be more productive as employees are highly loyal to the companies.
The internet allows you to communicate and work from everywhere, which is incredible.
In the coming days, the maximum workforce will work remotely predictively.
Personal Growth Of Remote Working
Working remotely can be a total dream for someone who loves traveling from country to country or generally doesn't like to work from 9 am to 5 pm.
For those who cannot stay under the supervision of someone for a whole day, remote work is beneficial.
Remote work is constructive for companies and employees. Why do people prefer to work outside the office desk?
The opportunity of remote work makes people happy as they can increase their skills and ability. For better health and wellness, employees prefer to work remotely.
It will increase their career opportunities if they become loyal to work as well as the company. There is a chance for them to travel to different places around the world.
Hence, remote work helps increase personal skills, knowledge, and experience and makes you more independent.
The only negative aspect is that there is also minimal opportunity to socialize and establish a personal and career development network.
Conclusion
In conclusion, these were the Pros and Cons of Remote Work. The trend of remote work will be increasing in the coming days. If you have any questions, please let us know in the comment section.
Related articles