7 Best Ways To Adopt New Work Culture
7 Best Ways To Adopt New Work Culture
Company culture can make a difference to the performance of your employees and the success of your business. Hence, establishing a new work culture requires careful planning. As there is saying,
"Shaping your culture is more than half done when you hire your team." – Jessica Herrin
However, it's hard to establish a healthy work culture when there are a lot of employees. Establishing a positive work culture, implementing a new management system, and recruiting new employees and training are all not straightforward tasks.
A large organization is more difficult to change. There will be different opinions, more resistance, etc. While some might feel their values can't be changed, others might feel the culture change does not fit.
Adopting a new cultural norm across the organization may pose a number of obstacles; however, it is not impossible. Multinational companies often encounter this issue when their business cultures are vastly different in terms of communication and working styles from country to country.
In this article, we list 7 best practices for implementing a new work culture.
What Do You Mean By Work Culture?
A company's culture represents its values, traditions, beliefs, interactions, behaviours, and attitudes, which define its uniqueness.
Having a positive workplace culture attracts talent, motivates engagement, shapes your company's personality, and affects satisfaction and performance. Several factors influence culture, including leadership, management, workplace policies, and people.
Why is Workplace Culture Important?
Regardless of your business strategy, culture is just as important because it can either strengthen or undermine your objectives. It is crucial because:
It impacts the way employees interact with their work and the organization.
Organisations with stronger cultures are usually more successful and have higher financial performance.
7 Ways To Adopt New Work Culture
To demonstrate the authenticity of your messages, it is essential to create a culture where messages can be authentically communicated.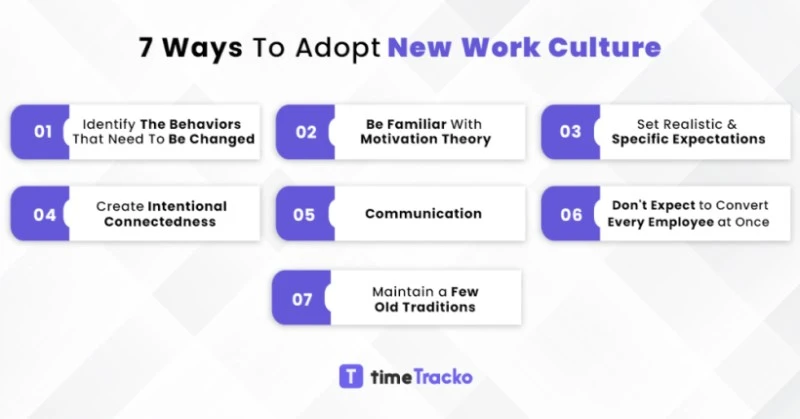 Many people may think it's difficult to change and implement a whole new work culture. But worry not. We've got some tips that will help you.
1. Identify The Behaviors That Need To Be Changed
Many organizations lack a consistent understanding of their current culture, which is why they fail to make significant cultural changes. Consider asking questions like these:
Are there any behaviours we want to stop today?
Is there a behaviour we want to continue in the future?
Do we need any future-oriented behaviours we aren't seeing today?
Company culture is ultimately the responsibility of everyone, but everyone must understand what changes should be made and how to accomplish them.
Learn more: How to Enhance Your Team Communication?👫👫
2. Be Familiar With Motivation Theory
One-size-fits-all approaches cannot motivate humans to change. Providing the same incentives for different tasks may have worked a century ago, but today's employees expect to be treated in a way that is relevant to their lives.
The right mixture of motivations can be tricky, but it is essential if you want your employees to change for the better. Assessments should be conducted with leadership and employee focus groups to identify the motivational appeal of different segments of the workforce.
3. Set Realistic and Specific Expectations
The goal of flexible workplace practices is to give employees more autonomy, but only if your employees know what their goals are. Otherwise, procrastination may creep in, demotivating them.
To keep your employees motivated set SMART goals that show them how each task contributes to the bigger picture when launching a new project.
Involving your employees in the process will enhance their sense of direction, autonomy, and accountability. Measure employee performance based on quality, not the number of hours they work.
4. Create Intentional Connectedness
An organization in which trust, transparency, and integrity are embraced naturally will develop a solid culture, which must be modelled rather than mandated. Organizational cultures that demonstrate the importance of the company can increase connectedness and loyalty.
Investing in the long-term well-being and personal growth of employees will pay off in the long run if they receive education, training, health benefits, career advancement, and career counselling.
5. Communication
To ensure new hires understand how they fit into the organization's goals, the mission and vision of the organization must be communicated once a year at the annual meeting.
Make sure you develop a campaign throughout the year that reinforces your messages and expectations. Provide them with information about how their roles and responsibilities align with the company's ideals, and how working together will improve organizational results.
Learn more: Best Employee Communication Tools For Organization👨‍💻👨‍💻
6. Don't Expect to Convert Every Employee at Once
Attempting to convince every employee of the need for change will only lead to disappointment. The best place to begin is with the employees who have the power to influence other employees in the company.
Identify the employees who are enthusiastic about adopting and influencing the culture and highlight their achievements and accomplishments as a way to effectively communicate the new culture.
7. Maintain a Few Old Traditions
Be careful not to take away the things that matter to employees when establishing a new culture. These may be rewards, social events, and other opportunities for professional and personal growth. Make a new culture around the existing one. Don't eliminate values in a split second and expect employees to follow them.
Learn more: 10 Ways to Build Remote Work Culture👨‍💻👨‍💻
Conclusion
A flexible work environment is a win-win situation for both your employees and your company. It allows your employees to work in a way that is convenient for them, without compromising their job or their family.
We hope these tips help you create a high-performing, flexible work environment by keeping your employees engaged, accountable, and productive.