Employee Productivity Tracking Software
timeTracko platform permits you to track where team members and individuals spend their time, analyze work productivity, and determine improvements.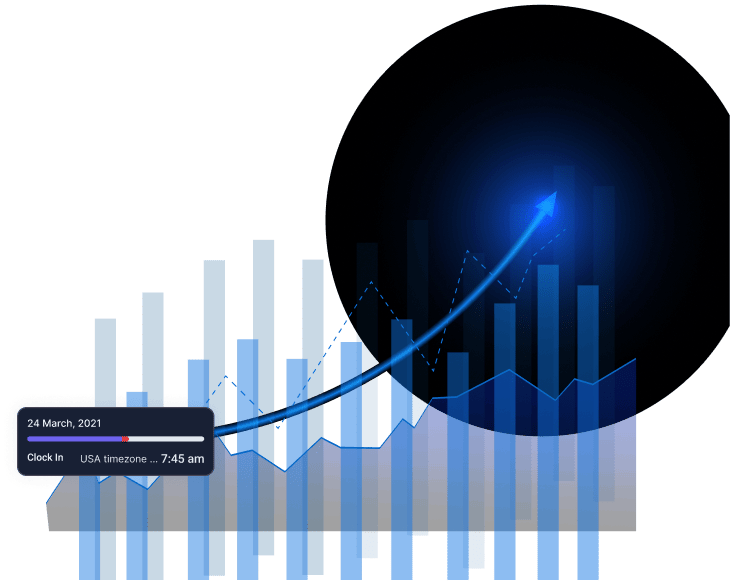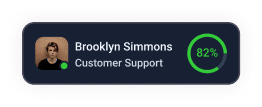 Analyze Your Employees' Digital Work and Motivate Them To Be More Productive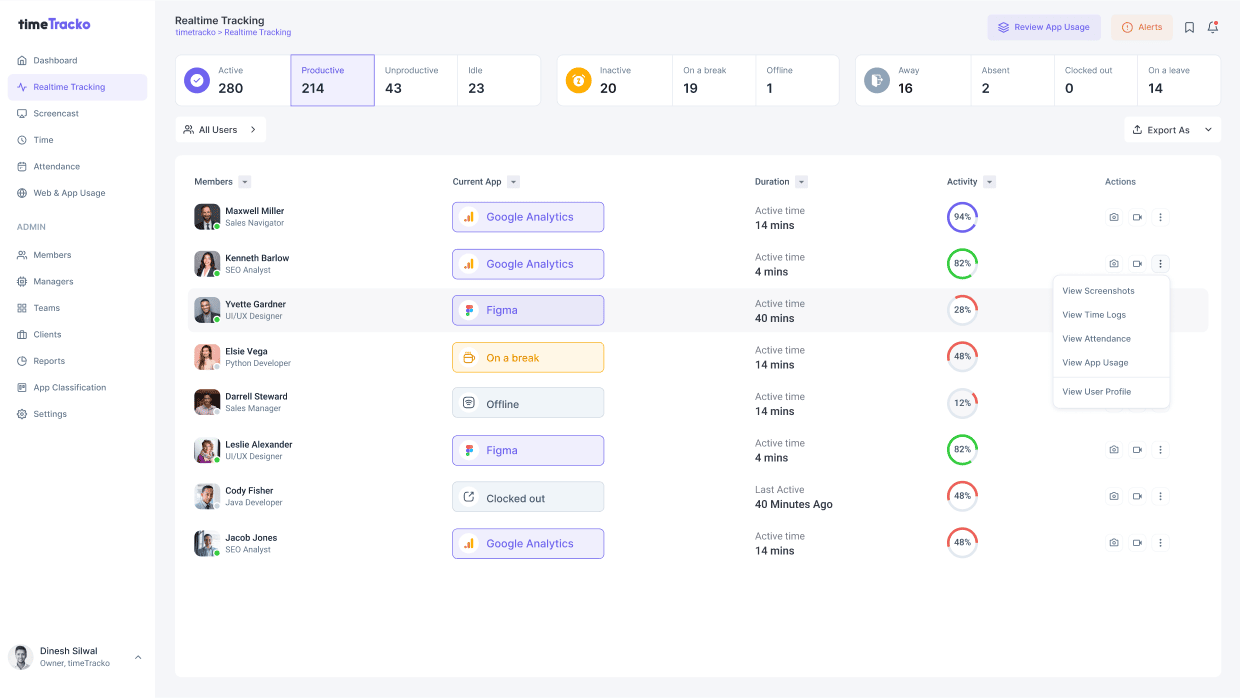 What are the features of employee productivity monitoring software?
timeTracko enables companies to track the productivity of employees and raise productivity levels.
Visualize employee performance

You can see how the employee efforts are progressing with a clear picture of the progress using automated and manual screenshots, activity levels, and productivity reports.

View a productivity summary report

Productivity summary provides a detailed and summarized report by analyzing the website and application used by employees.

Activity-based notifications

Activity-based notifications inform employees when their activities go against defined rules, like when employees are idle for too long, on pause time, or have not clocked in for work.

Identifies productive & unproductive tasks

timeTracko lets admins and managers categorize which apps and websites are productive and unproductive to determine which employees need to become more productive.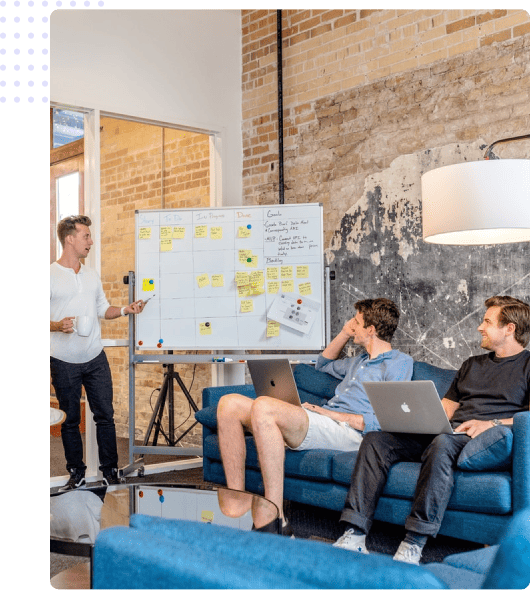 How does employee productivity monitoring software help businesses to save money?
It is a great idea to track employees' work time to reduce company expenses. You can invest in time tracking software timeTracko to boost employee productivity.
Instantly improve in productivity

When your team tracks time with timeTracko, everyone becomes more concerned about how they spend every minute of their day. This helps your employee stay focused and enhances productivity.

Manage time and resources efficiently

Tracking employee activities can be done without spending a lot of money, resulting in significant savings for companies.

Better return on investments

Every year, companies waste over $100 billion due to unproductive time. Tracking employee productivity reduces time theft, and employees are less likely to take unproductive breaks.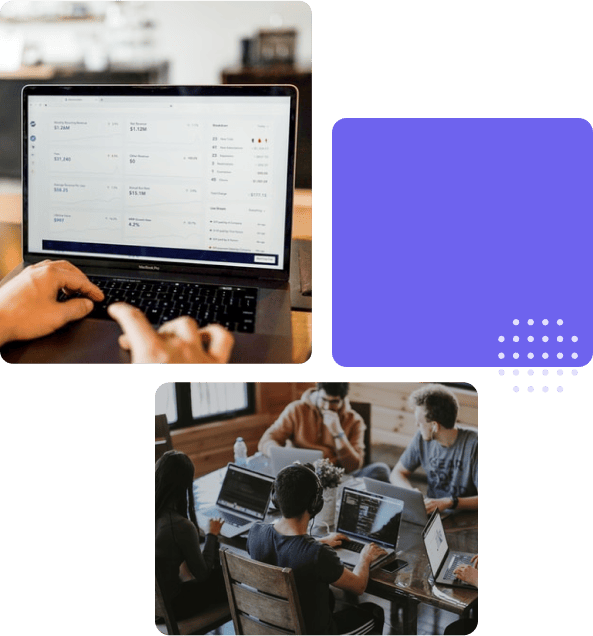 Why timeTracko is the best employee productivity monitoring software?
timeTracko is a leading productivity tracking software. timeTracko's productivity tracking software and analytics are praised by users.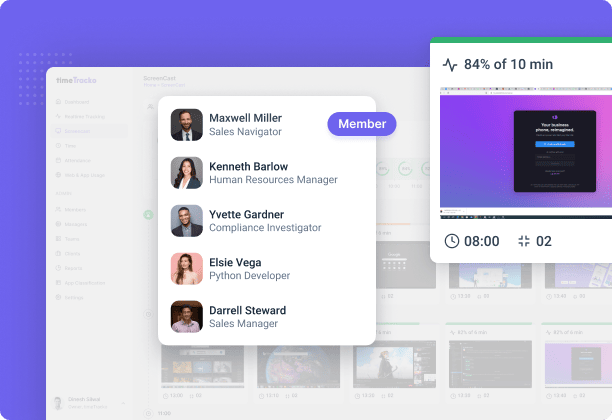 How does productivity tracking and analysis work?
Productivity is tracked and analyzed using real-time monitoring. Management has a clear picture of how employees spend their work hours when they log in and how productive they are.
Track web and apps usage

This feature lets you view which apps and websites your employees use throughout their workday and how long they spend on productive and unproductive tasks.

Screenshot capture

Screenshot capturing allows you to see what activities your team members are engaged in and interested in at work.

Measurement of activity level

Activity level represents a user's actual activity at the workplace. Activity levels are determined by how engaged a user is throughout their working hours.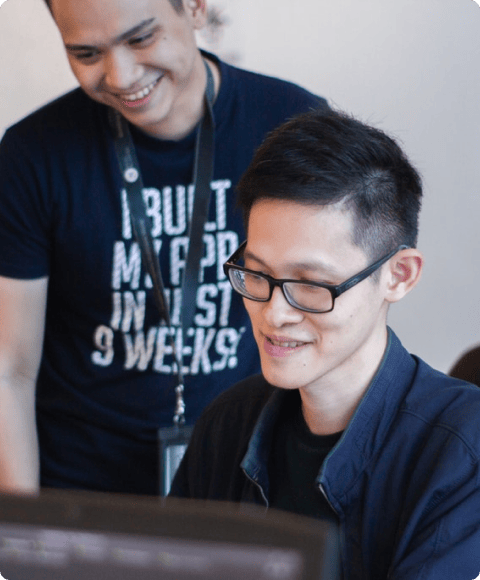 How can I start with timeTracko productivity monitoring software?
Monitoring employee productivity will allow you to analyze, improve, and manage business processes within your organization.
Your team downloads an app

timeTracko is compatible with Mac OS, Linux, Microsoft Windows 7 and above.

Productivity of an employee is measured

As team members start tracking time using timeTracko, the application records real-time activity, daily activity records, and productivity statistics.

Enhance productivity by gaining insight

With timeTracko's dashboard, you can dive into the working behaviors of employees and identify areas of improvement.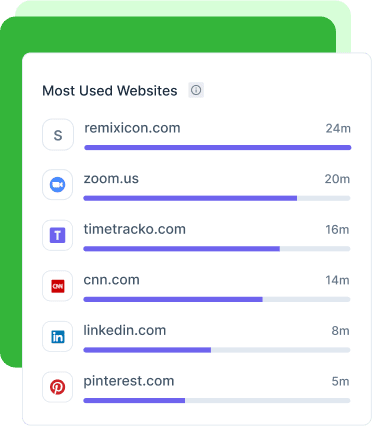 Focus On
Being Productive


From timeTracko Instead Of Busy
Productivity peaks insights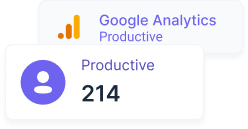 View advanced productivity charts of your employees' work time as well as a list of applications and websites your team is using.
Transparency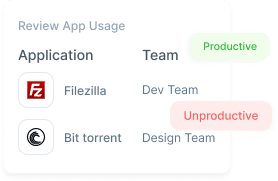 See how your team uses their time and gets the most out of it with real-time tracking, productive/unproductive categorization, usage timeline, productivity report and more.
Real-time tracking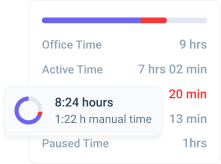 Verify employee reported hours by looking at what your employees are doing during the day and automatically capturing time spent on the app and website.
Apps and website usage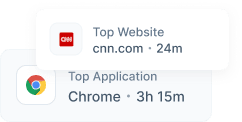 Track which applications and websites your remote employees access during the workday, including the amount of time they spend on it.
Time and attendance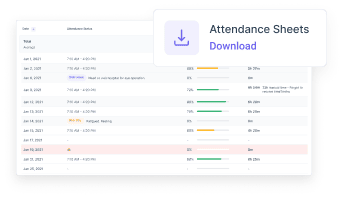 Keep track of your staff's clock-ins and clock-outs, their leave requests, and how much time they spend working during their scheduled time.
Employee activities tracking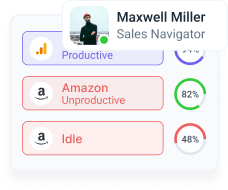 With timeTracko, you'll always know exactly what your remote team is working on when they work, and for how long including idle and pause time.
FAQ
Question you may have about features
How does timeTracko measure work time and productivity?
Work time is measured when your employee clock-in for the work and remains active during office hours, excluding pause(break) and idle time. On the timeTracko admin account, an employee's active time is tracked in the Report section.
timeTracko tracks applications and URLs used by employees during office hours which measures each team member's average productivity.
How does timeTracko categorize productive and unproductive tasks?
timeTracko categorizes applications/websites into productive and unproductive categories to identify which employees are entirely engaged, the average activity level, and which employees are wasting time on which applications and websites.
timeTracko categorizes productive and unproductive tasks in this way.
Login to the timeTracko admin account.
Click on App Classification Page.
Go through the title column and choose the application you want to categorize.
Select the required option from the Category dropdown.
How does timeTracko track Activity Level?
timeTracko tracks activity levels based on the percentage of keywords and mouse movements with productive and unproductive tasks employees working during their office time.
Why is a productivity tracking important?
Using productivity tracking software, employers can track how much time is spent on each task and understand how employees spend their time. With a productivity analysis, you can determine which team members are fully engaged, individual employee progress, employee ROI, wasting time on unproductive apps and websites, and help in promotion, and salary raise data.
How can I delete my activity records?
You can delete activity records from the timeTracko admin account. To delete particular user activity.
Go to the member option and click on it.
You can click on the Action delete button located next to the teams.