timeTracko Team Solution
Real-time Employee activity monitoring
You can analyze user behavior in real-time, understand employee workflows, and prevent unauthorized behavior when monitoring real-time data. timeTracko's real-time employee monitoring can show you which employees are productive and which ones need help.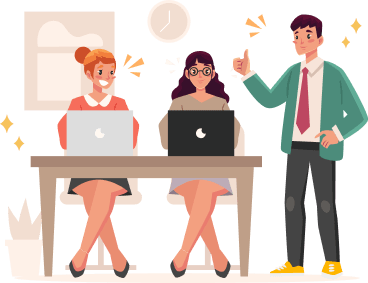 The Challenge
Remote employees and consistent productivity in a fast-changing business environment.
As a result of COVID-19, the corporate environment has changed where companies have allowed their workers to work from home. Businesses must understand the performance of their workforce and take immediate action.
Training & Assistance

Training and assistance are at the core of employee growth. Improving employee performance is achieved by resolving uncertainties, clarifying doubts, clarifying skepticism, training an employee, and answering any questions/curiosity.

Unproductive Workflows

Teams can have members with different strengths and weaknesses. A failure to recognize this issue could lead to inefficient and ineffective workflow. To ensure better productivity, an employer needs to understand how to assign tasks to the right employee.

Inefficient team collaborations

Supervisors and managers should know where their team members are currently involved or spending their time. A lack of transparency will lead to inefficient team collaborations. Solutions
Always know how your business is functioning and also how your employees are coping with it.
You must always be aware of how your employees handle the set of activities or processes defined by your organization. It helps in enhancing the productivity and efficiency of your employees.
Increase Real-time Productivity Workflows

The productivity features of timeTracko help you make your team more efficient by measuring how productive they are. You and your team can boost productivity with timeTracko without any additional effort.

Automated Productivity and Team Efficiency

Make your team more efficient by tracking, measuring, and analyzing productivity automatically. By tracking productivity, efficiency, and performance at the individual, team, and organizational levels, you will design better workflows.

Real-time employee Monitoring

Employee monitoring ensures you always know what is happening within your team. The screencast feature lets you see what your employees are currently working on and where they need help. You can also track your employees' status in real-time (break/private time) using the real-time tracking feature.

Keep employees motivated from offline tracking.

Your employees can use timeTracko even if their internet connection is down. Employees will remain motivated to work since time and tasks are tracked even if they are offline, and their efforts won't go unnoticed.

"timeTracko ties into your existing tools, services and Workflow. Keep your existing invoicing, communication and accounting tools and leverage the power of timeTracko within a few minutes."
Diana Fritz
Chief Executive Officer,
Gutso