Frequently Asked Questions
We're here to help. If you run into any problems at all, feel free to email us and we'd love to talk personally about how we can help.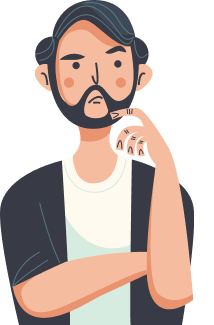 Table of Content
Getting Started
What are the options to track time using timeTracko?
Desktop App: You can use the desktop app of timeTracko to track the entire activity performed on your employee's PC during work hours.
Browser Extension (Coming Soon): The browser extension of timeTracko helps track the websites and URLs visited by your employees during work hours.
Mobile App (Coming Soon): The mobile app of timeTracko is helpful for people who need to track their time away from their PCs, or requires to create, edit, or review their to-do lists using their smartphone.
How do I get started with timeTracko?
It is easy to get yourself started with timeTracko. You just have to follow these steps:
Step 1: Sign up
Go to timeTracko.com,, sign up for Beta by providing your email. Our team will contact you shortly once they get your email.
Step 2: Install the timeTracko Agent.
Once you have signed up, you will have to install the timeTracko agent on computers you want to monitor. You can also invite the employees to install it themselves. This is the only real action the user should execute. If you need more information, check out our article on downloading and installing the timeTracko agent.
If you encounter any issues while installing the timeTracko agent, check out our article on How to address timeTracko installation guide features. You can also contact our support team at support@timetracko.com.
Step 3: Start using timeTracko!
Once you have installed the timeTracko agent, you will be able to access the dashboard. This indicates that you are ready to use the timeTracko agent. Since each customer has their specific requirements and uses cases, we don't usually suggest a standard workflow. Here is some recommendation that might be of help to you:
Add the employees you would like to monitor.
Set up any departments/groups if you require it. This decentralizes the monitoring process.
Configure the monitoring settings as per the requirements and policies of your company.
Create Productivity profiles and get an accurate result on the productivity reports of your target users.
Configure access control policies if you have more than one administrator.
Set up schedules if you have hourly employees/contractors.
We also have several other resources to help you get started with the implementation of the timeTracko agent:
timeTracko user guide: for learning how to use different features of timeTracko
timeTracko Rules guide: for creating rules to detect insider threats, prevent data loss, increase employee productivity, and more.
How-to-Articles: short articles on most common features and how to use them
How-to-videos: tutorial videos on several useful topics
Support: for contacting our sales team when required.
What are the functionalities that are available in the free premium version of timeTracko?
You will get access to all the features of timetracko in the free premium version. Check out the pricing page here.
How much time does it take to use timeTracko?
The setup would take around 5-10 minutes for an Admin User and about 3-5 minutes for the software users. You can also take a few minutes to watch the training videos to get the best out of timeTracko. It will take a few seconds every day to use timeTracko and boost productivity.
How do I get onboarding assistance and help to create policies and rules?
You can contact us if you have any queries or concerns. We will then assign you a support engineer to help you with installation, setup, onboarding, and configuration.
About timeTracko
Is timeTracko free Forever?
The beta version of the fully-featured timeTracko application can be used as long as you like for free. There are no restrictions. Currently, we are monitoring the system's performance, collecting user feedback, and analyzing data to maximize efficiency and performance.
How much does timeTracko cost?
You can check the pricing of timeTracko on our Pricing Page.
What are the user levels in timeTracko?
The company owner is assigned as Admin. An Admin can add Project Managers and Users and assign various teams based on the Project in timeTracko.
Can timeTracko monitor privileged users (administrators)?
Yes, timeTracko can monitor all the privileged users as configured by the employer.
Does timeTracko keep a log of all review/administration activity on the timeTracko Dashboard?
Yes, timeTracko provides an immutable log of all actions taken by the timeTracko administrator in its dashboard and admin console.
What is the difference between permission for regular users and project manager users?
Manager users come with an advanced level of access and are created by the administrator. Managers can create new projects and can even add an entirely new team to the project.
Employee Monitoring
How do I check what my employees are doing using timeTracko?
You can check how every employee of your company uses their time during work hours using the following metrics.
Tasks & Project Reports: You can check the tasks and project reports to understand how much your team has worked overtime. You can also get detailed insights into your team members' time to complete a specific task or an entire project. You can check these reports from the dashboard or also contact them via email.
Attendance Reports: You can get your employees' clock-in/clock-out details to check when your employees are starting to work and how much they work in a day or a week. It also helps you to check how often your team members take leaves.
Screenshots (Optional Feature): You can also enable an optional screenshot feature to check if your employees are working on their dedicated tasks or just browsing through different websites. It is an optional feature that takes a screenshot of your employee's PC at a regular interval.
Does timeTracko track keystrokes?
timeTracko tracks the keystroke counts to calculate the activity percentage. However, we do not track any data of the keys pressed by our users.
How does timeTracko ensure my team is working productively?
timeTracko tracks the websites and applications your team members use while they are working. For example, an admin user can check and get the report of the entire information of the company users. Also, Admin users can check which employees are super active and which ones are using unauthorized websites most during work hours.
How does timeTracko keep track of the work?
timeTracko is a simple application which, when installed by your virtual workforce team on their respective devices, keeps track of the time. It does so by taking screenshots at a regular interval. So, for example, the virtual team can select a project, and then timeTracko will track time accordingly, the details of which can be viewed in the application simultaneously. The screenshots were taken, though, can be viewed only by authorized persons.
timeTracko also calculates the total productivity of your teams with the consideration of the following basics:
Labels the user as idle/inactive when he/she remains idle for more than 5 minutes.
Time spent in pause, Pomodoro, and unproductive websites and URLs are all tracked.
Sums up all the unproductive time and subtracts it from the overall time spent. The productivity summary is then prepared, which is called intelligent reporting.
Is timeTracko helpful for Freelancers?
A Big Yes. timeTracko is helpful to both freelancers and organizations in a similar manner. For freelancers, timeTracko helps to understand how much time they are spending while working and on which tasks and allows them to focus while working.
It helps freelancers and individuals manage their time more effectively and provides them an insight into the total time taken to complete a task. Though some of the features of timeTracko are dedicated to organizations, most of its core and advanced features are beneficial to both freelancers and companies.
Can I invite my client on timeTracko?
Yes, you can invite your client and allow them to check the project status and total hours of work done on their Project. You can also enter billable hours and charge your client using timeTracko.
We have blocked unproductive websites and apps in our company, so how valuable is timeTracko?
Great. Since you have blocked some unproductive websites, it is your first step towards getting your employees productive. However, there are various ways an employee can access those websites and waste their time. timeTracko helps your team keep away from distractions, manage their time better, and provide detailed insights to improve the time and resource allocation to complete a project before the deadline.
If you do not track your employee's entire day activities, you won't know where your employee spent their time. Besides time tracking, timeTracko has various other benefits, such as helping people focus on their priorities, sending detailed reports via email daily or weekly, and the productivity percentage of every team member during a time frame.
Can timeTracko track the websites visited by my employees?
Yes. You can get detailed insights into every website visited by your employees during work hours. Also, you can check how long your employees have used these websites. You can check this report from the Admin Dashboard or get them in your email daily or weekly.
Techincal Questions
What is your data retention policy? How long is my data kept? How can I export my data?
timeTracko cloud customers get up to six months of storage for screen recording. In addition, other data such as logs, user metadata, etc., are accessible for as long as you are active. However, you cannot delete any of these data.
timeTracko On-premise and private cloud customers can implement their data retention policy. They can specify for how long the screen recording can be kept. Check out the following articles to learn how:
To export session/video recordings
To export BI reports
Is there any backup feature in timeTracko?
The cloud data in timeTracko is automatically backed up as per ISO 27001:2013 standard.
timeTracko On-Premise/Private cloud customers, however, can implement their backup policy. Similarly, you can implement your load balancing, high availability, and disaster recovery features.
Is the time on the employee schedule converted to the local time zone?
No. it will instead use the time zone setup on the account.
Does timeTracko support AWS workspaces?
Yes. As the On-premise licensing is based on an endpoint basis, you can add AWS workspaces when deploying it.
How secure is the data timeTracko collects and stores in the cloud?
All the data that are collected by timeTracko are encrypted at rest and in motion. Check out our Security page to learn more about the security, reliability, and scalability features offered by timeTracko.
Do I have to restart my computer after I install or uninstall the timeTracko agent?
No. rebooting is not required in either the installation or uninstallation.
Does timeTracko work offline?
Yes, timeTracko works fine without the internet as well. The tracking data will be uploaded to your server once the computer gets connected to the internet.
How much bandwidth does the timeTracko agent consume?
It depends on how you configure timeTracko and the activity level of your users. During the typical usages, it should not consume more than 10kb/s upstream. But, if you configure at a reduced frame rate and color palettes, it would reduce the bandwidth consumption by about 50%. timeTracko is aware of the connection status and dynamically reduces the frame rate accordingly to reduce bandwidth usage during poor and jittery connection conditions.
What are the things timeTracko Track?
timeTracko keeps track of the URL & App visits, keyboard and mouse activities, document and title track, and Project tracking on a real-time basis.
Is timeTracko Agent visible on users' computers?
timeTracko agent can operate in both hidden or visible mode on user's computers based on your particular use case. When working in visible mode, the users are aware of the existence of the timeTracko agent.
Do you have a Free Trial to help me try the premium features of timeTracko?
You can try all the premium plans of timeTracko for free for as long as you like, without requiring a credit card.
What types of reports does timeTracko provide?
timeTracko provides you with various reports such as productivity reports, time and attendance reports, project reports, screenshot reports, daily, weekly, and monthly reports.
Can I delete screenshots? If yes, how?
Yes, an admin user can delete the screenshots stored on the timeTracko server. First, go to the Admin dashboard > Screenshots and select the screenshots you want to delete. Then, click on Delete, and every screenshot you selected will be deleted from the server.
Does timeTracko block specific websites like Facebook, Twitter, Instagram, etc.?
No, timeTracko does not block any websites as some of your team members might need them for work purposes. However, timeTracko will remind your teammates that the website they are about to use falls under the unproductive category with a pop-up. It will help them get back on track and work on their assigned task.
How is it different from other time tracking applications?
timeTracko is different from other time tracking applications in many ways. They are as mentioned below:
First, it has reminders and alerts to inform you if you are not doing productive tasks. For example, suppose you are idle for more than the specified idle time limit or visiting unproductive sites during office hours. In that case, a notification bar pops up notifying you about the situation.
timeTracko prevents the overlapping of different activities in the same timing configuration. For example, when an individual is assigned multiple projects with two projects, project one and project 2, they require 3-3 hours each for its complete execution. In this scenario, the individual can only perform one activity in the first three hours and only can continue with the next task. However, if the ProjectProject gets completed before the specified time limit of 3 hours, one can start getting involved in the next task if desired. Unfortunately, this feature is limited in most of the time tracking applications.
timeTracko has different ways of tracking the team's performance in real-time. Some ways to do so are automatic screenshots, web and apps tracking, and intelligent reporting. Thus, if any of these features malfunctions, there is always another way to track productivity.
timeTracko, unlike other implements, Pomodoro time provides an individual with a much-needed break after a specific interval of intense work. For example, the time interval of five minutes can be taken after working for twenty-five minutes, or it can be double that, i.e., 10 minutes break after 50 minutes workout. The options can be selected by the user, depending on the type of task being executed. If the user does not opt to do so, the application will disable the computer for 10 minutes after a 50-minute workout during office hours.
Data and Privacy
Does timeTracko maintain the integrity of user data?
Yes, user information integrity is one of the main features of our application. Every piece of information that has been accumulated from timeTracko, be it screenshots, website tracking, or other information, is stored on the web. The data collected can only be assessed by specific authorized individuals only.
Would I have any privacy issues while using timeTracko?
timeTracko does not track anything when a user browses or does any task in private or not working. Hence, employees working from home can have peace of mind knowing that they are not being tracked when they have their time.
timeTracko only tracks its user's activities and tasks when the user enables timeTracko during their work time and does not work when the software is closed or tracking is stopped. Our stand on privacy is that the company holds the right to know what their employees are doing during work hours and cannot know what they are doing beyond their work hours and even in breaks and lunch hours.
Will I get any resistance from my employees while implementing timeTracko?
Yes, you might get some resistance from a few of your employees as it needs changes in people's behavior to get adjusted to the software, especially to the people who have a habit of wasting their time on unproductive things during work hours.
Hard-working and productive people of your company would be happy with the software to manage their work more effectively. With timeTracko, your team members can work flexible hours and manage their work hours more efficiently.
How safe is my data?
Your data is entirely safe with us. Your timeTracko data is hosted on Amazon Web Services. Hence it is as secure as it can get. Furthermore, our servers are encrypted using 256-bit SSL Protection. Thus you can have peace of mind when it comes to data security.
Does timeTracko collect personal data?
No, timeTracko does not collect any personal data. Instead, we use Google Analytics to track what pages are people visit on our website and use cookies for login.
You can look at our Privacy Policy here.
You can also delete your timeTracko account and entire data anytime you want.