timeTracko Team Features
timeTracko Team combines user activity monitoring, productivity tools, and behavior analytics to boost your team productivity.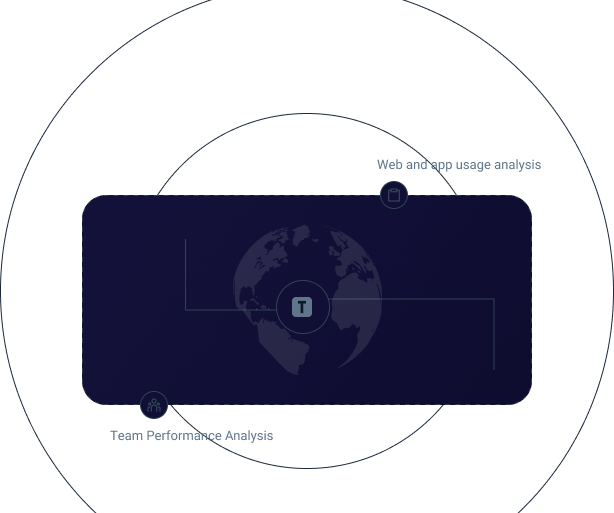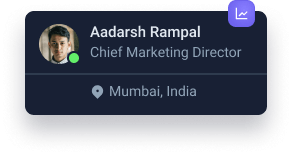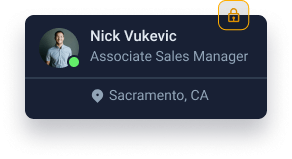 Table of Content
Automatic time tracking
Automatic time tracking is one of the promising features of the timeTracko Team. It starts tracking an employee's activities as soon as he/she clocks in and stops when an employee clocks out. Manual time tracking can be a hectic thing and take up lots of unnecessary time. If you have a remote team, it can be almost impossible to track their work hours with manual time tracking.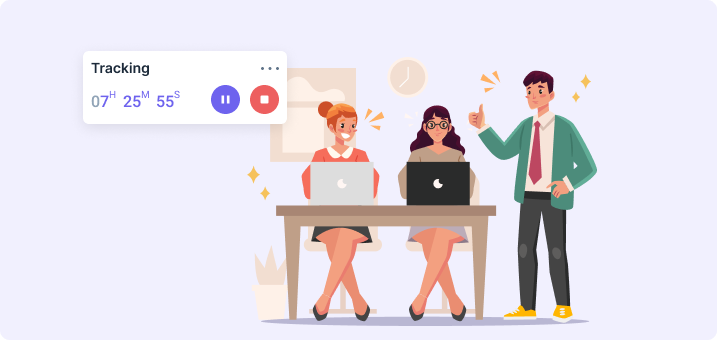 However, with automatic time tracking, you get accurate and reliable employee work hours details. It monitors your employees' time and differentiates time-based on employee's productivity hours. It completely removes the need to manage timers and manual data entry, effectively and accurately recording all your activities in the background for reference. Automatic time tracking prepares daily reports automatically and checks how productive your employees are on a day-to-day basis.
With automatic time tracking, you will get the following details:
Clock In & Clock Out Time of your Employees: Your employee clocks in when they start the work and clock out when they end their work for the day. With timeTracko Team, you can see when they clock in & clock out and what works did they perform in the meantime.
How your employees work: With the help of detailed reports & screenshots, you can check how your employees have spent their time during work hours. Also, with the productivity labels, you can analyze which employees were more productive and who needs to be motivated to focus on their work.
Tracks everything you work on accurately: Since timeTracko Team tracks every activity in real-time tracking, it gives you an insight into your employees every task they perform on their system. Additionally, it generates timesheets of the time they have worked on various tasks and projects in a day, week, and month.
Generates timesheets automatically: timeTracko Team generates timesheets automatically from the time logged by your employees. With timeTracko, you don't need to waste hours preparing the timesheet of your employees. Moreover, your team will love the ease of using timeTracko Team.
Captures how long you spend on every individual task: timeTracko Team allows you to create tasks and monitor how much time has been spent on the specific task. It helps to predict the time required to complete a task or project in the future.
Works autonomously without disturbing you: timeTracko Team runs silently in the background once a user clocks in. It takes minimal resources and uploads the tracked data at a predefined interval without interfering with the user tasks.
Improves time management skills: timeTracko Team allows you to estimate your time required for every project based on its effectiveness and productivity. It facilitates you to plan your time and track your time for the completion of the project.
Keeps employees focused at their work: With timeTracko Team, your employees would be aware that their time is being logged and every single minute is assigned for a specific task. Hence, instead of doing multiple tasks at once, they would try to finish one and then jump to another. Eventually, it will increase their focus and boost their productivity as well.
Real-time pulse of employee
Check what your employees are doing in real-time with timeTracko. See your employees' work progress in real-time with a live screenshot and video option.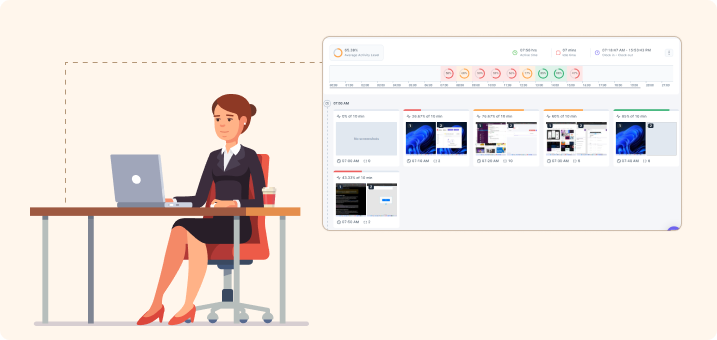 Track your team members' time in real-time with timeTracko Team and see what they are doing and whether they are spending their time on assigned tasks or simply wasting time. timeTracko Team provides you an overview of tasks & projects your employees are working on and websites they are visiting in real-time.
Also, see whether your employees are currently working or are away from the system. Analyze whether your team members are practicing healthy work patterns or spending most of their time away from the system with the real-time pulse feature of timeTracko Team.
timeTracko Team allows you to record and stream every action your employee makes on their system along with historical data. With live feed and historical data, you can analyze the working pattern and time spent away from your employees' scenario.
With the real-time pulse of employees feature of timeTracko Team, you can:
Analyze your employees' real-time availability status, or they are occupied with priority tasks before interrupting them.
Stream and record employees' activity via timeTracko Team dashboard.
Monitor and record an employee's activity from keystrokes to web browsing and windows navigated.
Take control and prevent malicious behavior and data breach situations from your employee system.
Access and view video playbacks of real-time and historical from various devices such as tablets and smartphones.
Check a few times a day to analyze how often your employees take a break and whether they complete the work hours before logging off.
The audio feature allows timeTracko Team to record sound from the microphone & speakers of the employee system.
timeTracko Team allows you to export recorded video for additional proof.
User productivity classification
Categorize URLs, Apps, and software into Productive, Unproductive, and Neutral. Check which team members are productive and whom you need to motivate for better work efficiency from their website visits and app usage summary.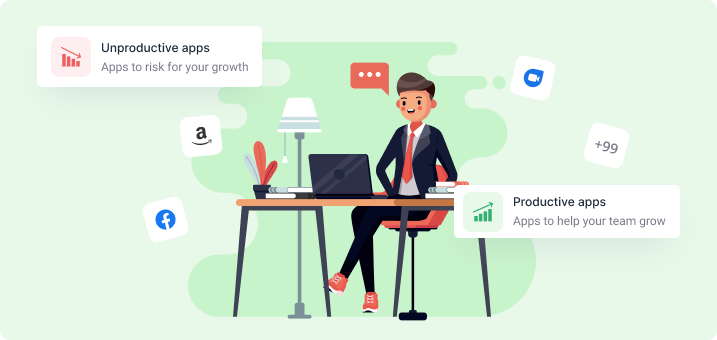 Whether you are running a big corporate or a small startup, it is important to learn how productive your team is. timeTracko Team measures the user's productivity by classifying the works of an employee as productive and unproductive based on the types of websites, software, applications, and usage employers use.
If an employer is using software that directly benefits the organization, it classifies such activity as a productive time. Softwares such as google docs, Microsoft Office, project management tools, and coding apps are termed as productive.
Additionally, software and application that does not have any impact on the company's goal are unproductive. Social media websites, video players, music players, and gaming websites are termed unproductive. It distinguishes how focused you are on your work at office time.
However, admin can add, edit and manage the apps as productive, unproductive, and neutral based on their organizational use. For example, social media apps and websites are productive for social media and marketing teams while it is unproductive for other teams.
So, you can make social media apps & websites as productive for your social media and marketing team and unproductive for the rest of the employees.
Some of the benefits of user productivity classification are:
Better tracking of employee activities: timeTracko Team helps to track employee activities and what they are using in real-time. It focuses employees to work productive tasks only and increases the efficiency and effectiveness of employees. It restricts the employee to use only beneficial software for the organization and avoid using social media websites and the time-wasting nature of employees.
Develop seriousness on work: Since timeTracko Team tracks every single detail and marks employees as productive and unproductive based on their work, it develops seriousness in employees towards their work. They feel insecure to use unproductive sites so that it benefits the organization to meet set objectives timely.
Analyze productivity trends: View the improvements with changes in the working pattern of your employees as they know their tasks are being tracked. Employees tend to avoid wasting time and work on their assigned tasks increasing the overall organization productivity.
Work time analysis: Check and compare the total work time and productive time of an employee. You can customize the productivity indicator and see how efficiently your employees worked during office hours.
Idle & offline time tracking
Analyze how often your employees takes break and stay from the system with idle and offline time tracking with timeTracko Team.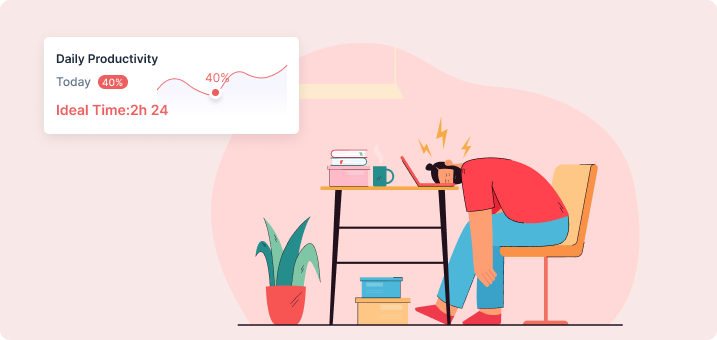 timeTracko Team starts tracking automatically when a user clocks in and runs silently in the background. It will go in idle mode and stop tracking when your employee is not on their desk or stops working. Also, it starts tracking automatically again once the user makes any mouse or keyboard movement on the system.
Offline time tracking feature in timeTracko Team helps to keep track of all work done away from the computer during operating hours. When an employee is working without an internet connection, it keeps track of productive time, time at work, and idle time efficiently.
Here are some of the benefits of idle and offline time tracking:
Track your Team Productivity: timeTracko Team allows entering offline time manually while working away from the system. However, the offline time should be entered with a description and can be marked as productive, unproductive, or neutral. With this information, you can easily analyze why your team worked offline and ensure the productivity reports are accurate.
To bill your client/employee accurately: If you charge your client or pay your employee hourly, offline time tracking will help you charge your clients or pay your employee for the consultations, meetings, and phone calls that were done away from the system.

As soon as the offline time gets added to the daily report, it will be considered as billable hours. Hence, with offline time tracking you get paid for every work and even your employee gets motivated to give extra effort to your work.
Manage your team offline time: If you manage a team with timeTracko Team, you can control how your team adds their offline time. You can allow your team members to add their offline without any restriction, or set up an approval process that lets you or your manager approve the manual time entry once the employee has added it. It will help you avoid time entries done by mistake and control extra time entry by employees.
Advantages of idle and offline time tracking are as follows:
The best technique to track the overall employee's time efforts.
It keeps employees motivated to work as it counts even when an employee works offline.
Avoids delays as an employee does not need to wait for a stable internet connection for work.
It improves overall productivity as it tracks productive time in idle and offline modes.
Smoothes out the work process as there is no interference even without the internet connection.
timeTracko Team will even track employee time when working offline or with some internet connectivity issues. This feature will motivate them to work more precisely and effectively.
Automatic Screenshot
Be aware of what your employees are working on, detect anomalies in their behavior, provide feedback, and improve productivity with the timeTracko screencast feature.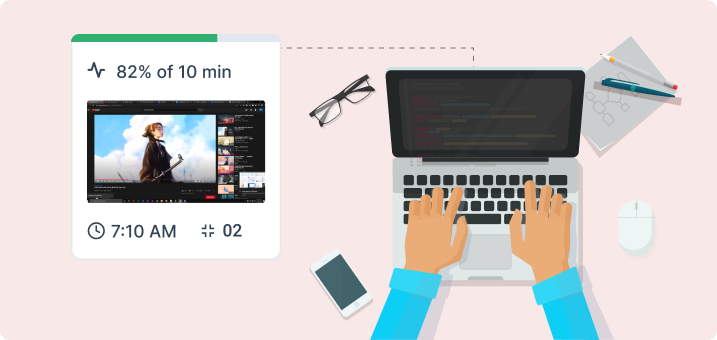 timeTracko Team takes screenshots of your employee's system at regular intervals as configured by the administrator. You can use the screenshot to verify your employees' work, as a backup timesheet, and even to give feedback and improve the productivity of your employees.
Some of the benefits of the screenshot feature of timeTracko are as follows:
Track suspicious activities: Viewing screenshots from employee's devices helps you to track any problematic situation at a glance. It helps to highlight the problems that occurred and solve them quickly so that the efficiency of work increases. Additionally, it highlights all suspicious activities and unproductive screens your employees were engaged with during work hours.
Check for problematic workers: Automatic screenshot feature can be enabled for individuals or a team. It classifies the users as productive and unproductive based on the categorization of URLs, and Apps used by the users. This feature will automatically improve unproductive time to productive time as users get conscious of manager monitoring with screenshots. Also, it screens out the problem of why users are unproductive.
Monitor Employees without Internet: timeTracko Team will continue monitoring and capturing screenshots of users' PCs even if there is no internet connectivity. The user data will be automatically uploaded to the timeTracko cloud server once the user gets connected to the internet.
Time and Attendance Management
timeTracko Team time and attendance features gives you a complete, real-time view of when your employees work and what they're working on. No matter where in the world they are.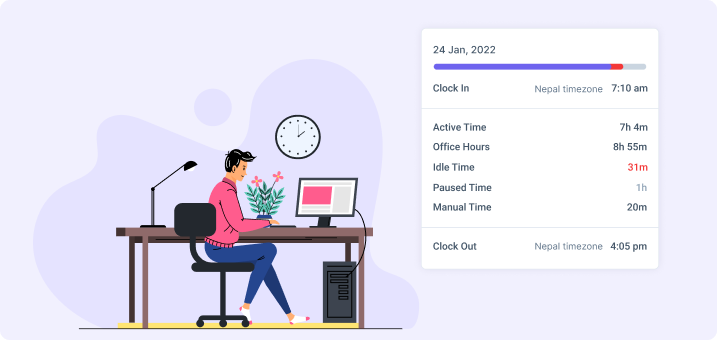 Time and Attendance management feature of timeTracko Team helps you effortlessly track time and attendance of your employees and records them in a timesheet. It tracks the login and logout time of the user so that it will be easy to calculate the working period.
Employers may use time management programs to gain insights into their employees and to schedule and monitor work time to better reduce labor costs and improve productivity.
timeTracko Team time and attendance management feature provides you complete, real-time view of your employees whatever they are working on. It provides you with features to ensure if you are employees are working on the task they are assigned with and taking regular breaks for better performance.
Moreover, timeTracko Team time and attendance management feature helps you replace expensive attendance hardware, paper time cards, and eliminates error-prone manual systems with accurate activity-based time tracking.
Some of the benefits of time and attendance management are as follows:
Time and attendance management improves an organization's productivity by reducing the time to calculate worked hours and wages.
Reduce the time to verify attendance data
Helps payroll to calculate wages with accurate data with ease.
Automatically tracks the records of latecomers, early comers, absentees, and overtime.
Websites & Apps Usage Analysis
Websites and Apps Usage feature allows you to see which apps and websites your employees are using throughout their work day, as well as how much time they're spending on each of them.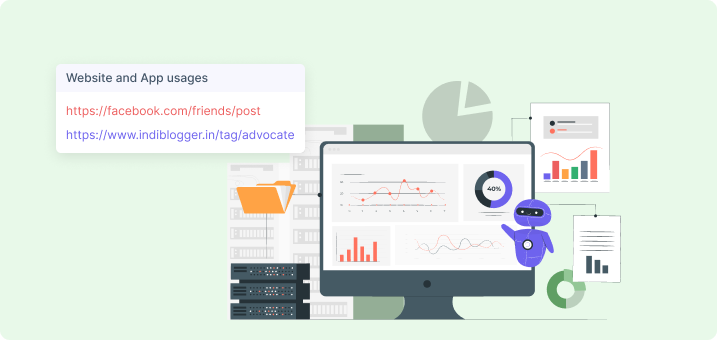 Website and apps usage analysis of timeTracko Team is a smart way to become more self-organized and keep track of what you need to work on. This is an interesting feature that tracks user desktop so that it will be easy to evaluate the efficiency of their working day and analyze the interruptions during working hours.
timeTracko Team tracks applications and websites a user is using while tracking time and generates all data in apps and website reports. Every user can see the application names and the total time spent on particular websites and apps. Therefore, users have to use productive apps and discard unproductive apps during working hours.
Some of the benefits of website and apps usage analysis are as follows:
Reports on Usage Duration: Generate reports based on what applications and websites are used by your employees and for how long. With the advanced reporting feature of timeTracko team, you can analyze how time is spent by your employees and check for the productivity issue that can be fixed instantly.
Boost dedication: Since website and apps usage feature tracks, everything users use on their devices leads them into serious dedication during working hours. This will create an environment where users feel hesitation moving out of the box.
Better productivity: With website and apps usage analysis feature organizations can track every detail of your timing, devices, and platform you are using during working hours. Hence, they are enforced to focus only on productive apps and websites which ultimately leads to better productivity.
Productive & Unproductive Websites and Apps Classification
Categorize websites and apps as productive, unproductive, and neutral based on their usage of an employee with timeTracko Team.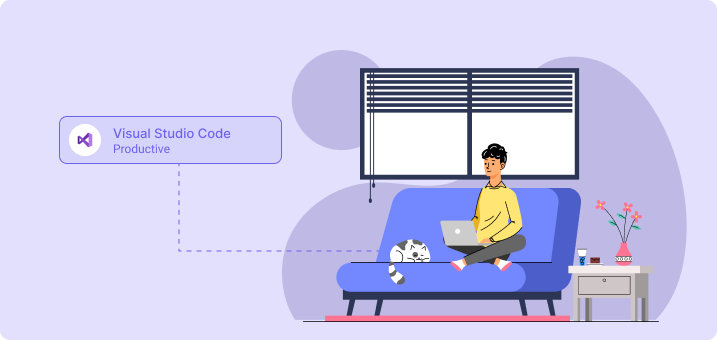 Tracking employee productivity is one of the most powerful capabilities of timeTracko Team. This tool generates a report related to information on what percentage of an employees' office time is productive and whether their productivity is going up or down.
timeTracko Team measures individual employees' working behavior and makes it easy to monitor their productivity. This tool tracks productive and unproductive apps and websites by analyzing the types of work assigned to particular employees and what sorts of websites or applications are useful for assigned tasks.
Any employee using applications or websites outside of the box will automatically be marked as unproductive. The admin can categorize websites and apps as productive and unproductive for employees based on their organizational usage. This adds meaning to the reports and provides further input into what should be improved.
Some of the benefits of productive and unproductive websites and apps classification are as follows:
Encourage employees to be more productive than usual.
Better work rate with better results.
Easy to prepare productivity results based on real-time behavior.
Easy to make decisions concerning process optimization, performance enhancement.
Provides accurate data of how much time employees use productively.
Helps to transform an unproductive employee into productive by some improvements, rewards, encouragements, or motivation.
Project Progress Tracking
Track time and view summaries of time spent on each client, task, and project by your employees using timeTracko Team.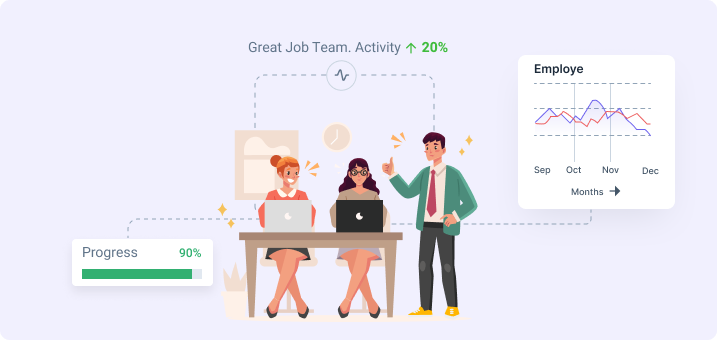 The project progress tracking feature of the timeTracko Team helps to simplify the project into smaller problems. It improves working speed and project management issues. As soon as you start working with issues, you can set project progress from 0% to 100% and completely control the status of the project.
This feature enables you to track the progress of each assignment and the whole plan. For better project tracking, you have to plan and prioritize the work efficiently to make most of your time and effort. Setting up measurable targets is the best way to track your project effectively. Also, it creates a good environment of communication between stakeholders, sponsors, and team members about project flow control.
Some of the benefits of project progress tracking are as follows:;
Simplify project problems: Performance measurement starts with setting targets or objectives and allocating KPIs (Key Performance Indicators). Project progress tracking tools help to simplify problems splitting problems into smaller targets and completing those targets leads to ultimate goals.
Build smoothness in project: Better project tracking makes your project run smoothly. It sets measurable targets based on priority and effectiveness which will lead to completing the project on time. It controls project flow and prepares reports of project status.
Estimate project time frame: timeTracko Team Project tracking feature helps you set realistic deadlines for your project. It also helps you organize your and your team workflow to complete the tasks in the required time frame to meet the project deadline.
Generate detailed project report: With timeTracko Team, you can generate detailed project reports that include productivity of individual employees, project deadline, and estimated time to complete the project without any hassle.
Estimate Project Cost: timeTracko Team project tracking allows you to estimate the potential cost of a new project based on the time, resources, and manpower used on similar projects in the past.
Remote and onsite employee management
Manage your remote and onsite team seamlessly with timeTracko Team.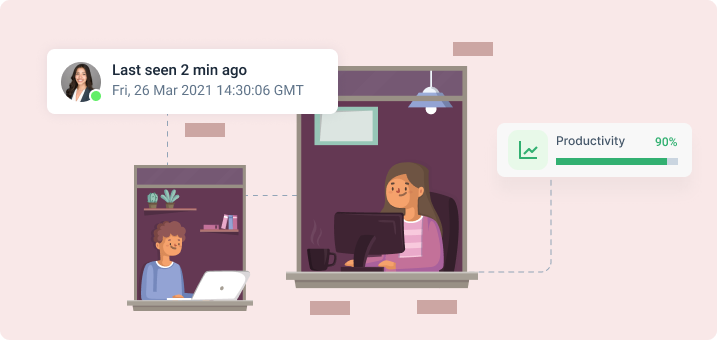 Remote and onsite employee management is one of the most important features in timeTracko Team. You can track daily work activities of your employees using the timeTracko Team in their system. It doesn't matter whether the employees are working from the office or remotely.
Tracking remote employees activities has been a difficult task for every organization offering work from home to their employees. However, with timeTracko Team, you will be able to monitor every task of your remote employees during work hours.
timeTracko can track keystrokes, email, file transfers, programs used, and the amount of time spent on each job by an employee. It also takes snapshots regularly to notify administrators of what is on the employee's computer. It stores all the records of employee timing, attendance, real-time working modules, project progress, and productivity hours on highly secured AWS cloud servers.
Some of the benefits of remote and onsite employee management are as follows:
Helps to monitor work activities to ensure that they are working on assigned tasks and not wasting time.
Enables tracking of working and non-working activity related to your business.
It guarantees no illegal actions, increasing your business productivity, keeping track of your project budget, etc.
Workforce Management & Productivity Optimization
Manage your workforce and optimize their productivity in real-time with timeTracko Team.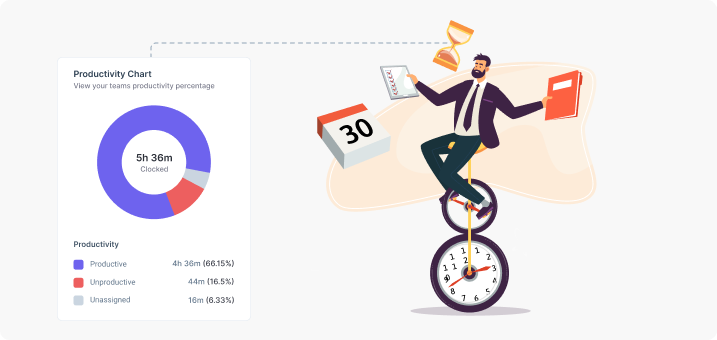 Workforce management and productivity optimization are one of the vital concerns for manufacturing and service companies since it has a direct effect on day-to-day tasks and quality of services.
Since productivity and profitability are directly proportional to each other, we have to manage the workforce. timeTracko Team is one of the best tools to manage the workforce and optimize productivity in real-time.
The main benefit from workforce management and productivity optimization is to reduce HR costs, manage tasks, measure employee productivity and increase productivity overall.
timeTracko Team tracks created tasks, task assignments, login and logout time, who works what in real-time, who is productive and checks employees' hours in a report. Additionally, this will track visited sites and their effectiveness and review real-time screenshots.
Some of the benefits of workforce management and productivity optimization are as follows:
Optimize manpower usage to reduce running costs.
Take into account the particular business priorities and limitations, as well as individual employee competencies and desires.
Prioritize task assignments to best balance staff capability and requirements.
Reduce the possibility of non-compliance problems by taking into account labor laws and regulations.
Team Performance Analysis
Analyze and Optimize your team performance with advanced and customizable reports generated by timeTracko Team.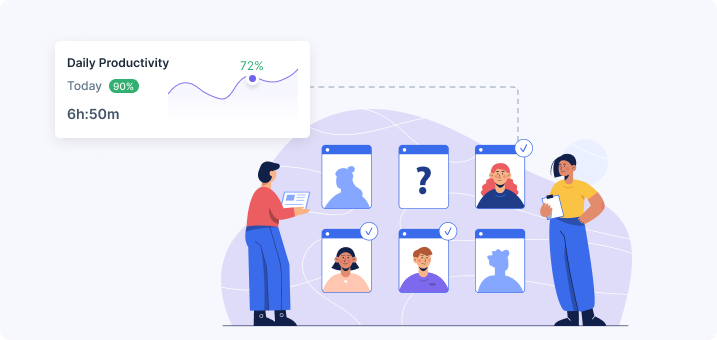 timeTracko Team gathers a large volume of data to generate rich reports that showcases team roles, productivity levels, and general information about increasing workforce effectiveness.
timeTracko Team helps to monitor team performance and determine which team members are not performing optimally, and discuss the actions you can follow to upgrade the performance of a team as a whole. Team performance analysis includes team budget, critical path analysis, milestones, inspections, and review meetings.
This feature helps determine the productivity of the team and generates team effort reports which help in decision making. The task assigned to a particular team must be completed within time and must meet the set objectives defined by the organization.
Additionally, the timeTracko Team also helps in risk analysis and SWOT analysis of project and team which decides which plan has to be implemented to acquire predefined goals.
Some of the benefits of team performance analysis are as follows:
Helps to manage and optimize current team processes thereby resulting in more efficient and effective processes.
Represents the theme "unity is power" and depicts weaknesses that can be transformed into strength.
It reduces risks and increases safety and reliability.
It reduces development and operating costs.
Motivates every team member which leads to greater efficiency in work.
Client Access Sharing
Share access to your clients with timeTracko Team and let them analyze the project progress and pay their bills.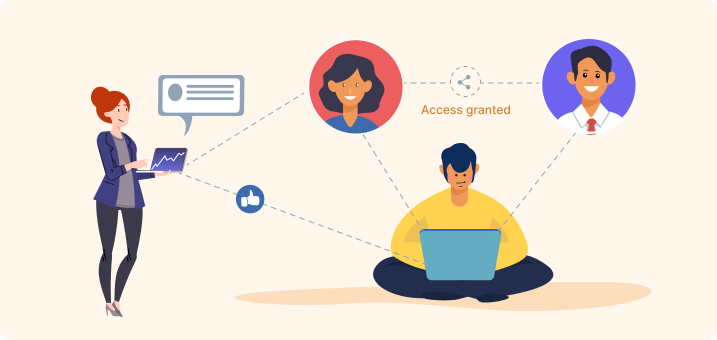 Provide access to your clients using timeTracko Team at no additional cost. This feature helps you to showcase the project progress with screenshots and advanced reports about various tasks to your clients.
This creates transparency about work progress and improves your relationship with your client. It allows clients to see and control what changes they need on their project.
Real-time pulse of employee
This creates transparency about work progress and improves your relationship with your client. It allows clients to see and control what changes they need on their project.
Clients can use the client access portal to view the project progress, remaining works, current tasks being done, as well as pay their bills calculated accurately by timeTracko Team.
Some of the benefits of client access sharing are as follows:
Easy information transfer and more effective.
Increase the value of information available to both client and service provider, thus supporting the mission of an organization.
Easy tracking of individual project tasks and simplify data transfer.
Keep them in-the-loop about the great work you're doing on their behalf
Get clients the results they are looking for.
Smart and Automated Alerts for Inactivity and Unproductive Tasks
Get the real time notifications and alerts with timeTracko Team for your employees inactivity and unproductive tasks.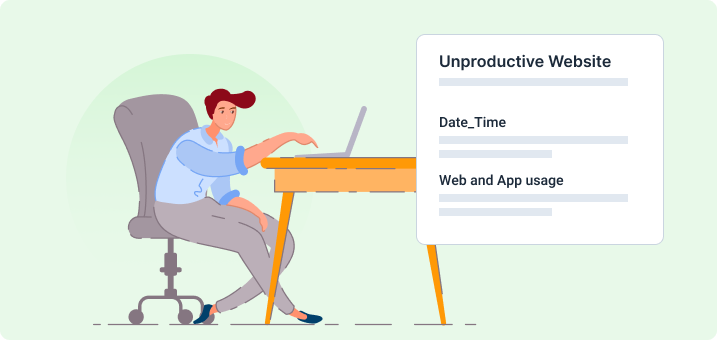 Smart and automated alerts for inactivity and unproductive tasks feature of the timeTracko enables employees to focus on only assigned tasks during working hours. timeTracko Team measures both active and inactive time for each team member.
Also, it increases accountability by tracking productive and unproductive employees and time. During working hours, employees have to work only on productive websites and applications to remain productive.
If your employee is out of the track or doing something that goes against your business policy, you will be notified with automated predefined alarms to keep you conscious about the activity.
This feature will track your employee real-time behavior with the system and update you with predefined alerts that may be email notifications, alarms, or display pop-up messages. Hence, this will keep employees focused only on productive tasks and increase the working rate.
Some of the benefits of smart and automated alerts for inactivity and unproductive tasks are as follows:
View user habits to identify behavioral trends, how time is spent, and process bottlenecks.
To monitor the use and protect confidential data, detect USB device operation or unauthorized file sharing.
Get notified when anyone tries to enter a blocked domain.
Keep track of events like the use of unwanted websites or applications.
Hassle-free third-party integrations
Integrate timeTracko Team with your existing project management, payroll, and accounting softwares to streamline your business processes.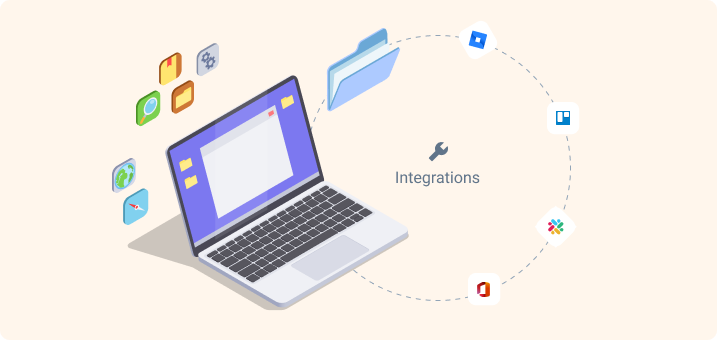 Connect timeTracko Team with your favorite softwares and apps to streamline your day to day work process. You can integrate timeTracko Team with various work tools to help you manage payment, project management, communications, and various day to day tasks.
timeTracko Team integrations are designed to enable you to view all of your projects, assignments, and monitoring data in one place. This ensures you can use the timeTracko Team in combination with other project management and accounting systems without having to go back and forth between them.
If you need to monitor time in one of the common project management tools, timeTracko Team has integrated features of other helpful project management tools so that you don't need to switch to multiple individual software.
timeTracko Team has project management integrations such as Jira, Slack, Github, Gitlab, Trello, and various other payment, accounting and invoicing integrations, CRM integrations, and helpdesk integrations. This allows timeTracko Team to handle every requirement necessary for project management through a single platform.
Some of the benefits of hassle-free third-party integrations are as follows:
It improves data accuracy and completeness.
It enhances decision-making capabilities.
Saves important time due to central control to multiple integrations.
Reduce document management and archiving costs.
Easy access to required project management tools through a single platform.