Best Ad Blockers for Chrome
Best Ad Blockers for Chrome
The Internet gave us a lot of things. Some we asked, and some we didn't. Popup advertisements are annoying things we didn't ask for but can be found everywhere.
In an era when privacy is more important than ever before, you still need the best ad blockers extensions to optimize your web experience.
When the Internet became a business arena, pop-up ads came into existence, so we don't know when it started.
As a solution, we came up with various adblocker applications that filter and block all the unwanted ads and trackers that come along.
One of the common problems that the Internet and its unlimited access to information resulted in is the vulnerability of children to the Internet.
Some criminals exploit the innocence of children. Parental control provided by adblockers helps us to fight against such cybercrimes.
Google Chrome is the most common, fast in operation, and compatible with the users' community among all the browsers.
Ad blockers are meant to work only in Chrome, compatible among many other browsers, and some not meant for Chrome.
Here, we shall find many ad blocker extensions and applications, but first, let's know some essential information.
Best Free and Paid Ad Blockers for Chrome
Comparison Of Top Pop Up Blockers
| | | |
| --- | --- | --- |
| Ad Blockers | Free | Supported Browsers |
| AdBlock | No | Chrome, Safari |
| Adblock Plus | Yes | Chrome, Firefox, Safari, Opera, Edge, Yandex |
| AdBlock | Yes | Chrome, Edge, Firefox, Safari |
| Ghostery | Yes | Chrome, Edge, Firefox, Opera |
| AdBlocker Ultimate | Yes | Chrome, Opera, Firefox, Microsoft Edge |
| uBlock Origin | Yes | Chrome, Edge, Firefox, Chromium, Pale Moon, Opera |
| Stands Fair AdBlocker | Yes | Chrome, Edge, Firefox, Opera |
| Popper Blocker | Yes | Chrome, Safari, Firefox, Edge |
| AdGuard | No | Chrome, Opera, Firefox, Edge, Safari, Yandex |
Free Ad Blockers
Adblock Plus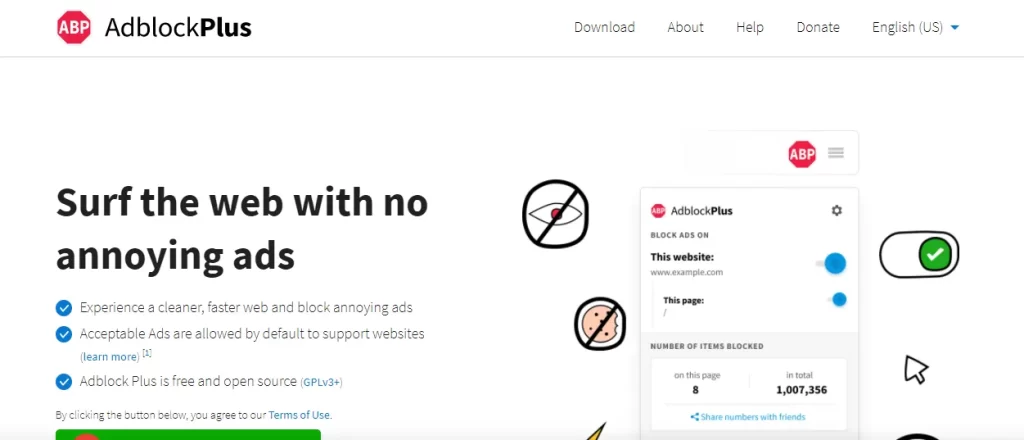 Adblock Plus is one of the most common AdBlock apps we can use in our browser. It is free of cost and provides a faster browsing experience to users.
Adblock Plus runs very well with many tabs open than other adblocker extensions. You can filter a list from ads variety you want to see and don't want to see.
Filter lists options that tell the browser what to block and what not to block.
It works on an acceptable ads program policy, allowing the acceptable ads without the user's consent but blocking the ads with hidden trackers and malware. It is also available for mobile devices.
AdBlock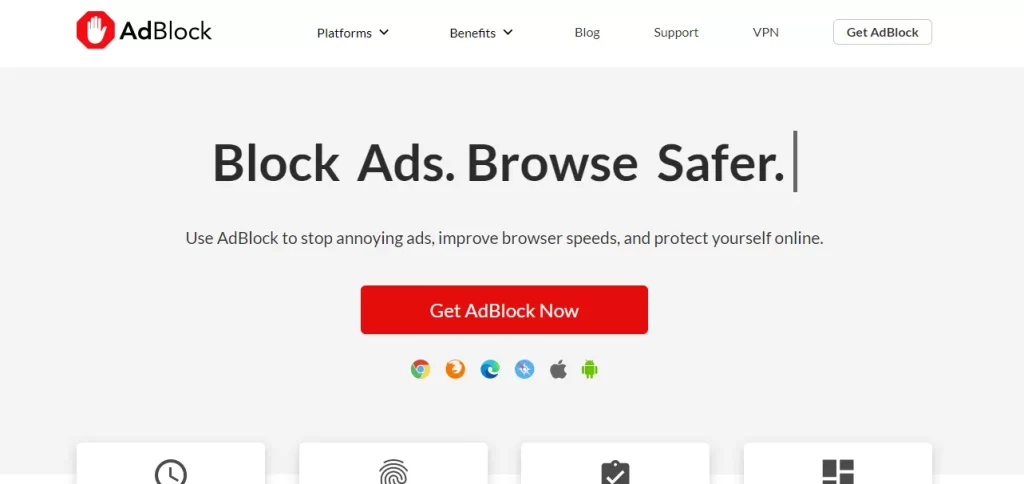 AdBlock is an extension for the browser that blocks ads free of cost. It maintains the browser's speed, protects the user's privacy, denies requests for distracting ads, and supports the websites.
It is not a previous version of AdBlock Plus. It is a different product. A common misconception is because of the name.
However, it has a huge user base. It has about, more than 65 million users worldwide and is available in 30 languages. It is an open-source product.
It follows the protocol of the Acceptable Ads program. It believes in maintaining ads market flow with appropriate conventions.
It works mainly to block malware, restrict pop-up ads, stop automated cryptocurrency mining, and blocks Facebook, YouTube, and Twitch ads.
It works on the most common platforms; Chrome, Edge, Firefox, Safari, iOS, and Android.
Ghostery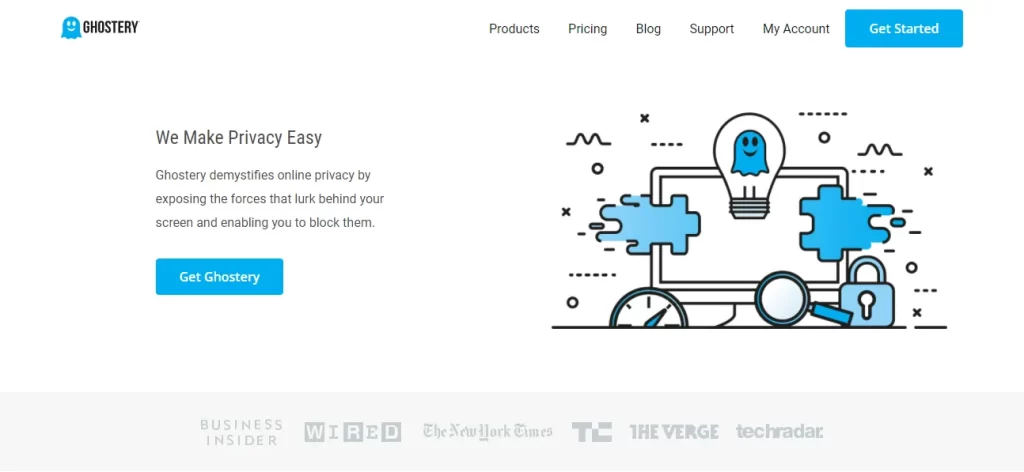 Ghostery is a free product that helps you view trackers who watch your activity without knowing about it.
It helps you find those who want to find information on you. However, if you need advanced actions against the spies, you should take a premium-paid plan.
It does all the basic tasks of an adblocker. It stops annoying ads, speeds up the browser, and stops trackers, but its intelligence tools can give us an insight into who is tracking our activities.
It provides extensive tracker analysis to us. It is for computer browsers but also works on Android and iOS phones.
AdBlocker Ultimate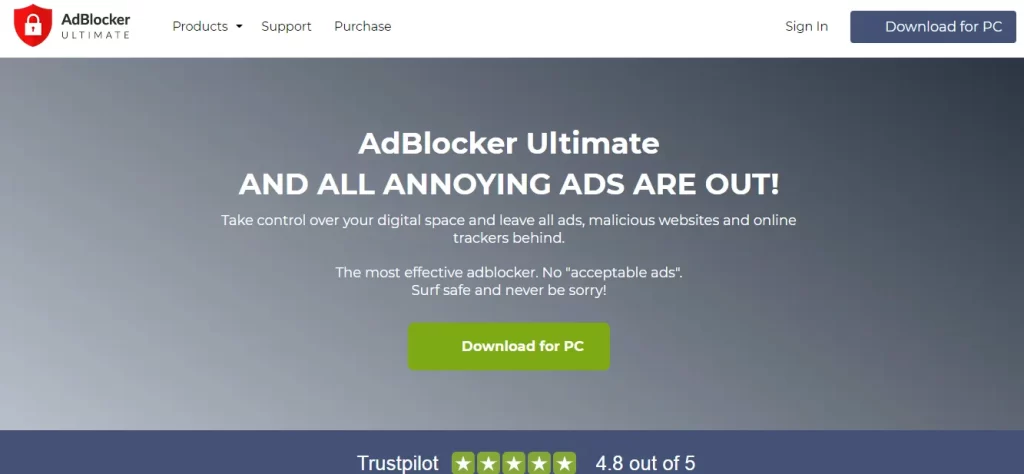 AdBlocker Ultimate is a free extension that works to prevent malware, ads, trackers from disturbing your browser.
It allows you and only you to create a safe list of websites. Your private information is safe in the presence of AdBlocker Ultimate.
It uses amazing ad-blocking technology and avoids all online threats. It is available for smartphones as well.
uBlock Origin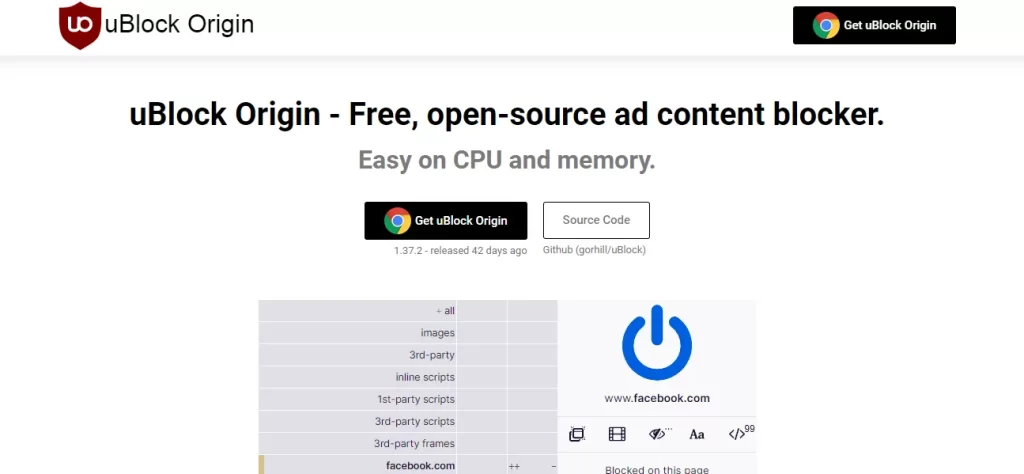 uBlock Origin is a free and lightweight ad content blocker. It is an open-source project with a very good developers' community.
It is simple and memory efficient and is supported in most browsers.
Stands Fair AdBlocker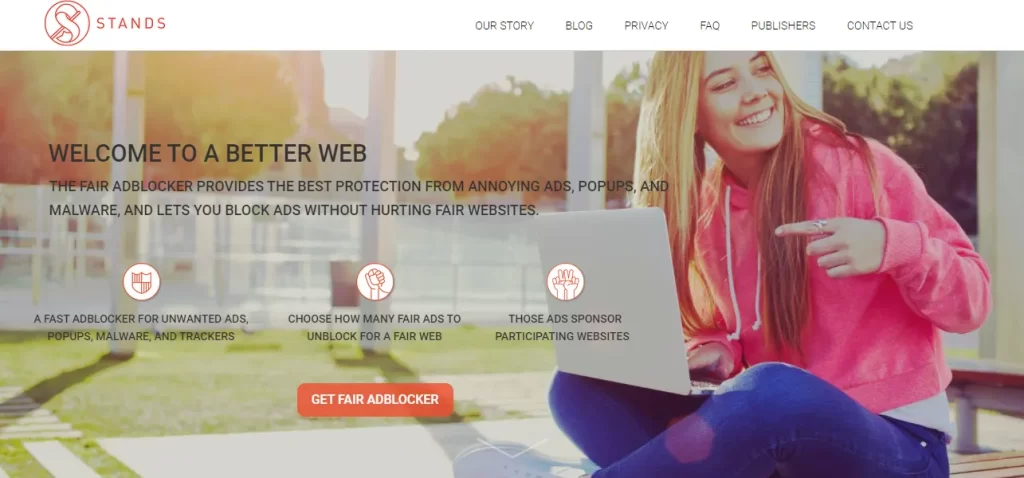 Stands blocks pop-ups, ads, trackers, and malware. It works with the policies of the fair ads program that only displays the ads you allow.
Customization of user allowed ads has complemented the advertisement market. It also protects your data or computer data from websites that try to take them away without your permission. It works for all top browsers.
Popper Blocker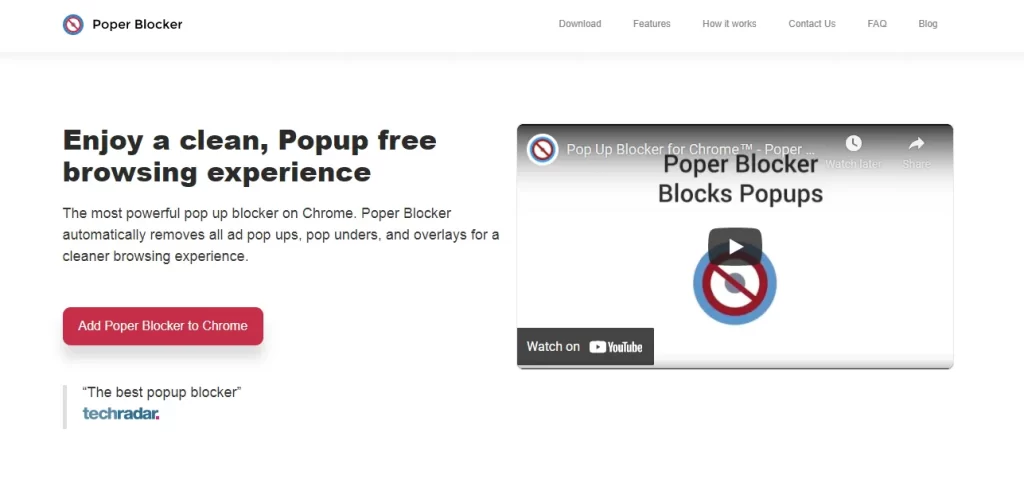 PopperBlocker is an ad blocker that is focused on blocking pop-ups and overlays. It provides fast browser performance and reduces all of the annoying ads.
It is a Chrome extension and integrates with other ad blockers for better performance.
You can report on a pop-up or overlay. Reporting makes it easier for other users as well. They will not face off with the same ads. You can see the stats of ads blocked in the extension in the browser.
Paid Ad Blockers
Adlock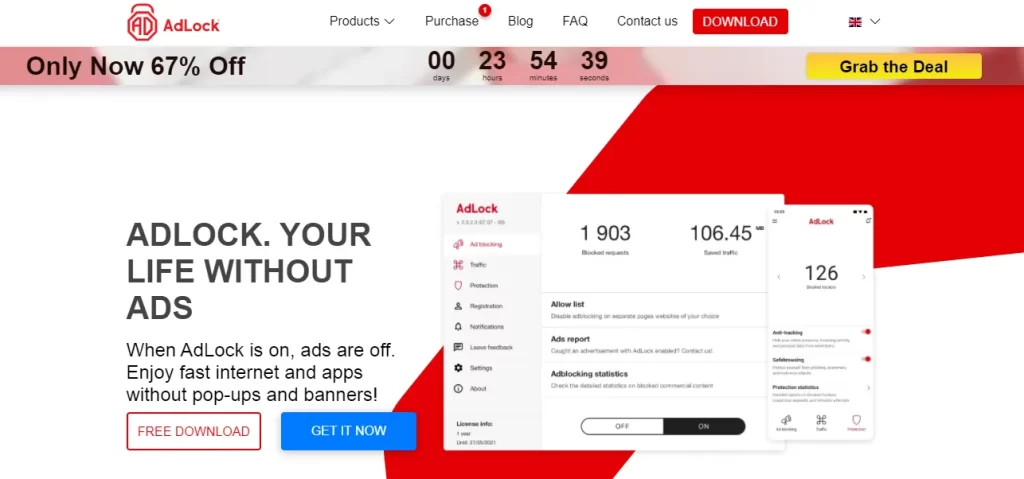 AdLock is the best-paid plan for adblocking and security. It stops unnecessary pop-ups, texts, and videos in all the browsers and even apps. It checks the URLs if they are safe or not for browsing.
It protects your data from spyware and foreign phishing malware. Stopping ads improves the internet connection, and as a result, the performance becomes faster.
The cost is cheaper compared to others with special offers.
AdGuard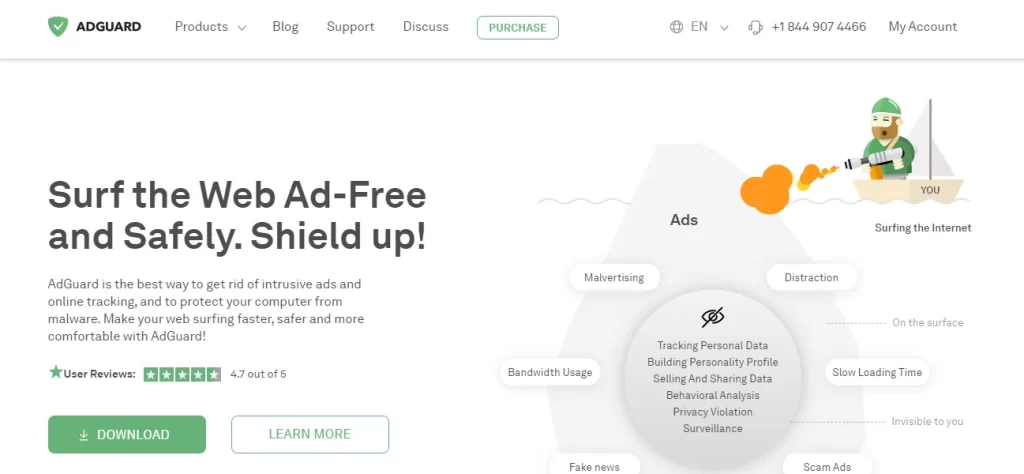 AdGuard is a desktop program that resolves all the issues regarding adblocking. It provides us with safe web surfing, privacy protection, and a parental control mechanism.
It protects our data from all foreign threats, and we can even use the disguise features to hide real personal information from all potential attacks.
The cost of this product is in a group package. You can take a package for three or more. As it has the feature for parental controlling mechanisms, you can have it for your children. It runs in every major browser.
How to Choose the Right Ad Blocker?
Competition is fierce on the market because many different products are available. Choosing an ad blocker is easier if you decide specifically what you hope to achieve with it. Choose the one that best fits your needs and comfort level.
There are many good free and paid ad blockers available. Consider whether the free services offer sufficient ad-blocking, or a paid app offers more value.
It is also good to figure out whether an extension will adequately block ads or changing browsers with better privacy features will be more beneficial.
Some Important Things You Must Know About Ad Blockers
Ad Blockers' usability and use cases are not sophisticated, but some terminologies can affect your understanding of the product.
What is DNS Filtering?
DNS filtering is a feature that helps us to differentiate between good, useful websites from malicious ones.
And, we can put restrictions on employees from accessing those websites. The intended restrictions may be on your family members at home or employees in the office.
What is Malvertising?
People can use different mediums to breach the security in our browser and infiltrate our data on the computer.
Online advertisements and pop-ups are those mediums, and injecting malware into someone's computer using them is called malvertising. Ad blockers help to block such malvertising and save our data.
What are Stand-Alone Applications?
Stand-alone applications are the type of applications that can function independently. They do not need any internet connection or other software or application to perform their tasks.
Ad Blockers, most of them are in the form of browser extensions, while some of the stand-alone types. Hence, the term is associated with Ad Blockers time and again.
What are Acceptable Ads?
Acceptable ads are designed and implemented by the publishers and the advertiser from the information collected by adblocking applications on better user experience.
They are meaningful and not disturbing or annoying to the users.
It's a name for a type of ad and a common convention that ads follow to be acceptable by the end-users. There are some criteria. There is more information on the website with the same name.
Conclusion
Ad Blockers are simple tools that you can easily integrate with your browsers. If you are unsure about the paid plans, you can use the free tools.
The purpose of the ad blockers is to block ads and pops and help manage safe space for genuine advertisements.
Ad blockers help increase our productivity at work, give security to our young ones, and help maintain a non-intrusive experience while browsing the Internet.
There are simple steps for us to achieve that, and while we live with the pool of unnecessary apps, we can select an application with purpose.
Chrome has a variety of choices in ad blocker extensions. It has provided us with a satisfying browsing experience in the past and will continue to surprise us with new features.
We, as users, should reciprocate with the use of its features and feedback about them and help make the internet world a safe place to be in.
If I have missed any important ad blockers, please let me know in the comments sections below, and for more blogs, don't forget to subscribe to the timeTracko blog.