How to Motivate Your Employees to Track Time
How to Motivate Your Employees to Track Time
Time tracking is very important for your company. Tracking worked hours correctly is crucial for effective business management and profitability. It is important to track time at work to be aware of spending their time.
You must track time to keep track of time and attendance, ensure your employees receive the wages they deserve, protect the interests of your business, create invoices for clients' billable hours, and ensure compliance with the law.
Time tracking is just as crucial to your business as any other metric, but you might have difficulty convincing your team to see it as a helpful activity instead of a burden.
Most employees don't enjoy tracking their time. As a manager, it's your responsibility to ensure that your employees understand how accurate time tracking enhances their and the company's productivity.
You need to acknowledge the concerns of your employees, make the process easy, and encourage them to get into the habit of tracking their time.
People generally dislike filling out their timesheets. The major challenge managers encounter when implementing a time tracking system is motivating employees to track their time.
To help you solve this issue, here are a few tips to motivate your employees to track time properly.
Why is Time Tracking Important?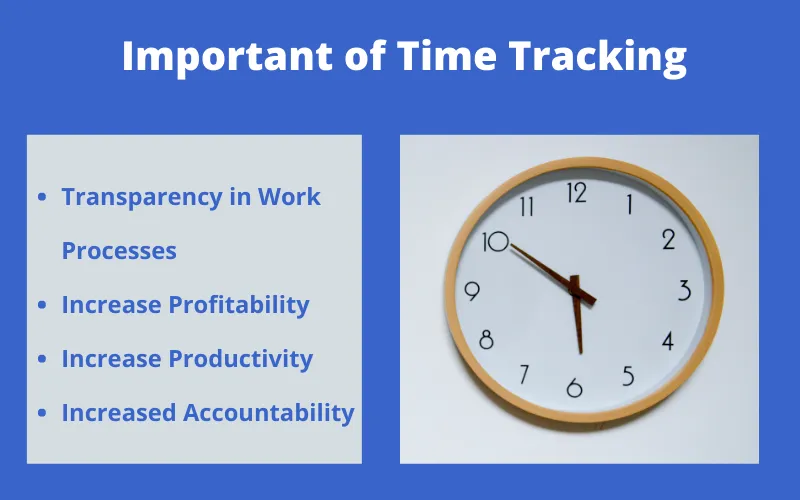 Time tracking is essential to understand how you and your team spend time at work. The goal is to increase productivity, gain insight, and ensure a smooth workflow.
Keeping track of employee time is an excellent way to ensure accountability and boost employee productivity.
Many small and large companies use time tracking software to ensure that their employees' payrolls are accurate.
Using time tracking software, the team and the entire organization can gain greater performance insight.
As a result of time tracking, employees can better analyze their performance since they can see where their time is spent.
Time tracking has numerous benefits for businesses, including:
Transparency in Work Processes
By incorporating time tracking into your workflow, you automatically increase your organization's transparency.
Employees can automatically log their hours and provide transparency into their work, helping managers to hold their team members accountable.
The time tracking tool eventually provides employees with a more comprehensive view of their work. As well as monitoring their workload, they can see what their co-workers have been up to.
Increase Profitability
Time Tracking software can have a huge impact on your project profitability. Track time accurately and keep an eye on how your money is spent. You can track project budgets and reprioritize tasks if something does not pay off as expected.
Increase Productivity
Time tracking doesn't just mean logging hours and creating timesheets. Time tracking software can increase productivity and motivate your team when appropriately used.
Take note of problems during the workday, and develop strategies to make your team more productive.
Increased Accountability
Tracking time increases accountability among employees. Time tracking tools establish accountability among employees because they provide information about when a job was completed, who completed it, and how long it took.
Because of the necessity to record time, employees become more focused on their tasks. As all realize that time is running out, they become more productive.
For more information, check out the benefits of time tracking software.
Tips to Motivate Your Employees to Track Time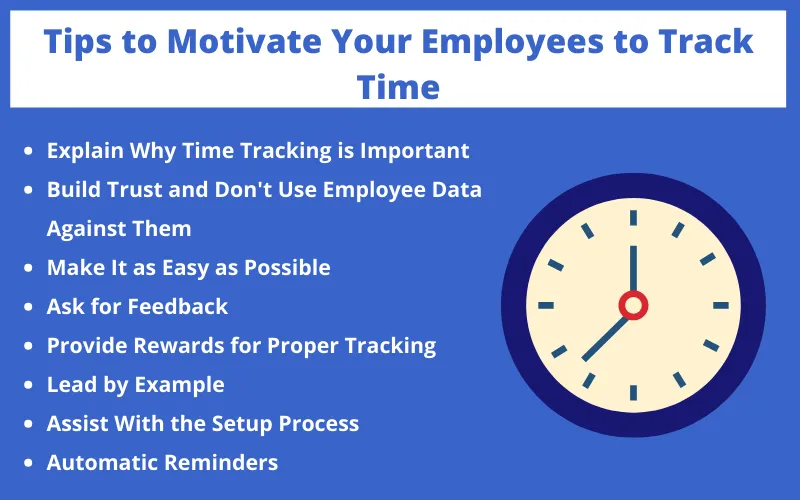 Getting employees to track time is one of the companies' greatest challenges when introducing time tracking software.
Your team might not be completely comfortable with time tracking at first, but you can get their support with the right understanding and clear direction.
Explain Why Time Tracking is Important
One of the most important steps in getting your team to track time is: to be transparent about why the business needs time tracking and how you intend to use the data.
It is important to explain why time tracking is necessary. Help your employees understand the 'why' before they begin tracking.
They need to understand why they should spend their time on something. Simply understanding 'why' can help motivate them to get tracking.
Transparency is key. Tell the truth about why you're doing it. Good time tracking allows companies and employees to combat burnout and excessive working hours.
Build Trust and Don't Use Employee Data Against Them
You must establish trust with your employees before adopting time tracking software. You must clearly state that the new tool does not spy on employees.
You shouldn't punish or reward someone based on their tracked hours. Describe how you plan to utilize this information to help them and the company succeed.
You should also not value work based on the number of hours worked but on how much work was achieved. This is very important for trust.
When you start using time tracking software to criticize employees, they will silently revolt and start seeing it as a weapon.
Make It as Easy as Possible
One way to encourage your employees to track time is to make the whole process as simple as possible.
The task of tracking time is already challenging enough. When it is easier to track time, people are more likely to do so.
Choose easy-to-use time tracking software like timeTracko – the best software for managing time, employees, and billing.
Help everyone with basic setup and provide support as needed. Make sure you provide your employee with clear guidelines on tracking time.
Do not forget about their mobility. Your time-tracking software must have a mobile app that allows your employees to record time from anywhere, regardless of whether they have an Internet connection or not.
To make things easier for employees, let them track their time from wherever they want, including their phone, desktop, or browser.
Ask for Feedback
You should ask employees for their opinions on the new practice after it has been implemented.
It's very important to check in with the team to adapt time frequently. Ask your employees about their experience using the time tracking software.
It's your employees who have the most expertise in your business; that's why their feedback is so important for making good decisions and improvements. Feedback makes the process more efficient and builds trust.
Consider their suggestions as much as possible. Use any feedback they provide to improve your system. Their honest suggestions will help you smooth things over and, in the end, build a trusting relationship.
Also, this is a great way to build trust and demonstrate that you value employees' feedback. By doing so, you can also ensure that time tracking is being used correctly.
Provide Rewards for Proper Tracking
A powerful way to change people's behavior is to use rewards. Offer rewards to your employees who properly log their hours. Encourage employees to repeat the desired behavior by rewarding them for it.
You should motivate your employees to increase productivity. By recognizing and rewarding the most productive employee, you can encourage your other employees to do their best.
Making time tracking enjoyable and simple is the most important thing. If progress is rewarded, employees are more willing to adopt new habits.
You can reward employees with small gifts, days off, thank them publicly, hand-written notes, or a fun award.
Don't use employee data against them. They will hate it if it's used as a way to shame or punish them – and then they won't use it. Make time tracking fun for your team!
Lead by Example
When employers track their productivity, it provides an essential signal to their employees. Leaders should set an example by monitoring their own time.
By doing so, you would encourage other employees to track time.
Assist With the Setup Process
It is frustrating when you cannot understand how something functions.
Training employees properly is essential for successfully implementing new tools and making them enjoyable.
Provide training to all employees to learn how to use the time tracking software. Give a presentation about the setup process and allow employees to ask questions.
Find the best time management software that's easy for the employee to understand without additional help.
Automatic Reminders
When someone forgets to log their time the day before, send them an automatic reminder to remind them to log their time.
Conclusion
Encourage your employees to use time tracking software to keep track of their time and ensure a seamless transition.
You should find a system that works best for you and your team and communicate its benefits.
Try a few tools first and choose the one that best suits your needs. Fortunately, timeTracko is completely free, so you can try timeTracko and experience its full functionality without any obligations.
Do you know any other ways to motivate your employees to track time? Please let us know in the comment section below.
For more exciting blogs, subscribe to the timeTracko blog.