Best Time Tracking Software for Linux
Best Time Tracking Software for Linux
Keeping an eye on employees manually is outdated. Employers use time tracking software to monitor their staff's performance at work.
We've discussed the 10 best time tracking software for Linux in this blog. Please have a read:
Top Time Tracking Software for Linux
timeTracko: The Best App for Employee Monitoring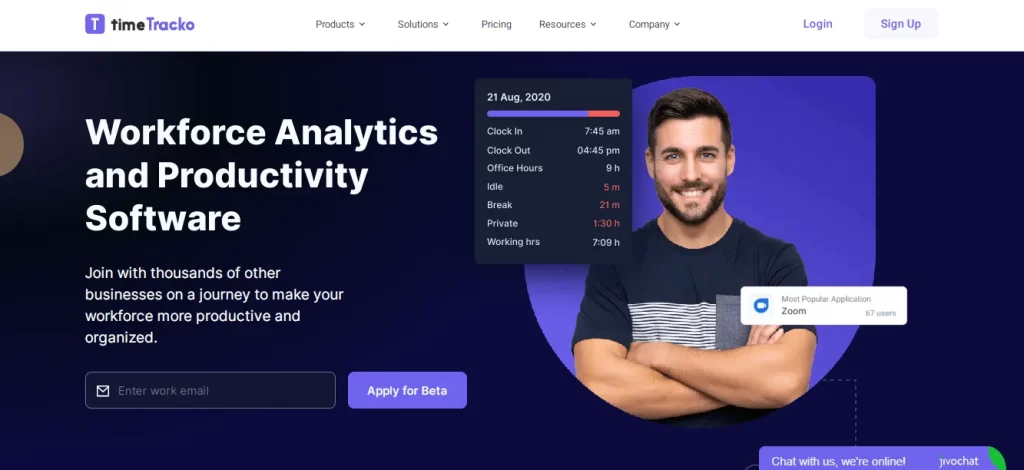 timeTracko is a Workforce Analytics and Productivity software best for real-time employee performance and productivity tracking. With timeTracko, your employees cannot cheat you on work.
The timeTracko app is the best to track your employee's work progress in real-time. This app has an excellent feature: a live screenshot and a live video option.
The app takes screenshots and can even record videos of your employees' desktops during office hours.
Another feature of timeTracko is monitoring mouse clicks and keystrokes. This feature will let you track the inactivity of your workers.
The app calculates the number of mouse clicks and keystrokes performed during office hours.
Furthermore, timeTracko helps you record time spent by your employees on a project. This feature helps create a better workflow and boost employee productivity.
You can track the device usage summary of your employee. With timeTracko, you can monitor your workers' web browsers, apps, and other sites during their office time.
You can see your employee's productivity in real-time reports and act accordingly.
timeTracko is a user-friendly app in terms of functionality, and it has an easy-to-use dashboard.
On the dashboard, you can check the display of your employee's work report (daily, weekly, and monthly).
Features of timeTracko
Real-Time Tracking.
Productivity Labeling and Productivity Chart.
Screen Activity Recording and Keystroke Detection.
Tracks the apps and websites visited by employees while working.
Pricing of timeTracko
timeTracko is completely free. It offers:
Free plan with all premium features for unlimited users and no timeliness.
No credit cards required.
Toggl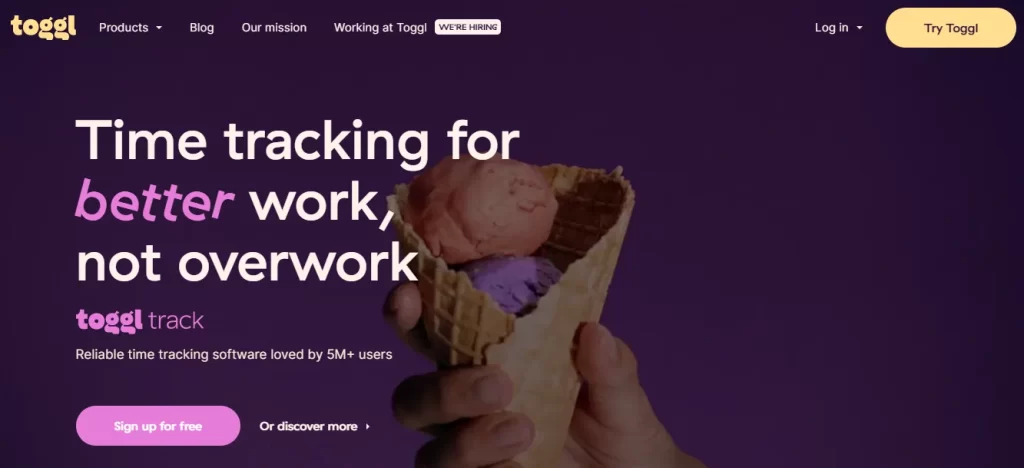 Toggl is an easy-to-use time tracking system based on timers. You can create a task within the project you're working on and then start it to begin the timer. Is the task you were working on completed? If so, you can easily switch tasks by clicking stop.
Soon after the project completion, you can send an instant invoice without leaving the app. Furthermore, since your project time report is available in Excel, CSV, or PDF format, you can share it with the client to know what they are paying for.
In this time tracking software for Linux, users can set projects, assign tasks and responsibilities, and estimate the time frame and budget required to complete the project.
Thus, users will always know which projects are overdue, when to switch projects, etc. This information makes project management easier.
Toggl app is best for freelancers who collaborate for work, small projects, and small businesses.
Features of Toggl
Easy to set project timeline and budget.
Easy-to-use browser extensions (Google Chrome, Mozilla Firefox).
A great user-friendly interface.
A great time tracking app and project management tool.
Pricing of Toggl
offers 30 days of a free trial
$9 per user per month for the starter plan
$18 per user per month for the business plan
DeskTime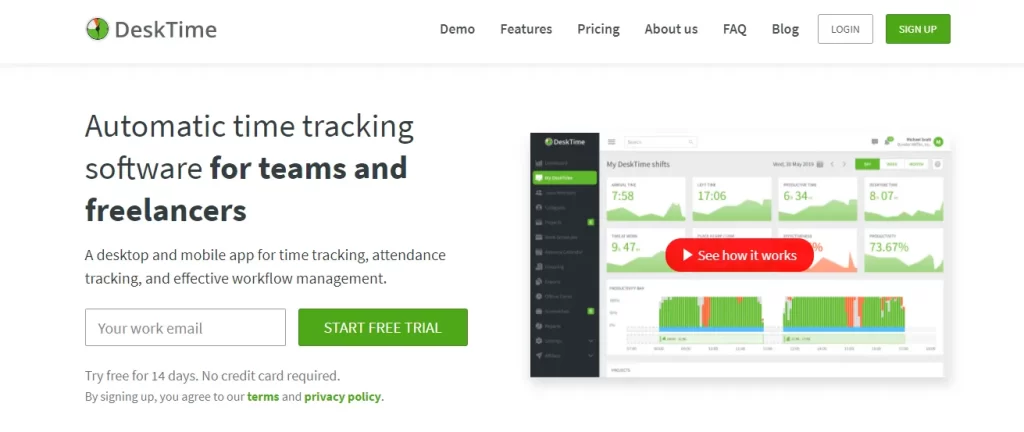 DeskTime is one of the best apps for tracking time. Along with being a time tracker, the Desk Time app also performs as an employee productivity tracker.
DeskTime is a time tracking app with three essential functions: staff monitoring, project management, and productivity marking.
It also enables managers and their teams to determine which web pages and applications are productive and unproductive by categorizing pages and applications.
DeskTime app calculates your employee's daily productivity and efficiency. Based on which websites you visited and which app you used, the app determines one's daily productivity.
What increases your productivity? If you visit productive websites and use your work-based app, your daily productivity increases.
DeskTime is perfect for teams and companies who would rather focus on the big picture than analyze their employees' productivity.
It's simple: when you set your employees' productivity targets, you'll see them succeed.
Features of DeskTime
A great app to track daily productivity.
Provides detailed reports in both visual and downloadable formats.
Takes screenshots automatically.
Applications for project management.
Scheduling shifts is possible.
Pricing of DeskTime
$10 per user per month for a premium plan
$20 per user per month for the business plan
TimeCamp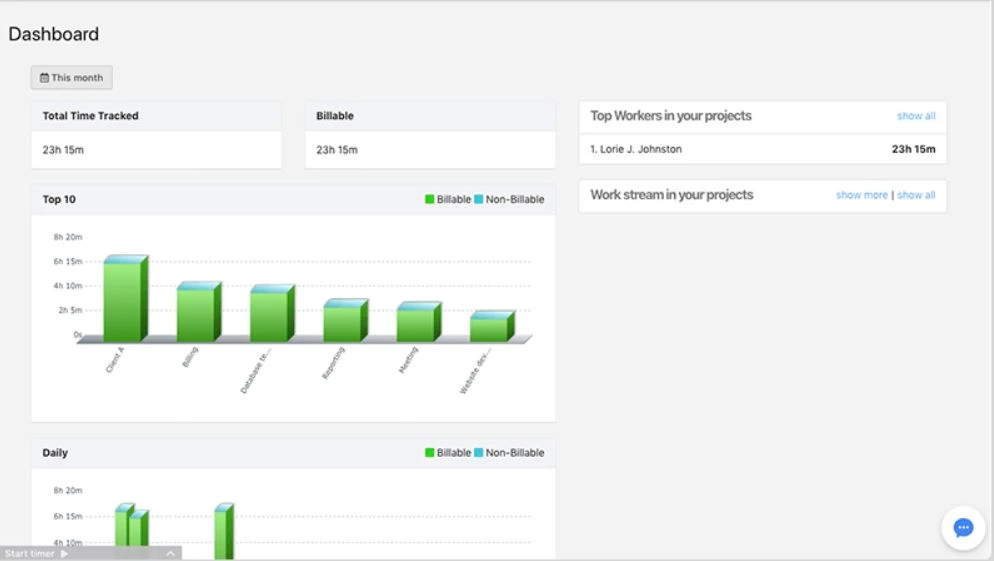 Are you looking for one of the best time tracking software for Linux? TimeCamp is your best choice.
You can easily track your employee's worktime manually or automatically with TimeCamp's cloud-based time tracking software.
Some amazing features like collaboration, time tracking, and monitoring of project status are available through the app.
The best thing about this app is that you can set up payroll automatically while sending invoices to customers.
Furthermore, it's an employee productivity monitoring software for checking whether your employees are performing as well as they should be during the workday.
Timecamp app is well-known for its range of integrations with other apps. More than 50 integrations are available with project management software and help desk applications.
Having already created tasks and tickets in Timecamp will let you sync and import them easily, and you will be able to track time right away.
In a nutshell, TimeCamp is time tracking, billing, and employee productivity monitoring software.
Features of Time Camp
Get your daily productivity analysis.
Store and create client invoices. Get notified when a client views an invoice.
GPS tracking, tracking holidays, and attendance tracker.
Offers easy-to-understand customizable daily reports.
An effective productivity tracker.
Pricing of Time Camp
$6.3 user/mo for the basic plan
$9 user/mo for a premium plan
Hubstaff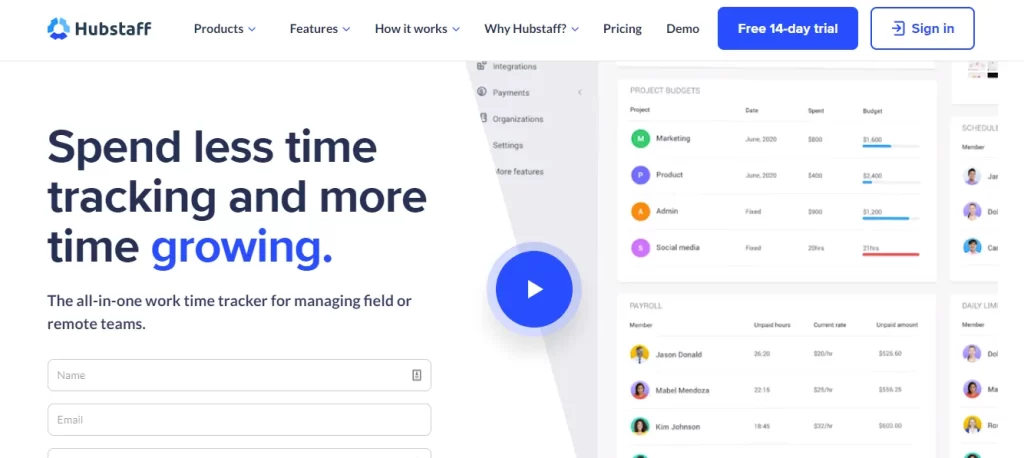 With Hubstaff, a highly popular time tracking software for Linux, you can track time, manage projects, and monitor and manage your employees. You can track employee time anywhere with Hubstaff.
The tool collects data running in the background and even takes screenshots of the employee's desktop. To keep Hubstaff's software secure, they release patches and updates.
With Hubstaff's GPS tracker, it tracks time and location. Companies with frequent travellers often use GPS trackings, such as salespersons and delivery people.
With Hubstaff's mobile productivity tracker, managers can easily trace their employee's location, how much time they spend on the road, and how much time they spend on the job site.
Hubstaff is the best time tracking app for companies that employ remote workers on the go. The manager can see what employees are doing, where they are located, and be there.
Features of Hubstaff
Tracking the GPS location of an employee.
Hubstaff takes auto screenshots and saves them.
You can pay your employees using the software.
The timesheet template.
An incredibly efficient operation.
Pricing of Hubstaff
Offers free 14 days trial
$7 user/mo for the starter plan
Rescue Time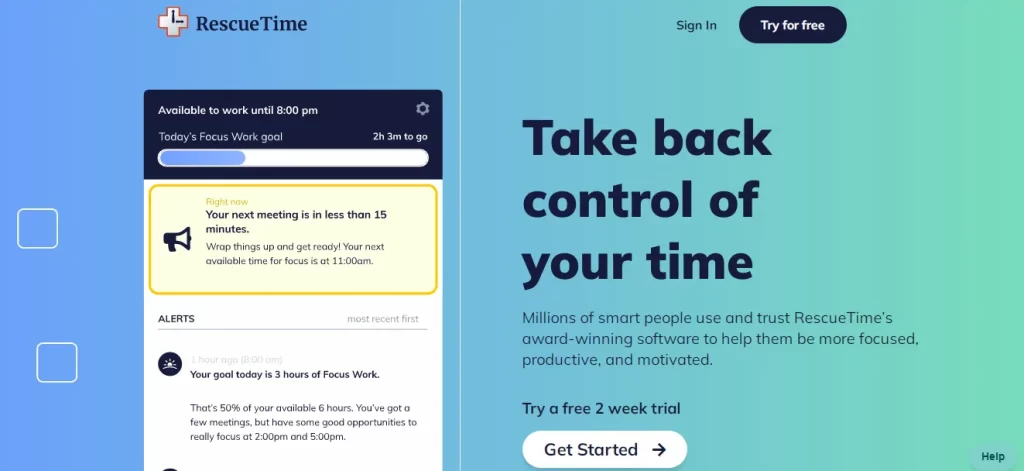 Another one on our list is RescueTime, a time tracking app that tracks time and workers' productivity.
These app spies on employees and record information like websites visited and the apps used during working hours on the browsers.
The app displays a worker's productivity daily based on the programs and apps visited.
You can calculate your productivity automatically using pre-grouped categories and productivity scores embedded in RescueTime. You can customize which apps are productive and which are not.
Using RescueTime, you can set your task goals and track your progress. If you list tasks with a timeline, you can stay on track and become more efficient.
The RescueTime app is time management and productivity tracker for freelancers and employees. Setting goals and scheduling your daily activities in RescueTime helps you stay on track.
While this app may be a good time-tracking tool for employees, it won't be a great choice for employers to monitor their employees since it doesn't automatically update managers.
Features of Rescue Time
Set daily task goals and obtain a daily analysis of productivity and efficiency.
Identify distracting websites and block their access.
Email summary every week.
A genuine productivity tracking software.
Pricing of Rescue Time
offers 30 day of a free trial
Intervals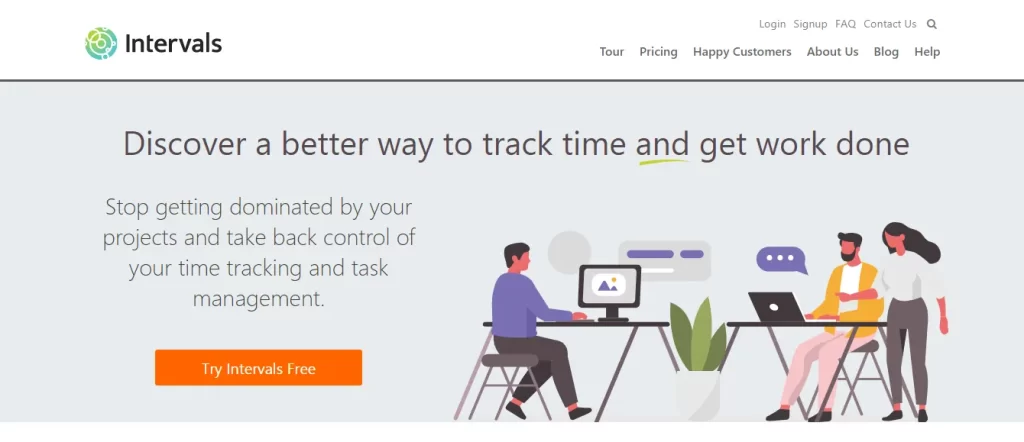 With Intervals, you can see what takes up your time and energy. Built specifically for small businesses and teams, marketers, consultants, developers, and IT professionals use Intervals. Interval tracks the user's workflow, and the app reports the user's time and productivity log.
Clients can create custom billing rates, set budget limits and alerts, and receive accurate and detailed reports with the Intervals app.
Reports are readily available on the platform. Users can track and submit individual billable hours, on-task collaboration, and see the project progress in real-time.
Intervals app for time tracking for Linux is most popular among small to mid-sized businesses and organizations. Also, various enterprises, freelancers, govt, and non-profit organizations use this app.
Features of Intervals
Provides online and live training via documentation, webinars, and live training.
Project management and resource management.
Allows collaboration, task scheduling, and task planning.
Encourages team communication via text, messages, file sharing, discussion threads, video conferencing, etc.
Automated timekeeping.
Cloud-based and minimized risks of data losses.
Pricing of Intervals
Offers 30 days of a free trial
$99/mo for a professional plan with unlimited users
$159/mo for a premium plan with unlimited users
Kimai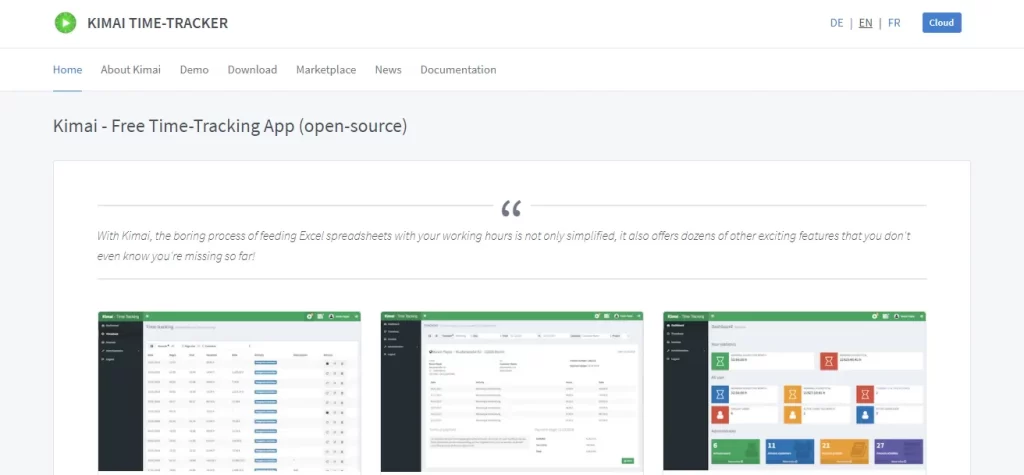 Kimai is an open-source time tracking and classifying software that works as multiple working folder managers and classifies time.
What is most popular about Kimai is its cross-platform and cross-network compatibility.
The web browser-based interface of Kimai allows easy installation and application on any platform or over any network.
The Kimai app offers a customizable invoice, entry, and expense system.
It allows us to access and print our timesheets – whether daily or yearly, by project, customer, or action. We can print the timesheets according to the projects, customers, and actions.
The Kimai application offers different functions to all users: the customer, the employee, and the administrator.
The platform also offers a customizable invoice tool and extensions that add extra functionality. Despite being free and open-source, Kimai is an advanced application worth using and recommending.
Features of Kimai
Web-based software. It can easily be installed and used where the internet is available.
Consumers include customers, workers, and administrators.
Numerous extensions enhance its functionality.
The Budget, Expenses, and Invoice Experts are all handled by Kimai.
Pricing of Kimai
€1.99 for the starter plan
Rachota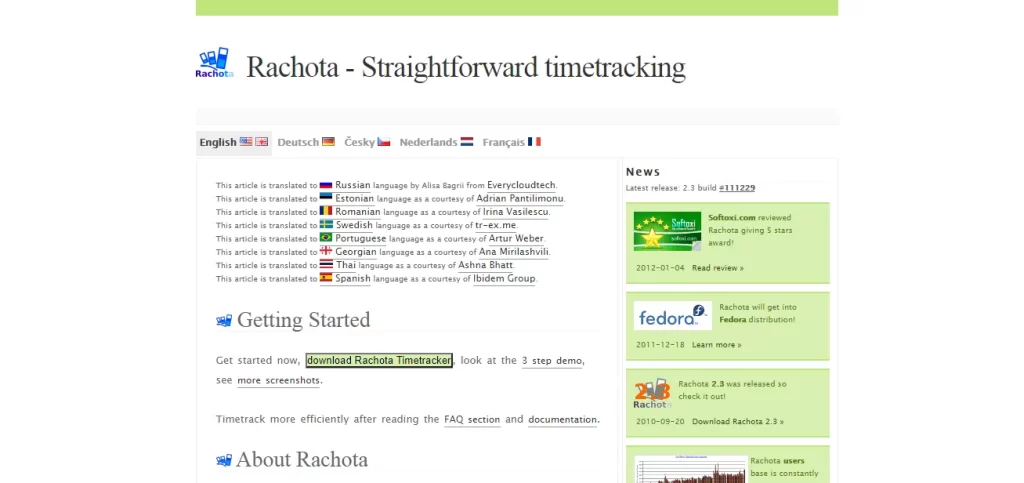 Rachota is another time tracking app for Linux that made it to our top 10. Rachota is the favorite app of individual workers and freelancers.
The Czech word "Rachota" means "manual work." Chota is a Java time tracking application.
The application provides users with customized invoices and reports and analysis of measured data, leading to improving efficiency.
It is a free and open-source time tracking software for Linux, Windows, and Mac OS X. This makes it unique-we can use it anywhere. It's because it allows for storing time-tracking data on a USB drive.
It is capable of providing feedback. The software uses diagrams to display time data, analyzes the work, and suggests manipulated work.
Features of Rachota
Reports and invoices are available in formats like HTML, CSV, or TXT files.
The personal time tracking tool is highly secure.
Data mining features are powerful.
Measured time is customizable.
Supported in 11 languages.
Pricing of Rachota
SINC Workforce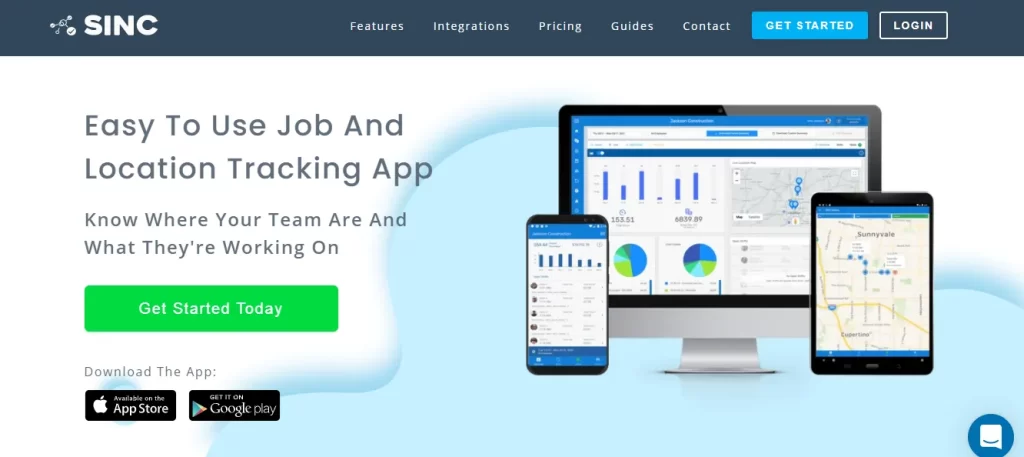 The Sinc Workforce app is the last one on our list. This application for time tracking made it to our list because of its excellent functionality. This app is highly effective for small to mid-size businesses.
With Sinc, it is very easy to track the staff's working hours while working. This app can also track staff's movements while they are at work.
This app keeps track of time accurately and thus makes it easier for organizations to monitor their employees' productivity.
Features of SINC Workforce
Monitors staff hours by shift, job, and cost codes.
Accurately and quickly process payroll.
Production tracking and labor cost reports.
Notes about shifts and jobs for effective communication within the organization.
Offers online training via documentation.
Allows time management, project management, and budget management.
Easy user interface that makes it easy to record and track my employee's working hours.
Easy to edit and manage staff's office hours and schedules.
Pricing of SINC Workforce
Offers 30 days of a free trial
$24.99 per month for up to 7 users
What Features Does Time Tracker Provide?
Mobile apps for GPS tracking of employees. Take a few screenshots per hour to ensure that employees have been working.
Compiling the number of keys and mouse clicks.
A customizable Clock Out prompt message.
Customizable fields in the task panel.
After clocking in, the tool allows users to work on multiple projects.
What is the Cost of Time Tracking Software?
Various time tracking applications offer lite versions for free. However, free time tracking apps generally offer just the bare minimum features.
Several price levels are available in most time tracking applications – for individuals, groups, and enterprises.
Price ranges depend on the number of users, the features package, and whether you sign up for a yearly or monthly subscription.
Conclusion
Time tracking software is essential in big companies where managing staff and seeing their daily performance manually is a hazard. These productivity monitoring apps can help increase employee efficiency as well.
Moreover, if an organization has a lot of remote workers, time tracking software is a must-have. Employers can closely look at their employees' performance and work efficiency with time monitoring software.