How to Hire Remote Employees
How to Hire Remote Employees
Remote hiring means hiring an employee through virtual interviews. An employee who works remotely is an employee who works from home.
Employees who work remotely typically work from home, co-working spaces, or coffee shops. Depending on their role, remote employees may work on their private schedule or a regular workday schedule.
Working from a remote location doesn't automatically make you a great worker. The ability to manage your time and stay accountable independently of an office or manager is a skill that employees in an office learn so easily.
Being a remote worker, you should learn time monitoring and task completion. Remote workers need to demonstrate a strong work ethic, time management skills, and communication skills before anyone hires them.
Remote Working Scenario Due to COVID-19 Pandemic
Due to the COVID-19 pandemic, remote working became the new normal. Within hours of COVID-19 spreading across multiple industries, companies went remote, and it was a difficult transition for many.
Now, most businesses have adopted having their employees work remotely. These arrangements have also proven beneficial to employers, from increased worker productivity to reduced capital expenditures.
But, getting started with remote recruiting is not something to take lightly. Organizing a remote hiring process can be as stressful as a face-to-face interview and recruiting automation software can help you have a better candidate experience and overall work more efficiently.
There is a good chance you will make mistakes, hire the wrong people, etc. However, your mistakes will improve you as an employer.
How should you approach hiring remote workers if your company is new to the practice? What is the best place to find skilled workers?
What kind of skills should you be looking for in them? How to hire them?
Here is a list of guidelines that you should follow to attract and hire remote employees:
Guidelines for Employing Skilled Remote Workers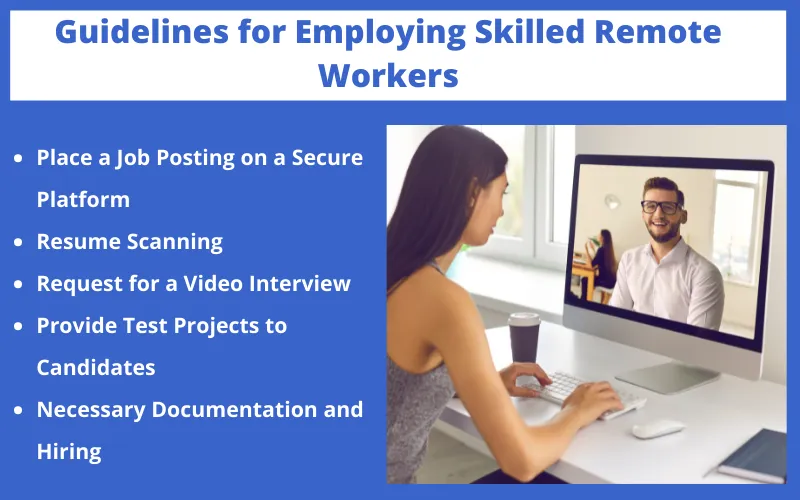 1. Place a Job Posting on a Secure Platform
Hiring remote workers begins with job boards for remote workers. You can find professionals from all industries on these platforms, from permanent and part-time personnel to contractors.
Companies should post job vacancies on job-finding websites, and the job seekers will find the job vacancies and apply for the post.
2. Resume Scanning
After posting a job vacancy on several sites, the next step is to wait for eligible candidates to apply.
Once you begin receiving the job applications, CV, and resumes, you should comb through the resumes of all candidates that responded to your ad after you have located a suitable job board and posted an opening.
You should know what skills and qualities you seek in your new remote workers. You are looking for someone who has experience working independently.
You should closely watch the remote worker's history of remote working and their competence with remote working software.
After going through the resume and other documents attached, you know who you want to interview.
3. Request for a Video Interview
Once you think that the candidate meets your criteria for a new hire, you should mail them and request a video interview.
After sending a mail, you can observe their actions and learn a little about them.
During the interview, please pay attention to their communication style, how quickly they reply to your emails, and how professional they sound.
Watching their actions will give you a sense of how well they will communicate with you.
Ensure the person responding to the screen can form their thoughts. Likely, they won't reply fast to emails regarding work when they take several days to respond.
When you need to follow up for important information more than twice, you may need to teach them to pay closer attention.
What do you do during the interview? As an employer, you should observe the candidate and ask them appropriate questions about their past work experiences and others.
The list of questions might include:
Their personal information.
Their previous remote working experiences.
Their communication skills with an employer or the working team.
Remote working software that they've used.
Challenges they've faced while working remotely.
How did they overcome the challenges?
4. Provide Test Projects to Candidates
After a formal interview, you should also see the candidate's working skills. You can't judge how a remote employee will be until you work with them.
So, you should test how they work. Assign them to work and set a deadline for them to submit it. You can also ask for samples of their past work if they have any.
Plan a short test that simulates a work-related task. Bear this in your mind, do not let it exceed fifteen minutes. The right candidate will take the time and effort necessary to accomplish the job.
However, if the task is too long, even the best candidates will not enjoy it and perform poorly.
You can also request a paid trial assignment to submit within one week. If the applicants have good experience working remotely, they should meet deadlines and show you whether they are a good fit for your job.
5. Necessary Documentation and Hiring
Once you've gone through all the processes mentioned above, you know whom you want to hire.
The human resource department should begin the required documentation process: signing contracts, discussing salaries, asking for more documents (PAN no, Bank account details, etc.)
If you want to streamline the remote hiring process, you could consider utilizing an Employer of Record service such as Rehiring.net. This type of service functions as a middleman between you and your remote staff, taking care of all the necessary administrative duties related to hiring, orienting, and compensating employees.
After the hiring is complete, you must introduce your new staff to their team members.
Ways to Manage Remote Employees Effectively
Remote team building is not easy, and remote workers always stay out of your sight. So, what should you do to keep them coordinated with the rest of the team?
Here are some ways that you can do to manage remote workers and make sure that they are highly productive.
Measuring performance using metrics is necessary.
Monitor employee work with time tracking software (timeTracko is one of the best employee monitoring software available.)
Collaborate effectively across teams by using collaboration tools for texting and discussing work-related topics.
Feedback should be consistent. When remote employees perform poorly, coach them.
Review your employees' performance realistically.
Develop a sense of belonging to the digital team to prevent isolation.
Where to Find Remote Workers?
Accepting job applications from the best remote workers to work for you is the first thing you should do while hiring remote employees. Where can you find remote workers? You can check out job search websites on the web or explore other options, such as partnering with Uxcel to hire UX designers.
Uxcel is an excellent platform to find skilled and experienced UX designers who can help take your business to the next level. Many approaches can help you find promising candidates for your job requirements.
Specialized Staffing Firms
Many staffing firms like Robert Half, kelly help you find job candidates that match your job specification.
They will find potential candidates for your job vacancies, take a CV from them, and deliver it to you. Highly skilled professionals willing to do remote work will contact staffing firms.
The staffing firms will take the required information and documents and send you their documents if they are skilled enough to join your organization.
Hiring Old Staffs
Some staff worked long for your company and resigned on good terms. Track those employees and try to contact them.
Sometimes, if you offer them a good salary and facilities, they might be willing to work remotely for you again.
With your ex-staff, there will be no reason to feel insecure. They will already know your company's motto, discipline, mission, and values.
You can send a personal email or call to tell them about an exciting job opportunity. If you are offering a job to someone already employed elsewhere, you might consider offering them a step-up job.
Consider hiring recent retirees since they usually have unique skills and expertise to offer.
Employee Referrals
If your employee wants to bring another worker into your organization, feel free to allow them. Employee referrals are one of the popular ways for remote employee hiring.
When your staff brings in new workers, this will save you cost for job vacancies and specialized staffing firms. Employee referral is a strong hiring tool for both remote and on-site hiring.
It is unlikely that your team members would recommend candidates who are unlikely to perform well at your company because a disappointing hire could hurt their reputation.
Additionally, if an employee endorses your company, that endorsement can be an even stronger reason for a friend or colleague to accept a job offer from you. If you want to compete for top talent, that's a big advantage.
Conclusion
Businesses must hire candidates within the right time frame to be successful. Hiring remote employees can provide your company with new and creative skills.
Remote work has the additional benefit of allowing employees to pursue the job they want without relocating.
It's not easy to hire and retain remote workers. Here, we have provided some guidelines to help you hire remote employees.
Please follow our guidelines and let us know in the comment section whether they are helpful or not?
Don't forget to subscribe to the timeTracko blog for more interesting and informative blogs.