Best Remote Work Tools For Employee
Best Remote Work Tools For Employee
Remote work is also known as work from home allows an employee to work from a remote location ( i.e from anywhere) outside of a corporate office or organization with flexible working arrangements.
Recent surveys have found that nearly 80% of workers say that they are more comfortable and productive when working remotely. People all over the world are trying to adapt to this technology.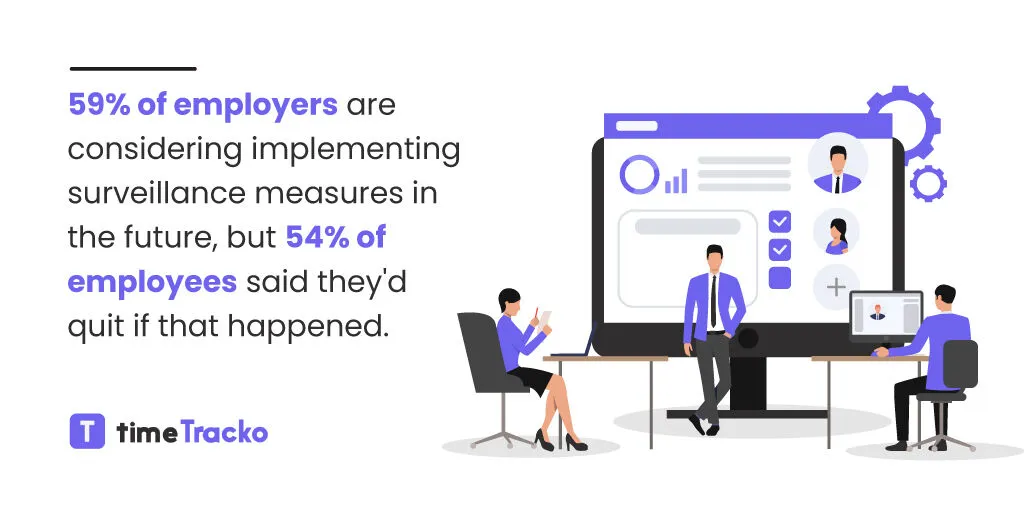 Remote work tools are digital tools that are meant to help remote workers to communicate, collaborate, and accomplish work in tandem with colleagues and mentors. So many remote tools are available in the market.
Learn more: Lifestyle of Remote Employee 🙋🙋
Benefits of Working Remotely
Working from home offers many benefits for both parties: company and employee. Some of the advantages that employees and companies can enjoy through work from the home concept are listed below:
Flexible Schedule
Profitable in terms of resources and money
No office distraction
Increase productivity
Comfortability
Pool of talent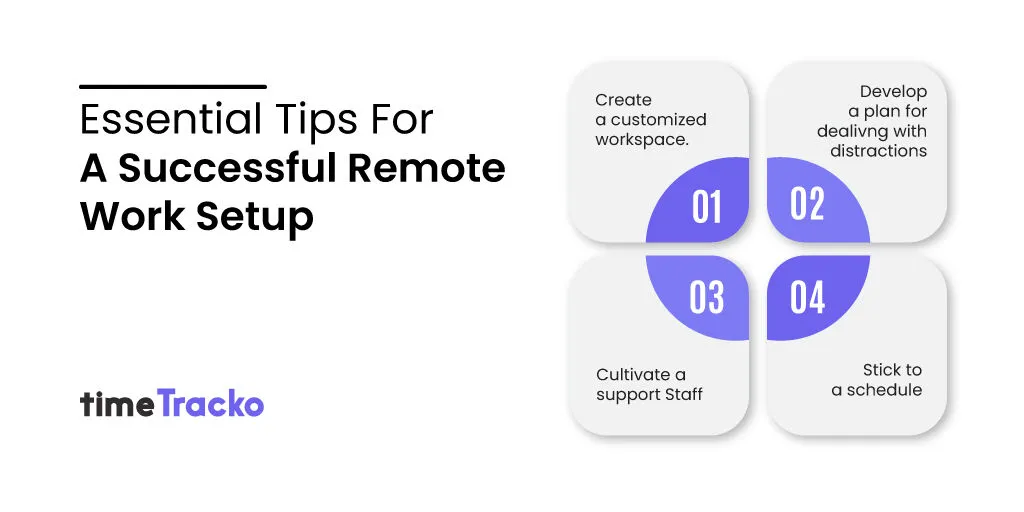 Learn more: Advantages and Disadvantages of Working From Home💻 💻
Why are Remote Work Trends Growing?
COVID-19 pandemic has been the most stressful time of their entire professional career, which aligns with stark increases in prescriptions of antidepressant, anti-anxiety medications.
It has affected people's mental and physical health across the globe. The importance of wellness and health has become the topmost priority for people worldwide.
Remote work is one of the new trends. According to a recent Upwork survey, about 1 in 4 Americans will be working remotely in 2021. This is a significant change from 2018 when only 7% of civilian employees in the U.S. had an option to work from home.
The main reasons for the growing trends of remote works are as follows:
Comfort of being at home
Less stress
Setting your own working schedule
Better time management for personal life
Less distraction
No commute
Remote Work Tools for Remote Teams
Let's take a look at some of the best remote work tools for you or the remote team.
Team Collaboration Tools
Communication is key in any workplace. Collaboration makes the work easier and faster.
1. Slack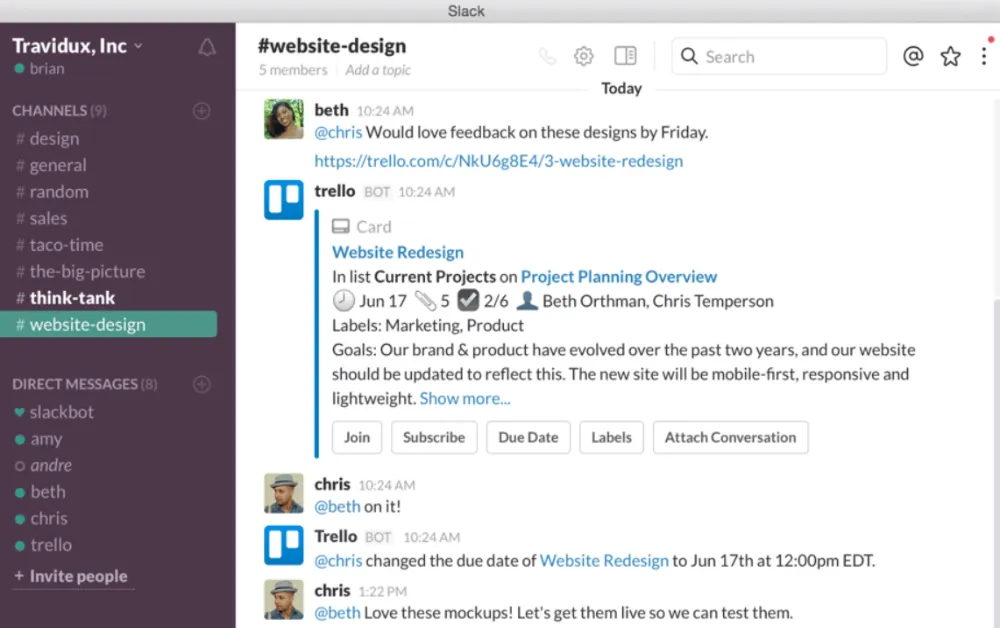 Slack is one of the most popular real-time communication tools for a remote team. The entire office members can conduct daily tasks and meetings via slack.
Features of Slack
Helps create spaces for team members where discussions and files exchange is possible.
Allows the officials of different offices to connect for work.
Messaging feature helps communicate with members who work remotely, and the chat is private and secure.
Connect your team members from any location with an internet connection and share features, and there are keyboard shortcuts for accessibility.
The inclusion of third-party applications like Google Drive and 2200 others for integration make management easy for officials. screens for presentations, and organize video conferences.
Users can react to posts with different emojis and gifs; you can choose modes for viewing and adjust zoom levels.
Slack commands provide different features, and there are keyboard shortcuts for accessibility.
The inclusion of third-party applications like Google Drive and 2200 others for integration make management easy for officials.
2.Troop Messenger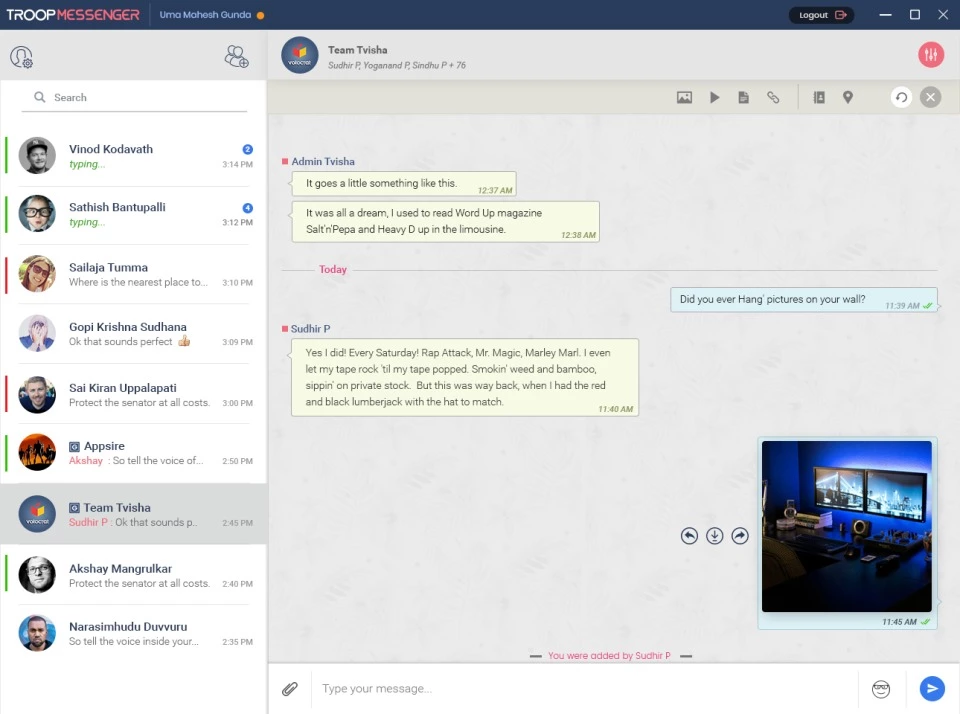 Troop Messenger is one such business communication software that makes teamwork better with its powerful features-stack. It is a simple yet powerful remote work solution.
It is a one-on-one group messaging platform for small, medium, and large enterprises. This high functionality, low complexity tool addresses various domain specificities.
It makes teams stay connected round the clock across the platforms of Windows, Linux, Mac OS, Android, and IOS. Team members can create unlimited groups and communicate via instant messaging, audio, and HD video calling.
Features of Troop Messenger
There are several features such as group chats, one-to-one messaging, contact search, self-messaging, usage analytics, conversion history, audio messaging, etc.
Troop messenger's screen sharing and multi-device access lets users share their desktop across multiple locations and work remotely.
Allows developers to transfer the code format via an integrated code editor to personalize applications with customs fonts and branding.
An interactive dashboard gives a unified view of all individual collaboration, favorites, locations, employee records, and reporting hierarchy.
Allows your team to migrate files documents and do a lot more than just text. Admin can add vendors and suppliers with restricted access.
3. SoapBox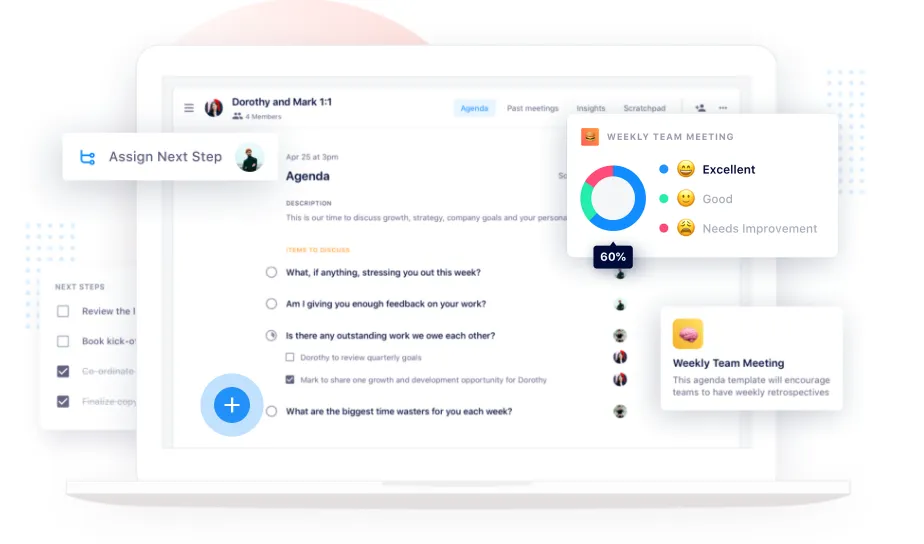 SoapBox is collaboration software. SoapBox is a shared agenda tool for one-on-one, team, and cross-functional meetings. It allows teams to work on common agendas, take notes, assign next tasks, and exchange comments in one single place.
Features of Soapbox
Chrome extension tied into Wistia video platform.
Present video as a single frame or split-screen view.
Record the combination of webcam and what's being shown on the screen along with voice form the computer mic or external microphone.
Export videos to share with the wistia video player or create a video gallery.
Export videos to social media channels in a few clicks.
Custom video thumbnails with looping GIFS and text overlays.
4. Microsoft Team
Microsoft team is a platform or workspace for real-time collaboration and communication, file sharing, meetings, etc, and many more.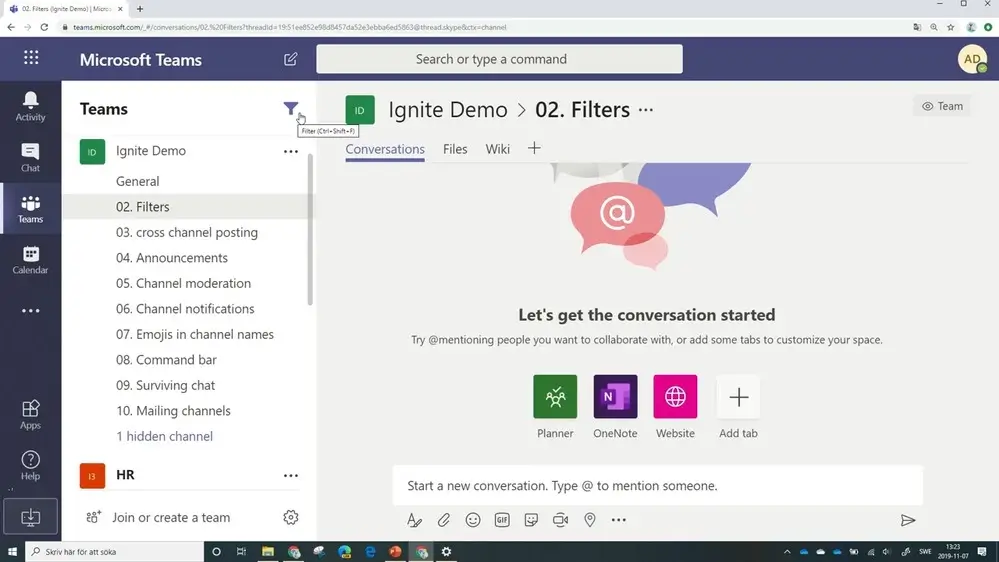 Features of Microsoft Team
Automatically record and upload video, audio and shred content from meetings to microsoft stream.
Teams are created in the form of channels, which are conversation mediums for teammates.
Like Slack, all team members can participate in general discussions, and they can use @ to invite other team members.
Presence indication based on each person's Teams activity, manual status settings, and Outlook calendar
Integrate your favorite apps—Planner, Trello, GitHub, and many more
Automatically record and upload video, audio, and shared content from meetings to microsoft stream.
Audio conferencing is a capability that not many collaboration platforms provide. Individuals on the go may join using a phone number that covers hundreds of locations without using the internet.
Productivity and Time Management Tools
1. timeTracko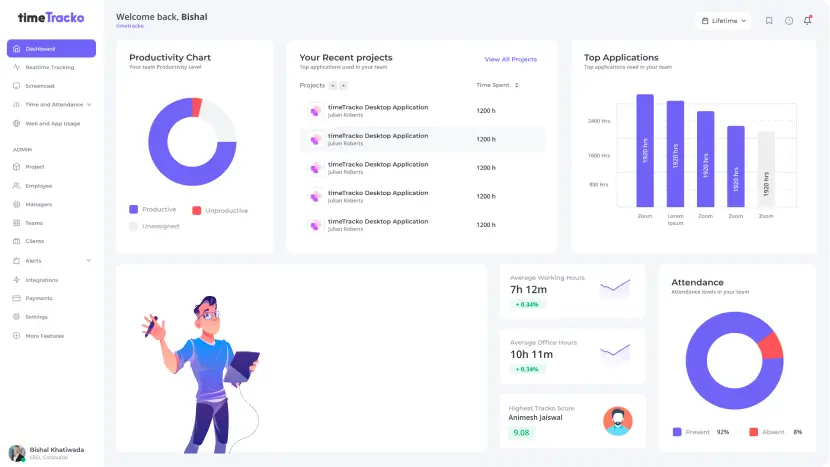 timeTracko is an application made for tracking employee time and productivity. It is a time and productivity tracking app that makes analysis easier for office management. timeTracko has a user-friendly interface.
Features of timeTracko
Tracks the mouse clicks and keystroke for knowing how active your employees are.
Provides an option for real-time tracking via screenshots and videos.
Allows screencasting that helps in the detection of irregularities and advising employees regarding productivity.
Allows employers to track time for a particular project, task, or customer, making planning and management easier.
Groups the programs, applications, and websites into productive, non-productive, and neutral divisions.
View the total number of hours an employee worked.
Helps you review the summary of the usage of each employee to analyze which employee is more efficient.
Productivity charts help your company's management by daily, weekly, and monthly analysis of productive and non-productive hours of employees.
2. Clockify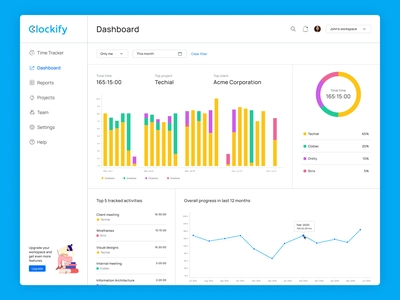 Clockify is a free time tracking tool that enables teams, freelancers, and organizations to track their working hours across their projects.
Features of Clockify
This tool consists of a time tracker and timesheet to track attendance, productivity, and billable hours.
Using Clockify you no longer have to fill out paper timesheets, because Clockify streamlines time analysis and timesheet collection.
You can clockify on your server or private cloud for security and privacy.
Team management features allow youtube track attendance and have a glance at what team members are working on.
This tool works on all devices, and data can be easily synced online so that the user can track time from anywhere.
Users can improve and measure productivity by monitoring the time spent on various activities and analyzing where most working hours are being spent.
3. Hubstaff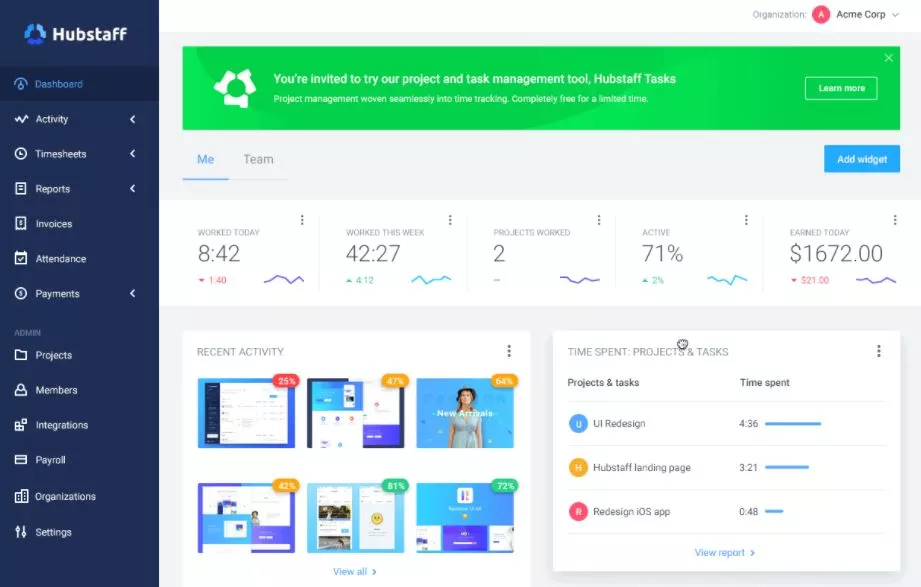 Hubstaff is a time tracking software that allows you to keep track of your employee's activities during the workday.
Features of Hubstaff
Allows your employees to keep track of their time.
Have the option of recording their time whenever they wish.
Allow to monitor where employees spend their time and what projects they are working on at any given time.
Hubstaff's appealing features include online timesheets, screen recording, employee scheduling, payroll software, employee monitoring, GPS tracking, project budgeting, and online invoicing.
Learn More: Best Time Tracking Software for Accountants📒📒
Best Cloud Storage Service
1. Google Drive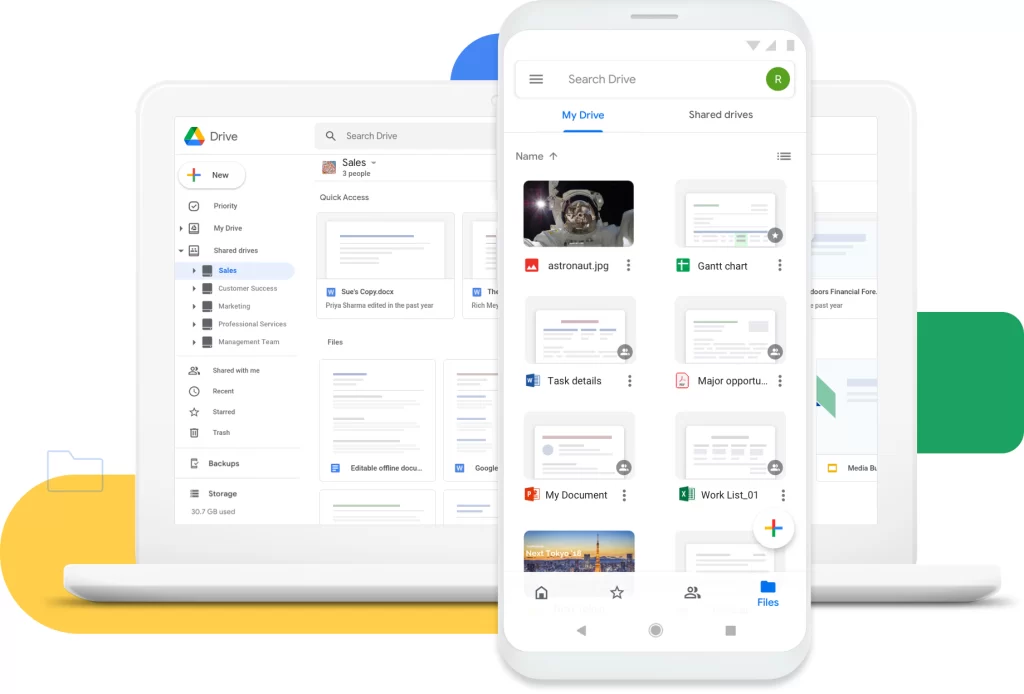 Google Drive is a cloud-based technology that allows users to store their files and documents for free up to 15 GB.
Google is a great office management tool and helps users document management and files without losing them.
Features of Google Drive
Allows team collaboration through documents, spreadsheets, and other types of files.
Allows easy access to the files you have stored and allows team members to view and edit files with authority.
Ensures users of privacy by keeping content safe.
It scans the documents to drive away malware, spam, or anomalies while storing the content.
This tool is integrated with other applications, and you can cooperate in Microsoft Office Files with different types of files
Artificial intelligence-fused search technology in Google Drive helps users find documents and data after typing the keyword that matches the title.
2. Dropbox Business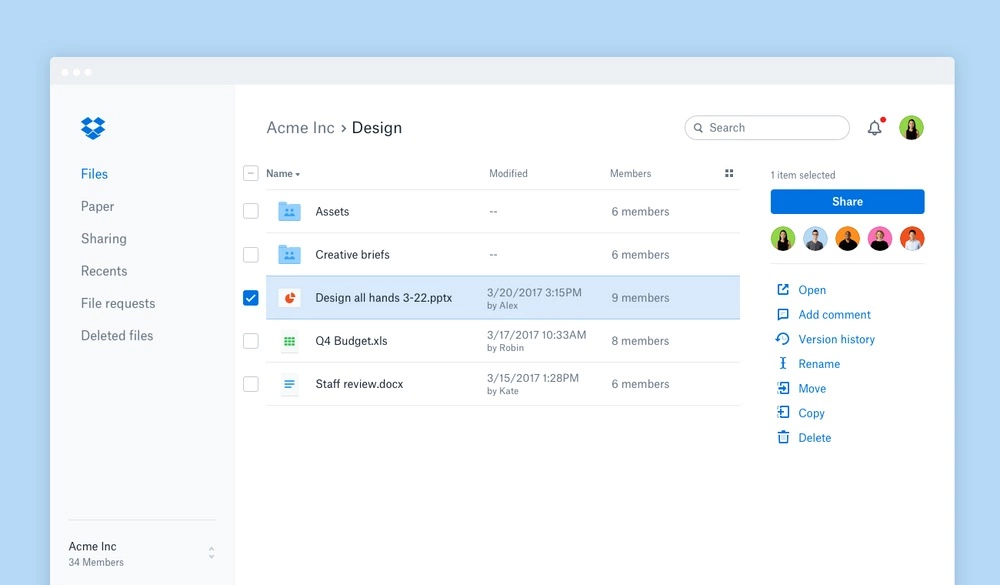 Dropbox is where all the content of your team is stored. You can use the tools you love. Dropbox gets rid of the clutter so you can focus on the essentials. People can stay organized, stay in sync, and stay protected with it.
Features of DropBox Business
Share files securely and effortlessly in real-time.
Keep everything safe in online storage. Also, it provides automatic backup to the data.
Protects data and keeps your work life and your home life organized. Security was built into the design.
Dropbox time management tools reduce work about work so teams can be productive in the workplace.
3. Onedrive
OneDrive by Microsoft allows you to access all of your files from anywhere. It allows you to store and protect your files and share and access them from any device.
Because of its strong interaction with Office 365, OneDrive allows users to edit files online. You may also use it to read files offline, share files and folders with other users, scan documents, and sync offline folders on your PC to the cloud.
Project Management Tools
1. Trello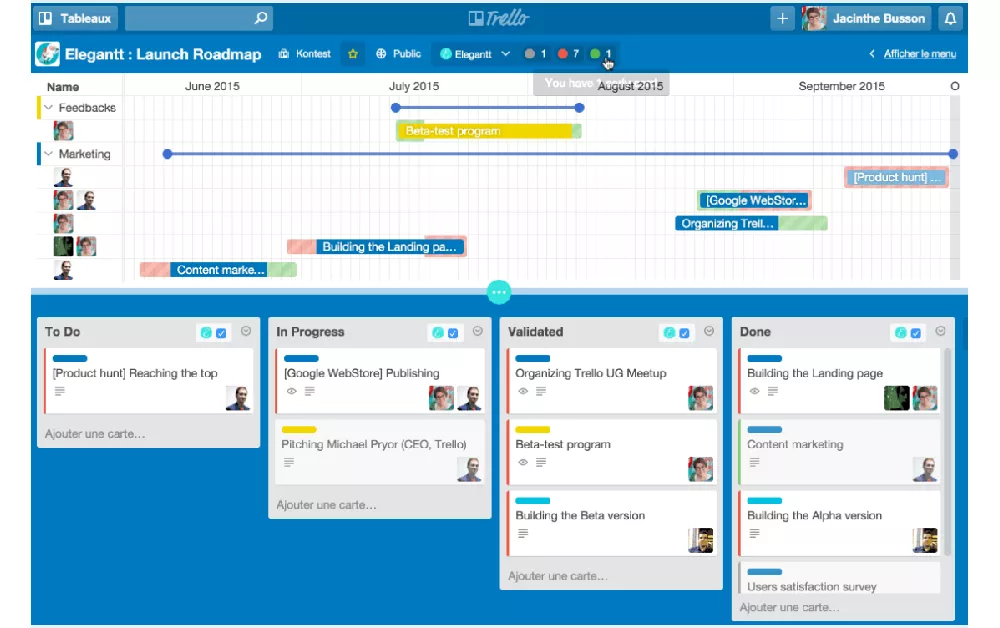 Trello is a management application that helps in effective collaboration among team members.
With different projects made in a company, Trello helps arrange all projects onboard. You can know which employee is working on what project, making office management smooth.
Features of Trello
Users can select the view of their choice for the Trello board. The board includes timelines, tasks, calendars, etc.
Trello cards contain checklists with dates and attachments that help manage a task easily.
The built-in automation feature helps teamwork by lowering the tedious work in loops as the robot works for you.
Provides integrations with other tools that make the workflow easy and systematic for team members.
2. Asana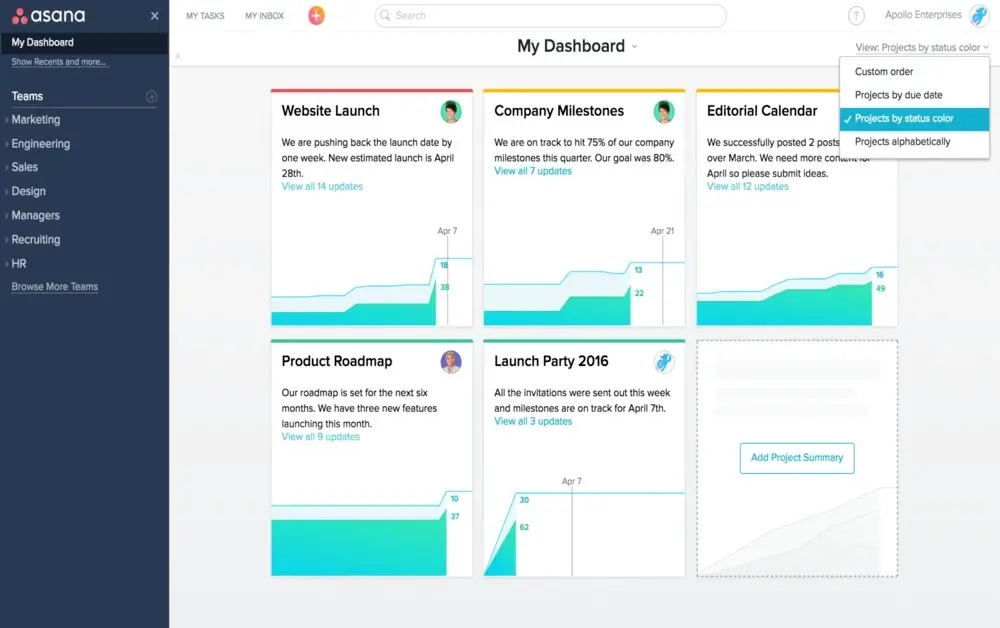 Asana is a project management tool that lets you keep track of projects within your team. With Asana, you can break down projects into smaller parts, tasks, and subtasks. You can choose an assignee, due date, task description, and label for each task.
It lets you build dashboards for projects, calendars, forms to capture data, and your very own to-do list. You can add attachments from your computer, Dropbox, and Google Drive.
Asana integrates with Instagantt to ensure that everyone is on the same page and working on their assigned projects. It's referred to as a task manager.
You can set up and control everything from a single place and ensure that everyone on your team is on board.
All you have to do is create projects and give responsibilities to each team member. They take control of their task after understanding it and ensuring everything is getting done correctly.
3. ProofHub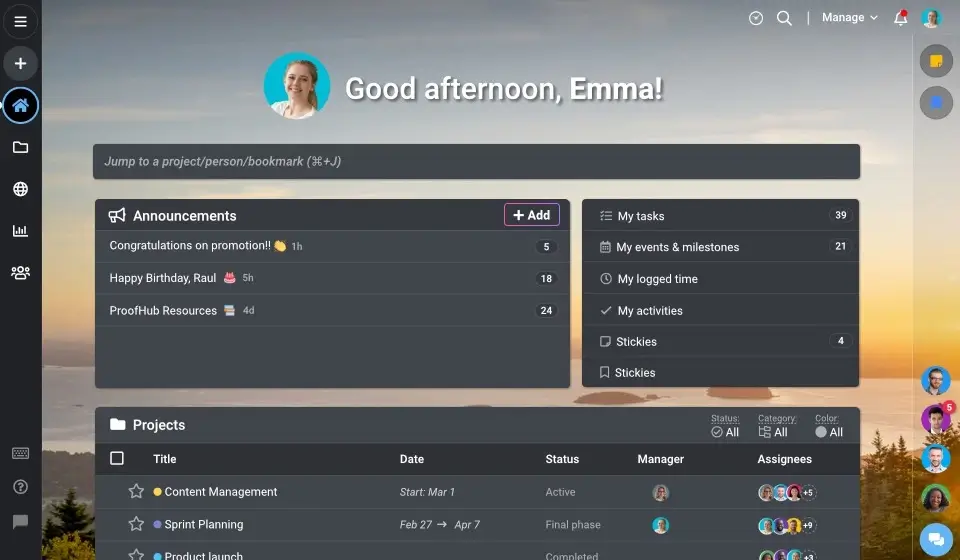 ProofHub is an all-in-one remote project management platform that you can use to keep everything in one place. Team members can communicate with their coworkers and clients seamlessly.
Features of ProofHub
Proofhub provides services such as online proofing, chat for feedback and debates, and remote project management from a single site.
It helps teams to plan, collaborate, organize and deliver the projects in time.
Some main features of proofHub include workflow management, time-Tracking,notification, integration, etc.
Learn more: Best Project Management Tools for Business 🚀🚀
Tools for Meeting and Presentations
1. Zoom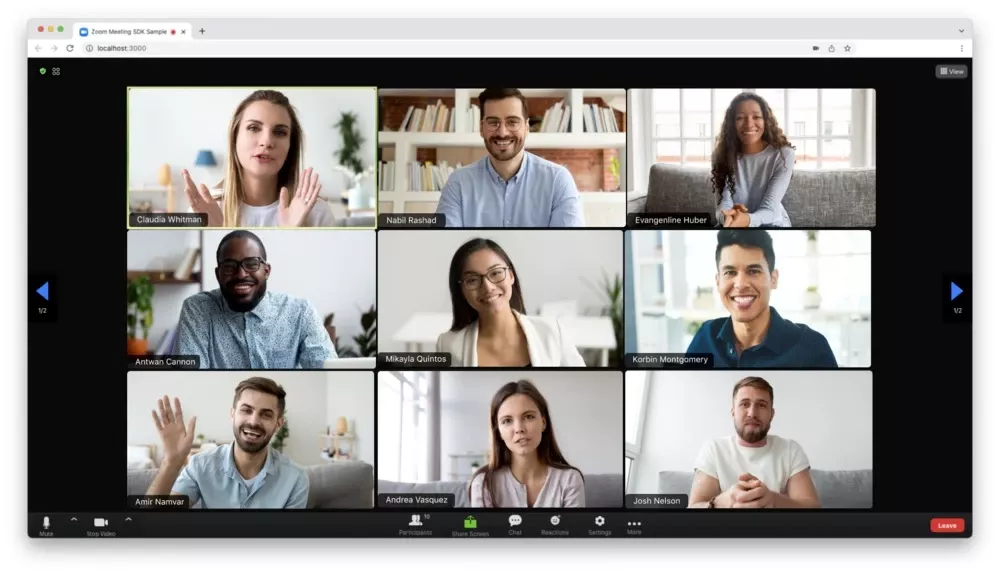 Zoom is one of the best communication tools for office management. It provides options for web conferencing with audio or video.
The daily meetings with remote workers use the Zoom application for collaboration and planning.
Features of Zoom
Allows team members to engage with one another and hold daily work-related discussions via chatting and video calling.
The screen sharing option allows users to share the whole screen for presentations and meetings or share an application online.
When a person is speaking among the many in a meeting, the camera automatically shifts to the active speaker making the presentation systematic.
You can schedule meetings on a particular day and host meetings with clients from different regions of the world.
The recording option allows you to record the entire meeting locally. You can view and make reports by referencing the recorded video.
For larger meetings and collaborations, total participants are 500 in large rooms in a seminar that extends up to 10000 participants.
Compatible with different devices and operating systems and is easy to use
2. Google Meet
Google Meet, also known as Google Hangouts Meet, is designed to allow dozens of individuals to attend a virtual meeting and chat or share videos with each other from any location with an internet connection. It's a video-chatting service designed to assist at business and office use that allows coworkers to communicate via video and text.
Features of Google Meet
Host collaborative brainstorms with new digital whiteboarding integration in Google Meet .
Improved video quality in low-light conditions.
Users can now join secure video meetings directly from Gmail without having to open another app.
The live captions are fully automated and can be followed in real-time.
When you're about to enter a meeting, you may utilize the preview screen to fine-tune your camera and microphone.
You may check who has already been allowed to register to attend the conference.
In-transit encryption that meets with IETF security guidelines is used in all video meetings.
Data Storage Tools
1. Google Cloud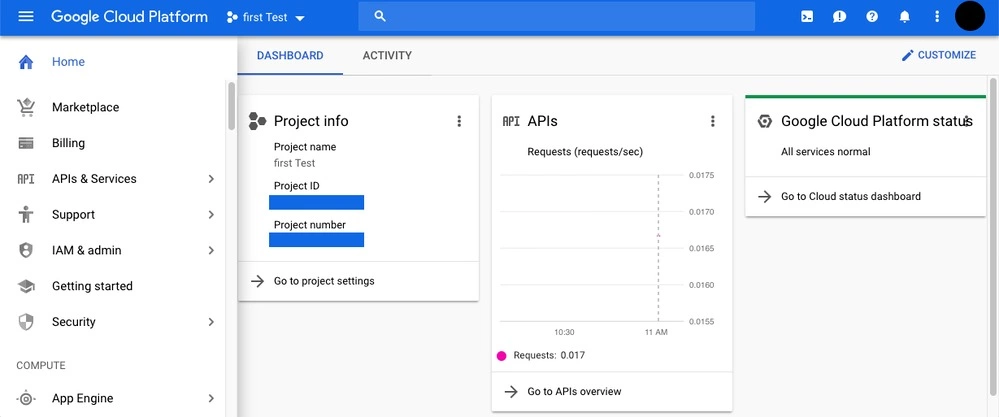 Google Cloud Platform(GCP) is a combination of public cloud computing services provided by Google. GCP is a package of cloud computing services based on the Google App Engine framework for hosting web applications from Google's data centers.
It covers a variety of Google-hosted services for computation, storage, and application development. Software developers, cloud administrators, and other business IT professionals can access Google Cloud Platform services through the public internet or a specialized network connection.
Features of Google Cloud
Provides a complete big data solution, but it also has two unique tools for big data processing and analysis: Google Cloud Dataflow and BigQuery.
BigQuery, first and foremost, allows users to do SQL-like searches on terabytes of data. Additionally, you may upload your files in bulk from your Google Cloud Storage account.
The second tool is Google Cloud Dataflow. Google Cloud Dataflow, which was also announced at I/O, lets you build, manage, and analyze data processing pipelines.
Has two hosting options: App Engine (Platform-as-a-Service) and Computes Engine (Infrastructure-as-a-Service).
Cloud Debugger allows developers to debug and test programs in production.
Developers may set a watchpoint on a line of code, and when a server request hits that line of code, all of its variables and arguments will be returned.
As Google tests and updates regularly, it also actively begins migration when maintenance is required. Your running instance is immediately migrated by Compute Engine.
Cloud Store is a feature that allows you to "save and retrieve per-user data." It also enables the synchronization of cloud-stored data across devices.
2. Microsoft Azure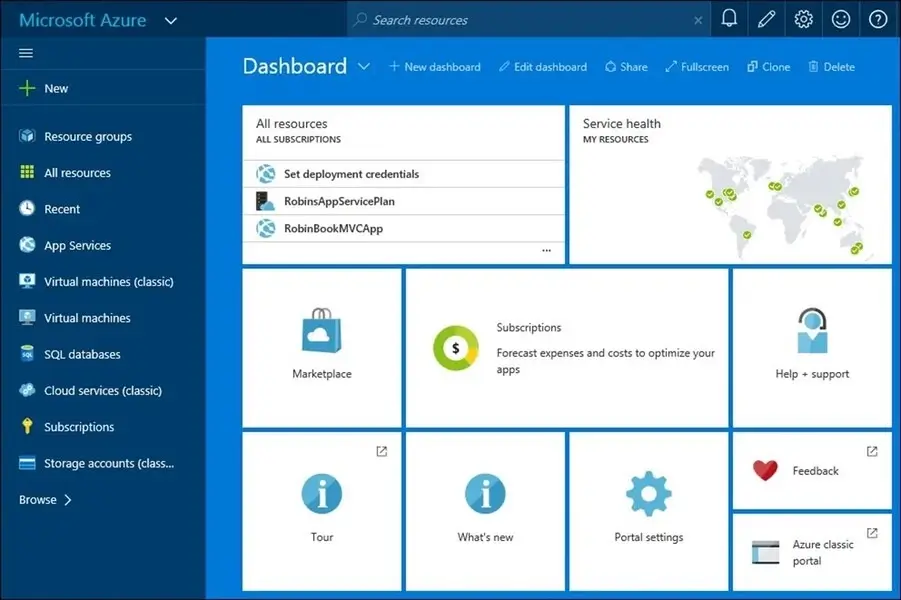 Microsoft Azure, originally known as Windows Azure, is a public cloud computing platform developed by Microsoft. It offers a variety of cloud services such as computation, analytics, storage, and networking. Users can select among these services to create and grow new applications, as well as run existing apps in the public cloud.
Features of Microsoft Azure
Driven the development of IaaS, which enables enterprises to swiftly and effectively manage and deploy applications.
Azure allows businesses to adopt cloud software to match their specific needs.
Includes built-in functionality for data analysis and crucial insights.
Cortana Analytics, Stream Analytics, Machine Learning, and SQL services are among the functionalities offered by the service.
Can coexist with your business environment and your data center. As a result, Azure is one of the most cost-effective and easiest to access cloud services.
When compared to competing cloud services, Azure offers more delivery points and data centers.
This enables Azure to provide an optimized user experience and deliver content to your business environment more quickly.
Users may store data in Azure in a quick and reliable environment. Businesses may also exchange material across many virtual computers.
Azure is a pay-as-you-go solution that can be swiftly changed to meet your business's demands and surroundings.
It is a practical option for many enterprises of varying sizes.
Azure is adaptable; it allows your company to employ any degree of capability it requires.
It supports the same technologies on which many developers and IT professionals currently trust.
Feedback Tool
Receiving feedback allows teams to develop as professionals. Remote feedback is just as essential as collaboration when working with remote teams.
1. Chimp or Champ
Chimp or Champ is a weekly anonymous employee happiness meter that allows you to check your team's pulse, enhance employee happiness, and increase outcomes.
You can use Chimp or Champ to connect with your team easily and effectively. You can use it to check the employees' happiness every week. Then, you can go straight to getting feedback to improve employees' satisfaction and productivity.
Note Taking App
1. Evernote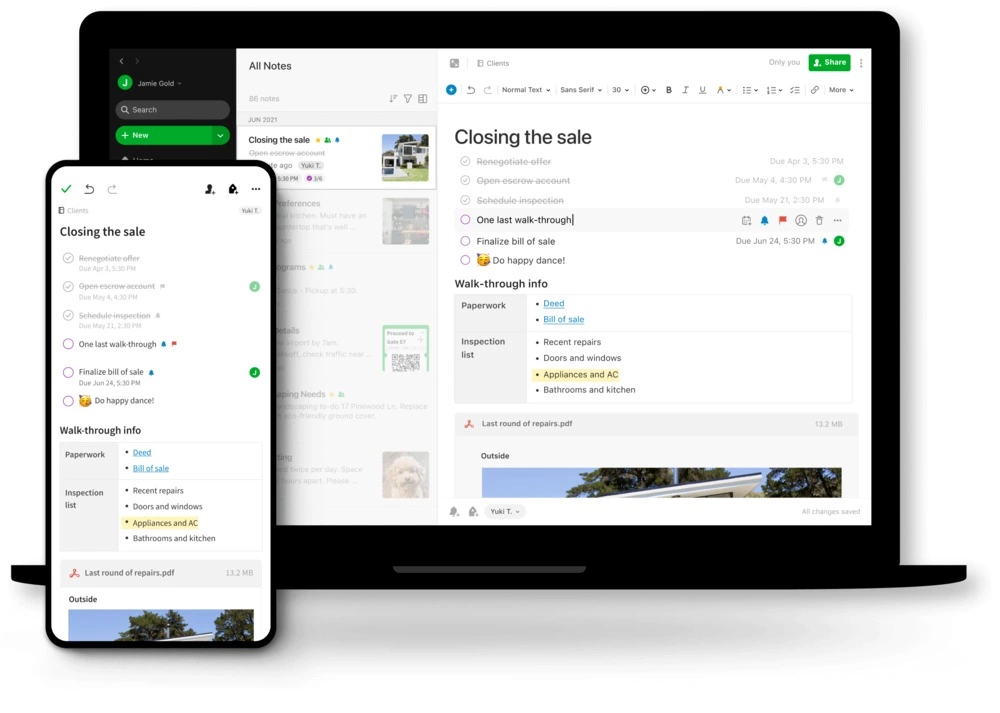 Evernote is an application that keeps important files like receipts, to-do lists, or any important documents of the entire team.
Users can access Evernote from any device and sync to access the documents from any device.
Features of Evernote
Sync and organize features help users access notes from any location and device.
The files you save in the application are secure. You can also search for a specific document and take notes during critical events and team-building exercises.
Web clipper allows you to save screenshots from the web along with articles or web pages as pdf files. It also gives the option to edit them and organize them.
With Evernote's document scanning feature, you can digitize business cards, receipts, and ID cards to go paperless.
Templates offered by Evernote are easily customizable. You can make a list of to-do tasks and let Evernote act as a task manager.
Users can delegate tasks to others and track the entire day with flags and reminders.
Email Marketing Tools and Analytics
1. Email Analytics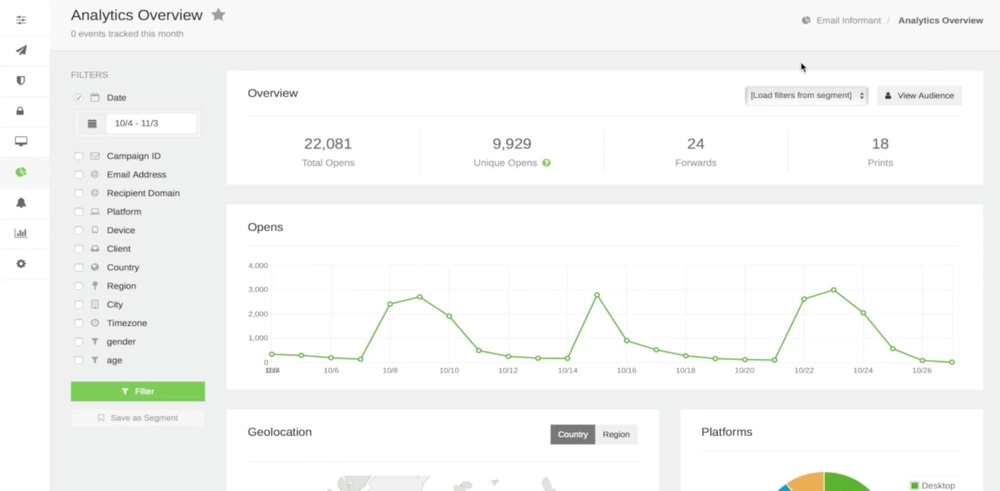 Email analytics is a productivity tool that visualizes your team's email activity. If your remote team uses email (and who doesn't ) then your team needs email analytics.
It is a must-have tool for remote workers.
Software installation is not necessary, setup can be done in just a few clicks and you can instantly add team members and start tracking their email activity.
Features of Email Analytics
To make things super convenient for team managers, you can get daily, weekly, and monthly email reports with benchmark data.
You can compare your team against other teams, and watch your team's improvement over time.
You can see each member of your team's average email response time, as well as how many emails each member of your team sends and receives daily.
Email analytics users see an average of 42.5% improvement in email response time, that increased speed leads to a 16% increase in sales, on average.
Best VOIP Service
1. CallHippo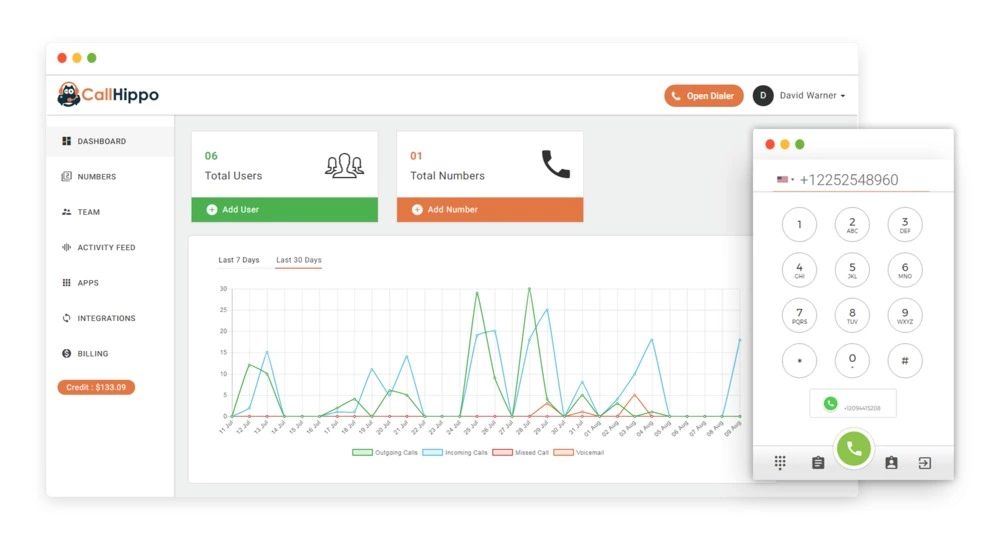 CallHippo is a cloud-based virtual phone system designed to help teams stay connected with each other and their customers from anywhere.
Features of CallHippo
It offers a simple user-interface with features like Powerdialer, mobile app, and detailed call reporting.
It empowers sales and service teams,enabling them to communicate with customers, adding to their satisfaction.
It offers seamless integration, advanced analytics, and 24*7 support that helps in boosting growth.
It provides features such as contact management, auto dialing and predictive dialing to simplify your calling needs.
Conclusion
Many more tools are available in the market.,no tool is completely perfect. Your company requirements will determine whether or not a tool is appropriate for your company. So, choose whichever option seems to be perfect for you, and give it a try.