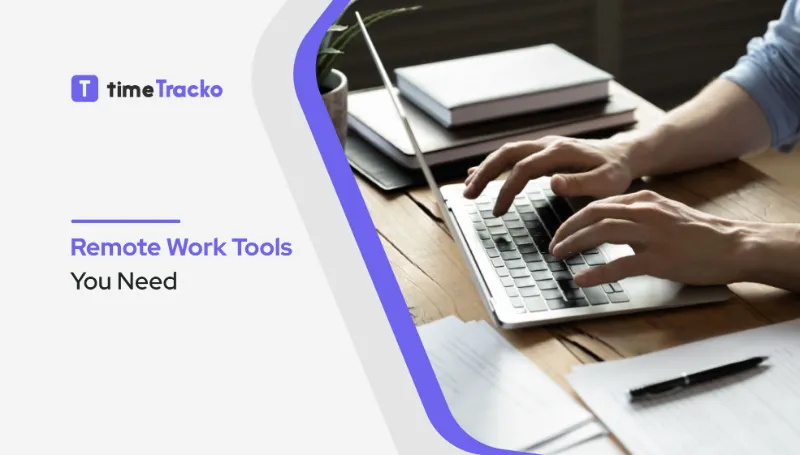 The popularity of remote work is rising and has significantly changed performance management. Working remotely has been feasible for a few decades, but it is only now becoming mainstream.
As a remote team, it can be challenging to stay in touch. Despite its many benefits, working wherever you want can also be challenging at times. Communication and productivity can become a disaster while dealing with complicated tasks and cross-team collaboration.
In order to keep your team in contact with one another, you need the best possible tools and systems. Thankfully, there has been a significant increase in the number of remote work tools available to remote teams over the past few years.
These tools help your remote teams to be more productive and also improve collaboration. However, having the correct tools for those teams that work remotely is important to getting anything done.
In the past, working from home or wherever you are, sitting on the porch in a nice armchair with a large cup of coffee and wearing your favorite sweater was a dream for many, but now it is reality.
Remote Work Tools That Help You to Manage Your Team
Let's take a look at some of the best remote work tools for you or your team right here!
Tools for Team Communication
Communication is key in any workplace. If you work remotely, you won't see your employees in the corridor, and you can't stop by someone's desk for a brief conversation, so you'll have to find a different way to stay in touch.
If employees can't communicate with each other, they can't collaborate effectively. While working remotely, effective communication tools with functionalities like instant messaging, video chat, and voice chat can make it easier to interact.
1. Slack
Slack is one of the most popular real-time communication tools for a remote team. It is a chat platform for individuals and teams with a variety of features and customization options.
You can organize chats by topic and integrate activity from platforms like Github, Google Calendar, Jira, Trello, Pingdom, Google Docs, and other remote work tools. It also has video calling and file sharing features.
It lets you create separate workspaces and channels, track documents, and set reminders for messages. Slack is widely used and popular because of its integration with third-party tools.
Salesforce acquired Slack late in 2020, providing them a stronger platform to compete with Microsoft Teams, another chat app, and video conference tool.
2. Soapbox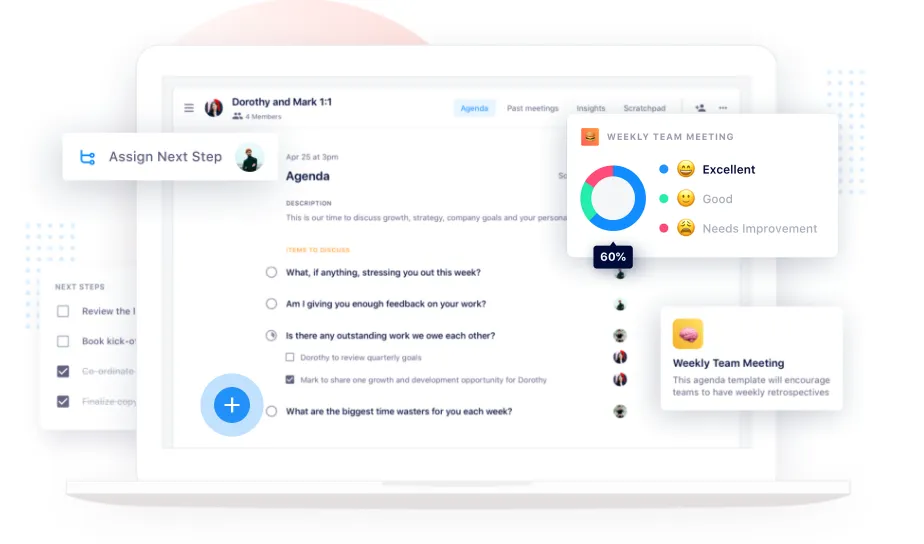 Soapbox is a shared agenda tool for one-on-one, team meetings, and cross-functional meetings. This tool allows teams to work on common agendas, take notes, assign next tasks, and exchange comments in one single place.
With one workflow, you can easily streamline objectives, meetings, and morale. This platform helps remote teams to run productive, effective, collaborative, and meaningful meetings with access to over 180 goal examples and 500 conversation starters. Your next steps are clearly identified at the end of every meeting.
You can also get access to AI-powered meeting insights based on the conversations you're having with your team, a robust library of agenda templates as well as suggested topics that help you start relevant conversations.
Furthermore, you can use conversation analytics to identify communication blindspots and real-time employee feedback to monitor meeting effectiveness.
Soapbox provides integrations with Google Chrome, Microsoft Teams, Slack, Outlook, Google Suite, and many other remote work tools.
3. Flowdock
Flowdock is an instant messaging platform that is similar to Slack and is easy to use. With the help of this platform, your entire company can have a real-time team chat.
Flowdock can be integrated with GitHub, Asana, Basecamp, Jira, Assembla, Trello, and many other applications.
Flowdock centralizes all of your conversations, work, and tools in one place. By providing one place for all your integration updates, Flowdock helps to keep your team focused.
4.Troop Messenger
Troop Messenger is the most effective work from home communication tool for business continuity. It is a one-on-one and group messaging platform for small, medium, and large companies. It is a simple yet powerful remote work solution.
Team members can create unlimited groups and communicate via instant messaging, audio, and HD video calling. Troop Messenger allows your team to migrate files, documents and do a lot more than just text. Admin can add vendors and suppliers with restricted access.
Troops Messenger can integrate with essential apps such as Google Drive, Jira Dropbox, Github, and LDAP.
5. Google Hangouts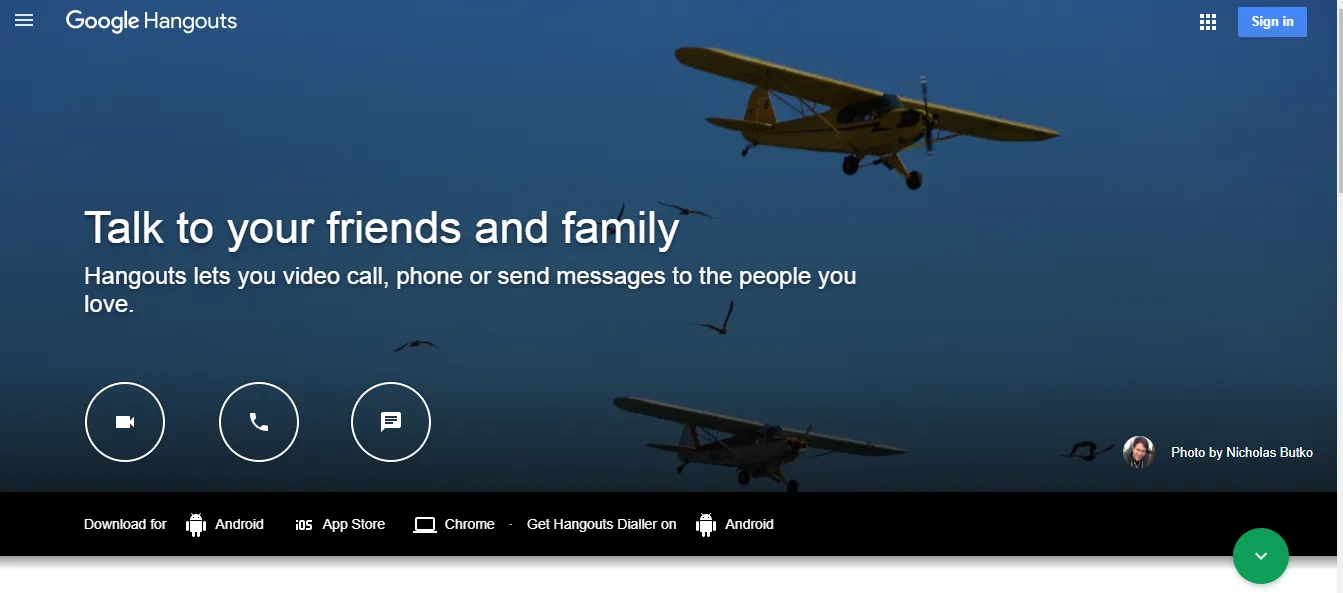 Google Hangouts is one of the popular communication options. It allows you to chat with others or make voice and video calls.
Google Hangouts is typically the best option for people who use Google Calendar to keep track of their schedules and Gmail to send and receive emails. You can use Hangouts on the web or through its mobile applications.
If you are Gmail users, you can access Hangouts immediately from the bottom left corner of Gmail's home page.
Tools for Project Management
Remotely managing your team's tasks and coordinating responsibilities can be challenging. However, that is entirely feasible. No matter where you work, remote work tools will keep your team organized. You can use remote project management tools to keep track of the upcoming work and tasks while being transparent. It eliminates the need for back-and-forth email exchanges and also ensures everyone is on the same page.
6. Jira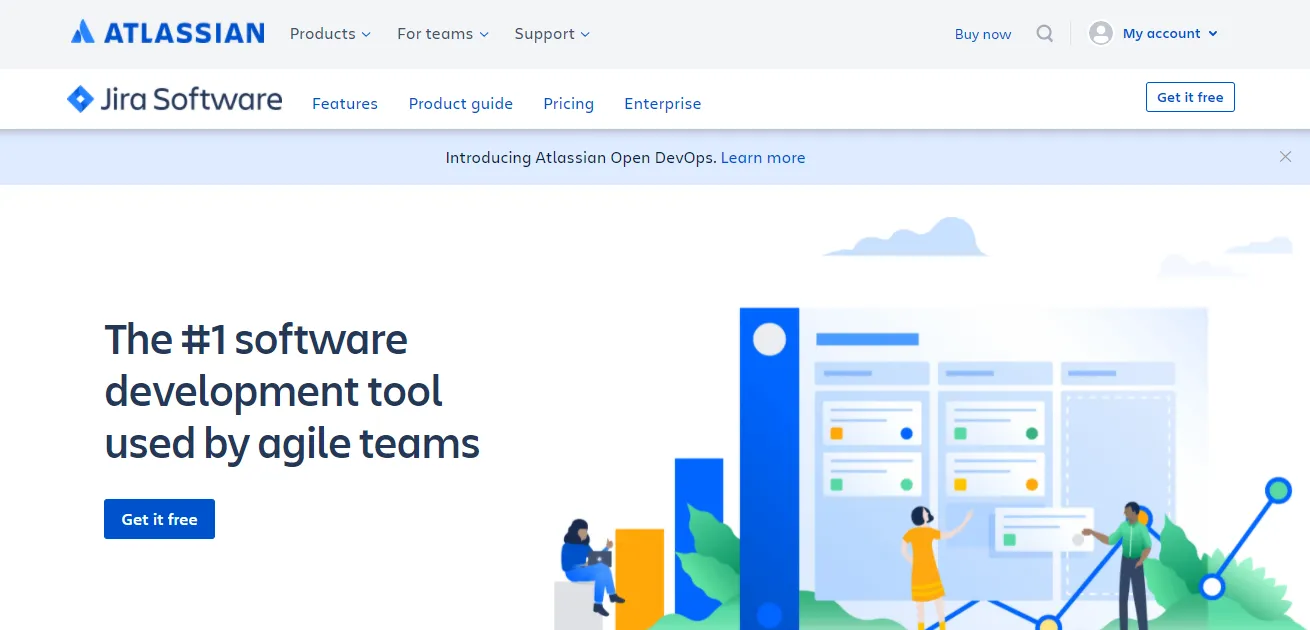 Jira is a project management tool designed for agile teams. This software is primarily for developers, customer support, and IT reps. Every member of your software team can use this to plan, track, and release exceptional software.
You can use Jira to plan, review and track the work as well as issues that need to be solved on a daily, weekly, and project basis.
Jira is owned by Atlassian, which offers Trello as well. It offers a mobile and desktop interface for on-the-go project management.
7. Asana
Asana is a project management tool that lets you keep track of projects within your team. With Asana, you can break down projects into smaller parts, tasks, and subtasks. You can choose an assignee, due date, task description, and label for each task.
It lets you build dashboards for projects, calendars, forms to capture data, and your very own to-do list. You can add attachments from your computer, Dropbox, and Google Drive.
Asana integrates with Instagantt to ensure that everyone is on the same page and working on their assigned projects. It's referred to as a task manager. You can set up and control everything from a single place, as well as ensure that everyone on your team is on board.
All you have to do is create projects and give responsibilities to each team member. They take control of their task after they understand it and ensure everything is getting done correctly.
8. Trello
Trello has recently acquired popularity as great project management and productivity tool for managing your projects and tasks. You can use this on your computer or your phone. It is highly customizable and by far the best collaboration tool for getting things done.
Using Trello, you can organize and arrange projects in a kanban board format and create boards that organize tasks and columns with tasks inside them.
You can create unique lists and add tasks in the form of cards to optimize your project workflow. You can also upload files, assign cards to members, track each card's progress in the activity area and leave comments using the tool.
It's useful for remote team management since it clearly depicts various activities, and commenting is straightforward, making asynchronous communication simpler.
9. ProofHub
ProofHub is an all-in-one remote project management platform that you can use to keep everything in one place. Team members can communicate with their coworkers and clients in a seamless manner.
ProofHub offers various features, including online proofing, chat for sharing feedback, discussions, and remote project management from a single location.
10. Basecamp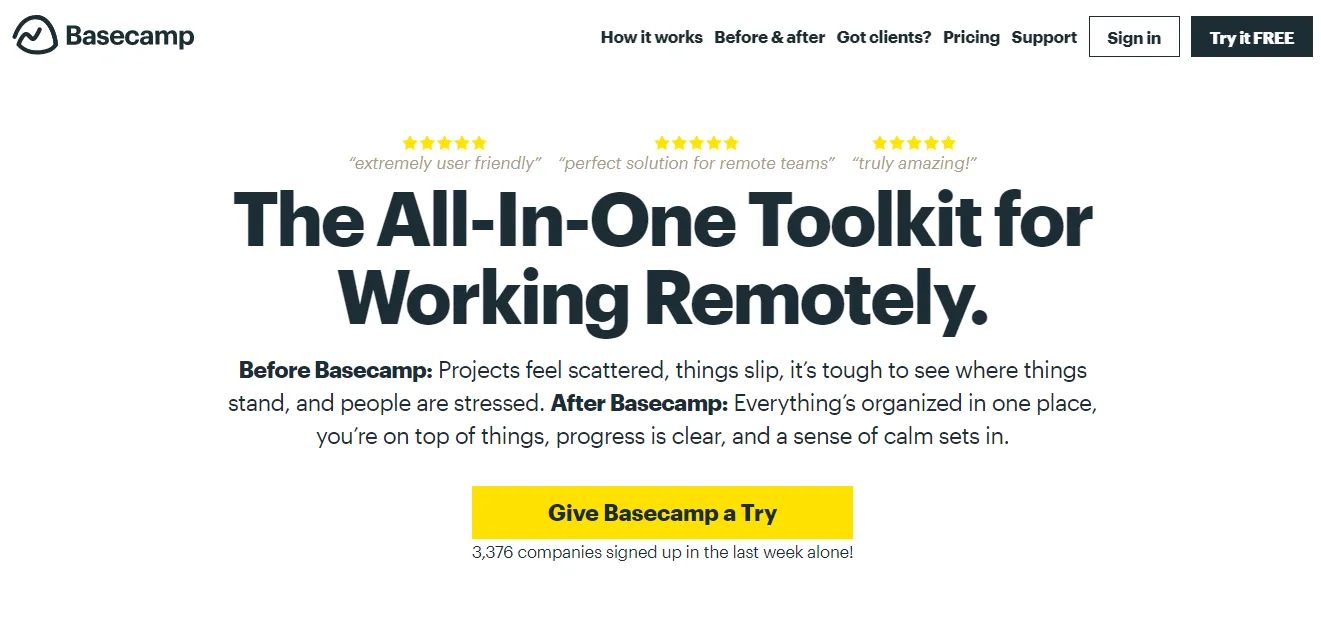 Basecamp is the project management and team collaboration software that enables you to effectively manage projects and interact with clients.
Collaboration is the main focus of Basecamp. It is popular for its clean design, elegant usability, and simple functionality.
You can create a dedicated message board, file manager, to-do list, calendar, and can share ideas, track assignments, coordinate conversations, keep everyone on the same page throughout the project, set meeting schedules, and store documents.
11. Wrike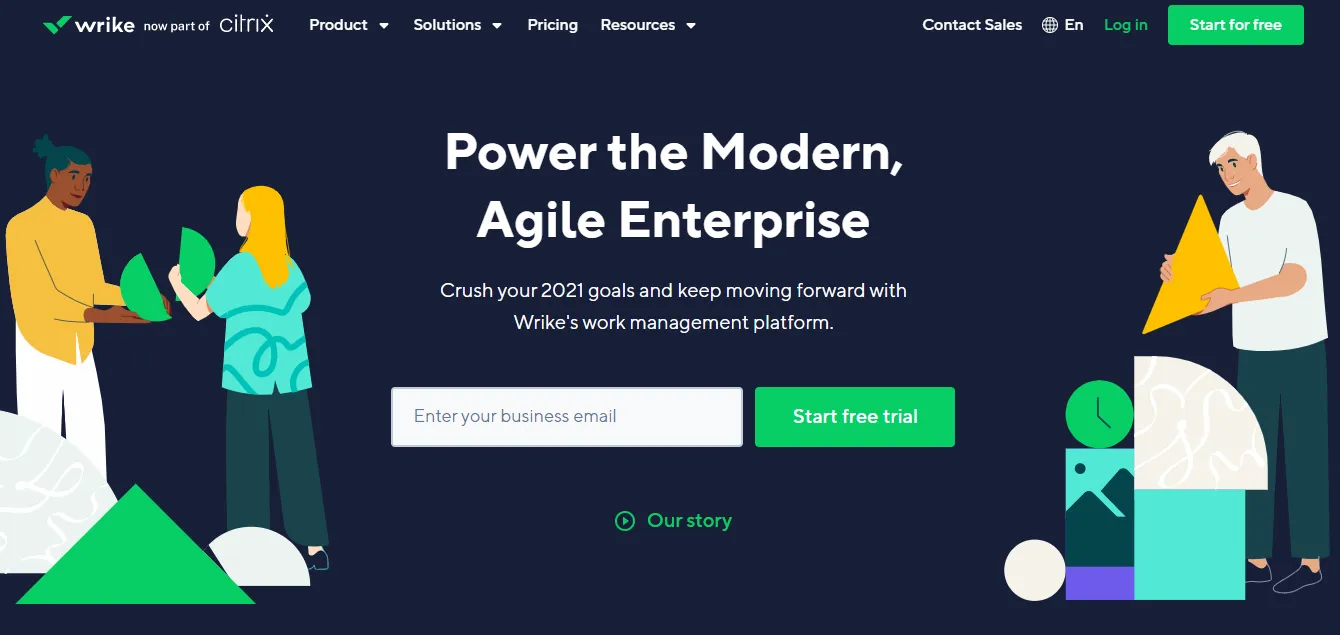 Wrike has a very user-friendly design with a dashboard that can be entirely customized. You can use the tool to modify documents in the cloud without having to download them.
Time tracking, task management, a Gantt chart, and third-party integration are among the additional features.
12. AirTable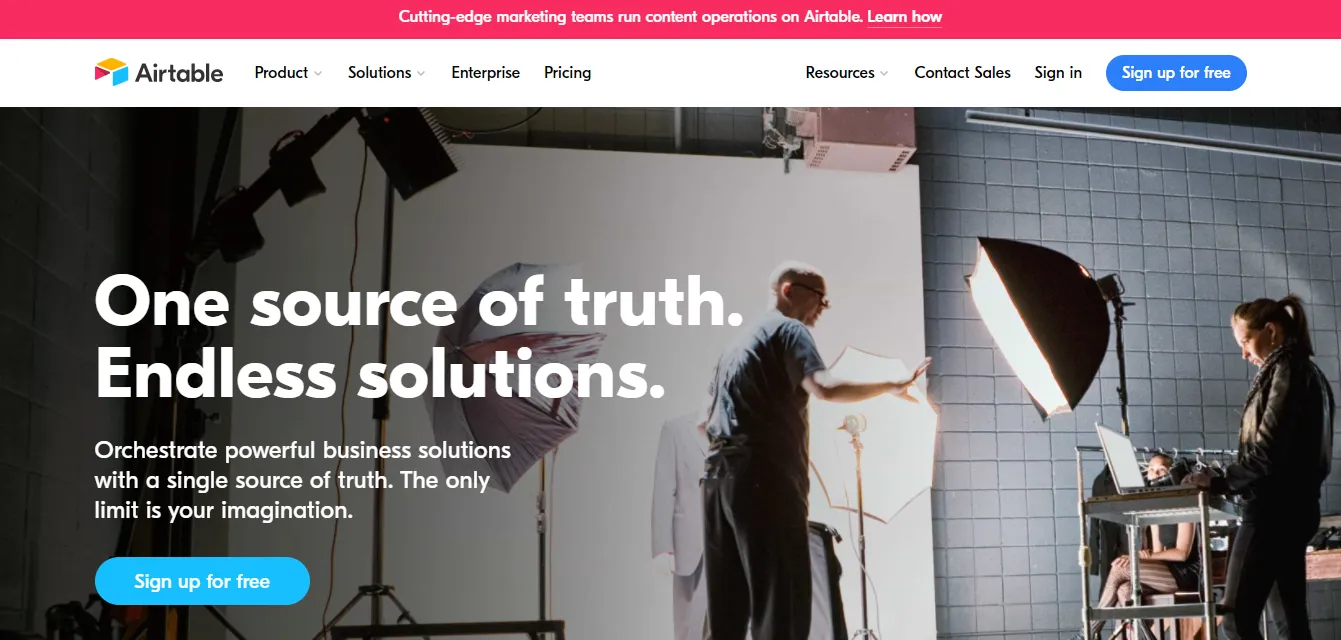 You can use AirTable to store information in a visually beautiful and simple-to-use spreadsheet. It acts as a database that businesses can use for task management, customer-relationship management, tracking inventory, and project planning.
You can create adjustable checklists, organize ideas or collections, manage customers and manage contacts all in one place with Airtable. You can add attachments from your computer, Dropbox, and Google Drive.
AirTable allows you to organize anything you can think of.
Tools for File Sharing
You need a remote collaboration tool in order to find and share the information you need. Whether you work from home or in an office, you must be able to do it securely and efficiently. Cloud storage is an ideal file-sharing tool, particularly for remote Cloud Storage & Collaboration.
13. Google Drive
Google Drive is a cloud-based storage and sharing service for digital files. You can use Google Drive in any case, but it is especially helpful if you also use Google Docs, Gmail, and so on.
Most Gmail and Gsuite users use Google Drive as their default cloud storage app due to its close integration with Google's other applications. You can also use Google Drive to save and interact with files from other systems, such as Microsoft and Apple.
With Google Drive, you can automatically sync offline folders and share files/folders via email or links. You can use Google Drive to create an easy-to-use folder structure that will aid your team members in finding the assets and files they require.
You can also specify different sharing permissions for each document or folder, choose who can have access, or see what files and what access level they should have, as well as share directly via a link. This ensures that files are accessible to the right people and are secure.
14. Dropbox
Dropbox was one of the first cloud storage apps launched in the market to make it easier for users to share files and folders.
Dropbox provides a variety of features for managing remote employees. It has become everyone's favorite due to its simple layout, powerful file-sharing tools, and collaboration opportunities.
You can easily sync, share, and collaborate documents. Dropbox offers an API that allows remote collaborators to utilize it. It allows you to share large files such as PowerPoint, Photoshop, sketches with anyone.
Dropbox also includes a Paper app that allows you to edit Word files without downloading anything, though you can't edit any other file types.
15. OneDrive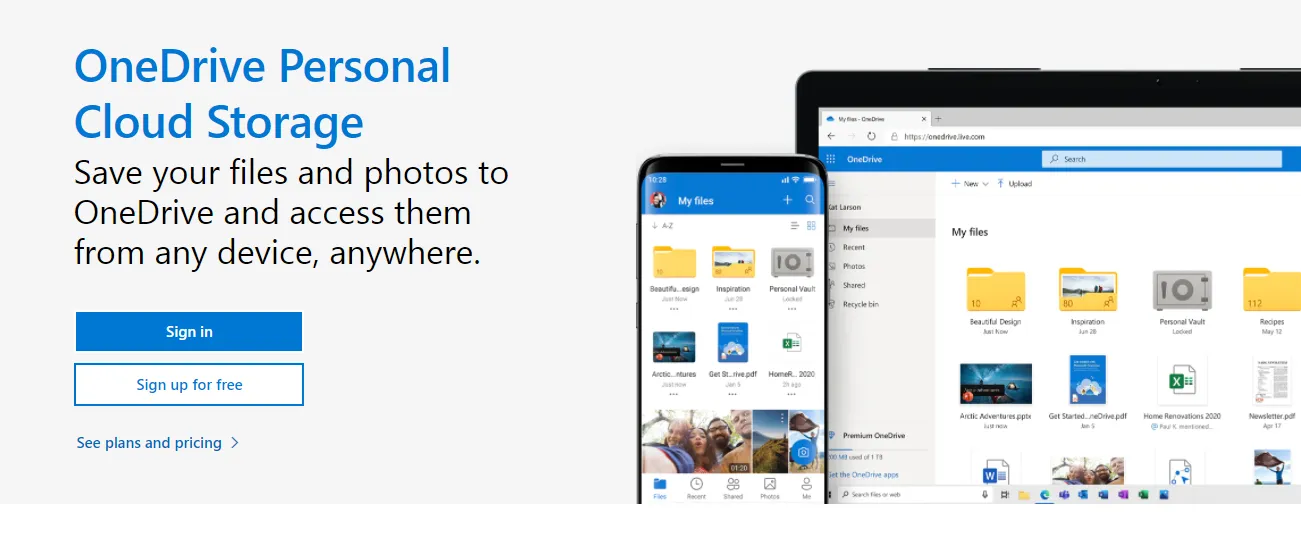 OneDrive by Microsoft allows you to access all of your files from anywhere. It allows you to store and protect your files and share and access them from any device.
Because of its strong interaction with Office 365, OneDrive allows users to edit files online. You may also use it to read files offline, share files and folders with other users, scan documents, and sync offline folders on your PC to the cloud.
16. Box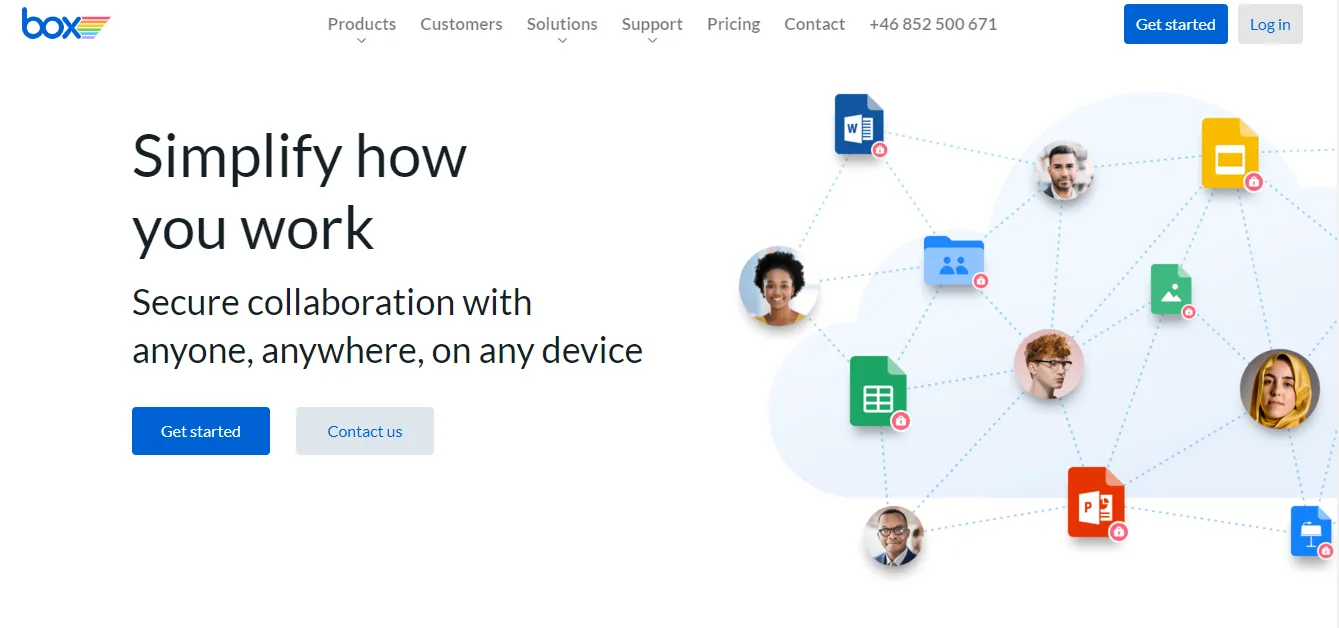 By using Box, you can work with employees inside and outside your company, protect your content, and connect all your apps. With Box, you can store and securely share any file type, such as presentations, videos, design documents, and photos.
Tools for Time Management
Time management is more important when employees are away from a traditional office setting. It is necessary to ensure the employees' productive hours.
Remote time management tools provide a more effective method of managing teams remotely. Time tracking can significantly improve productivity.
17. timeTracko
timeTracko is one of the best time-tracking and productivity-boosting tools for any team and project. It is useful for companies running remote teams and is simple to set up. All you have to do is clock in and clock out while starting and ending the work.
It operates in the background and keeps track of every application that runs on your employee's computer, as well as provides a full work report.
The Pomodoro timer is the most important feature of the timeTracko since it delivers distraction alerts to keep employees focused and productive while working. It reminds employees to take a break after working for a long time.
Using GPS tracking, it monitors the location of employees and knows whether or not they are at the worksite. You can integrate third-party apps like Asana, Jira, Github, Basecamp with it.
18. Hubstaff
Hubstaff is time-tracking software that allows you to keep track of your employee's activities during the workday. Hubstaff's desktop software allows your employees to keep track of their time. Employees have the option of recording their time whenever they wish.
You can monitor where employees spend their time and what projects they are working on at any given time. Online timesheets, screen recording, employee scheduling, payroll software, employee monitoring, GPS tracking, project budgeting, and online invoicing are a few of the appealing features of Hubstaff.
19. Time Doctor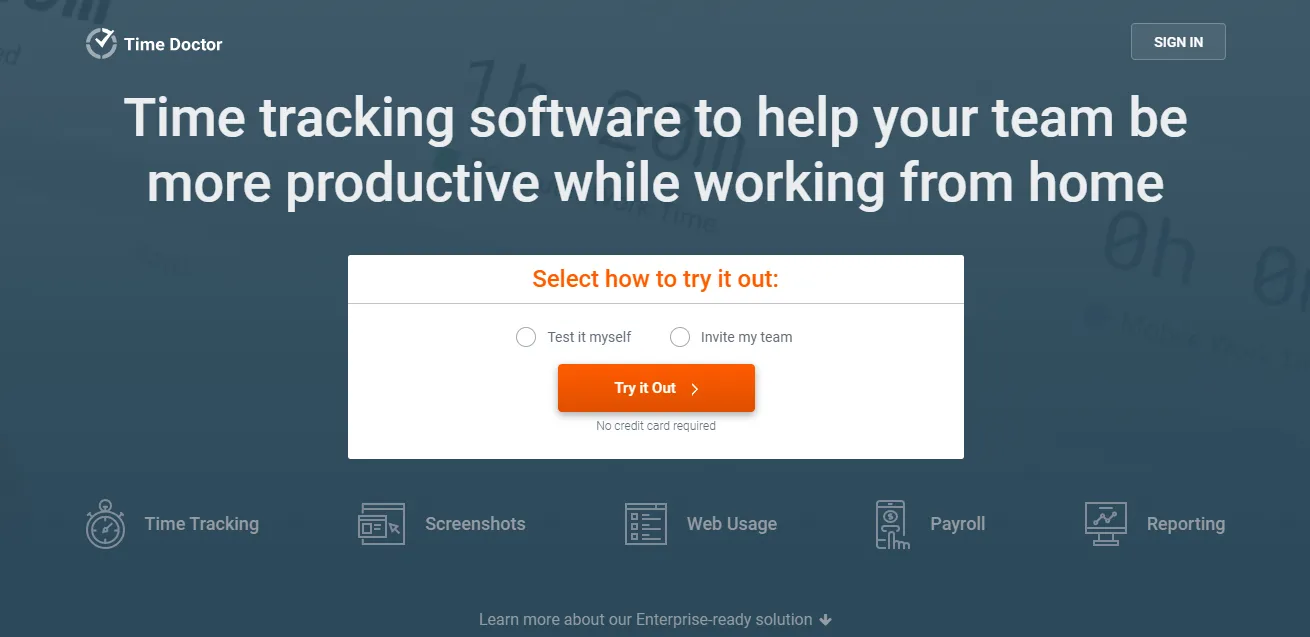 Time Doctor is a team time tracking software that helps remote employees to identify gaps in their working hours and what they can do to enhance their workflows.
Time Doctor helps you track your employees' clock in and clock out times, breaks, and reports on the amount of time they spend on a task.
It is available on any device, has numerous integrations, and provides off-track reminders to keep you focused and divert you from time-wasting activities. Moreover, it offers a 14-day free trial without requiring credit card information.
20. Toggl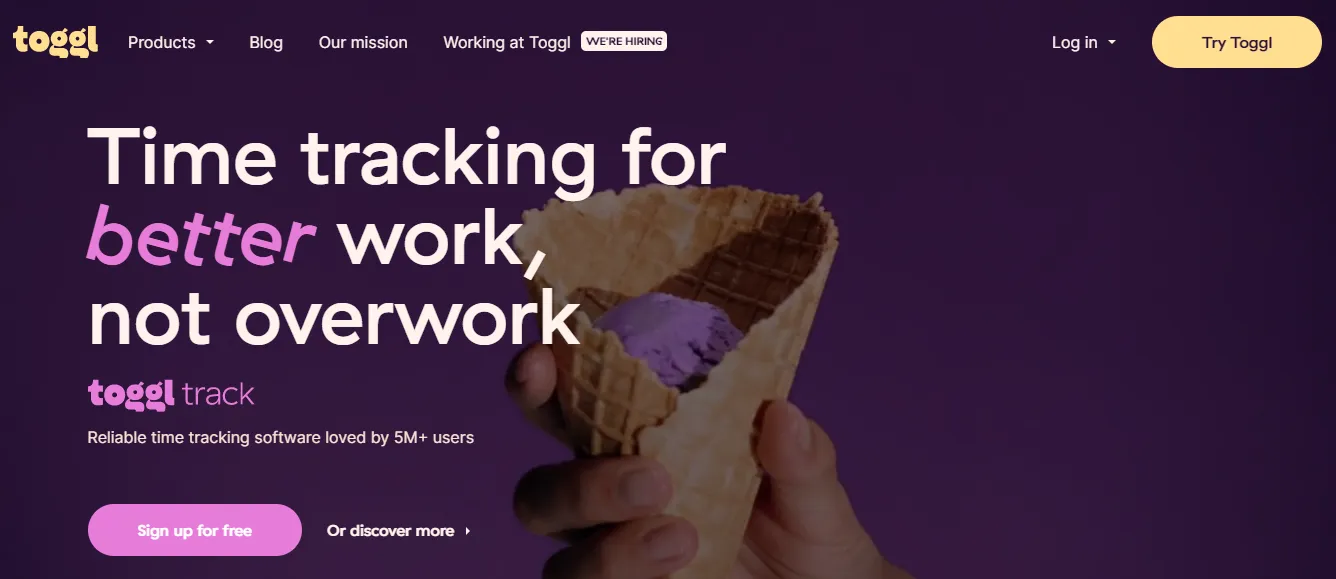 Toggl is a simple time tracking software that integrates with 10 different project management systems. It is an online & offline time tracking tool that allows you to start tracking time with a single click.
You can add a project, description, client, and label to each section of time tracked. You can also create separate workspaces for different teams, add billable hours, and generate detailed reports based on app data.
Toggl integrates with different productivity tools such as Trello, Asana, Scoro, etc.
21. Clockify
Clockify is a time tracking and timesheet application that helps you monitor your employees' work hours over multiple projects.
To ensure that employees stay on track, you can assign certain time durations to each project and can even identify particular blocks of time as billable to invoice clients.
The digital stopwatch in Clockify helps users track time for every task they are working on.
22. Teamwork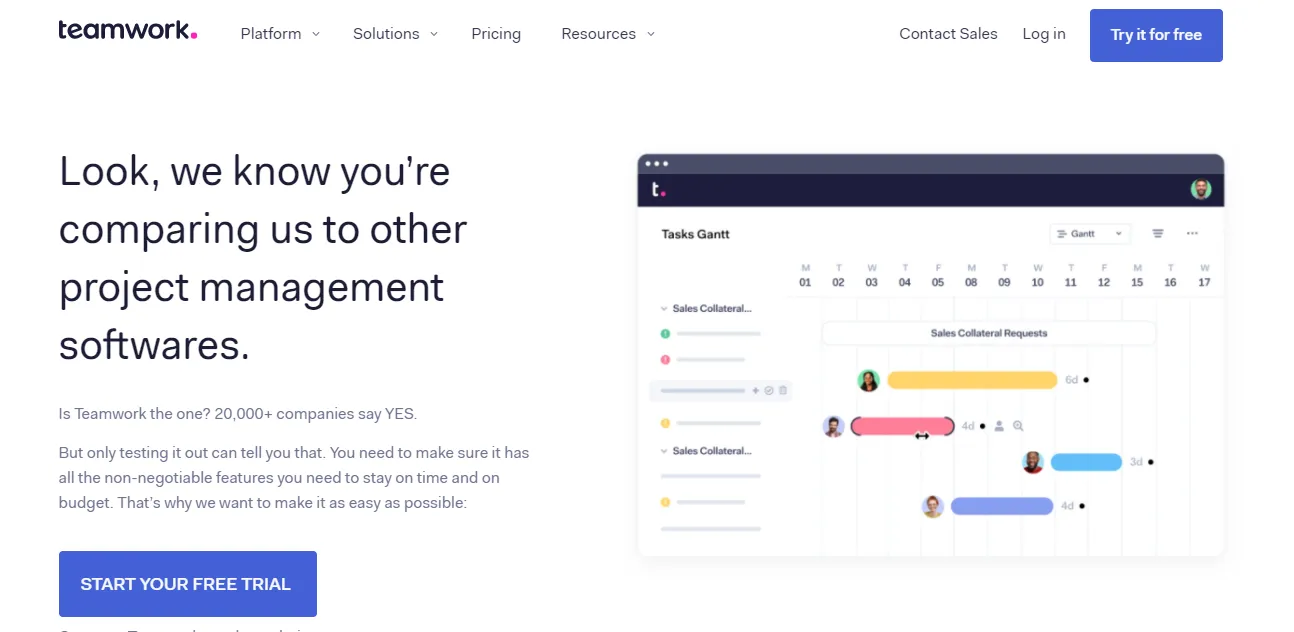 You can use Teamwork for tracking every hour of an employee to boost their productivity. With Teamwork, you can estimate how much time will be needed to complete a task and then track the actual time against it.
You can invoice all tracked time and expenses using the tool. You can create time reports based on the amount of time spent on the project. You can export reports and time log entries to Excel, CSV, or PDF and send invoices based on the time worked.
Teamwork's invoicing feature isn't as powerful as some of the other tools, but it integrates with billing tools, such as Xero, Harvest, QuickBooks, etc.
23. Scoro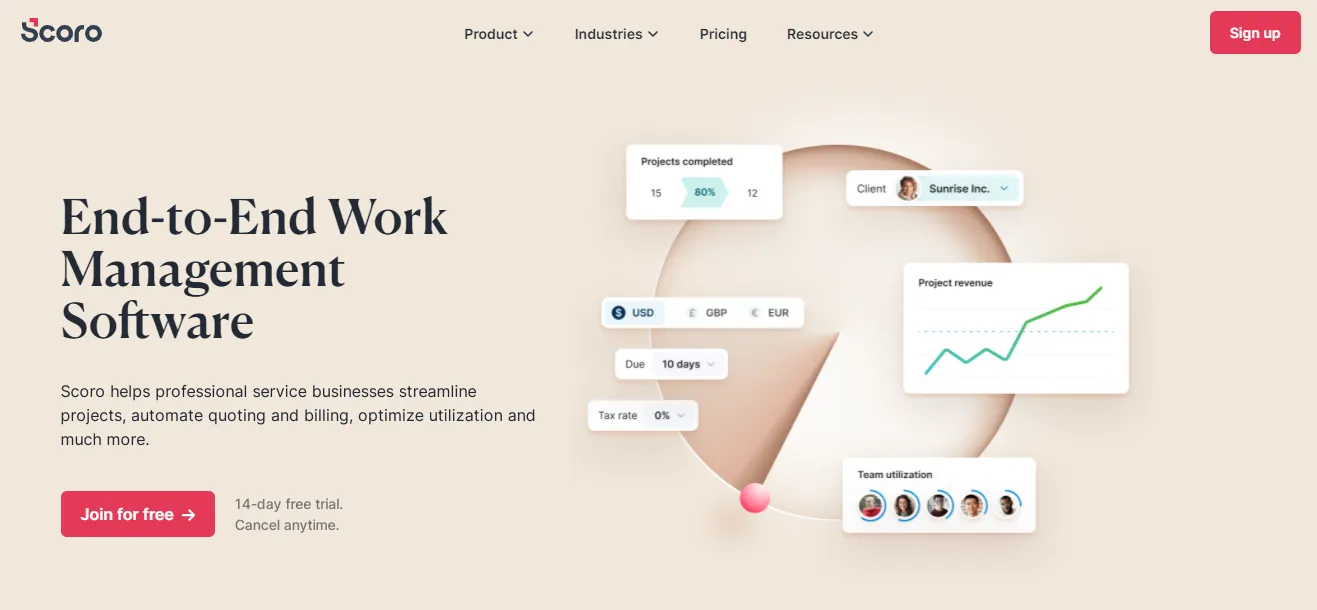 Scoro integrates time tracking with project management and CRM, allowing you to manage all of your business activities in one place and boosting cooperation.
Scoro provides you with the tools you need for time management, such as time tracking, work reporting, billing, project & task management.
You can keep track of both real and billable time, then transfer the hours to an invoice.
Tools for Meetings and Presentations
Virtual meetings, remote presentations, and video calls probably come to mind when you think of remote work. So, when you work remotely, you need a tool to discuss visually with your team.
24. Zoom
Zoom is a powerful yet easy-to-use remote work tool for video conferencing with high-quality video. It has many features, including video conferencing, screen sharing, video recording, calendar integrations, and even virtual backgrounds.
With the tool, you can make free video calls with up to 50 people for a maximum of 40 minutes. You can add 500 people to a video call if you are a paid user.
Zoom allows users to chat while a video call is in progress, draw on a whiteboard, and schedule calls in advance.
25. Whereby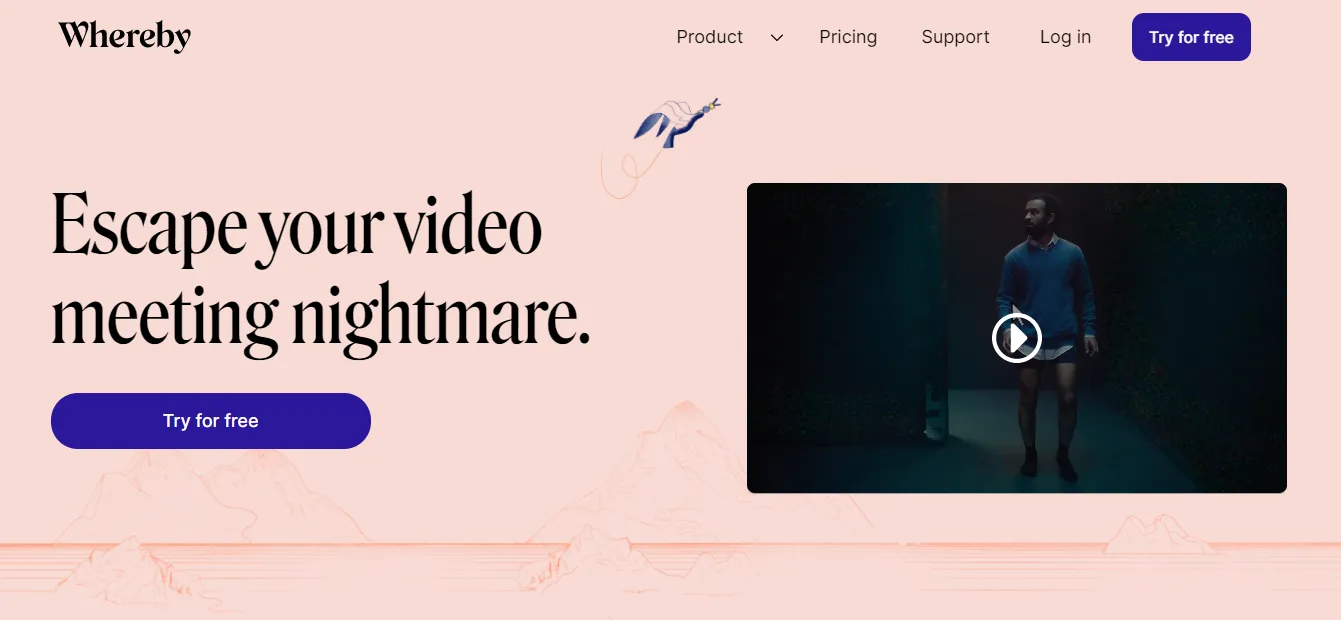 Whereby allows remote teams to stay productive with video collaboration. With the help of Whereby you can host easy and reliable video meetings. No registration or downloads are necessary for employees to attend meetings because meetings are conducted from your browser.
The only thing you need to do is create a room link, share the link, and that's it. You can conduct video or audio calls, react to messages, mute participants, record meetings, manage calendars, and more.
26. GoToMeeting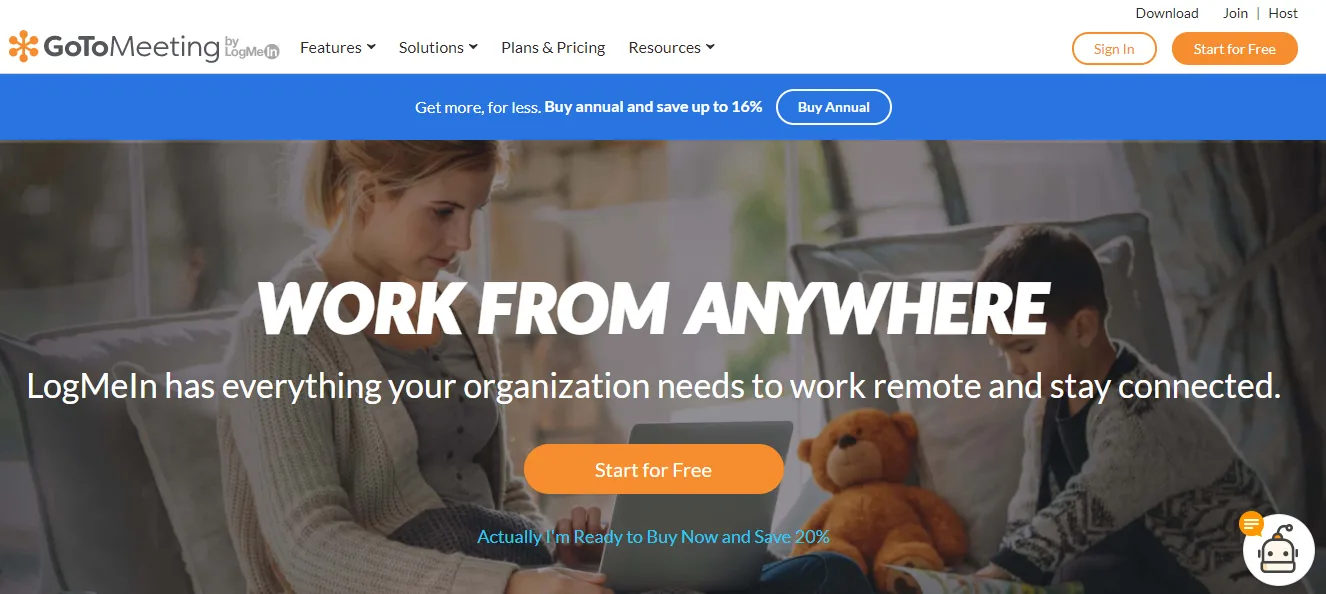 Using GoToMeeting, you can schedule and launch virtual meetings or webinars where employees can join or call to hear just the hosts speak.
You can record the meetings and send them to employees after they're completed.
27. Skype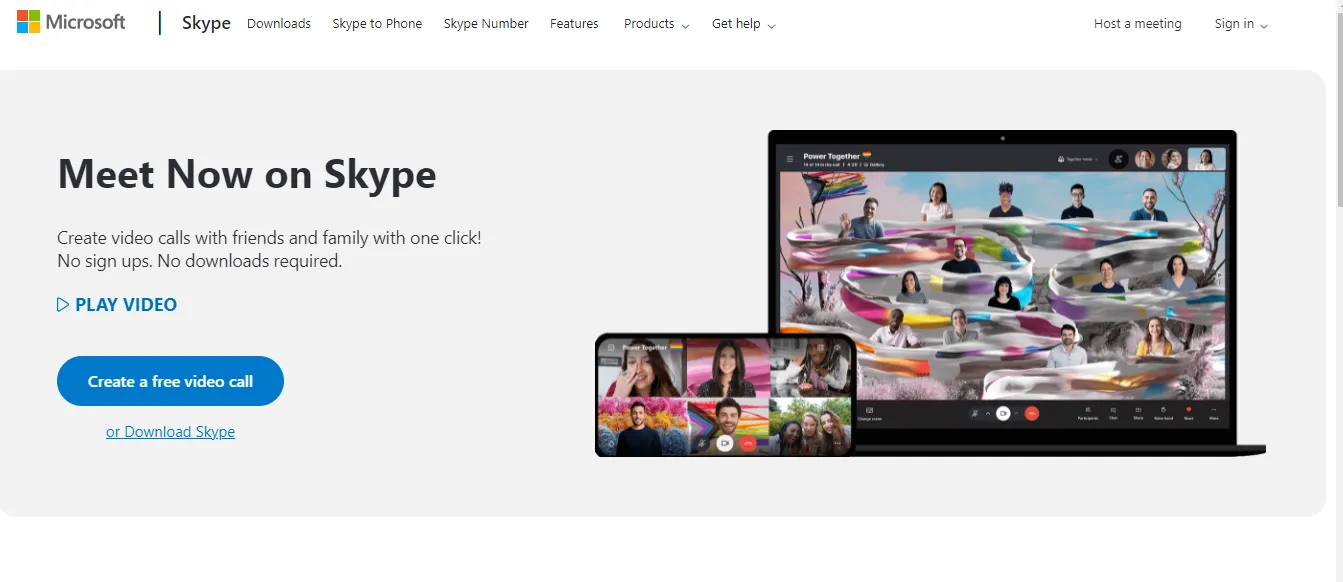 Skype was one of the first video calling apps. Because it comes pre-installed on most Windows PCs, it's still the fastest way to make a call for most Windows users.
You can use the service to make free group calls with up to 25 participants. Skype lets people directly join a skype call from the web by installing a browser plugin.
28. Cisco Webex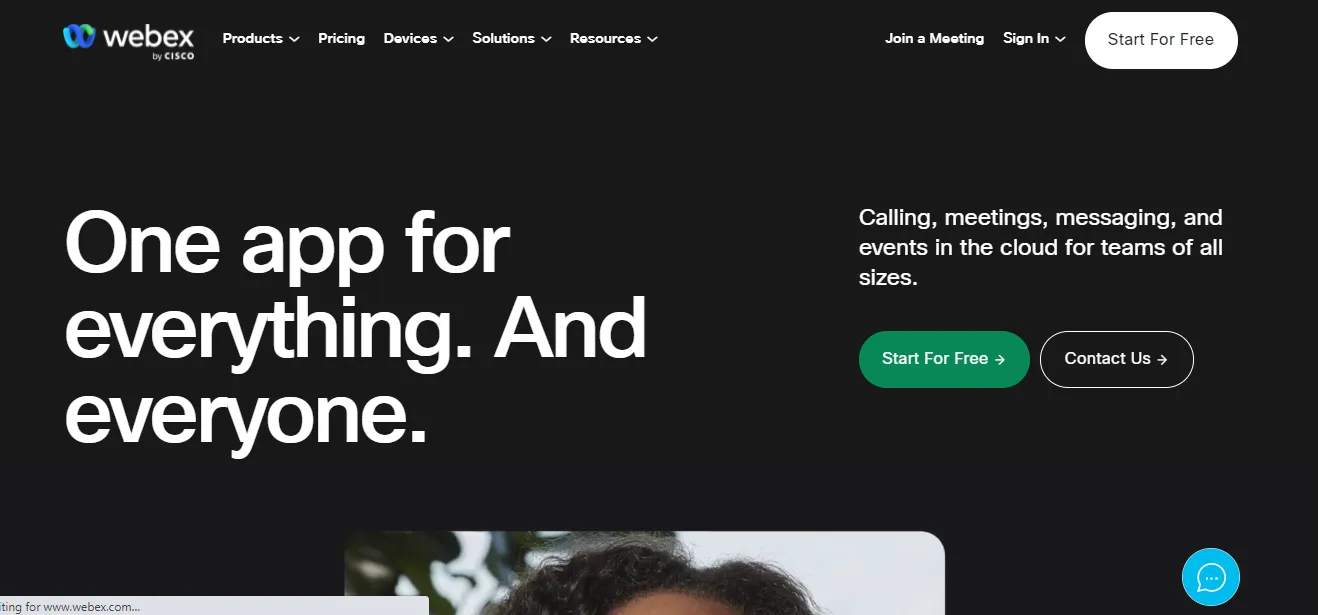 Cisco Webex is a video conference tool used for team messaging, file sharing, and online meetings. It is the most popular and leading collaboration platform.
Because of its security and reliability, many leading companies and even governments around the world use it. Webex also allows you to collaborate on a whiteboard and annotate the screen.
Tool for Quick Feedback
Receiving feedback allows teams to develop as professionals. Remote feedback is just as essential as collaboration when working with remote teams.
29. Chimp or Champ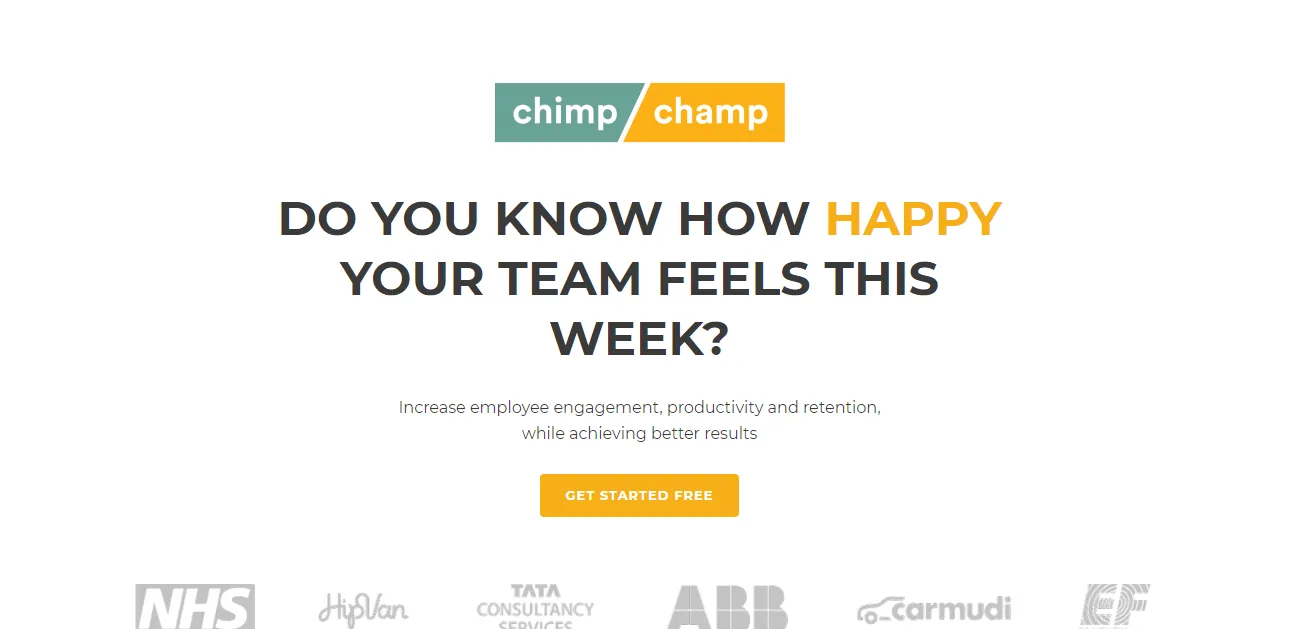 Chimp or Champ is a weekly anonymous employee happiness meter that allows you to check your team's pulse, enhance employee happiness, and increase outcomes.
You can use Chimp or Champ to connect with your team easily and effectively. You can use it to check the employees' happiness on a weekly basis. Then, you can go straight to getting feedback to improve employees' satisfaction and productivity.
30. Officevibe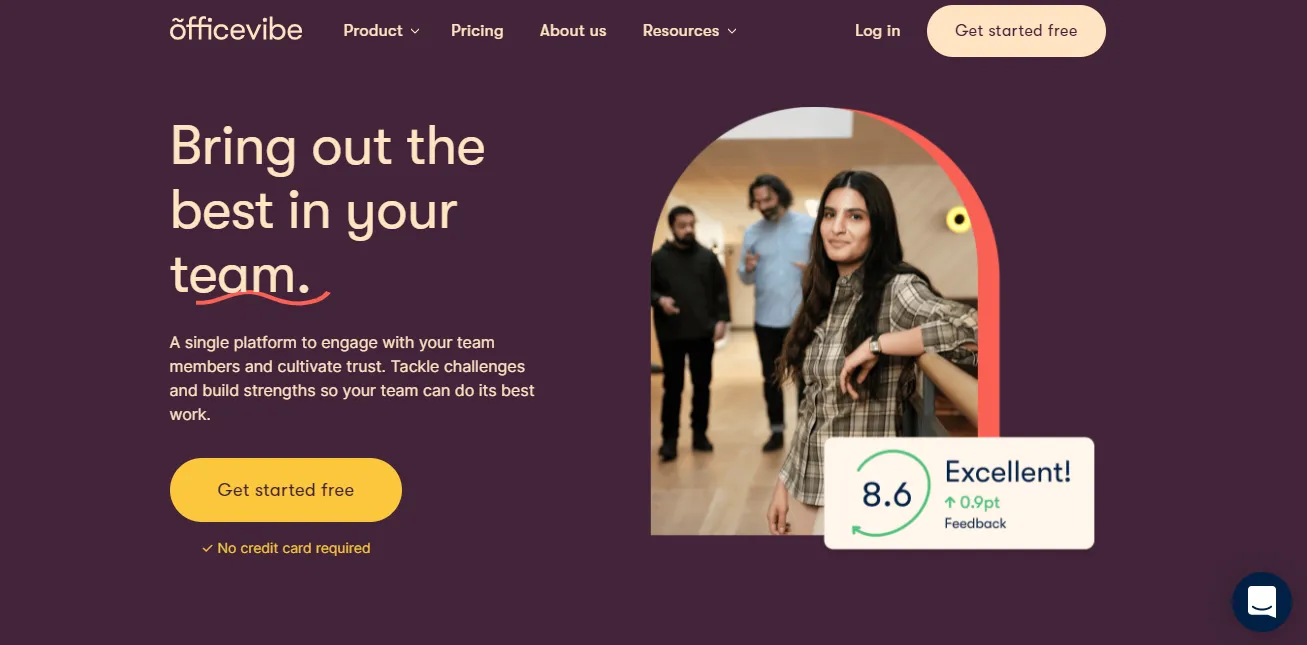 You can use Officevibe to find out what your employees are most unhappy about and how you can improve their efficiency and productivity.
With this tool, you can automatically distribute a weekly survey to your employees, engage in a dialogue about their responses inside the platform, and package the results into reports that you can share with your whole company.
A custom polling option is also included to help you gauge the enthusiasm of your team for various projects during the year. You can send these polls separately or along with the larger employee engagement surveys.
Tools for Screen Sharing
Screen Sharing tools can help you to collaborate with an employee or remotely access an employee's computer to troubleshoot a technical problem and resolve their problems faster.
31. TeamViewer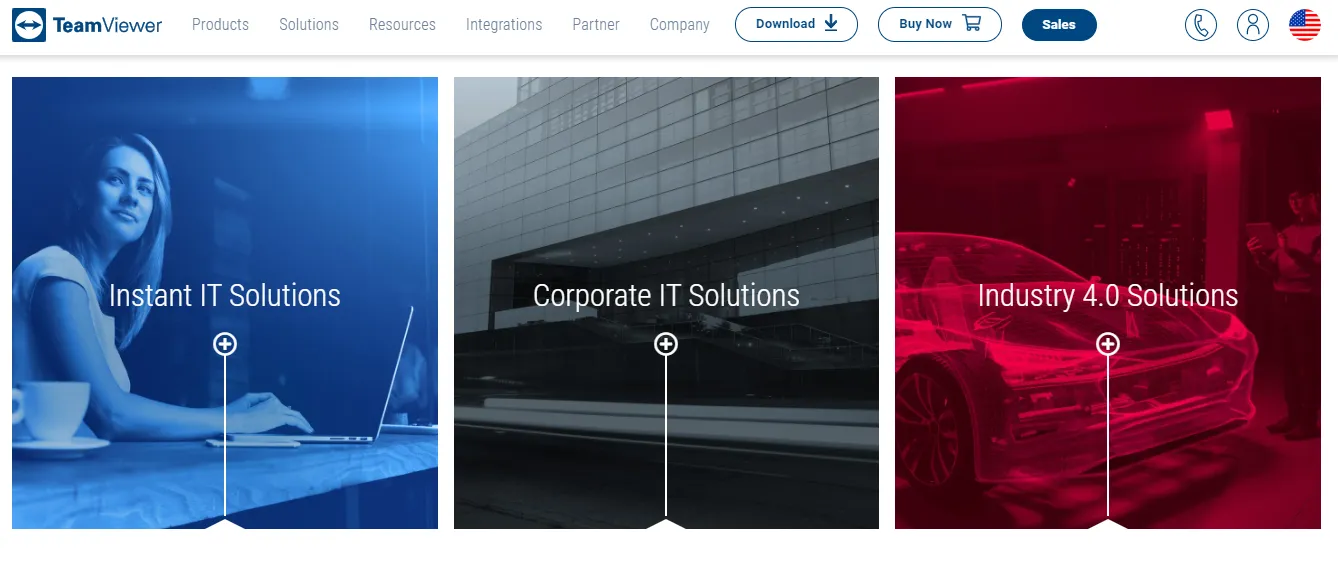 TeamViewer is a popular remote access screen sharing tool with enterprise features. It is truly reliable, so you can trust it when you need to securely access a remote device.
You can use TeamViewer to remotely access employees' computers if they have the application installed and you have the relevant login credentials.
You can communicate with employees, record screen-sharing sessions, and annotate reports.
32. Screenleap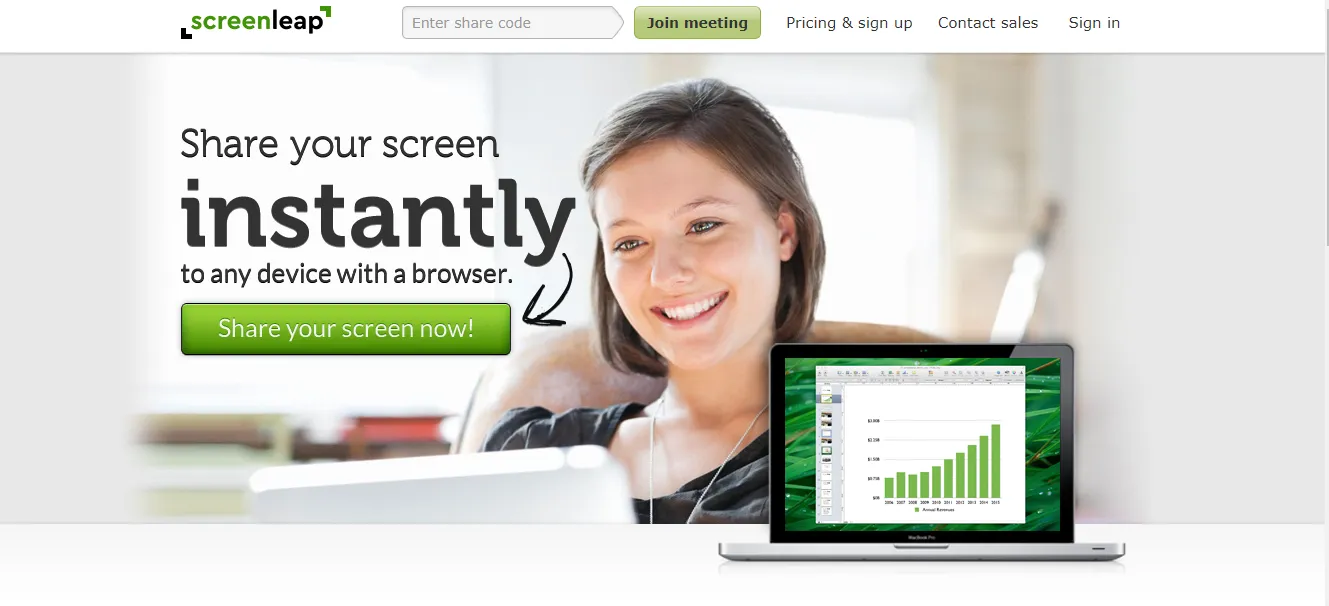 Screenleap allows you to instantly share your screen to any device with a browser. Sharing is possible on Windows, iOS, Mac, Android, and any other operating system that supports the Chrome browser.
After downloading the software, you can easily "share your screen now" to begin sharing. There are no audio or videoconferencing functions in the free version, but you may speak with others by typing in a chatbox.
Tools for Design and Development
Design and development tools help to make remote designers' and developers' jobs a little easier.
33. GitHub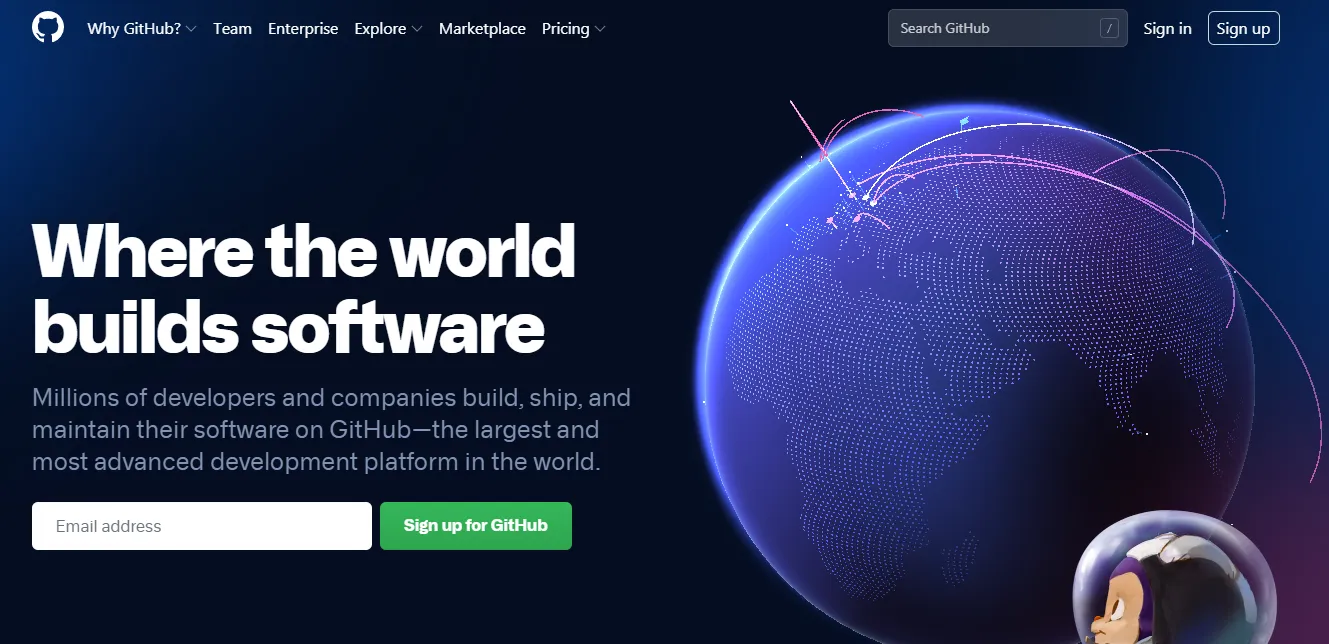 GitHub is a software development tool for remote teams and is mainly used for version control or tracking changes to files, such as those containing code for web pages or apps.
Git allows you to create and manage code repositories or folders. Teams can virtually participate in code review and project management of both open source and private projects through the platform.
Regardless of where employees log in, the GitHub Marketplace provides employees with various tools to help them accomplish their tasks more efficiently.
34. Figma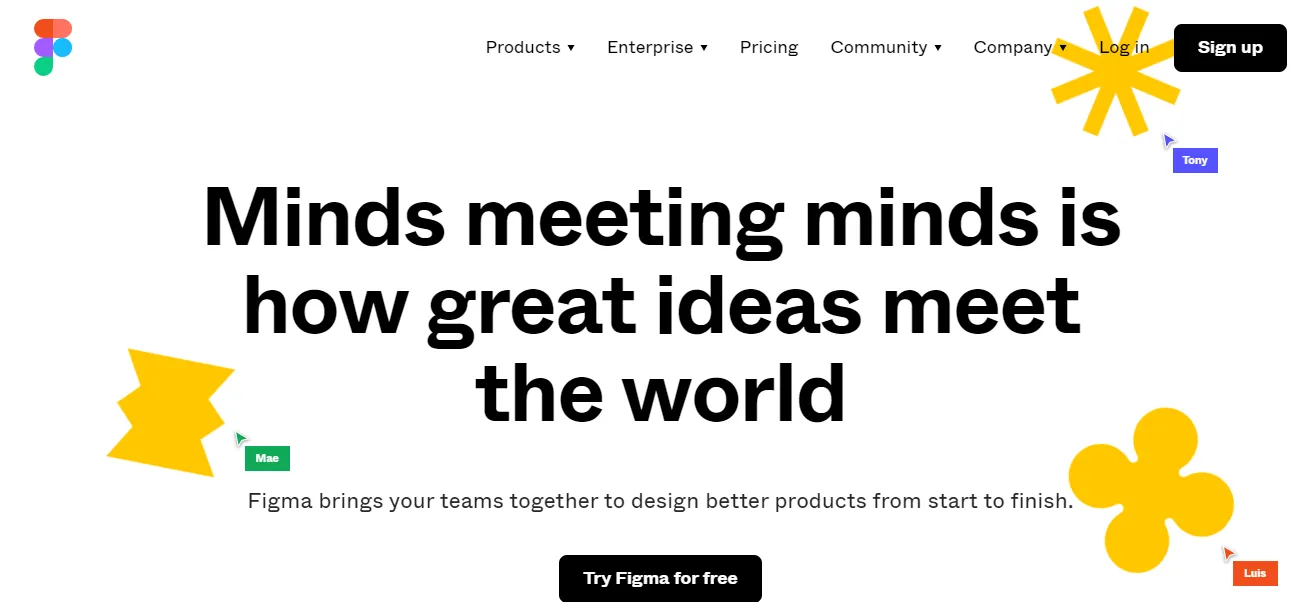 Figma is the best-suited option to work with teams on projects. It is a vector-based tool that allows employees to work from anywhere using a browser. It's a tool for design, organizational design, collaboration, and prototyping.
Using Figma, each employee can own their part of the creative process and stay in sync along the way on any platform. In addition, employees can collaborate on projects and work from anywhere.
Conclusion
Well, no tool is completely perfect. At the end of the day, your company requirements will determine whether or not a tool is appropriate for your company. So, choose whichever option seems fair to you, and give it a try.
Related articles