9 Skills Needed to Work From Home: How do you Become an Effective Remote Worker?
9 Skills Needed to Work From Home: How do you Become an Effective Remote Worker?
The moment people made the switch to remote work, they were flooded with logistics-related articles. The majority of tips address questions such as: "How do I eliminate distractions when working from home?" " How do I set up a "work from home" station?" "How should I handle video calls?"
As work-from-home becomes more common (whether permanently or as a hybrid option), the focus has shifted. Today, it's more important than ever to learn the skills that will help you make work-from-home work efficiently and effectively for you.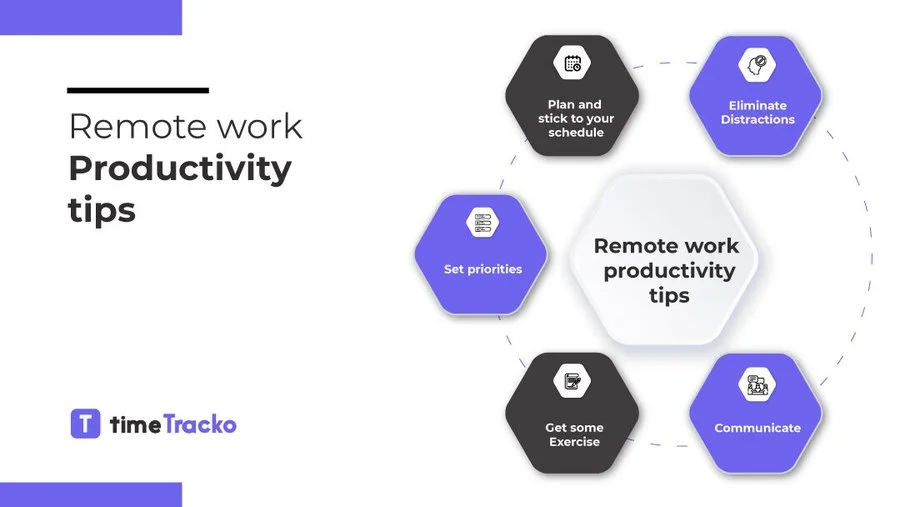 The adjustment of working remotely may be difficult for you, your colleagues, and your team. We, people, are social creatures, so not being able to communicate with each other face-to-face can present a challenge that may test our abilities in ways different from what we typically do.
Being able to balance the workload in today's ever-changing global environment is critical to remaining successful, productive, and connected in the workplace. As per the stat,
88% of businesses encouraged their employees to work from home after the pandemic was declared.
Around the world, 52% of employees work from home once a week, and 68% once a month.
Remote work culture is a new norm, and it is not going anywhere soon. Thanks to some modern tools available in the market that help you to adapt to remote work easily by incorporating them into your business.
But the question of every individual is: "Where do I start from?", "What are the tips needed to work from home?" Worry not. In this article, we will be talking about the skills that you need to work from home.
What do Remote Skills Mean?
The term "Remote Work Skills" refers to a set of tangible and intangible skills that are necessary to ensure maximum productivity.
To be successful at remote work, one must be a self-starter, responsible, disciplined, and an organized problem-solver. Other skills needed to be successful at remote work include adaptability, communication, and time management.
How Remote Work Has Changed The Way We Work?
Clearly, remote work has drastically changed the way we work. With this change, some people have benefited from remote work, while others have suffered from it. Remote work exclusively relies on the technologies for communication from sharing files to conducting virtual meetings.
Physical meetings are replaced by video conferencing. Tools such as Zoom, Google Meets, etc are used to conduct online meetings.
Face-to-face decision-making has been replaced by messages and texting. Tools such as Slack are used during office hours to discuss some important issues.
Support more flexible office hours. The schedules of employees in different locations may now differ as they balance work and personal commitments.
Learn more: Advantages and Disadvantages of Working From Home💻💻
Top 9 Must-Have Work From Home Skills
Employees who have the following work-from-home skills are more likely to show a strong work ethic. If you want to build a strong remote work ethic, invest in building the following mentioned skills.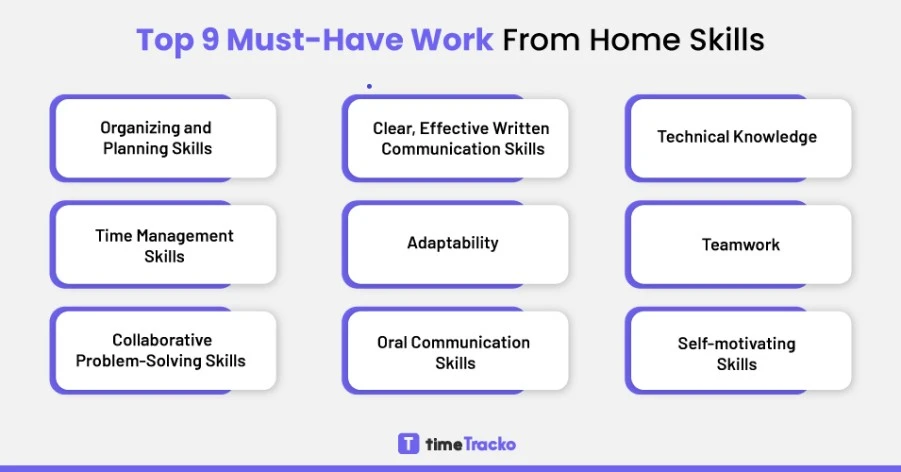 1. Organizing and Planning Skills
There are no colleagues to motivate you when you work from home, and no boss to monitor your work progress and get things completed on time. You must maintain discipline by constantly organizing, planning, and scheduling all your tasks.
Determine your priorities, create a task list for all the tasks you need to complete, estimate the total time required for the tasks, and then complete them. You may need to experiment a bit until you figure out how long it takes you to complete a task.
There are always exceptions to the rule; for instance, what might have taken a long time at the office might be done in a short time at home.
Learn more: Steps to Create an Effective Productivity Plan 📈📈
2. Clear, Effective Written Communication Skills
Even those whose job descriptions don't include writing need to develop written communication skills when working remotely, since a great deal of communication happens via written forms such as emails and chats. The inability to communicate effectively in writing can lead to misunderstandings and hurt collaboration.
Ensure that yourself and your team are trained on how to communicate in writing in order to avoid misunderstandings. Assist them in this process by giving them opportunities to explore high-profile issues and express their concerns and questions clearly and respectfully.
Learn more: Communicating Styles at Work- Types and How to Use Them👬👬
3. Technical Knowledge
Managing digital communication becomes important when working remotely. Remote workers need to stay connected with colleagues and clients with the dexterity of a range of digital tools and platforms, such as instant messaging, project management, videoconferencing, and document sharing tools.
Remote workers must have the ability to gather, evaluate, and create information in digital form in a timely manner, so they must be familiar with the technology they use at the office. Staying current with digital tools can also save you time and increase efficiency.
Learn more: How to Maintain Security When Employees Working Remotely👩‍💻👩‍💻
4. Time Management Skills
Usually, in an office setting, there is a formal schedule and everything is structured. When employees cannot stay informed with the team in real-time, they could miss deadlines.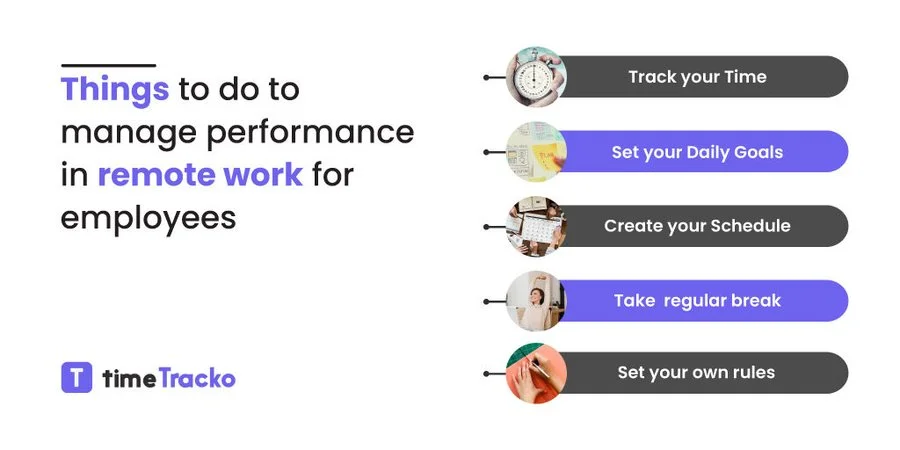 Work from home can also lead to easily becoming distracted, overworked, or even burnt out after a long period of time. So, to overcome burnout from overwork:
Schedule your time, manage your expectations, and manage your schedule
Create a to-do list that you can cross off as you go into the office to maintain momentum and demonstrate progress
The line between work and home life can be blurred when you work from home. Thus, to maintain a healthy balance, you may need assistance with time management.
Learn more: 10 Time Management Tips to Boost Your Productivity📈📈
5. Adaptability
Adaptability is often described as a natural ability, but it can also be bought through understanding your job's complexities and creating work schedules that take into consideration both home and work demands.
The ability to adapt when remote work environments are constantly changing is a necessary skill for all remote employees. Learning to work with new team members, managing work when the internet goes down and maintaining a work-life balance are all challenges faced by remote employees.
6. Teamwork
Employees working remotely must possess team collaboration skills. The employee must be able to work independently as well as as a member of a team. The key to success in a remote team is effective teamwork.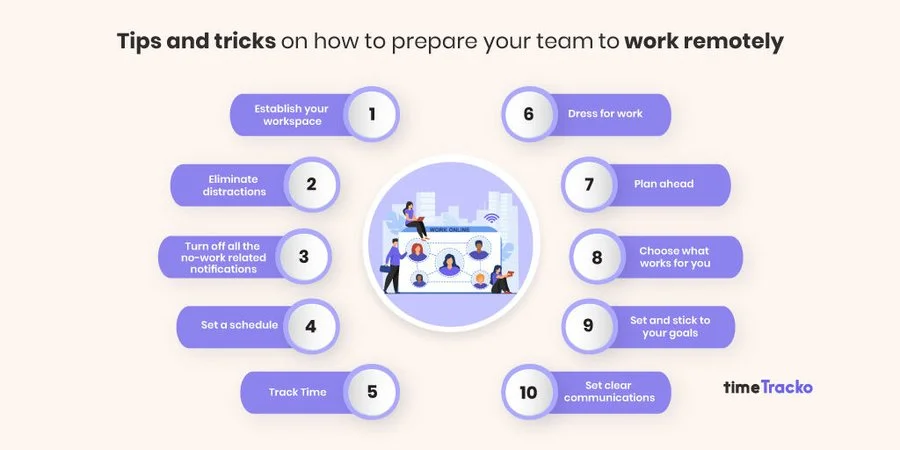 Teamwork generally involves communication, respect, conflict management, and the ability to listen to and understand your team members' viewpoints. Employees can make the most of collaboration and communication tools when they are equipped with the right teamwork skills.
However, companies can build a collaborative working environment with the right digital tools, but employees need teamwork skills to maximize the use of those tools.
Learn more: How to Enhance Your Team Communication🤝🤝
7. Collaborative Problem-Solving Skills
The ability to engage in collaborative problem-solving is crucial to success in any profession, especially when you are a remote worker. No matter what your line of work may be, collaborative problem-solving skills are indispensable.
Make sure that you spend time brainstorming and discussing pro-active solutions with your colleagues, setting appropriate team norms, and finding the most effective, efficient, and practical way of making decisions so you stay on the same page.
Learn more: Virtual Team Building Guides For Your Remote Team👨‍🏫👨‍🏫
8. Oral Communication Skills
Often, we write to convey our messages when we work in a remote environment, but oral communication skills remain valuable when interacting with others. The time spent typing on the keyboard is generally minimized during video meetings, and more time is spent interacting orally with other members of the team and organization.
For better interaction, oral communication is an excellent method of understanding the emotions of our colleagues. In addition to keeping business moving, it can cultivate a sense of team building even from a distance by talking through ideas, issues, and solutions.
Learn more: 10 Advantages and Disadvantages of Virtual Meetings👩‍💻👩‍💻
9. Self Motivating Skills
The remote employee needs to be self-motivated and able to accomplish their tasks without constant supervision. The manager may stop by to get updates or assist you if you get stuck at your desk when you are working in the office.
However, when you work remotely, you must keep track of the things you need to do every day on your own. Working remotely requires employees to be self-motivated, and capable of setting goals, planning schedules, estimating timelines, and completing tasks efficiently.
Learn more: 10 Best Tips and Tricks to Keep Yourself Motivated🙌🙌
Conclusion
The digital world is rapidly evolving, so you need skills to stay engaged, productive, and connected. Remote work has become an integral part of how we interact with each other and do business, so it is essential for you to learn some of the basic remote work skills.
Companies today are adopting remote work cultures and hybrid cultures. In order to succeed as remote workers, employees need to understand the changing digital culture and develop relevant skills.