Lazy Employees: Types, How to Handle and Motivate Them
Lazy Employees: Types, How to Handle and Motivate Them
Laziness erodes a person's enthusiasm and energy. As a result, the person loses all opportunities and finally becomes discouraged and frustrated. The worst thing is that he stops believing in himself. – Sam Veda
There are a lot of employees working for a company. Many mixed groups of employees come together for a common goal. Every employee must equally contribute to do their work to obtain the best results. Here, the lazy employees might create some problems.
A lazy employee may be a major problem for management in a variety of ways. A skilled employee who is lazy wastes the company's time and can irritate coworkers who must share the load. This will also affect other employees' productivity and also in team morale.
According to the survey done in 2020, it shows that there will always be one slacker on every team. It shows that 47% of employees feel lazy co-workers are a letdown to a company.
A smart manager knows how to handle a lazy employee who isn't completing his work by taking prompt action to correct the issue.
Types Of Lazy Employees
The fact is that if that employee is someone you supervise, failing to deal with the matter appropriately might have major consequences for workplace morale – not to mention significantly harming your working relationship with your employees.
You may have encountered seven different types of lazy employees during your time as a manager.
The Vanisher – The one who is never around
The vanisher is the one who is never around their work. They go invisible without any explanation. They might also call for sick leave if they don't want to work.
The Procrastinator – The one who delays work or puts things off
Every time a procrastinator has an assignment to submit or a meeting to attend, they accomplish their portion of the work last. The procrastinator is continually pushing the job ahead while spending time on silly things.
Learn about: How To Stop Procrastinating At Work ⏳😴
The Bare Minimum – The one who only does the work up to the certain extent
The Bare Minimum types of employees are those who only do the assigned work. They do not go beyond the work that they are assigned. They just meet the expectations and never try to exceed them.
The Delegator – The one who assigns their work to others
The Delegator isn't a manager, yet they act like one. They try to avoid their work. They are ready to transfer their tasks to others in their team and even clients. This might have a significant negative impact on companies' reputations.
The Victim – The one who makes excuses for their work
The Victim type of employees uses every excuse in the book to justify their tardiness, missing deadlines, and poor performance. They use them constantly to justify their poor behavior. It is common for these individuals to lie to justify their actions.
The Trouble Maker – The one who intentionally or unintentionally causes trouble
The troublemaker is one of the most problematic types of slackers. Employees who are troublemakers are typically observed moving from desk to desk, chatting, and engaging in unnecessary conversations.
How To Identify Lazy Employee
The first thing that an employer needs to do is have clear observation of their employees. Supervisors or managers should know when their employee becomes lazy at work. Most lazy employees have a similar type of below-mentioned characteristics.
It is considered lazy behavior to say, "That's not my job," when asked to complete a specific task. They do not want to work and accept any order from their superiors.
When employees are always failing or getting late to attend meetings or particular tasks. When your employees are late or unattentive more often, it's a sign that they're getting lazier.
Also, they will not interact during meetings. They will be there and listen (maybe or not, but act like they are listening). They may not all be lazy, but they might be unmotivated.
Distracting others with non-business matters during work happens frequently among some employees. Be aware of those who encourage laziness at the office, and look out for them.
11 Best Tips and Tricks to Deal with a Lazy Employee
To run any kind of business or work, active employees are required rather than lazy people. Lazy people don't want to start their work at the right time. Many employers have been asking the question of how to deal with such lazy employees.
Here are the eleven best tips and tricks that will help you solve and eliminate laziness in your workspace. Please have a read.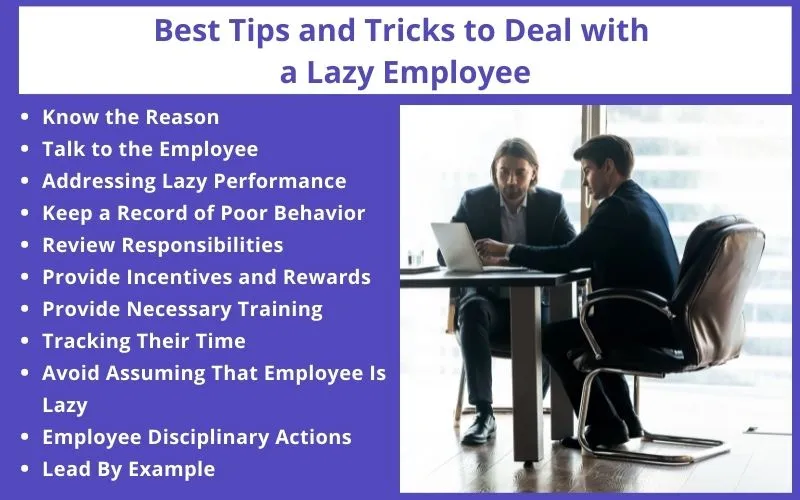 Know the Reason
If the cause of employee laziness is known, then there will be no problem discussing it and motivating your employee. Employee laziness is often a result of an absence of work. Unimportant tasks may cause them to become disengaged, and they may also be lazy by nature.
Employers should evaluate why employees are lazy and why performance is dropping. The administration should come up with ideas, collect employee opinions, and put in place measures to improve the situation.
Talk to the Employee
Part of being in the management team or an employer means dealing with a lot of performance issues. Talking to your employees about productivity and making them aware that they should not let lack of motivation or laziness become a regular issue.
An employee meeting can be scheduled to discuss what has been done and how the employee has been doing. Also, you can talk with the employee about their performance and productivity to workplace expectations. A conversation with the employee will likely get to know the reason for their reducing work ethic.
Employers need to focus more on the lazy ones and clear any type of confusion they have. It would be best if you have a direct conversation in a polite way. Ask the lazy employees if there is something you should be aware of or if something is bothering them? Let them know your expectations. Also, ensure that you believe in them, and motivate them to work hard.
Learn more: Types Of Communication Styles At Work 👋💬
Addressing Lazy Performance
Explain to the employee exactly how they are underperforming in a one-on-one meeting. Give an example, make sure that the problems you're experiencing are work-related and not the result of a personality conflict.
You have to be prepared for underperforming employees to become defensive and create excuses for their poor performance, but don't let them distract you from addressing their issues. Approach your topic with caution rather than confrontation.
Conduct the dialogue using appropriate feedback strategies:
Be clear.
Make it specific.
Maintain a nonjudgmental attitude.
Provide actionable steps for moving ahead.
You have to give the employee an opportunity to react. Make an effort to pay attention to what they have to say. It is possible that concerns in the employee's personal life have caused performance change.
Keep a Record of Poor Behavior
It is better to document or keep a record of every employee's behavior. What do they do during office time, how is their performance, are they skipping their work, etc. types of records can be maintained for each employee.
In addition, this will enable you to identify any performance issues that arise recurrently. Employers should keep a record of the excuses that employees are making to avoid work.
When it comes to deadlines and schedules, be strict and tough. One of the simplest techniques for determining responsibility is to create schedules for each task. It's fine to be flexible at certain times but stick to deadlines at others.
Laziness affects others when an employee commits it. So, you should keep a documented record and deal with the respective employee about the problem.
Review Responsibilities
Sometimes employees get bored due to the job role and the tasks given to them are not enough for them. Lazy employees will not make an effort to reach out for more tasks. They will act as a bare minimum.
Giving them more responsibilities to do the work will help them to boost their productivity. This might make them feel more responsible and dedicated to their work. Also, you can review if they are doing their work effectively or not.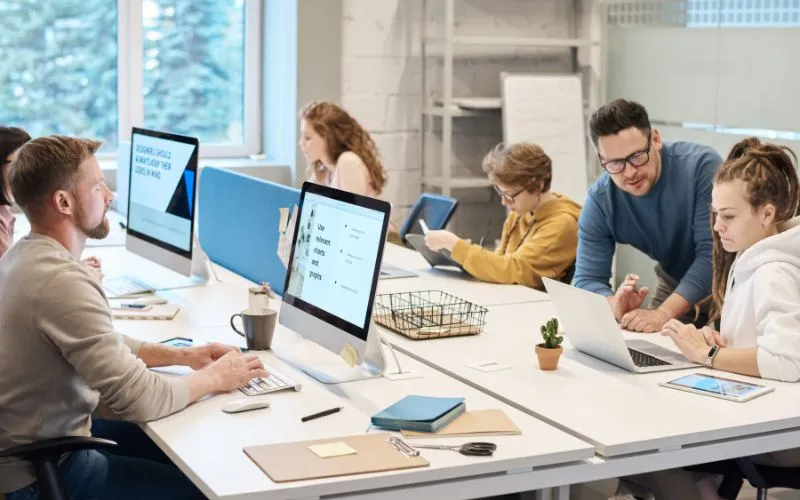 Provide Incentives and Rewards
A good way to motivate employees is to reward them with some kind of celebration or refreshment. Providing incentives and rewards can be just as effective as having great management.
When an employee has a goal that has a reward attached, they are more likely to work harder to ensure they reach it. This will help to reduce their laziness, re-encourage and motivate employees and increase their productivity.
In the end, they'll want to be rewarded for their efforts! Choosing this approach means making sure it's for something worth the employees are fighting for, such as a bonus, extra days off, or even a paid weekend getaway.
Learn more: Awesome Rewards That Your Employees Really Love To Receive 🎁👏🏼
Provide Necessary Training
Sometimes the reason for less productivity maybe not knowing what to do with their work effectively rather than laziness. In such a case, the company can provide the necessary training to them.
Training has a lot of advantages, such as providing a competent internal resource to fill more difficult positions, increasing productivity, and preventing accidents.
Tracking Their Time
If the employees are wasting their time doing extra activities rather than doing work then employers have to give them notice about it. Tracking the time of every employee will help the company to know how much time they are spending on doing work and how much break they are taking.
Having breaks during working hours is necessary; however, long breaks can make people less productive. Long breaks during working hours might make an employee lazy and decrease worker efficiency. This kind of activity can only be dealt with by setting strict time restrictions and expectations.
Employees can schedule breaks, but the breaks should not hamper their productivity. Also, you can allow your staff to fetch a coffee for 5 minutes or so. But taking frequent breaks is not so effective and will result in laziness at work.
Learn About: How To Use 4 D's Of Time Management⏱⏱
Avoid Assuming That Employee Is Lazy
Employees, sometimes, might need proper guidance to do the work. Without assuming that an employee is lazy, giving clear instructions about their job can help to boost their productivity.
Also, they could be doing some unimportant or minor tasks due to which productivity issues might have arisen.
It is good to have some expectations from your employees. But you also should keep in mind that you should not compare them with others and assume they are lazy.
Employee Disciplinary Actions
Nothing will kill a great employee faster than watching you tolerate a bad one.

– Perry Belcher
You'll have to take drastic actions if you have not received the results you wanted. It involves taking a look at the available employee disciplinary steps. Suspension, demotion, wage decrease, transfer, loss of privileges, and so on are examples of these.
Disciplinary procedures may appear severe, yet they are sometimes required. It demonstrates that management will not tolerate inefficiency, which is a message that all employees should be aware of.
Lead By Example
If you are enthusiastic about achieving your daily goals, then your employee will also learn from you. If employees get to see their supervisor working hard, this will also encourage them.
Your patience and resources are being tested when an employee is unproductive or lazy – you need to act. If you ignore the issue of employees being lazy, it won't go away. Set an example for everyone working with you.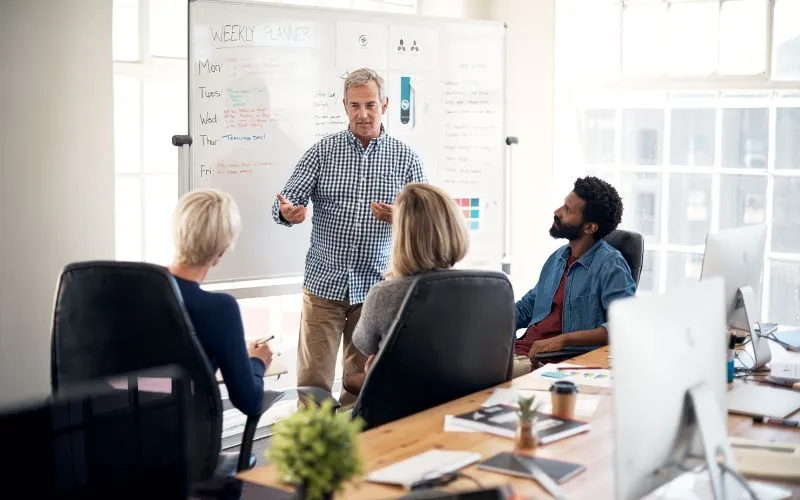 How To Motivate Lazy Employee
You can be a good manager to all employees and encourage everyone (including lazy ones) to do their work.
Communication is one of the important factors to know about the team and motivate them.
Once you figure out the productivity of the employee is low, be honest and have a conversation about it. Have a proper discussion if anything is bothering them or not.
Offer any kind of support to your team. So, when you first identify a 'lazy' employee, it's important to determine whether anything is going on behind the scenes.
Try setting unique goals which will help your team to motivate and do work at a faster speed. Also, you can constantly check the progress in how much work is done.
If someone feels laziness and bored during work, try giving them more responsibility that challenges them to perform better than they do currently.
Know the strength of the employee and give them the task according to their strength.
Providing the opportunity for their advancement and growth within the company.
The rest of your team is working well and looks to be happy and engaged, but one employee is falling behind (and they don't have any personal concerns). You must know that It's time for a change and give up on that employee.
Conclusion
Managers should really act smart when they are dealing with lazy employees. Lazy employees have multiple reasons to support their laziness. It might be because the work is irritating, or because they are uncomfortable in the field.
The final line is that their outlook can improve. It is up to you to know how to approach them and make them pull their own weight.