Best Tips to Enhance Employee Satisfaction That Leads to Better Productivity!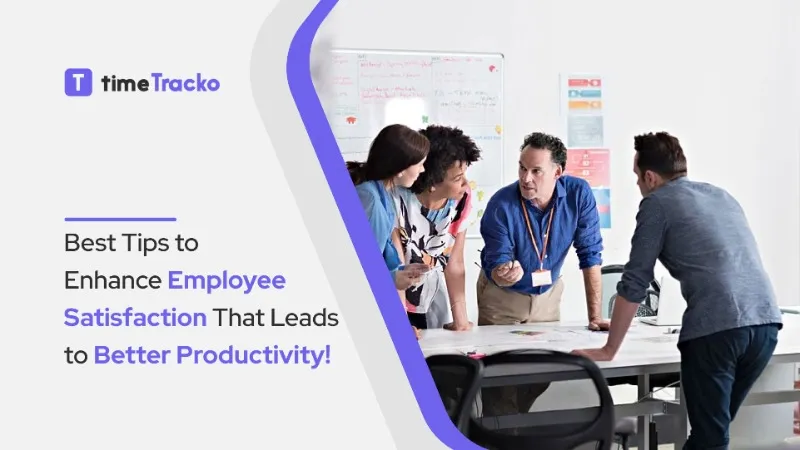 Employee attitudes are often a reflection of the company's culture. Employee satisfaction is important in customer service and sales since they represent the business to the public. Satisfaction, on the other hand, is not entirely dependent on monetary compensation.
Finding ways to improve and build job satisfaction for employees must be on the corporate agenda to assure continuous success, especially with staff retention, productivity, and engagement increasingly ranking as the most pressing problems for modern-day business.
While improving employee satisfaction isn't a cure-all, it can have some amazing impacts on your company. A happy, engaged, and motivated employee contributes to the company's success, which can have a positive impact on the rest of your staff.
Job satisfaction is influenced by a variety of factors, including autonomy, flexibility, recognition, a sense of belonging, and a positive relationship with one's boss. It's impossible to satisfy all your employees.
It is essential to work harder to improve job satisfaction. Happy employees create more productivity and have a positive influence on the company's bottom line.
Employee satisfaction is evident these days, and it has a significant influence on your organization – everything from your capacity to recruit and retain people to the quality of your product and customer service – and is now a major determining factor in your company's overall success.
It might be difficult to know how to properly measure and improve employee satisfaction. That's why we've discussed the best tips to enhance employee satisfaction that leads to better productivity.
Let's get started!
Best Tips to Enhance Employee Satisfaction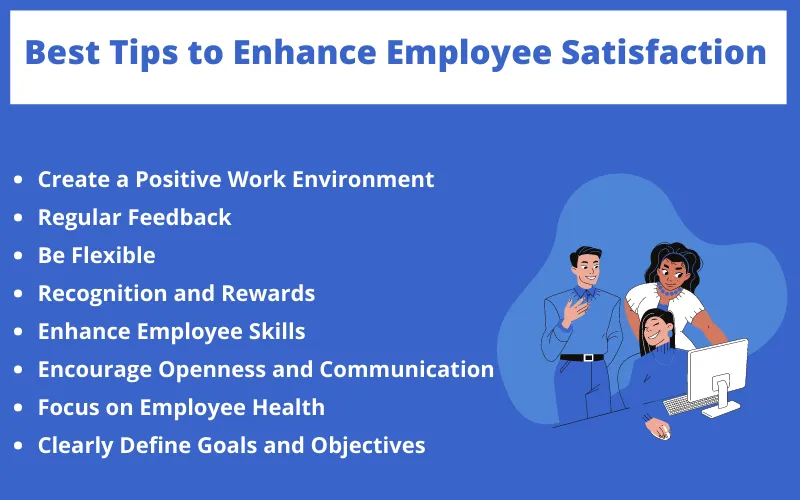 Create a Positive Work Environment
A positive work environment greatly influences employees' attitudes. The work environment has a major impact on employee motivation. It has a big impact on their professional life. It reflects in their work and helps them stay positive throughout the day.
A positive work environment encompasses more than just the structure of the company. It is an employee's overall experience with their coworkers, direct supervisors, and business culture.
The best way to create a positive working environment is through open communication with employees and coworkers. Developing trust, building healthy work relationships, and listening and promoting equal opportunities help to create a good working environment.
Regular Feedback
Your employees, like everyone else, need and crave feedback.
Employee satisfaction depends on feedback, yet most managers are unwilling to provide it. Employees are uncertain about the labor and effort they are putting in due to a lack of feedback. People's psychology is complex, and they might interpret the same message or discussion in different ways.
As a result, managers must learn the art of giving feedback. In the workplace, feedback has a hugely beneficial impact. It can help to establish trust, increase employee satisfaction, keep staff engaged, and lower turnover.
The most effective methods for providing healthy feedback are as follows:
The intention is to be optimistic.
It should be beneficial.
It needs to be genuine.
Don't wait; provide feedback immediately.
Be Flexible
Giving employees more control, autonomy, and accountability over their own time at work is important.
With work-life balance becoming more popular as an employee demand, particularly among the Millennial generation, providing employees with flexible work schedules and the option of telecommuting based on individual requirements is a critical first step. Allowing employees to come in and leave earlier or later reduces the stress of the daily commute!
Regular conversation and friendlier behavior make an employee more devoted to the task, leading to greater productivity.
Recognition and Rewards
When you recognize your employees for their hard work, they are more motivated to work even more in the future. People want to know that their work matters and that it impacts the client, the team, and the organization.
Employee morale, productivity, and overall job satisfaction improve when employees are rewarded and acknowledged for their efforts.
Office managers must spend time describing how their unique job contributes value in a concrete way, such as how someone's leadership has influenced the company's brand voice and contributed to the bottom line. Job satisfaction is boosted by positive reinforcement.
Enhance Employee Skills
When organizations engage in employee development, both the leaders and the company have the chance to grow and invest in the future. Companies cultivate a talent pool of outstanding, dedicated employees who are ready for advancement.
One of the characteristics of employee satisfaction is helping employees in enhancing their skill sets. Allowing your employees to grow their skills improves their job satisfaction and productivity. This also shows that you care about their professional development in addition to your organization's growth.
It allows people to learn about workers' skills, weaknesses, and work cultures and how to bridge gaps in the future.
It's always a good idea to evaluate whether your employees desire to learn anything new or require any specific training. Employees are frequently dissatisfied as a result of a lack of this managerial strategy. They believe they have learned everything there.
Encourage Openness and Communication
Employees who feel they haven't been kept informed about changes in the workplace are unsatisfied. As a result, there is disengagement among employees.
It's important to take a transparent approach to keep staff informed. Ensure that your employees are informed by using internal communication methods or platforms such as intranets, corporate e-mails/newsletters, management cascade meetings, or "town hall" announcements.
Most essential, be genuine in your communication. This means admitting both successes and failures. Don't underestimate your workers. They're smart and can detect dishonesty from a mile away.
To be effective in your communication, stay loyal to your personality and your goal as a leader, and don't be afraid to tell it like it is, especially when circumstances are bad. It will earn you respect among your coworkers.
Focus on Employee Health
Employee health is no longer only the individual's responsibility; because of the high cost to employers, it is increasingly the duty of businesses to encourage and drive good health.
The saying "health equals wealth" is often overused, yet it stays true to its meaning. Employers who do not prioritize their employees' physical, emotional, psychological, and financial well-being build ineffective teams.
It is critical to creating a work culture that responds to the requirements of employees' health. Employees who are fit and stress-free are more productive and have a higher sense of responsibility towards their work.
To promote a good culture, businesses must give them corporate wellness programs or sessions, as well as monitor their behavior.
Clearly Define Goals and Objectives
You might have the best team in the world working for you, but if you don't set goals and objectives, their excitement will fade. Throughout their work-life cycle, your team needs direction.
Employee dissatisfaction occurs when an organization fails to establish clear objectives or company values.
Goals guarantee that your workers' efforts are always aligned with the company's aims and that everyone understands how they contribute.
Employees don't just work for the money. They require a feeling of direction and a sense of purpose at work to be satisfied. We all want to perform meaningful work and make a difference at the end of the day.
Conclusion
The ultimate goal of business culture can be achieved when workplaces are filled with excitement, humor, honesty, humility, and activities that foster connection. Employees can feel satisfied, motivated, and confident. Employees become purpose-driven champions for their company and colleagues.
To enhance employee satisfaction and engagement, companies must be aware of the above-mentioned tips. Satisfied employees will always put their best foot forward and try to improve the bottom line.
When you understand what reduces employee satisfaction, you can help your staff in providing the greatest possible experience. That's when you start building a team to help you in achieving your goals.
Subscribe to us for more interesting blogs.
Related articles