10 Best Ways to Increase Employee Productivity in the Workplace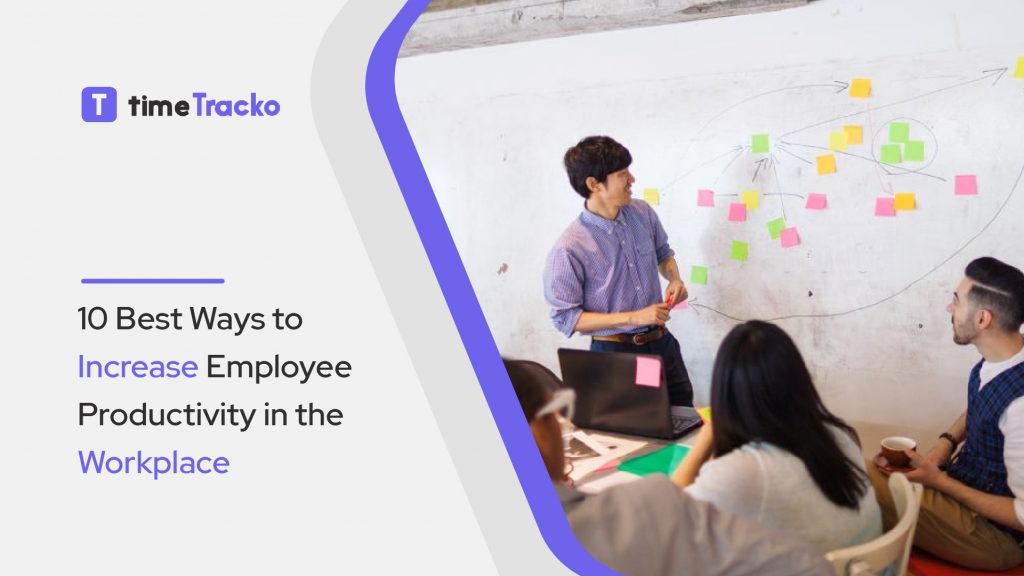 Employees are the most valuable asset of a company, and their performance directly impacts the company's ability to fulfill its goals. Therefore, employee productivity is essential to ensure the success of any company.
In what ways can you Increase Employee Productivity in the Workplace? And is it possible to measure employee productivity? Below we answer these questions.
What is Employee Productivity?
Employment Productivity, which also refers to workforce productivity, is a measurement of a worker's or a group of workers' efficiency. You can measure an employee's productivity according to their output over a certain period of time.
Employee Productivity is an essential factor for a company since the success of any company relies upon the productivity of its workforce.
Benefits of Employee Productivity
The goal of any company is to be successful, and as we already said, employee productivity can make the success of the company. All successful and effective companies understand the worth of employee productivity and the value it brings.
Here's why employee productivity is beneficial for your business:
Greater Fulfillment
Better Customer Service
Improved Engagement
Greater Revenue Generation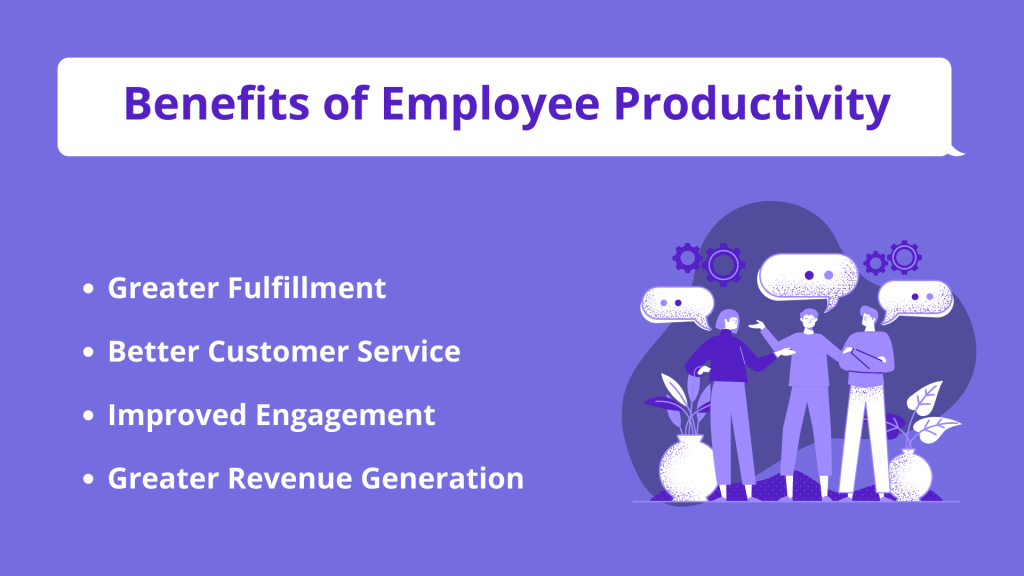 Employees develop a feeling of purpose when they feel productive and have the chance to contribute to the organization. This purpose might motivate employees to strive for excellence.
While everyone's sense of fulfillment varies, a sense of making a difference leads to a happier and more successful workplace.
Happy employees can make happy customers. If the employees are working efficiently, they undertake the right activities to provide each customer with a comprehensive and satisfying experience.
Processes go more efficiently when your team members are coordinated, and there's less possibility of your clients missing out or being overlooked.
More productive employees are more likely to join in and be involved with the company's operations.
Employees who are not productive are disengaged and unmotivated, which may have a variety of negative effects on the culture and other employees.
Greater Revenue Generation
Your employees are a valuable asset and an investment that your company makes in order to get a higher return. If employees are productive, they will get a good return on their investment (ROI) for their time and money.
10 Best Ways to Increase Employee Productivity in the Workplace
Prioritize Quality over Quantity for Similar Work
Improve Workplace Conditions
Keep Your Employees Accountable on an Individual Level
Don't Waste Time on Pointless Meetings
Provide Various Training to Employee
Improve Employee Productivity by Increasing Employee Engagement
Improve Office Communication
Exercise Breaks
Set 3-5 Daily Goals and Create Some Competition
Optimize Email
Here are 10 best ways through which you will surely Increase Employee Productivity in the Workplace: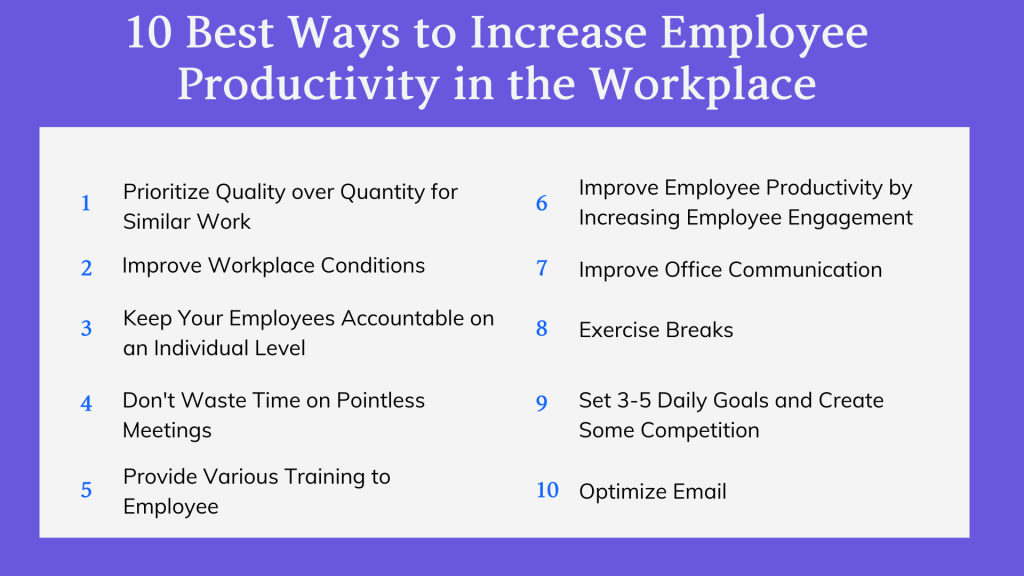 1. Prioritize Quality over Quantity for Similar Work
You should focus on what employees accomplish during their work rather than the amount of time spent.
Longer hours don't always equate to better outcomes. To conclude, the quality of the work performed yields larger efficiency improvements than the quantity of work performed.
According to the productivity cliff phenomenon, "People who work 70 hours per week generate nothing more than others who work 55 hours per week for a similar job".
Some of the methods you can use to encourage a better quality rather than quantity of work are:
Shorter Workdays: It helps employees to feel healthy and less stressed.
Offer Regular breaks: It helps employees to recharge at an individual level.
2. Improve Workplace Conditions
In order to make employees productive, make sure they are working in the best possible environment. Make sure the workplace has lots of natural light and plants. This will make employees more comfortable and productive at their work.
Some researchers say, "When employees work in workplaces with white walls, they make more mistakes," so don't leave your wall colors white. Instead, you can use red, green, or blue, which helps with the detail-oriented task and boosts creativity.
3. Keep Your Employees Accountable on an Individual Level
Micromanaging will not make life simpler for anyone. When managers start getting concerned with measuring every detail of their employees' work hours, it's likely that employees will become even more prone to slacking.
Invest in collaborative tools, goods, or services that are aimed at achieving the objectives. It's far preferable than concentrating on micromanaging your employees' working hours.
If there isn't a supervisor hovering over their heads, the employees will feel more independent, calm, and confident in their abilities. That's why leave the room once you've done.
If an employee completes a project in half the time and spends the other half on social networking, that should be the least of your concerns.
4. Don't Waste Time on Pointless Meetings
Meeting time is one of the most significant obstacles to employee productivity. According to Atlassian, Almost 47% of employees complain that the number one time-waster during work hours is time spent on meetings.
Instead of holding meetings, you can use email as it is a faster and more precise means of communication. Set only the important meeting.
You can reduce the number of meeting attendees. Only employees who are important for the meeting should attend the meeting. Other employees should continue with their usual line of work.
The number of participants who can attend the meeting should be kept to a minimum—the larger the number of team members, the larger the chance of additional distractions.
You can reduce the meeting time. Set a time restriction on how long the meeting will last. To cover the most important points, 20-25 minutes is enough for you.
Allow employees to choose whether or not to attend a meeting during their working hours if they have other pending work.
5. Provide Various Training to Employee
You must provide opportunities for additional training in order to develop a happy, productive workforce. Training helps improve the knowledge and work performance of employees. Match the types of employee training to your employee needs in order to ensure they receive the information and knowledge they need in the format best suited for it.
You can provide the best types of employee training methods for your workforce. Some of them are as follows:
Instructor-led training
Simulation employee training
eLearning
Coaching or mentoring
Lectures
Hands-on training
Group discussion and activities
Role-playing
6. Improve Employee Productivity by Increasing Employee Engagement
Increasing employee engagement is one of the most important factors in increasing employee productivity. Employees' happiness, motivation, and engagement are the best and most effective things a company can do to boost or increase employee productivity.
Employees who are engaged are more likely to be happier and more productive. Appreciate your employee if they do an excellent job and give exciting rewards for time spent doing an outstanding job.
Employees should be involved in the company's decision-making processes. Make them feel as if they contributed to the company's production.
Make it clear to employees that their input is valued. Consider their comments, thoughts, and opinions on a regular basis and give continuous feedback. To increase employee productivity, consider investing in a company health care plan.
7. Improve Office Communication
Excellent collaboration leads to optimal productivity and efficiency in teamwork, and good collaboration is based on effective communication.
You need to figure out the best way to communicate. For example, your company may communicate through a communication platform, email, or phone, but you'll need to discover how each employee responds best.
You and your employees will have to work hard to become a productive unit. You may begin by throwing occasional informal get-togethers, office parties, or plan a staff trip.
When new employees arrive, help them feel at ease in the office and on an equal footing with their coworkers.
8. Exercise Breaks
It is important for employees to exercise because it will increase their productivity. It helps to keep the mind focused and increases energy levels, and thus increases productivity.
Exercise keeps employees mentally sharp and helps to avoid a variety of illnesses that reduce worker productivity.
Here are some ideas for motivating employees to sneak in some exercise at work:
Offer "exercise breaks" to encourage employees to exercise.
Invest in a corporate wellness program to help your company create a culture of health and productivity.
Encourage employees by rewarding them if they walk to work on a daily basis.
9. Set 3-5 Daily Goals and Create Some Competition
Don't set a to-do list of 100 things to do before noon. Set 3-5 non-negotiable daily goals.
That isn't to say don't do more. But don't put too much pressure on employees.
Everyone wants to compete within the group and be the best. Introduce some friendly competition, along with suitable rewards, and it may help motivate the underproductive employee who is dissatisfied with their current position.
10. Optimize Email
Half of the battle for employee productivity is gone once your employees get into the constant flow of their receiving email. According to some research, we spend 13 hours per week on emails. Now you can identify how much time has been wasted.
But emails in the workplace are similar to peanut butter and jelly in a sandwich. Without the other, there is no one. So you can try to manage this email flow in such a manner that it has the least possible impact on employee productivity.
Encourage team members to use proper email etiquette to increase productivity.
Instruct your employees to choose a time frame each day to deal with emails and stick to it.
Keep emails short and on point, and instruct your employees to be kind and straightforward in their responses.
Keep email subject lines short and clear, describing what the email is about.
You may use effective collaboration tools, products, or services like Skype, Slack, and others to make communication amongst employees easier.
How to Measure Employee Productivity?
Employee productivity isn't only a metric for measuring a company's efficiency. This is only the most obvious use. Setting goals and tracking your team's progress is one of the most effective ways to measure employee productivity. You also have to consider the quality of your team's work while evaluating employee productivity.
You can use the labor productivity LP equation: total output ÷ total input to measure employee productivity.
Productivity = output (the volume you create) ÷ input (employee hours and resources)
For example, if a company generated $70000 in 1300 hours, to calculate your company's employee productivity, $70000/1300 i.e. $53 per hour of work.
If a company generates $70000 with 20 employees, to calculate your company's employee productivity, $70000/20 i.e. $3500 per employee a week.
Tracking employee productivity is essential to a company. The company can use software tools timeTracko, for tracking and monitoring employee productivity.
timeTracko tracks and measures employees' daily time spent on the assigned tasks. Within a single feature, the productive and unproductive hours of employees are immediately evaluated. In addition, you can keep track of what each employee is doing. It is the most effective and best tool for remote employees that help to enhance productivity and deliver the output on time.
Conclusion
You have to increase employee productivity for the success of your company. In order to do so, you have to make sure you prioritize quality over quantity for similar work, Improve workplace conditions, Ditch the time spent on pointless meetings, Provide different training to employees, Optimize Emailing, Exercise breaks and Improve office communication.
Hope the above-mentioned tips will help you boost workforce productivity in your company. Just keep in mind that what's good for your company and what's good for your employee must be considered equally.
Related articles