10 Effective Ways to Keep Employees Happy Without a Raise
10 Effective Ways to Keep Employees Happy Without a Raise
What makes your employees happy? You may think you should raise them, but remember, money cannot buy happiness.
Money can make your employees smile, but it's not the only thing that can make employees happy.
It is not always possible to give your team an extra bag of money when they do a good job. You need to be creative in such cases. Encouragement and employee motivation can help you get the best out of your employees.
Offering better benefits, boosting work-life balance, and expressing appreciation more often help improve employee morale.
Successful businesses focus on their customers' needs and take good care of their employees.
Happy employees are more productive and creative. It reduces employee burnout, absenteeism, and stress.
Happier employees tend to be less self-centered, more focused on their work, open to new challenges, and less willing to quit.
Check out these 10 effective ways to keep your employees happy without a raise.
10 Effective Ways to Keep Employees Happy Without a Raise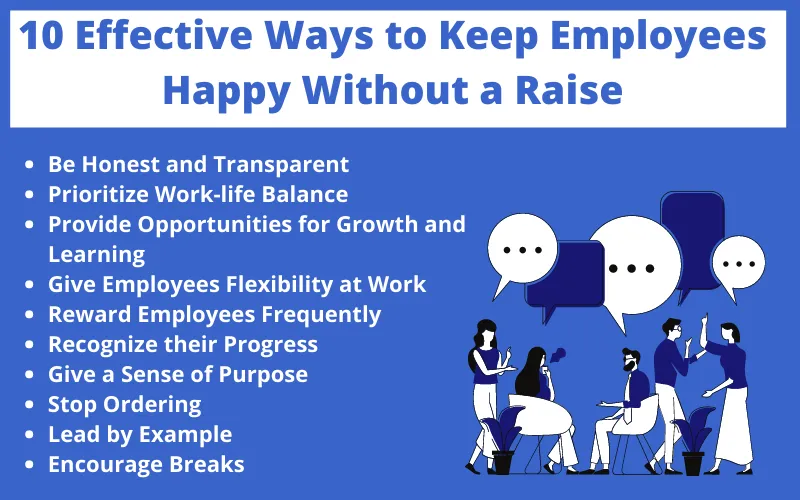 Be Honest and Transparent
Organizations around the world have prioritized transparency as a top priority. Transparency builds trust between employers and employees, helps boost morale, decreases job-related stress, and increases employee satisfaction and performance.
You can maintain employees' trust by being honest about your business and distributing feedback regularly.
You must develop a culture of feedback and collaboration if you wish to be transparent. You should always be honest about what you learned and plan action for resolving the issue.
To achieve your goals, you will indeed need the right technology. A lack of transparency will lead to a lack of direction and emotional commitment.
The lack of transparency in employee engagement is like the absence of spirit in a body. You will have trouble getting your team to go beyond the bare minimum. Thus, you will see your growth rate drop rapidly.
Prioritize Work-life Balance
Maintaining a balance between your personal and professional lives can be difficult, but it is necessary. A good work-life balance reduces stress, lowers burnout risk, and makes you feel good. As a result, not only employees but also employers benefit from this.
Employees don't like to choose between their families and careers. Creating a work environment where employees do not feel forced to choose will lead to higher retention rates.
Focusing exclusively on benefits isn't enough to engage employees and remain competitive.
The best employers create a work environment that lets employees feel belonging and enables a positive work experience. Embrace your work responsibilities, but make sure you maintain a healthy lifestyle as well.
Provide Opportunities for Growth and Learning
Providing employees with growth and development opportunities helps them expand their skills, knowledge, and abilities and apply them to new situations. The best way to make employees feel like they are important is to invest in their training and education.
Continuous learning will increase employees' confidence in their abilities and motivate employees to accept challenging tasks.
By gaining new skills and experience, employees can become more motivated and more satisfied at their jobs and effectively handle stress.
To enhance employees' skills, a company should provide free courses and training programs. By offering free courses to your employees, not only does your company's overall standard improve, but it also encourages everyone to participate.
You can also provide organization-specific training or management additional training that complies with your company policies.
Give Employees Flexibility at Work
Flexibility and freedom play an important role in employee satisfaction and turnover reduction.
Flexibility in the workplace benefits both the employer and the employee. It increases productivity in the company, but it also increases employee satisfaction, which results in many other benefits.
The flexibility of work offers numerous benefits, such as reducing stress, improving job satisfaction, and improving productivity.
Create a flexible work environment that promotes productive, focused work rather than a meaningless task. It's important to show up for work on time and complete all tasks on time, but it's also important to show flexibility.
Most employees fail to spend time with their families due to heavy workloads. Therefore, granting your employees temporary leave or time off may keep them happy.
Reward Employees Frequently
Employee performance is closely related to positive reinforcement. Employee recognition, reinforcement, and rewards can directly affect their motivation, productivity, and engagement.
Fun, occasional rewards or events can be more rewarding than a salary increase for employees. The reward can be anything from gift coupons to free dinner cards to any restaurant with close ones.
Create a culture of rewards. Reward your employees frequently for their effort, hard work, and dedication. An effective reward system keeps employees happy, committed to the company, and motivated to succeed.
You will see a higher level of motivation from your employees when they believe that they are constantly achieving more daily.
Recognize their Progress
An effective way of rewarding employees is to give them praise. Even while constructive criticism helps guide your employees toward the right direction, pointing out the good qualities they possess is also equally valuable.
Recognizing employee performance helps foster engagement, boost productivity, and reduce tension in the workplace.
Recognition shows employees how much their company values their contribution to the success of the team and the overall success of the company.
Providing this type of recognition motivates employees to continue doing excellent work because they feel secure that their value is appreciated.
Give a Sense of Purpose
A sense of purpose makes employees more productive. When establishing a meaningful workplace, it is important to find people who align with its vision and values.
A clear sense of purpose can enhance your workforce's overall well-being and happiness. Employees who have a sense of purpose at work feel innovative, passionate, and dedicated.
Employee engagement, satisfaction, and tenure are increased when employees feel a sense of purpose at work.
Generally, they are focused on serving the organization. They also have a balanced personal and professional purpose.
Employees with a sense of purpose are more likely to stay at their jobs and are more engaged at work.
Stop Ordering
Overworked employees will likely start sacrificing quality for quantity when they have many tasks to complete and deadlines to meet.
As an employer, it's your primary duty to get the most out of your employees. But they should not be overburdened with work and responsibilities.
Do not burden them with too many expectations and assignments. Instead, let them decide their responsibility.
Assign tasks based on their capacity to avoid overburdening them. Encourage friendly competition among office workers. It gives your employees a chance to be productive, allowing you to assess how others work.
Lead by Example
Most employees look for the same qualities in leaders they hope to possess themselves. Having a good leader makes employees feel passionate and energetic at work.
You are the leader of your team, so they look to you for encouragement, inspiration, and direction. The best way to do so is by creating a culture of trust and accountability and leading by example.
You show others what's possible and the path to reach a common goal with a shared purpose by leading by example.
Your behavior guides others and inspires them to emulate you. A workplace filled with trust, purpose, and confidence is possible when you lead by example.
Encourage Breaks
Working hard is important, but it's equally important to rest. You will see an increase in productivity, and employees will be happier if you require regular breaks from work like coffee runs, walks, lunch and vacations.
When employees are granted time off, they are more likely to be productive and return to work with a positive and focused mindset.
Research has found that breaks can reduce stress, improve performance continuously, and help to reduce the need for rest at the end of the day.
Why is Employee happiness Important?
Businesses are nothing without their employees. You should keep your employees happy so that they can take your business to new heights and save you money.
Any organization's survival and performance depend heavily on the happiness of its employees. Employees who are happier work harder, cooperate better in teams, and are more productive in general.
Happy employees stay in their jobs for longer
Happy employees are healthier
Happy employees are more smart and creative.
Happy employees have more energy
Happy employees provide better service to customers
Happy employees are more effective leaders
Conclusion
As an employer, keeping your employees happy is one of the most valuable things you can do. Happy employees work better. It's not just money that motivates employees. They want to enjoy going to work.
In the long run, an office that promotes transparency, growth, communication, and opportunities for workers will ultimately change the world.
Subscribe to timeTracko blogs for more interesting and informative blogs.