15 Awesome Rewards That Your Employees Really Love to Receive
15 Awesome Rewards That Your Employees Really Love to Receive
A crucial component of today's successful company is employee recognition and rewards. You should reward your employees for their effort, hard work, and dedication.
When employees are rewarded for their hard work, they will feel like they belong to the company, boosting their self-esteem.
Praising your employees for good work is so important. An acknowledgment makes people feel great about themselves.
Furthermore, awesome rewards encourage employees to continue doing well. When you reinforce positive behavior, you set an example for your employees, demonstrating what is most important to you.
Employees feel elated when their good work is acknowledged. This motivates them to keep improving and helps them achieve greater goals.
The feeling of appreciation and recognition at work is a crucial component of happiness. The best way to show appreciation is to reward your employees with a meaningful gift.
Rather than the price of a gift, the thought that goes into it matters the most. Make sure you choose gifts for your employees that they will like and appreciate.
Awesome Rewards That Your Employees Really Love to Receive
Personalized, creative rewards have a greater impact on individuals and cultures. Here is a list of awesome rewards that your employees love to receive.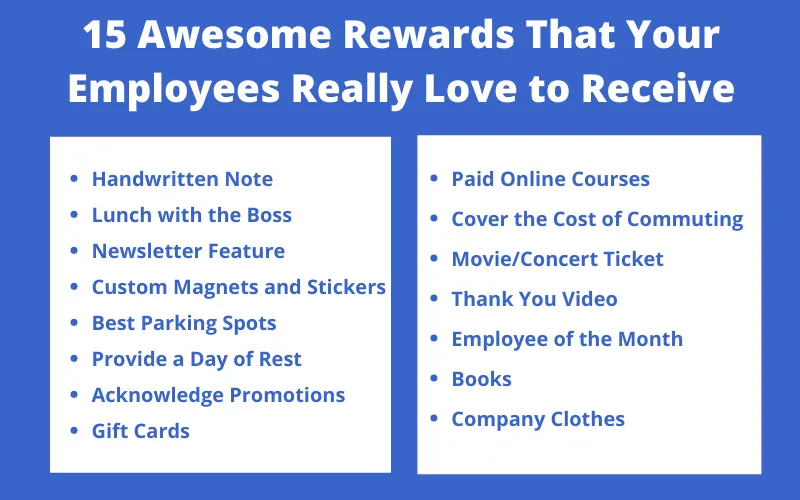 Handwritten Note
It's simple yet highly effective. An unexpected handwritten note is always a delight. It would be nice to give an employee a piece of paper saying how much you appreciate their work in the digital age. Personal notes written by hand show that you care especially.
Thanking someone for something specific can be the ultimate reward. Thank your employee and let them know how much you appreciate their work.
You can print the message on a card or the cover page of their journal. Sincere notes could stay pinned to an employee's wall for years.
You could also use handwritten notes to celebrate birthdays, anniversaries, or major achievements.
Lunch with the Boss
You should take your employees out for lunch and allow them to decide where to go. By setting up dinner, you can increase loyalty, give your employees a chance to pitch their ideas and make them feel recognized and appreciated.
You should take this opportunity to learn more about your employees' interests and hobbies. Avoid discussions related to work as much as possible.
Additionally, you can interact with workers in ways that you wouldn't normally be able to.
Newsletter Feature
There is nothing better than getting public recognition. It's always good to give an outstanding employee a little recognition and appreciation in a company newsletter or blog.
You can give your top employees the recognition they deserve and show your company's value of top talent by featuring them in your company blog or newsletter.
Custom Magnets and Stickers
You can surprise your employees by sending them personalized stickers or magnets with pictures of them or their pets.
Your employees will enjoy receiving personalized stickers or magnets and keep them for a long time.
They're like physical emojis. They're great for decorating laptops, the fridge in the kitchen, a coffee cup, or books.
Best Parking Spots
Front row parking is best. Establish a separate parking area for employees who have performed at their best.
Give it to your winner for a week to show them how much you value them. Plus, you can even put their name on a small sign that says they have the space for the week.
Provide a Day of Rest
When employees put in extra hours or weekends to finish a project, consider giving them an extra day off.
An excellent achievement deserves a well-deserved day off. It may be enough to motivate employees to do their best to stay at home for a day.
Allowing your winners to take a well-deserved break gives them a well-deserved rest. Rest reduces stress and improves overall health.
Acknowledge Promotions
Employees will be overjoyed with the applause they receive. You can call a company-wide meeting or send out an email to announce any promotions or big achievements.
Employees feel confident about their value to the business, motivating them to do their best.
Employees see that the company values them and appreciates what they do for their teams and the company as a whole.
Gift Cards
We all know the feeling of satisfaction we get after buying brand-new clothes and shoes or attending a spa, with the knowledge that our company will pay for it.
A gift card is one of the most effective ways to reward employees. You can offer your team a wide variety of gift cards from their favorite retailers.
Gift cards are available for almost any product or service, from traveling to shopping to dining.
Gift cards that are relevant and thoughtful can leave a lasting impression on the employees.
Paid Online Courses
You can offer to pay for an online course to support your employee. An online course is a great way to learn new skills in a short amount of time. Employees can follow the courses from the comfort of their homes.
Many online learning centers, such as Udemy and Coursera, offer classes in several different fields. If your employee is interested in taking a course related to their area of expertise through an online academy, you can provide it.
Cover the Cost of Commuting
You may have employees whose commute is too long, or their parking is too expensive. Give away awesome rewards of a month of free parking, a gas card, or a bus pass to employees who normally pay for parking or public transportation.
Movie/Concert Ticket
You can give them a couple of movie tickets to get out of the house and watch their favorite movie. Make sure to include some popcorn as well.
Or you can also arrange for tickets for your employees to attend concerts by their favorite bands and reward your employees with a fun evening.
Thank You Video
It is one of the thoughtful and awesome rewards you can give anyone. Create a video to thank your employees. You can post it on YouTube for your employees.
You don't have to be a video specialist to make a good thank you video. You can shoot and edit videos using apps such as iMovie, PowerDirector, LumaFusion, and Adobe Premiere Rush.
You can do all of the editing on your phone. Try them out and show them your appreciation by making a video.
Employee of the Month
This can be a great way to acknowledge employees. The award itself motivates employees to work harder and more productively. Then they aim to earn the award.
This increases their productivity and improves their work quality. Plus, your employees will be happier too.
Books
Giving your employees a book is a great and thoughtful gift. You can provide employees with the materials to better understand a subject. Find out what educational resources your team may benefit from.
Your employees will appreciate it if you let them choose new educational programs according to their interests.
You can also distribute audiobooks and eBooks.
Company Clothes
You can thank employees by offering them logo merchandise and company apparel for free. Everyone loves a free t-shirt or cap.
Branded apparel is also a smart way to increase your brand awareness.
Conclusion
Employees are the most valuable asset of any business. An employee appreciation program shouldn't be limited to one day a year. Take the time to give your employees praise regularly.
There are many ways to show your employees that you care about them while keeping costs down. Recognize high-performers and give them an awesome reward.
Do you have any awesome rewards ideas for employees? We'd love to hear from you. Please comment below, and don't forget to subscribe to the timeTracko blog.