How to Enhance your Team Communication?
How to Enhance your Team Communication?
Effective communication is the key to success while working in a team. It is essential for a manager/supervisor to plan, coordinate, guide, and control their employees' overall behavior.
It is essential to increase employee morale, satisfaction, and misunderstandings to improve productivity.
There should be proper communication among team members to maintain good relations and work effectively while working on the same project.
It also helps to clear employees' expectations and maintain coordination among employees.
Importance of Communication at the Workplace
Here are some importance of communication at the workplace:
Increase Productivity
Everyone has to perform different tasks in an organization even though they have the same goal. While performing individual tasks to achieve a common goal, effective team communication must be effective.
It helps solve any issue that arises while performing individual or everyday tasks. Team members can put forward their expectations and opinions on each other's functions that quickly achieve the goal.
As we know, remote working has become the new normal for many companies around the world and the chances of working with colleagues from different countries is a possibility.  Transcribing a YouTube video to text can be an easier way to communicate with teams who speak different languages and most importantly increase productivity.  This will prevent communication barriers and is an effective way to save valuable work time and make sure all team members understand the message.
For example: if you have a better skill of improving customer relations and communicating with your supervisor about your skill, they will understand your capability.
And might assign you the marketing job, and you can increase your productivity. But if there is a lack of communication, your job dissatisfaction might increase and reduce productivity.
Team Building
To enhance team performance, communication among team members is necessary. It helps to create a good and reliable working environment. It makes work enjoyable and increases team bond and employee morale.
Communication among team members makes team members feel essential in the organization. It builds trust and understanding among team members and breaks the ice.
Also, your team needs to have good relations among team members to achieve your organizational goal efficiently. Therefore to enhance team performance, you need good team communication.
Problem Solving
There are certain times when different issues arise while working on a project. Most people use only on their part, and work may not go in the right direction if team members lack communication.
Your team can quickly solve any issue with a sound communication system.
For example, sometimes, you may confuse your work while performing tasks in a team. And if you don't clear your confusion, your career can affect others' work.
Therefore, communicating with your leader about your confusion can eliminate the team's chances of occurring.
Maintain Good Working Relation
Communication helps reduce work issues and maintain a good working relationship and working environment.
You should often interact with your colleague to maintain a healthy work relationship.
A good working relationship is essential to improving productivity and job satisfaction. It brings a sense of feeling among employees and effectively motivates them to achieve organizational goals.
Therefore, organizations should maintain proper communication channels for effective communication among employees.
Feedback
Healthy organizational communication allows employees to receive and provide feedback, which is essential to improve their performance. Feedback can be in any form, either oral or written.
Similarly, feedback from supervisors and managers is essential to make the right decision at the right time.
For example: as a manager, you plan to collaborate with another company for a project. Before making the final decision, it is better to consult with your team members to provide feedback to make decisions.
If an organization doesn't have a proper communication system, employees cannot provide adequate feedback.
Innovation
In an open communication system in an organization, employees are free to express their ideas and creativity.
Employees know different fields and can generate ideas in their respective fields. Their ideas can be used to produce new products and services.
If there is no open communication system, you might not be able to express your ideas. And you might not be able to contribute to organizational progress.
Tips To Enhance Your Team Communication
For the smooth functioning of a team, it is necessary to have effective communication. To have effective communication, here are some tips to improve team communication:
Establish an Open-Door Policy
Open door policy is a communication policy where the senior's door is open for every subordinate to encourage subordinates' transparency.
An open-door policy can improve communication and allow employees to communicate with their seniors.
Employees can knock on the door of their seniors whenever they need guidance and support. They don't need an appointment to communicate.
Open door policy provides no room for confusion and provides message transparency. It provides an environment for healthy discussion at the workplace.
Provide Two-Way Communication
Two-way communication is when both sender and receiver participate in the communication process. Two-way communication can occur from the team leader to team members and vice versa.
Team leaders should know & guide about work progress and problems. They should encourage them to ask questions and not criticize them.
Similarly, team members should not fear or have a second thought while communicating with seniors and team leaders. It helps to avoid confusion and increase job satisfaction.
Provide a Platform For Anonymous Feedback
Employees need leaders' feedback, and leaders need employees' feedback. Feedback is essential to improve performance.
Without feedback, the communication process is incomplete. Feedback can be positive as well as negative.
Sometimes you might not be able to provide negative feedback openly. This may be due to many reasons, such as fear of getting fired, hurting someone's sentiments, and many more.
For this reason, an organization should have anonymous feedback. With anonymous feedback, you can provide feedback without any fear.
Ask Questions
An organization always values employees who ask questions. When working in a team, you should not hesitate to ask questions.
If you have any confusion, you should ask right away. Performing your work with a mess can hamper your team's performance.
Proper Communication Tools
Communication tools are necessary for both remote employees and onsite employees. You can use communication tools like Skype, Zoom, Google Hangout, Cisco Webex to communicate remotely.
You can use these tools to have audio and video conferences. While working onsite, you don't need to keep knocking on your supervisor's door to clear your confusion. You can ping them and discuss your issue anywhere.
Create An Environment Of Trust And Confidence
Organizations must create an environment of trust and confidence and not leak communication among team members. There must be sound plans and policies to ensure subordinates about confidentiality.
Policies should be administered judiciously and fairly without fear and favor. An organization should use trusted communication tools like Skype, Zoom, Slack, etc.
Organize Standup Frequently
Standup meetings are popular in agile development methods that help you cross-check your team's progress. It is quite different from a weekly meeting.
When working in a team, you and your team members should keep updated about work progress.
It is highly recommended that an organization have daily or weekly meetings to keep track of work progress.
You can share the issues you are facing while performing your tasks. These standups are helpful to remind you about the goal of the team.
Best Communication Tools For your Team Members
Here are some communication tools which are best for team communication:
Zoom is a popular cloud-based communication tool that allows you to conduct meetings, videos, webinars, conferences, etc. It is suitable for all kinds of business.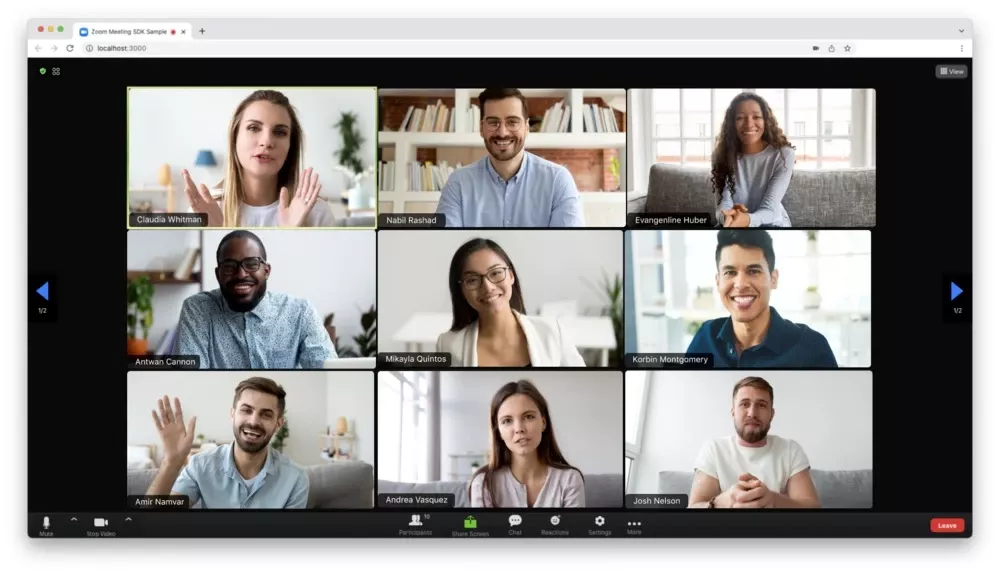 It supports 1000 participants at a time for video conferences. Its free version allows up to 100 participants. And you can have a video conference for 40 minutes.
Zoom has been ranked as the number one communication tool during this pandemic. Many famous companies like Uber, Sophos and Slack use Zoom.
Features of Zoom:
Use the recording feature to record your meeting.
It allows you to switch the presenter.
Has a screen sharing feature.
Schedule your meeting using zoom.
Offers integration with Gmail, iCal, Outlook, and many more.
Allow you to add a virtual background.
Benefits of Zoom:
You can quickly join zoom meeting using its invite URL code
It is a cross-platform device
Drawbacks of Zoom:
The chat feature needs to be improved
Has low video quality.
Pricing of Zoom:
It has a free plan
Its pro plan costs $14.99 per month
Its business plan costs $19.99 per month
Available for IOS, Android, macOS, Windows, Linux, and Blackberry.
Skype is a cloud-based collaboration software part of the Microsoft office suite. It is suitable for remote communication.
You can use skype for sending text messages and have audio and video conferences.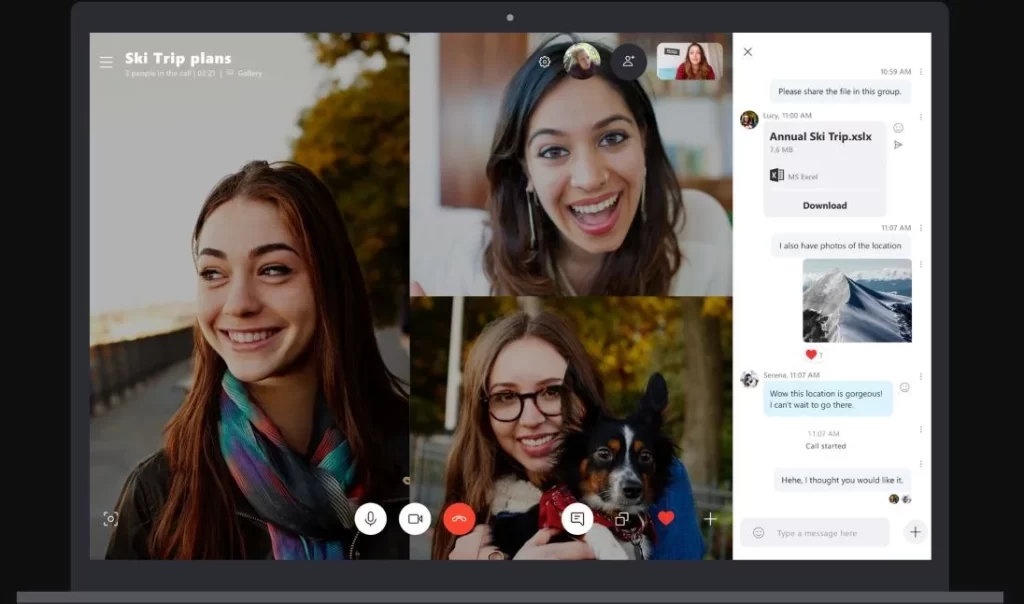 With this app, you can have audio and video conferences with more than 200 people. It provides you with real-time translation with good sound and video quality.
One of the great features is that you don't have to download the app to organize meetings. And during sessions, you can mute attendees, invite people, hide attendees' names, and more.
Features of Skype:
Has HD video calling features.
Provides a screen sharing feature which is very useful during conferences and meetings.
Call recording features allow you to record the meeting and conference.
Its subtitle feature provides you with live subtitles.
Has affordable international calling rates.
Benefits of Zoom:
It is cheaper and faster.
Can have private one-to-one audio, video, and text messaging.
Can have real-time communication
Drawbacks of Skype:
Quality of audio and video call depends upon our internet service.
Pricing of Zoom:
Business Essential plan costs $3 per user per month
Business plan costs $10 per user per month
Business premium costs $10 per user per month
Available for Android, IOS, macOS, and Windows.
Google Meet is an affordable communication tool suitable for businesses and individuals. It can serve 250 participants in a meeting and efficiently manages your calls.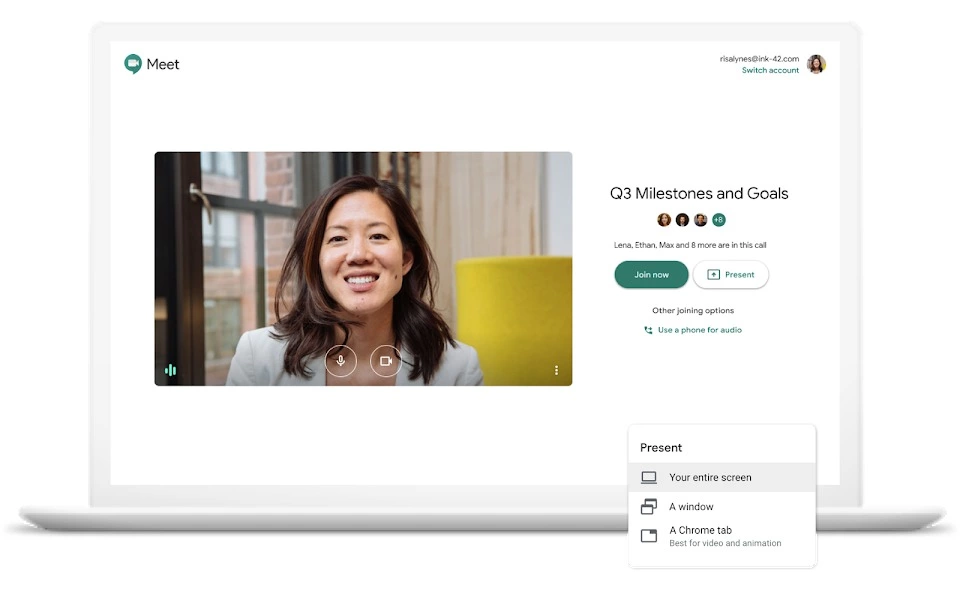 Google Meet was released in 2017 and is an upgraded version of google hangout. You can schedule your meeting using Google Calendar, Gmail, Drive, etc. Live streaming of google meet can handle 100000 viewers within a domain.
A cross-platform communication app controls meetings, screens sharing, and messaging participants during sessions.
One of the app's best features is its background noise cancellation feature, which cancels background disturbing noises.
Features of Google Meet:
Has a screen sharing feature that allows you to share your screen with other participants.
Allows for real-time captions.
It has a recording feature that allows you to record your meeting.
Its noise-canceling feature cancels your background noise.
Have private one-to-one chat or group chat using its remote chat feature.
Benefits of Google Meet:
Easy to use
Has an excellent security feature
Inexpensive
Drawbacks of Google Meet:
Has a messy dashboard
It only focuses on google product
Does not allow a large number of participants
Pricing of Google Meet:
The basic plan cost $6 per user per month
Business plan cost $12 per user per month
Enterprise plan cost $25 per user per month
Available for IOS, Android, and Web browsers.
uShare.to is a communication and collaboration tool suitable for team communication. With uShare.to, you can have an audio, video conference, individual, and group chats.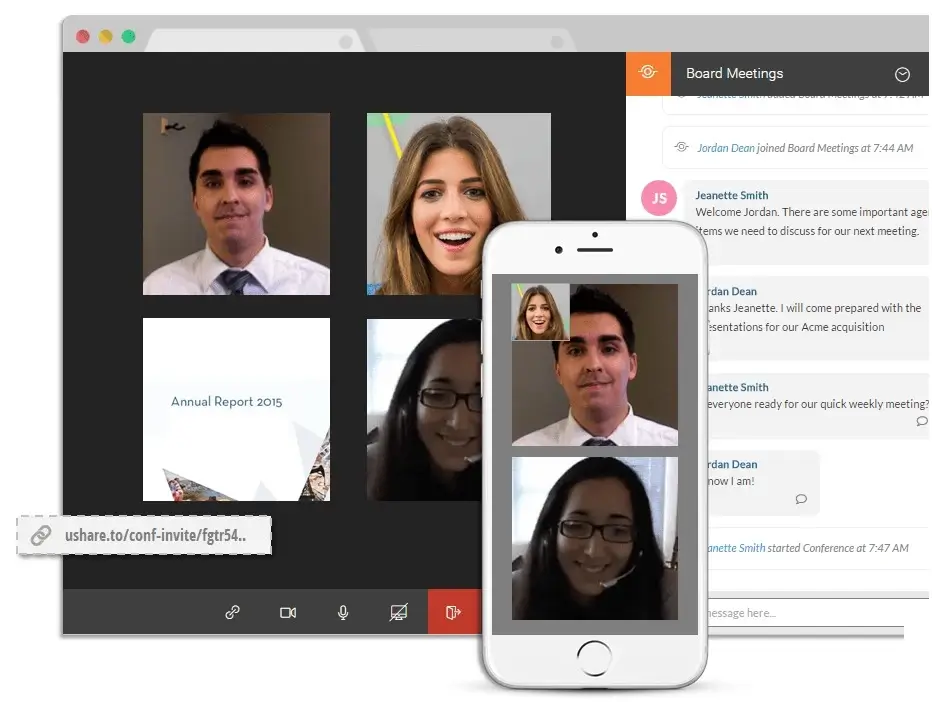 uShare.to was released in2004 by HyperOffice. uShare.to support three languages: English, Japanese, and Spanish.
It offers integration with apps like Google Drive, Gmail, Dropbox, etc. It provides a team workspace that allows you to manage projects, share files, complete work with teammates, etc.
Features of uShare.to:
It has a real-time chat feature that allows you to have a one-to-one private chat or group chat.
Task management feature that manages tasks and shares with your colleague.
Schedule meetings using the meeting management schedule.
Provides screen sharing feature
It has security features like two-factor authentication, biometric, password sensitivity, and more.
Drawbacks of uShare.to:
Cannot integrate uShare with many apps.
Notification feature needs to be improved.
Benefits of uShare.to:
It is web-based software.
Provides unlimited workspace.
You can keep your tasks, contact, events, notes, and documents organized.
Good security feature
Pricing of uShare.to:
Available for IOS, Android, and Web Browsers.
Slack is a team communication and collaboration tool that helps you stay productive. It is the most suitable app for distributed teams. Use the app to collaborate with your teammates to complete the task.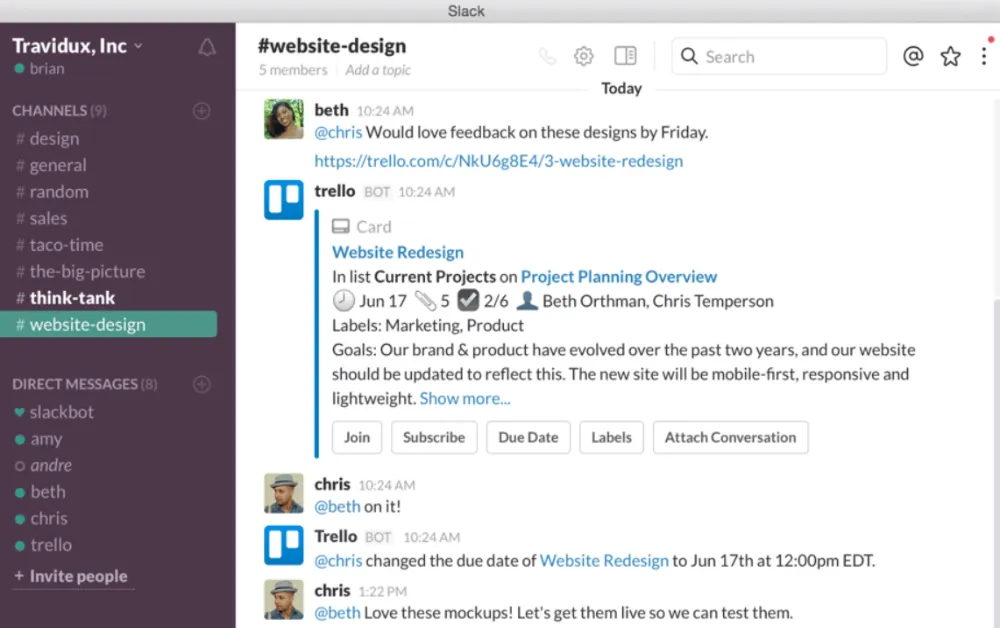 Slack was initially released in 2013 and is available in 8 languages. Many renowned companies like Target, Vodafone, Oracle, IBM, etc.
It allows you to have audio and video chat and send messages using a shared workspace. You can assign admin and set permission in your workplace. It will enable you to integrate the app with a to-do list that manages your to-do lists.
Features of Slack:
Search and look at past events that make it easier for you to remember things.
Share your files from Google Drive, Dropbox, and WeTransfer.
Provides unlimited channels for team collaboration.
Share channels to keep your clients, vendors, or partners in the loop.
Has auto-reminder feature
Benefits of Slack:
Offers integration with the app Zapier, Github, Dropbox, Heroku, and more
It is highly customizable
Has a simple user interface which makes the app easy to use
Drawbacks of Slack:
Its audio and video quality is low on the free version
Quite expensive
Sometimes notification is not received on time
Price of Slack:
Standard plan costs $6.67 per person per month
Plus plan cost $12.50 per person per month
Enterprise grid plan has custom pricing
Available for Android, IOS, macOS, Linux, and Windows.
Flock is a communication and collaboration tool suitable for remote employees to increase productivity.
You can use the app to share your work progress and a to-do list with your team, enabling you to work faster.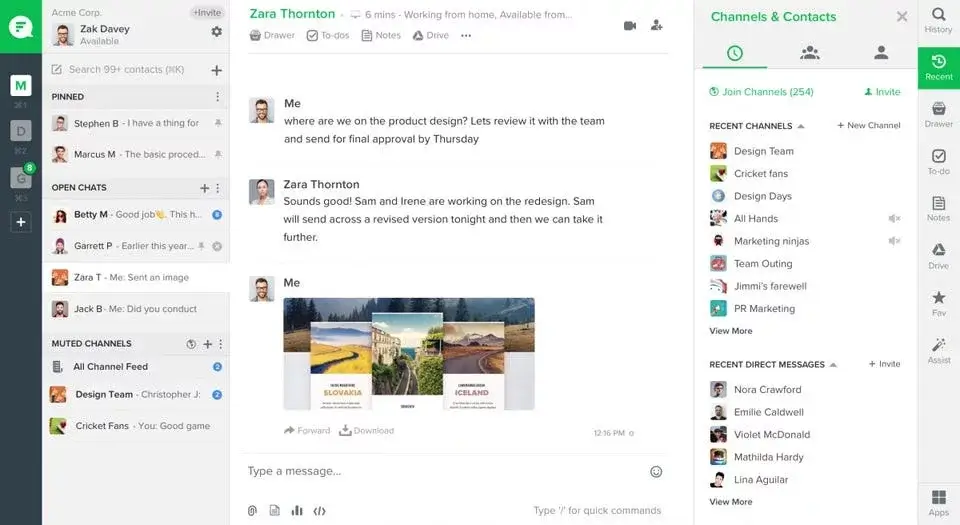 There are more than 30000 companies that are using Flock. Some renowned companies like Outward Bound, Holybelly, Voonik are using flock.
In its Pro and Enterprise plan, you can get storage space of 10 GB and 20 GB, respectively. And this plan even offers a screen-sharing feature that is not available in the free plan. The app allows you to set reminders to share code snippets and files.
Features of Flock:
It has a channel messaging feature that allows you to organize your conversation.
Allow you to have one-to-one communication as well as group communication.
Share any kind of file.
It allows you to invite guests to complete tasks.
Has an announcement channel feature to share important news and updates.
Benefits of Flock:
It is inexpensive
To-do list, notes, reminder tool, helps to boost team productivity
Has unlimited call duration
Drawbacks of Flock:
Does not have many features
Has a complex User Interface and makes the tool difficult to use
The free plan does not provide group audio and video call
Price of Flock:
Its a free starter version
Pro plan costs $4.50 per month
Enterprise plan costs $8 per month
Available for IOS, Android, macOS, Windows, and Linux.
Fleep is a communication and collaboration tool for team projects, remote employees, and corporate houses.
The app allows you to share your files with others and provides one-to-one conversations and group conversations.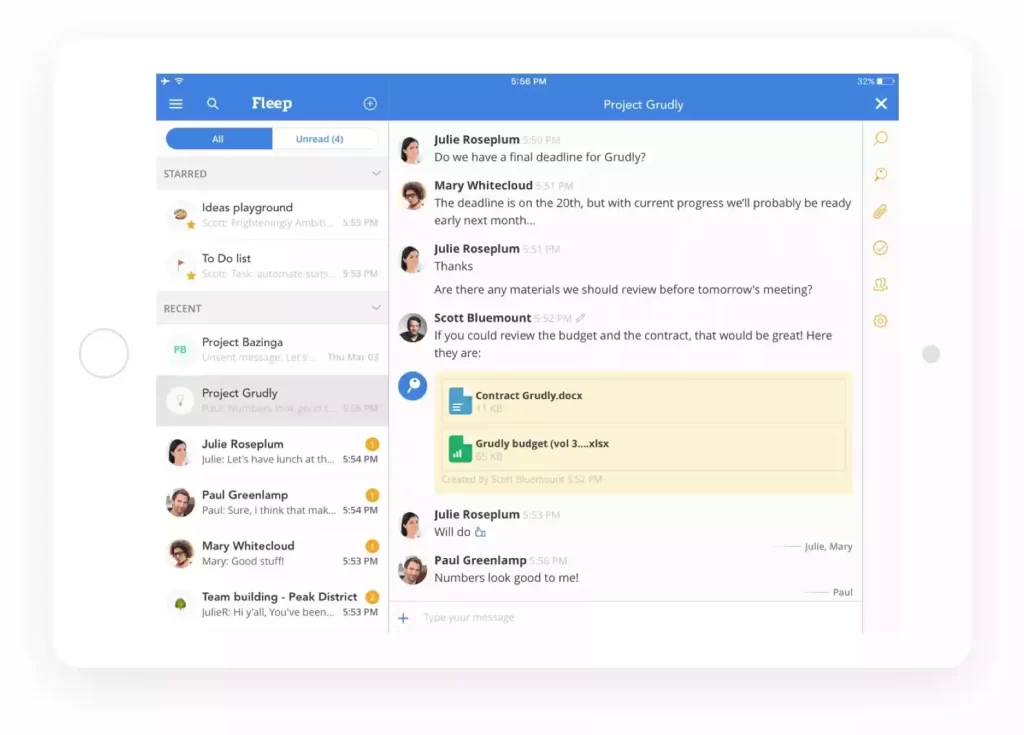 It allows users to join multiple teams and manage communication efficiently in one place. Instead of online and offline features, fleep lets you see teammates' profiles to see when they were last active.
Features of Fleep:
Its pinboard feature allows you to pin meeting notes, contact details, and essential tasks and links.
Has file drawer features to store your files and folders.
Has screen sharing features to share your screen during audio and video conferences.
The "Read" indicator shows team members participating in the conversation.
Offers integration with apps like Jira, Sameroom, IFTTT, Whereby, Trello, and more.
Benefits of Fleep:
You can send emails by using the app
Its simple UI makes the app easy to use
It is inexpensive
Drawbacks of Fleep:
Offers integration only for 20 apps
Calls are made using the third party
Price of Fleep:
Its basic plan is free
Business plan costs €5 per user per month
Enterprise plan has custom pricing
Available for IOS, Android, macOS, Windows, and Linux.
Chanty is an AI-based communication and collaboration tool that boosts employees' productivity. It allows you to make audio and video conferences and provides many fun features.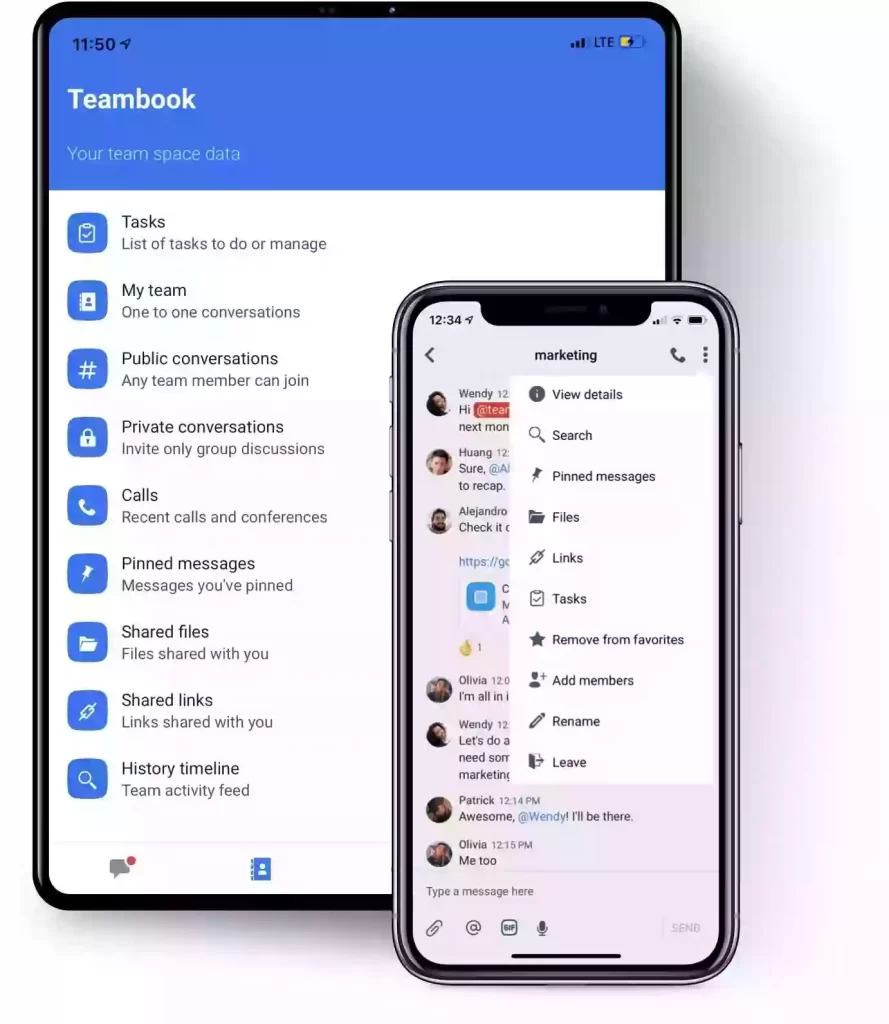 The app provides a team book menu to save your files, link, and messages. It allows you to manage your tasks, prioritize them, and show project status. It also provides Kanban features that help to optimize your workflow.
You can use the business plan if you want features like unlimited integration, screen sharing, one-to-one audio, and video call. This plan offers a 20GB file storage capacity.
Features of Chanty:
Allow you to change the theme of the app.
Ping your team members using its mention features
Code snippets features allow you to share a code block with the team.
Has team book features to organize tasks, conversations, and much other content.
Allow you to pin ideas, notes, and reports.
Benefits of Chanty:
It is inexpensive
Simple to use
Has a built-in task manager facility
Drawbacks of Chanty:
Does not integrate with many apps
Does not have group chat features
Price of Chanty:
It has a free version
Business plan cost $3 per user per month
Available for IOS, Android, macOS, and Windows.
Benefits of Communication with Team Members
Communication is essential in maintaining team communication and achieving a common goal. Here are some benefits of contact with team members in the workplace: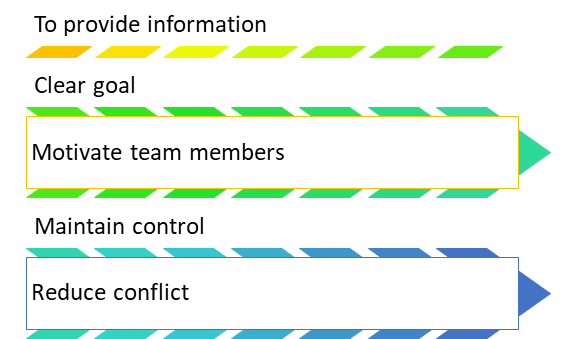 To Provide Information
Organizations can use written or oral forms to provide information to team members. To provide an annual report and new official procedures, we need meetings.
If you have a remote team, you can use internet facilities to communicate. You can use communication tools like Gmail, skype, zoom to provide information to conduct online meetings.
Clear Goal
Your goal might differ from your team members while working in a team. You should be clear about team goals, and the team should be clear about your plan.
Communication helps leaders to link team goals with their goals. Thus, for this reason, effective communication is essential while working together in a team.
Team leaders should frequently communicate with team members. This helps to keep reminding employees about the goal of the team. And team leaders can also know about problems team members face achieving goals.
Motivate Team Members
Team leaders can provide feedback to employees, and employees can improve their work. Leaders can also use oral or written communication to provide criticisms, praise, and reward. This helps to motivate members.
Maintain Control
There might be confusion about job assignments when there is a lack of communication. Team leaders may not control workflow due to a lack of communication. Thus, team leaders should contact to maintain control over employees.
Communication is necessary for the team to provide information about the duties and responsibilities of team members.
Duties and responsibilities are a form of written communication. Thus, communication is necessary to maintain control among team members.
Reduce Conflict
Conflict is the opposite interaction among employees. Conflict can be a hurdle to achieving goals.
A dispute arises as a result of misunderstanding and lack of communication. Good communication practice is necessary to reduce competition among team members.
There must be open-door policies. Open door policy allows employees to communicate with one another without any hesitation.
Workplace Communication VS Remote Communication
Workplace Communication
Scheduling meetings is more comfortable in the workplace since employees are nearby.
Workplace communication is synchronous.
You don't need any technical requirements to have communication in the workplace.
In workplace communication, replies and feedback can be quick.
It creates relationship-building opportunities.
In workplace communication, there are a limited number of participants.
Online Communication
Team members can be in different time zones, making it difficult to schedule meetings.
Online communication can be synchronous as well as asynchronous.
You need technical requirements like computers, telephone, internet to communicate online.
In online communication, you need to wait for a reply and feedback. You need to be patient while having online communication.
It has limited relationship-building opportunities.
In online communication, the number of participants is unlimited.
Conclusion
Internal and external communication in an organization can be challenging if useful communication tools are not applied. You can use the above methods and tools to enhance your team communication.
I have tried to mention some of the best communication tools you can use for your team. However, please feel free to comment below if I have missed any important tools.
Also, let me know what your favorite communication tools you use at your workplace are? Let us know in the comment section below.
Subscribe to us for more interesting blogs.