Best Online Whiteboard Tools for Team Collaboration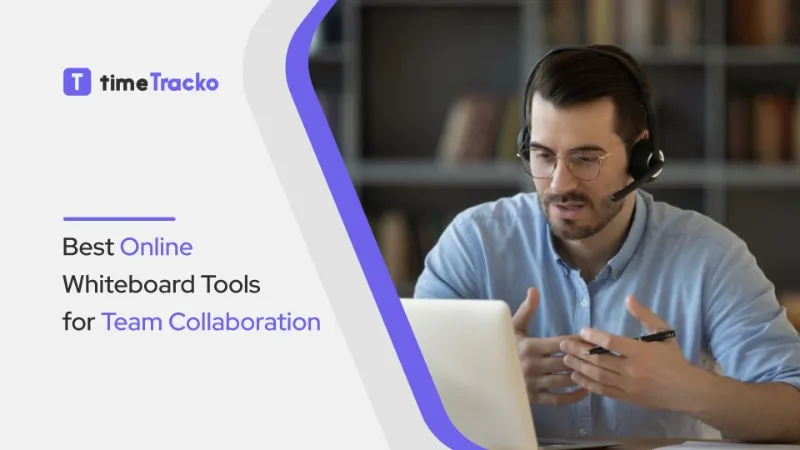 When we think about team collaboration, the first thing that springs to mind is a whiteboard. Physical whiteboards, the original collaboration tool, enable teams to discuss ideas, plan, create prototypes, and explain information to coworkers.
There's no shortage of new productivity and team collaboration tools that appear on the market only to fade shortly. However, several real-time collaboration technologies have shown to be successful and long-lasting.
For many years, people have utilized online whiteboards and traditional blackboards to brainstorm, plan, explain, and teach. While the bulk of these tools have been digitalized, the physical boards have been a long-standing presence in many organizations.
Collaborative whiteboards have shown to be quite useful for setting down ideas and plans in a big, visible format. An idea can be rapidly written down if it strikes someone.
Whiteboards are great for team meetings when everyone has to work on ideas in the same room. However, it is no longer necessary to gather the entire office in one space in the digital age.
On the other hand, whiteboards only operate when all of your coworkers are in the same room. Whiteboards are being replaced by their digital equivalent as work becomes more remote.
Here we will discuss some of the Best Online Whiteboard Tools for better productivity and performance.
8 Best Online Whiteboard Tools for Collaboration
Here are the 8 best online whiteboard tools for collaboration with features, benefits, drawbacks, pricing details, and supported platforms.
Miro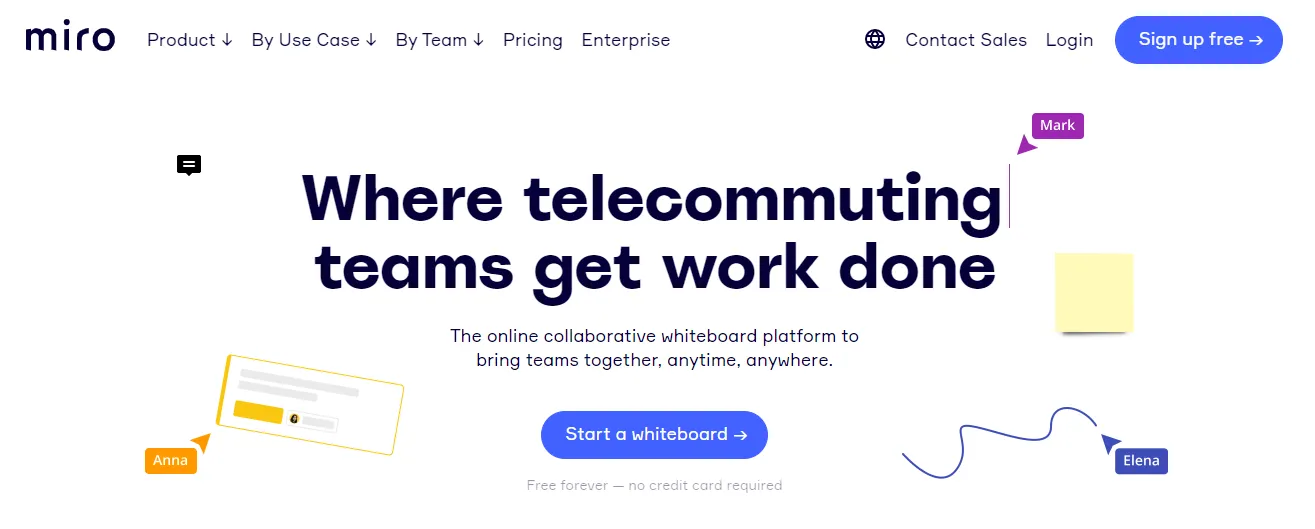 Miro is an online collaborative whiteboarding tool that allows remote teams to collaborate successfully on everything from brainstorming to planning and managing agile processes.
It is whiteboard software that allows you to create an infinite canvas. You can pick from a variety of widgets, including arrows, shapes, post-it notes, freehand drawing, and smart drawing.
With Miro, you can make use of a comprehensive range of collaboration tools to make cross-functional teamwork a breeze: employ video chat, presentations, sharing, and a variety of other features.
In digital workplaces, you can collaborate in real-time. You can also leave asynchronous notes for team members to read. Screen sharing and video conferencing are also available. Finally, you can export Miro frames to PDF and utilize them in presentations.
Features of Miro
Miro has a large set of features which makes it popular in the market. Some of the best features of Miro are as follows:
Templates and frameworks
Infinite canvas
Provides widgets such as sticky notes, freeform pen, shapes, smart drawings, arrows, and more
Mouseover collaboration
Screen sharing and presentations
Integrated video chat and commenting
Accounts and User Administration
Product development
UX research and design
Benefits of Miro
It is easy to use once you have some experience.
It helps in creating and innovating tasks faster.
It enhances collaborative features.
It provides standardized and centralized communication.
It provides enterprise-grade security.
Drawbacks of Miro
It seems hard to use for absolute beginners.
Poor customer support.
Pricing of Miro
It offers four different pricing plans with several features.
Free: It is free to use.
Team: It costs $8 per member/month billed annually.
Business: It costs $8 per member/month billed annually.
Enterprise: Contact the vendor for details.
Availability: Web, iOS, Android
Microsoft Whiteboard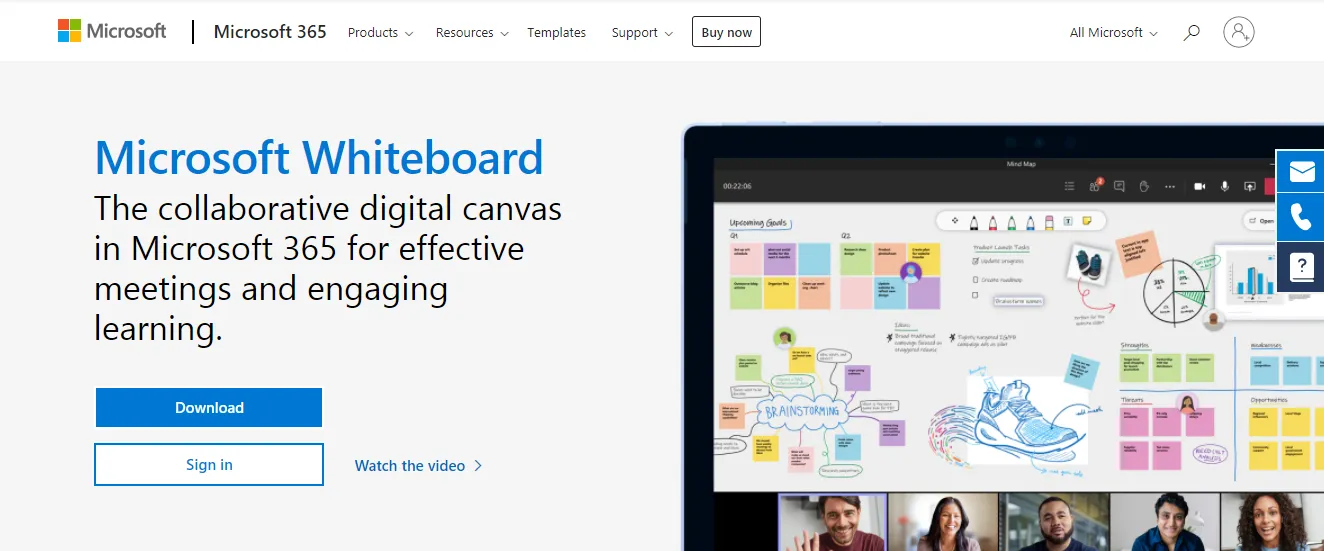 Microsoft offers its collaboration tools for online whiteboards. Microsoft Whiteboard is an excellent tool for real-time collaboration and education.
Microsoft Whiteboard is a freeform, digital canvas where people, content, and ideas can all interact. You can use a whiteboard to collaborate with your team to complete various tasks, whether your team is in the same area or several locations. Members of the team can collaborate using their own devices.
Drawing, line straightening, and shape identification are all strong with Microsoft Whiteboard. Touch displays are the finest for it. Collaborative brainstorming sessions are possible when teams work together.
It also works well with other Microsoft products such as Office 365 and Teams.
You can use Microsoft Whiteboard for free on your iPhone, iPad, Android device, PC, or web with a Microsoft account. You only need a Microsoft account, which is usually free, such as Hotmail.
Features of Microsoft Whiteboard
Some of the exciting features of Microsoft Whiteboard are as follows:
Drawing and Markers
Templates and shapes.
Drag and drop
Mind mapping
Integrates with sticky notes, Office 365
Enterprise Use Cases
Sharing and collaboration
Benefits of Microsoft Whiteboard
It helps to visually brainstorm your projects.
It has full integrations with Microsoft Teams.
You can share digital canvas on any device.
It helps to save and resume with ease.
It provides a search facility.
Drawbacks of Microsoft Whiteboard
It lacks advanced tools and shapes.
The tool palette is limited.
Pricing of Microsoft Whiteboard
It is free to use. You must have a Microsoft Account for accessing it.
Availability: Desktop, Web, iOS, Android, macOS.
Limnu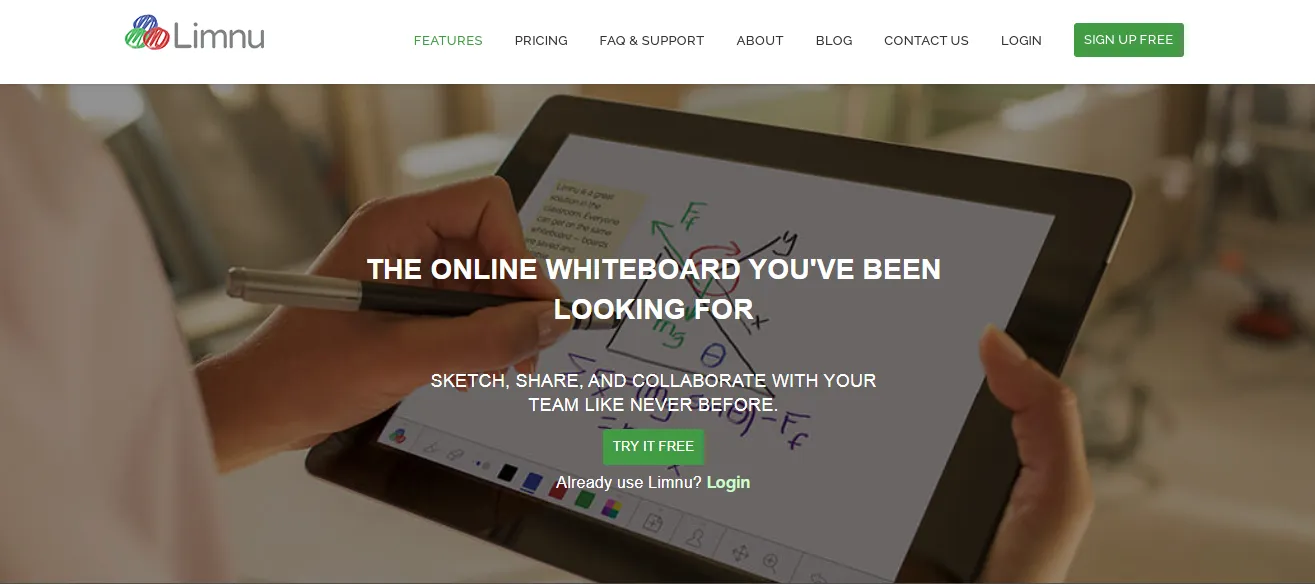 Limnu is a collaborative online whiteboard designed for online meetings and video conferencing that is quick and easy to use. Limnu allows you to sketch, plan, and think with others at the same time.
It provides a realistic take on the virtual whiteboard experience. The tools provided to consumers are similar to those found in competing products, but Limnu's administrative functions set it apart.
Limnu provides you with a canvas with no edges or boundaries. Your boards can be as large as your team needs. You can use Slack integration and external 3rd parties to form groups and share boards for team communication.
You can also assign administrative roles to team members. There's a bulk editing tool as well as excellent searching and sorting features. The refresh button on Limnu is lightning quick.
Limnu features a number of keyboard shortcuts as well. The letter 'E' is used to open the eraser, while the letter 'S' is used to select things on the screen. The letter 'M' allows users to navigate around the whiteboard.
Features of Limnu
Some of the best features of Lmnu are as follows:
Project Management
Content Management
Collaboration Tools
Zoom (Pan)
Brainstorming
Discussion boards
Reporting (Analytics)
Annotation and Markup Tools
Real-time editing
Diagramming
Benefits of Limnu
It is intuitive to use.
It helps with brainstorming and project planning.
It provides real-time collaboration.
It offers video chat.
It has team admin control.
Drawbacks of Limnu
Slow in loading images and other rich media.
Need to Upgrade their product as it seems outdated.
Pricing of Limnu
It offers three different pricing plans.
Free: It is free of cost with limited features.
Pro: It costs $5/month or $50/year
Team: It costs $8/month/team member OR $80/year.
Availability: Web, iOS
AWW App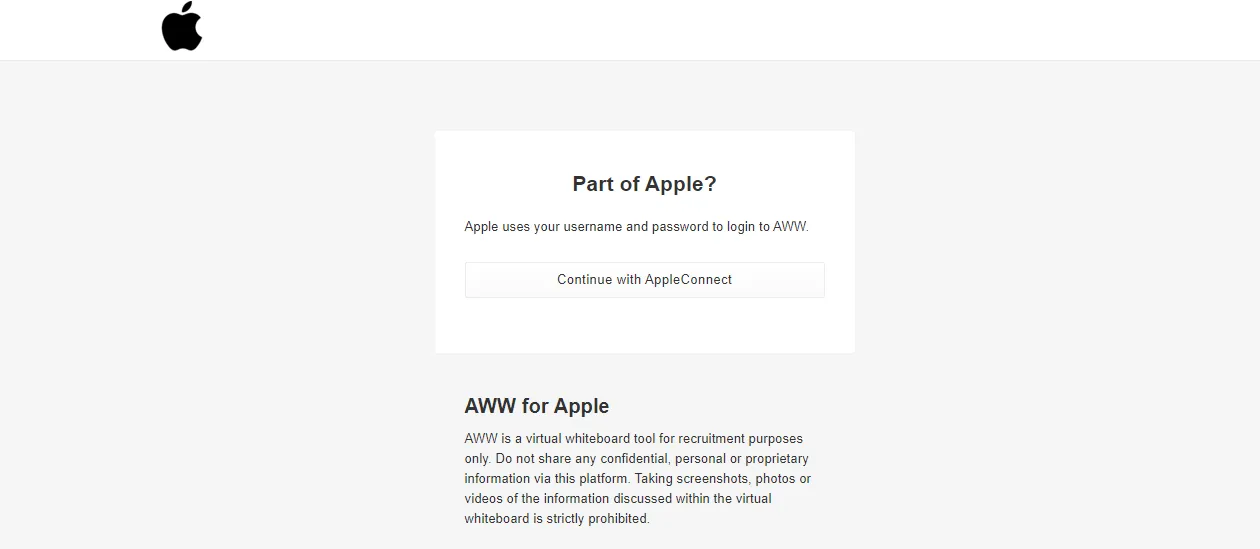 AWW App is a touch-friendly online web whiteboard app that makes sketching, collaboration, and sharing simple.
AWW App is a 2016 online whiteboard platform from the United States. It is divided into three sections: business, education, and API.
The AWW App is completely online. It's a really simple platform to work with. With the basic version, anyone can get started in seconds. The premium version comes with several additional features. It's great for team communication since it allows administrators to manage members.
You can send a link, an email, or an iFrame to share a copy of the board. Managers can also assign tasks to team members for project management. Boards can be uploaded and downloaded as PDFs. AWW App connects with Google Classroom for educational purposes.
Features of AWW App
Some of the interesting features of AWW App are as follows:
Touch-friendly
Collaboration tools
Brainstorming and sketching
Project planning
File sharing
Document storage
Communication management
Customizable templates
Benefits of AWW App
It is super easy to use.
Easy to draw sketches and edit.
It enhances collaborative features.
Sharing of the canvas is possible.
Drawbacks of AWW App
No underline option for text.
You cannot change the Eraser size.
Connection problem.
Pricing of AWW App
It provides a free trial version.
Availability: Web, iOS, Android.
Conceptboard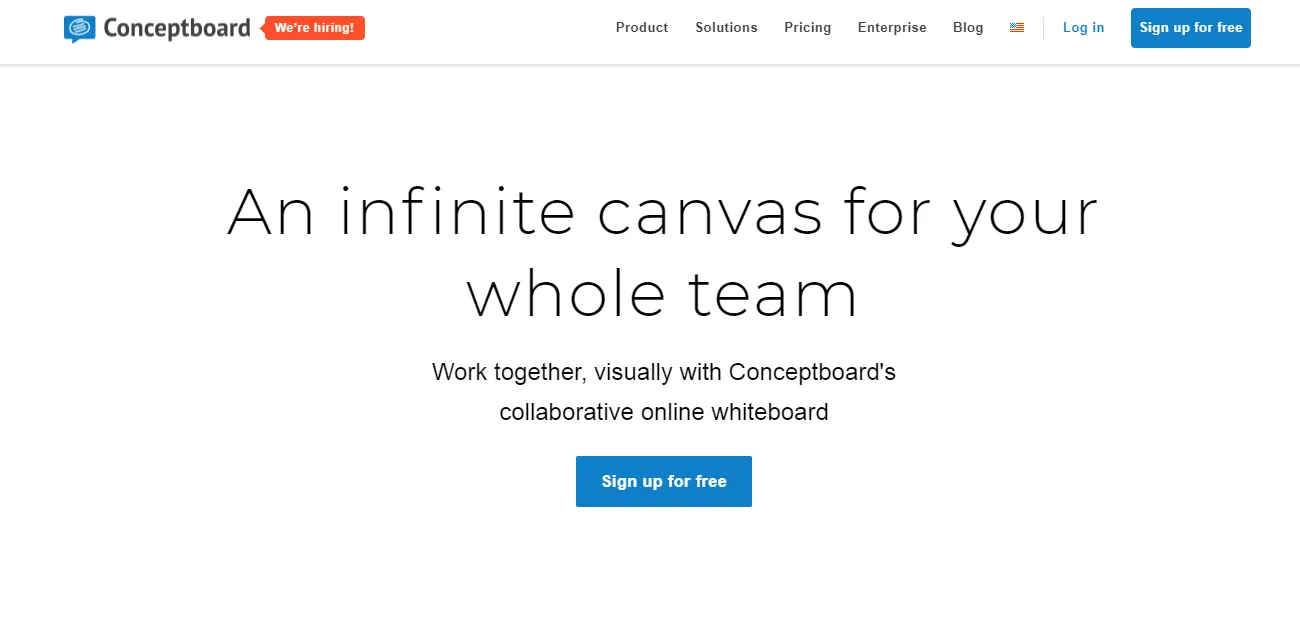 Conceptboard is an online collaborative whiteboard that allows teams of all sizes to concentrate on projects and interact in real-time and asynchronously.
Conceptboard is a high-quality whiteboard application. It's ideal for brainstorming, design collaboration, project management, and remote meetings in agile teams. It has an infinite canvas.
It is a visual project management tool that allows you to share ideas and track the progress on visual projects like UX design.
You can use Conceptboard to accelerate the review and approval process. The ability to annotate files and make comments speeds up the process of gathering and compiling everyone's feedback.
There are several visuals, such as sticky notes and mind map icons, as well as templates. When members of your team make changes to a board, you'll receive real-time notifications. Live conferences with live monitoring are available. Conceptboard also keeps track of information such as the number of boards you create, projects, and tasks you complete.
Features of Conceptboard
Some of the best features of Conceptboard are as follows:
Seamless collaboration
Auto syncing
Real-time feedback
In-app email alerts
Presentation mode
Audio and Video calls
Project management features
Integrated board
Document management and sharing
Search/Filter
Benefits of Conceptboard
Graphic design.
It helps in website prototyping.
It provides unlimited collaborators.
It keeps track of changes.
It offers hassle-free file uploads and sharing.
It provides high security and access control.
It has features of commenting and discussing your content.
Drawbacks of Conceptboard
Pages get split when you copy PPT or PDF documents to the board.
Needs more advanced features.
Pricing of Conceptboard
It offers four different pricing plans.
Free: It is free to sign up and use. But, it lacks essential features.
Premium: It costs $6/user/month billed annually OR $7.50 billed monthly.
Business: It costs $9.50/user/month billed annually OR $12 billed monthly.
Enterprise: Contact the vendor for detailed information.
Availability: Web, Windows, iOS, macOS
Ziteboard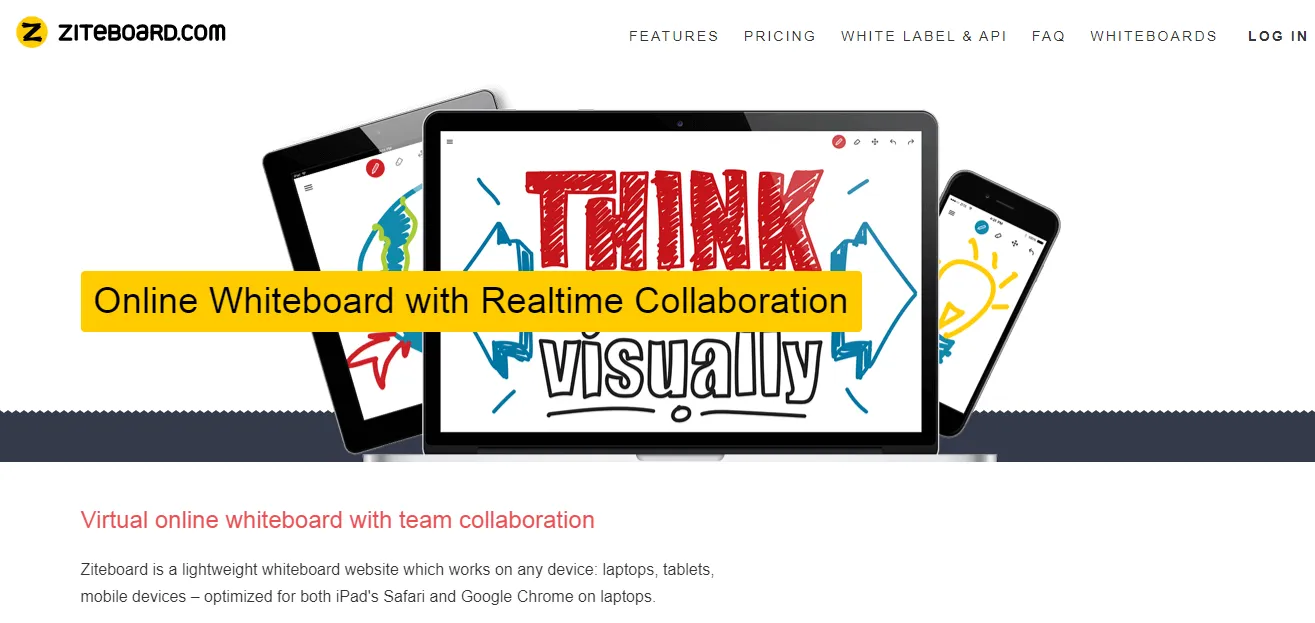 Ziteboard is the greatest zoomable online whiteboard for collaboration on every desktop or mobile device. Its goal is to help in real-time collaboration, mostly for educational purposes and general team brainstorming.
There is no need to set up this whiteboard, and users are not required to log in. The boards have permanent URLs that you can share. Users can publish boards to the web and feature them in presentation mode, making Ziteboard stand out.
Wireframes, workflows, and basic whiteboarding material can all be designed with Ziteboard. You get to sketch freehand before Ziteboard smooths out your lines and recognizes your shapes.
You can insert pictures and PDFs, graphs, sticky notes, and navigation boxes in Zitebooard. Text chatting and audio and video conferencing features are available in real-time on interactive whiteboards. You can create high-resolution PDFs from digital whiteboards.
Features of Ziteboard
Ziteboard is highly featured. Some of the features of Ziteboard are as follows:
Vector graphics, zoomable user interface
Device independence Lightweight
Synchronization that is lightning quick and in real-time
Reliable disconnection handling
Board URLs that are permanent and shared
Options for personalization
Integrations
Document handling
Benefits of Ziteboard
It provides infinite space and zoom level.
It provides full webinar services.
Easy collaboration.
It helps with strategic planning.
It helps in system design and drawings in real-time.
It is easy to use.
Drawbacks of Ziteboard
Some tools are buggy to use.
The price seems high.
Pricing of Ziteboard
It offers five different pricing plans based on the period.
Free: It is free to use.
One Week Pro: It costs $5.
Monthly Pro: It costs $9.
Annual Pro: It costs $85.
Enterprise: Contact the vendor for more detail.
Availability: Android, iOS, Web
Whiteboard Fox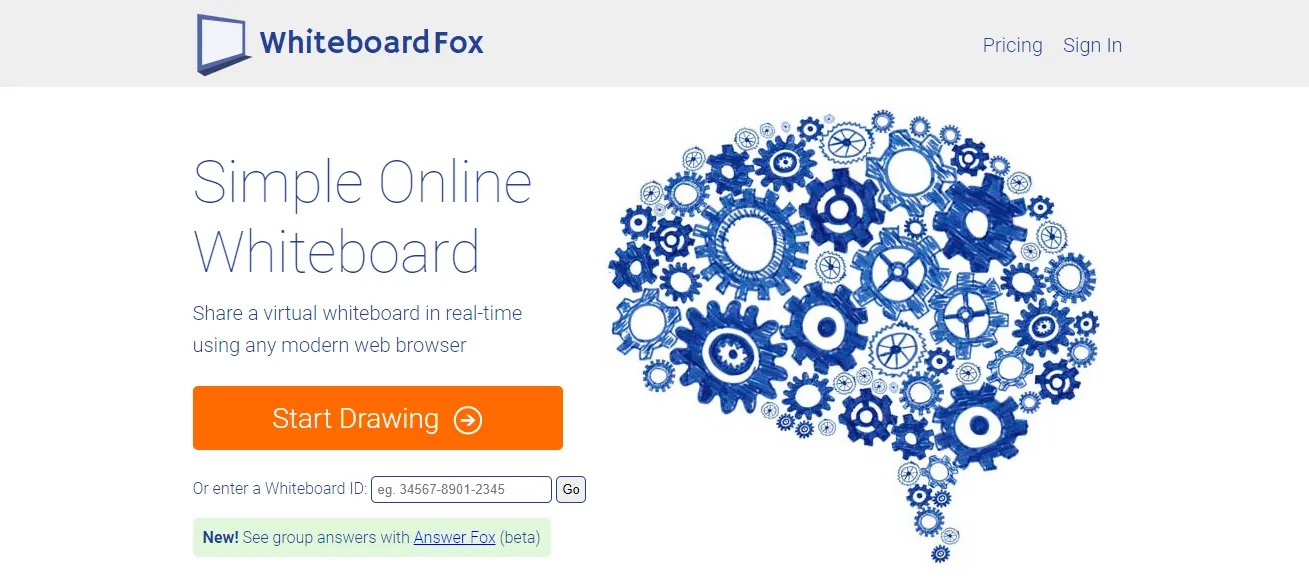 WhiteboardFox is a cloud-based whiteboarding service that allows companies to communicate, visualize, and brainstorm ideas in real-time on a virtual whiteboard. Members of the team may use the platform to create and share whiteboards with colleagues through unique URLs, as well as track changes across multiple devices.
When it comes to free online whiteboards, Whiteboard Fox is a trusted brand. It's incredibly easy to use in your web browser, and you can start drawing immediately.
Whiteboard Fox is a simple-to-use virtual whiteboard that doesn't require any setup. The only thing consumers need to do is go to whiteboardfox.com in their browser.
Features of Whiteboard Fox
Some of the exciting features of Whiteboard Fox are as follows:
Task management
Collaboration software
Zoom (Pan)
Brainstorming
Board discussion
Making a report (Analytics)
Tools for annotation and markup
Dark theme
Benefits of Whiteboard Fox
It helps to share documents with ease.
Quick syncing.
Easy to use the app.
It provides multiple collaborators.
Drawbacks of Whiteboard Fox
It needs improvement in customer support.
More advanced features have to be added.
Pricing of Whiteboard Fox
It offers three different pricing plans, which are as follows:
Personal: It is free to use.
Pro: It costs $7/month.
Enterprise: It costs $15/user/month.
Availability: Web, Android, iOS.
Stormboard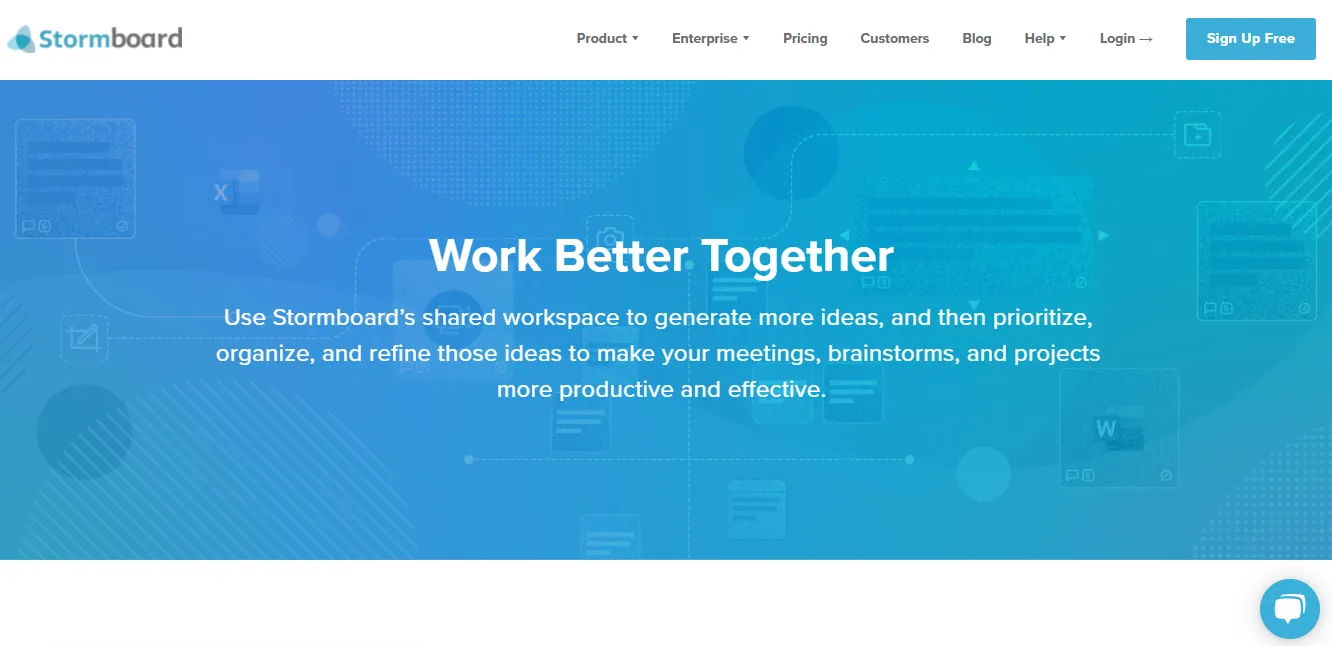 Stormboard is a cloud-based digital workplace system that allows businesses to collaborate on ideas, track projects, and conduct meetings with remote employees.
It is a high-end digital workspace sharing application. It's designed with remote teams and distributed workforces in mind. There are no boundaries to the canvas. Text, free-form drawings, files, pictures, and videos can all be added.
Stormboard's drag-and-drop interface makes it simple to arrange whiteboard notes after a meeting. It allows users to leave comments on previous notes and transform them into tasks for team members to complete. Within stored whiteboards, users can change task status and collaborate.
Many organizations use Stormboard for both brainstorming and project management. It is a handy app to plan your projects and design a prototype with ease.
Features of Stormboard
Some of the features of Stormboard are as follows:
Editing in real-time
Infinite canvas
A large number of pre-made templates
Plugin for user voting
Chat messaging applications
Real-time, interactive collaboration
Slack integration and top Slack alternatives
Brainstorm ideas
Assign objectives and milestones
Benefits of Stormboard
It is easy to use and user-friendly.
It provides advanced brainstorming tools.
It offers interactive collaboration.
It helps to gather ideas and helps to present them.
It offers project planning and project tracking.
Drawbacks of Stormboard
It needs improvement in security.
Pricing of Stormboard
It offers four different pricing plans.
Free: It is free to use.
Startup: It costs $8/user/month.
Business: It costs $10/user/month.
Enterprise: Contact the vendor for detailed information.
Availability: Web, Android, iOS.
Conclusion
To conclude, all the above-mentioned online whiteboard tools are best for team collaboration. You can use anyone based on your requirements and budgets.
Do not forget to mention which you choose to use in the comment section below. Also, subscribe to us for more blogs and information.
Related articles