Best Tips for Managing Remote Employees
Best Tips for Managing Remote Employees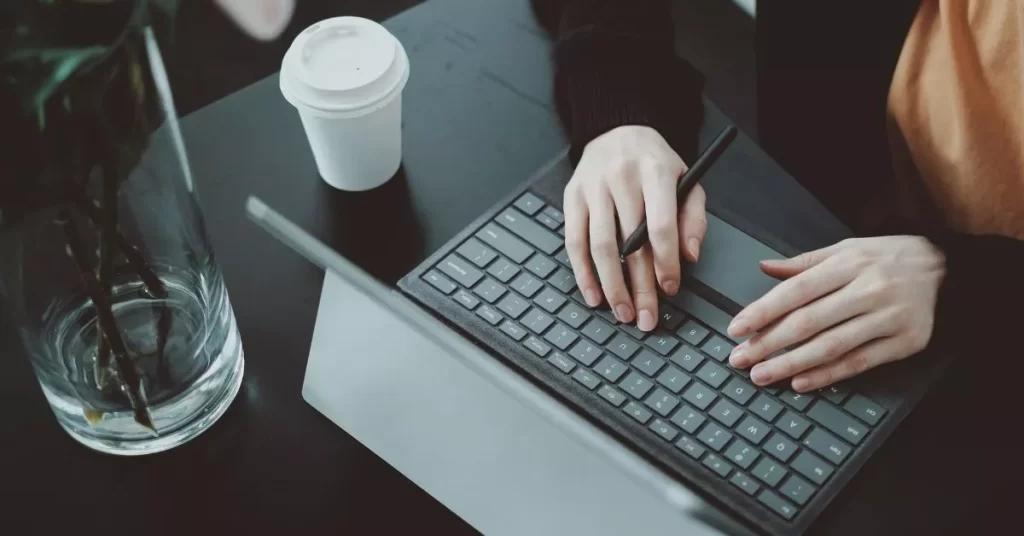 "Remote work is the future of work." — Alexis Ohanian, Reddit.
As a consequence of the Covid 19, most companies are now operating virtually. As a result, the manager appears to be concerned about the best strategies for forming a successful remote work management team.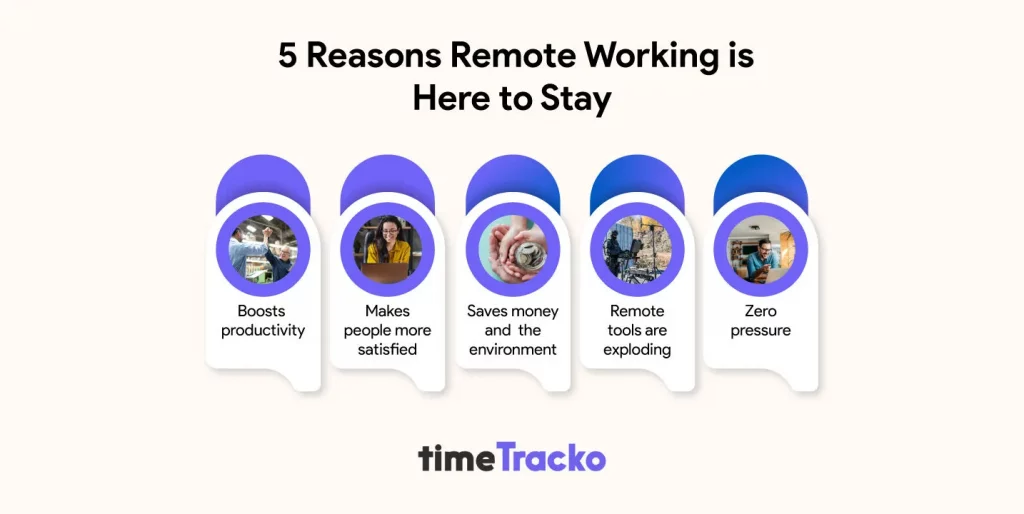 The remote team is more productive than the onsite team, and many employees prefer to work remotely when they have remote working options in their office. For a remote team to function effectively, the manager needs to put in little effort as many employees prefer to work remotely, which makes them more productive than those who work in the office.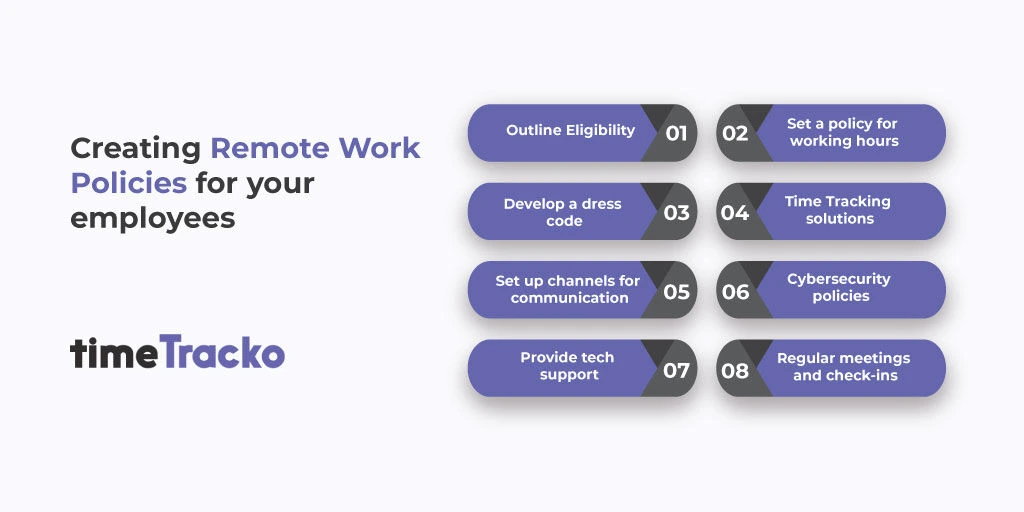 This sudden transition is tough for everyone. Managing remote work is challenging for managers, and managers may feel overburdened for monitoring remote workers. Managing virtual teams needs a unique approach, and this means as a manager, you cannot simply carry out work as before.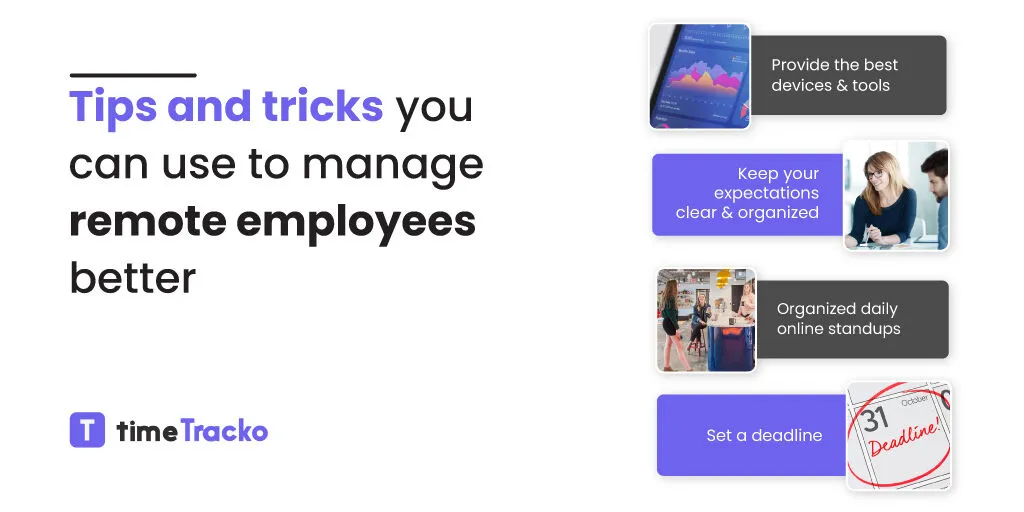 The truth that the Covid pandemic is transforming the common perceptions about work to remote work is undeniable. What tools and software should you use, how can you monitor and manage your remote team's performance, tips and tricks to manage remote employees? All of these concerns may arise in Manager's mind.
To help you manage remote employees more effectively, we have created this article to provide you with the 25 best tips and tricks.
25 Effective Tips and Tricks To Manage Remote Employees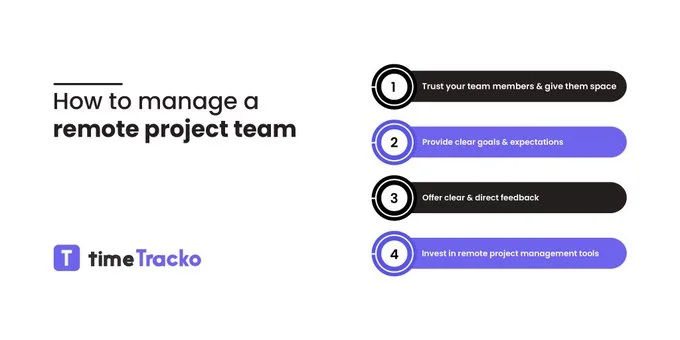 Provide Best Work Tools and Devices
Remote work comes up with a unique set of challenges which means you need to use an amazing collection of tools and devices to tackle them. Managing remote teams requires very reliable and strategic tools and resources. Modern technology has invented various tools and equipment that help you get the work done faster when you invest in reliable tools.
You need to identify the right tool for your job and remote team, as it is impossible to get things done when you are not using reliable tools for effective collaboration. Remote employees can use several convenient devices to accomplish tasks more efficiently.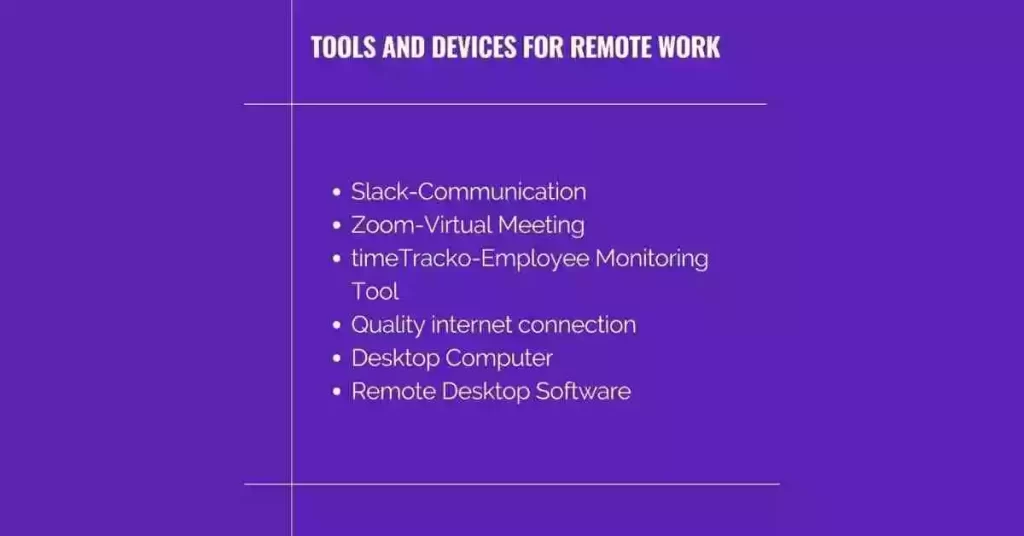 timeTracko – Employee monitoring tool
timeTracko is the best tool for monitoring employees' office time. Also, it benefits the employee in better managing workloads and tracking every minute. A software application like timeTracko can be beneficial when you have multiple tasks to complete and it helps to improve employee productivity and efficiency.
A desktop computer can be considered an essential device when working remotely for most people. A widescreen monitor offered by your desktop computer lets you multitask with multiple tabs on each screen. You can work comfortably for an elongated period.
Remote desktop software establishes a secure connection between your computer and computer at another location. So that you can work on it as you are sitting in front of that computer.
A common example of remote software is connecting your desktop computer to an office computer so that you can get access to important files and documents without going into the office.
With Slack unique features like a channel-based messaging platform, it makes it easier to access information, collaborate with co-workers, and ultimately get work done faster.
Zoom platform allows multiple attendees to log in to the same call from wherever they are in the world. This is essential for remote team workers to conduct their daily tasks, and it is also a useful tool for full company updates and location.
Quality Internet Connection
Without a proper internet connection, remote workers doing digital work is impossible. A quality internet connection is an important thing to get work done.
Easy access to information, discuss ideas on any topic, get a wide range of ideas and opinions, collaborate with colleagues, and stay in contact with clients and customers. These are some of the benefits of using an internet connection at remote work.
Full-featured project management software is recommended for projects with many tasks that need to be done in specific order or workflows with more complex time management needs.
Similarly, you can develop a straightforward process and provide training and knowledge to your team to use such tools.
Must Read: Best Tools and Software for Office Management
Stay Organized and Clear Expectation
When your employees work remotely, they may not know what you expect from them. And sometimes, employee performance might not match your expectation, and you might not be able to meet your goal on time.
Discussing the rules and guidelines with your employees will help you achieve your goals more effectively. You must need to be realistic and clarify priorities, maintain performance, goals, and milestones.
Managers have expectations from their employees like better work performance, honesty, trustworthiness, timely completion of work, etc.
Similarly, employees have expectations from their organization like professional growth, job security, feedback on their work, reputation, work balance, etc.
Thus employees and employers should clear their expectations while working remotely. They should be aware of each other's expectations.
As a manager, you must set and upfront your requirements and expectations like:
Working hours
Availability
Method of communication
Participation at the team meeting
Key projects, guidelines, and deadlines
Responding to requests and emails in a reasonable timeframe.
Work schedules should be discussed with each team member to demonstrate that you value their time. This will aid in the development of strong relationships with employees by showing that maintaining a timetable is not difficult.
Encourage Employees to Create Schedule
The crucial advantage of remote working is a flexible working schedule. Remote workers can work according to their flexibility and availability. Please encourage them to plan their schedule when they are more productive.
But, this advantage can also bring a disadvantage, as it can bring difficulty in communication. Sometimes when you and your team members are not working simultaneously, they will get trouble discussing work issues.
Therefore, you should review the employees' work schedules and make changes before creating a problem. While changing the plan, you should ensure that all your employees are satisfied.
Organize Daily Online Standup
When employees work from the office, you can schedule daily stand-up every morning. In daily stand-ups, employees can share their work progress, plan for the day, share any issue related to work.
It would be best to use the right communication tools with good audio and video quality to conduct daily stand-ups. You should ensure that your employees are comfortable communicating via video calls.
Set Them Deadline
Timely completion of work is the most vital thing to consider while working remotely. An employee should complete their task within the allocated period to provide a quality of work.
Greater time management and work prioritization can quickly deliver quality work within a set timeframe.
Monitor Employee Task Progress
When employees work from an office, you can keep an update on their performance. You can instantly review their work and provide feedback about their work.
While working remotely, employees might procrastinate and delay their work in the worst case. In such cases, your project might be delayed, creating a negative image of your organization.
You can use time-tracking software like timeTracko, which benefits you for employee monitoring purposes. When employees know their work performance is being tracked, they start to perform well, boosting their work performance.
You can also create a project road map that helps employees stay focused on their projects and complete their work before the timeline.
Listen to Employee's Ideas Too
Rather than defending employee ideas, listen to their viewpoints with a free mind. When you listen to the employee's view regarding how to accomplish a task, the work proceeds faster. Employees who know they are heard are more engaged and productive.
The fact that employee ideas are ready to hear and empathize will help in strengthening team chemistry.
Appreciate Their Task And Provide Feedback
Offering feedback promotes an open and honest working relationship between the project manager and member of the team, allowing both to understand the progress toward a set goal.
Effectively providing feedback in their roles within the company helps employees feel appreciated and supported. Feedback is vital to employee success and achievement but also to the success of your organization.
The following are some reasons why employee performance feedback is critical:
Enhances performance
Clarifies expectations
Build confidence
Improves leadership
Promotes employee loyalty
Encourage Employees to Communicate With Their Colleague
One of the disadvantages of remote working can be the lack of proper communication with their colleagues. So encouraging an employee to communicate with their colleagues is the essential thing.
While working from the office, you are surrounded by your colleagues, and you create a good bond with them. But while working remotely, you only communicate with them about their work-related topics.
You should provide communication tools like Microsoft Team, Slack, HipChat, Flowdown, etc. Employees can share their experiences, interests, hobbies, educational background, etc. Employees can also create groups based on their interests like games, food, and programming languages and share updates.
For example, Employees who love football can create a group to share updates about football matches.
Organize One to One Meeting
Organizing Virtual one-to-one meetings gives employees a chance to share their problems, grievances, ideas, viewpoints, and more. One-to-one video conferencing offers benefits to both employees and managers, and here's how.
It can assist your organization in making connections with its purpose and mission.
Your employees' productivity and performance will be improved.
It assist in building trust among employees and managers.
Don't Only Focus on work
Don't overload your employee with work. It's easy for a manager to detect if an employee is overworked when co-located. You may have noticed that the employee does not eat lunch or leaves late every day. Unfortunately, you do not always have this information about remote employees.
Employees may become overburdened if necessary precautions are not followed.
Calculate Employee Output and Give Reward
Providing rewards and measuring employee output let employees know their organization values their commitment to the company overall.
It encourages employees in establishing a sense of stability due to their dedication to the organization, motivating employees to keep up the good work.
Must Read: Best rewards for your employees🏆🏆
Always Motivate Employees
Employee motivation is something that workplace leaders must develop and manage. An organization's success depends on employee motivation.
A company's workers' dedication, drive, and energy determine how effective they are at their jobs. A company's productivity and output level will suffer without it, and the company is likely to fall short of important goals.
Benefits of employee motivations are:
Higher productivity levels
More innovation
Lower levels of staff turnover
Excellent reputation and increased recruitment
Poor performance is minimized.
Must Read: Effective ways for motivating your employees
Respect Employees
Respect means showing appreciation for someone's characteristics with dignity and gratitude.
Once the importance of respect at the workplace is understood, employees begin to appreciate why their leader reacts the way they do in particular situations and take steps to maintain a healthy working environment for everyone.
Some benefits respecting employees are:
Stress is reduced in a respectful environment.
Increased productivity and collaboration at work
Improves employees satisfaction
Respecting employees contributes to the creation of a fair working environment.
Allocate mentorship to a new employee
Assigning a mentor to a newly hired employee will help answer the newcomer's questions and provide support in a friendly way. Employees get a chance to be appreciated for the work they did well, what challenges they may encounter, and why.
When you do not constantly monitor your employee's progress, you might miss how your employee deals with obstacles and difficulties. If something is bothering your staff or feeling insecure, you should pay close attention to their signs and look for help.
Treat all employees fairly
Having all employees experience the same level of respect from their leaders promotes trust, boosts morale, and increases loyalty and productivity.
A determination to treat employees fairly improves the company's reputation and aid's in the recruitment of top talents.
Create a trustworthy environment
As a manager, you need to create an environment of trust for employees who work for you. If you do not trust the people who work for you, you are not doing a good job.
Building a trustworthy environment ensures teams perform at a high level because employees understand that the company is concerned about their experience and dedication to work.
"Business is conducted through relationships, and trust is the cornerstone of those relationships."
Provide Ongoing training
As the number of remote teams has grown, so has the number of companies that provide remote training. The employee must learn new skills while working remotely, and thus remote training is essentially vital when things change.
Must read: Skills needed to work from home💻💻
Provide emotional support to your employee
Remote working employee teams face different emotional challenges than those in a co-located environment. Work from home can affect a person due to changes in the working environment.
Remote workers need to handle so many things that impact their overall productivity. They have to deal with family members, chores, and shopping that are crucial to their daily lives and have complicated their lives.
Working remotely can make a person feel socially isolated and disconnected. So, with all these complications, remote workers need some encouragement and emotional support. Showing sympathy and care and ensuring the team can go a long way.
Allow Private Chats And Communication
Without private chats and communication at work, both productivity and engagement suffer.
Private chat with family members will bring more innovation and improve employee engagement towards work.
Focus on The Company Goals
Researchers have said that setting goals can assist employees to feel more connected to their organization.
Setting goals improves performance by inspiring people to put in more effort, including a better focus, and helping them prioritize tasks.
Celebrate Success and Fun Events Virtually
Working continuously can be tedious for employees, and they might not correctly focus on work. So, organizing some fun events virtually can be productive.
Celebrating key occasions and entertaining events virtually creates a strong friendship among colleagues. Occasions like birthday parties, new year, festivals, etc., can be organized nearly entirely by inviting all of the team members.
You can organize virtual workouts in a group, lunch breaks, playing online games, family discussions, etc. That helps to create a bond among the team members.
Organize Get Together Once Or Twice Every Year
Remote employees work from different parts of the city, country, or the world. Sometimes, employees do not know their colleagues with whom they are performing. Employees might feel excluded from their organization as they don't physically visit their workplace.
Thus to bring employees to a close and make employees feel valued, you should organize to get together at least once or twice a year. You can manage some events or parties and invite your employees.
You can organize games and fun competitions to better know employees and their hidden talents. These get together also help employees refresh their minds and motivate them to do better.
Must read: Ways to bring your employee together
Set Them Rules
The most crucial reason to set rules for remote workers is to mitigate risk before it arises.
When you set rules and guidelines for remote workers, be sure about what they try to show and what will happen if they violate the rules.
Setting rules in the workplace can help improve work-life quality, the team does better, and the company makes more money.
Be ready to deal with technical problems.
Most companies have a dedicated technical support team to solve any employees' technical challenges. However, remote workers are in different locations, and they need special precautions to deal with technical challenges.
Thus, it's your responsibility as a manager to ensure your employee is not delayed because of technical difficulties. So, becoming ready to deal with technical issues and applying appropriate solutions is important.
Challenges of Managing Remote Employees
Work performed remotely differs from traditional work in several ways. Remote Working has its perks and its downsides. Below are some challenges associated with dealing with remote employees.
1. Inadequate face-to-face monitoring
In absence of supervision and the management's inability to be in touch with the workers, remote workers are not able to prioritize their work.
2. Lack of Clear Expectations
Some employees who know their job expectations at the office may not be aware of what they are expected to do when working remotely. They may need more guidance and suggestions to accomplish their task.
So it is essential to establish boundaries and set clear expectations during virtual meetings.
3. Productivity is Low
According to research, working at home reduces productivity by 70% compared to working in an office. Remote workers face challenges due to the lack of direct supervision.
By monitoring them using time tracking software, we can provide them with some additional support and help them become more productive.
Learn more: How To Increase Productivity At The Workplace?
4. Lack of Communication
Employees and managers can communicate easily in the office, and ideas are discussed and updated easily. Frequent communication is impossible when working remotely.
So as a manager, you must consider the best ways to ensure that regular communication occurs.
Must read: How to Improve Your Team Communication
Conclusion
To sum up, better management of remote teams depends on how well you manage them and how disciplined your remote team is.
If your remote team is dedicated at work and is self-disciplined, you can manage them effortlessly. Different managers have different tricks and techniques for leading and managing a remote team.
I would love to know the best tips for managing remote employees you use to lead and manage your remote team. Please do mention them in the comment section below.