Best Ways to Build Trust In Workplace With Employees
Best Ways to Build Trust In Workplace With Employees
Do you remember a time when a big brainstorming session came up empty-handed? It didn't work out as you had hoped. Instead of collaborating around a whiteboard, you found participants avoiding eye contact and cautiously making suggestions. The issue was a lack of trust between you and the participants.
A company suffers if the employee does not trust their manager. One out of three employees does not trust their employer. The statistic is shocking because, without trust, employees are likely to disengage, ultimately leading to a toxic workplace.
Fear can be used to gain control, but showing fear to employees to get work done is not a good idea. The minimum amount of work is all they do to keep their jobs. Leaders who have good leadership skills can inspire creativity and passion among their workers. This means more ideas are generated to solve problems and streamline processes when leaders have good leadership skills.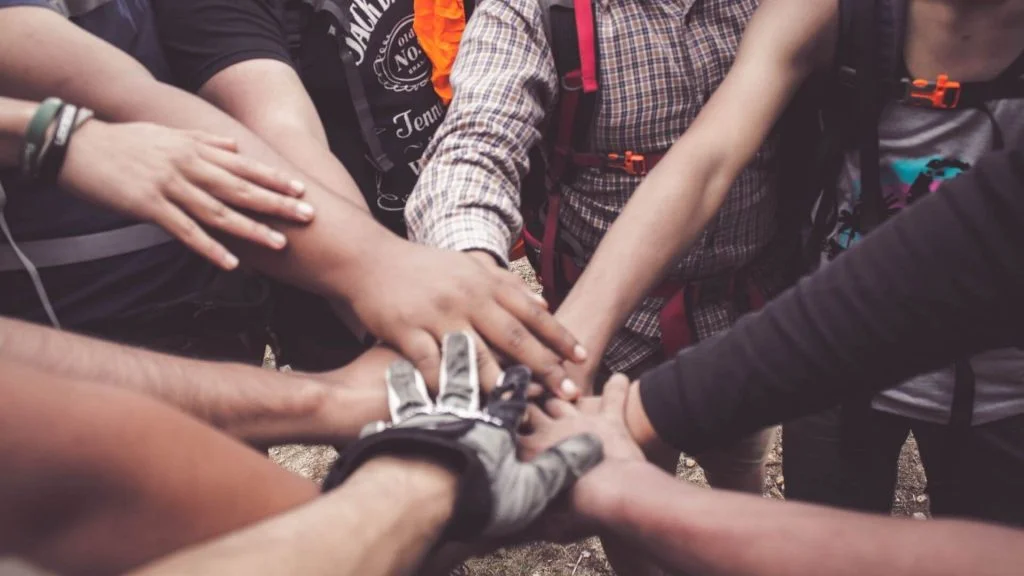 Nevertheless, if employees do not trust the manager or HR, then the whole mess is created. This is not the type of thing you want, and it hardly supports the creation of an effective feedback culture.
So, if you are wondering, "How can HR or managers help bridge the trust gap between employees and their managers?", then stick to the article as it covers the top five best ways to build your trust with employees.
But firstly, understand why trust matters in the workplace.
Why Does Trust Matter in The Workplace?
A trusting workplace means that your employees enjoy mutual respect, a culture of honesty, and a psychologically safe workplace. When your employees are proud of where they work, you'll find they are more likely to go the extra mile for your organization.
Employees who feel secure at work are less likely to leave because trust provides them with a sense of security.
Employees are influenced by trust more than they are by incentives. Your company often reaps better results due to higher employee engagement.
By emphasizing workplace trust, you can also build a culture that feels inclusive and diverse, allowing your employees to feel more connected to each other.
Your top priority as a manager should be to build and maintain employee trust. If you put it on the back burner, you'll notice a decline in productivity and employee satisfaction.
An increasing number of organizations are recognizing the importance of workplace trust. As a result, the trust creates a psychologically safe environment for team members to ask questions, share ideas, and express themselves.
The 5 Elements Of TRUST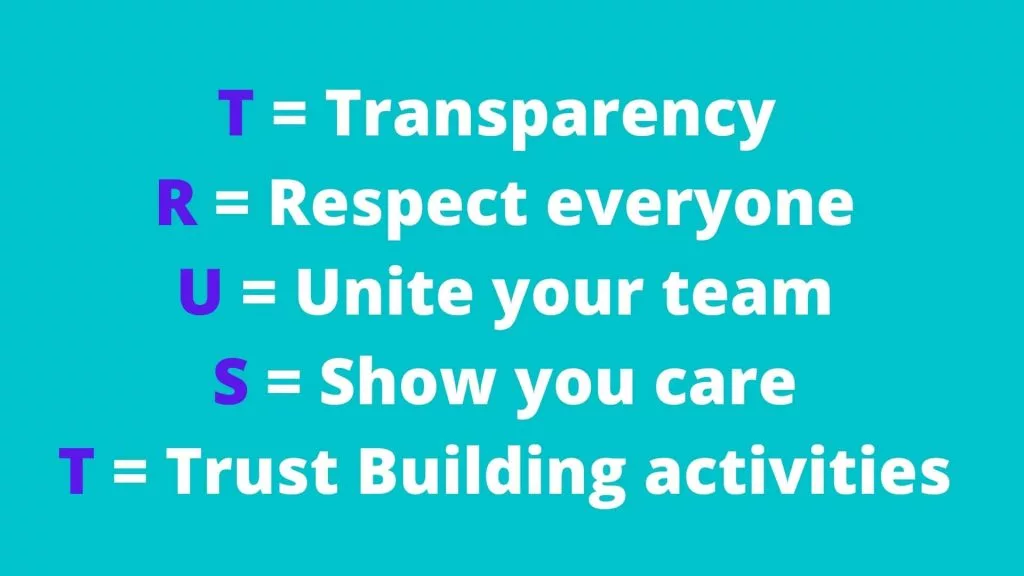 Be Transparent (T) With Your Team
Communication of accountability is what transparency is all about. Transparency includes:
being honest,
being vulnerable,
providing feedback,
defining expectations
In the absence of transparency, employees tend to fabricate their own truth. They believe it's OK to repeat a mistake if you don't give them some feedback after they've made one. And, also unless you tell them, "good job," they might assume you aren't happy with their efforts.
Learn More: How You Can Keep Your Employees Happy Without Raising Salary💸💸
Respect (R) Everyone
Consider your employee's time, their ideas, and their opinions. Remember, good leaders, pay attention to their employees. Showing respect to others means honouring their feelings. This helps them feel safer, and you build trust so they can open up more often.
Respect is simply putting the Golden Rule into action: "Do unto others as you would have them do unto you."
Unite (U) Your Team
Your first step should be to state clearly that you will not tolerate gossip or cliques within your team. Gossip is just like cancer; it erodes team morale. Trust, on the other hand, is the key to team morale.
Learn more:- How to Enhance Your Team Communication💬

Having them work toward a common vision is the next step. Assign them a group project that they must accomplish together. If they fail, they all suffer the consequences of failure, and if they succeed, they all reap the rewards of success. A unifying team is one that struggles together and succeeds together.
Show (S) Them You Care
As there is a saying by Leadership expert, John C Maxwell that goes like " People do not care how much you know until they know how much you want to help them." True trust is built by showing people you value them for who they are as individuals, not just as workers.
Taking the time to learn about people, praising them every day, and asking for their insights more often are all ways to show people you value them. You not only earn people's trust when they feel valued, but you also earn their loyalty.
Learn More:- Your Employees Would Love It If You Gave Them These Awesome Rewards🎁
Trust Building activities (T)
Having a good working relationship with your coworkers will make you happier and more productive, and that doesn't happen by accident. Providing team-building activities focused on building trust is one way to raise morale while building trust. As a manager, conduct some team building games and fun office games timely to enhance trust between you and employees.
6 Most Effective Ways to Build Trust With Employees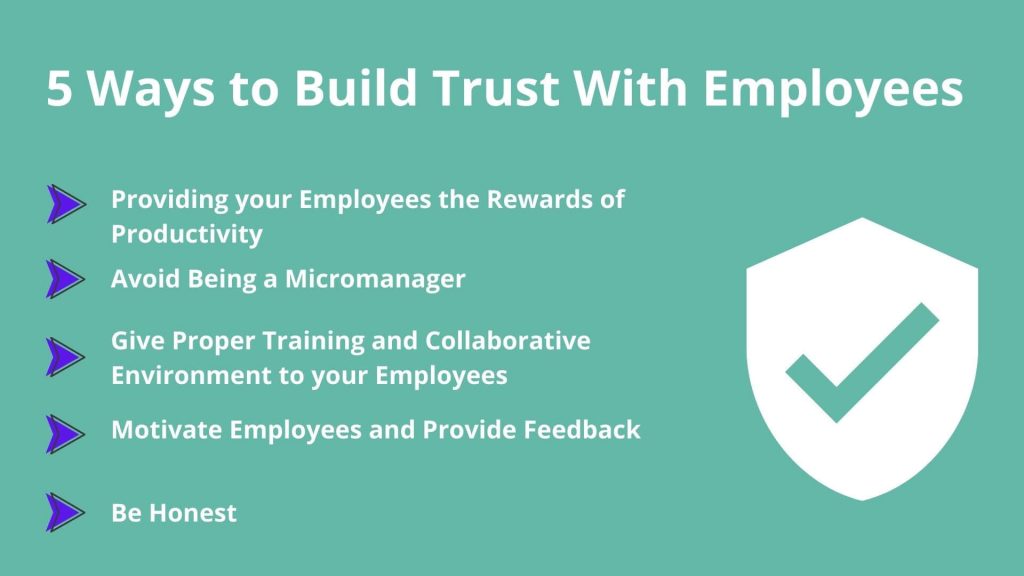 Providing Your Employees with the Rewards of Productivity
There are some employees who work very hard to produce maximum output, and there are others who are less productive. Therefore, it is imperative to reward hard workers and productive employees.
Once you start rewarding employees based on their productivity, they get motivated to work, and the competition increases. Furthermore, when they get a reward, they become more energetic and more inclined to do more, as well as more likely to trust you.
Listen More Than You Speak
Each of your employees brings unique ideas and viewpoints to the table. Encourage them to share their opinions, and when they do, listen to them sincerely. This is the way to build mutual understanding and trust in the workplace.
Getting active listening training is an excellent way to improve your listening skills. Whenever possible, ask your employees questions and elicit more details in order to grasp what they are saying.
Provide Proper Coaching and Collaborative Environment to Your Employee
Developing trust in the workplace is crucial for managers and leaders. Trust can be fostered by authentic leadership practices and employee engagement can be improved.
You, as a manager, can do this most effectively by coaching your employees rather than acting like traditional bosses and disciplining them for poor performance. You will be more likely to be trusted and to be listened to if you coach your employees and meet their expectations.
Learn more:- 8 Tips for Becoming a Successful Team Leader🏆
Empower Your Team First by Trusting Them First
By showing your employees that you trust them, they are more likely to trust you in return. The question is, "What can you do to show your workers that you trust them?" for this, you can empower them and encourage their professional development and autonomy. Increase their responsibilities by inviting them to sit in on meetings that they would otherwise not attend.
For example, let a sales representative sit in on your strategy meeting so that they can provide their on-the-ground insight to guide your sales and marketing plans going forward. Your trust in them will be remembered and you can benefit from their unique perspective.
Learn more:- 10 Best Ways to Motivate Your Employee💪
Be Honest and Transparent
During difficult times, it is often more convenient to tell employees what they want to hear rather than the truth. However, to encourage your employees to trust you, however, you'll need to be honest with them while being sensitive to their feelings.
Being untruthful to a team member will cost you more than just their trust. The essence of every relationship is honesty. Regardless of how long a relationship has been together, one lie can ruin it permanently.
In addition, keep your employees informed about changes to business processes and updates. It is important to be transparent when discussing updates and changes to business processes so that your employees stay up-to-date.
It will be difficult to build trust with your team if you modify a procedure without telling them or fail to inform them of major workplace changes in advance.
Avoid Being "MicroManager"
'Micromanaging' means looking after employees' work every minute. If you become a micromanager, employees cannot trust you and cannot work freely as a result they may not deliver quality results.
Thus, as a manager, your goal should be to create an environment where no one has to worry about making mistakes. You should make your employee recognize that mistakes are opportunities for learning and improvement instead of torturing them.
Torture is an indication of disrespect and breaks trust. You need to set clear expectations and communicate your expectations to your employee if you want them to feel free to work.
Learn more:- Best Strategies for Great Employee Retention
Conclusion
When you build trust with your employee, it will be a win-win situation for both of you and for your company as well as for the employee. Developing trust-building skills is essential in every relationship you have, but it is especially important in the workplace if you want to progress. It is also important for personal relationships.
Keep a long-term perspective when it comes to building trust. Being honest, honouring your commitments, and admitting your mistakes will help you become trustworthy.