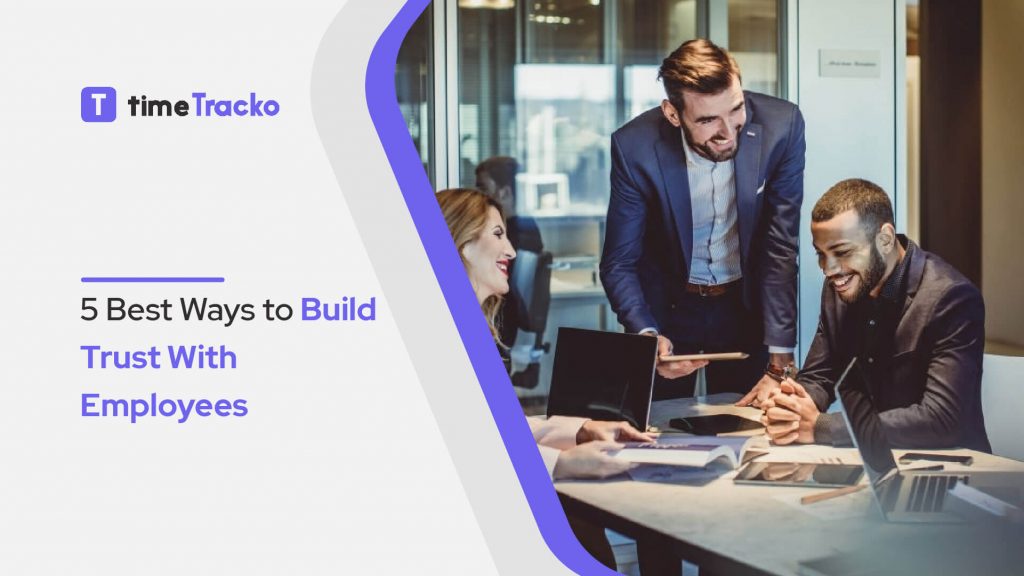 We all know that trust is the source for building strong teams by creating a positive work culture and producing tremendous results.
For better management of an organization, trust plays an important role. When there is trust among employers and employees, the relationship becomes more robust.
As a manager, you need to develop confidence, and there should be open communication between managers and employees with an open door policy so that trust is gained quickly. Hence, this blog shows the best ways to build trust with employees.
Trust is the leading component for increasing productivity in an organization. Some people don't trust their employees, which results in low morale and less productivity. Nobody can work in a place where trust does not exist.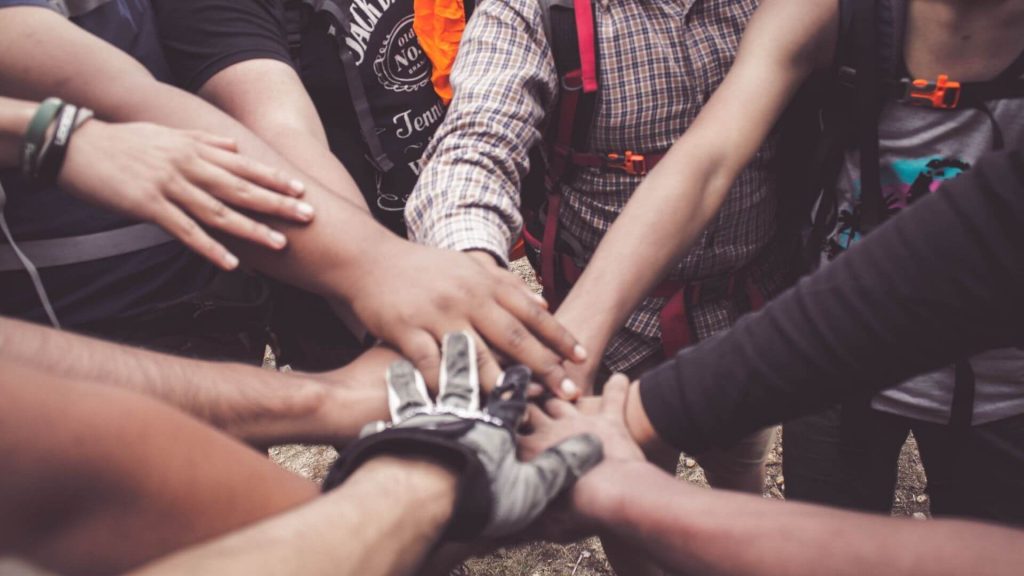 Lack of trust can result in unreliable and adequate, uncommunicative, and inconsistent employees in their moods and their work as well in the workplace.
On the other hand, a high trust workplace is where people take every responsibility, help one another in need, communicate more often, speak out about any problem, and be more productive all the time.
When you hire someone you trust, you need to ensure that he/she also trusts you, and as a manager, it is up to you to build and maintain trust in the workplace.
Trust can be categorized into two parts that are:
Emotional
Emotional trust is far more complex trust. It occurs when someone knows that you are always on their side, even in weakness and strength. So they trust you and share everything honestly.
In the workplace, this type of trust rarely exists because challenging work matters. As a manager, you need to understand your employees as employees notice everything and become happier even with a simple appreciation. So the employee's emotional trust also matters to increase productivity.
Practical
Employees gain practical trust with their hard work. Employees gain this type of trust by meeting the goal of the manager and the organization.
When you meet the commitments and do what you promised to do in time, you can earn practical trust from all the team members and boss.
Lack of practical trust can lead to micromanagement, duplication of work, lack of communication, missed deadlines, etc. In an organization, practical trust needs to be developed among employers and employees.
5 Ways to Build Trust With Employees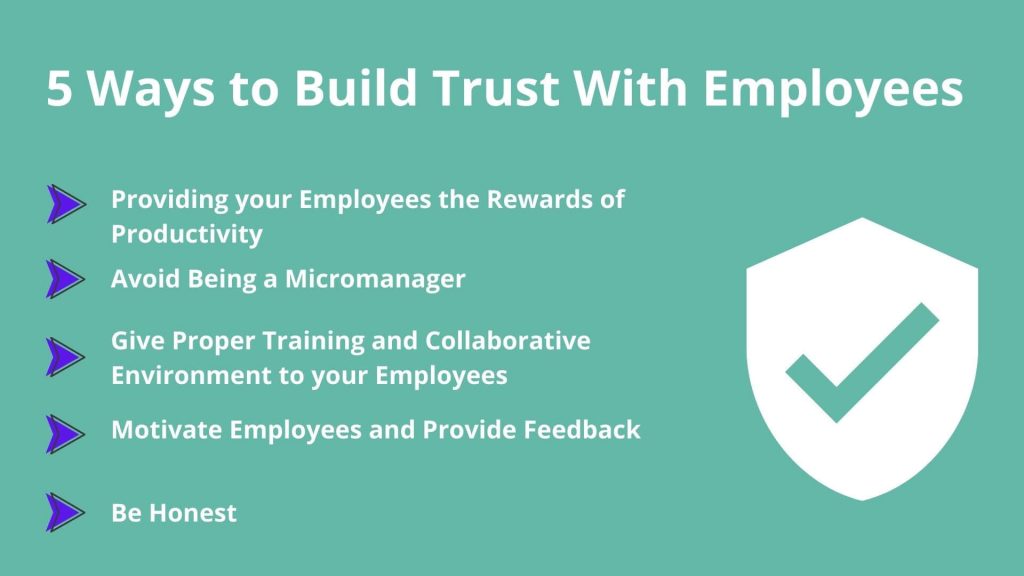 As a manager, you can build a high trust work environment from the tips mentioned below.
Providing your Employees the Rewards of Productivity
Avoid Being a Micromanager
Give Proper Training and Collaborative Environment to your Employees
Motivate Employees and Provide Feedback
Be Honest
Providing your Employees the Rewards of Productivity
Some employees work very hard to give their maximum output, while some are less productive. So providing a reward to hard-working and productive employees is necessary.
Once you start giving productivity, employees get motivated to work, and the competition increases. Similarly, when they get a reward, they gain more energy to do, and they trust you more and become happier.
You can review your employees' work more often and identify the most productive employee among all. Recognizing the productive one, you can give rewards in front of all members and make sure that other employees understand how to earn rewards.
When you offer a reward in public, all the employees get motivated and want to become the source of it. So you must pay for the hard work to motivate your employees and earn trust from them.
Avoid Being a Micromanager
'Micromanaging' means looking after employees' work every minute. So, when you become a micromanager, employees cannot trust you, and they don't get the freedom to work because they might not deliver sound output.
No one wants to work in an environment where there is a fear of making a mistake. So everyone should be clear that every mistake is an opportunity for learning and improvement. So giving torture to employees can break down the trust and freedom to work.
You need to clear your expectations and let your employee know what you expect from them. Also, set a deadline for the work and inform them about the deadline.
Similarly, employees should have open communication with the manager and let the manager know what they expect. They should feel free to make any confusion clear with an open door policy.
The primary thing is you need to hire proper employees for the job and trust interpersonal relationships.
Give Proper Training and Collaborative Environment to your Employees
Employees can do work only with proper training. So, you need to give proper training to employees to develop their skills and knowledge. Once you hire employees for the job, you need to provide them with training about their job to perform as you expect.
As a manager, you can work together with employees and solve their problems rather than leadership and monitoring. You can also share responsibility and collaborate.
It helps your employees engage and empower in work, and they can have a friendly environment to learn.
Always stay good to your employees and never become rude so that they can remain positive towards you. It helps them develop motivation and self-confidence to work and deliver maximum output.
Motivate Employees and Provide Feedback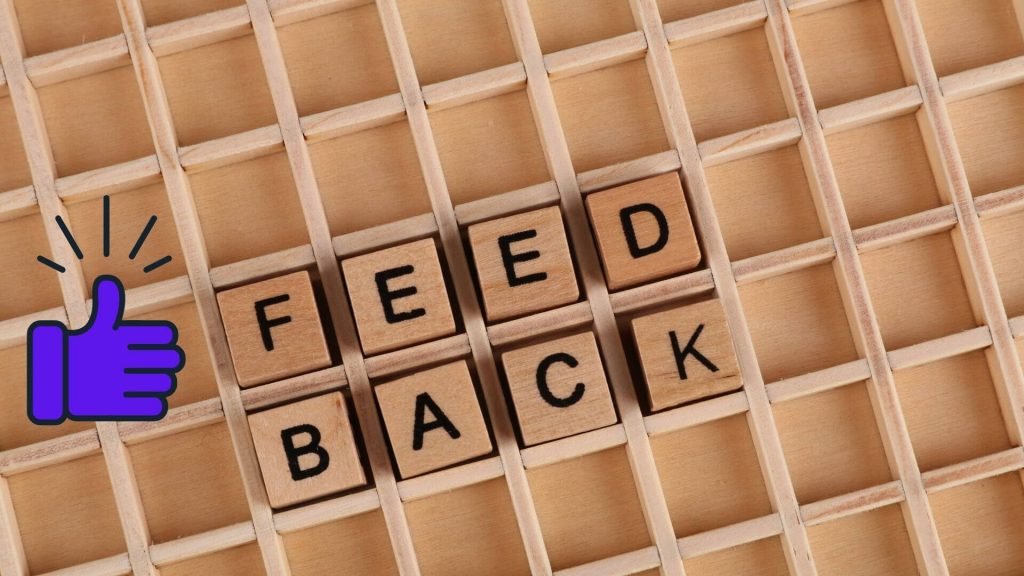 When your employees are motivated, they will give maximum output and enhance productivity—motivating employees by providing occasional holidays, rewards, gifts on occasions and helping to make the trust and bonding strong among colleagues.
Motivating employees can also be done by appreciating their hard work. You need to provide positive feedback from time to time, so they do not hassle asking you any questions.
You can also provide motivational training and give examples of some successful people to dedicate themself to work.
You can also involve them in making decisions about their work and job and making all the resources available to complete the task.
To motivate employees, you should let them know that you trust them and are satisfied with their work. On the other hand, if they commit some mistakes, you should provide them with positive feedback and motivate them to do better. You can work together with them and teach them when they get any confusion.
Be Honest
If you are confused about building trust in the workplace, you can choose to be honest. Trust is not a matter of technique; it is the character of a person either to believe or not.
When you are not honest, you cannot expect any employees to be honest. Honesty depends on the behavior of employees and the employer. Employees should work honestly, and employers should make payments in time. One should accept the mistake and admit it when one makes an error.
Similarly, no one should promise that they cannot give 100 percent and complete it on time. When you say something and act differently, that can break employees' trust, then dishonesty arises.
It does not mean you have to agree with everyone's opinion, but honoring employees' opinions and ideas shows that you respect them and are honest with them, which helps build trust.
Furthermore, here are more tips you can use to build trust with employees.
Increasing the salary constantly for hard-working employees helps to boost their productivity.
Providing rewards can be a bonus, appreciation, promotion, etc. so that employees can increase their trust.
Not to pressure employees with the burden of tasks.
Motivate them to work without stress.
Actively show that you trust your employees.
Avoid favoritism among employees and treat all the employees equally.
We can also define trust as: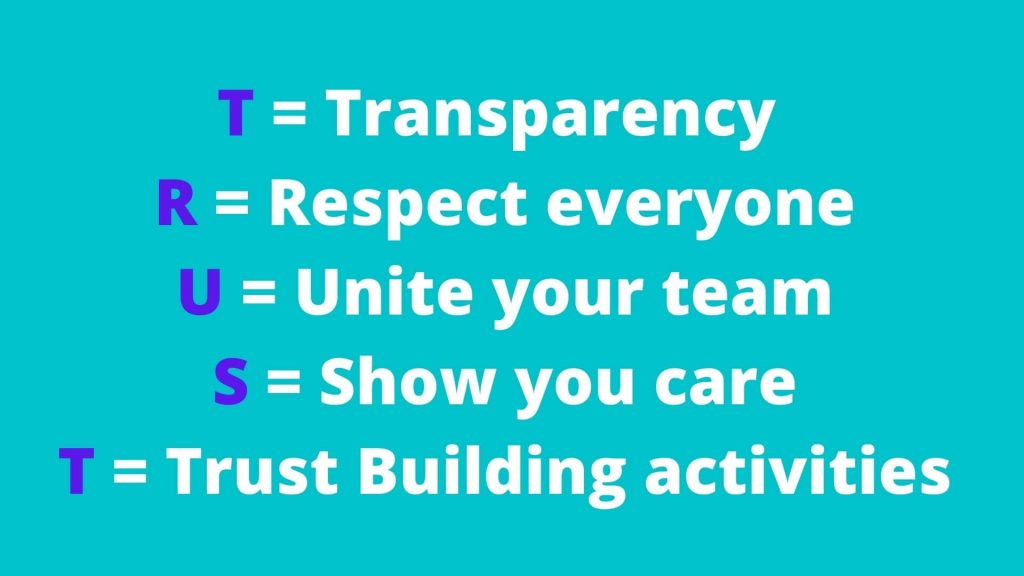 T= Transparency
R= Respect everyone
U= Unite your team
S= Show you care
T= Trust Building activities
It would help if you were transparent with your team; without transparency, people tend to make their thinking and trust about things.
You can have constructive criticism and positive feedback to know what you expect from them and help you meet the expectation. You can also share the company's vision with employees to work together to achieve the goal.
For example, if you didn't give any feedback when somebody makes a mistake, they might feel correct and repeat the error. So positive feedback is necessary for every mistake.
Similarly, you have to respect your employee's opinions, time, and ideas while implementing any projects. You can invite your employees for meetings regularly and listen to their opinion regarding business.
For example, you can create an open-door policy and make them understand politely without being rude.
As a team leader or manager, let your employees know that you cannot tolerate unnecessary gossip among colleagues, which might kill team morale. You can unify your team by giving them a team project to work on, so if they fail to complete the team project on time, they should bear the consequences together, and if they succeed in the project together, they all receive the reward in a team.
Some leadership experts say that "trust is built only when someone observes that you truly value them as a person but not only as an employee."
You can show someone they are valued by learning more about them personally and praise their positive factor. You can also support their interest in and out of the workplace and let them know that you care about them.
Wrapping Up
In conclusion, trust between employer and employee is the essential building block for increasing employees' productivity.
The essential thing to build trust with employees is to understand their interests and give them the job they are willing to have. If they get the task of their interest, they can give full attention and focus towards work.
Thus, to build trust with employees, transparency is necessary. You need to develop a solid and long-lasting relationship with employees so that they can do anything for you at any time.