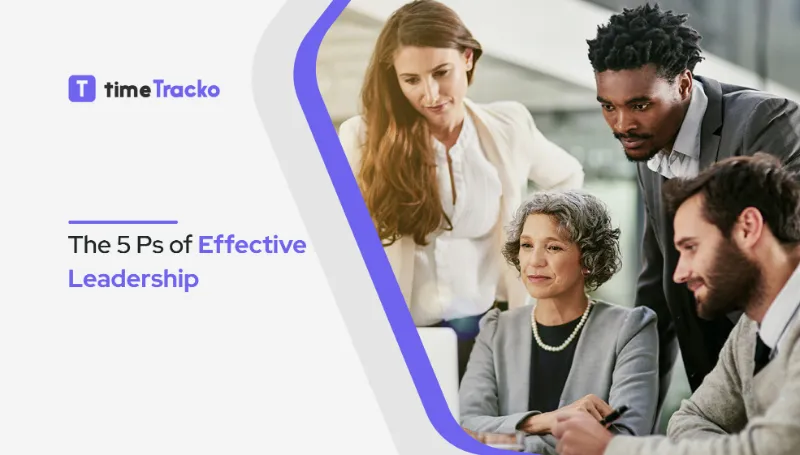 A leader's personality is not what makes them great; it's their behavior, skills, and abilities. Leadership is, in fact, a matter of individual perception. Leadership skills can improve your professional abilities, help you build and maintain relationships, and boost your income.
A variety of theories and ideas exist on leadership, including the 5 Ps of effective leadership." The 5 Ps of effective leadership is Personal Attributes, Position, Purpose, Practices/Processes, and People. Understanding these levels can help you become a better leader in the workplace.
It doesn't matter whether you are already an experienced manager, are thinking of starting your own company, or are just starting out as a manager; you can use the 5 Ps of effective leadership to assess and better your management abilities.
Many business owners are concerned about leadership, regardless of whether they have only one employee or a thousand.
You can find whole libraries full of information about leadership and how to do it. Here we discuss the 5 Ps of effective leadership and add a small piece to the discussion.
What are the 5 Ps of Effective Leadership?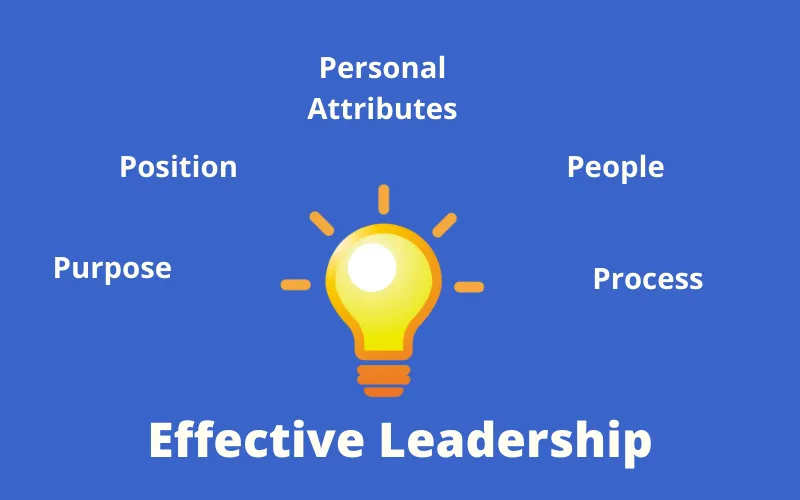 Leadership means having the ability to influence others to achieve a common goal with enthusiasm. Teams are influenced by leadership, but good leaders should be aware of five key elements to influence teams and people positively. To navigate the challenges successfully, leaders must consider the following 5 Ps:
Personal Attributes
Position
People
Purpose
Process
Personal Attributes
A person's personal attributes determine their effectiveness in a certain role and make them unique. A leader's personal attributes refer to their characteristics, traits, skills, personality, and abilities.
Many people have tried to identify what makes the best leader, but the perfect formula has yet to be found. Some people are more naturally gifted with leadership qualities. However, any of the following characteristics can be developed with intent.
Personal Attributes of Leaders
Communication
The ability to communicate properly and efficiently is one of the most important skills a leader should possess. Communication is key to becoming an efficient and successful manager or leader.
It's important to be able to communicate effectively so others can understand you and your ideas. Leaders who communicate clearly are at the top of their game.
Poor communication leads to frequent misunderstandings and frustration on the other hand. If you want to effectively lead your team, whether by entrusting tasks, coaching them, or organizing team meetings, you must be able to communicate well.
You can share your needs and expectations with others through communication. Therefore, effective communication is what makes leaders successful.
Fairness
In an effective workplace, fairness is one of the most important dynamics. This fosters harmony, goodwill, and equity among employees.
Fairly treats employees. Makes decisions based on clearly defined rights and wrongs. Whenever a leader resolves a dispute, everyone should feel a sense of fairness, equality, and evenhandedness.
A fair leader discovers the talents and strengths of team members and engages them. Their goal is to gain as much perspective as possible from as many employees as possible.
Respect
Being respectful means listening to your employees. Every employee wants to be heard and understood. It isn't necessary for you to agree with their opinions, but you must take the time and carefully listen before offering your own opinion.
Showing you care about what they've got to say strengthens your relationships and builds trust.
When you respect your employees, they will give their best. Additionally, they are also more willing to participate.
Selflessness
Selfless leaders inspire confidence and trust because employees feel supported and protected. As a result, employees emulate the same behavior, resulting in reciprocal loyalty.
Puts employees' needs, wishes, and interests before your own. When you ask employees to do something, they understand that it is for the greater good.
Optimism
Develop a positive and hopeful environment where employees enjoy and value working and interacting with each other.
Believe that all employees have something unique and important to offer the organization.
Position
When considering a position in the 5 Ps of effective leadership, it's all about the accomplishments the leader made with the position they held. The position pillar examines how well you use your position of leadership to positively impact your team.
Learn management skills, be approachable, or make a real effort to collaborate and coordinate with your employees in order to achieve this level of leadership. You can motivate your employees to create better work by embracing an open, accepting attitude.
For example, your team members may wish to learn more about a specific tool or subject matter. If you are a leader, you are able to make that happen.
In order to get them in a course, you should reach out to HR, finance, or your supervisor. You should not abuse your power by favoriting certain people.
People
It is impossible to accomplish anything without people. Getting the right people is the most important step; people who share your values, principles, and purposes.
A good leader understands the value of selecting carefully and investing in their success. If you make a mistake in hiring, your business can suffer. 
Your success is enhanced when you surround yourself with knowledgeable and positive people. So, your top priority must be to recruit, develop, and promote the best employees who have diverse backgrounds, skills, and experiences.
Purpose
It is essential for a leader to have a purpose. The purpose of your work explains your actions. Many companies define their mission statement that highlights their business's aims and values, as well as how they expect to shape their impact on society.
The most important thing is to be able to explain what motivates you and what makes you unique.  
You lack direction if you don't know where you are going. Make sure you know your direction and set goals to stay on track. Effective leaders must be oriented in the right direction, and they need to have the ability to inspire others to join them.
When you clearly define your mission and purpose, you can identify others with a similar dedication to serve your market.
The role of a leader is to bring your team together around a common goal. Your team will achieve their specific goals based on the strategy and vision you set.
Process
Process refers to the way we incorporate people into our work. After we defined our purpose behind what we will be doing, now we need to discover "how".
Plan your process ahead of time. Ask yourself, Who's on the team? Who's not included?
Where does each team member belong? Which specific role do they have to play to help the team reach its goals? 
To move the team forward, each member must be clear about their role. You can motivate your team members to succeed by creating clear processes with clear expectations and accountability for their performance.
As a leader, you need to be flexible to be able to accommodate unexpected changes while ensuring your teams are still able to perform.
Why are All 5 Ps Important in Leadership?
Organizations need leadership at all levels because it is necessary. You can organize and analyze your leadership growth with each of the 5 Ps of effective leadership. You can use the 5 P's framework in order to evaluate leaders consistently.
As a leader, you need to pay attention to each P on this list. As you proceed through the 5 Ps of effective leadership, you will gain more influence and network, resulting in a better ability to lead effectively.
Your job could be in danger if you accomplish the first 4 Ps but fail to produce results. In the same way, you can accomplish the last 4 Ps but be recognized as unreliable and untrustworthy.
Tips for Becoming a Better Leader
A better leader is one who makes the people around them better. Effective leaders have a significant impact on both their team members and the company they work for. Having good leaders makes employees more productive, happier, and more engaged, making the business more successful.
Following are some of the tips for becoming a better leader:
Communicate honestly and openly
Encourage Creativity
Make connections with your team
Encourage professional and personal growth
Maintain a positive attitude
Instead of ordering employees, teach them
Clarify employee expectations and goals
Lead by example
Be goal-oriented
Take responsibility
Share the glory
Know how to build a team
Be assertive and courageous
Be confident and Passionate
Recognize and reward your employees
Never stop trying new things
Provide direct feedback on performance
Ask others to evaluate your leadership style
For more information, check out the tips to become a successful team leader.
Conclusion
Your leadership vision must be centered around the 5 Ps of effective leadership: Personal Attributes, Position, People, Purpose, and Process.
If you master the 5 Ps of effective leadership, you can become an outstanding leader. As a result, you can increase the success of your business and yourself. 
When building a strong team culture, keep the 5 Ps in mind. Make all 5 Ps of effective leadership a priority, pursue sustained success, and propel your organizations forward.
For more interesting blogs, don't forget to subscribe to the timeTracko blog.
Related articles