10 Online Team Building Games for Remote Teams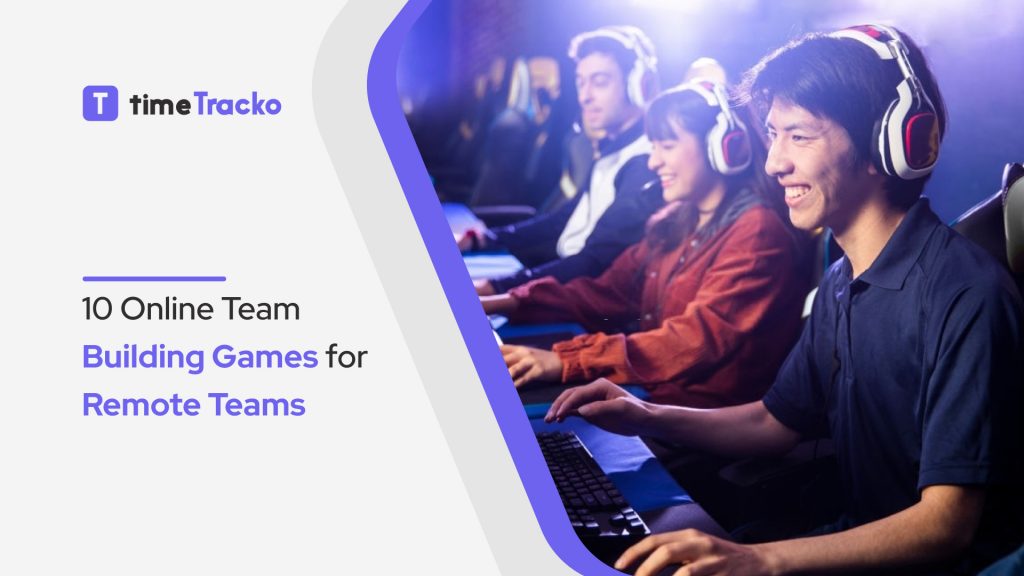 Online team building is the process of building relationships between remote workers via online platforms. More and more organizations are building teams with remote workers scattered across the globe. As in the real world, virtual team building promotes skills like communication and collaboration and also promotes friendships and alignment.
Online games for remote teams are a great way to engage your team. You can play online team building games to foster collaboration and team spirit among your employees.
People enjoy playing games at any age. This is the reason why gamification has become so popular. Games can play a greater role beyond just having fun. Games can increase employee engagement, employee productivity and boost team morale.
Why Team Building Games for Remote Teams are so Important?
Interaction is essential to every team as it helps fortify relationships, builds trust, and promotes individual wellbeing. You want all of your employees to be more than just simply coworkers. You want them to be supportive of one another in a positive way.
However, it can be difficult to create such a bond when you haven't personally interacted with your employees. Because of this, team building games for remote workers are so important.
Online team building games help to reduce the negative effects of online workplace cultures, such as the inability to separate work and personal time, loneliness, and the extra stress of a global health crisis.
10 Best Online Team Building Games for Remote Teams
Here is a list of 10 innovative online team building games for Remote Teams that can enhance employee productivity and make work more fun.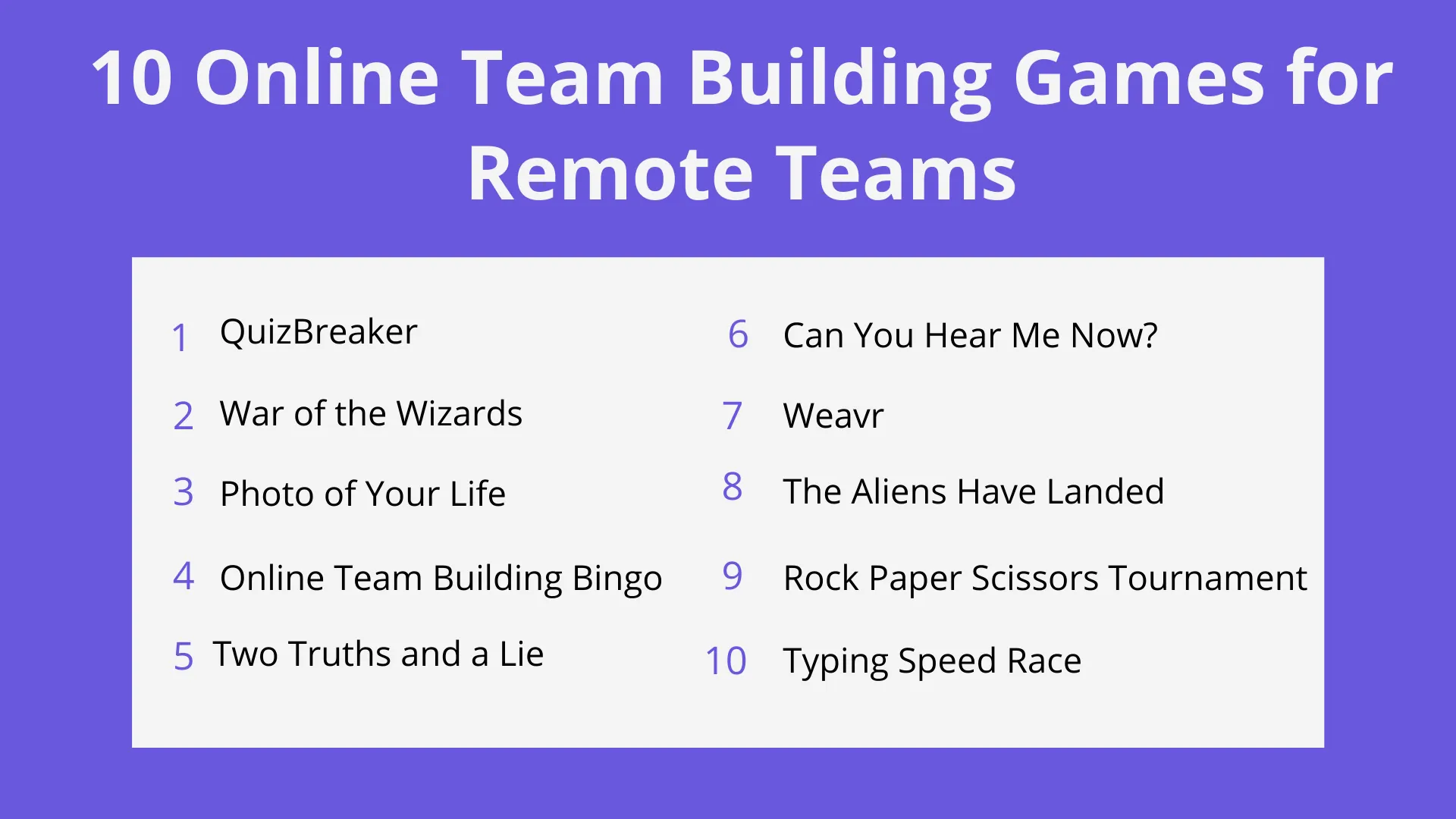 1. QuizBreaker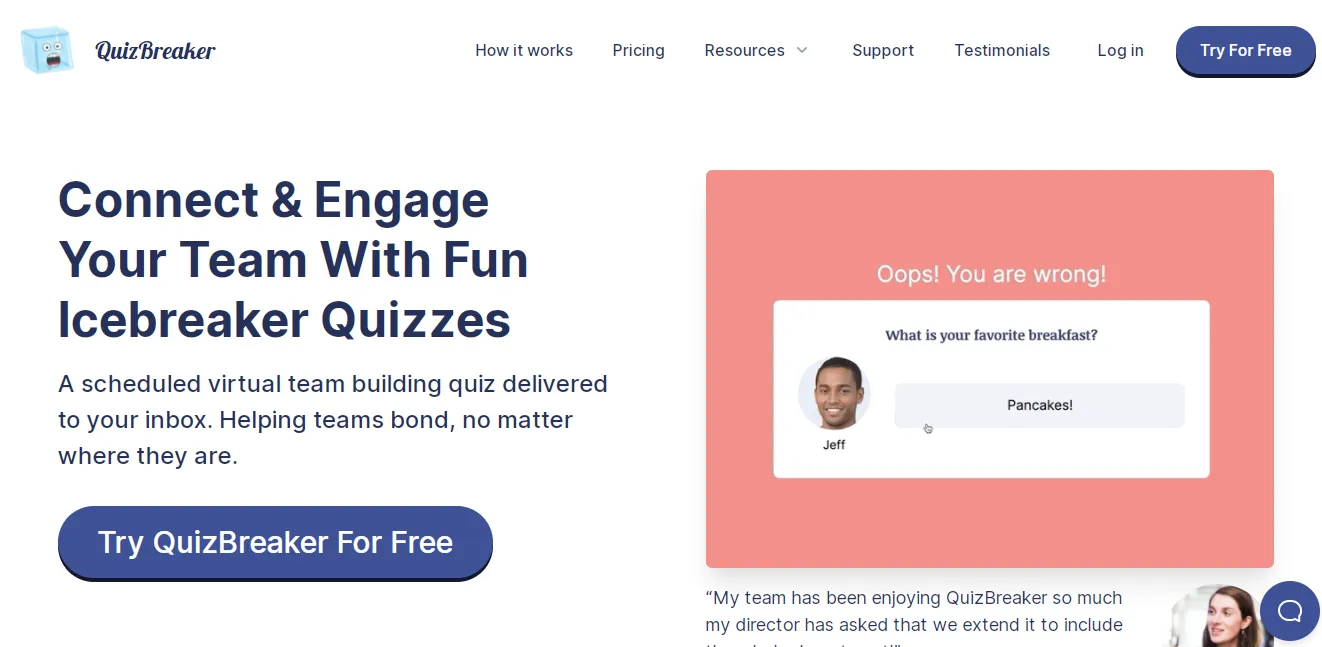 Duration: 2 to 10 minutes for each round
Asking entertaining icebreaker questions and having everyone guess each other's answers in a quiz is one of the finest ways for a remote team to bond, even if they're thousands of miles apart.
The questions in QuizBreaker help to elicit learning and build trust in teams. Each team member can answer up to 100 icebreaker questions. If the player does not wish to answer any questions, they can skip that question.
Then, QuizBreaker generates unique 'who said what' quizzes based on the icebreaker answers from your team. These are automatically sent to your email account and can be scheduled according to your preference.
QuizBreaker facilitates a fun virtual team building experience and brings your team closer together. Each right guess is celebrated in their gamified web app.
2. War of the Wizards
Duration: 90 minutes
War of the Wizards is the unique collaborative storytelling game of magic and wisdom. This game includes the mechanics of RPG games, puzzle-solving, escape rooms, world-building, and storytelling.
The story begins with a group of wizards who have been at war for years, and no one knows why. You and your employee take on the role of wizards' minions and collect magical objects, cast spells, solve puzzles, tell stories and overcome obstacles. To bring a peaceful resolution to the war, you must do whatever it takes.
This game is different and perfect for remote teams and a whole lot of fun for players of all skill levels. You don't need to be an expert to play this game. It is simple to follow. The professional host guides game via video conference.
3. Photo of Your Life
Duration: 15-30 minutes
Ask every member to share a picture of something from their life. It can be any image that reflects the personality of each member or their style of work.
It can be a photo of their kids, their pets, a picture of the shoes they are wearing, a view from their window, their favorite mug to drink tea or coffee, a picture of their desk, or their favorite TV shows. Then ask every employee to share the story behind their picture.
This game is fun, and every team member will get to know one another and create a friendly environment. It works as an icebreaker when you play it for the first time or when a new employee enters the company. 
4. Online Team Building Bingo
Duration: 15-30 minutes
You can play online Team Building Bingo with your remote employees. It is a fun, easy, familiar, and best online game for teams and works well in the online format.
This game is quick and easy to set up, and a little nostalgic. As a starting point, you have to create a bingo board with a variety of actions or accomplishments.
Then, distribute the board to your remote employees and establish a timeline and rules for playing. When a player learns information from a coworker that applies to the Bingo board, they receive a point.
Track the performances by marking x for each box they complete and award prizes for the first player.
5. Two Truths and a Lie
Duration: 10-15 minutes
Ask all the remote team members to write down two truths and one lie facts about themselves. Then, host a video conference and ask each team member to read all three facts.
The other team members need to guess which fact is a lie. Everyone should keep the lie realistic so that it won't be so easy to guess.
The team member with the fact should wait until all the team members have guessed to reveal which one of their facts was a lie. The team member who guesses right gains points.
It is the best way to get to know each other. This game is light and fun and helps to get rid of any awkwardness.
6. Can You Hear Me Now?
Duration: 3-5 minutes is sufficient for each round
"Can You Hear Me Now?" is one of the best and most popular online team building games. This is a fun online game, and you can play this game via video conference.
Choose one employee to be the describer or speaker and the rest as artists. The speaker should only use geometric shapes; for example, you can say "draw a large rectangle" and then" add two triangles" but not "write the letter B".
The speaker must explain how to draw an object like a book, kite, or phone to the artist using only geometric terms. The speaker has to describe the image in such a way that artists can draw it well. It is essential for the speaker to exercise accurate communication skills and for artists to listen and interpret.
At the end of each round, the speaker receives one point for each artist who correctly guesses the object, and each artist who guesses correctly earns one point as well. Calculate the points and give the winner some excellent rewards.
7. Weavr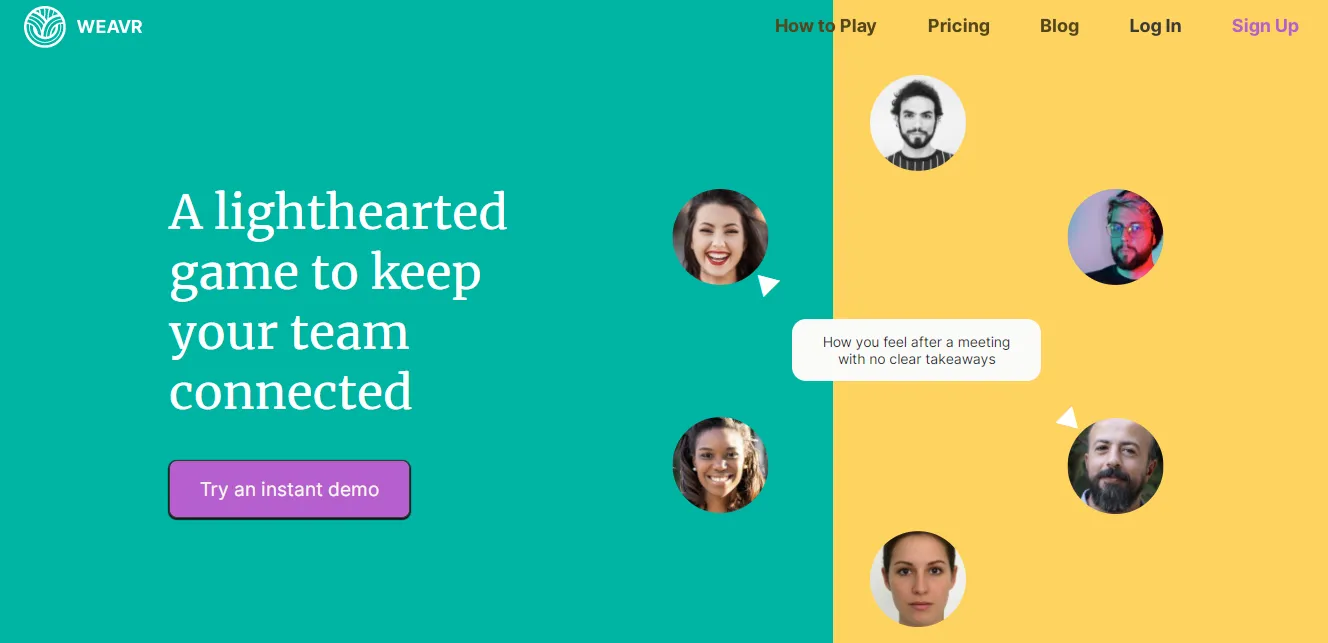 Duration: 10-15 minutes
Weavr is a fun online game and free for up to 7 players. This game helps you to keep your team connected.
At the start of each round, all the players have to respond with answers to a series of funny prompts that appear on the screen. Sometimes you'll only be able to respond with a GIF, while other times, you have to respond with text answers.
Your teammates will then vote on whose answer was the funniest or most "on point." With each round, the questions and tasks become a little more personal. Generally, the questions begin as simple GIF answers to prompts.
It's a fantastic opportunity to observe how your coworkers perceive you and to learn more about them. You start to get to know each other quite well by the end of the game.
8. The Aliens Have Landed
Duration: 30 minutes to 1 hour
This game will promote communication, creative thinking, build out-of-the-box thinking, and is helpful for teams with language and cultural diversity. The more your remote employees communicate with each other and generate ideas, the more comfortable they will feel with each other in the future.
At the start, divide employees into groups of three or four. Then, tell everyone to imagine that aliens have landed on Earth and wish to know about your company. But aliens don't know and speak earthly languages or understand what you do, so you have to explain it with five symbols or pictures.
Ask all the groups to talk and come up with the five symbols or pictures that best describe your company. Look at all the images and discuss the common themes. This will also show you how well your employees understand the company. This is an excellent trivia game for energizing the group chat during a virtual meeting.
9. Rock Paper Scissors Tournament
Duration: 10-15 minutes
This is a great way to test employees' reflexes, responsiveness and promote spontaneity. Try a virtual version of this classic game in real-time using your preferred video conferencing software.
First, two members will face off, and the winner of the match will go on to play with the next member on the team, and so on.
10. Typing Speed Race
Typing Speed Race is one of the free and best online team building games for remote teams. For this game, you can use a typingtest.com free tool. 
Typing Speed Races are a great way to encourage friendly competition between remote teams. Ask all your team members to do a one-minute challenge and post their results to Slack, email, or your company message board. Competitive team members will respond quickly, and the rest will follow.
You can also organize large-scale competitions by conducting a typing speed relay, in which you create teams and tally up the total scores to determine which team wins.
Additionally, it is great for skill-building since typing quickly is an important skill for remote workers.
Conclusion
When working remotely, many team members may feel left out and unappreciated. Therefore, you must make an effort to help employees in forming bonds with one another.
Playing fun online games is the best way to do team building and create meaningful relationships with all the team members while working remotely. Online Team Building Games help remote team members introduce themselves and get to know each other.
Here I have mentioned some of the Team Building Games for Remote Teams. Please feel free to mention your favorite Team Building Games for Remote Teams in the comment section below.
Be sure to check out the lists of 20 Fun Office Games For Employees too.
Related articles