8 Best Tips to Connect with Co-workers While Working Virtually
8 Best Tips to Connect with Co-workers While Working Virtually
For most successful people in their businesses, employees are essential assets. They need to satisfy their employees to enhance productivity. Similarly, employees want to work with fun and stay connected with co-workers.
Employees can give the best performance only when satisfied with their job and dedicated to the work.
Gathering team members and working virtually together helps increase in-person interaction and makes your team more flexible and inventive.
It is said that spending time with co-workers in non-work activities strengthens work relationships. So when you are working inside the office, you get a chance to grab lunches with co-workers, plan for an outing during weekends, and have happy hours.
While working from home, you don't get a chance to meet your co-workers in person because all of them are from different locations throughout the world.
Here are the best tips to connect with co-workers while working virtually.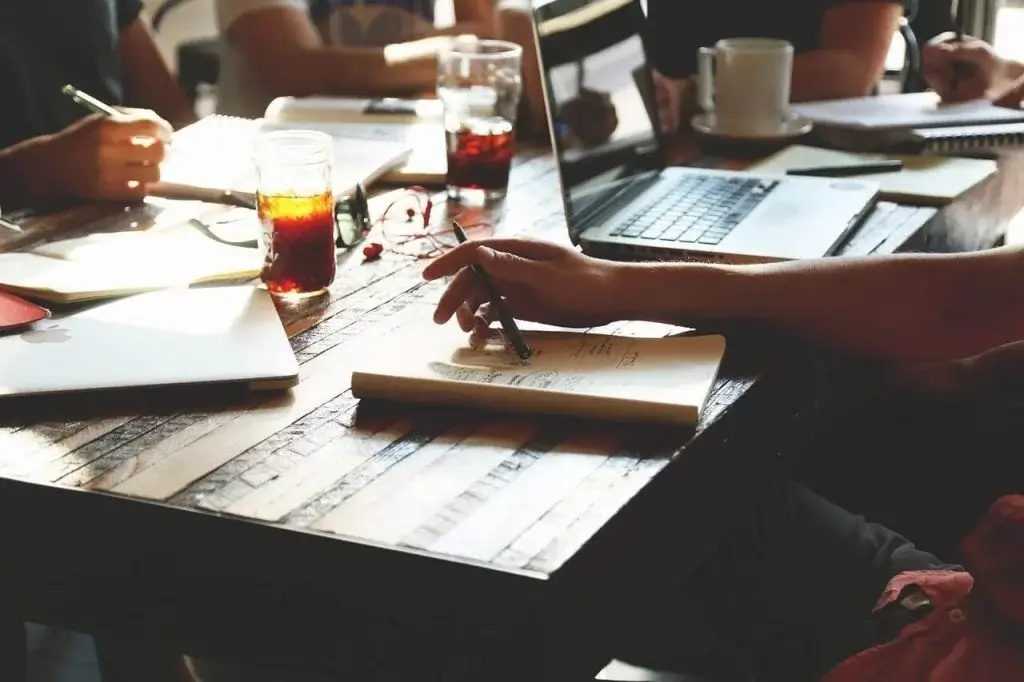 The advancement of technology has made everything predictable. You can work from anywhere and stay connected with co-workers using video conferencing apps like Zoom, Google Meet, Skype, Jitsi, etc. You need a good internet connection and a PC.
Working remotely does not mean one has to work alone all the time and become isolated. Companies must create an environment where all the colleagues can stay connected with each other virtually and collaborate.
8 Tips to Connect With Co-workers While Working Virtually
Here are eight tips that successful people use to connect with their team members while working remotely to enhance productivity.
Virtual Lunches
Encourage Group Chats
Virtual Workouts
Motivate Each Other
Practice a New Language With Co-worker from Another Country
Hold Virtual Meetings Regularly
Recreating Coffee Breaks
Regular Communication
Virtual Lunches
While working inside an office, you will enjoy lunch with your colleagues. But it is not possible to have lunch together when you are working remotely.
Having virtual lunch is not that you meet up with your team members in person and have lunch together, but it is somehow better than eating alone at home.
Let your employees know that you are taking a lunch break at a particular time and invite them to join with their lunch virtually.
Similarly, you can have a group meal when you have a day off by sharing ingredients and preparing similar lunches. You can have a post-work cooking competition and share each other's meal through photos.
You can prepare any lunch and set an appropriate time for having it together virtually with co-workers across the country.
Encourage Group Chats
You can encourage your team members to have group chats by creating Slack or any other team channel or any tools.
Group chats are done regarding work or non-work activities where emojis are included for having fun.
Similarly, creating a company culture and organizing virtual birthday celebrations of co-workers, new year celebrations, and wishing each other on any other special occasion can connect every team member.
You can also praise each other and congratulate each others' accomplishments so that all the co-workers will get the motivation to work.
If your co-workers love to have fun, any of you can share jokes and make each other laugh through a group chat.
In a group chat, you can talk about your family and friends and share each others' culture, let everyone know where you belong, and organize special events on each others' occasions virtually.
Virtual Workouts
When you work from home, it does not mean you should not stay fit and in shape. You have to separate time for workouts during the evening or morning.
Workout breaks should be mentioned in the schedule, and all the co-workers can do workouts as doing workouts alone can be tedious.
You can take a break together and have virtual workouts. When you communicate and do exercises, you gain more energy and maintain your fitness.
You can do yoga, meditation, stretching, and some exercises at home virtually and help one another stay healthy. It is unnecessary to go to the gym regularly for a workout.
Motivate Each Other
While working from home, employees need much more positive energy to work throughout the day in front of the computer.
So if they do not communicate with co-workers, they might feel isolated, and motivation decreases.
As an employer, you should motivate your employees to take breaks every hour and get fresh air by staying away from screens to increase productivity.
You can also schedule virtual coffee breaks with your team and co-workers and talk about non-work-related stuff to stay connected with them while working remotely. It increases motivation, and employees become happier.
Practice a New Language With Co-worker from Another Country
Another way to stay connected with co-workers is by practising their language and teaching them your language while working virtually.
Every co-worker is from a different location, and when they exchange each others' languages, you will be able to explore different languages.
It can be fun practising various languages with your co-workers and making them learn your language as well.
Practising multiple languages can be a plus point to employers and employees as employers can hire employees from any country and become able to talk with them in any language.
Similarly, employees can apply for work from any country when they practice the languages.
When you are monotonous with work and want to try something new, you can stay connected with your co-workers and practice their languages. You can try to learn at least five sentences per day.
Hold Virtual Meetings Regularly
As a manager, you can regularly hold virtual meetings and provide feedback to employees regarding their performance.
Similarly, employees should not hesitate to ask their senior or manager anything regarding work.
When someone claims they are busy and cannot attend a meeting, you can reschedule it when all the team members have time to listen instead of canceling the meeting.
Holding virtual meetings regularly helps you know about your employees' problems, and you can guide them accordingly.
You have to encourage your co-workers to stay productive and provide them with all the necessary tools while working from home.
Similarly, you need to listen to the ideas of every co-worker and share your thoughts too.
You can give a chance to all co-workers to interact with each other during webinars and meetings. So, regular meetings help you plan for a new project when you gather ideas from all your co-workers.
Recreating Coffee Breaks
You can recreate a coffee break and schedule a specific time for having coffee. You can invite your team members virtually and have it together rather than alone when on a coffee break.
You cannot encourage your co-workers to meet up and have coffee, but you can invite them to a video conference and stay connected.
Forget about work, make your mind stress-free, and talk with your co-workers for a few minutes. It encourages your employee to avoid work pressure and stay in touch with colleagues.
Regular Communication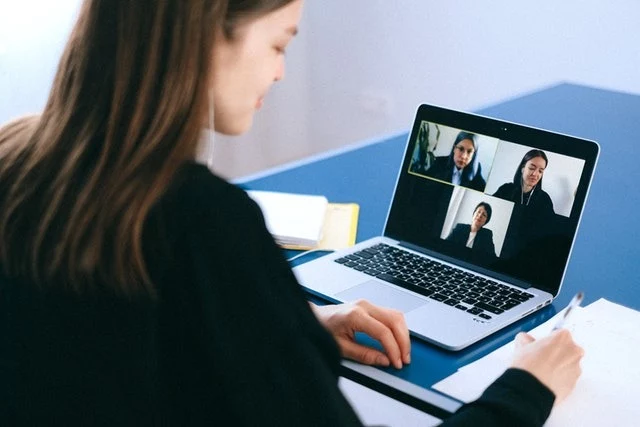 You have to have regular communication with co-workers no matter where they work. Regular communication helps to improve the relationship and makes you closer to each other to share your ideas.
Regular communication can settle misunderstandings among co-workers and increase work efficiency.
You can communicate via email, text, phone call, social media, instant messaging, video conferencing, etc.
When you have doubts, you have to communicate often with co-workers; you have questions, concerns, feedback, a new schedule, results or successes, updates, etc.
Clear communication should be there, and everyone should mention their ideas freely so that you can focus on work and help each other when one has confusion.
Some of the communication tools that successful people use to stay connected with co-workers while working virtually are:
Slack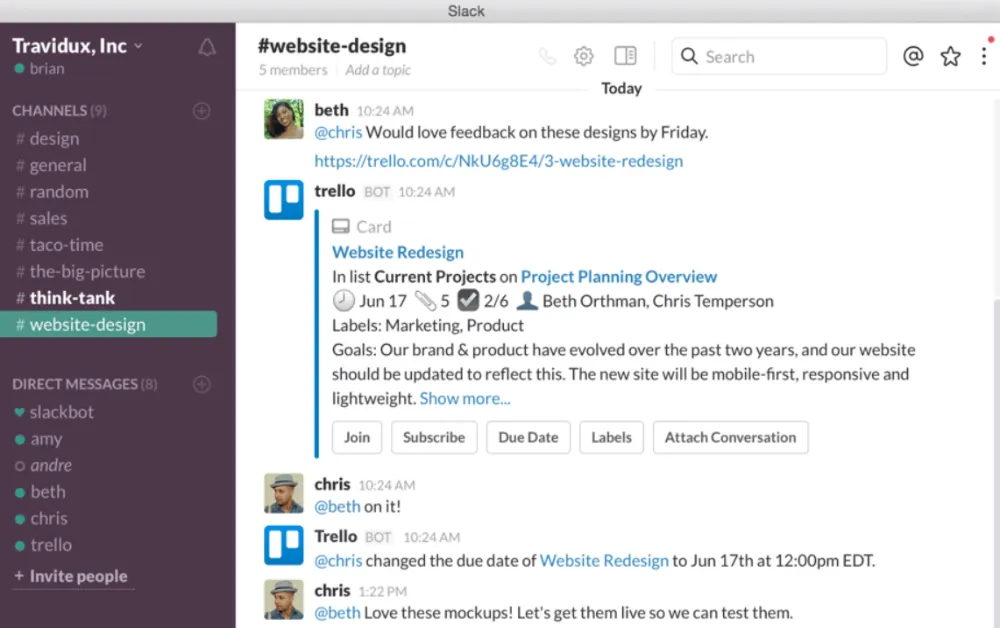 Slack is a popular communication tool used in almost all organizations to communicate with distributed teams.
Using Slack, you can share files securely and have direct communication with co-workers.
Here, you can create different channels, invite your team members to the channel, and speed up communication and work.
You can discuss a project, topic, and team through a channel, and everybody who has joined the channel can see a message.
Over 750,000 companies use Slack to get work done and communicate with external business partners.
It also allows you to have a direct message, audio, and video conference with every individual working together with you.
Features of Slack
Allows you to share instant files with team members.
It makes communication more comfortable and faster.
Allow you to create channels and stay connected with team members.
Maintain security and protect your data at every layer.
Offers integrations with popular tools like Google Drive, Office 365, and other 2200 more apps.
Pricing of Slack
The standard plan costs $6.67 per user per month.
The plus plan costs $12.50 per user per month.
The enterprise plan has custom pricing.
Zoom Meetings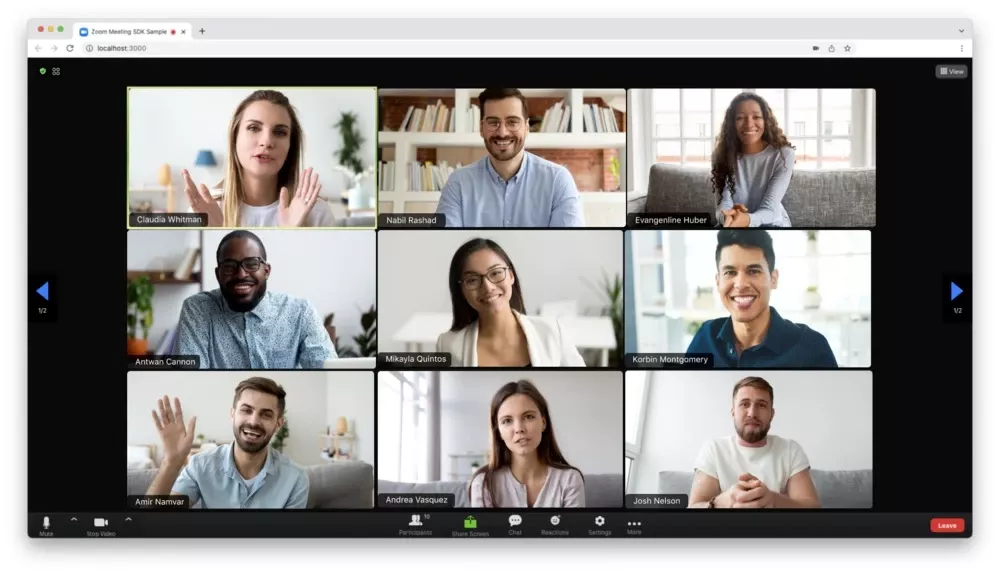 Zoom is a cloud-based meeting and communication software for online meetings, conferences, and webinars.
It is used on desktop, android, iPad, and iPhone. Zoom offers screen recording and screen sharing options while having video conferences, and you can record the meeting when you are busy with work and listen to it later.
It has a high-security feature; when you start a new meeting, you can find the lock meeting feature, and when everyone who is supposed to attend the conference is there, you can lock the session.
Nobody will join that meeting even if they have access to the meeting ID and password until you lock the session.
Features of Zoom  
Cloud-based communication platform.
It allows you to maintain security by locking the meeting.
It offers meeting transcription to the users.
Allows you to record the meeting and share the screen of the presenter.
There is a touch-up appearance feature.
Pricing of Zoom 
The pro plan costs $149.90 per year per license.
The business plan costs $199.90 per year per license.
The enterprise plan costs $199.90 per year.
Skype For Business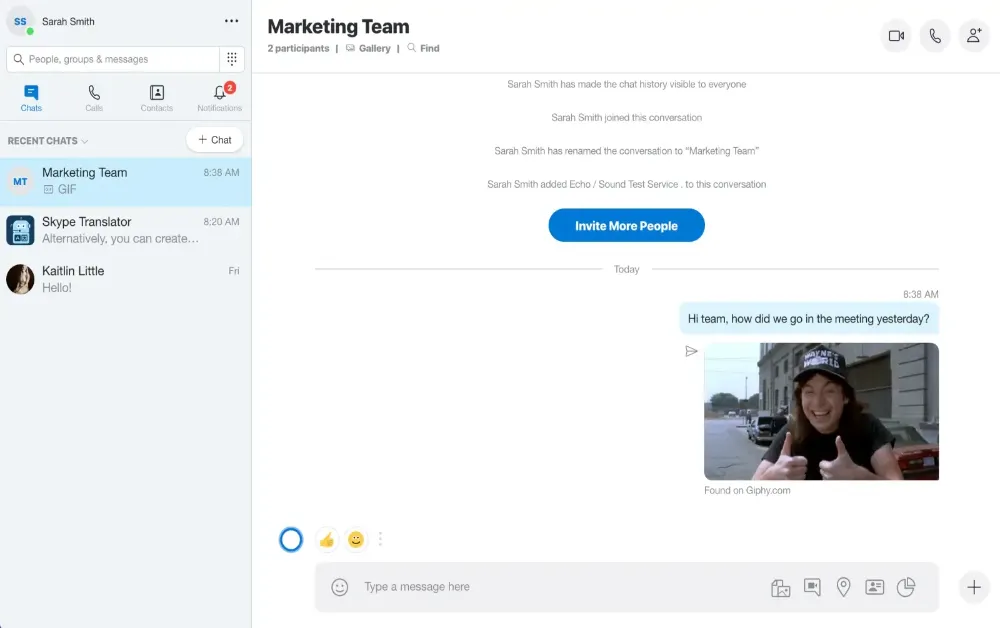 Skype is one of the favourite video conferencing and communication apps used for having instant contact with employees and team members.
It helps you directly communicate with your co-workers and attain a meeting or call across all your devices.
Using Skype, you can identify if a user is available or if they are inactive or they are in the conference call. It can store unlimited files and allow you to share files with your team members.
Skype offers unlimited free calls and chats with your colleagues, and you can schedule a meeting and share your screen during your co-workers' meetings.
Features of Skype
Has instant messaging and file sharing features.
They are used for video conferences and attending meetings globally.
It helps in collaboration among business partners and co-workers.
It offers free calls and chats with unlimited members.
Allows you to share a screen during a meeting.
Pricing of Skype 
Skype is usually free. If you want to call on a cell phone or landline with friends or business partners in the US via Skype, you can use a subscription that starts at $2.99 per month.
Microsoft Teams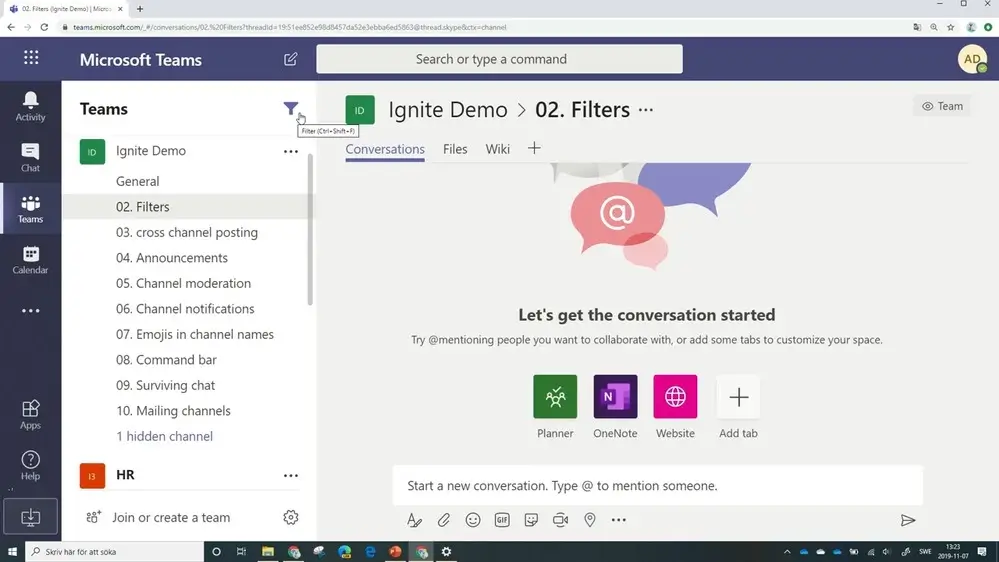 It is a communication and collaboration app with all your chats and conversations, meetings, and files within one location.
You can share your opinion send gifs, stickers, emojis, etc., in a group chat or individual messages using the app.
The Microsoft team supports more than 1,000 participants at a time. It has a screen sharing feature to share your screen while presenting a meeting with your team members.
You need to work for an organization with a 365 or office 365 subscription to use a Microsoft team.
It has a custom background feature that allows you to create a virtual setting by choosing, uploading, and blurring your background.
Features of Microsoft Teams  
Allows you to create an online meeting with more than 1000 participants.
It helps to track the attendance of the participants.
Allow you to share files among team members.
Users can share their screens while giving a presentation and record the meeting.
It helps in direct communication through video conferences or direct messages.
Pricing of Microsoft Teams
Microsoft 365 Business Basic plan costs $5 per user per month.
Microsoft 365 Business Standard plan costs $12.50 per person per month.
Office 365 E3 plan costs $20 per user per month.
Conclusion
In conclusion, the above tips can make you stay connected with co-workers and become successful when you work virtually.
Working virtually can also be challenging when proper communication between employees and employers is lacking.
So you can create a team and allow them to work together on a project by connecting in a video conference.
Connecting with co-workers remotely can enhance productivity, and you can fulfill your organizational goals.