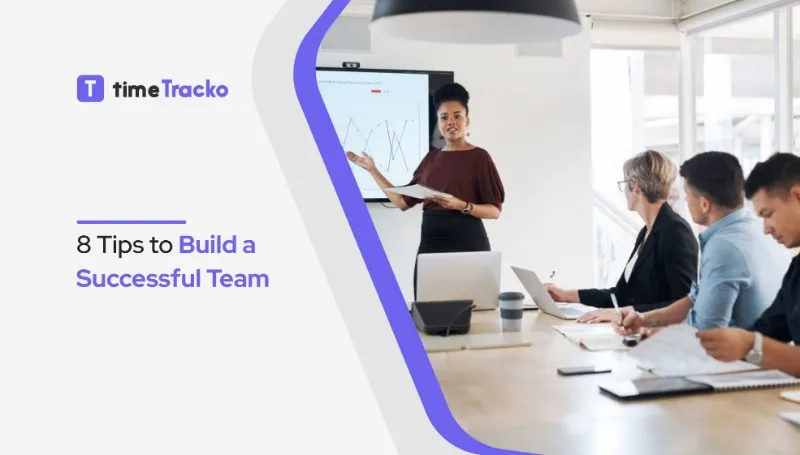 Building a successful team doesn't happen overnight. The process takes a lot of time and effort. Leaders have to face many challenges while building great teams.
It is up to the leader to bring the best out of all the team members so that they can perform well. The main responsibility of a leader is to motivate the team to perform better.
As a leader, it's your responsibility to lead, motivate, and inspire your team to achieve the organization's goals. You have to lead your team toward productivity and cohesiveness. It is essential to nurture and maintain a team just as you do for individual employees.
Remember that the most successful team leaders develop their relationships based on loyalty and trust rather than fear of their positions.
To build a successful team, you need to put a lot of time and effort into it. If you're interested in knowing how to Build a Successful Team, here in this blog, we have 8 tips for you to follow.
Why is Team Building so Important?
It is possible to overcome the biggest obstacles if you have a great team that shares the same objective and works together to accomplish it. A team that works together understands what their goals are and how they can work together to achieve them. Never forget "Teamwork makes the dream work".
When team-building is implemented, employees communicate and develop trust and unity. They talk about how to accomplish the task and what methods to use to get the desired results. Employees feel more at ease expressing their problems and needs, which leads to better communication.
The best thing about working in a team is that you always have your teammates on your side. Team building improves employees' interpersonal relationships and brings them together. When all the team members work together as a team, they will share both their failures and their victories with each other. It brings the team member closer and builds trust between them.
Team building improves the productivity of individuals and organizations. Teamwork allows individuals to learn new skills and sharpen their existing ones. It improves team performance and efficiency, and team members will complete more work in less time.
A team-building activity can help your employees come to the same page, work better together, and motivate them to finish tasks on time. When companies meet their goals and deliver their best, they can increase revenues. Therefore, team building helps to increase productivity and improve the overall bottom line.
8 Tips on How to Build a Successful Team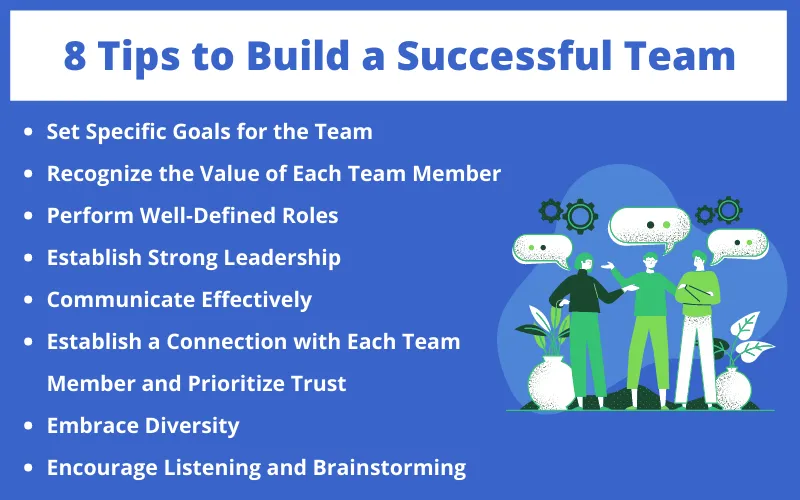 Set Specific Goals for the Team
Setting goals for a team helps all the team members to come together and tackle challenges. Team-specific goals provide everyone with something to work towards.
When the team sets goals, everyone gets the opportunity to showcase and improve their skills and share their unique experiences. Developing team goals helps employees feel like they are contributing to the company's objectives.
Each team member must understand what the team is trying to achieve and how success will be measured. They must be aware of the meaning of a particular activity as part of a larger goal. If your employees do not understand the purpose of the work, they will fail, and you will have to call to outsource.
Everyone in your team must be aware of their role, workflows, and sufficient resources. The team leader must hold everyone accountable for what they are accomplishing, how they are accomplishing it, as well as the teams' culture and values.
Recognize the Value of Each Team Member
A team's success is never solely the result of your actions. Your team is the engine of your business, so you should never take them for granted. By performing well, all team members contributed to the success. Your company wouldn't experience success if your team members didn't perform well.
So, appreciate your employees every day, not just at annual events. Gratitude them for their contributions and acknowledge their achievements. When you appreciate your employee, they feel valued and motivated to work harder. The more they feel appreciated, loved, and valued, the more likely they contribute to the company. Most significantly, they are more satisfied with their jobs, which implies they are less likely to quit the job.
It is not necessary to make extravagant gestures to show appreciation. Even little actions can make a big impact. You can send a brief email, send a handwritten note of thanks and appreciation, or make a call of encouragement.
When your team is satisfied with the leadership they work under, your company's success is almost guaranteed.
Perform Well-Defined Roles
When team members have well-defined roles and duties, they can concentrate on completing particular tasks and following specified workflows instead of worrying about where they fit. When each team member has a particular responsibility, teams function best.
You can assign each team member a different role, like some can lead different types of projects, some can conduct research, and some can perform analysis.
It reduces team member bickering. There will be no doubt regarding who will handle which elements of the project. This improves relationships among members and minimizes distractions. Misconceptions regarding responsibilities will not develop, and members will not fight over who will handle specific tasks.
Establish Strong Leadership
To build a successful team, you must be an effective leader. Effective leaders influence even when they are not present around and motivate the team to perform well in all group and individual tasks.
Leadership is demonstrated when you are dedicated, responsible, and accountable for your job. To be a successful leader, you must also accept feedback, cultivate adaptability and inspire team members to perform at their best.
Do not overburden individuals with too much work while leaving other team members with a lot of spare time. Show your human side to your employees so that they will be happier to follow your lead.
Communicate Effectively
Communication is one of the major factors to consider for successful teamwork. Teams need clear communication lines to work together smoothly. Lack of communication can lead to a lot of irritation, frustration, and resentment. Tell your team what is expected of them directly and clearly.
Clearly define and clarify the roles and responsibilities of each member of the team. So that it will be clear who has responsibility for what and what actions need to be taken when a problem arises or needs to be solved. Communication helps to secure the success of your team.
Holding meetings all the time is not the best way to facilitate communication. It means you should always be open to concerns and suggestions, ask questions and offer assistance, and do all possible to minimize confusion in your communication.
Establish a Connection with Each Team Member and Prioritize Trust
It's very important for any leader to get to know each member of the team as an individual, both professionally and personally. If you put in the effort and take the time to learn more about your teammates and what their interests are, you will build better relations within the team.
Every individual has their own interests, characteristics, set of skills, preferences, and drawbacks. If you know these facts, you can assign each worker the appropriate task. That is the best way to help them become more productive and satisfied at work.
The more you trust them, the more they will trust you and the company to provide them with the resources they require to grow and succeed. Trust is essential for psychological safety. Demonstrate trustworthiness within your team and show gratitude when others demonstrate it.
Always remember, when it comes to trust, it takes time to build, but it breaks quickly.
Embrace Diversity
When people work in diverse teams, they are more likely to prepare thoroughly, anticipate alternative perspectives, and actively attempt to tackle complex problems.
Team members with different skill sets, experience levels, and professional backgrounds form the most productive teams. Include members who have divergent opinions and encourage a diverse viewpoint. You can develop an intrapreneurial mindset and long-term skills that will help you succeed by embracing diversity in your company.
If your team is varied in terms of age, professional experience, cultural background, or other aspects, use this diversity as a strength.
Encourage Listening and Brainstorming
Brainstorming is the most effective method to adopt when you need new ideas and when old approaches are no longer functioning. Your first priority as a leader in achieving consensus is to encourage debate.
Keep in mind that employees are often frightened to disagree with one another, and this might lead them to make subpar decisions.
By encouraging debate, you encourage creativity, and that is how you will motivate your team to achieve better results.
Brainstorming allows team members to think freely without fear of judgment and facilitates continuous collaboration to solve problems and develop new ideas.
Conclusion
An effective and successful team is a unit of workers that can identify new approaches to achieve a company's goals and increases productivity through collaboration.
Building a successful team is not something that can be accomplished overnight. This process requires a great deal of attention and regular evaluation. In order to improve the performance of a struggling team, it's important to focus your attention on leadership, relationships, and ownership.
Hopefully, the suggestions mentioned above will assist you in forming a successful team that will help your company succeed.
For more interesting blogs, subscribe to timeTracko blog.
Related articles