8 Tips to Build a Successful Team
8 Tips to Build a Successful Team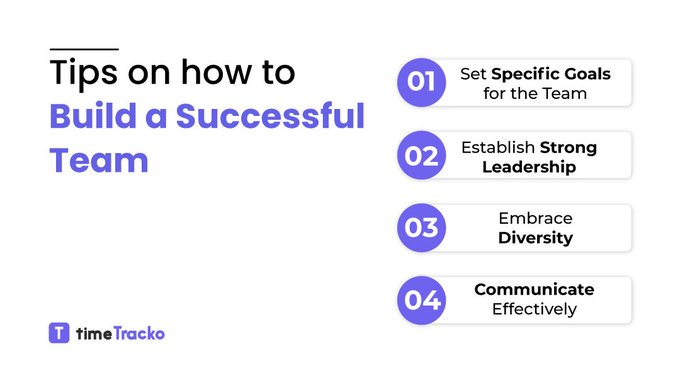 The future success of a business depends on having a team of professionals that can propel its growth. It is better to hire a team of people to handle different aspects of your business, despite your desire to do things all on your own. Nevertheless, you should focus on continuously growing your business. 
However, finding the right people to make a "perfect" team is probably the most challenging aspect of this process, assuming there is such a thing. Thus, while hiring employees, a resume is a crucial component, but not the only one. 
The true essence of a successful business team is the presence of highly qualified workers and the ability to trust one another, rely on one another, and share a common goal. The company leaders must look deep into what makes their team successful.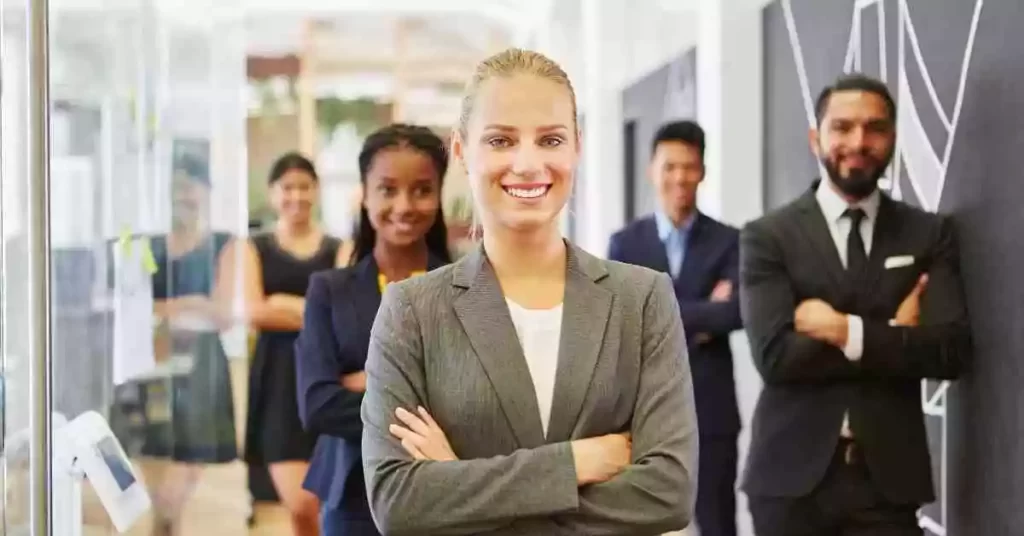 And if you are also one of the people looking for the perfect employee to form a perfect and successful team, then there are no unicorns to help you form the one. Disappointing, right?
But do not worry, because forming a perfect team is entirely up to you and your action towards employees. As a leader, it is your responsibility of getting the most out of all your team members to contribute to building a successful company.
We have created this article to help you learn how to build a successful team, covering topics such as how to define a successful team, its importance and how to build your own.
What is a Successful Team?
A successful team is one that incorporates several factors, including mutual respect, common and aligned goals, open communication, and patience among team members.
Teams with a sense of ownership will be adept at problem-solving, planning, and setting goals to accomplish the team's vision. The team will be able to fulfil their individual responsibilities better when they are focused on the collective vision.
There is no easy way to build an effective team – everyone, even the leader, must be conscious of their efforts. Here are five key elements any successful team should possess. Take the time to learn about each of these and strive to optimize them within your team.
Clear goals and objectives. You must ensure that everyone on your team knows what each activity means in relation to a global goal. You may need to hire outsourcers if employees fail to comprehend the purpose of the task.
Distinctly defined roles. It is important that each employee understands their position in the company and its hierarchy.
Cooperation. A successful team has a sense of accomplishment as a group, not as individuals.
Flawless communication. Each person should be able to express any questions, concerns, or ideas that they may have. There should be no barriers to communication.
Individual development. Throughout the work collaboration, it is important that employees do not lose their voice despite orientation to cooperate.
Learn More:- Why Time Management Is So Important At Work
What Are The Characteristics of a Successful Team?
A successful team is built on getting to know each other, finding solutions together, and solving problems together. Team members benefit from the added exposure and opportunities that come with being part of a successful team. These characteristics are often found in successful teams:
Goal-oriented mindset: Successful teams establish goals, implement them, and track their progress together in a collaborative effort to increase efficiency and productivity.
Commitment to their roles: Professionals who work in positions that align with their strengths are generally highly motivated.
Open to learning: Roles and responsibilities may be adjusted by teams as projects or tasks demand. As team members learn new skills and take on new challenges, they will grow professionally.
Diverse perspectives and experiences: The best teams are those with the broadest range of perspectives and experiences – this fosters creativity and innovation.
Shared culture: Have a common mission or set of values? Teams that share a common mission or set of values are usually more productive.
Responsibility and accountability: Team members can be held accountable when they share a common set of values and goals.
Clear communication: Good teams brainstorm solutions, keep everyone updated on the status of tasks, and accomplish them.
An effective leader: Those leaders who clearly direct their teams and motivate them to do well are typically the ones who manage successful teams.
8 Tips On How To Build a Successful Team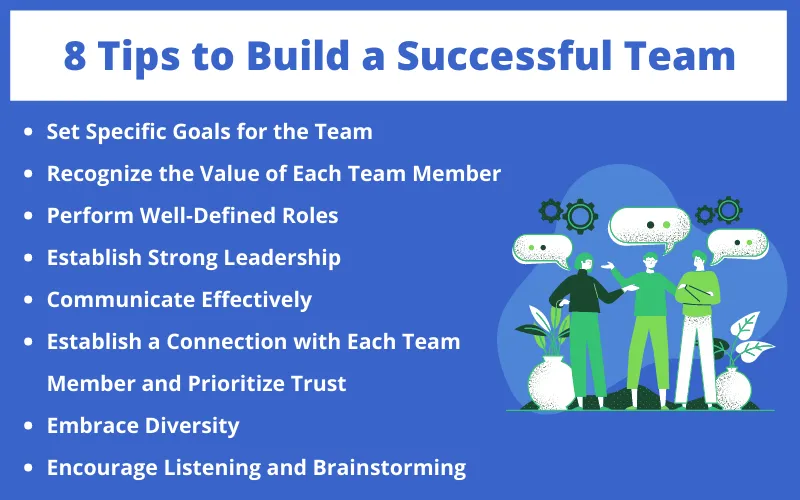 Set Specific Goals For The Team
Teamwork is made easier by specific goals, which encourages people to come together and face challenges together. Setting goals for a team motivates people to work together to achieve them. By setting goals, everyone has the opportunity to show their skills, improve their abilities, and share their experiences.
The development of team goals helps employees feel like they are contributing to the organization's goals. It is important for each member of the team to understand the objectives of the team and how results will be measured. It is important for them to see the purpose of a particular activity in the context of a greater goal.
Without a clear understanding of the purpose of the work, your employees will fail, and you will be forced to outsource your work. You must make sure everyone on your team knows their roles, workflows, and resources.
It is the team leader's responsibility to hold everyone accountable for what they are accomplishing, how they are accomplishing it, and what the culture and values of the team are.
Establish Strong Leadership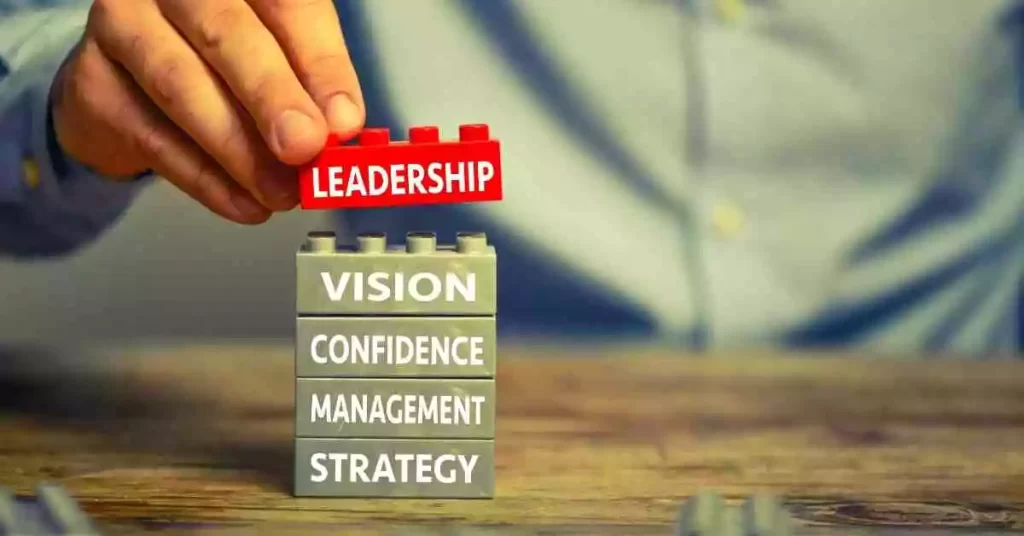 To learn how to lead a high-performing team, you must first learn how to serve as a strong leader. The leader who has the power of influence has the ability to motivate their team.
By fostering transparency and an honest approach, trust is fostered rather than authority established. Employees who have concerns should be able to raise them openly with leaders.
The key to becoming a strong leader is:
Big picture vision: making excellent decisions based on a global perspective and transparent problem-solving
Delegating tasks/responsibilities: Team leaders should not leave their members with too much work while others have plenty of free time.
Communicating clear purposes: Understanding your team's objectives will make it easier to work together.
Being honest and friendly: The sooner you show the human side to your workers, the more likely they will follow you.
Learn more:- The 5 P's of Effective Leadership
Recognize The Value of Each Team Member
A team's success is never solely the result of your actions. Your team is the engine of your business, so you should never take them for granted. When all team members perform well, your business succeeds. Your company wouldn't experience success if your team members didn't perform well.
So, appreciate your employees every day, not just at annual events. Gratitude them for their contributions and acknowledge their achievements. When you appreciate your employee, they feel valued and motivated to work harder.
It is not necessary to make extravagant gestures to show appreciation. Even little actions can make a big impact. You can
Send a brief email,
Send a handwritten note of thanks and appreciation,
Make a call of encouragement
The more they feel appreciated, loved, and valued, the more likely they contribute to the company. When your team is satisfied with the leadership they work under, your company's success is almost guaranteed.
Learn More:- Effective Ways To Keep Employees Happy Without a Raise
Set The Connection With Every Individual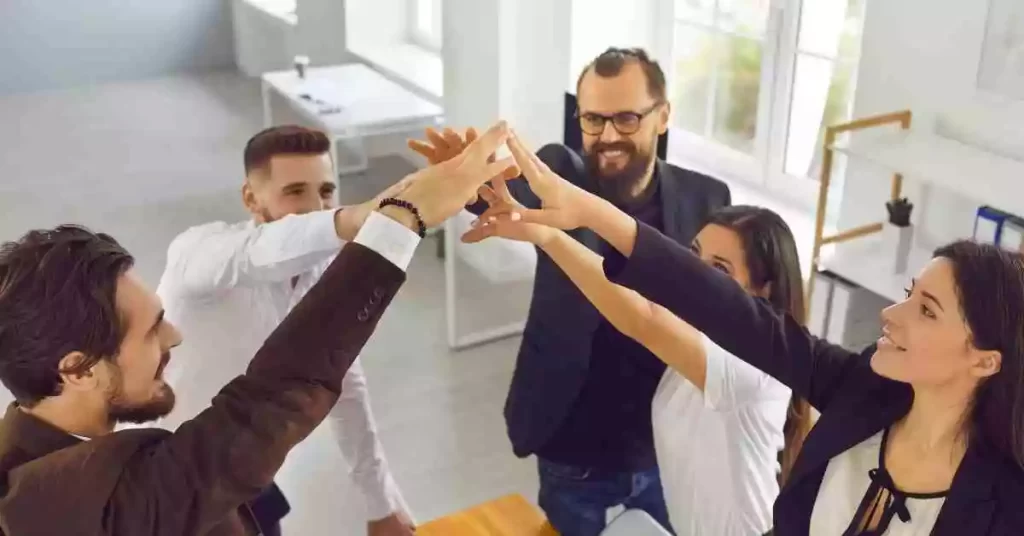 Getting to know each team member on an individual basis is a good idea for any manager. Everyone has their own set of characteristics, skills, and interests. Each of us has both strong and weak points.
Knowing these facts allows team leaders to match each worker with the right task and build trust and engagement on a personal level. You as a team leader may conduct non-formal team events to boost engagement.
For instance, keep the connection alive by congratulating birthdays and attending weddings.
Learn More:- How To Enhance Your Team Communication
Perform Well-Defined Roles
When team members have well-defined roles and duties, they can concentrate on completing particular tasks and following specified workflows instead of worrying about where they fit.
When each team member has a particular responsibility, teams function best. You can assign each team member a different role, like some can lead different types of projects, some can conduct research, and some can perform analysis.
It reduces team member bickering. There will be no doubt regarding who will handle which elements of the project. This improve relationships among members and minimizes distractions.
Communicate Effectively
For successful teamwork, communication is a major factor to consider. Effective communication allows teams to work together effectively. When there is no communication, frustration, resentment, and irritation can result.
Tell your team clearly and directly what is expected of them. Be sure to clearly define the roles and responsibilities of the team members so that when a problem arises or needs to be solved, it will be clear who has responsibility for what and what needs to be done.
Although communication helps your team succeed, constantly holding meetings is not the best way to do so. It is better to hold meetings less often and remain open to concerns and suggestions, ask questions and offer assistance, and minimize communication confusion.
Learn More:- Importance Of Team Collaboration
Encourage Listening And Brainstorming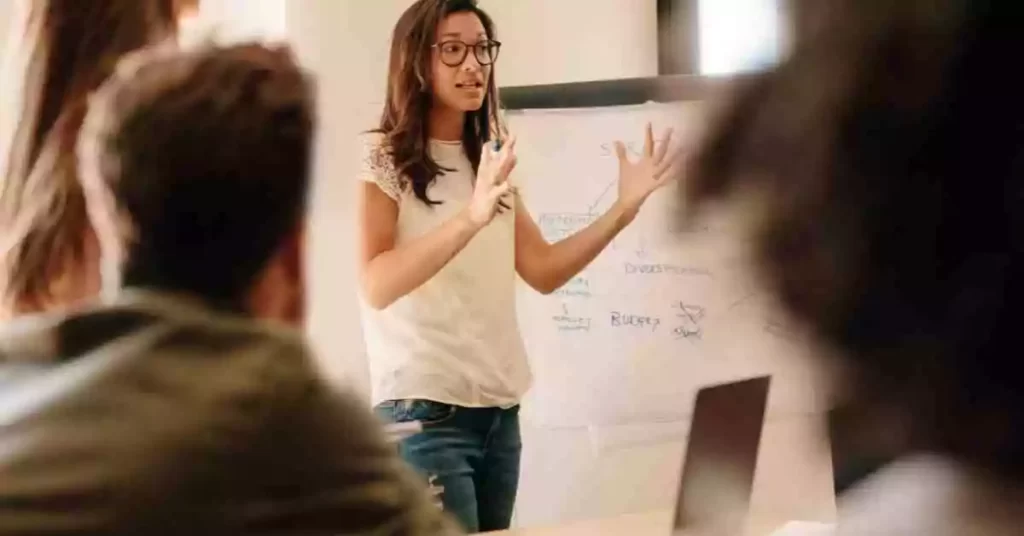 When you need new ideas and when your old approaches are no longer working, brainstorming is the most effective approach. You must encourage debate as the leader to achieve consensus.
Be aware that employees are often apprehensive about disagreeing with one another, which can lead to poor decisions. Your team will be motivated to achieve better results if you encourage debate and creativity. The brainstorming process allows team members to think freely without fear of judgment, making it easy to develop new ideas and solve problems.
Maximize The Skills of Your Team Members
Every person on your team is different and has a unique personality and skill set. It is your duty to find out how to pair your team members in a way that complements their skills. Every member of your team has different strengths and weaknesses, so you need to recognize that.
One member's strength can counteract another's weakness. The goal here is to minimize deficiencies that can hinder the growth of your organization by limiting the performance of your team.
In order to lead effectively, you need to understand where each member of your team is at so that you can set him or her up for success. It requires a high level of emotional intelligence. In order to motivate people and correct their problems efficiently, you need to know how to communicate effectively with a variety of personalities.
Learn More:- Best Ways to Motivate Your Employees
Final Words
Taking into account team effectiveness, your team and you should come together for a common goal. All parties should have an understanding of how the business operates and how their fellow team members perform.
Teams are a priority for companies, no matter their size or sector, according to the latest organizational trends.
Putting together a successful team is not something that can be done overnight. It is a long and meticulous process that requires consistent attention.
With the tips mentioned above, hopefully, you will be able to create an effective dream team that takes your company to new heights.