Best Software Tools for Office Management Work
Best Software Tools for Office Management Work
Office management includes the overall supervision of the office. Office management includes planning, tracking, and implementing work processes in a suitable work environment and coordination to obtain fruitful outputs with proper management tools and software.
Office management requires software tools for proper functioning and working when offices operate with employees working from the office.
The management software tools help in properly managing and implementing the rules and regulations of the office to meet organizational tasks and criteria.
Office Management and Its Types
Office management aids in the receipt, recording, and processing of information, as well as the provision and retention of information. It is the sector of management that deals with the execution of these duties. It is the practice of efficiently utilizing office resources in order to get the greatest results with the least amount of time and money.
Office Management types are:
Corporate Office Management
Managers at each branch of a particular company are included in corporate office management roles. Because the district manager (usually situated at the headquarters) supervises all other branch managers, traveling between company branch offices is frequently a major element of the work.
Corporate office managers also strategize unique organizational approaches for human resources and marketing activities.
Learn More:- Remote Manager Can Kill Your Workplace Culture👨‍💼👨‍💼
Medical Office Management
Medical office management jobs include hospital administration tasks. It is critical to ensure that all medical facilities are kept in good working order. Medical office managers are in charge of governing and organizing the hospital employees, physicians' presence, and patient data.
Legal Office Management
Legal office management positions include practical law knowledge as well as a thorough understanding of legal procedures. Law office managers are in charge of a firm's legal administrative assistants, payroll, and human resources department.
Virtual Office Management
Many companies recruit managers to work from home. They like managers that are present in several places and interact with stakeholders virtually. Office managers may be invited to face-to-face meetings on a regular basis, perhaps once or twice a month.
Best Software Tools For Office Management Work
With various software on the market for office management, we need the best ones with concern to pricing plans.
Office Management tools and software make the whole office process easy and structured. Some best office management tools for your company, business, or work are mentioned below:
Some Office Management Tools and Software
With various software on the market for office management, we need the best ones with concern to pricing plans.
Office Management tools and software make the whole office process easy and structured. Some best office management tools for your company, business, or work are mentioned below:
Time Management and Productivity Software
1.timeTracko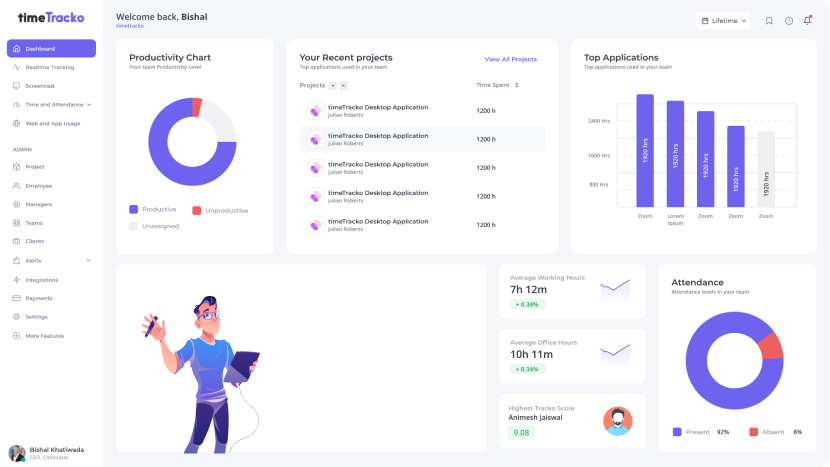 timeTracko is an application made for tracking employee time and productivity. It is a time and productivity tracking app that makes analysis easier for office management. timeTracko has a user-friendly interface.
Some Features of timeTracko
Tracks the mouse clicks and keystroke for knowing how active your employees are.
Provides an option for real-time tracking via screenshots and videos.
Allows screencasting that helps in the detection of irregularities and advising employees regarding productivity.
Allows employers to track time for a particular project, task, or customer, making planning and management easier.
Groups the programs, applications, and websites into productive, non-productive, and neutral divisions.
View the total number of hours an employee worked.
Helps you review the summary of the usage of each employee to analyze which employee is more efficient.
Productivity charts help your company's management by daily, weekly, and monthly analysis of productive and non-productive hours of employees.
Pricing of timeTracko
timeTracko is completely free. It offers:
Free plan with all premium features for unlimited users and no timeliness.
No credit cards required.
2. Cold Turkey Blocker

Cold Turkey Blocker supports the blocking of websites, games, and programs, allowing you to increase your productivity and recover your spare time. It is available for both types of OS: macOS and windows.
For example, you may restrict access to social media and video sites during the workday. When the workday is over, you might also ban work applications like Slack. It's all up to you. You may also manually switch blocking on and off if you like.
Some Features of Cold Turkey Blocker
Use to lock, log off, or disable your computer.
Allows you to easily plan time away from your desk for a break or a short walk.
Use the default distraction list, import pre-existing website categories, or make your own unique blocklists.
Allows you to block games, websites, and other windows apps that disturb your productivity.
You can decide to lock your block to prevent yourself from simply deactivating it. A locked block immediately prevents you from disabling the extension or uninstalling Blocker.
Pricing of Cold Turkey Blocker
| | |
| --- | --- |
| Blocker Free | Free |
| Blocker Pro | $39.00 for lifetime |
Learn More:- Pomodoro Technique To Increase Productivity💪💪
Office File Sharing Tools
1. Google Drive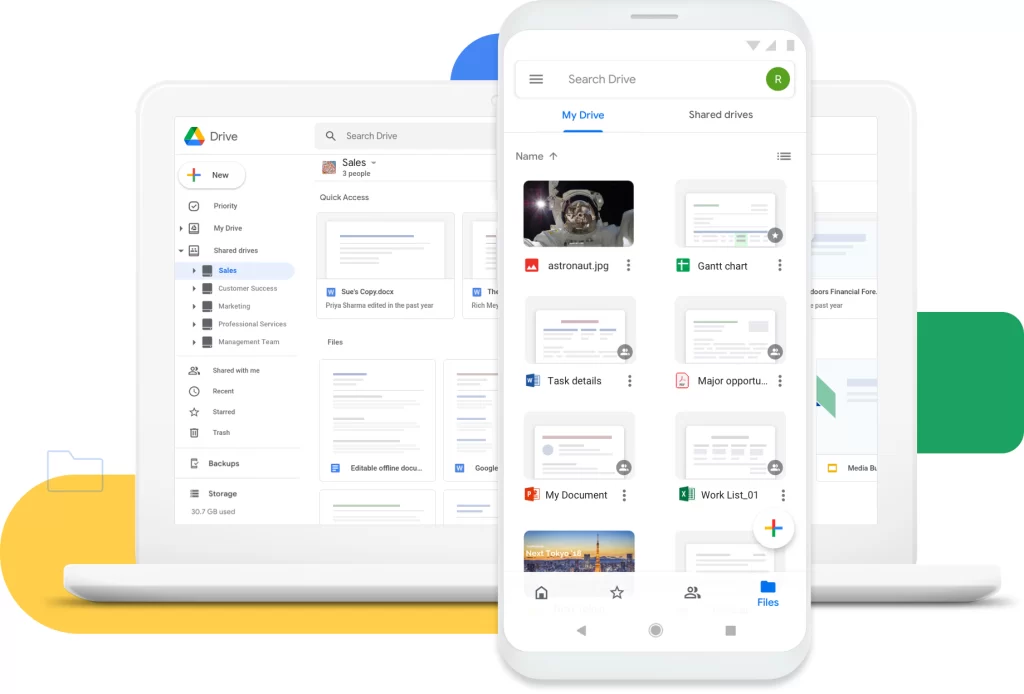 Google Drive is a cloud-based technology that allows users to store their files and documents for free up to 15 GB.
Google is a great office management tool and helps users document management and files without losing them.
Some features of Google Drive
Allows team collaboration through documents, spreadsheets, and other types of files.
Allows easy access to the files you have stored and allows team members to view and edit files with authority.
Ensures users of privacy by keeping content safe. It scans the documents to drive away malware, spam, or anomalies while storing the content.
This tool is integrated with other applications, and you can cooperate in Microsoft Office Files with different types of files.
Artificial intelligence-fused search technology in Google Drive helps users find documents and data after typing the keyword that matches the title.
Pricing of Google Drive
| | |
| --- | --- |
| up to 15 GB | Free |
| 100 GB | $1.99 |
| 1 TB | $9.99 |
| 10 TB plus | $99.99 |
2. DropBox Business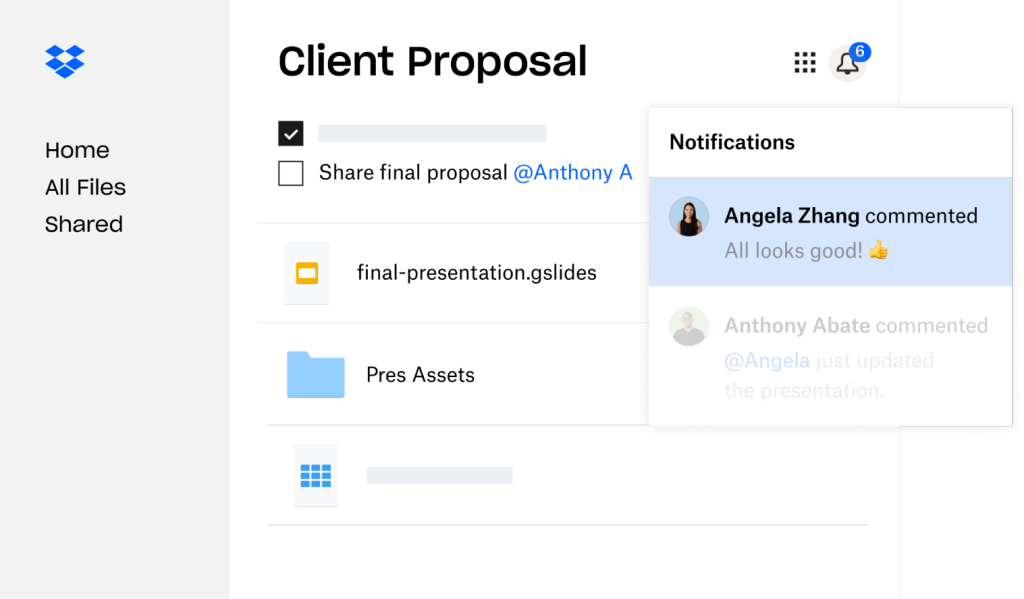 Dropbox is where all the content of your team is stored. You can use the tools you love. Dropbox gets rid of the clutter so you can focus on the essentials. People can stay organized, stay in sync, and stay protected with it.
Some Features of DropBox Business
Share files securely and effortlessly in real-time.
Keep everything safe in online storage. Also, it provides automatic backup to the data.
Protects data and keeps your work life and your home life organized. Security was built into the design.
Dropbox time management tools reduce work about work so teams can be productive in the workplace.
It also helps in organizing a team.
Pricing of Google Drive
| | |
| --- | --- |
| Personal Plus | $9.99 / month |
| Family | $16.99 / month |
| Professional | $16.58 / month |
| Standard | $12.50 / user / month |
| Advanced | $20 / user / month |
Task Management Tools
1. Trello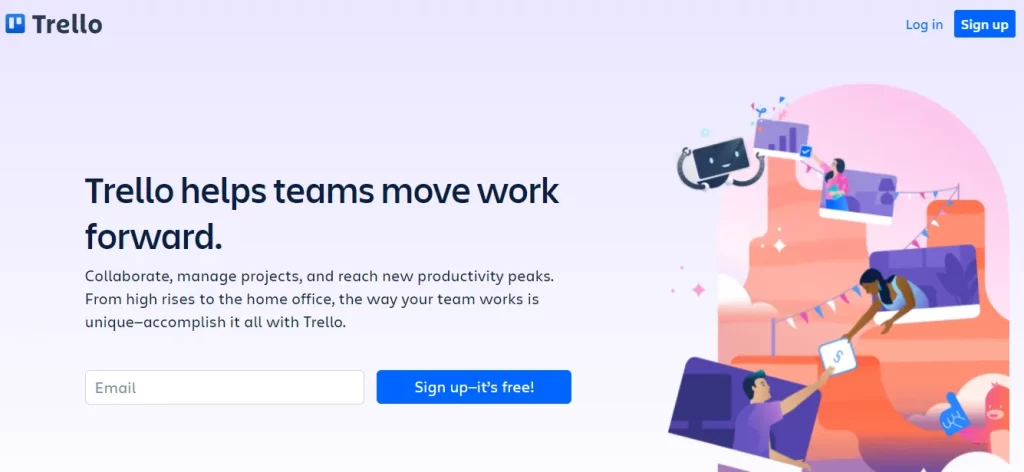 Trello is a management application that helps in good collaboration among team members.
With different projects made in a company, Trello helps arrange all projects onboard. You can know which employee is working on what project, making office management smooth.
Some Features of Trello
Users can select the view of their choice for the Trello board. The board includes timelines, tasks, calendars, etc.
Trello cards contain checklists with dates and attachments that help manage a task easily.
The built-in automation feature helps teamwork by lowering the tedious work in loops as the robot works for you.
Provides integrations with other tools that make the workflow easy and systematic for team members.
Pricing of Trello
| | |
| --- | --- |
| Basic Version | Free |
| Standard Version | $5 per user per month |
| Premium version | $10 per user per month |
| Enterprise version | $17.50 per user per month |
2. Evernote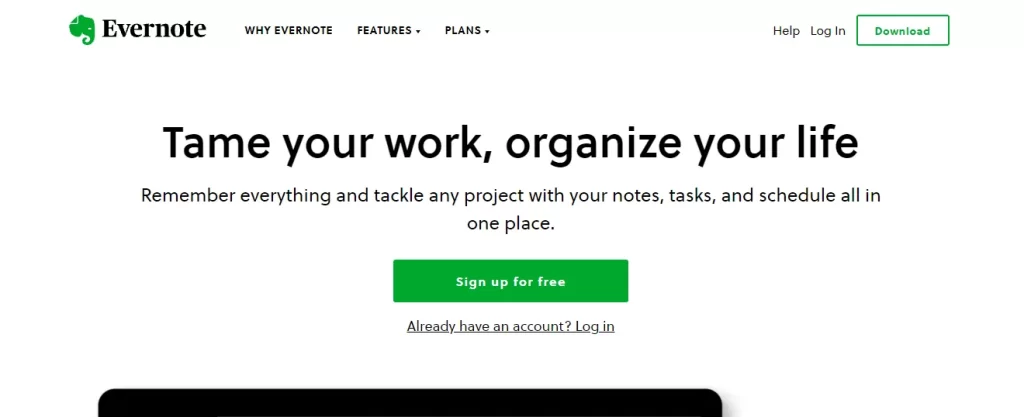 Evernote is an application that keeps important files like receipts, to-do lists, or any important documents of the entire team.
Users can access Evernote from any device and sync to access the documents from any device.
Some Features of Evernote
Sync and organize features help users access notes from any location and device.
Files you store in the app are safe, and you can easily search for a particular document and take notes at important events and team-building activities.
Web clipper allows you to save screenshots from the web along with articles or web pages as pdf files and gives the option to edit them and organize them.
With Evernote's document scanning feature, you can digitize business cards, receipts, and ID cards to go paperless.
Templates offered by Evernote are easily customizable, and you can make a list of to-do tasks and let Evernote act as a task manager.
Users can delegate tasks to others and track the entire day with flags and reminders.
Pricing of Evernote
| | |
| --- | --- |
| Basic | Free |
| Evernote Personal | $7.99 per month |
| Evernote Professional | $9.99 per month |
| Evernote teams | $14.99 per user per month |
Learn More:- Best Project Management Tools for Small Businesses🚀🚀
3. Google Calendar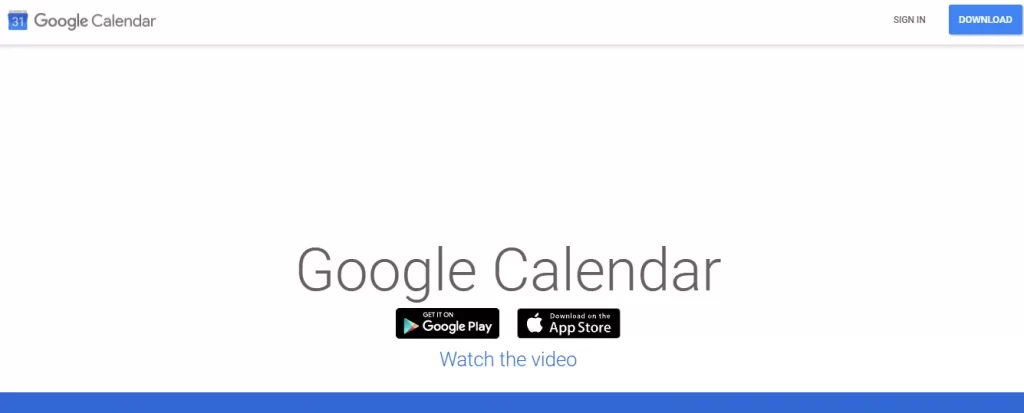 Google Calendar helps schedule events and meetings within an organization and helps the members keep reminders about certain events.
You can create multiple calendars for official use and benefit without missing an important meeting or discussion.
Some features of Google Calendar
The scheduling of events is accompanied by event creation, setting notifications, adding guests with event descriptions, and saving events.
Events management can reply to an invitation, check the guests, and update with event deleting.
Users can view the different reminders and create and remove personal reminders independently.
Can share your calendar, and for groups, import and export different shared calendars and even delete them.
Managing events is easier, and you can adjust the look of your calendar by changing the view.
Keeping notes and reminders for certain dates is possible, and you can edit your to-do list and make necessary changes.
Pricing of Google Calendar
| | |
| --- | --- |
| Basic | Free |
| Business | $5 per user per month and $50 per year |
Office Communication Tools
1. Slack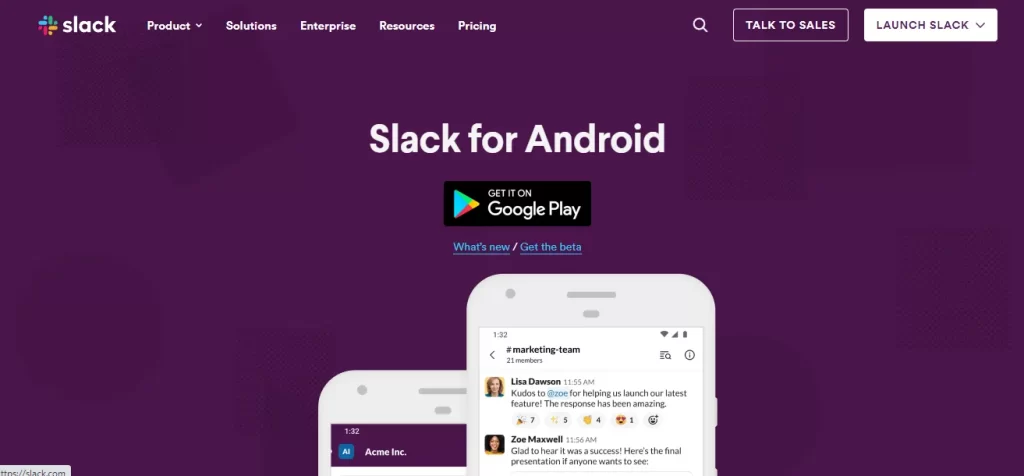 Slack is used as a communication tool in business organizations. The entire office members can conduct daily tasks and meetings via slack.
It is a great office management tool as team members can individually connect and discuss work matters openly.
Some Features of Slack
Slack channels help create spaces for team members where discussions and files exchange is possible.
Slack connect allows the officials of different offices to connect for work.
Messaging feature helps communicate with members who work remotely, and the chat is private and secure.
You can connect to your team memes from any location with an internet connection and share screens for presentations, and organize video conferences.
Users can react to posts with different emojis and gifs; you can choose modes for viewing and adjust zoom levels.
Slack commands provide different features, and there are keyboard shortcuts for accessibility.
The inclusion of third-party applications like Google Drive and 2200 others for integration make management easy for officials.
Pricing of Slack
| | |
| --- | --- |
| Pro | $6.67 per user per month |
| Business Plus | $12.50 per user per month |
2. Microsoft Teams

Microsoft Teams is a persistent chat-based collaboration tool that includes document sharing, online meetings, and plenty of other highly essential corporate communication capabilities.
Having a great team space is essential for communicating with one another and making innovative decisions. A shared workspace application makes this much easier to implement, especially if a team is situated in a large organization, has many remote employees, or consists of a large number of team members.
Some features of Microsoft Teams
Teams are created in the form of channels, which are conversation mediums for teammates.
Similar to Slack, all team members may watch and add to different discussions in the General channel, and they can use the @ feature to invite other members to different talks.
Every Microsoft Teams team will have a site in SharePoint Online with a default document library folder. All files shared across all discussions will be saved to this folder automatically.
Enjoy smooth and efficient video conferences with employees or clients outside of your company. A strong video call feature is essential in a collaborative platform.
Desktop sharing is simple and fast, allowing for real-time collaboration with multiple users and technical support.
With an online meetings option that can host up to 10,000 individuals, this tool may assist improve your communications, company-wide meetings, and even training.
Online meetings also include a scheduling tool, note-taking software, file uploading, and chat messaging in-meeting.
Audio conferencing is a capability that not many collaboration platforms provide. Individuals on the go may join using a phone number that covers hundreds of locations without using the internet.
Pricing of Microsoft Teams
| | |
| --- | --- |
| Microsoft Teams (free) | Free |
| Microsoft Teams Essentials | $4.00 user/month |
| Microsoft 365 Business Basic | $6.00 user/month |
| Microsoft 365 Business Standard | $12.50 user/month |
3. Hootsuite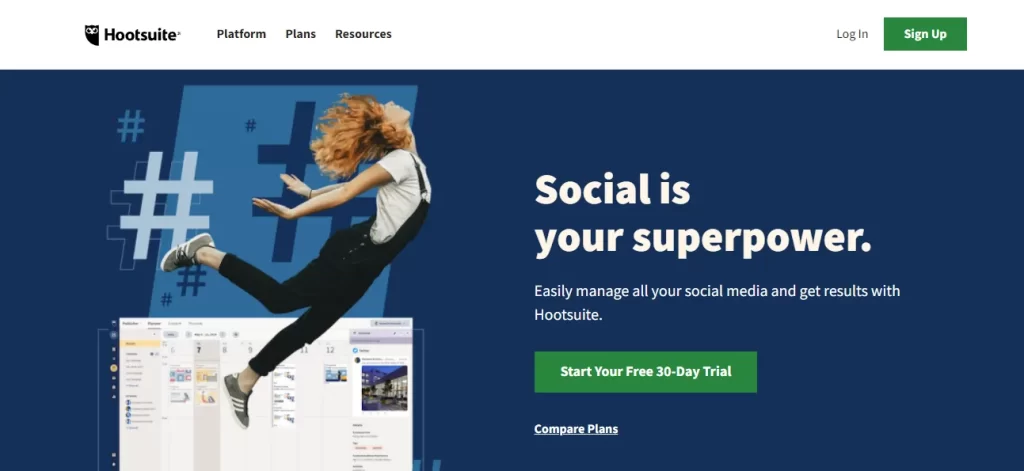 Hootsuite allows users to manage different social media accounts from one application.
Hootsuite acts as social media manager for official social media account handling and is a great choice as it makes office marketing easy and systematic.
Some Features of Hootsuite
Creates posts for different social media simultaneously on different accounts. You can schedule the posting time as per the requirement.
View all the social media content from one application and take care of messages and views.
Replying to messages with the Hootsuite app is easier, and you can schedule the campaigns and collaborate.
The analysis of results through the report provided by Hootsuite is needed to identify the brand advertising and marketing progress.
Pricing of Hootsuite
| | |
| --- | --- |
| Professional | $49 per month |
| Team | $129 per month |
| Business | $599 per month |
Team Collaboration Tools
1. Zoom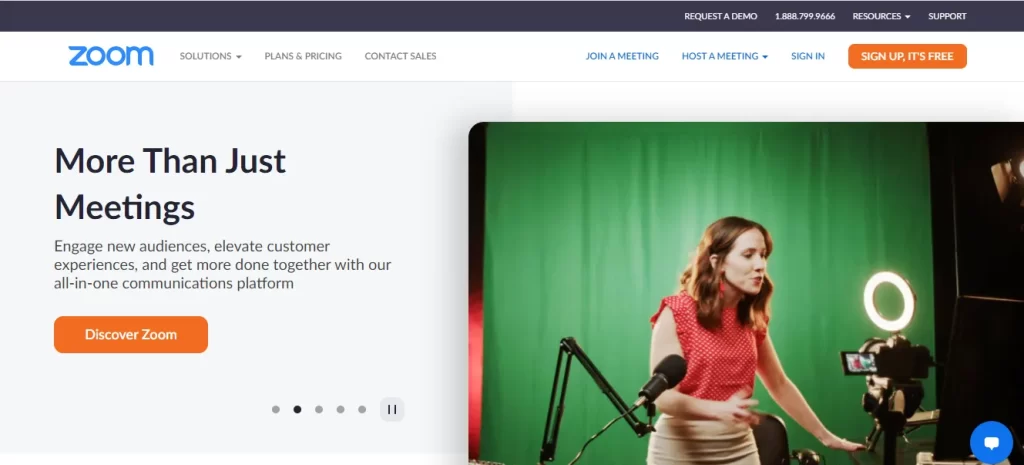 Zoom is one of the best communication tools for office management. It provides options for web conferencing with audio or video.
The daily meetings with remote workers use the Zoom application for collaboration and planning.
Some Features of Zoom:
Allows the team members in a company to communicate with one another and hold daily discussions related to work via chatting, video calling.
The screen sharing option allows users to share the whole screen for presentations and meetings or share an application online.
When a person is speaking among the many in a meeting, the camera automatically shifts to the active speaker making the presentation systematic.
You can schedule meetings on a particular day and host meetings with clients from different regions of the world.
The recording option allows you to record the entire meeting locally, and you can view and make reports by referencing the recorded video.
For larger meetings and collaborations, the total participants are 500 in large rooms in a seminar that extends up to 10000 participants.
Compatible with different devices and operating systems and is easy to use.
Pricing of Zoom
| | |
| --- | --- |
| Basic | Free |
| Pro | $149.90 per year per license |
| Business | $199.90 per year per license |
| Enterprise | $240 per year per license |
2. Google Meet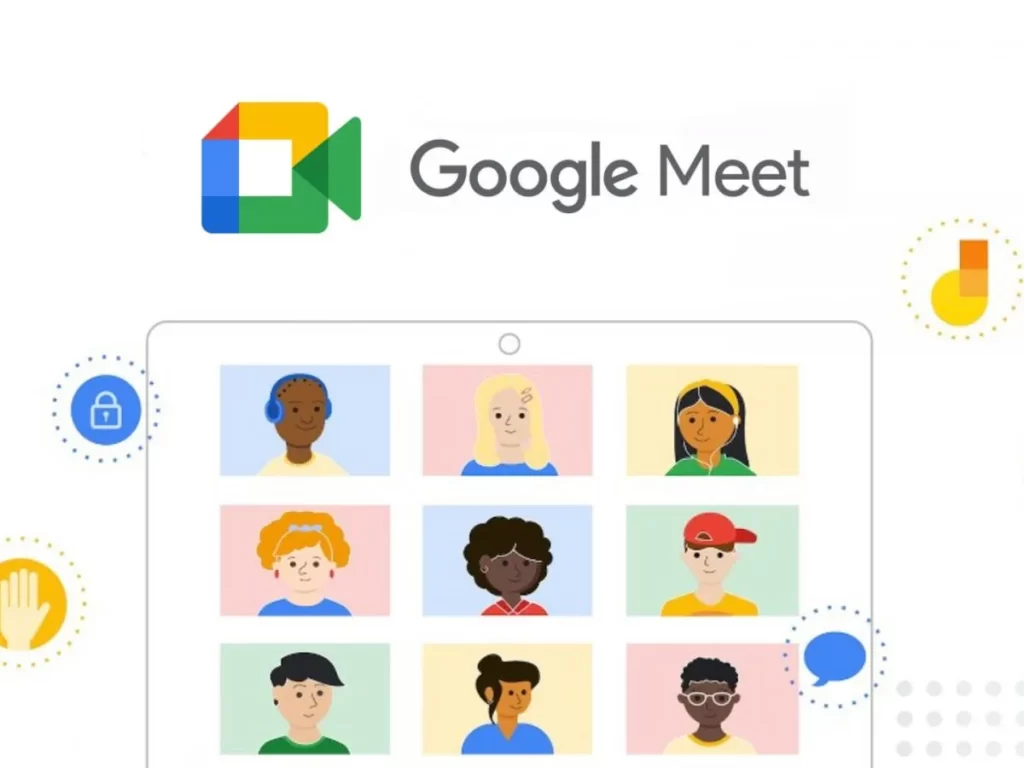 Google Meet, also known as Google Hangouts Meet, is designed to allow dozens of individuals to attend a virtual meeting and chat or share videos with each other from any location with an internet connection. It's a video-chatting service designed to assist at business and office use that allows coworkers to communicate via video and text.
Some Features of Google Meet:
Unlimited call duration.
Host collaborative brainstorms with new digital whiteboarding integration in Google Meet
Improved video quality in low-light conditions
Users can now join secure video meetings directly from Gmail without having to open another app.
The live captions are fully automated and can be followed in real-time.
When you're about to enter a meeting, you may utilize the preview screen to fine-tune your camera and microphone.
You may check who has already been allowed to register to attend the conference.
In-transit encryption that meets with IETF security guidelines is used in all video meetings.
Pricing of Google Meet
| | |
| --- | --- |
| Google Meet | Always Free |
| Google Workspace Individual | $7.99* per month |
| Google Workspace Enterprise | Contact sales for pricing |
Accounting Tools
1. ZipBooks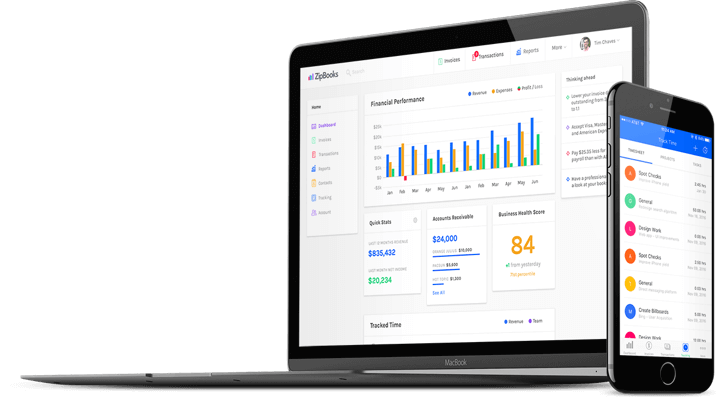 Zipbooks is the simple accounting software that gives you the tools and intelligence to take your business to the next level. It is a cloud-based accounting and payment processing service for small companies and accountants.
ZipBooks users may generate personalized invoices with logos, themes, and messages. The software's online bookkeeping feature includes accounts receivable and financial statements. The system automatically integrates transactions and creates real-time reports of corporate spending with the assistance of bank connectivity.
Some Features of ZipBooks:
Smart method to manage all of your transactions, keep track of who owes you and what you owe, and figure out how much money your business is producing.
With the intelligence provided by ZipBooks, you can streamline your business, create happy customers and make smarter decisions.
Provides a logical way to keep your bills on track and on schedule, while also providing you with feedback as you go.
Offers simple techniques for tracking and allocating spending, saving receipts, and managing suppliers with whom you do business.
Pricing of ZipBooks
| | |
| --- | --- |
| Starter | Free |
| Smarter | $15 per month |
| Sophisticated | $35 per month |
| Accountant | Custom Pricing |
2. Xero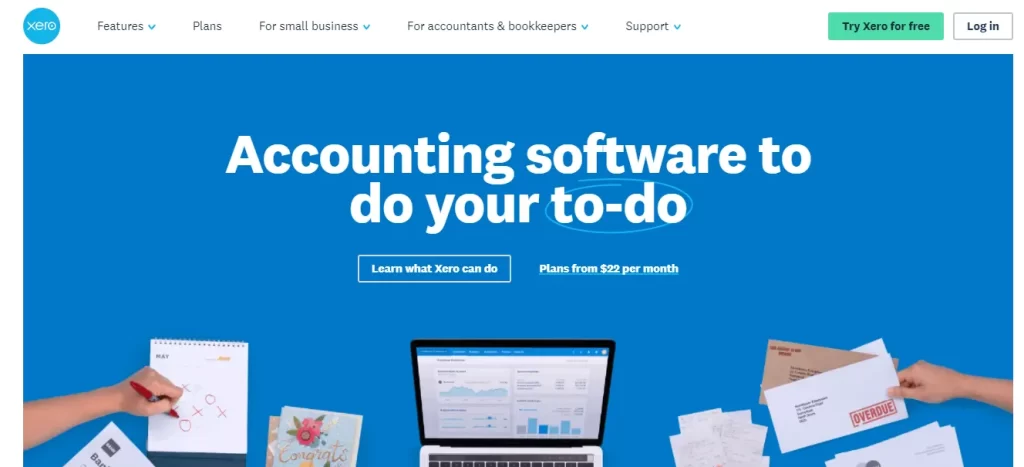 The office uses the Xero application for accounting purposes. Xero application is useful for handling transactions of banks and sending invoices via automation.
It is useful as an accounting management application in offices, and its top features are mentioned below.
Some Features of Xero
Helps track the bills and analyze the bills that require payments for better knowledge of cash flow.
Users can track their expenses and costs and reimburse claims of expenses.
Allows banks to track transactions and accept online payments without a credit card.
Helps track profits and costs of projects and manage customer contacts with sales and payments.
Using HubDoc, you can store copies of original papers without manual data entry.
You can use payroll apps via Xero and manage, share other useful office documents and files with bill receipts.
With auto calculation for sales tax, users can view reports for sales tax returns.
Pricing of Xero
| | |
| --- | --- |
| Starter | $22 per month |
| Standard | $35 per month |
| Premium | $47 per month |
Learn More:- Best Time Tracking Software for Accountants📒📒
Data Storage Tools
1. Google Cloud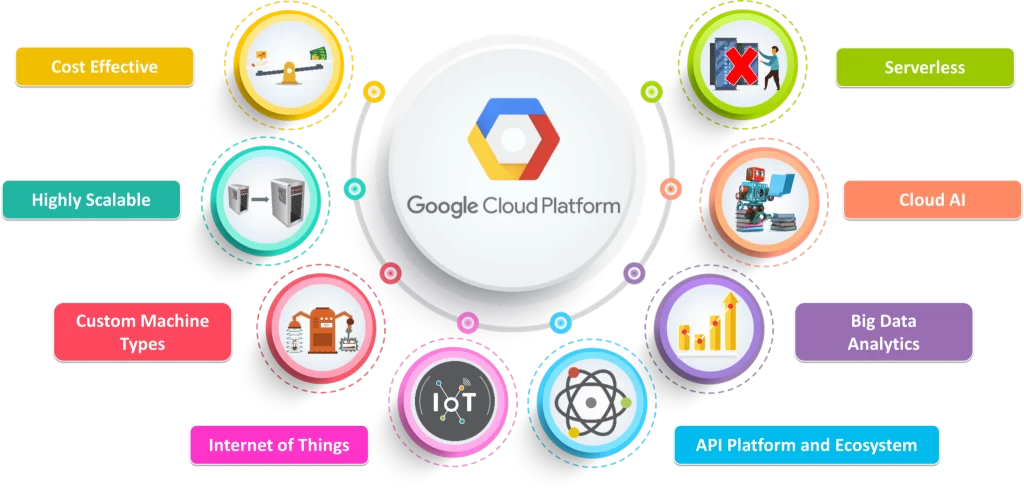 Google Cloud Platform(GCP) is a combination of public cloud computing services provided by Google. GCP is a package of cloud computing services based on the Google App Engine framework for hosting web applications from Google's data centers.
It covers a variety of Google-hosted services for computation, storage, and application development. Software developers, cloud administrators, and other business IT professionals can access Google Cloud Platform services through the public internet or a specialized network connection.
Some features of Google Cloud:
Provides a complete big data solution, but it also has two unique tools for big data processing and analysis: Google Cloud Dataflow and BigQuery.
BigQuery, first and foremost, allows users to do SQL-like searches on terabytes of data. Additionally, you may upload your files in bulk from your Google Cloud Storage account.
The second tool is Google Cloud Dataflow. Google Cloud Dataflow, which was also announced at I/O, lets you build, manage, and analyze data processing pipelines.
Has two hosting options: App Engine (Platform-as-a-Service) and Computes Engine (Infrastructure-as-a-Service).
Cloud Debugger allows developers to debug and test programs in production.
Developers may set a watchpoint on a line of code, and when a server request hits that line of code, all of its variables and arguments will be returned.
As Google tests and updates regularly, it also actively begins migration when maintenance is required. Your running instance is immediately migrated by Compute Engine.
Cloud Store is a feature that allows you to "save and retrieve per-user data." It also enables the synchronization of cloud-stored data across devices.
Pricing of Google Cloud
You can create a Google Cloud account to see how Google Cloud products function in real-world circumstances. New clients receive $300 in free credits for running, testing, and deploying workloads. All clients have access to 20+ goods for free, subject to monthly usage limits.
2. Microsoft Azure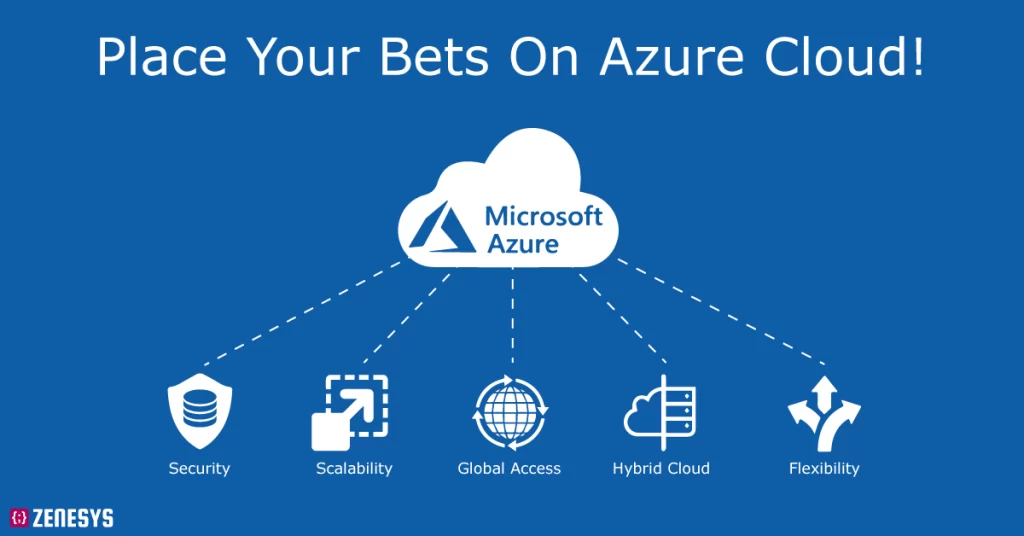 Microsoft Azure, originally known as Windows Azure, is a public cloud computing platform developed by Microsoft. It offers a variety of cloud services such as computation, analytics, storage, and networking. Users can select among these services to create and grow new applications, as well as run existing apps in the public cloud.
Some features of Microsoft Azure
Driven the development of IaaS, which enables enterprises to swiftly and effectively manage and deploy applications. Azure allows businesses to adopt cloud software to match their specific needs.
Includes built-in functionality for data analysis and crucial insights. Cortana Analytics, Stream Analytics, Machine Learning, and SQL services are among the functionalities offered by the service.
One of the nicest aspects of Azure is how well it interacts with the existing IT department. This is accomplished by utilizing hybrid databases, storage solutions, and secure private connections.
Can coexist with your business environment and your data center. As a result, Azure is one of the most cost-effective and easiest to access cloud services.
When compared to competing cloud services, Azure offers more delivery points and data centers. This enables Azure to provide an optimized user experience and deliver content to your business environment more quickly.
Users may store data in Azure in a quick and reliable environment. Businesses may also exchange material across many virtual computers.
Azure is a pay-as-you-go solution that can be swiftly changed to meet your business's demands and surroundings. As a result, it is a practical option for many enterprises of varying sizes.
Azure is adaptable; it allows your company to employ any degree of capability it requires. It supports the same technologies on which many developers and IT professionals currently trust.
Pricing of Microsoft Azure
| | |
| --- | --- |
| Developer | $29 per month |
| Standard | $100 per month |
| Professional Direct | $1000 per month |
| Premier | Custom Pricing |
3. Freshdesk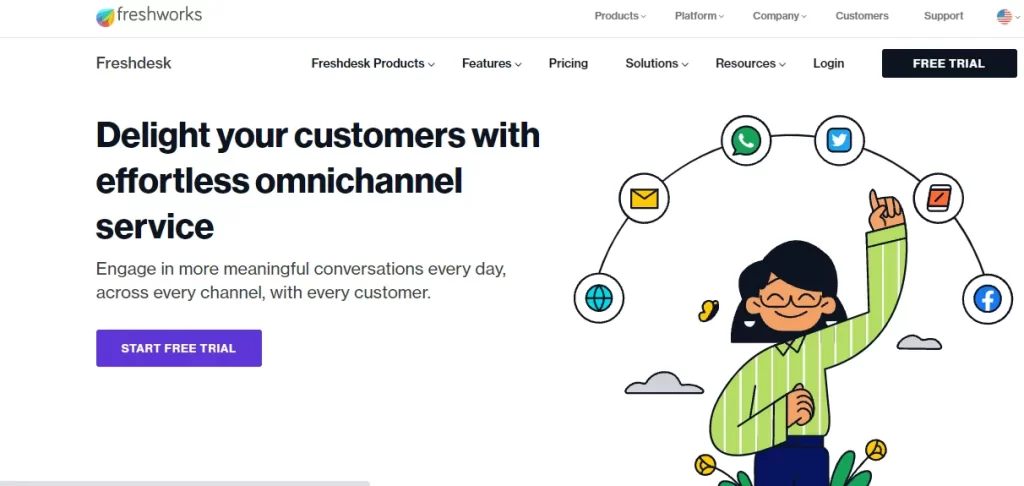 Freshdesk is a cloud-based application used for customer support with the help of automation. It is a great customer management application to have good customer relationships and increase sales.
Some Features of FreshDesk
The ticketing feature uses AI technology for assigning tickets to the agents for proper customer service. You can collaborate with the office's team members to provide better customer service.
AI automation helps the users increase the workflow by taking care of repetitive tasks.
The help widget lets you support your customers and know when your customers need extra care and services.
The analytics feature allows examining the customer support data and drawing conclusions for businesses.
The data in Freshdesk are secure with SSL certifications and safe login via SSO.
FreshDesk has integrations with other applications that make management easier for the officials.
Pricing of FreshDesk
| | |
| --- | --- |
| Basic | Free |
| Growth | $15 per agent per month billed annually and $18 per agent per month billed monthly. |
| Pro | $49 per agent billed annually and $59 per month billed monthly |
| Enterprise | $79 per agent per month billed annually and $95 per agent per month billed monthly |
Learn More:- Free Microsoft Apps to Boost Productivity🏆🏆
Attendance Management Tools
1. QuickBook Time (Tsheets)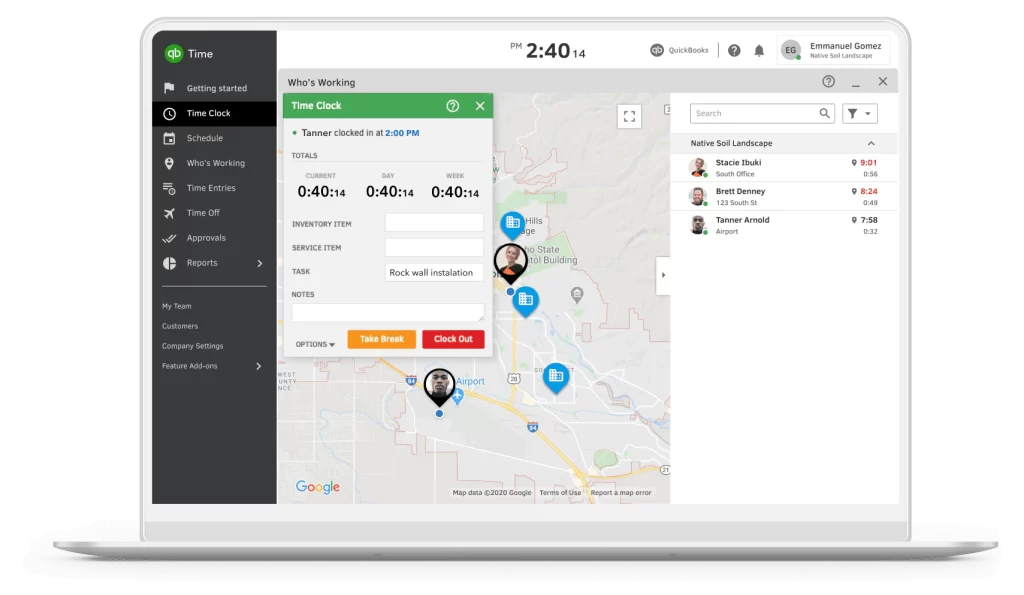 QuickBooks Time includes all of the tools a company needs to manage their mobile workforce. Employees can clock in and out from whatever place they choose, whether it's at home or on the job site, thanks to the software's flexible punching choices. You may utilize geofences and GPS tracking to guarantee that your mobile staff clock in from their planned locations. This not only keeps your staff accountable, but it also keeps them safe.
Some Features of Tsheets
Employees may clock in and out using a kiosk, a web dashboard, or a mobile app.
PTO may be managed on the go by your employees and their supervisors using the web or mobile app.
Employee schedules may be built using drag-and-drop tools, and workers can check their schedules on the online dashboard or mobile app.
You may create geofences and view real-time GPS tracking.
An in-app activity stream allows you to keep track of the status of jobs and projects.
Pricing of Tsheets
| | |
| --- | --- |
| Premium | $10 per month |
| Elite | $20 per month |
2. greytHR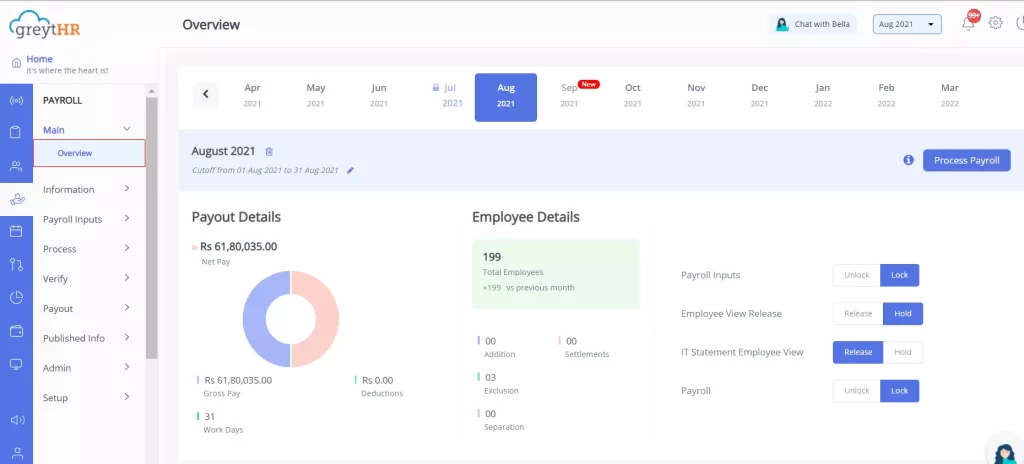 greytHR is an online application that allows you to manage employee information, manage payments, and produce reports. It provides productivity tools for better people management, HR process simplification, and professional HR service delivery. Employee self-service and the manager's portal result in more employee engagement and overall time savings.
Some Features of greytHR
Manages details, records, and performance of employees, which helps HR to do the task easily.
Uses a built-in payroll calculator to process the salary for each employee of the company. Also, it creates the report of total income and outcome sources.
Create specific leave rules for each type of leave, such as sick, earned, maternity, and casual leave.
Make holiday lists for multiple places if your company is spread out over several nations.
Use the attendance management module to collect real-time attendance data from various sources. It also has a feature of taking attendance by facial recognition.
With this application, you can access payroll, leaves, attendance, and help desk information online. It also contributes to the reduction of email and phone-based inquiries.
Allow employees to use the mobile application to sign in and out as they arrive and depart the designated geographical coordinates.
Pricing of greytHR
| | |
| --- | --- |
| Starter | Free |
| Welter | $19.67 per month |
| Super | $32.82 per month |
| Cruiser | $65.72 per month |
FAQs Regarding Office Management Software
Which software is used in the administration office?
Software that is used in the administration office are:
Google Drive
Trello
TimeTracko
Slack
greytHR
QuickBook Time
FreshDesk
Google Cloud
Microsoft Azure
Google Meet
Zoom
Xero
ZipBooks
Evernote
Google Calander
Cold Turkey Blocker
Since the administrative department is involved in every department and checks every sector very carefully, the abovementioned software will help them to ease their work.
How do you effectively manage an office?
You can use the following guidelines to manage an office effectively:
Set Up Clear Lines of Communication
Establish Procedures
Stay Organized
Consider Task Management Software
Prioritize
Use Feedback to Effectively Manage Your Office
What is the difference between work from home and work from the office?
Working from home allows you to have more flexibility and independence, whereas working in an office allows you to build networks and socialize with people. Furthermore, working from home saves time because there is no commute, as opposed to working from an office.
Conclusion
Choosing the best office management app is a necessity of every office presently. Microsoft Office and other apps are integrated into the office management applications for better use and high productivity.
Collaboration software includes scrum boards that help people with task management and complete project due dates.