Best Project Management Tools for Small Businesses
Best Project Management Tools for Small Businesses
The project management tools are the project manager's solution for project management. Simple projects require a checklist, but more complicated projects require detailed analysis, task management, deadline set, ensuring that everyone adheres to them, and time monitoring.
You don't have the luxury of hiring huge teams and dedicated project managers as a small business owner.
As a result, you must juggle multiple projects and roles. Small business project management software allows you to keep on top of your projects without being overwhelmed.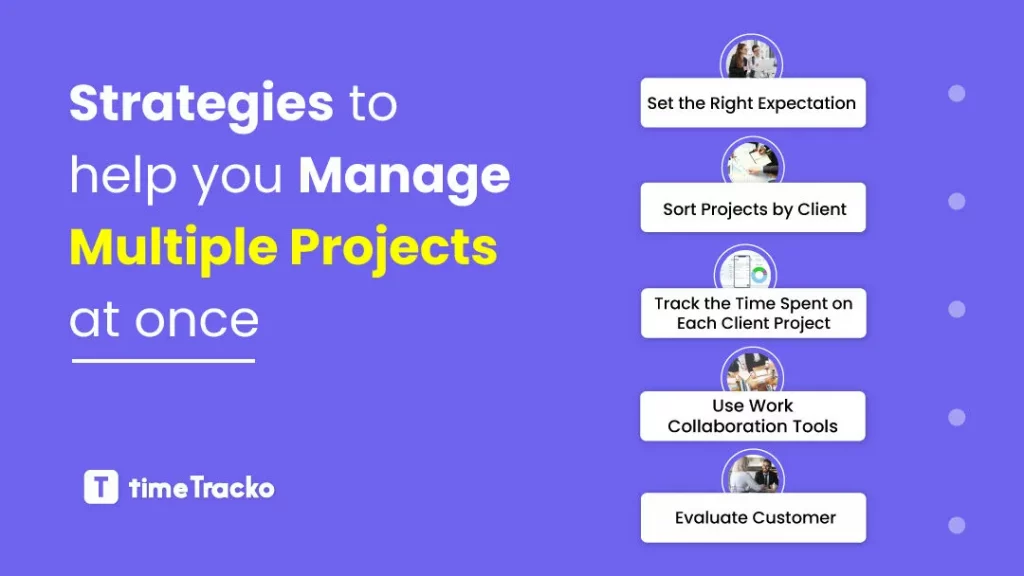 Are you seeking project management solutions that help you easily manage your projects and team members?
If your answer is yes to the above question, you've come to the right place. Adopting new techniques and integrating new technology and tools has become necessary to compete.
If you haven't read project management trends, it's time to read them out.
In this article, we will discuss the best business project management software for small businesses, that is:
Simple to learn and use
Flexible to manage multiple workflows
Affordable
Let's get started.
Best Project Management Tools for Small Businesses
timeTracko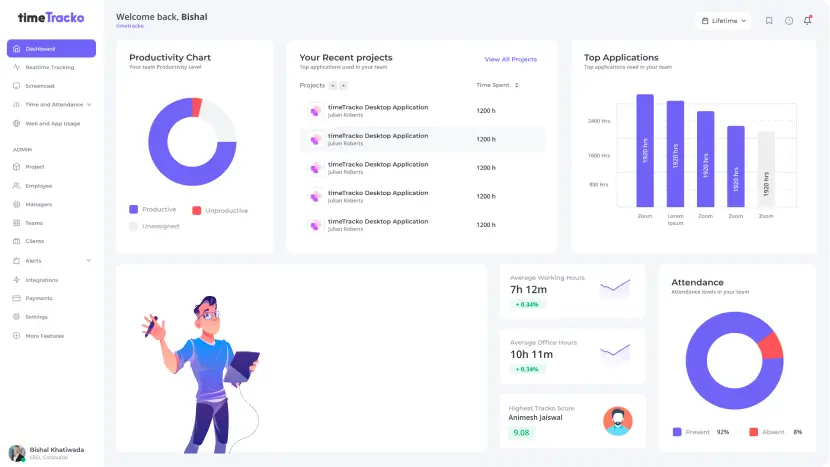 timeTracko is an employee monitoring and project management tool for small to large businesses. It is a useful productivity measurement tool for determining how much time you and your team spend working during the day.
It is a powerful project management tool for modern, agile teams. Gantt chart is used to schedule and visualize project plans in timeTracko. You can also use milestones to keep a record of important project dates.
timeTracko task management is effortless. You can utilize the task list, spreadsheet view, or board view to handle tasks.
Tasks can be managed using a task list or Kanban task boards. Chat messages allow team members to communicate on tasks. They can also attach necessary files to each assignment.
Features of timeTracko
Some of the fascinating features of timeTracko are as below:
It keeps track of project and task approvals.
It keeps track of how much time you spend on each job.
Get real-time activity stream updates.
Create and distribute request forms.
It provides powerful integrations of over 50+ popular tools like Asana, GitLab, Gmail, WordPress, Jira, and many more.
Set task reminders.
Benefits of timeTracko
It improves the planning and scheduling of tasks.
It provides better collaboration.
It enhances productivity.
It offers easy file access and sharing.
Easier integration of new members.
It tracks the time of employees and increases productivity.
Pricing of timeTracko
timeTracko is completely free. It offers:
Free plan with all premium features for unlimited users and no timeliness.
No credit cards required.
Asana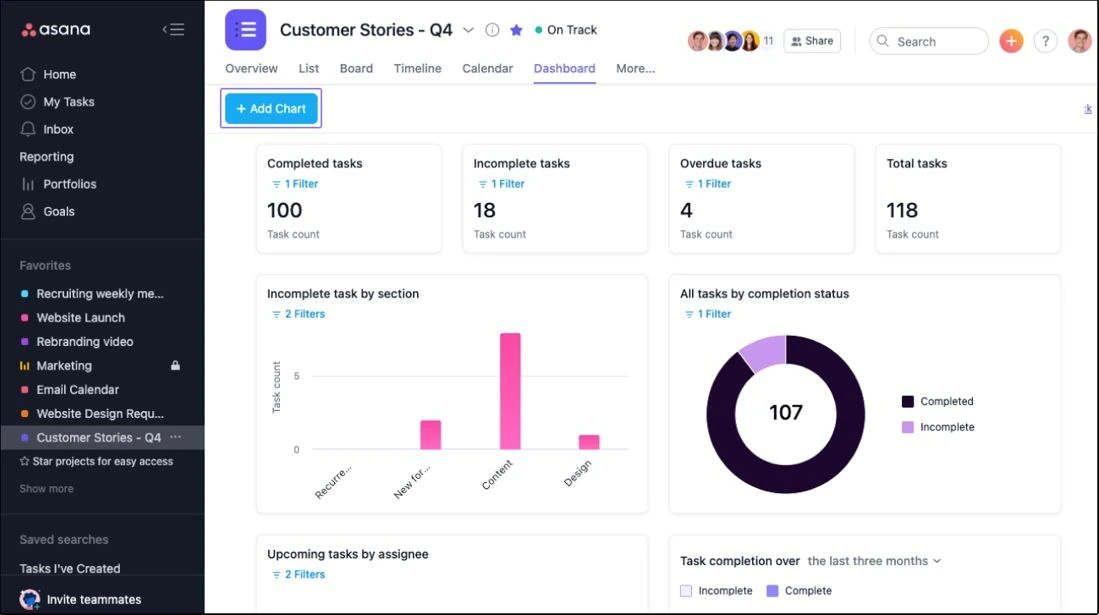 Asana is a task management and project management software platform for teams. It allows teams to plan, share, and organize their work the same way other platforms do.
You can plan a project schedule or work in Asana using the calendar and timeline views.
Asana's task management system is flexible and customizable. Tasks can be managed using the task list, task board, calendar, or timetable. You can also include subtasks and task dependencies.
Asana is flexible enough to support Agile and Waterfall methods, depending on your team's choice.
Asana also offers an individual dashboard for each team member, making it simple to manage the different tasks and deadlines without interfering.
Features of Asana
Some of the features of Asana are listed below:
It manages the workloads of your staff.
Plan and monitor organizational goals as well as project portfolios.
Create and distribute request forms.
Manage approvals and proofreading.
Make your project dashboards.
Using the workload tools, you can see your team's production and balance your teamwork.
It offers several integrations with third-party services such as Microsoft Teams, Gmail, Slack, and Zapier.
Benefits of Asana
It provides the best user interface.
It allows you to communicate with your team members.
It allows you to export files in CSV format.
Drawbacks of Asana
It has a limited featured set.
Hard for large teams to get on board.
Pricing of Asana
It offers four different pricing plans, which are as follows:
Basic Plan: It is free to use.
Premium: It costs $10.99.
Business: It costs $24.99.
Enterprise: They don't have a set price, so contact the vendor for details.
Availability: Web, Android, iOS
Trello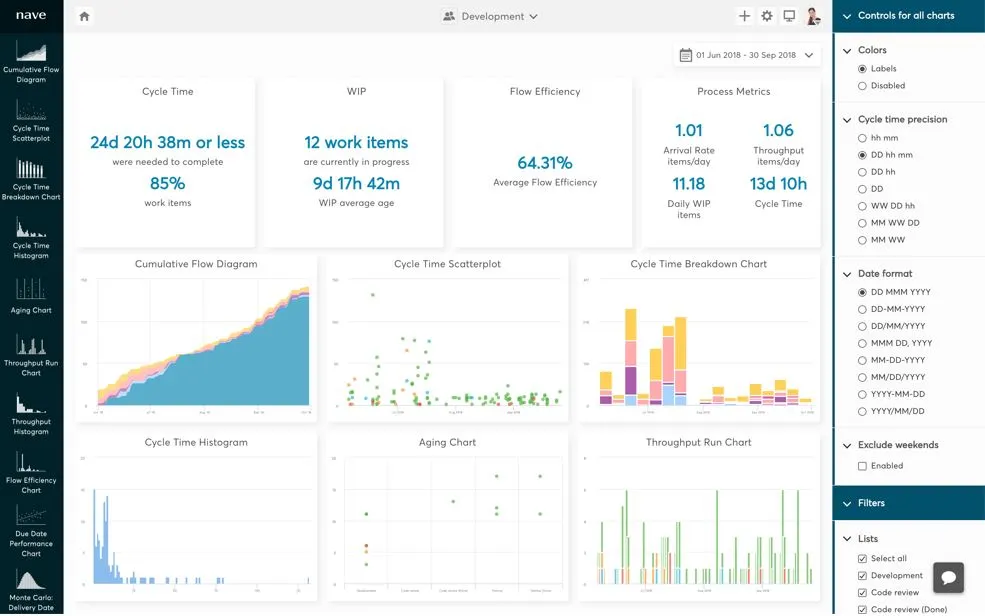 Trello is a project management tool that separates your projects into boards. Trello is an Agile project management application that uses a highly visual, Kanban-style work process.
Trello is an online, collaborative workspace for managing corporate projects or personal chores. Its easy drag-and-drop capability and user-friendly design make it a joy to use.
Trello rose to popularity as a simple, board-based task management tool. As a result, it was perfect for small business project management software. In addition, Trello's simplicity made it easier for small teams to get started and use.
However, it now provides several methods to view work, including a calendar view, a timeline view, a map view, and a team table view.
Trello's Kanban boards can be configured with a custom process to meet your requirements. For example, you can assign tasks to one or more team members, label tasks, and attach a checklist to tasks.
Features of Trello
Some of the best features of Trello are as follows:
Allows you to build boards for team members to collaborate on and allows the team to modify the board.
Provides a variety of templates for customizing your board.
Allows you to collaborate on projects from start to finish and set project deadlines.
It sends notifications from any device at any time.
It helps your team in staying organized for any project or activity.
Benefits of Trello
It has an easy-to-use dashboard.
It has drag-and-drop functionality as well as the ability to upload attachments.
It is used to track personal or business expenses easily.
It helps to create a daily routine effectively.
Drawbacks of Trello
It has limited storage.
Gantt charts, progress reports, and billing functions are some of the elements that are missing.
Pricing of Trello
Business-class costs $12.50 per user per month.
Enterprise price starts from $17.50 per user per month.
Availability: Web, macOS, Windows, iOS, Android
Basecamp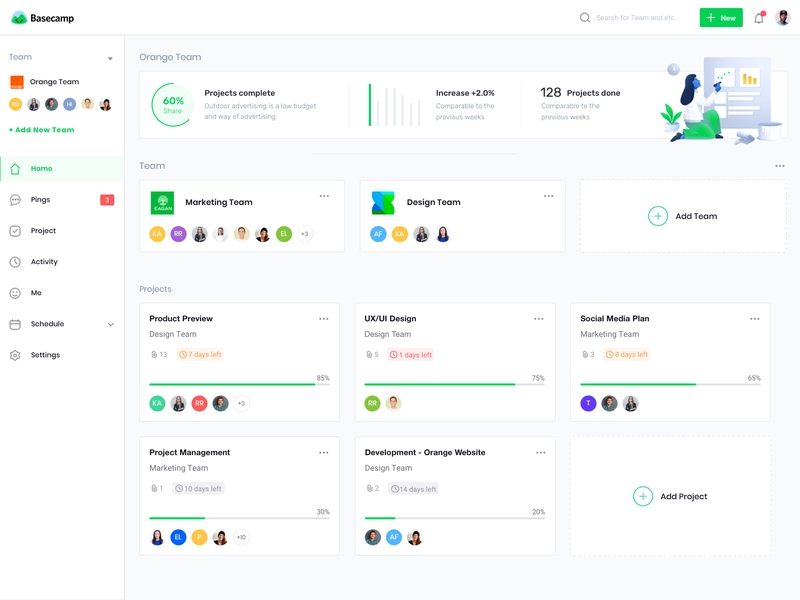 Basecamp is a cloud-based project management application and facilitates team communication and collaboration.
It is best suited for small businesses where team collaboration is essential. You can create tasks and assign them to team members using a to-do list. Then, all team members can communicate through a group channel and discuss individual tasks.
The app allows you to share documents, files, images, and spreadsheets and arrange them in a single folder easily found when needed. The Hill Charts feature in Basecamps allows you to track project progress.
You can use the app to create infinite projects, monitor tasks, add people to the project for communication, administer the message board, and securely and secretly store unlimited files.
It provides detailed reports on employees' work and allows you to see who is working on what.
In addition, it has an essential feature in that everything here is automatically preserved; even deleted items can be recovered or restored within 30 days.
Features of Basecamp
Some of the exciting features of Basecamp are as follows:
Using to-do lists, you can create tasks and assign them to team members.
With instant messaging and chat services, users can communicate in real-time.
Provides detailed reports on employees' work and assists in determining who is working on what.
Using hill charts, it tracks project progress in real-time.
The project calendar is used to schedule events and deadlines in a single view.
Benefits of Basecamp
It is easy to use and intuitive.
It allows various third-party integrations.
It allows creating unlimited projects.
It offers 'Everyone Tab' for handling everything related to projects.
Drawbacks of Basecamp
It does not fully support the creation of Gantt charts and task interdependencies.
Limited project tracking features.
Pricing of Basecamp
It costs $99 per month flat.
Availability: iOS, Android, Mac, Windows.
Monday.com
Monday.com is a cloud-based platform that enables businesses to develop their applications and work management tools.
Monday.com is an online and mobile work management application that is entirely configurable.
It is aimed to aid teams and organizations in increasing efficiency by tracking projects and workflows, displaying data, and promoting team communication. It has automation features and can integrate with other work apps.
The software has tools that help team leaders manage any project, such as generating a backlog, roadmaps, burndown charts, Kanban boards, workflow automation, and file sharing.
It assigns tasks and prioritizes which tasks must be completed first. It enables you to generate your own creative and customizable templates and visualize your data using graphs and charts.
Features of Monday.com
Some of the features of Monday.com are as follows:
Tracks the work of your team members and now helps with project management.
Allows you to design your own visual and customizable template.
Create private forums that only team members can access.
Allows you to view your data through the use of various graphs and charts.
Automation saves computation time and reduces human error.
Benefits of Monday.com
Easy to customize and use.
It provides more fantastic customer support.
Drawbacks of Monday.com
Quite expensive to use for small businesses.
Pricing of Monday.com
It offers individual free plans. Some of the other pricing plans are:
Basic Plan: $8 seat/month OR total $24/month billed annually.
Standard Plan: $10 seat/month OR total $30/month billed annually.
Pro Plan: $16 seat/month OR total $48/month billed annually.
Enterprise Plan: It does not specify the price for the enterprise plan. You have to contact the vendor for detail.
Availability: Android, iPhone, iPad, Web Browser
Paymo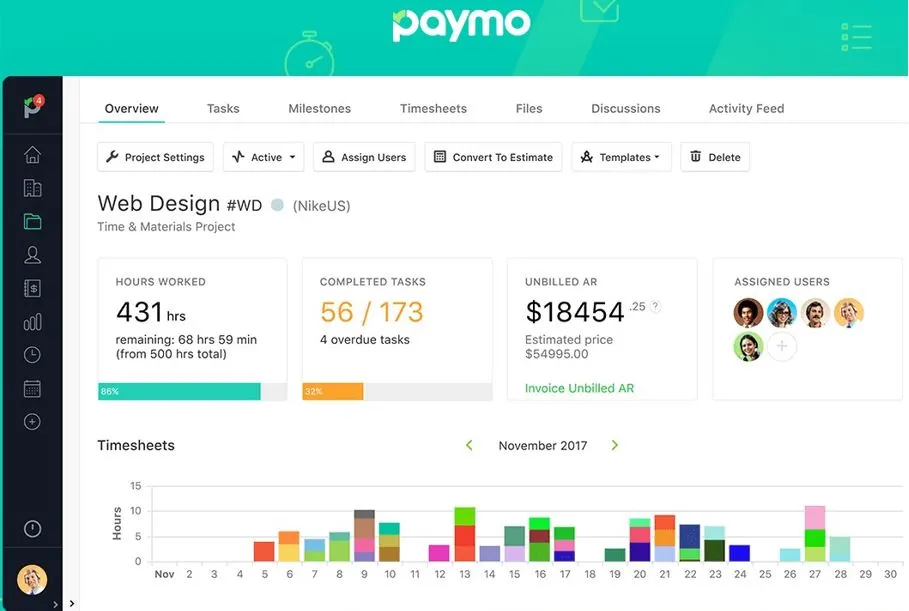 Paymo is a work and project management solution for small and medium-sized businesses. This solution allows remote work within a single suite and provides project planning, resource scheduling, team collaboration, file proofing, time tracking, and project accounting.
The software keeps your team flexible and involved while motivating them to work harder to complete a task.
You can use a Kanban board to create a task, assign it to each team member, and manage your to-do list by allocating the work to each team member.
The app includes numerous features such as time tracking, task management, team collaboration, team scheduling, Gantt Charts, Kanban board, invoicing, and many more to manage the entire project correctly.
Features of Paymo
Some of the exciting features of Paymo are as follows:
Gantt Charts
It tracks billable and non-billable time spent on individual tasks.
Manage the availability of your employees.
Keep track of and balance the workloads of your staff.
Integrate with third-party applications such as Zapier, Google Apps, and others.
Invoicing, estimates, and integrations.
Benefits of Paymo
It offers comprehensive project management tools.
It offers extensive time tracking.
Actionable insights and reports.
Handle multiple projects effectively.
Accessible dashboards with inline editing.
Drawbacks of Paymo
Lacks time tracking reminders.
Lacks accounting or invoicing features.
Pricing of Paymo
It offers a free version of up to a ten-user limit. Additionally, it offers others two pricing plans.
For the small office: $11.95/user/month with no user limit.
For business: $18.95/user/month with no user limit.
Availability: Windows, macOS, iOS, Android.
Toggl Plan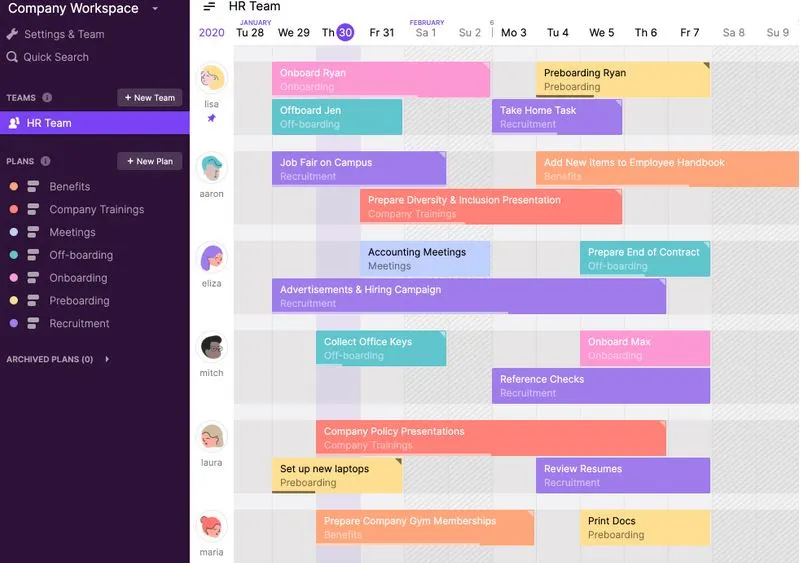 Toggle Plan is a project planner with a team view that allows you to see tasks and their duration, responsible person(s), and progress on a colorful timeline.
It is a color-coded and highly visual application for organizing plans, timetables, teams, and tasks. It includes a timeline view, a team view, and a board view to monitor your project's progress, team capacity, and task workflow from several views.
Teams can post comments in the context of their work and discuss plans over secure connections due to built-in collaboration.
In addition, through CSV format output, the software integrates with time tracking applications and other resources.
Toggl Plan is perfect for small organizations that need essential project management and team management software.
As an online software, it is simple to set up and use, and it provides the necessary features for managing multiple teams and changing schedules.
Features of Toggl Plan
Some of the best features of the Toggl Plan are as follows:
Plan and manage repetitive tasks,
Records task estimates.
Toggl Track integration tracks time and manages timesheets.
'My Work' dashboard for every team member.
Timeline view and sharing.
Benefits of Toggl Plan
Simple and easy to use.
Simple scheduling of jobs.
It provides a facility for drag and drop.
It provides visual representations of the team's availability and engagement.
It tracks every single task and user.
Drawbacks of Toggl Plan
It lacks advanced invoicing and scheduling.
Quite expensive for startups.
Pricing of Toggl Plan
Toggl Plan offers 14 days free trial, and after that, you have to choose between two different plans.
For Team: It costs $9 per user/month OR $8 per user/month for annual payment.
For Business: It costs $9 per user/month OR $8 per user/month for annual payment.
Availability: macOS, Web Browser, Windows
Wrike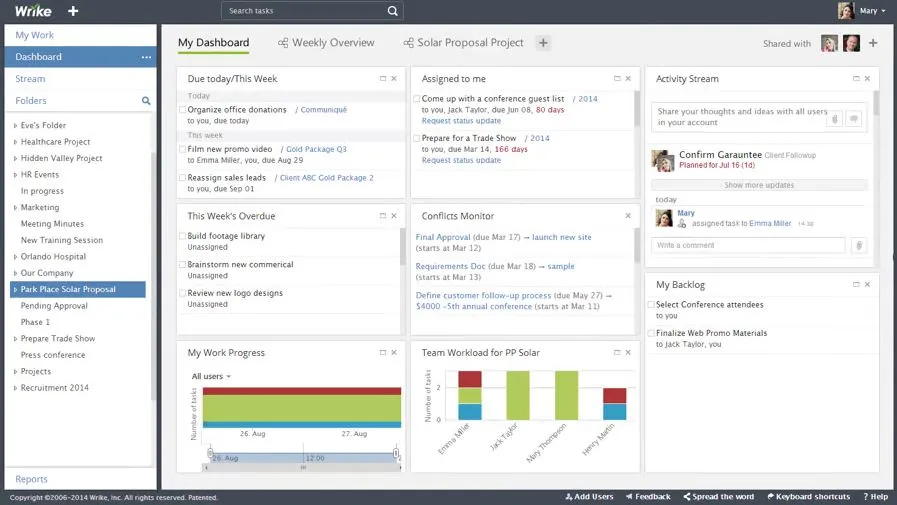 Wrike is a flexible online project management and works collaboration tool that enables teams to complete tasks quickly and efficiently.
It includes technologies that enable users to simplify project planning, centralize communication, and streamline workflow even when geographically separated.
Gantt charts are used to schedule and visualize project plans in Wrike. You can also use milestones to keep track of important project dates.
Wrike's task management is straightforward. You can utilize the task list, spreadsheet view, or board view to handle tasks.
Team members can collaborate utilizing shared files. Observers can also keep track of projects by utilizing notifications, custom dashboards, and reports.
Features of Wrike
Some of the exciting features of Wrike are:
Manage project and task approvals.
Track time spent on tasks.
Get real-time updates from the activity stream.
Create and distribute request forms.
It provides pre-made templates to create reports.
Benefits of Wrike
It offers enterprise-level project management capabilities such as Gantt charts, proof tool, file sharing tool.
It tracks employee time and activities to measure productivity.
It provides detailed analytics and insights to calculate deliverables.
It supports two-factor authentication.
Drawbacks of Wrike
Onboarding is difficult.
Limited project tracking feature.
Pricing of Wrike
Wrike offers four different pricing plans.
Free: It does not cost any fee.
Professional: It costs $9.80 per user/month.
Business: It costs $24.80 per user/month.
Enterprise: Contact the vendor for detailed information.
Availability: Windows, macOS
Zoho Projects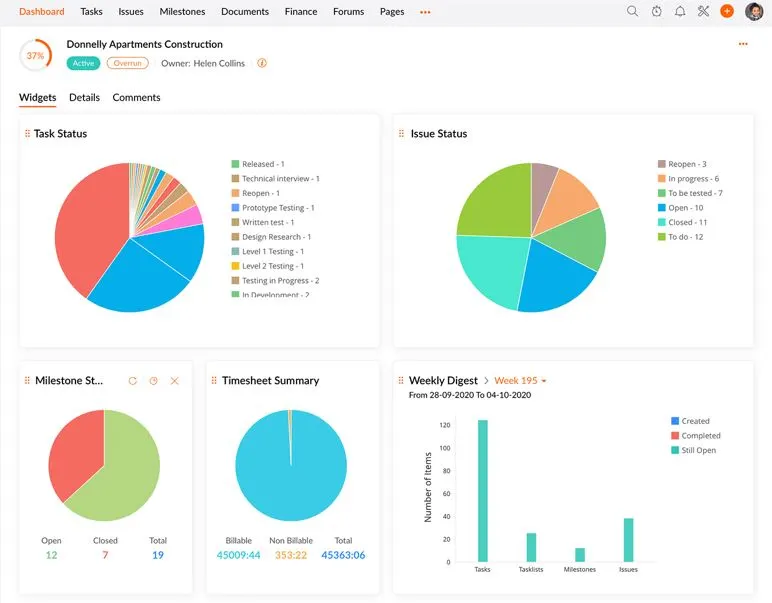 Zoho Projects is an online project management application that allows teams to plan, track, and collaborate on projects. The tool is scalable for small and medium-sized enterprises.
Zoho Projects enables users to establish project plans and create and assign ad hoc tasks across the team.
In addition, the app includes features like flexible work hours, baselines, and critical paths on Gantt charts, team-based job allocation, and task reminders.
Managers can use time tracking and resource utilization features to ensure that staff is not overworked or underworked.
Zoho Projects integrates with other Zoho apps such as Zoho CRM, Zoho Cliq, and Zoho Meeting and third-party programs like Microsoft Office 365, Microsoft Teams, Google Drive, Zapier Zendesk, and ServiceNow.
Features of Zoho Projects
Some of the best features of Zoho Projects are as follows:
Project Administration.
Time Tracking
Task Automation
Task Management
Gantt charts
Team Collaboration
Charts and Reports
Issue Tracking
Benefits of Zoho Projects
It has excellent billing and time tracking features.
Task and project tracking are efficient.
It has excellent customer support.
It is intuitive to use.
Pricing is fair.
Drawbacks of Zoho Projects
Poor dashboard functionality.
It has a high learning curve.
Searching of tasks needs to be improved.
Pricing of Zoho Projects
It offers three different pricing plans.
Free: It is free to use with some feature limitations.
Premium: It costs $5/user/month OR $4/user/month billed annually
Enterprise: It costs $10/user/month OR $9/user/month billed annually
Availability: Mac OS, Linux, Android, and iOS
Conclusion
To conclude, project management software is an essential tool in developing a project, and every organization should incorporate it into its system.
Project managers must also use project management software's efficacy to guarantee that the project they are working on is successful.
Have you used any of the projects mentioned above management tools for small businesses? What project management tools do you use in your small business? Please let us know in the comments section below.