9 Best Screen Recorder Tools
9 Best Screen Recorder Tools
Have you ever attempted a screencast? Or, are you an experienced user? Do you want to improve your skills with a new tool?
Here is the complete solution to your problem. Although, It used to be challenging to record a screen. You had to either use expensive tools or pay a software specialist to get things done, which wasn't always practical.
In recent years, screen recorder tools have gone a long way. Some excellent applications are available that can capture everything that happens on your screen free of charge and without any annoying limitations.
While several apps are available online that allow you to capture the desktop screen, not all of them provide good value for money in terms of functionality.
Choosing the ideal one requires experienced web research. You should look at more than just the features and costs. You should also read the online reviews.
If you're short on time and money, this is the article for you.
What is Screen Recording Software?
A Screen Recording Software is an application or program that allows you to record your computer or laptop screen and save the recorded video clip in several formats such as MOV, MP4, GIF, and so on.
Some Screen Recording software allows you to record audio in addition to the screen. For example, a screen recorder allows you to record and broadcast video from your computer or mobile device's screen.
The best screen recording program will enable you to generate HD-quality recordings and photos.
What Makes the Screen Recording App best?
Several screen recording apps are competing with each other with their unique abilities. Therefore, it is difficult for a user to choose the best one. The best screen recording has the following features.
The ability to capture your entire screen, window, or a specific area.
The ability to superimpose a camera feed on top of the screen capture.
Recording of microphone and system audio at the same time.
Built-in video sharing and exporting facilities are available.
A user-friendly interface.
9 Best Screen Recorder Tools
The best screen recorder software tools with detailed explanations and exciting features are here.
Camtasia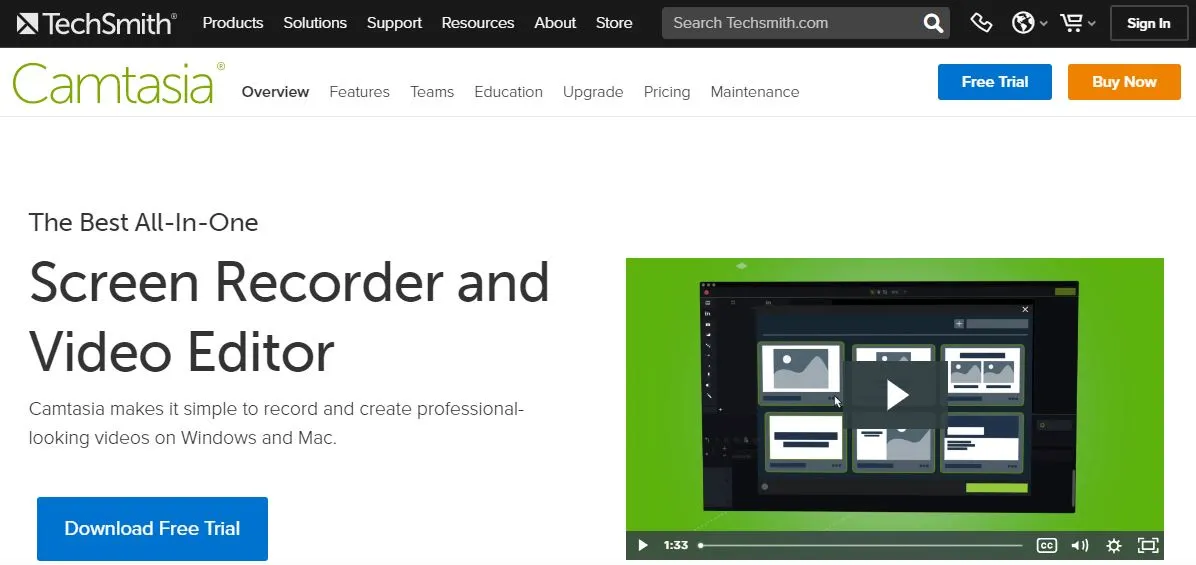 Camtasia is an introductory video editing and screen recording application by Techsmith. Designed with beginners in mind, Camtasia enables designers to quickly and efficiently produce quality instructional videos.
Camtasia is the best tool for creating presentations and training videos. You can modify videos using predefined themes and templates.
It has excellent tutorial videos for anyone with trouble with its editing tools, but making remarkably excellent intro and outro sections and placing them into our test movie took only a few seconds.
Quizzes may also be added to videos to make them more interactive. Annotations, callouts, text, and shapes can also be added to videos. Using this software, you can also add music and audio from the system and microphone.
Features of Camtasia
Some of the exciting features of Camtasia that will encourage you to use this tool soon are as follows:
Automatic audio leveling.
Make HD-quality videos.
In-built themes and templates
Annotations, callouts, text, shapes, and so on can be added.
MP3, JPG, Avi, MP4, MPEG, BMP, and GIF are among the 16 file types supported.
Mouse pointer smoothing
Editable keyboard shortcuts
Benefits of Camtasia
Intuitive to learn
Amazing cursor effects
Excellent screen capture features
You can add links to videos.
It generates HD-quality videos.
It supports multiple data formats.
Drawbacks of Camtasia
It lacks some of the standard features offered by professional tools like Adobe Premiere Pro and Sony Vegas Pro.
Time-consuming as the editing process runs through a dialog box.
Pricing of Camtasia
It costs $249.99/user for individuals and businesses.
For education purposes, it costs $169.99
For government or non-profit organizations, it costs $23.99.
Availability: Windows and Mac OS.
Filmora Scrn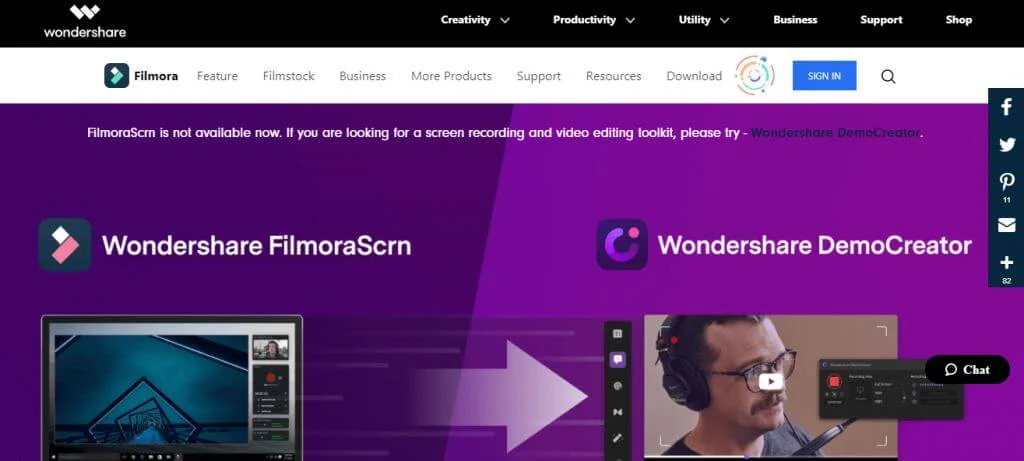 Filmora Scrn is a versatile screen recording and editing application that allows you to quickly and easily record and edit gaming videos, tutorials, online courses, and more.
It allows you to record your desktop or games in high definition (HD) while also capturing audio and a web camera.
It supports the import of over 50 file types. In addition, it features a unique recording area so that you can record the entire screen or just a portion of it.
You don't need a separate video editing tool with Filmora Scrn since the screen recording program offers a wide variety of editing features to help you improve your video recordings.
Picture in Picture, Annotations, Custom Recording fields, Annotations, Tutorial Features, and export to MP4, MOV, GIF, among other features and functions, are available in Filmora Scrn. In addition, it offers an easy-to-use interface.
Features of Filmora Scrn
Some of the best features of Filmora Scrn are as follows:
Filmora Scrn is capable of recording fast-paced games (Up to 60 fps for Mac).
Record from two devices at the same time, such as your screen and camera.
It has a complete editing suite. As a result, you will be able to quickly and simply edit your clips using various professional tools.
With changing cursors and comments, Filmora Scrn's Effect Tools will let you explain messages effectively.
Benefits of Filmora Scrn
It is easy to use.
It has a straightforward interface.
Produce high-quality videos and recordings.
Users can record two videos simultaneously at a time.
Best customer support.
Value for money
Drawbacks of Filmora Scrn
The mouse cursor effect is limited.
No zoom in/out effect
It has limited video editing features.
Pricing of Filmora Scrn
It provides a free trial.
Availability: Windows and Mac OS.
Snagit
Snagit is a screenshot software that records both video and audio output.
Initially designed for Microsoft Windows, the latest versions have also been made available for macOS but fewer features. TechSmith designed and distributed it, and it was initially released in 1990.
It is a helpful screen capture application that can capture photos or videos in real-time. In addition, you can use the software to take screenshots from several sources.
The software has powerful editing capabilities. For example, you can add pictures to your documentation and easily explain procedures.
You can also quickly modify and annotate screenshots with the software's test, custom graphics, and highlights.
Features of Snagit
Here are the best features of Snagit.
Records screenshots and videos.
Record audio from the microphone or a system.
Record webcam
MPEG-4 and animated GIF are supported.
Magnify and video trimming
Combine and resize images
Benefits of Snagit
Helps in creating beautiful presentations.
Drag and drop functionality.
Enable to capture any portion of the screen.
It supports a full-page screenshot.
Easy to use
Drawbacks of Snagit
The regular price for a single user is high.
Pricing of Snagit
It offers different types of plans with different prices. It also offers a free trial.
1 license – $49.95
5-9 licenses – $39.46 each
10-24 licenses – $34.96 each
25-99 licenses – $29.97 each
100-249 licenses – $24.97 each
250+ licenses – Contact vendor
Availability: Windows, Web Browser, and Mac OS.
Screencast-O-Matic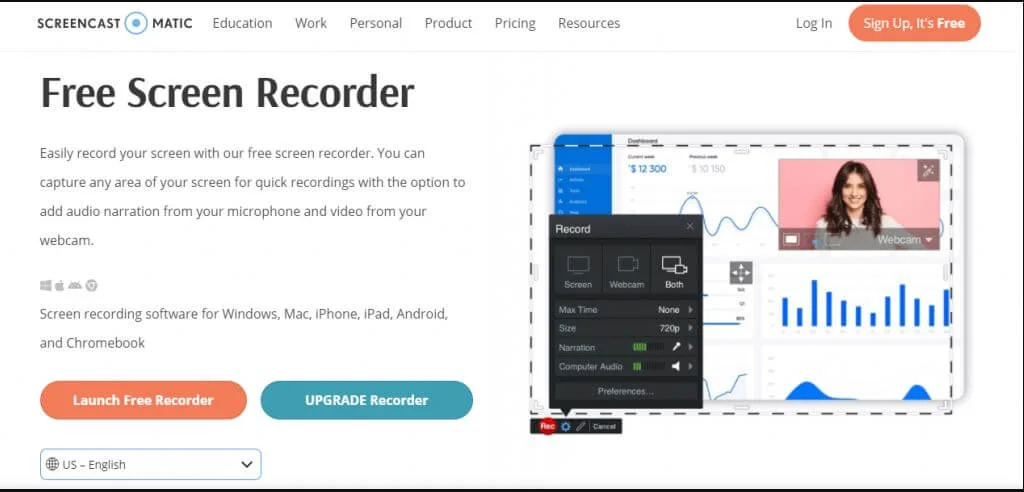 Screencast-O-Matic is a web-based app that allows you to generate high-quality videos and screenshots. You'll appreciate how easy it is to record videos and take screenshots using this program.
While the application does not support HD recording, it supports recording in 800600, 640480, and other standard resolutions, making it suitable for recording and sharing short videos.
It lets users zoom in and out of video files, draw on them, and add overlays.
Narration can be added to the video footage. You can also use animations, overlays, and other effects to personalize the videos.
The program allows you to zoom in and out and highlight specific areas of the screen. External images, audio, and video files are also be imported.
Features of Screencast-O-Matic
Here are some of the advanced features of Screencast-O-Matic.
Record system audio.
Captioning from speech to text.
Videos can be easily shared on social video channels such as Facebook and YouTube.
Services for cloud hosting.
Free recording upto 15 minutes.
Benefits of Screencast-O-Matic
It is easy to use.
It supports captions on videos.
Can zoom while recording
Excellent screen capture features
It supports multiple data formats.
Drawbacks of Screencast-O-Matic
It limits the recording of videos to 15 minutes only.
Videos are watermarked.
Pricing of Screencast-O-Matic
It offers two different plans.
Deluxe: $1.65/month
Premier: $4/month
Availability: Windows, Chromebook, and Mac OS.
OBS Studio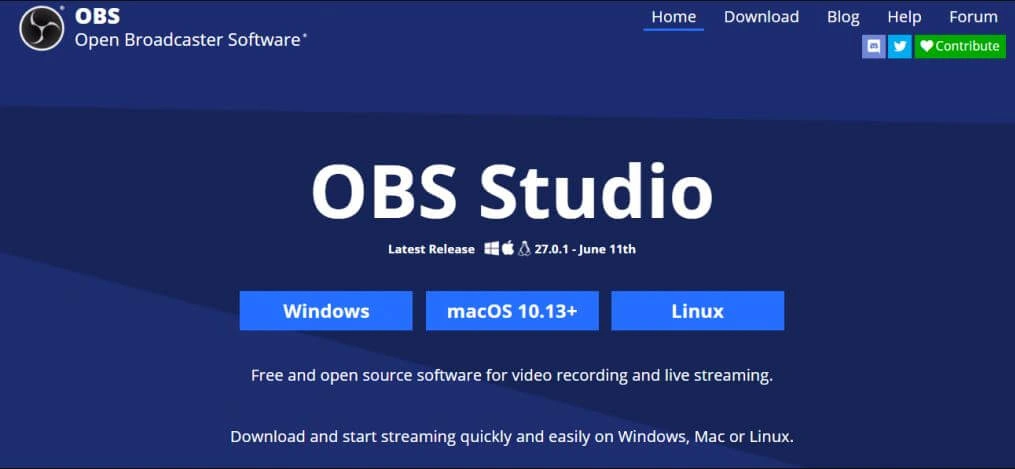 OBS, or Open Broadcaster Software, is a free screen video recorder that allows you to record and stream high-definition videos with no time constraints.
The desktop software allows you to capture only a portion of the screen, allowing you to record the entire screen.
Apart from the basic screencasting features, OBS has live-streaming capabilities that are not available in the default screen recorders of most operating systems.
OBS Studio is open-source software that is free to use. You can live stream on Twitch and YouTube Gaming, save projects, and convert your footage to FLV format.
All of this makes OBS one of the top free screen recording software solutions to consider in 2021.
Features of OBS
Here are some of the best features of OBS studio.
Intuitive audio mixer.
Configuration with great power.
It streamlined the settings panel.
Multiple themes.
It allows capturing and mixing audio/video in real-time.
No watermarking
Benefits of OBS
HD streaming and recording
No video length limitations
Ad-free and open source
Easy to use.
It can record directly from your graphic card
Drawbacks of OBS
Setup takes quite a long time.
Pricing of OBS
Since it is open-source, you can use it for free.
Availability: Windows, Linux, and Mac OS.
Apowersoft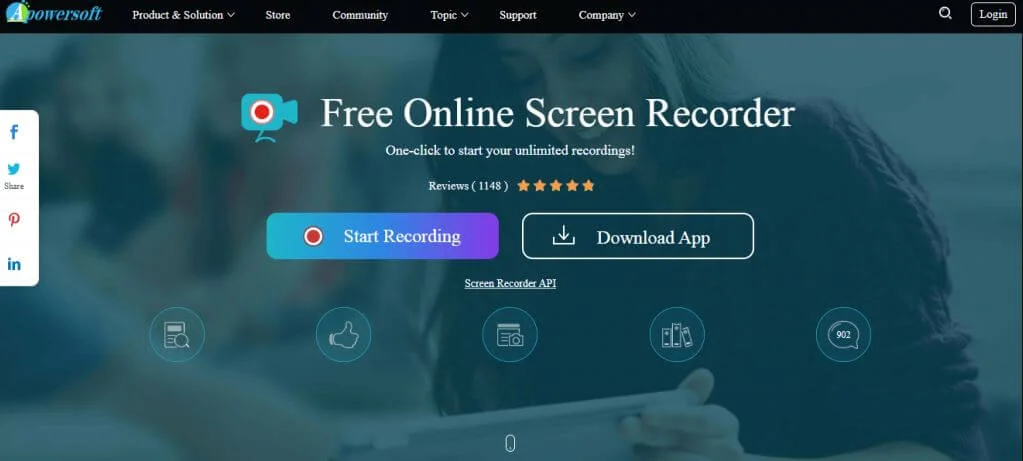 Apowersoft Screen Recorder is a software app that allows you to record screen activities and store them as HD videos. Aside from screen recording, it can also record audio from a microphone and synchronize it with screencast recordings.
It enables you to wirelessly cast an Android smartphone or an iPhone on your PC's screen while simultaneously recording your PC audio, mobile device, microphone, and webcam.
The desktop screen recorder supports various recording modes, including full screen, custom area, and others, and it also allows users to annotate the video in real-time. In addition, you can use callouts, lines, text, and other features without pausing.
Try Apowersoft Free Online Screen Recorder if you want to record a presentation, software demonstration, or tutorial. This browser-based tool isn't ideal for gaming, but it's the best free screen recorder for any other task.
Features of Apowersoft
Some of the features of Apowersoft Unlimited software are as follows:
Wireless casting.
Webcam recorder.
Keyboard shortcuts
It makes HD quality screen recording.
Benefits of Apowersoft
It can record from IP cameras.
It can record using webcams.
Schedule recordings
User-friendly interfaces
Full-time and real-time editing.
Dynamic screen capturing features.
Drawbacks of Apowersoft
It cannot capture on a secondary monitor.
Not suitable for games.
Pricing of Apowersoft
It costs $9.95 for all in one pack.
Availability: Windows, Linux, and Mac OS.
Movavi Screen Recorder Studio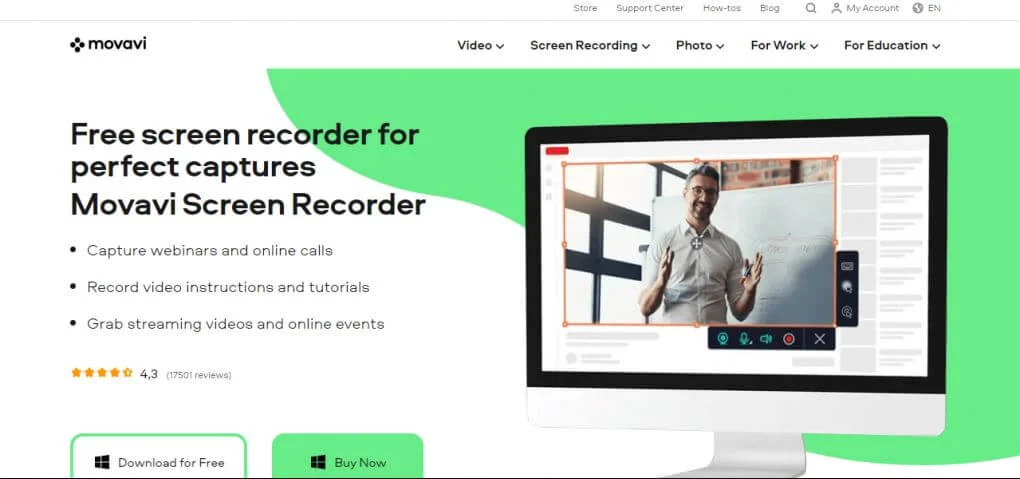 Movavi Screen Recorder is a simple tool for capturing desktop activities on Mac and Windows. It allows you to record video, store screenshots, and export the results in various formats such as MP4, AVI, MOV, MKV, GIF, MP3, PNG, BMP, or JPG.
Movavi Studio is used to capture and edit videos. The program has one of the most excellent editing tools for adding creative flair to videos. It allows you to apply various effects such as blur, mosaic, filters, stickers, etc.
This software supports Pan/zoom, stabilization, and frame-by-frame editing. You can also optimize the videos for watching on both TV and smartphones. You can upload the finalized videos to various channels on the internet.
One of the best features of Movavi is to schedule recordings. For example, you can define a time limit for the next recording or a start and finish time for a recording.
You can even configure it such that your computer shuts down or goes to sleep after the capture is complete.
Features of Movavi Screen Recorder
Here are some of the exciting features of Movavi Screen Recorder.
No limit in the length of the video recording.
Core editing tools
Casting into other devices
Records audio from microphone
Over 180 formats are supported, including AVI, MOV, MP3, MP4, MKV, AAC, and many more.
Benefits of Movavi Screen Recorder
Helps to capture online calls, webinars.
It is easy to use.
It helps in the digitalization of VHS tapes.
It offers a screenshot facility with various storage formats.
Drawbacks of Movavi Screen Recorder
Webcam options are limited.
Do not provide enough editing tools.
Pricing of Movavi Screen Recorder
It offers two different licenses.
Personal License: $39.95 for lifetime/ 1PC
Business License: $69.95 for 1-year subscription
Availability: Windows and Mac OS
Aiseesoft Screen Recorder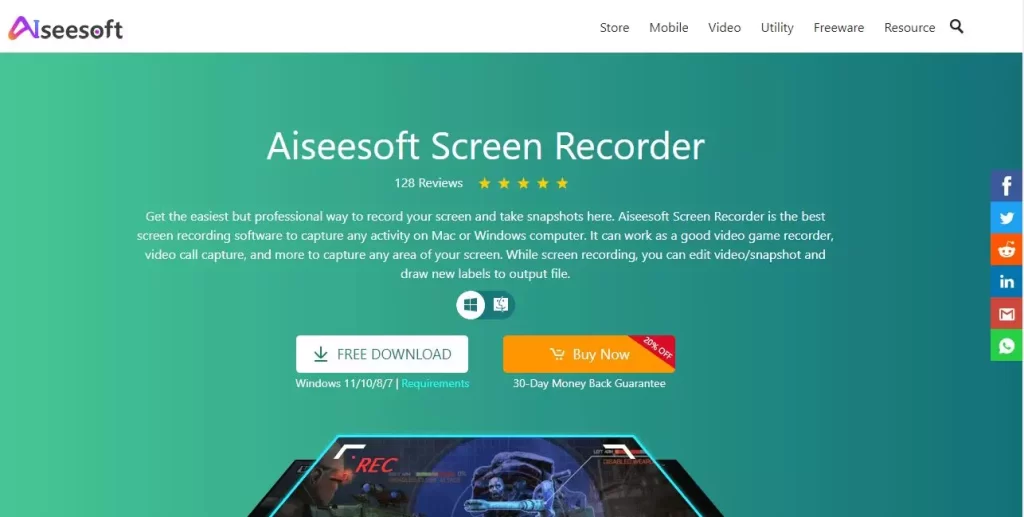 Aiseesoft Screen Recorder is a highly effective video/audio recording and snapshot application.
This software allows you to record any video on your PC, such as webcam video, streaming video, or other video lessons. It also allows you to change the size of your screen.
Aiseesoft Screen Recorder is a straightforward application for recording and capturing screen screenshots.
It can capture any activity on Windows and Mac, including video games, Skype calls, YouTube videos, and so on. In addition, it has the option to alter screen recordings.
It is a feature-rich platform with features such as area selection, high-quality recording, window locking, mouse recording, and so on.
Features of Aiseesoft Screen Recorder
Here are some of the features of Aiseesoft Screen Recorder:
Record online, streaming audio and microphone voice.
Edit the video or screenshot.
Capture your Gameplay with no loss of Quality.
Window locking
Mouse recording
Benefits of Aiseesoft Screen Recorder
Screen video, system audio, microphone, and webcam footage can all be captured.
Schedule screen recording to automatically capture onscreen activity.
Record video instruction videos at up to 60 frames per second using various video/audio codecs.
Include a video editor, video manager, and media viewer built-in.
Drawbacks of Aiseesoft Screen Recorder
Lack of advanced video editing tools.
Pricing of Aiseesoft Screen Recorder
It offers the following pricing plans.
Lifetime License for 5 PCs: $69.00.
Lifetime License for 1 PC: $23.40.
Availability: Windows and Mac
CamStudio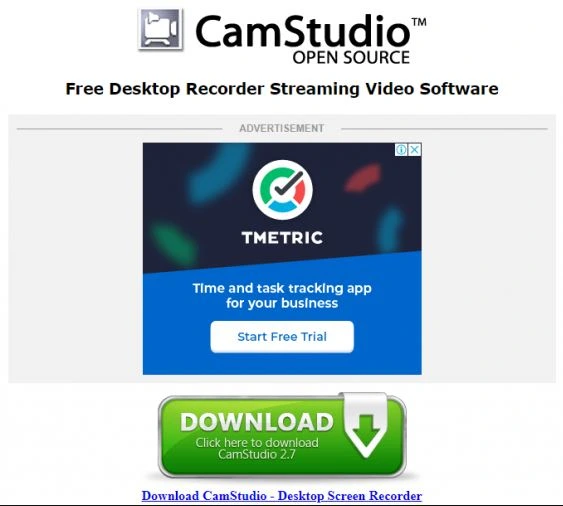 CamStudio is a free and open-source screencasting tool for Microsoft Windows. The video is rendered in AVI format by the program. It can also convert these AVI files to the Flash Video format, including in SWF files.
The app allows you to capture the entire screen or sections of it. You may also add cursor controls and text to the captured videos. The program is simple to use and set, allowing you to record and store data quickly.
The program is capable of converting videos into small Flash files. In addition, the built-in codec produces high-quality, low-bandwidth movies.
Features of CamStudio
Here are some of the best features of CamStudio.
Automatic panning
Add Comments
Highlight cursor path
AVI and Flash are supported (SWF)
Cursor highlighting
Recording with sound
Ability to add text to videos
Audio recording
Benefits of CamStudio
It captures screens and stores videos in AVG format.
It is free and straightforward to use.
Used in broadcasting
Drawbacks od CamStudio
The final output is significant.
Limited output format.
Pricing of CamStudio
It is free to use since it is open-source.
Availability: Windows and Linux
Conclusion
We hope that this article answered many of the often asked questions about screen recording applications.
Screen recording software is used for various purposes, and the finest ones don't need to come at a price.
Do you use any excellent screen recording software that we didn't mention? Please let us know in the comment section below.