8 Best Proposal Management Software to Boost Your Sales
8 Best Proposal Management Software to Boost Your Sales
Many businesses rely on their ability to develop winning proposals to ensure success. It gets challenging when you have slow or complicated procedures.
In many circumstances, a proposal must travel through numerous hands before it is delivered to the customer.
If you've ever worked on a sales team, you've probably written proposals. In reality, you may have spent many hours creating proposals for clients, emailing and contacting several departments to obtain the accurate description, specification, and pricing of the product you are trying to sell.
It is vital to prepare, share, and track proposals to ensure that the process runs as smoothly as possible. That is one of the primary reasons many firms are now employing proposal management software.
What is Proposal Software?
Proposal management software is a program that helps in the creation, administration, and distribution of business proposals. These web-based programs enable users to develop and deliver proposals to clients online effortlessly.
Additionally, it is a system that helps streamline and improve several aspects of the sales operations process.
Why Use Proposal Management Software?
You should consider using proposal software for several reasons rather than preparing your proposals by hand in Word.
Using the software, you can use proposal templates, which are almost finished proposals that need the finishing touches.
With software, you can track your proposal. You can track the number of times your proposal is opened and time spent reading.
It has many integrations with CRM, email marketing, and project management software.
It offers a web-based format and electronically binding signatures.
8 Best Proposal Management Software
I have provided the eight best proposal management software based on its popularity and experience. Enjoy using the best one for your business.
Proposify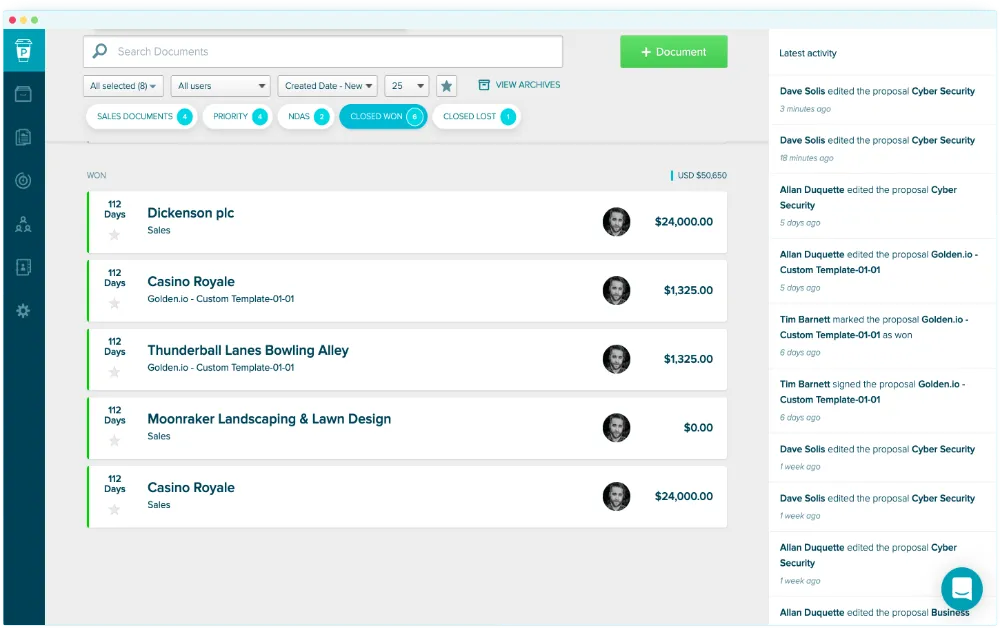 Proposify is online proposal software that provides you with control and insight into the essential stage of your sales process: the close.
Get the confidence and flexibility to dominate deals from deal design to sign-off. Propospify can help you transform your sales process. You can quickly create proposals and get them in front of your clients.
Create eye-catching sales papers that are consistent and error-free. Get the insights you need to expand your process, make timely interactions, and forecast accurately.
It is frequently used by designers who like experimenting. In general, you can change every piece on the proposal. It provides you with a lot more control, which is excellent for perfectionist designers, but there are many more decisions to make, so it's not ideal for busy individuals.
Features of Proposify
Some of the standout features of Proposify are as follows:
Flexible and user-friendly design editor
CRM integrations
Electronic signatures
Data-driven insights
Interactive pricing
Content management
Real-time notification and reminders
Supports multiple languages
Benefits of Proposify
Simple and easy to use
Capability to do audit trailing
Version control is simple to implement
It supports multiple collaboration tools
Easy access to the content library
Digital signature
Easy document management
Drawbacks of Proposify
It lacks more integrations
Need for more customization options
Pricing of Proposify
Proposify offers three different plans.
Free plan: It does not cost any money.
Team Plan: It costs $49/user/month.
Business Plan: It costs $590/month.
Availability: Windows, Mac OS, Web Browser, and iOS.
PandaDoc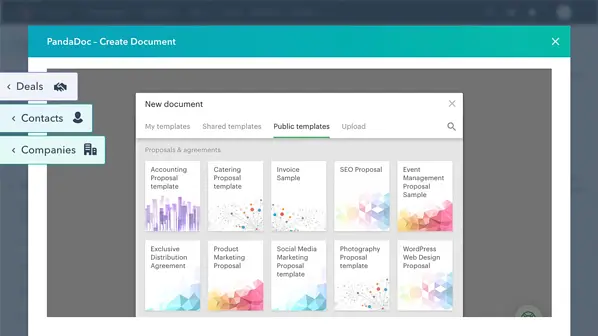 PandaDoc is a web-based document management system that enables users to create, deliver, and share documents online and place legally binding signatures for quicker paperless transactions and procedures.
PandaDoc, based in San Francisco, provides its electronic signature technology for sales teams, which includes sales proposal automation, CPQ (configure, price, quote) functionality, and CRM integration.
Its job is to support you in improving your company's document process and, as a result, increasing your productivity and revenues. PandaDoc allows you to create visually attractive documents, send them, and track their effectiveness.
It is straightforward to create eye-catching proposals by choosing from dynamic components and ready-to-use templates. Users may, however, design unique themes, colors, or fonts and add a branding touch to their products simultaneously.
Features of PandaDoc
Some of the best features of PandaDoc are as follows:
Variety of templates
Personalized branding
E-Signature
Analytics feature
Many integrations with tools such as Hubspot, Zapier, Stripe, and Google Drive
Access management
Benefits of PandaDoc
Powerful and easy-to-use document editor
Multiple integrations
The facility of digital signature for faster process
Designed to facilitate teamwork
It helps in increasing productivity and efficiency
High-level analytics
Drawbacks of PandaDoc
Document editor is limited
Pricing of PandaDoc
PandaDoc offers two plans as Monthly and Annually. The monthly plan is expensive in comparison to the annual.
Free eSign: It is free for both monthly and annual plans.
Essential plan: Monthly: $29/user/month OR $19/user/month billed annually
Business plan: Monthly: $59/user/month OR $49/user/month billed annually
Enterprise plan: Contact vendor for details.
Availability: Windows, Mac OS, Web Browser, and iOS.
Qwilr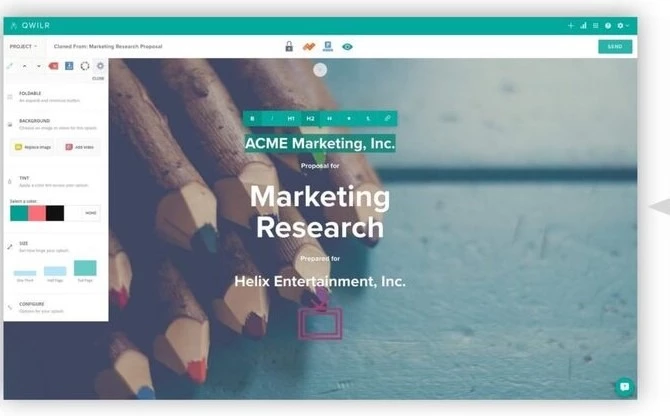 Qwilr is an intelligent document builder that incorporates recent advances in design, web-based technology, and automation into customer communications.
Qwilr is designed to transform the way businesses produce and exchange documents on the web. This technology enables organizations to transform static papers into dynamic, interactive web pages that look fantastic on any device.
In the proposal software industry, Qwilr's design expertise is almost unmatched.
Create the ideal proposal, pitch, sales quotation, and more. Every Qwilr Page you send includes exceptional visual polish, as well as intelligence tracking, automation, and analytics.
Due to its simplicity, it is suitable for every board. It does not have a complex design, so it is helpful for freelancers and more significant spenders.
Features of Qwilr
Here are the best features of Qwilr proposal software.
Outstanding design
Template creation and flexibility
Online document creation
Custom branding and PDF creation
Engagement tracking
Alerts and notifications
CM and E-Signature integrations
Proposals effectiveness reporting
Benefits of Qwilr
Extremely intuitive functionality
Images gallery are fantastic
Customer onboarding
High-level analytics
Drawbacks of Qwilr
Document management is complex
Unreliable notifications
Pricing of Qwilr
Qwilr offers three different plans.
Free plan: It grants a 14-days free trial.
Business plan: Monthly: $75/3 user/month OR $66/3 user/month billed annually
Enterprise plan: Monthly, Annual: $490/10 user/month
Availability: Windows, Web Browser, and iOS.
Better Proposals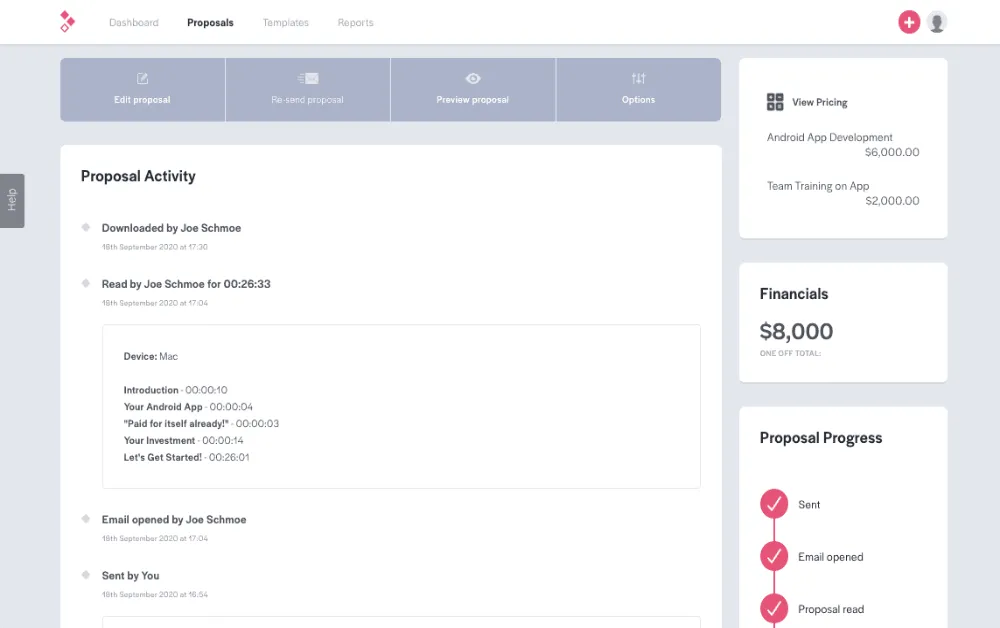 Better Proposals is a proposal management solution that allows you to develop and customize high-converting proposals.
One of the most excellent proposal writing software available today allows you to generate stunning, modern proposals quickly.
It is not only a text editor, but it also allows you to deliver your ideas, price them, and get them signed. Finally, you will be notified through email whenever your proposal is opened, forwarded, printed, or signed.
You can quickly import your logo and pictures and customize the design to match your company's colors. Also, you can use this tool to implement videos into your proposals.
Pipedrive, Salesforce, Zoho, Highrise, Base, Nimble, Capsule, Hubspot, and Stripe are a few of the CRMs integrated with Better Proposals.
Features of Better Proposals
Some of the exciting features of Better proposals are as follows.
Proposals are generated automatically in minutes by an automatic designer
160+ templates
Intelligent follow-ups
Features for reporting and tracking
Notifications in real-time
Intelligent pricing tables that aid in fee setting
Several integrations
Benefits of Better Proposals
It is easy to use with a simple design.
It has good customer support.
A huge template library makes it easier to create proposals in a quick time.
Strong analytics and reporting
Drawbacks of Better Proposals
Some updates are needed in customer service and PDF creation.
Pricing of Better Proposals
It offers three different pricing plans. It also provides a free trial period.
Starter: $19.00/month/user
Premium: $29.00/month/user
Enterprise: $49.00/month/user
Availability: Windows, Web Browser, and iOS.
Proposable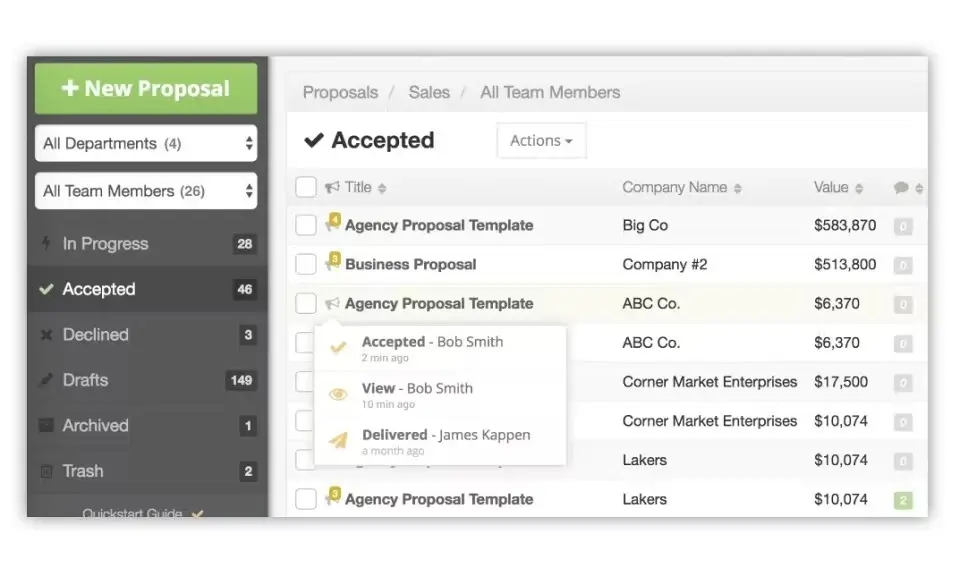 Proposable is a proposal generator and manager that automates generating and approving proposals for sales teams.
It offers built-in proposal templates that you can edit in minutes, simplifying and streamlining the process. With this user-friendly approach, you can devote more time developing relationships with current and future consumers.
Proposable also allows for document collaboration among members of a team. Multiple team members can review proposals and provide feedback in an integrated comments area.
It guarantees that proposals are well-worded to minimize misunderstandings on the part of the receivers.
Proposable has valuable features like as eSignature and tracking, as well as eight CRM integrations.
Features of Proposable
Some of the features of proposable are as follows:
Quick Proposal Development
Support for Electronic Signatures
Refreshing the Sales Dashboard in Real-Time
Collaboration within a Team
Analytics & Sales Activity
Alerts for Sales Events
Organization of Sales Content
Benefits of Proposable
Facilities of editable templates
Provides advanced proposable collaboration
Offers a simplified approval workflow
Provides a real-time activity monitoring facility
Flexible document delivery
Drawbacks of Proposable
Poor picture formatting
Need improvement in an update action
Pricing of Proposable
It offers three different pricing plans.
Solo: $19 per user/per month
Team: $39 per user/per month
Enterprise: 500+ per month
Availability: Windows, Mac, Web Browser
Nusii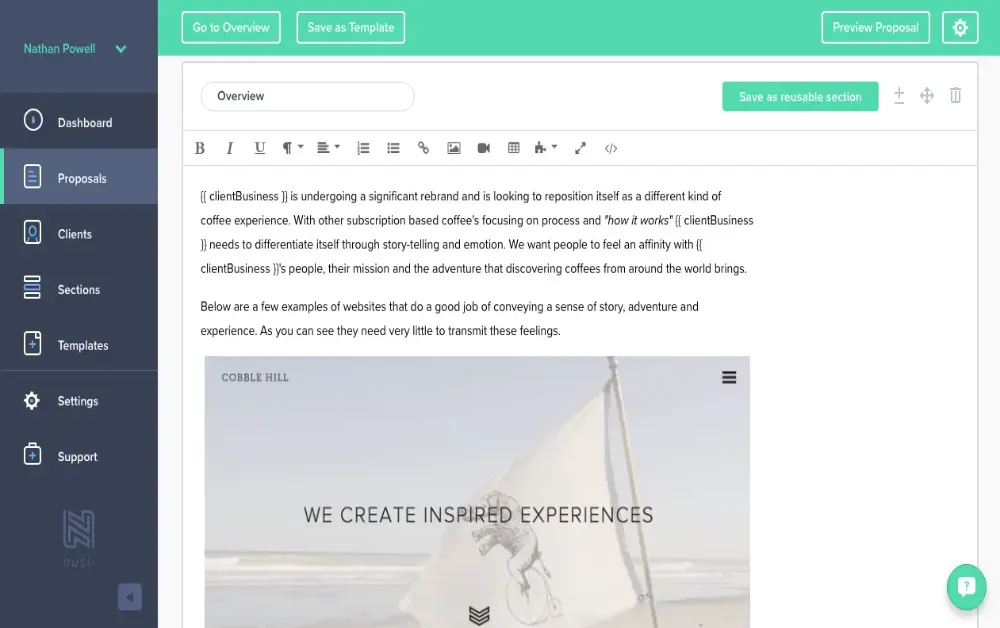 Nusii is an online proposal management software that allows businesses to produce proposals using pre-built templates and send them to clients through email. The application enables businesses to immediately upload or integrate videos from social media such as YouTube or Vimeo into proposals.
A variables module allows employees to automatically update a client's personal or corporate information in proposals.
Nusii offers an API and Zapier integration, allowing organizations to connect with various third-party systems such as Salesforce, Basecamp, QuickBooks, ActiveCampaign, HubSpot, PipeDrive, Slack, Xero, Trello, and others.
Custom branding features are now available, allowing organizations to personalize proposals with custom logos, photos, fonts, and domain names.
Features of Nusii
Nusii has many features that make it popular.
Automated reminders
Proposal tracking
Electronic signatures
Reporting and analytics
User management
Multi-language support
Drag-and-drop interface
Benefits of Nusii
Incredibly easy to use.
It can save templates and sections.
The drag and drop facility lets users design proposals quickly.
Great customer support
Drawbacks of Nusii
Lacks payment integration and live chat integrations
Pricing of Nusii
Nusii provides a 14-day free trial for new customers, after which the program is offered in three price categories, as given below:
Freelancer: $29/month or $290/year
Professional: $49/month or $490/year
Business: $129/month or $1290/year
Availability: Windows, Mac, Web Browser
DocSend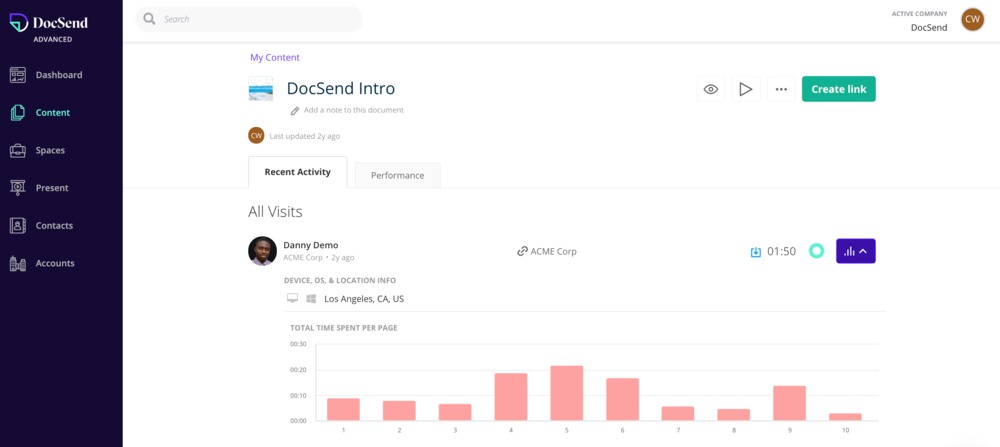 Docsend is a platform for securely and simply exchanging all types of documents. It enables you to save documents, password secure them, and examine what happens after transmitting them. It supports Google Drive, Dropbox, and OneDrive.
This analytics technology significantly increases salespeople's performance and efficiency by allowing them to monitor, control, deliver, and present sales materials using real-time document analytics.
DocSend allows users to monitor who is reading their documents, how long it takes them to browse a page, and who receives their papers.
DocSend helps marketers and salespeople understand what their clients and partners are thinking, allowing them to develop more successful business plans that propel their company forward.
Features of DocSend
Here is the list of exciting features of DocSend.
Advanced document tracking
Collaboration and teamwork
Manager insights
Remote presentation
Document management
Personalized branding
Support and training
Benefits of DocSend
Provides a solid and comprehensive analytical tool.
Able to control your document status
Better customer support
Simple and easy-to-use software
Drawbacks of DocSend
Some features are hard to implement.
Need a better interface for eSignature.
Pricing of DocSend
Docsend offers four different types of pricing plans as follows:
Free: It s free to use.
Pro: $15/user/month
Business: $45/user/month
Enterprise: By quote
Availability: Windows, Mac, Web Browser
RFPIO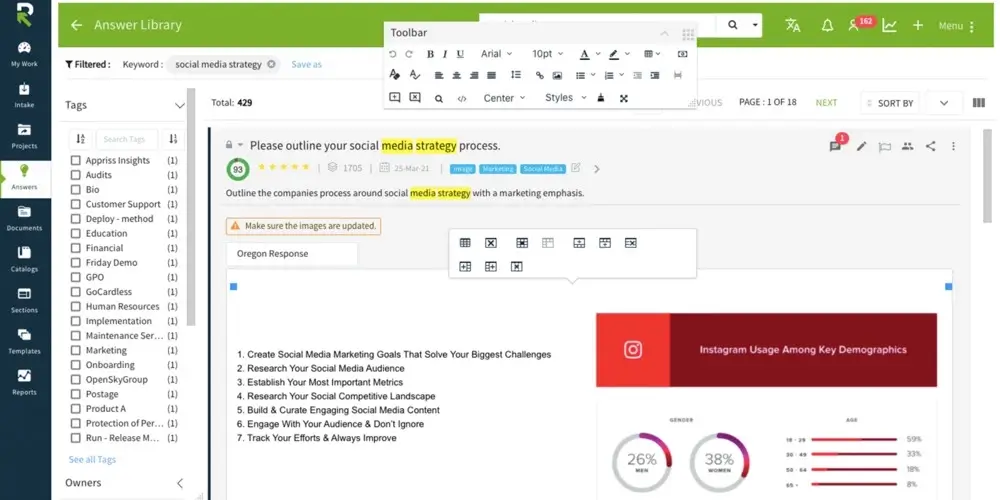 RFPIO (RFPIO, Inc.) is a privately held company situated in Beaverton, Oregon, that develops cloud-based software that automates and streamlines the process of responding to a request for proposal (RFP).
RFPIO is the industry's first AI-enabled RFP software and the leading RFP response management solution. Some of the world's brightest companies are trusted to handle replies to RFPs, RFIs, Security Questionnaires, and DDQs.
Its accessible response automation technology automates single-click processes, allowing you to focus on your business.
RFPIO draws on decades of experience in software development, information security, and RFP administration in designing the program.
Features of RFPIO
Here are the outstanding features of RFPIO.
Easy dashboard
Import and export technology that is proprietary
Monitoring the status of RFPs
Intelligent and adaptive knowledge base
Collaboration
Custom auto-respond
Benefits of RFPIO
Enables real-time tracking
Simplifies RFP responses
Automates the documentation processes
Easy to use
Team collaboration
Drawbacks of RFPIO
The import tool is still confusing.
WORD template management needs improvement.
Pricing of RFPIO
RFPIO has not provided price information. Contact the vendor for details.
Availability: Windows, Mac, Web Browser
Conclusion
Remember that proposal management software should simplify your life by transforming the proposal process into a simple and effective engine.
It should save you time and increase your sales. Keep these objectives in mind while selecting the best software for your needs, and your sales will rise.
Which of the software mentioned above do you like the most? Please mention this in the comment section below.