Best Time Tracking Apps For macOS and iOS
Best Time Tracking Apps For macOS and iOS
Time tracking is essential for the IT and business management industries to meet their objectives. Tracking employees' time is very important for remote businesses to guarantee productive hours.
Tracking time helps increase team member productivity and compute billable and non-billable hours for payment.
The best time tracking solutions are critical for maintaining an accurate record of your teammates' time while minimizing mistakes.
Along with tracking time, you can calculate billable hours, calculate invoices, track projects' expenses, manage a budget, and so on, using time tracking apps.
Every software has a variety of features that your team craves. Therefore, you can choose any software with more features to track your teams' time.
These apps help you identify employees' productive and unproductive hours and the apps and websites your team uses during their working hours.
Here are some of the time tracking apps for macOS and iOS to enhance productivity.
Best Time Tracking Apps for macOS and iOS
timeTracko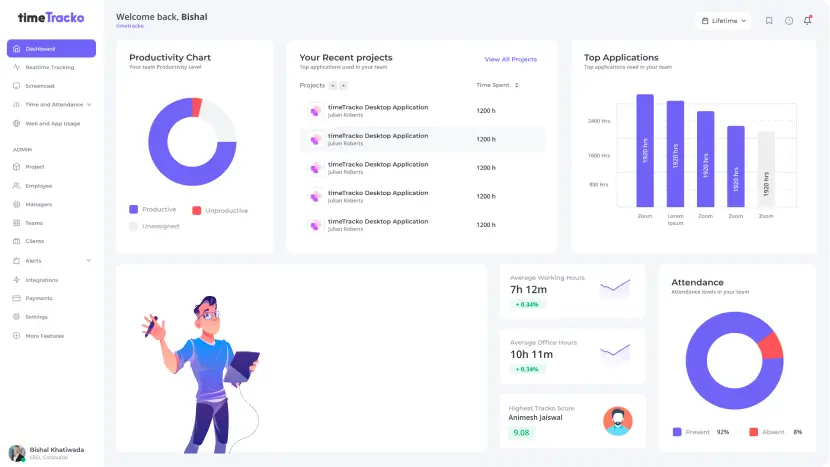 timeTracko is an all-in-one time tracking and staff monitoring software designed for freelancers and small to medium-sized businesses.
It is a useful productivity measuring tool for determining how much time you and your team spend working during the day.
Besides time tracking, it has many more characteristics to concentrate on work. Once you start to work, you can Clock-in and Clock-out at the end of the work with a single click.
It runs in the background, tracks your computer's activity, and offers an optional screenshot feature that takes snapshots after you clock in at a particular interval of time.
timeTracko also grants you the option to take breaks and private time. You can choose the break option when you need to take a break and use a private time option to do some personal work and not want the app to track your work.
One of the exciting things you will like most about this app is the Pomodoro feature that alerts you to take a break in a specific time interval for refreshment when you work for a long time.
Features of timeTracko
Employee time tracking and attendance management capabilities allow you to track employees' attendance.
Provides an optional screenshot function that snaps a screenshot at regular intervals to track the employee's progress.
Allows you to log your working hours with one-click clock-in and clock-out options.
When you work for a while, a Pomodoro timer reminds you to rest regularly.
You can check the time spent away from the computer and differentiate them as productive, unproductive, and neutral users based on your work nature.
Pricing of timeTracko
timeTracko is completely free. It offers:
Free plan with all premium features for unlimited users and no timeliness.
No credit cards required.
Benefits of timeTracko
With timeTracko, you can quickly monitor the websites, apps, and software you use throughout your working hours.
It records time offline to keep track of it and organize your job correctly.
When you don't want your activities to be recorded, you can take private time and a break.
It offers all necessary features in the free version, which are helpful for freelancers.
RescueTime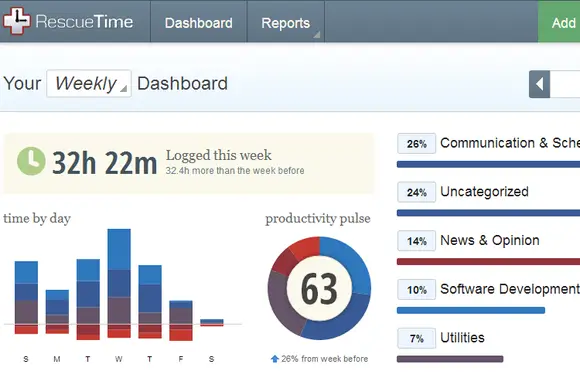 RescueTime is an automated time tracking app available for almost every platform.
It operates in the background, monitors all of your computer's activity, and calculates your productivity.
One of the best features of this program is its ability to recognize productive and distracting websites, classify them as useful or useless based on the employee's job, and block distracting websites during work hours.
It tracks your work even when you're not connected to the internet by collecting screenshots at regular intervals and allows you to examine your productive time and project progress on a single dashboard.
A Pomodoro technique can help you stay focused on your job and avoid distractions. It also keeps track of your time in meetings and on the phone.
Features of RescueTime
It tracks how much time employees spend in meetings and on the phone.
Distinguish between productive and unproductive applications for employees and prevent any distracting websites while they are working.
It allows you to automatically record your computer activity.
Allow you to see your productive time and progress in one place on a single dashboard.
It offers robust integrations with famous apps like Slack, Google Calendar, Gmail, Github, Evernote, and more.
Pricing of RescueTime
You can use it for free without any subscription for small businesses.
The premium package starts from $9/month for less than 100 users. If you pay annually, it costs $72/year with four months free.
For more than 100 users, you need to contact the vendor for pricing.
Benefits
Freelancers can use it for absolutely free.
It blocks all the distracting apps to keep you productive.
Drawbacks
It isn't easy to customize.
It is expensive to use the subscription.
Harvest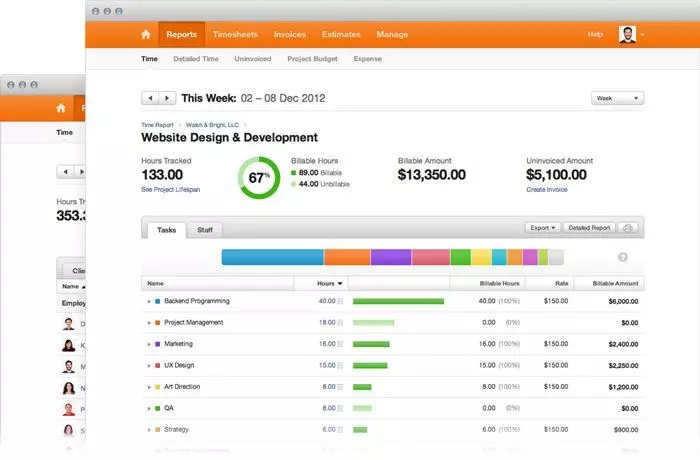 Harvest is one of the most acceptable time tracking applications overall. It's also an excellent alternative for single entrepreneurs, but it's designed to handle a collaborative task in a clear and easy-to-understand manner.
Harvest is an excellent software to help you get the work done if monitoring and managing a team's time isn't your strong suit.
It is a simple and popular online time tracking tool that keeps records of projects' time and expenses.
It is beneficial to prepare professional invoices and export them to the client to build confidence. It can track your offline time and keep track of the applications you use during work hours.
There are potent integrations with thousands of apps so that you can track the time on any platform.
You can download the app for a browser extension, so you do not forget to clock in once you start to work.
Features of Harvest
Employees' billable and non-billable hours can be calculated.
Tracks time even when you are offline.
Approve and review the timesheets.
It has robust integrations over third-party apps like Slack, Asana, Github, Gitlab, Gmail, etc.
Turn the billable time and expenditure into professional invoices and send them to the clients.
Pricing of Harvest
Harvest is free to use for a single user with two projects.
The pro plan of harvest costs $12/person per month that allows unlimited users and projects.
Benefits
It tracks the time and cost of your project.
The mobile app makes work more effective.
Drawbacks
Lack of sales tax integration.
Real-time phone support is not available.
Toggl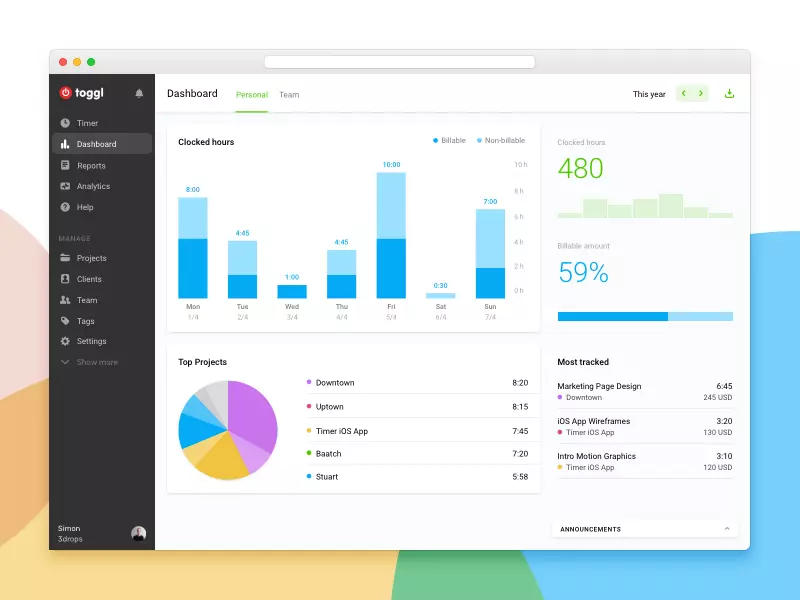 Toggl is a free time tracking software for freelancers that tracks and measures employee productivity.
It is a popular software program for small teams and freelancers to track their PC activity while working.
It runs in the background and records track of every page you visit and remains on for more than 10 seconds by displaying a random screenshot so often.
The great thing about the toggl track is that you can start the timer on your mobile app, stop it on your desktop, and read your time report on the web, ensuring that your data is instantly synced across all applications and platforms.
Toggl helps calculate employees' billable and non-billable hours based on their timesheets. If you forget to clock into the app, it sends an Email alert and reminds you to clock in.
Features of Toggl
Provides random screenshots to track the progress of your work.
Tracks time offline even if your internet connection is lost.
On the dashboard, you can see the status of your projects.
If you forget to clock in a while working, you will receive email reminders.
Produces reports in PDF and CSV formats and distributes them to customers.
Pricing of Toggl
You can use it for free up to five users, including freelancers and small teams.
The starter plan costs $9/user per month. It is created for small teams to work fast.
Premium plan costs $18/user per month. It is produced with different tools to facilitate collaboration across multiple teams.
Large organizations can use enterprise packages with custom pricing.
Benefits
It has integrations with popular apps.
It is simple to use for freelancers.
Drawbacks
It has a minimal reporting option.
Tyme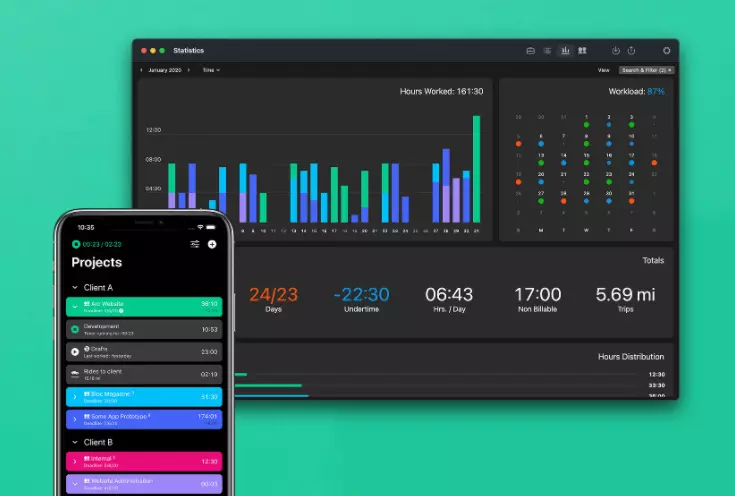 Tyme is a simple time tracking application that helps in time management. It lets you save the recorded time as PDF, CSV, or JSON files.
It enables you to evaluate your team members' efforts and the project's remaining budget. The team leader may allocate projects and tasks to each team member individually and arrange budgets and hourly rates.
A reminder function that notifies you when you forget to start the timer is near the project deadline, working too long, forget to take a break, or have reached the working time.
It monitors business travels and mileage costs, and work hours and expenses.
It creates invoices directly from the recorded time and exports them to clients to know how much time and cost is spent on a project.
Features of Tyme
It keeps track of time and helps you with time management.
Allows you to save the recorded time as a PDF, CSV, or JSON file.
Automatically tracks business travel and mileage costs.
It keeps track of both billable and non-billable jobs.
It creates invoices directly from your recorded times.
Pricing of Tyme
It offers two different pricing plans.
The individual plan costs $3.99 monthly.
The team plan costs $3.99 per user per month.
Benefits
Allow you to switch dark or light mode from the settings menu.
You can clock in and clock out from any location.
Drawbacks
Screenshot features need to be added.
actiTIME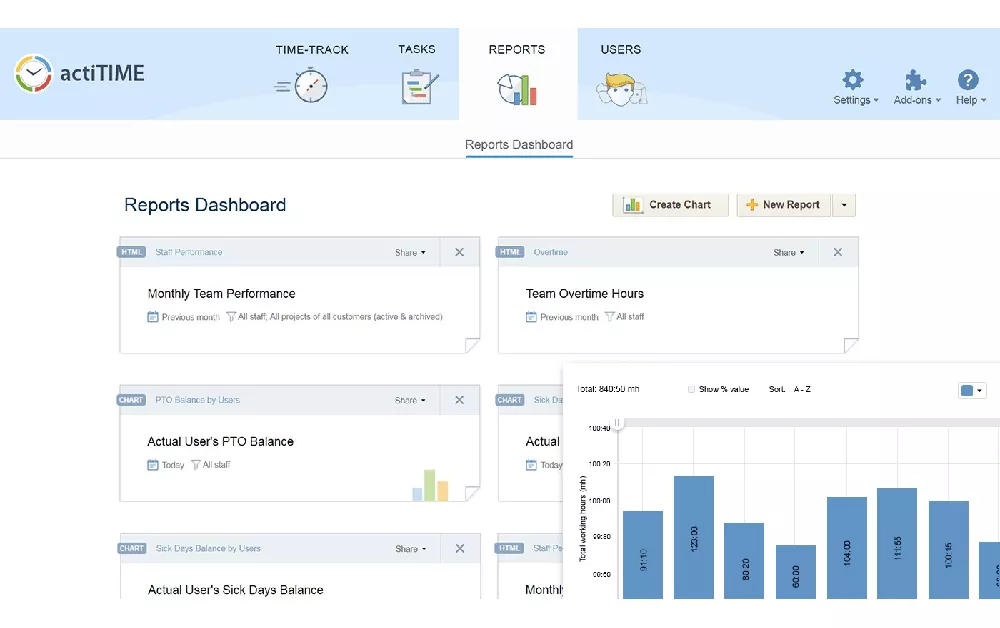 actiTIME is a web-based time tracking program ideal for businesses of all sizes. The program allows you to track your employees' time, give tasks to them, and manage projects.
actiTIME is used by hundreds of businesses to manage their remote personnel and projects efficiently.
The app allows you to manage your leave and day off in the timesheet. It also allows you to view each employee's timesheet and measure the productivity of each employee.
It sends out automated email reminders to employees to complete their timesheets. Additionally, it automatically calculates employees' overtime and allows employees to enter their overtime manually.
You can create projects in your timesheet and edit and remove them. It also lets you set deadlines, track project progress, and compute the billable rate.
You can use the leave management function to generate leaves, track sick leave and days off, and plan business trips.
Features of actiTIME
Allows you to examine your performance, billable rates, and overtime on the graph, as well as download the report in CSV or PDF format.
Allow for the use of a Kanban board to manage projects, set deadlines, and visualize project status.
Provides billing and accounting capabilities that precisely compute your payroll and bills.
Allow you to access your database data.
It sends email reminders about your timesheet.
Benefits of actiTIME
Allow customizing employees' reports.
Easy to use.
Drawbacks of actiTIME
More features need to be added.
Pricing of actiTIME
actiTIME provides two plans, which are:
Free Version: It is free of cost.
Online License: It costs $7 per user per month for 1-40 users.
On The Job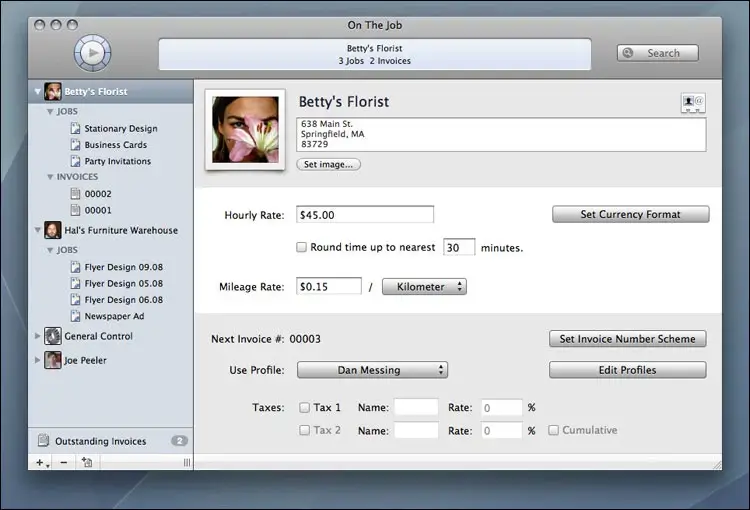 On The Job is an application that allows you to manage your time and costs and charge your clients fast and easily, making professional invoices. It is simple and easy to use; focus on what is essential.
The automatic idle time detector calculates time intervals when there is no activity on the computer and displays them when you return – with the option to remove idle time from the total value.
The software supports several currencies and hourly rates that may be customized. After creating the billable amount, you can issue an invoice directly from the app.
Features of On The Job
Supports multiple currencies
Custom hourly rate
Idle timer
Invoices
Data organization
Client profile management
Benefits of On The Job
It is easy to use.
It tracks time and expenses accurately.
It keeps a record of clients effectively.
It can support multiple currencies.
Drawbacks of On The Job
More features need to be added.
Pricing of On The Job
You can purchase On The Job for a one-off fee of $39.95.
Workpuls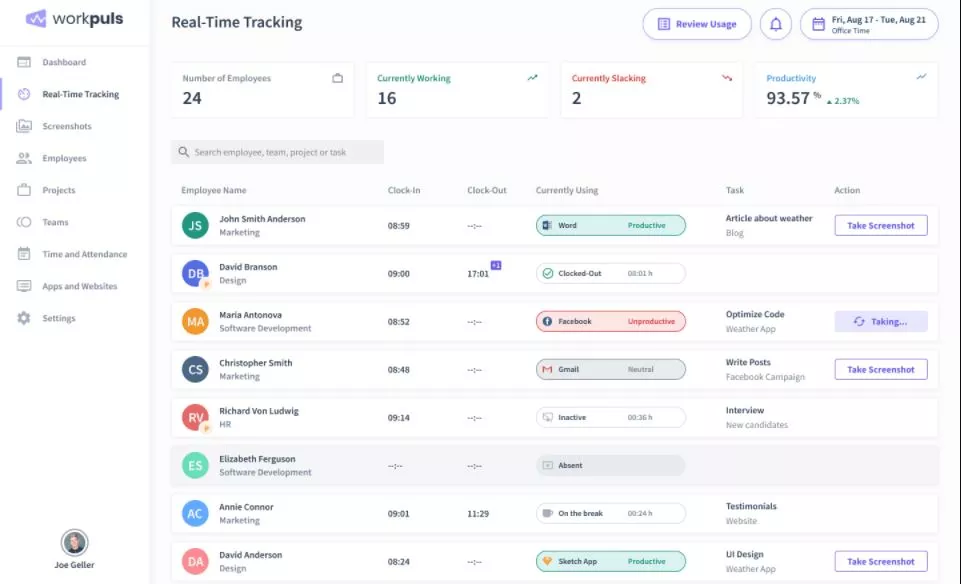 WorkPuls is a time tracking and employee monitoring tool that helps employers increase staff productivity. It tracks every minute of employee activity to evaluate staff productivity.
The program features a stealth mode that runs on employees' computers without interfering and tracking their activity.
The program monitors employees' activity and logs their time from when they switch on their computer until they turn it off. It even allows staff to clock in and clock out.
It measures employee productivity using applications and websites employees use during working hours. It classifies applications and websites as productive or unproductive and returns the information on a graph.
WorkPuls has a screenshot tool that captures random screenshots of employees' work to enhance transparency. It even monitors employees' activity and detects idle time.
Features of Workpuls
To see workers' real-time activities, a random screenshot of their PCs is taken.
Allow staff to manually add time.
Manage employee attendance and ensure mainly that no one forgets to enter time on their timesheet.
Manages the project budget and ensures that it is profitable.
On a daily and weekly basis, it prepares employees' productivity.
Benefits of Workpuls
It provides complete customer service.
It provides two-factor authentication.
Helps to maintain employee attendance.
Drawbacks of Workpuls
A frequent update is necessary.
Pricing of Workpuls
WorkPuls offers four price plans, which are:
Employees Monitoring: It costs $4.80 per user month billed annually.
Time Tracking: It costs $6.40 per user per month billed annually.
Automatic TimeMapping: It costs $12 per user per month billed annually.
Enterprise: It has custom pricing.
Conclusion
In conclusion, different employee monitoring and time tracking apps are used in Mac OS and iOS with accessible or affordable costs.
We have provided you numerous time tracking software with detailed information above. Now it's your time to choose any of the software from above according to the size of your company's team members, project, and budget.
You can download any app on any platform and get started for free. Please let us know in the comment section below if you have any queries.