Best Customer Feedback Software and Apps to Use in 2022
Best Customer Feedback Software and Apps to Use in 2022
Customer feedback plays a vital role while managing a business to improve its products and services.
Every business needs to measure and monitor how impactful their product and services are for customers.
The feedback is essential because, with customer feedback, you can gain lots of experience and improve the product's quality if they do not satisfy customers.
Gathering reviews and feedback with different software and tools is essential for listening to customers' voices.
It would be best if you gathered feedback from different support channels to analyze your product and services progress and know whether the customers/users are satisfied with your products or not.
The development of technology has made the business environment quite competitive. To compete with other businesses of the same niche, you need to keep the customers happy by evaluating the customer experience and preference.
10 Customer Feedback Software and Apps
Acquiring customer feedback about their experience determines your business's success rate, while the feedback may be positive or negative.
Positive feedback might motivate you, while negative feedback can encourage you to improve your product and services' quality to compete with other businesses.
You can use various customer feedback software to collect reviews and feedback from your customers.
Let's start with our customer feedback software and applications; you can use them for your business.
Survicate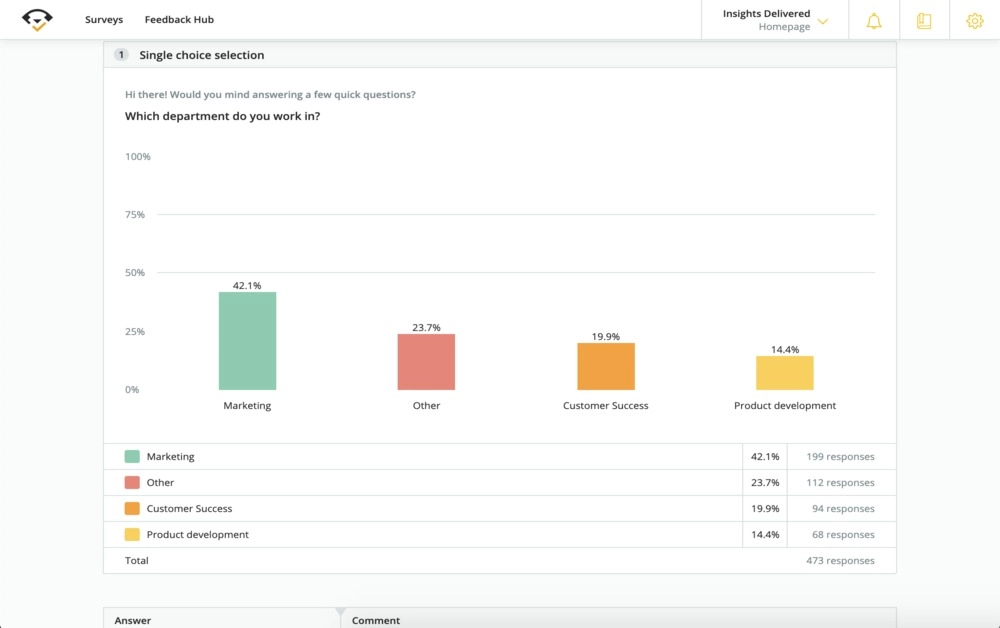 Service is a platform that allows you to conduct surveys and collect feedback from your customers.
It applies the NPS software framework to gather customer feedback and helps business owners and marketers identify customer trends to improve customer experience.
It conducts a powerful survey to identify customer behavior. The organization operates a survey with customers and determines how well their products and service are doing.
All the data are presented within a questionnaire, and the customer provides positive or negative feedback according to their experience with the company's product and services.
The survey can be conducted through web and mobile apps. The service has an easy and fast installation feature.
The whole process requires just 2 minutes to complete the survey. It is highly optimized for mobile devices.
Features of Survicate
It helps to evaluate customer satisfaction.
It helps to gather product feedback.
It helps in marketing insights.
It can run in web/mobile app surveys.
Pricing of Survicate
Essential – $49 per month
Professional – $99 per month
Ultimate – $249 per month
ProProfs Survey Maker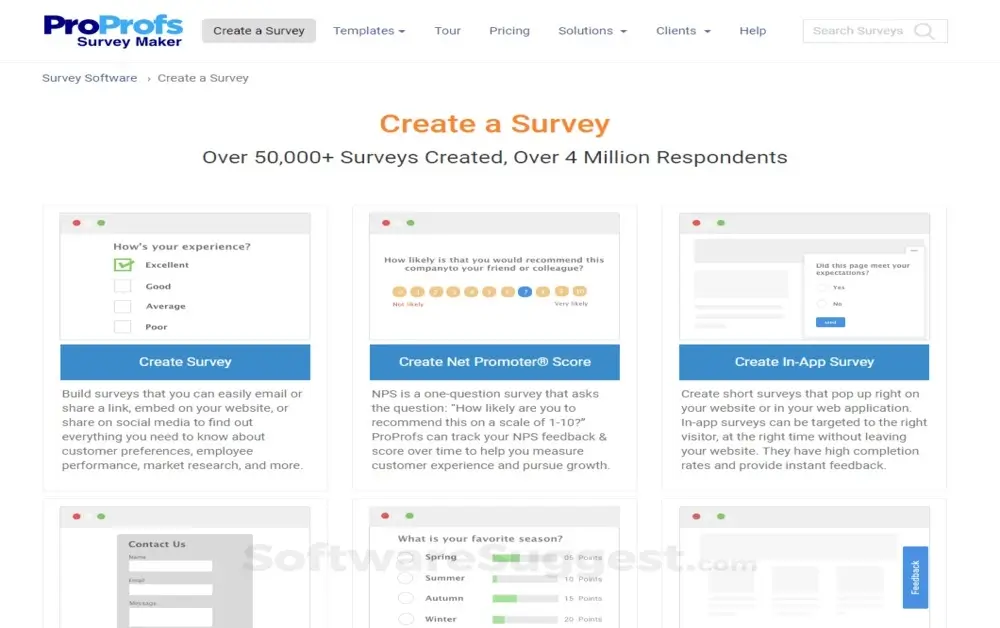 ProProfs survey maker is one of the best tools to help you constantly capture real-time customer feedback to improve customer satisfaction and customer retention.
One can plan and create a wide range of quizzes, surveys, forms, pop-up surveys, and polls.
With the help of this tool, surveys can be easily added to your company's website, mobile app, blog, Facebook page, or can be shared via email.
Plus, it comes with 100+ pre-built templates and thousands of ready-to-use questions to help you get started quickly.
Choose a customer feedback template, personalize it with your brand colors, themes, logos, and you are a few clicks away from creating great surveys.
Features
Easy-to-use interface
Easy customization
Advanced features including conditional logic and survey redirects
Powerful integration with popular tools
Advanced reporting and analytics
Real-time notifications
Extensive and helpful product knowledge base
Pricing of ProProfs Survey Maker
Forever free plan
Essentials plan starting at $0.05/response/month
Premium plan starting at $0.10/response/month
Appzi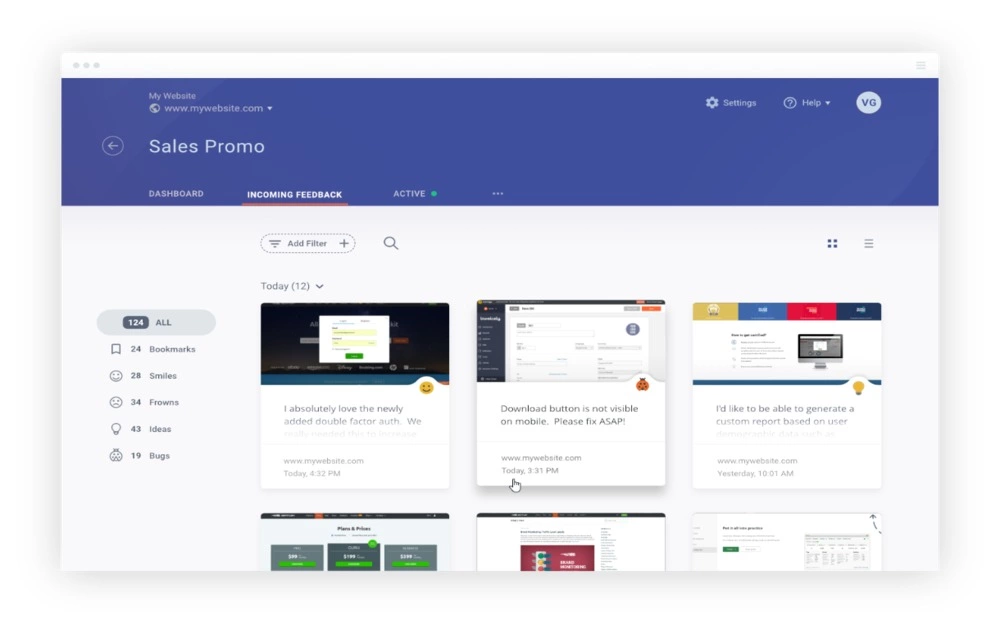 Appzi is a survey or customer feedback software used by small businesses to large enterprises.
It is easy to use and inexpensive feedback management software to manage every aspect of your product and services feedback experience.
With the help of the Appzi feedback portal or directly from your email, you can reply to customers' feedback on the spot and have a meaningful conversation with customers regarding the quality and quantity of your product.
Your company's success is defined by having a positive experience and sharing your products' background with others.
If the customers are pleased with your product and the services they recommend, others and people can reach you.
Sending automated follow-up emails is the effortless and most effective way to continually collect reviews from your customers and earn trust online using Appzi.
It is free for small businesses and non-profit organizations.
Features of Appzi
It can manage feedback from one central place.
It provides notifications and alerts.
You can conduct a variety of surveys through this app.
It helps to gather customer feedback regarding your product and services.
Pricing of Appzi
Basic – $29 per month
Standard – $89 per month
Enterprise – Custom price
Usersnap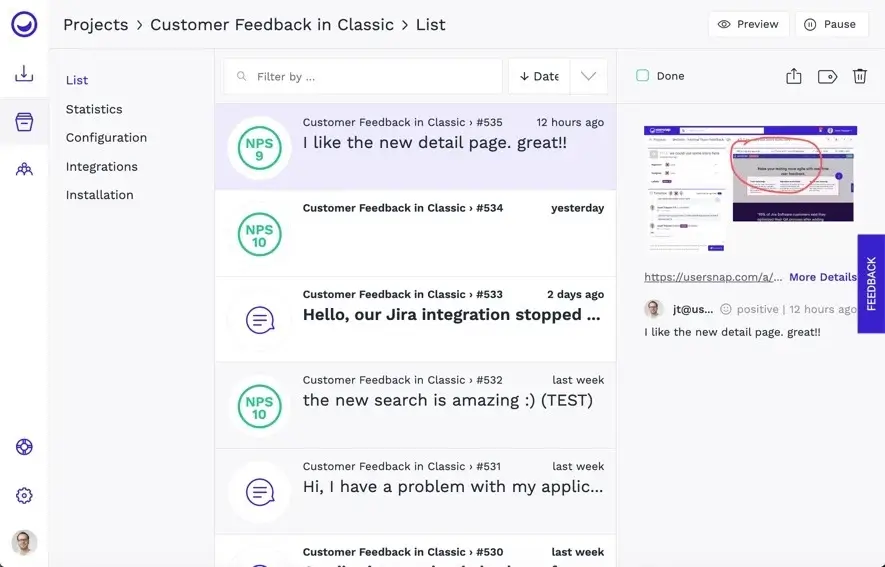 Usersnap is easy to use a feedback widget with different rating options for your use cases.
This app contains open-ended questions where users can send annotated screenshots to report usability issues.
It displays the feedback in a listview option like Gmail that helps you understand easily. Usersnap automatically captures customers' details and collects feedback from them.
Usersnap sends feedback and reports bugs to other tools such as slack, intercom, JIRA, and thirty-plus integrations.
It is mainly used in software companies, e-commerce, and web agencies. You can use this software for 15 days as a free trial. After that, you need to pay as per the packages.
For example, measure customer satisfaction at the checkout point or survey brand loyalty with the NPS framework.
Features of Usersnap
It helps in channeling feedback on your site.
It supports 8+ languages to collect feedback.
This app automatically adds error logs from the client-side
It can send feedback and report bugs to any website.
Pricing of Usersnap
Basic – $19 per month
Startup – $69 per month
Company – $129 per month
Enterprise – Custom price
Survey Monkey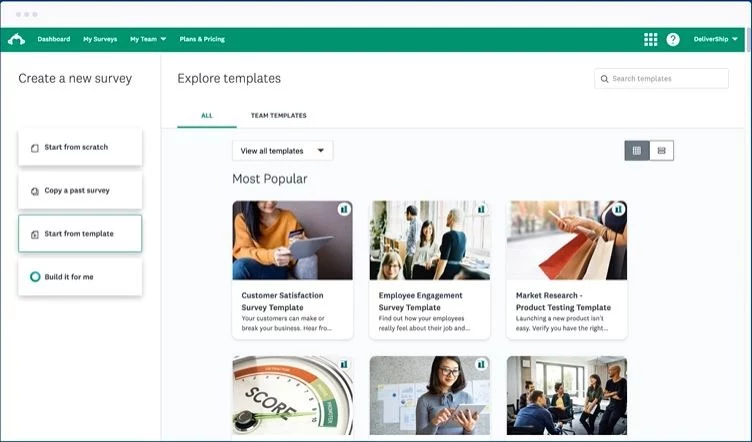 Survey Monkey is a cloud-based software application used to collect feedback regarding the product online.
It offers both free service surveys as well as paid service surveys. It has a business plan and a personal plan.
You can provide your customer or users with multiple choice questions and answers. You need to pick a theme to personalize your survey.
If you want to add a logo or customize your color, you can do both with any paid plan.
After you prepare the questionnaire in a survey monkey, you can preview your survey and see how it looks.
It also gives recommendations on how to improve your survey if you need it. You can choose how to send your survey easily, i.e., by grabbing a link.
You can share your surveys on social networks like Email, Facebook, Linkedin, and many more to your contacts and gather feedback.
Features of Survey Monkey
It creates employee information surveys.
It manages companies' data with advanced security and control.
There is an opinion poll.
It can delight customers and increase loyalty through feedback.
Pricing of Survey Monkey
Premier annual – $99 per user per month
Advantage annual – $34 per user per month
Standard monthly – $35 per user per month
Flex – $19 per user per month
Survey Sparrow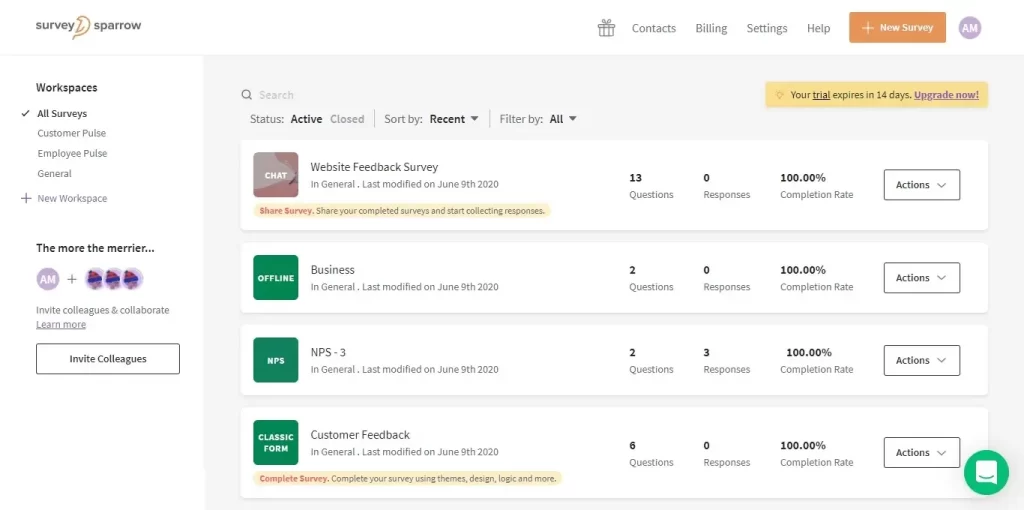 Survey sparrow allows you to create and share highly engaging mobile-first surveys that offer a chat-like experience from customers.
You can go to the official website and click on the sign-up button. The 14 days trial is free.
Survey Sparrow is easy to set up as it does not require coding.
Anyone can create an online survey with this tool and analyze your products' reviews through customer experience.
You can also share surveys by linking to different websites like Facebook, Twitter, etc., and embed them on your website. It supports 1500+ integrations and APIs to simplify your workflows.
Features of Survey Sparrow
It conducts smart surveys online.
It helps in audience management.
It has a recurring survey feature.
It helps to gain rich insights.
Pricing of Survey Sparrow
Premium – $49 per month
Business – $149 per month
Enterprise – $499 per month
Zonka Feedback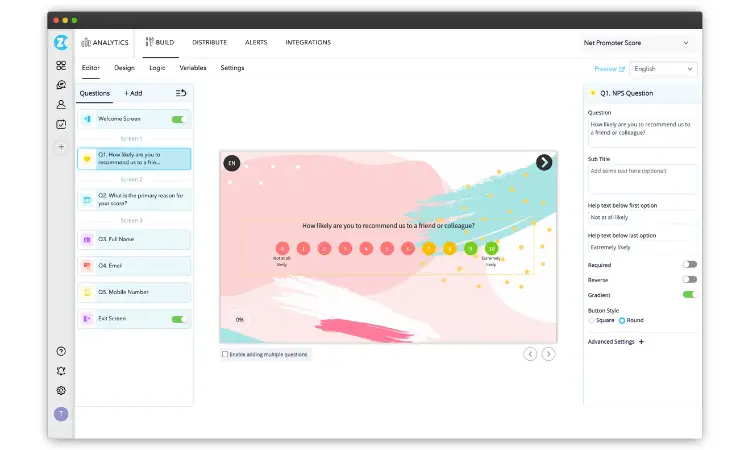 Zonka Feedback is a multi-channel survey and feedback software that is easier to use and conduct unlimited surveys across multi-channels, i.e., Tablets, Email, Online, and SMS at a time.
It can work offline without wifi and sync data anytime. Zonka can track feedback through different devices remotely.
This app helps get real-time reports and analytics. It collects data from various sources and market research using offline survey apps on mobile phones, iPhone, iPad, and tablets.
Zonka measures customer satisfaction and customer experiences using surveys, even from remote areas with no access to the internet.
Features of Zonka Feedback
It is used for creating a survey.
It provides alerts and notifications.
It helps in reporting and analytics.
It is essential for the feedback management of products.
It can create an offline survey at any location.
Pricing of Zonka Feedback
Essential – $24 per month
Professional – $79 per month
Growth – $169 per month
AskNicely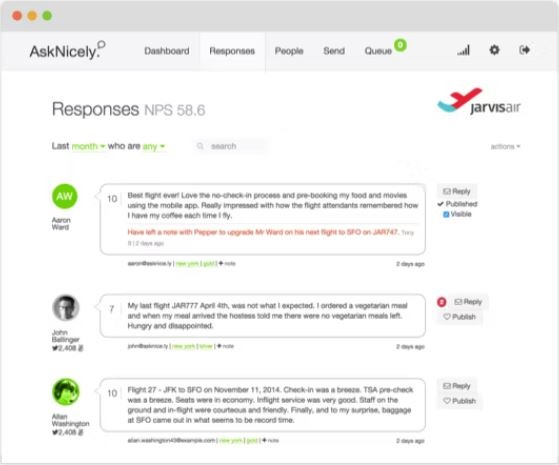 AskNicely is software to collect customer feedback in real-time. It helps to build a strong relationship with clients and deliver better experiences.
It is designed for entrepreneurs, product managers, and customer support managers to collect real-time customer feedback.
The survey depends on Net Promoter Score (NPS) framework. The company can track customer ratings and feedback in real-time with continuous NPS evaluation.
It requires less than a minute for a client to provide valuable information using this app. You can start a 14-day trial free if you start with a customer feedback option for your business.
Features of AskNicely
It applies the NPS framework to gather customer feedback.
It is the world's first customer experience coaching app.
It can support multiple locations and brands.
Pricing of AskNicely
It has custom pricing based on your need. The plan is based on the following vendors:
Customer feedback
This vendor aims to measure and improve every customer's experience.
The features here include Email, Website, and SMS surveys.
It has integrations with 40+ platforms.
Front-line coaching
Its purpose is to motivate and empower your front-line staff.
The features include personalizing employee scorecards, staff recognition and shoutouts, and employee suggestions for front-line employees.
Custom solutions
It is a tailored option for enterprise businesses.
It has premium integrations with salesforce, dynamics, marketing cloud, enhanced security, custom development.
It supports multiple locations and brands.
Matterapp.com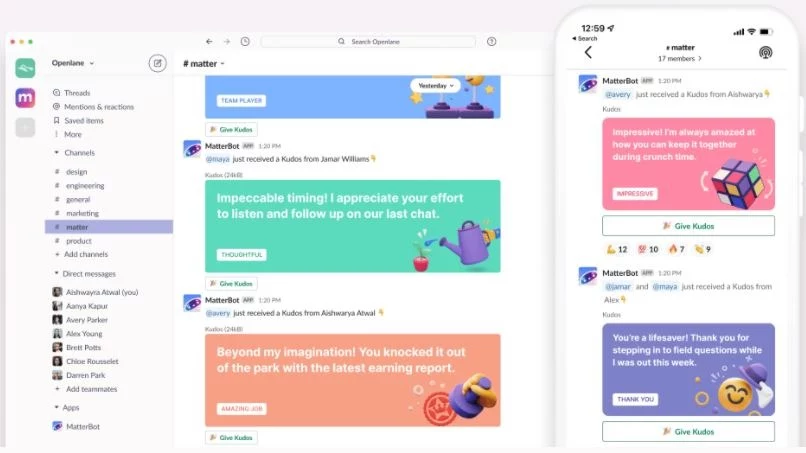 The Matter App is a relatively new software that can collect customer feedback regarding your product and services.
It is used for feedback on something you said. This app lets people give you feedback on skills, whether responsiveness, coaching, listening, or supportiveness.
So this app provides a review of your product and reviews you and how you deal with your customer or client.
Matter App is for any customer-focused business. This app is free to use.
Features of Matter App
It provides unlimited feedback.
It is customer-focused software.
It has communication and supportiveness skills.
Pricing of Matter App
This app will remain entirely free for all individual accounts currently as it is using the beta. The Pro version is coming soon.
Conclusion
Today's business environment is very competitive, and you need to focus on customers and develop loyalty and trust with them to achieve goals.
The above-mentioned customer feedback software and apps help you gather the reviews of your businesses and earn trust online.
Customer feedback tools are a perfect way to get engaged with your audience.
Do not hesitate to ask in the comment section below if you have any queries.