10 Easy Tips for Employee Time Tracking
10 Easy Tips for Employee Time Tracking
Big companies worldwide have been affected by the global pandemic, COVID 19. Employing home-based job criteria, finding remote workers, and making a profit in business has become a real challenge to many companies worldwide.
Implementing straightforward strategies like setting clear project milestones and using user-friendly 

time

–

tracking

tools like Time Clock Wizard can greatly enhance 

employee

 

time

 management and productivity. For more information, check it out here.

Excellent project management and increased employee productivity are key to a successful business. 
The key to turning a profit in a project is productivity. Better project management can help with this productivity problem. How can it be accomplished?
By keeping track of employee performance. Yes, effective employee time monitoring can increase employee productivity. 
Tracking your time is mandatory whether you work for yourself or in an agency.
Likewise, when you are in charge of a big project at your company, you may have to keep track of the team's time to run an efficient operation. 
Here, we have come up with some amazing tips and suggestions on employee time monitoring at the workspace or their working devices. Please be patient and read.
10 Amazing Tips for Employee Time Tracking at Workplace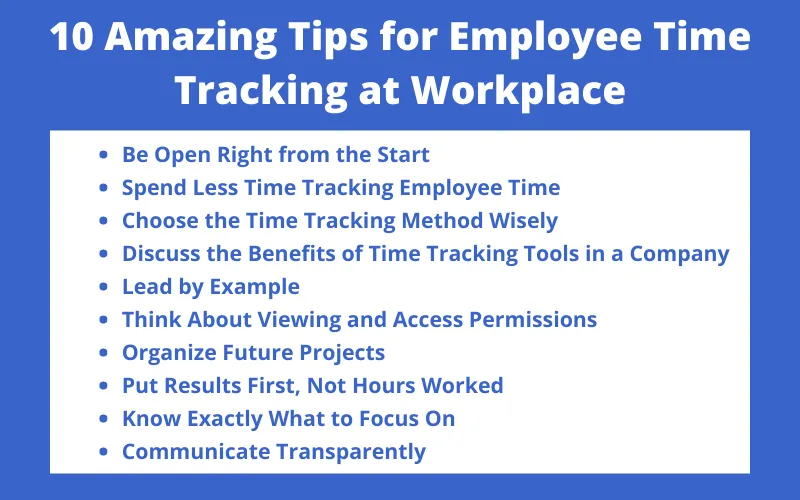 Be Open Right from the Start
Employee morale may be negatively affected by time management apps. It is imperative that you, as the manager, clearly explain how and why the system works.
The team's reactions would be detrimental, particularly if the monitoring system were extremely demanding.
Another important factor is employee age, and workers tend to have trouble adapting to new systems as they age.
Having your activities monitored can create a level of anxiety. Often, it makes employees feel that they lack trust in you. As a result, workers may under-track their time or have reduced productivity.
Explicitly stating your reasons for using the software will help you avoid these negative reactions. There are numerous ways to make time tracking calculator implementation a smooth one.
Spend Less Time Tracking Employee Time
The time needed to log in daily work should not exceed 10 minutes, and analysis of the results should not take managers hours. Don't let a time-saving process cost you more of your time.
Your employees should submit error-free and organized timesheets to reduce double data entry.
Put a monthly review process in place that collects everyone's time tracking data once, rather than looking through older emails.
Even better if you can automate parts of your work and move employee time tracking online.
Choose the Time Tracking Method Wisely
Whenever you start tracking time on a company level, you will likely encounter some resistance. In choosing your time tracking method, you should consider the needs and workflow of your employees.
In other words, it shouldn't be a lengthy or difficult process, and the process should be easy to use.
Employee timesheet programs or apps must be adaptable. Simply put, you should be able to modify the form to fit the needs of each employee and for each department, project, and client.
This task will require some planning and tweaking ahead of time.
Look for a tracking method and software as hassle-free as possible. Consider the program's versatility rather than its flashiness.
Discuss the Benefits of Time Tracking Tools in a Company
We recommend using articles and studies describing the gains from time tracking software in different workplaces. Be clear that you're not taking this step to make life harder for yourself.
Be sure to explain all the advantages to your employees. Putting a timer in place won't be very useful if you don't deliver your promised benefits.
In addition, you'll probably cause resentment if the employees do not see the improvements you'd expected.
Lead by Example
One of the best ways to begin a new workflow element is to practice it first. Try it out yourself first before discussing it with your employees.
You can then demonstrate the software's features in a hands-on way. Predicting future problems will also provide you with insight into current questions.
Your ability to demonstrate the benefits is vital. In addition to seeing the graph, showing what benefits timekeeping software for employees can offer.
You'll also have to demonstrate that you aren't tracking everyone's every move and punishing those who take breaks.
When you take these measures initially, your employees will know that you are serious about these improvements.
By changing your behavior and habits, as management, you will have a much easier time convincing others to do the same.
Think About Viewing and Access Permissions
Publicly available employee time logs can promote competition among companies. These changes can increase transparency, but they can also create resentment among coworkers.
Whether or not to create a public list will heavily depend on the industry in which you operate. Creative employees should be exempt from this criteria, however.
Departments are also responsible for access permissions. Logging and tagging the time are critical parts of successful time tracking.
Nonetheless, confusion will arise when all tags, tasks, and sub-tasks are available to every employee.
To make your tagging system available to every employee exclusively, you should talk to the representative from each department individually.
Smaller numbers of tasks make navigation much easier. Using this practice, tagging will be more accurate and easier to use.
Organize Future Projects
Software for time management is useful not only for the moment. Time logging is an investment.
Hence, it would help to estimate future projects and find ways to optimize them. Estimates like these won't be perfect, but they'll be valuable guidelines.
It can be very beneficial to allocate your time based on your abilities and work habits. Be sure to allow teams to breathe when needed.
Have them focus during their most efficient hours. Be patient. It is vital for everyone's career to build positive work habits.
Keystrokes shouldn't matter to you. Furthermore, you probably do not have time to care for each employee individually.
Micromanagement will lead to toxic work environments. Understanding that time logs will help you better picture the projects and teams.
Put Results First, Not Hours Worked 
Tracking employee productivity may seem like an obvious one. Many companies do not measure success by performance; rather, they measure productivity. Set clear expectations for the whole team initially.
Then ensure they've met their goals by tracking how well they're doing their jobs – not how many hours they're putting in.
Rather than measuring employees on their contributions or productivity, it is more important to focus on results.
This will increase productivity. An incentive for completing tasks will motivate employees to work efficiently and accurately. 
Know Exactly What to Focus On
Most time tracking apps come with various options, and it is tempting to use all of them at once. You shouldn't do this, though.
You can improve businesses' practices by analyzing employee timesheets. It is important to prioritize the most pressing issues even though many alternatives are considered. To do so, you must identify them.
Would you like to know how much time each task takes? Is there a client that brings in less profit than others? Not sure which parts of specific tasks require to rework? A timesheet can tell you.  
Keep your employees from being overwhelmed. You want high-quality data, which means fewer entries on a form.
Communicate Transparently
The key to productivity is communication since everyone must work together to accomplish the organization's goals.
Communicating and being honest when sharing performance tracking with your employees boosts employee productivity. 
You can clearly outline your project goals and objectives, time performance, and requirements.
Be certain you are tracking the progress of your project. Your employees will feel assured and confident about their performance.
Few Tips for Mastering Your Time at Work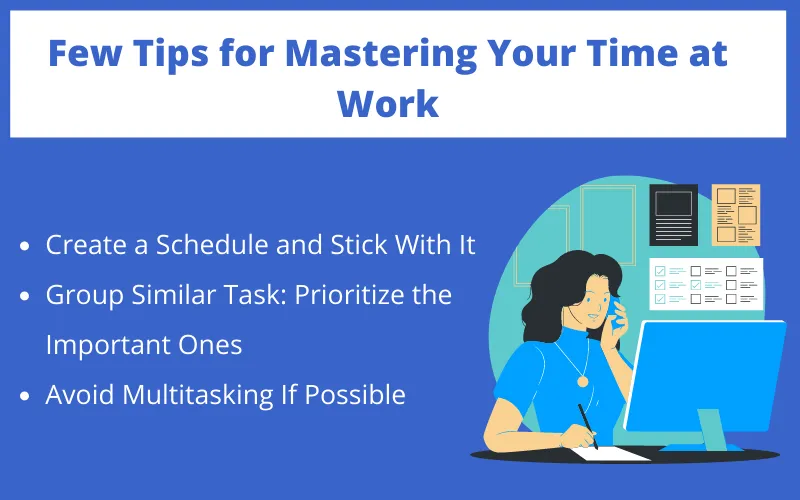 Create a Schedule and Stick With It
It is long proven that schedules help people remain organized. Getting a good grasp of time management is essential. A list of tasks is key to beginning your day on the right foot.
Before leaving work for the day, make a list of the most important tasks you need to accomplish the next day. Once you get to work, you can take advantage of this step to get going immediately.
Your brain will remain occupied during the night when you write everything down instead of stumbling over tasks that leave you awake.
The subconscious solves these problems while you sleep, so you have fresh ideas for your workday when you wake up.
If you don't have time to write it out the day before, ensure to start your list first thing in the morning. You'll lose time bouncing between tasks when you lack a clear plan.   
Group Similar Task: Prioritize the Important Ones
Don't try to move on to the next type of task before completing all of the previous ones. Set aside a separate period for answering emails, making calls, and filing.
Do not respond immediately whenever you receive an email or message, as it is an unnecessary distraction. Avoid checking your phone or email when you should not check them.
Important deadlines with high urgency: These tasks are important and urgent, so complete them immediately.
Not urgent, but important: These issues, however, don't require immediate action and should be addressed in a long-term strategy. Concentrate most of your efforts here.
Not important but urgent: These assignments are not important but urgent. Reduce, delegate, or eliminate those tasks that are not contributing to your output. Distractions generally occur when others lack proper planning.
In urgent and unimportant matters: These activities don't have much worth and should be eliminated as much as possible.
Avoid Multitasking If Possible
Focus on one task at a time. Multitasking is a skill; however, multitasking might not keep an employee busy on important tasks.
So, rather than focusing on several tasks at a time, you should take a single task, complete it first and move on to the other.
A better focus will improve your work efficiency and help you remain organized at work.
Conclusion
Employee monitoring is the best productivity booster for companies. So, keeping track of what your employees are doing during their work time is mandatory.
To perform employee time tracking smoothly, you can follow our tips. These tips are easy and highly effective.