Measures You Must Take To Protect Remote Workers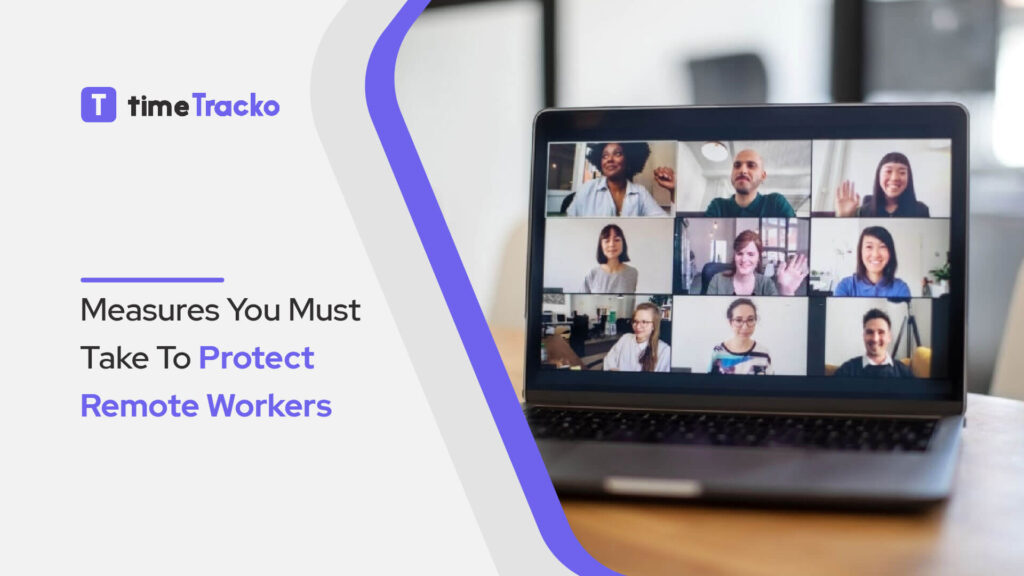 The number of remote workers has recently increased due to various reasons like flexible work hours, better health, less distraction, and more.
Most people prefer remote working rather than onsite working due to these reasons. 
For the organization itself, providing a remote working option reduces organization expenses in the number of overheads.
However, some organizations are also facing security issues when their employees are working from home.
Since employees can work from anywhere and connect with any public network for working, this increases the chances of getting your data hacked, and your data are at risk.
Therefore organizations need to provide employees with all the necessary systems and software to ensure organizations' data security, other sensitive information and protect remote workers.
Even though it can increase organizations' costs, it is a one-time cost, and these costs are taken as the purchase of assets in organizations.
To protect remote workers as well as organizations sensitive information, organizations need to follow the following measures:
Create a Policy
Every organization has some rules and policies that employees need to follow to maintain discipline in the organization. It would help if you created policies to run day-to-day operations smoothly.
Policies are the road map and guideline for smooth internal and external business operations. However, policies will not benefit organizations if you only make the policies and are unwilling to implement them.
Companies should make policies in such a way that it is beneficial for both employees and employers. You should ensure that policies are flexible enough.
When a company has a remote team, team members are distributed in different parts of the world. Therefore it has become mandatory for companies to tie their remote teams with policies.
Some standard policies that an organization should set are working hours, cybersecurity, equipment used, communication, and more.
For example: When you provide employees with a laptop, then you set some policies and rules like not sharing a computer with others, using it only for office work, and more.
Every policy comes with some action if employees do not follow it. Employees should follow the guidelines, and if they fail to follow the given procedures, they should face the consequences.  
Ensure Employees Internet Connection are Secured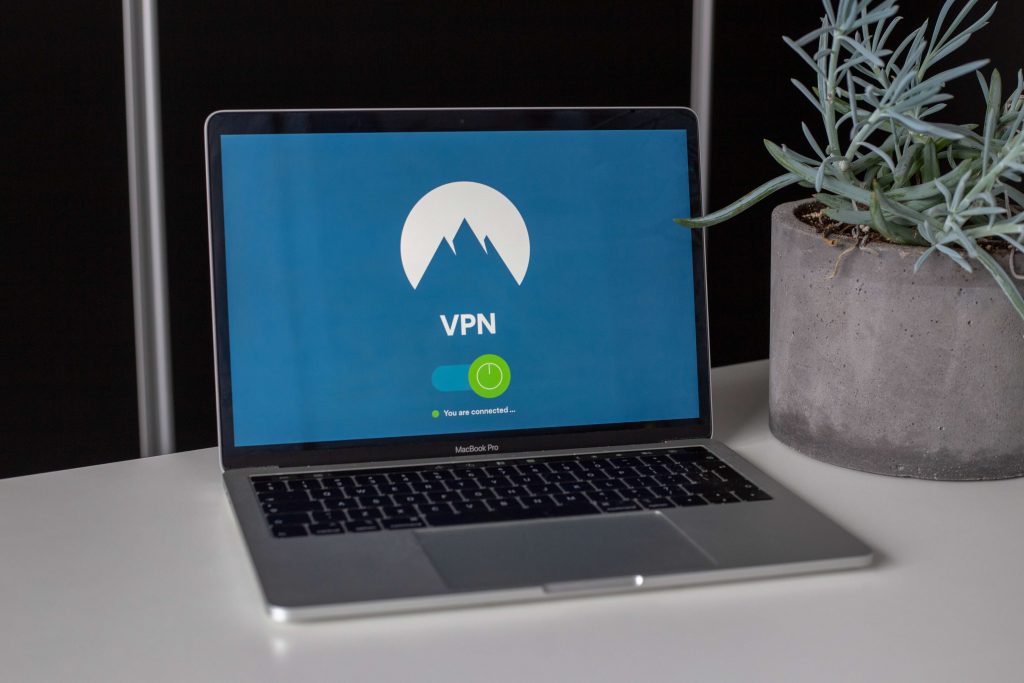 The main concern of employers is their data security when their employees are working remotely. Employees should follow the organization's data security policies, ensuring that their data is not exposed to third parties.
Sometimes, employees might use the public network and work from cafes, coffee shops, or even the library. While using public networks, employees should connect with Virtual Private Network (VPN).
You should provide your remote team with VPN so that they can connect to any network without any fear.
VPN ensures secure communication, sharing files without fear of getting exposed. It secures passwords, sensitive data and protects such data from third parties. 
It decreases the chances of being attacked by any cyberattack and makes employees feel secure no matter where they work.
VPN is essential for employees who travel a lot for work or other reasons and stay connected with the office network. 
It would be best if you determined the following criteria:
Security
Speed
Strong Encryption
Censorship
Streaming
Number of Servers
Unique IP addresses and more.
Use Two Factor Authentication
Remote employees can use two-factor authentication to secure their files and data from third parties' access.
When you are working from home, sometimes your family members or roommates might use your PCs. To ensure no one can access your data, you can use two-factor authentication in your files and data.
Usually, employees add passwords in their files and folders; however, passwords can be easily hacked. Therefore, you should add a PIN code while adding a password that ensures a high-security level.
Whenever anyone tries to access your files and folder, you will receive a PIN code on your cell phone, and you can get notified about such actions.
You can also add multi-factor authentication like fingerprint, retina, voice recognition, and many more.
This factor helps to minimize the chances of fraud and minimizes trust issues. It also increases work productivity as employees can share their files and folders without fear of being misused.
Use Firewall and Antivirus Software
Another important measure to follow to protect remote workers is the use of a firewall and anti-virus software.
The organization should provide employees with Firewall and Anti-virus to provide security from malware and cyber threat. 
Organizations should be able to provide a cloud-based firewall that ensures a secure internet connection.
If you have onsite employees, you can use an on-premises firewall, but you should use a cloud-based firewall for remote employees to provide remote access.
One of the benefits of a firewall is to block hackers, viruses, and other unauthorized access to your computer network.
It keeps track of all data that comes to your computer through the network and identifies harmful data.
It also restricts the download of files that it feels are harmful and allows the system administrator to review them before downloading them.
Besides firewalls, organizations should provide their employees with good anti-virus software that protects employees' PCs from viruses, malware, worms, Bots, and more.
It even protects PCs from unauthorized access to PCs and identifies threats. 
Another essential feature that anti-virus provides is it blocks spam sites and prevents data from being stolen. It also maintains PCs' speed performance by deleting unnecessary files and folders.
Keep Updating Programs and System
Remote working is all about telecommuting, and employees need to depend on programs and systems to complete all their work.
Sometimes software and programs can have bugs, and hackers can identify them and can hack your system. They can steal all data and information stored on employees' PCs.
Program and software updates bring additional security features, fixed bugs, and regular updates, essential for system security.
Software updates minimize security problems that customers are facing while using the software.
However, employees procrastinate to update their computer programs and system, due to which sometimes their system can face some threats.
Therefore as an employer, you should remind your employees about software updates whenever there are new updates. You should be able to educate your employees about the importance of software updates.
Employees can also use the auto-update feature that allows software and programs to update automatically when there are any new updates.
But some programs may not have auto-update features; therefore, employees should keep checking updates.
Use Office Messaging Apps
Communication among the remote team can be challenging if the right communication tools are not used. And using social media to communicate about any subject matter related to work might not be effective.
When employees work from the office, they can instantly communicate whenever they are stuck in some problem. But when employees are working remotely, they may not communicate as they communicate in person.
Therefore, you should make sure that employees are using proper communication tools for office communication. You can use messaging apps like Microsoft Teams, Skype, Slacks, Glip, Flock, and many more.
You should select those apps that provide all-in-one features like video and audio conferencing, chat systems, file sharing, and more.
You can create a group according to projects, team members, departments, and more with these apps. 
In such messaging apps, you can also share office notices, new rules, and upcoming events. You can have one-to-one communication or group communication using messaging apps.
You can view each other online status, making it easier to view employees' availability and message them.
Provide Proper Time Tracking Apps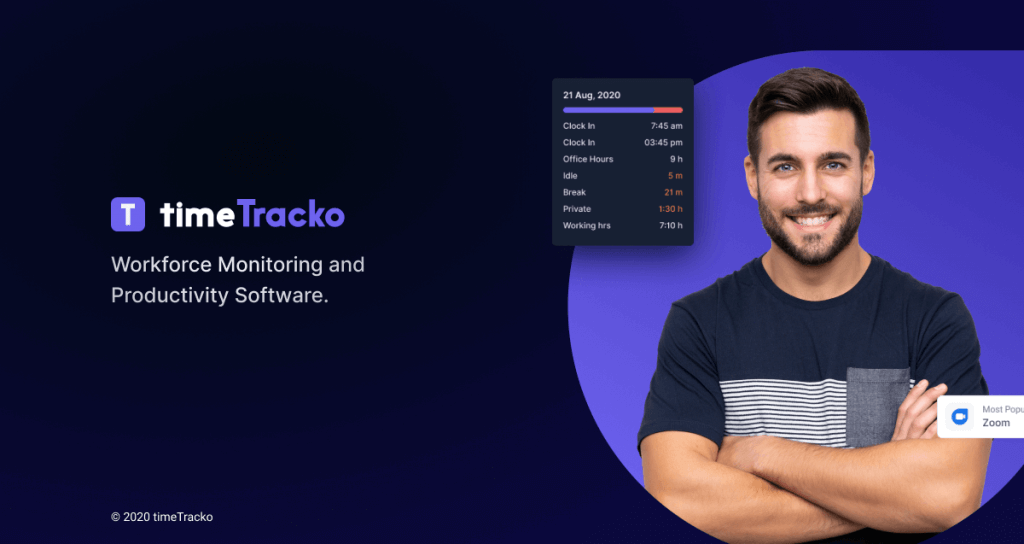 Time tracking can be difficult for both onsite workers as well as remote teams. When employers frequently check their employees, employees might feel a lack of trust among employees and employers.
Likewise, measuring productivity and tracking the time of remote teams can be problematic if a time tracking tool is not used.
Currently, time tracking apps have been essential for all types of businesses as it provides work transparency. 
Time Tracking apps allow you to see employees' computer activities in real-time and enhance employees' performance. It also ensures that employees are paid based on their work performance.
When employees know their work is being tracked, they automatically try to give their 100% effort in their job. It helps to increase employees' work productivity, and they can achieve more in less time.
With time tracking apps, employees will have a better focus on their work. It reminds employees when they work overtime, which helps businesses to cut unwanted overtime expenses.
With these apps, you can also manage employees' schedules and send employees notifications about their work schedules. It provides employees the flexibility to manage their shifts according to feasibility.
Many time-tracking apps provide many features that you can select for your business. Some popular time tracking for remote employees are timeTracko, Time Doctor, TSheets, DeskTime, and more.
Provide Project Management Tools
Another tool that you should provide to your remote team is project management tools. Project management tools are essential for remote teams to manage their project in a better way.
Project management tools are essential for both onsite and remote employees as they can manage their projects effortlessly.
It ensures that all your project plans are achieved within the specified time, and you do not miss any plans.
You can create projects, divide the project into different tasks, and assign tasks to employees using the apps. It allows you to set deadlines and budget limits for your projects.
The app notifies you when you reach your project deadlines or reach your project limit. 
It ensures the privacy of your projects, files, data that you share using these apps. Also, it stores the shares files and folders and provides you with whenever you want. 
These apps also ensure project profitability by managing the resources needed for business and tracking project profitability.
There are many project management apps that you can select for your business. Some popular project management apps are ProofHub, Trello, Asana, ClickUp, Paymo, and more.
Create Lock for Your Devices
Employees should keep a lock on their devices so that no one can use their devices without their permission.
Employees can keep passwords on their PCs, routers, lock their screens to protect their system from unauthorized access. 
Locking your devices protects your files, folders, financial statement, client information, and more. Some devices allow you to automatically lock the screen while others will manually set the lock.
Benefits of Remote Working
Enhance Business Productivity
Most of the employees admit their productiveness is more when they work from home than from the office.
One of the reasons for this is that employees can work in a peaceful environment without any disturbance. 
While in the office, employees might get distracted by employee gossip and other external environments.
Likewise, employees have to face jams while traveling to the office, which reduces employees' energy and productivity levels. 
With remote working, employees can work from a peaceful environment.
Reduces Expenses
Another advantage of remote working is that it reduces the expenses of both organizations and employees.
Organizations can reduce their expenses on workstations, building rent, parking rent, stationery, and many more.
Organizations can utilize such costs for the benefit of both organizations and employees. 
For example, an organization can utilize those expenses in employee benefit programs, organizing events and seminars, and more.
Likewise, employees can save their expenses on fuels, travel, food, accommodation, and more.
For example, employees leave in another city or country from their home for their job and pay some extra rent. But, employees can work from their homes and save their rent when there is a remote working option.
Flexible Work Hour
One of the perks of remote working is you will have flexible work hours. Remote employees can manage their work schedules according to their flexibility.
Employees can select their work hours at such time hours when they feel most productive.
When employees work from the office, they have a specific hour, and they are obligated to work at the specified time even if they are unwilling to do so.
And employees might not be able to give their total efficiency while working and reduce employees' productivity.
Reduce Commute Stress
If you live in the city areas, you might experience hours of traffic jams while traveling to work.
You have to leave for office hours before to avoid traffic, therefore traveling to the office, especially in city areas, can be time-consuming.
Likewise, traveling can be costly if you travel long distances or have to travel on public transport.
When employees work home, they can save on their travel expenses like fuel and vehicle maintenance costs. Also, they can save their travel time and do productive activities at that time.
Wider Talent Pool
As an employer, if you have a remote working option, you can hire employees worldwide. You can hire talented employees at a cheaper cost.
Similarly, employees should not limit their talent to one geographical region. They can explore opportunities and can get the best job as per their ability.
Therefore, remote working can be beneficial for both employees and employers.
Personalize Workspace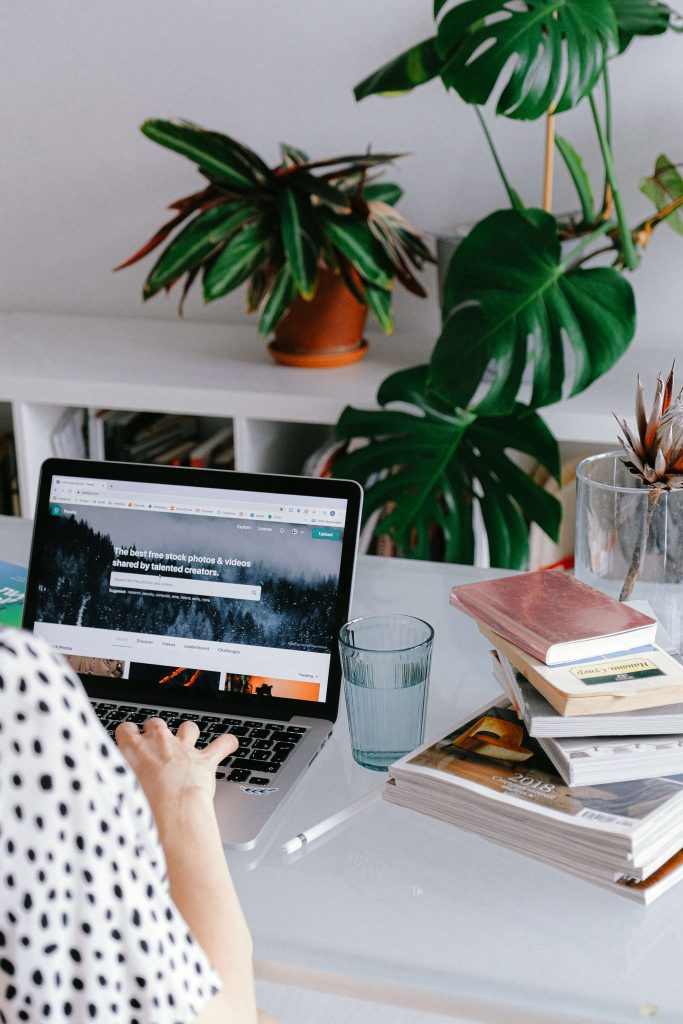 Another important aspect of remote working is the ability to personalize your work desk. You can create your work desk in a peaceful environment where there are fewer distracting elements.
You should not put your TV, PlayStation, or any other distracting elements near your work desk.
To make the work desk organized, you can add hanging shelves, boards for sticky notes, a folder organizer, and a plant to make the desk more attractive.
Drawbacks of Remote Working
Feeling of Isolation
The drawbacks of remote working are the feeling of isolation. Employees work from different parts of the world, and their colleagues are not around.
Employees work from some corner of their home where there is less distraction. It can be productive, but after some time, employees might feel monotonous and isolated.
Even though employees keep communicating with their colleagues, it is nothing speaking in person. While working from home, you need to schedule meetings to update each other about work progress.
When working from the office, employees get involved in informal gatherings, reducing their work pressure. But, while working remotely, employees have to work alone, and they can feel isolated.
Difficult to Balance Work-life and Personal Life
When you work from home, there is a high chance that you continuously think about your work. And you might end up mixing your work hour and personal hour.
Employees have defined schedules while working from the office, and they keep their PCs and other devices in their office itself.
And they work for specific hours, but it is not the same case when they work from home.
Employees have all their necessary material at home, and they have flexible work hours.
This flexible work hour allows employees to work at any time, and most of the time, employees work during personal hours. 
And sometimes, they might end up doing personal work during their work hours. Therefore, it can be difficult for employees to balance their work life and personal life.
Difficult to Communicate
Communication can be another challenging aspect of remote working if the right communication tools are not used.
And the case can be even worse when employees have a poor internet connection. In such a case, you might not complete the whole communication, and there are high chances of inadequate communication.
Likewise, due to flexible working hours, you may not be able to communicate with your colleagues instantly.
Some problems and opportunities need instant solutions; to solve problems or grab the opportunities, you may have to communicate with your team members.
When you do not have prompt replies, you may miss the opportunities or solve the problem at the right time.
Lack of Adequate Technology
While working from home, employees may not have all the necessary equipment they need. It is also one of the drawbacks of remote working.
Similarly, the internet connection at home may not be as strong as the office's internet connection. Employees might face difficulties while communicating or while doing their work.
One solution to this problem is providing employees with all the necessary devices and technology to do their work. 
Conclusion
To conclude, most organizations are now giving the option of working from home to their employees. Even employees prefer to work from home as they feel they are more productive when they work remotely.
There are several benefits that both organizations and employees can get when they work from home.
However, while providing remote working options, the organization should follow the above-mentioned measures to protect its employees and data from third parties.  
If you feel like organizations should follow some more measures, please mention them in the comment section below.
Related articles