Best Ways To Manage Multiple Projects Effectively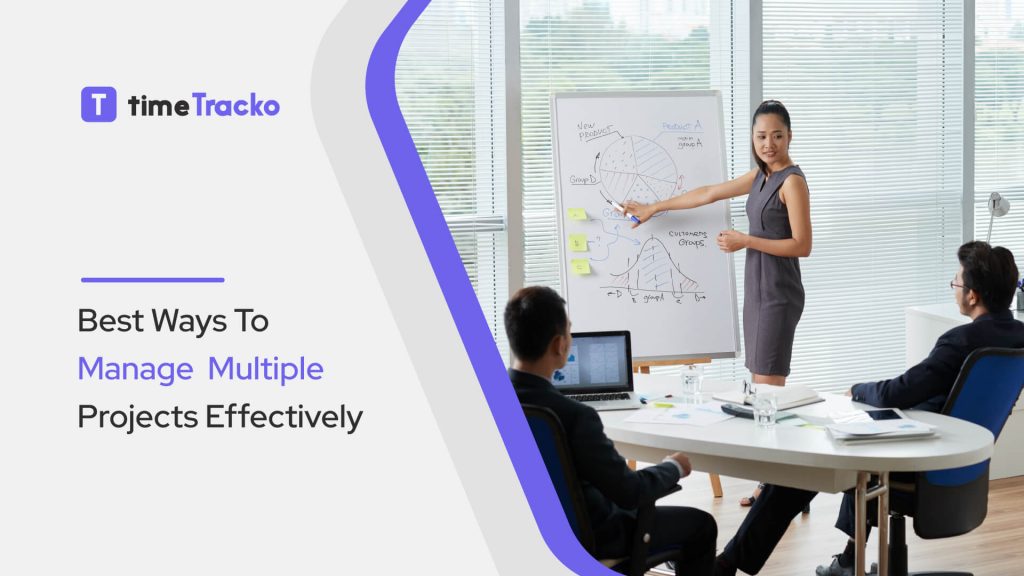 As a manager, it can be pretty challenging to handle multiple projects. Due to resource limitations, time limitations, and lack of supervisors, managers should take various projects at a time.   
While handling multiple projects, you need to be responsible and handle every meeting, seminars, training, and assigned task at a designated time.
Depending on your company, project management professionals should know how to manage multiple projects well to give 100% results to the customers.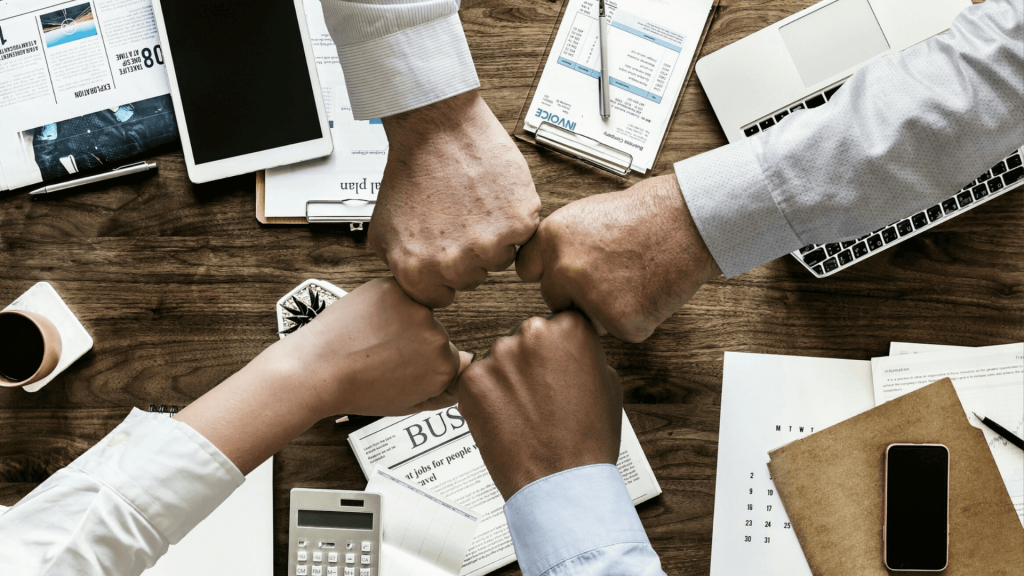 Management of the project can be tranquil when there is the proper utilization of tools inside an office like time management, resources management, the right person at the right job, appropriate selection of alternatives, etc. 
You can use modern project management software for efficiency, which will reduce cost and time, leading to completing your project in the expected time frame.
Challenges That Arise While Managing Multiple Projects
Several challenges can arise while managing multiple projects. Some of those are as follows.
Variation in Quality
The cost, time, and quality are the main factors to be considered while managing the project.
In multiple projects, the variation can occur due to conflict among co-workers, modification, design of the product, lack of coordination and communication between employees, etc. 
The variation in quality can degrade customer demand as customers prefer highly qualified products, and the difference can make them unsatisfied.
You may not meet the cost as planned due to variations in the quality of products.
The project can be completed if the project can meet the specified budget, schedule, and quality standard.
Rescheduling
Every project is designed within its schedule. Scheduling becomes complicated and confusing if the resources are divided while working on multiple projects.
Rescheduling can distract the mind of employees while they are focused on their work.
You may not get a break for refreshment, as they need to handle every project schedule, plan resources, monitor employees, and evaluate the market demand and supply to achieve a goal.
Thus, rescheduling is one of the significant challenges to multiple projects.
Multitasking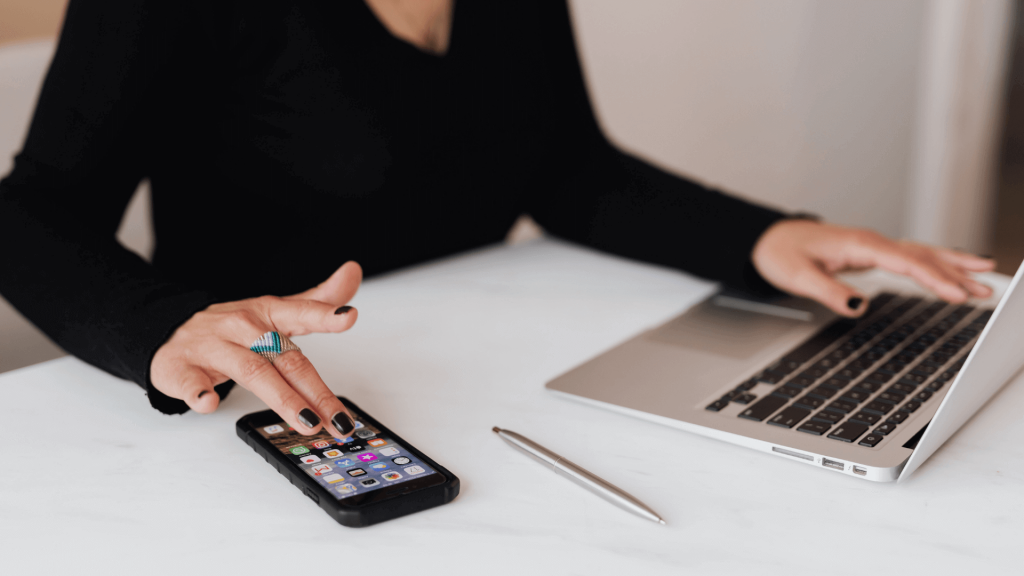 There is a controversy over the fact about what we do. Multitasking is doing more than one thing at a time to accomplish the work.
Some people are good at switching their attention from one task to another, while some are poor.
Multi-task can reduce your productivity as you need to start, stop, and switch always. You cannot give proper focus and concentration overwork, and there can be a delay in work.
Resource Management
Multi-project management failure is primarily due to improper allocation of resources.
While working in a multi-project environment, you must set up funds correctly as per requirement, considering operating in a multi-project environment.
There should be proper quality resources, including team members, and the correct allocation of alternatives to meet the challenges and complete the assigned task on time.
There is a risk of resource conflict in the multi-project environment among the employees as they need to share the same equipment among several projects.
Poor Communication
Managing more than one project at once is not an easy task. You should communicate with all the team members, plan the project, divide tasks equally according to employees' skills and qualifications, and monitor time to time with proper feedback if necessary.
There should be proper communication between the colleagues to gather an idea about work and help each other.
The poor communication between team members, stakeholders, and managers does not achieve the organizational goal at the expected time. 
Tips to Manage Multiple Projects at Once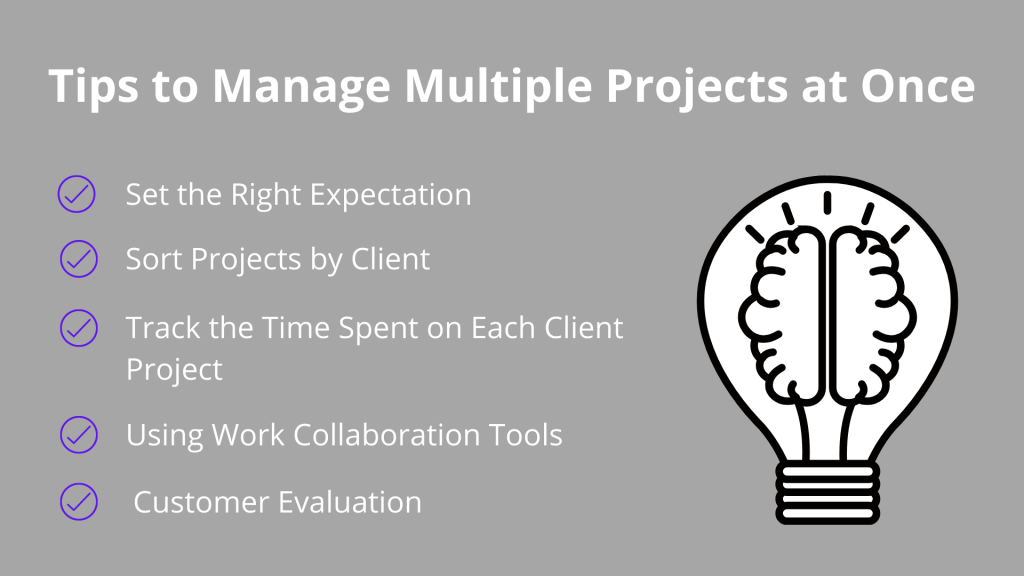 As a manager, it is essential to manage the multi-projects effectively to achieve the goal. The project management professionals have ideas about dealing with the contracts, hiring specialists, assigning specific employees, and reviewing the work's quality to stay organized. 
Poor management can result in a massive loss of capital and budget, and the project gets failure.   
Here are some tips that a manager can follow to manage multiple projects.
Set the Right Expectation
You can stay organized and be productive if you make your clients happy by completing their work at the expected time. Always set the right expectations with your new clients regarding project timelines and deadlines.  
It would be best if you established trust and loyalty to meet the expectation and achieve organizational goals. While setting the right expectations with clients, the value of your organization increases.
Sort Projects by Client
The smooth and quick tip for a better organization is to sort all the projects by clients. It keeps you a complete overview of your daily, weekly, and monthly workload.
It also helps the employees toy productive and establish well-organized projects by sorting projects and tasks to the clients.
When you are loyal to a client and complete their project on time, they might give other projects and be willing to work with you.
Track the Time Spent on Each Client Project
Time tracking is the best way to determine how much work is being done for each client project.
The resource utilization and completion of each client's work within time are more critical to staying productive. Time management plays an essential role while working on multiple projects. 
You can also determine the future allocation of resources and budget with the help of time tracking apps. You can give the clients deadlines to build a trust relationship with your company if you can complete the project within time.
Using Work Collaboration Tools
There should be good collaboration among co-workers while working on the same project, as multi-projects need adequate communication and coordination among workers. 
You can collaborate among team members using collaboration tools like Slack, Google Meet, Zoom, etc.
A manager can collaborate with every employee through the help of collaboration tools and divide the task accordingly.
Customer Evaluation
The evaluation of customers' needs and demands is critical. Multi-projects can produce a variety of goods and services in large amounts.
So proper marketing is required to meet the planned objective of an organization.
Customers prefer products repeatedly when they become satisfied, and the quality of the product matters.
Proper evaluation of customers should be done as customers are the main assets of an organization.  
Customer evaluation helps you to identify what the customer prefers and to make them satisfied.
Multiple Project Management Tools
Every organization uses different tools to manage the projects and collaborate with the employees to stay productive while working from home or the office desk.
So here are some tools that help to manage multiple projects effectively.
Slack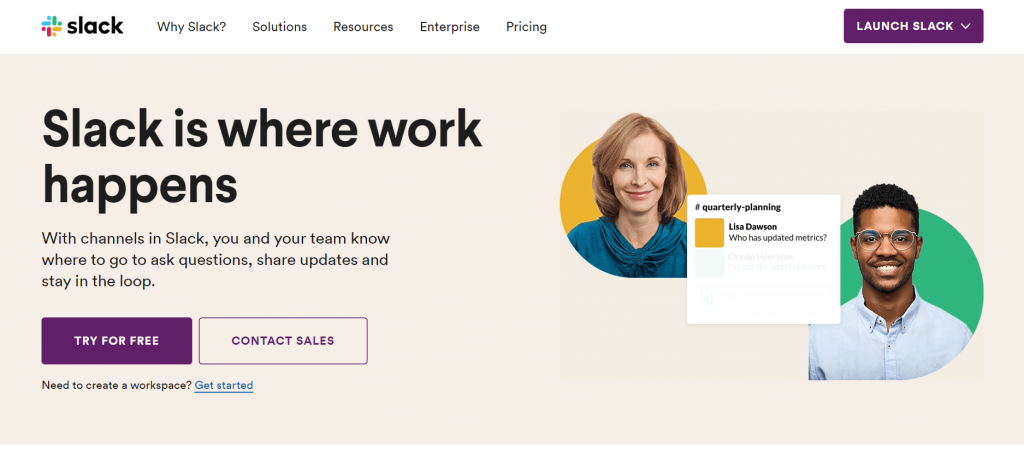 Slack is a platform through which people can create a group to work together more effectively. It offers chat rooms, private channels, group channels, and direct messaging to help employees communicate and share files.
It is a messaging and file sharing platform developed by an American software company used by thousands of organizations worldwide. 
Slack helps in multiple-project management as it brings people, data, and applications together.
The manager can create a platform using slack and even hire remote employees from different corners to manage the projects and increase their productivity.   
Features of Slack
Communication platform
File sharing
Work in multiple projects or company
Collaborate through direct message or channel creation
Pricing of slack
The standard plan costs $6.67 per person per month.
Plus plan costs $12.5 per person per month.
Enterprise plans have custom prices.
Google Meet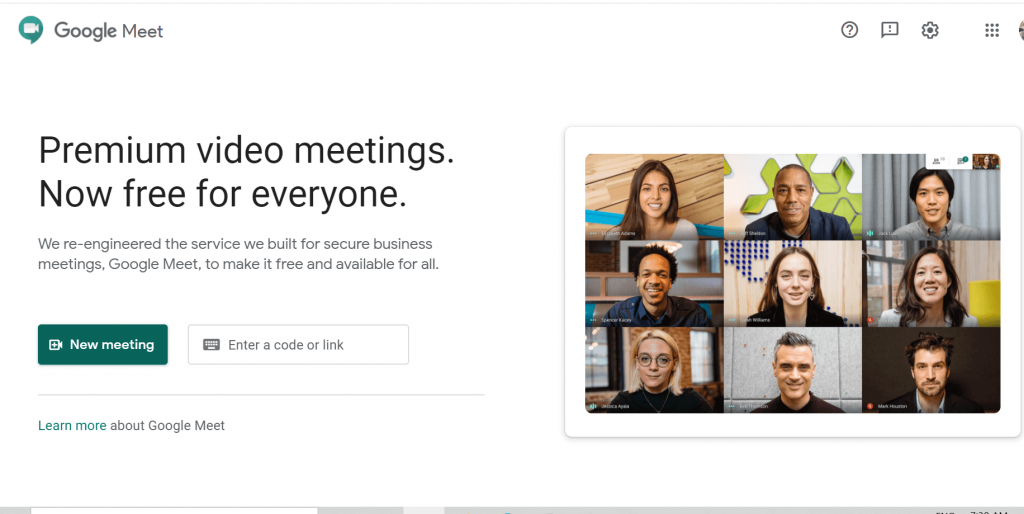 Google Meet is the video conferencing application used to give presentations with your teammates and customers in real-time. It helps to collaborate and conduct video conferences safely. 
Google meet can be used while handling multiple projects to stay connected and help in need. It is also used to manage remote employees.
It is the application through which google provides real-time meetings by using your browser. You can download the app and use it on your desktop, mobile, iPhone, and iPad.
Features of Google Meet are:
It allows hosting meetings to upto 100 participants.
There is no time limit on meeting duration.
It has multiple screen layouts.
Screen sharing.
Pricing of google meet:
G Suite Essentials costs $10 per active user per month.
G Suite Enterprise Essentials costs $20 per active user per month.
15Five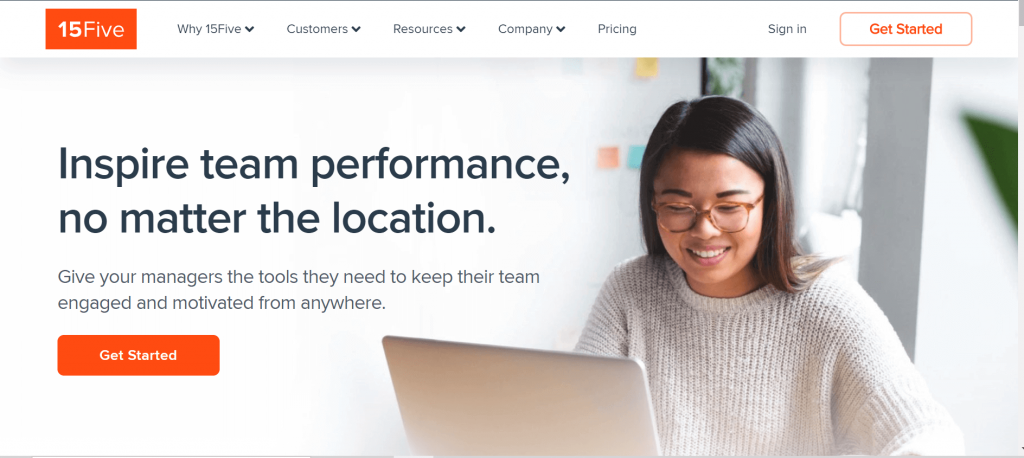 15Five is a project performance and management software that can be used to manage projects efficiently.
It is a communication platform for managers to measure an employee's progress and provide feedback regarding the project.
With the help of 15Five, managers can have meaningful conversations on how to lead employees and improve employees' performance.
15Five is a free project management software through which you can save time and cost. You should not waste your money with bulky and expensive project management software.
Features of 15Five
Email invitation and reminders
Powerful question bank
One on one meeting
Performance evaluation of employees
Pricing of 15Five
The basic plan costs $7 per person per month.
Plus plan costs $14 per person per month.
Performance plans have custom prices.
Google Drive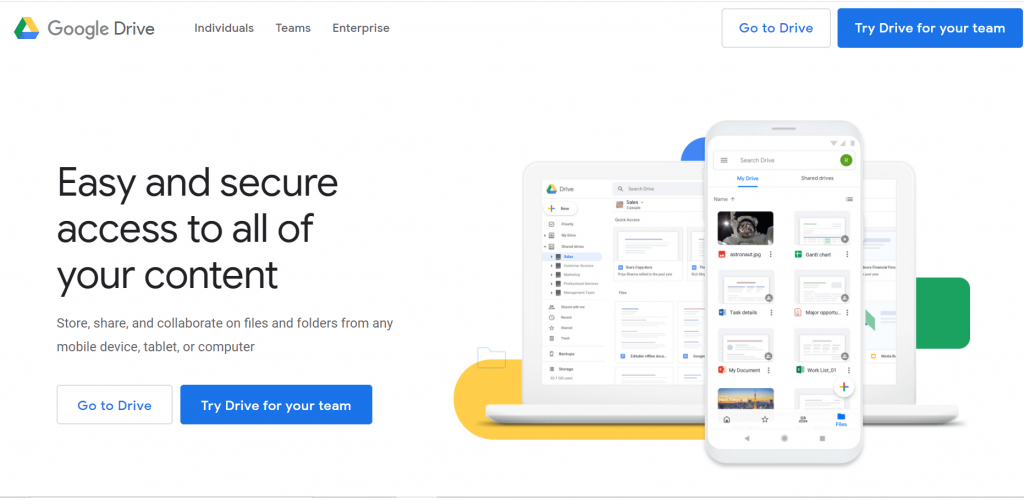 Google Drive is cloud storage that can store data and be accessed anywhere by using your mail address.
Google provides various services, including docs, drive, sheets, slides, etc., which is very useful for a manager to handle multiple projects.
It helps in project planning, document management, team communication and collaboration, tracking productivity, etc.
Google Drive offers different platforms like spreadsheets for real-time editing and collaboration. The project manager can share any files and folders with team members safely.
It helps to manage each project's timeline either for a full-time project manager or occasional. Preparing a to-do list is essential to keep every project clear and organized, which can be done through the drive.
Features of google drive
Cloud storage
Sharing files
Offline docs
Easy access to files
Google sheets
Backup pictures and information
Pricing of Google Drive
The storage of google drive is costly. The 15 GB of storage is free.
The most extensive storage is 30TB, which costs $299.99 per month.
Strategies to Manage Multiple Projects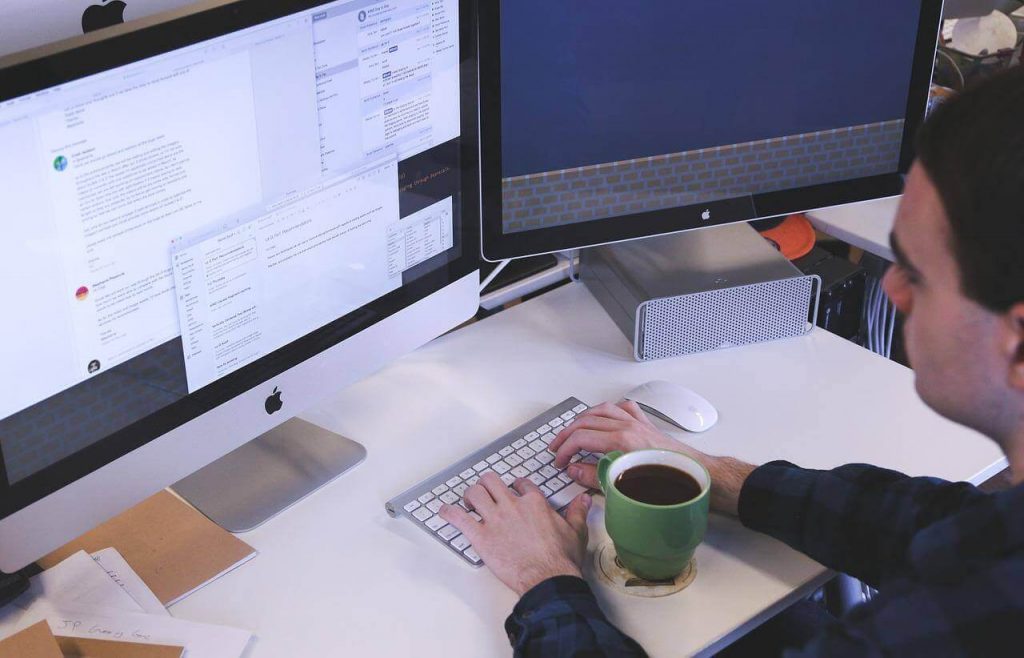 The successful management of multiple projects is quite complicated without appropriate resources and planning.
The professionals, managers, and team members plan for a specific task within a fixed time and budget.
Managing all projects can be challenging as a manager or team leader when you cannot organize proper planning and evaluation. 
These strategies discussed below will help you manage multiple projects and ensure success by providing solutions for obstacles in an organization.
Don't Multitask
Some of the studies show that multitasking doesn't make you productive. While working on multiple projects, there might be confusion on which project you need to focus on, and you may start multitasking.
Switching continuously from one work to another can distract your mind, and you cannot focus on one task entirely. 
You cannot commit 100 percent focus on two separate things, and both tasks become incomplete and result in low quality.   
So proper attention to one single task and completing it within time is necessary to stay productive.  
Avoid multitasking totally and give full attention to a single work even while working on multiple projects. Split in work can cause failure in project management.
Set Clear Expectation
While working on multiple projects at once, initially, you must set and understand a clear expectation.
You need to set a goal about delivering the best quality products by giving your 100 percent over the work.
You must be clear about which team members are responsible and can handle all the components of an organization.
Once you set the expectation, you must consider the due date and deliver within time to meet the expectation. It can lead to the successful management of multiple projects.
Stay Focused
Staying focused is very important while working on multi projects. You need to determine the essential task to be done first and focus on single work at a time.
You can use your time blocks to stay productive by creating a proper focus on work. While working, you should not get stuck in social media like Facebook, Youtube, Twitter, etc., to check what is going on continuously. It can distract your mind. 
The employees should work until the working hours and turn off mobile or keep it silent to stay focused. Even the working environment also determines the stability of a person. 
Nobody prefers to work in a noisy environment. Employees can give full attention when they find the appropriate working environment with proper decoration, light, peace, etc. 
Use of Project Management Softwares/Apps/Tools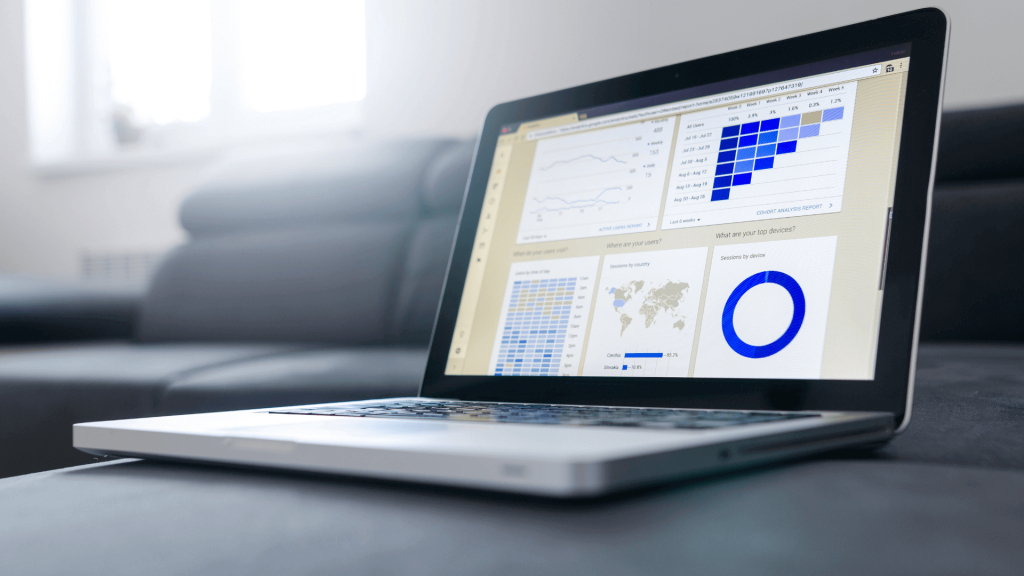 There are multiple software/applications to track employees' productivity and manage numerous projects at once.
Project management software has calendar tools to schedule sub-tasks and create deadlines to complete the work within time.
It can also provide daily or weekly reports so that the manager can overview an employee's progress.
The project management software is not only for professionals or managers but also for a whole team involved in multiple project management. 
Your team can use software to create reminders, schedule to-do lists, determine their productivity, and stay focused overwork.
They can collaborate with other team members and help each other when required.
You can use free project management software that team members can use.
As a manager, you can also visualize employees' tasks and provide the necessary software help.
Delegate
Submitting your responsibility to your team or colleague who can help you and whom you can trust can reduce your burden. Passing your work to others can be difficult, but it's beneficial. 
Delegate means simply splitting your task to others so that it can be completed within less time.
When the work is done correctly by the delegated person, you can consider them for more tasks, helping manage multiple projects.
When your colleagues are beneficial, delegating can be possible, but you need to take your manager's permission before handling your responsibility to others. 
Delegation is not insufficient when your colleagues can take responsibility and fulfill it properly. You need to evaluate the work either entirely or not before handing it to the respective person.
In this way, you can achieve your organization's goal by accomplishing multiple projects in a short time.
Tracking Your Progress
Self-tracking is necessary while working. You should know your weakness yourself better than others say. You may fall behind, and there will be a delay in completing the project when you get stuck into extra activities while working. 
To avoid such distractions and give your full attention to work, you should track yourself using different time tracking software projects and increase your productivity.
You can review your progress from time to time and compare it with your team. By doing this, you can improve your weakness and even know which project is taking more time.
Tracking your progress will also allow you to follow the to-do list prepared by yourself, as you can set reminders for every project and task.
You can set the remainder at least for an hour and keep everything away, just focusing on work. Give time to yourself to track your productivity and progress.
Clear Communication
The manager and team members should have clear communication inside an office or outside of the office.
You can use several communication tools to stay connected with employees and monitor them. Similarly, nobody should hesitate to share the problem related to the project with team members.
Communication plays an essential role in bringing the project up or down and completing it on time. There should be two-way communication between team members.   
If you are not satisfied with the employee's work, you should provide we hope necessary feedback from time to time.
In that case, Suppose, and even the employee should feel comfortable to ask any queries related to the project with the manager at any time.
Instead of feeling fear about judgment, you should learn to over-communicate with every colleague and boss inside the office. There should be a friendly environment so projects can run in a flow.
Conclusion
To sum up, I hope the above tips can help you overcome the obstacles in an organization while managing multiple projects. If you have any questions, please let us know in the comment section below.
Related articles