As the popularity of work from home culture grows, the need for employee monitoring is increasing.
Enterprises across the globe are vacating offices to save on rent while still allowing employees to work remotely despite the relaxation of pandemic restrictions. Prior to the pandemic, remote working was common in many businesses. Irrespective of what business or profession you are in, the pandemic has drastically affected everyone.
As businesses deal with the impact of the pandemic, they are facing plenty of challenges, including employee distractions due to working from home, lack of focus and productivity, lack of output, and employees' hesitation to approach colleagues, which results in burnout.
What is the Future of Employee Monitoring Software? In this blog, we will examine employee monitoring software's current capabilities and challenges, as well as its potential improvements in the future. The purpose of this blog is to provide a glimpse into employee monitoring in the future.
An Overview of Current Employee Monitoring
The purpose of employee monitoring is to keep track of the activities that employees perform so that organizations can measure productivity and determine the amount of work that employees accomplish.
Organizations can use monitoring solutions to determine employee attendance, the number of hours worked, and even safeguard sensitive information.
When it comes to making decisions within an organization, this information is crucial. In spite of the fact that employers can collect quite a bit of information today, there are advantages and disadvantages that come with this.
Advantages of Current Employee Monitoring
Following are some of the benefits that employers have found useful when deploying employee-monitoring solutions:
A Reduced Wasted Time
Efficiency at Work
Making Informed Decisions
Increase Employee Engagement
Improve Management Reporting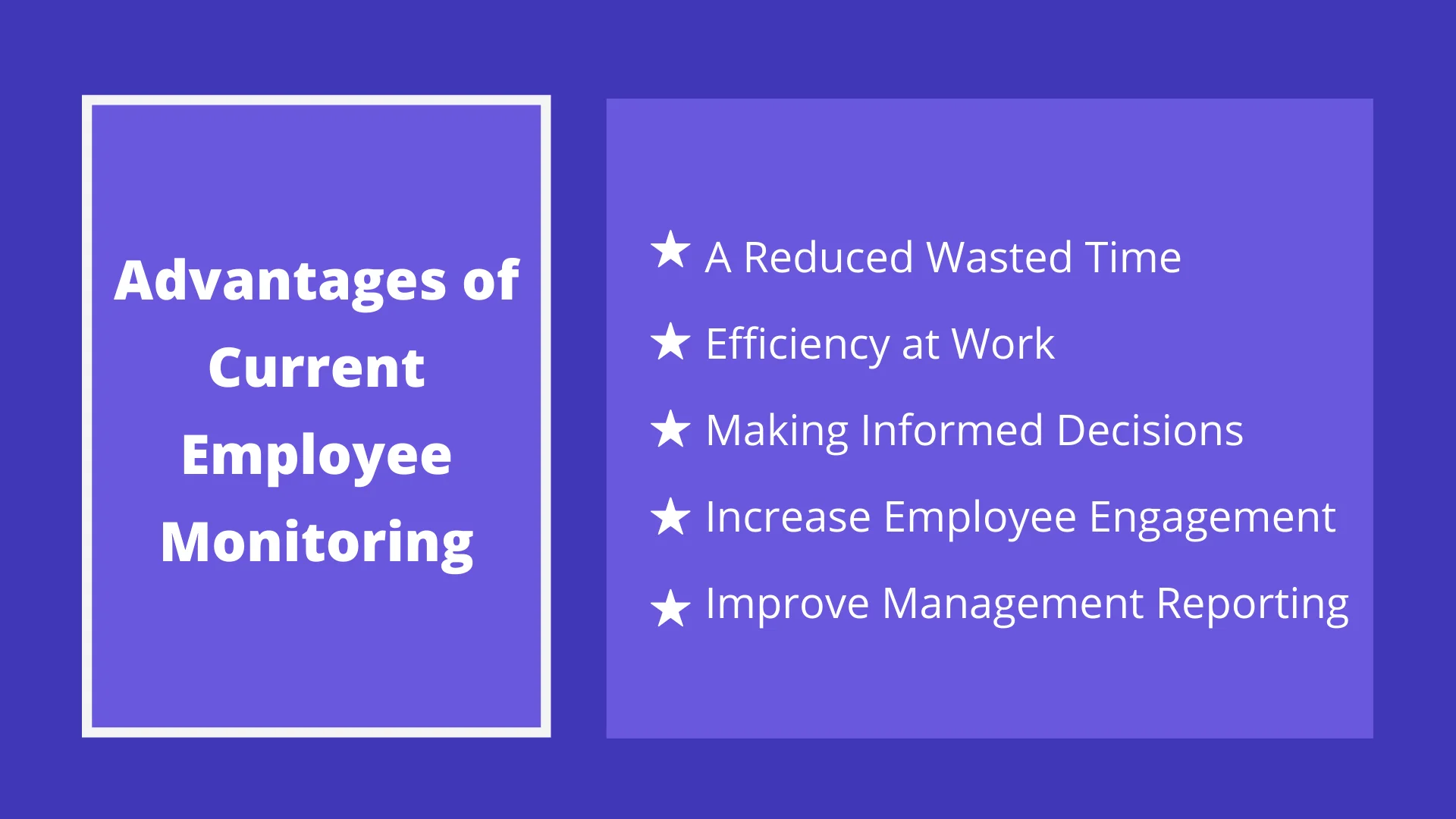 1. A Reduced Wasted Time
Employers can monitor the amount of work done over a set period of time using monitoring solutions. This is particularly useful when employees are paid by the number of hours they work. Your organization will save money if you get this right as an employer.
2. Efficiency at Work
By monitoring groups of workers on a project, you can ensure that teams are prioritizing the right amount of work and not wasting time. The transparency of work done is also ensured.
3. Making Informed Decisions
Having a monitoring system implemented at your company greatly improves your ability to make informed decisions, such as delegating jobs to employees. The delegation of tasks can be done according to the strengths of your employees.
4. Increase Employee Engagement
Employee monitoring tools do more than just monitor activities. They enhance employee engagement as well. It makes it feasible for co-workers to communicate easily and know the progress of tasks in real-time. The equal assignment of tasks and automating manual activities will increase transparency, leading to a higher level of employee engagement.
5. Improve Management Reporting
Manual reporting often lacks accuracy and time spent on specific tasks. Employees may exert extra effort and time to fill out their timesheets as part of this activity.
As a result, they tend to avoid tasks that do not add value to their work. It raises a big question about the accuracy of timesheet management and effective reporting. With employee monitoring software, you can automate timesheets and streamline workflows.
Challenges Faced by Current Employee Monitoring
Using employee monitoring, a company can measure productivity, track attendance, ensure security, and collect proof of working hours in a legal and quantifiable manner. Additionally, it can detect suspicious activity and ensure staff remains on track, as it provides a panoptical deterrent against malfeasance and laziness. Using employee dashboards, employers can view an employee's daily internet activity, email activity, and other metrics and gain a detailed overview of an employee's activity throughout the day. There are several challenges that should be kept in mind when using employee monitoring solutions:
Employee Morale is Affected Negatively
Increased Stress
Hurt Employee Feelings
Analyzing Data is Time-Consuming
Too Much Access Can Be Risky
Legal Issues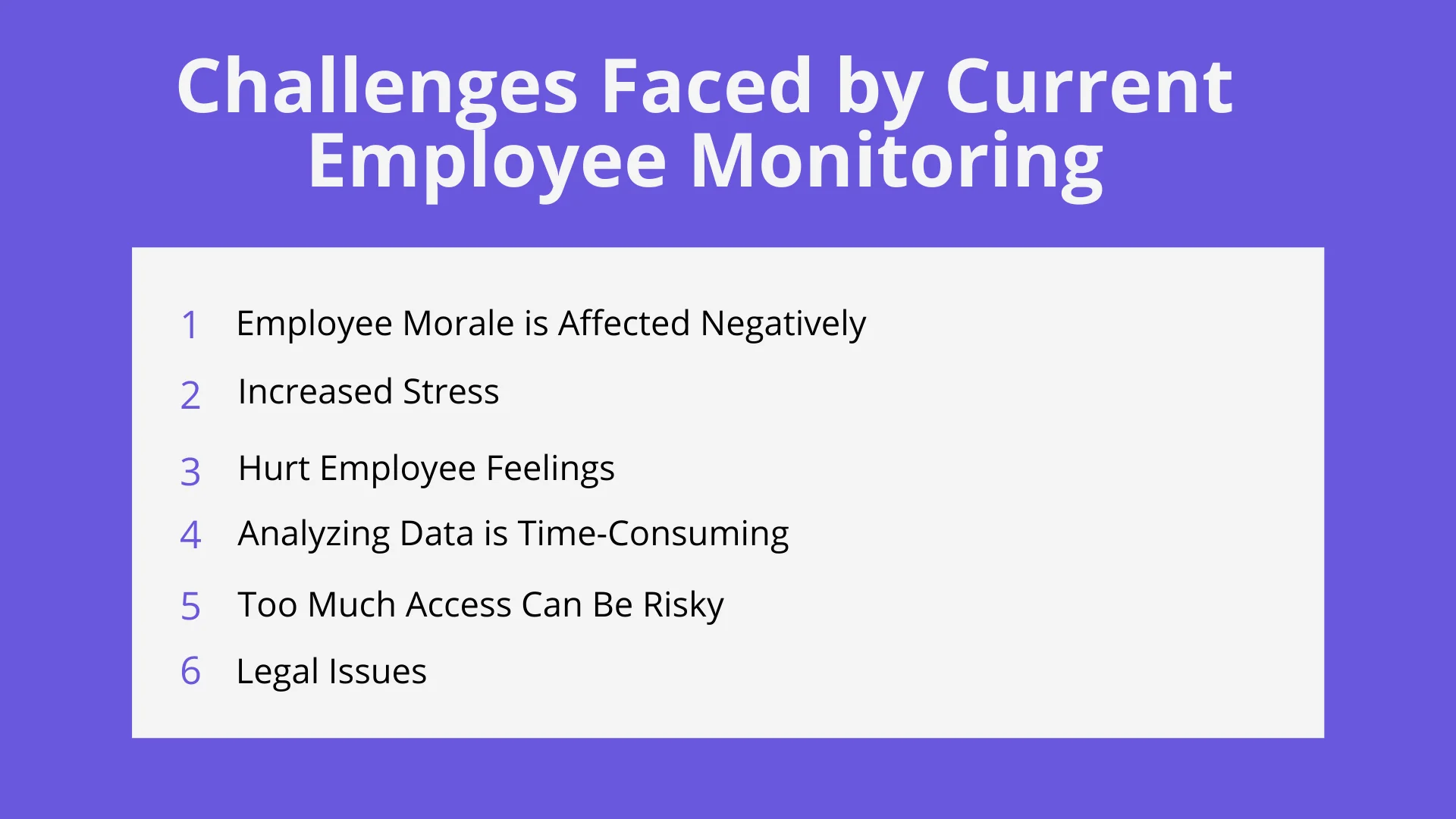 1. Employee Morale is Affected Negatively
You will most likely see a negative impact on your employees' morale as an employer. An employee-employer relationship that used to be trusted has been damaged, especially on the employer's side.
2. Increased Stress
Knowing they are under surveillance, employees will most likely put in extra work. Anxiety and fear of losing their job will cause them to exert extra energy rather than genuine passion or commitment.
3. Hurt Employee Feelings
Instead of increasing employee productivity, surveillance affects the morale of employees. The employee feels that you don't trust them, and when an employee feels doubted, employee turnover increases. If you inform your team upfront that monitoring software is being used and that it is standard workplace policy, they will understand that it is an enterprise-wide protocol and that they aren't being singled out.
4. Analyzing Data is Time-Consuming
Analyzing employee activity is time-consuming and requires considerable effort. The process of analyzing this information helps with decision-making, but condensing it isn't fast. It is a trade-off that requires some effort.
5. Too Much Access Can Be Risky
Having so much access to employees' data and digital activity means you will inevitably run into personal information, such as bank account information, health records, and deeply private emails. Employee privacy can be misused or exposed if your system is hacked.
6. Legal Issues
As a manager, it is your duty to protect the data and information of your employees. In the event that employee information is leaked to the public, you could suffer reputational damage and fines.
Future of Employee Monitoring Software
Future workplaces are going to be great. Using artificial intelligence and machine learning, the workplace of the future will employ intelligent employee monitoring that will be able to do the following: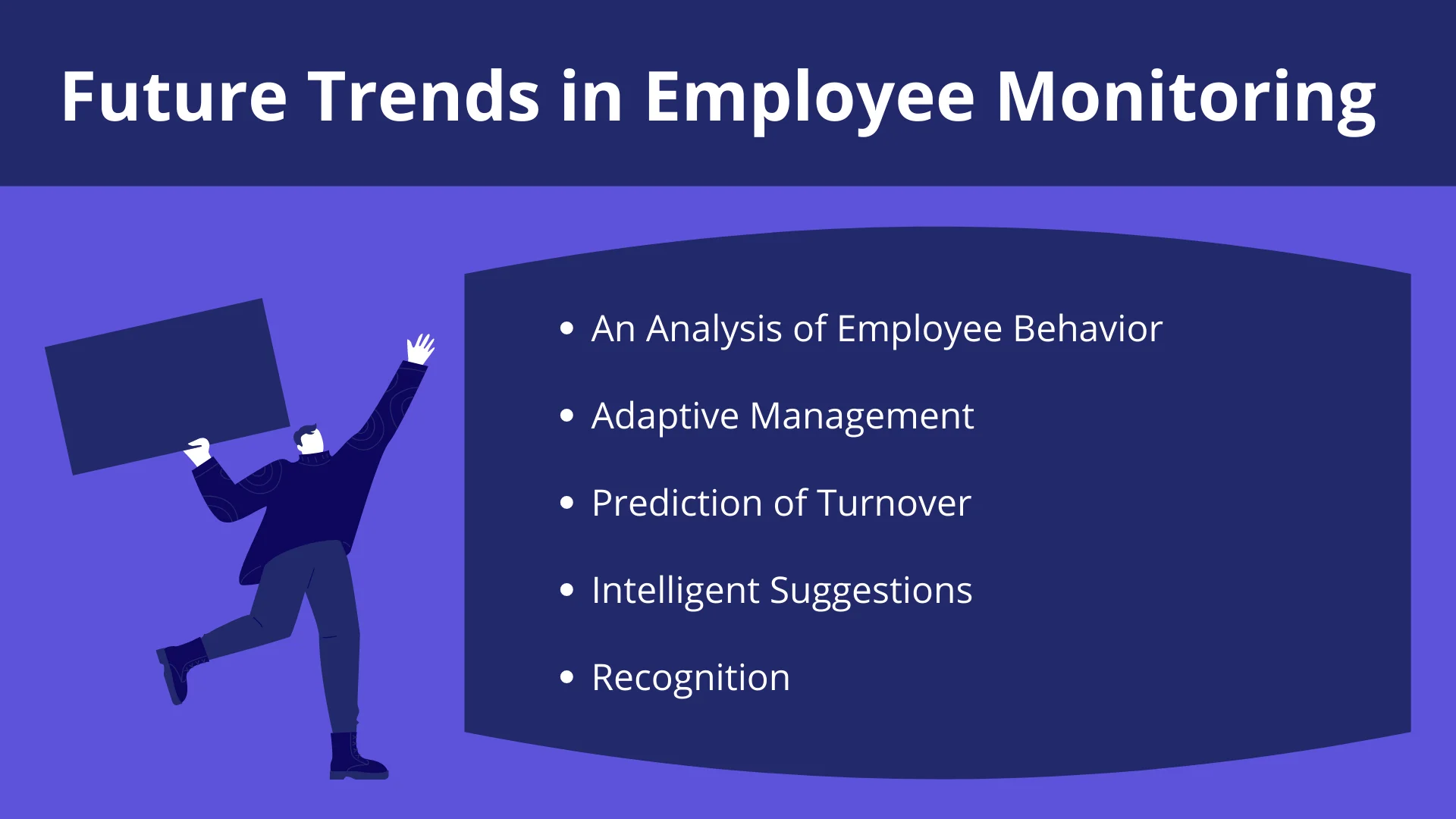 1. An Analysis of Employee Behavior
Future employee monitoring solutions will be able to monitor changes in employees' behavior in a variety of ways. In real-time, this will greatly assist in detecting behavioral anomalies. Future solutions will help prevent security-related threats posed by disgruntled employees.
2. Adaptive Management
Monitoring solutions in the future will include devices such as accelerometers to track employees' movements and special trackers to collect data on how often employees communicate. We can use this to determine which groups are getting more attention from management while others are getting neglected.
3. Prediction of Turnover
Monitoring solutions in the future will have the ability to predict which employees are unhappy and thus will be most likely to slack off or resign. The cost, time, and hassle of continuously replacing employees will be greatly reduced with these solutions.
4. Intelligent Suggestions
Certain jobs might be too intellectually challenging and demanding for employees, causing them to lose their way completely. Monitoring solutions for employees in the future will be able to identify certain behaviors that could pose health risks. An employee who spends too much time on their computer, for instance, will be warned to take a break.
5. Recognition
Future employee monitoring solutions will incorporate facial recognition. Employers will be required to monitor access to their premises and the location of sensitive equipment in environments where sensitive equipment is used by employees.
The Future Workplace
People are discussing whether remote work or hybrid work is the future of modern work. If you're unfamiliar with these terms, working remotely holds your employees to their choice of location, while working from home usually means they work from their home offices.
As a result of the pandemic, we came up with a new idea: why not have both? That's why hybrid work is important. An employee spends some days in the office and some days working from home. Employers and managers benefit from the situation, as it gives them the best of both worlds.
What role does the monitoring software for employees play in this situation? The fact that the data managers were able to observe the employees during the mandatory work from home has helped them feel more comfortable, allowing them to continue working this way. In addition, those who just started using the tool will have the opportunity to compare office-based versus home-based productivity, so they can see if working from home actually leads to greater productivity.
Employee monitoring software will continue to help monitor employees in the future, but with some advancements in technology. It can be used for succession planning, predictive analysis, etc. With the help of new technologies such as machine learning, neural networks, sentiment analysis, etc., the software will be able to learn from itself.
When someone is planning a leave, the system will suggest places to go there according to their budget. The system will suggest some best hospitals near you if you are applying for sick leave.
In other words, if you are taking a leave every month for a certain duration per day, then the system will begin asking you about it next month. Would you like to apply for leave?
Conclusion
In this blog, we've talked about the necessity of employee monitoring for employers and what the future of monitoring looks like.
In current years, employee monitoring software has been a game-changer in how we view work, companies, and the benefits they offer. For more interesting blogs, subscribe to the timeTracko blog.