Future of Employee Monitoring Software
Future of Employee Monitoring Software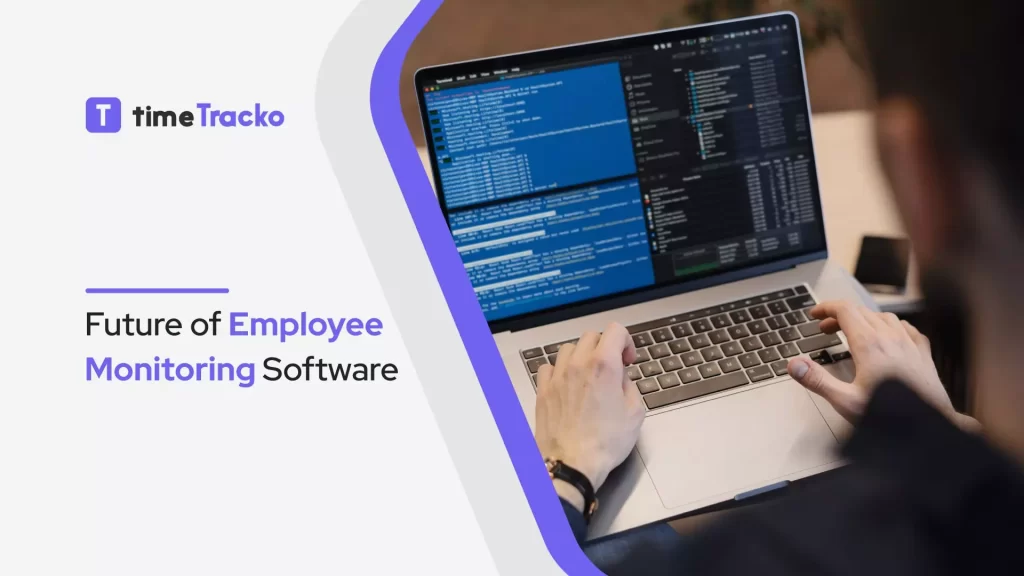 Remote working has become the new norm for businesses around the world for more than a year now. The program is undoubtedly an excellent solution for businesses facing the brunt of the pandemic.
In spite of the relaxation of pandemic restrictions, companies across the globe are vacating offices to save on rent while still allowing their employees to work remotely.
As per the stats, 88% of businesses encouraged their employees to work from home after the pandemic was declared. Hence, the popularity of work-from-home cultures is increasing the need for employee monitoring.
Before the pandemic, remote working was common in many businesses. Around 4.7 million people were already working at home before the pandemic. Irrespective of what business or profession you are in, the pandemic has drastically affected everyone.
While businesses are dealing with the impact of the pandemic, they are facing numerous challenges, including
Fortunately, employee monitoring software has come to the rescue just in time. Thanks to advanced technologies. Businesses that are compelled to use remote working for the safety and well-being of their employees may count it as a blessing.
Have you ever thought about how employee monitoring software will be used in the future? In this blog, we will examine employee monitoring software's current capabilities and challenges and its potential improvements in the future. The purpose of this blog is to provide an insight into employee monitoring in the future.
First and foremost let's understand what employee monitoring software is.
What is Employee Monitoring Software?
The employee monitoring software is an application that can be used to track your workers from one location, allowing enterprise administrators to monitor and supervise all the computers used by their workers.
One imperative networked PC can view all log files on a centralized basis through it and is typically deployed across an enterprise community. Organizations can use monitoring software to track and view their employee's work and visited sites.
Employee monitoring software, such as timeTracko, comes with the option of tracking the activities of the remote employee. Additionally, it offers many more features that are very useful for monitoring your employees, helping you to run your business efficiently and effectively.
Some of the features that timeTracko offers you as an employee monitoring software are:
Employee attendance management
Keep the track of the number of hours worked
Automatic screenshot
Productivity measurement
Track the idle and offline time
Even used for hiding confidential and sensitive information.
An Overview of Current Employee Monitoring
Employee monitoring aims to keep track of the activities that employees perform so that organizations can measure productivity and determine the amount of work that employees accomplish.
Organizations can use monitoring solutions to determine employee attendance, the number of hours worked, and even safeguarded sensitive information.
When it comes to making decisions within an organization, this information is crucial. Although employers can collect quite a bit of information today, some advantages and disadvantages come with this.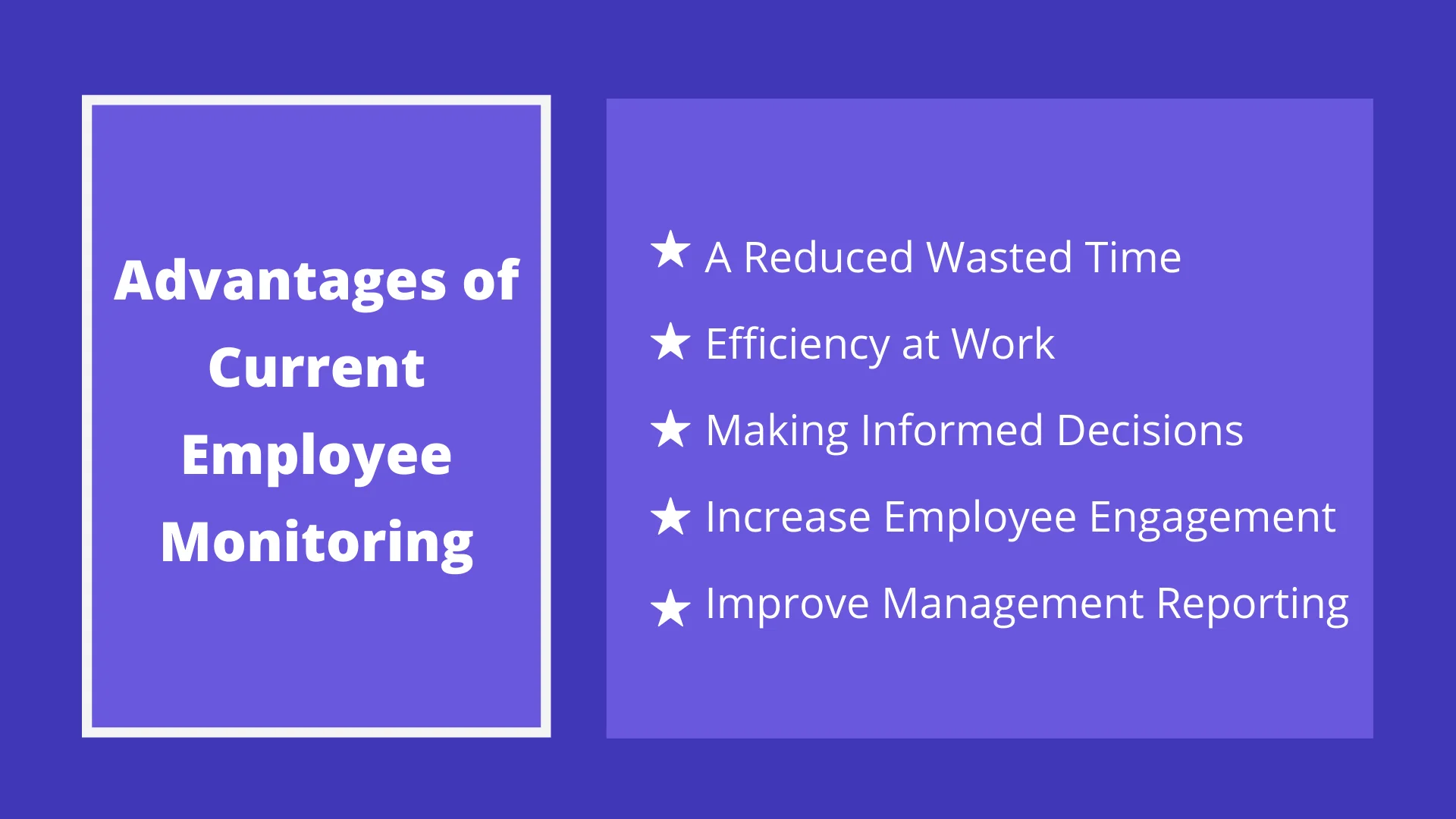 Why Office Should Use Employee Monitoring Software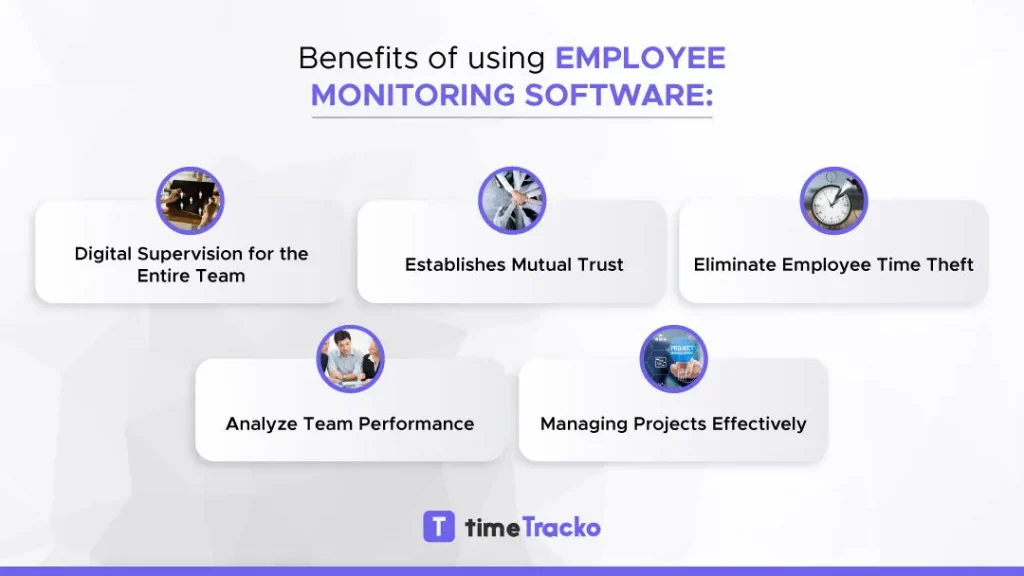 Here are the benefits businesses can enjoy after implementing employee monitoring software:
1. Less wasted time
A monitoring solution enables employers to track the amount of work being done by employees over time. The software is particularly useful when a salary is determined by how many hours an employee works. If your organization gets this right, it will save money.
Learn more:- This Is How Remote Employees Waste Their Working Time
2. Lower costs
Having remote workers in your company will help you save money. Companies that operate remotely tend to have lower business costs because they save money in different ways. For instance, they can save money on office expenses such as equipment, office space, office furniture, and supplies.
As per Global Workplace Analytics, a single company can annually save $11,000 per a remote worker who telecommutes 50% of the time.
3. Efficiency at work
With the help of employee monitoring software, you can monitor the behavior of the groups of workers on a project to ensure they are prioritizing their work and not wasting time. The transparency of work done is also guaranteed with it.
Read More:- How to Calculate ROI of Remote Working
4. Increases employee engagement
Employee monitoring tools do more than just monitor activities. They enhance employee engagement as well. It makes it feasible for co-workers to communicate easily and know the progress of tasks in real-time.
The equal assignment of tasks and automating manual activities will increase transparency, leading to higher employee engagement.
Learn More:- Factors That Affect Employee Engagement
5. Optimize management reporting
Manual reporting often lacks accuracy and time spent on specific tasks. Employees may spend more effort and time on filling out their timesheets as part of this activity. Consequently, they avoid tasks that don't add value to their work.
It raises a big question about the accuracy of timesheet management and effective reporting. With employee monitoring software, you can automate timesheets and streamline workflows.
6. Domain blocking
There can be the case in almost every organization where employees misuse their working time by spending on unnecessary platforms.
For instance, if your employee scrolls the feed the whole day without doing anything related to office work, then such behavior is not tolerable. In such a case, you can block these domains through your jurisdiction, and your employer will no longer be able to access that URL.
Challenges Faced by Current Employee Monitoring
Using employee monitoring, a company can measure productivity, track attendance, ensure security, and collect proof of working hours in a legal and quantifiable manner.
Additionally, it can detect suspicious activity and ensure staff remains on track, as it provides a panoptical deterrent against malfeasance and laziness.
Using employee dashboards, employers can view an employee's daily internet activity, email activity, and other metrics and gain a detailed overview of an employee's activity throughout the day.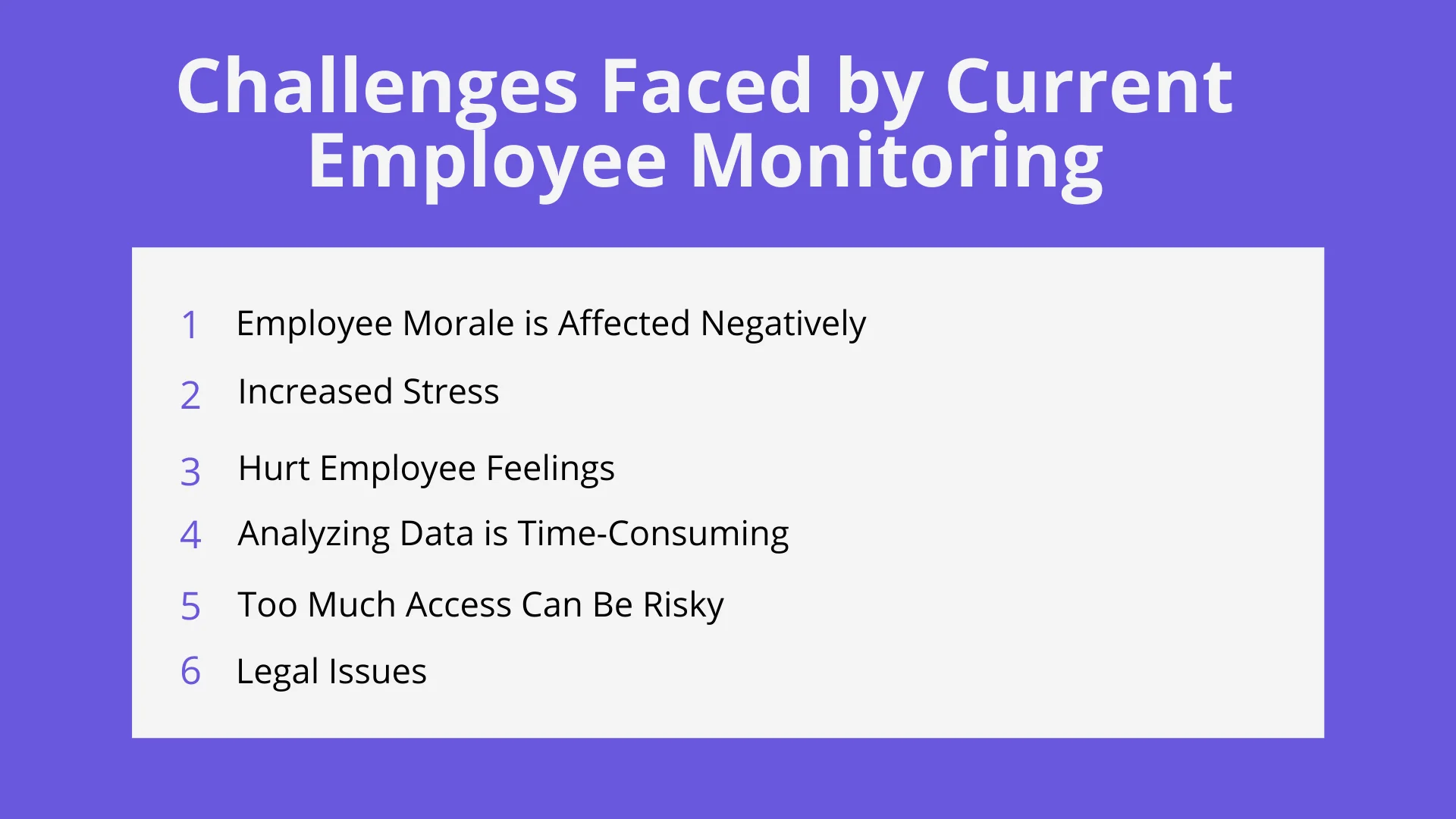 Negative impact on morale:
You will most likely see a negative impact on your employees' morale as an employer. An employee-employer relationship that used to be trusted has been damaged, especially on the employer's side.
Knowing they are under surveillance, employees will most likely put in extra work. Anxiety and fear of losing their job will cause them to exert extra energy rather than genuine passion or commitment.
Employers need to know that they are responsible for protecting employee data and information. If the collected employee information is disclosed to the public, you as employers might suffer serious reputational damage and fines.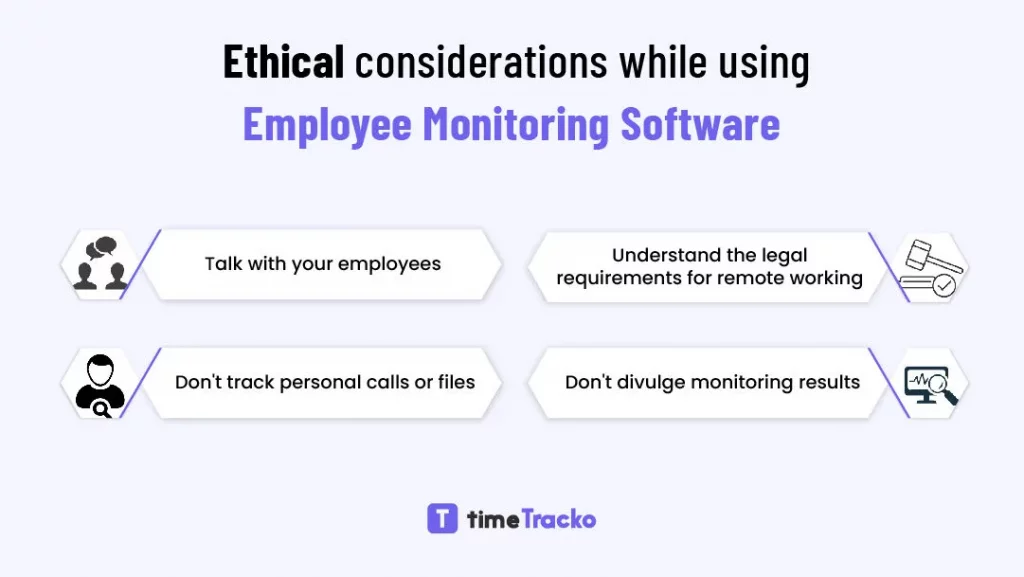 Before you deploy employee monitoring software, you should consult a lawyer and ensure that you understand the law regarding data privacy.
Future of Employee Monitoring Software
Now is the time for businesses to rethink their business strategies and techniques they can use effectively during remote work. Employers can improve the employee experience by communicating with them intentionally and helping them understand employer challenges, change needs, and options for improvement.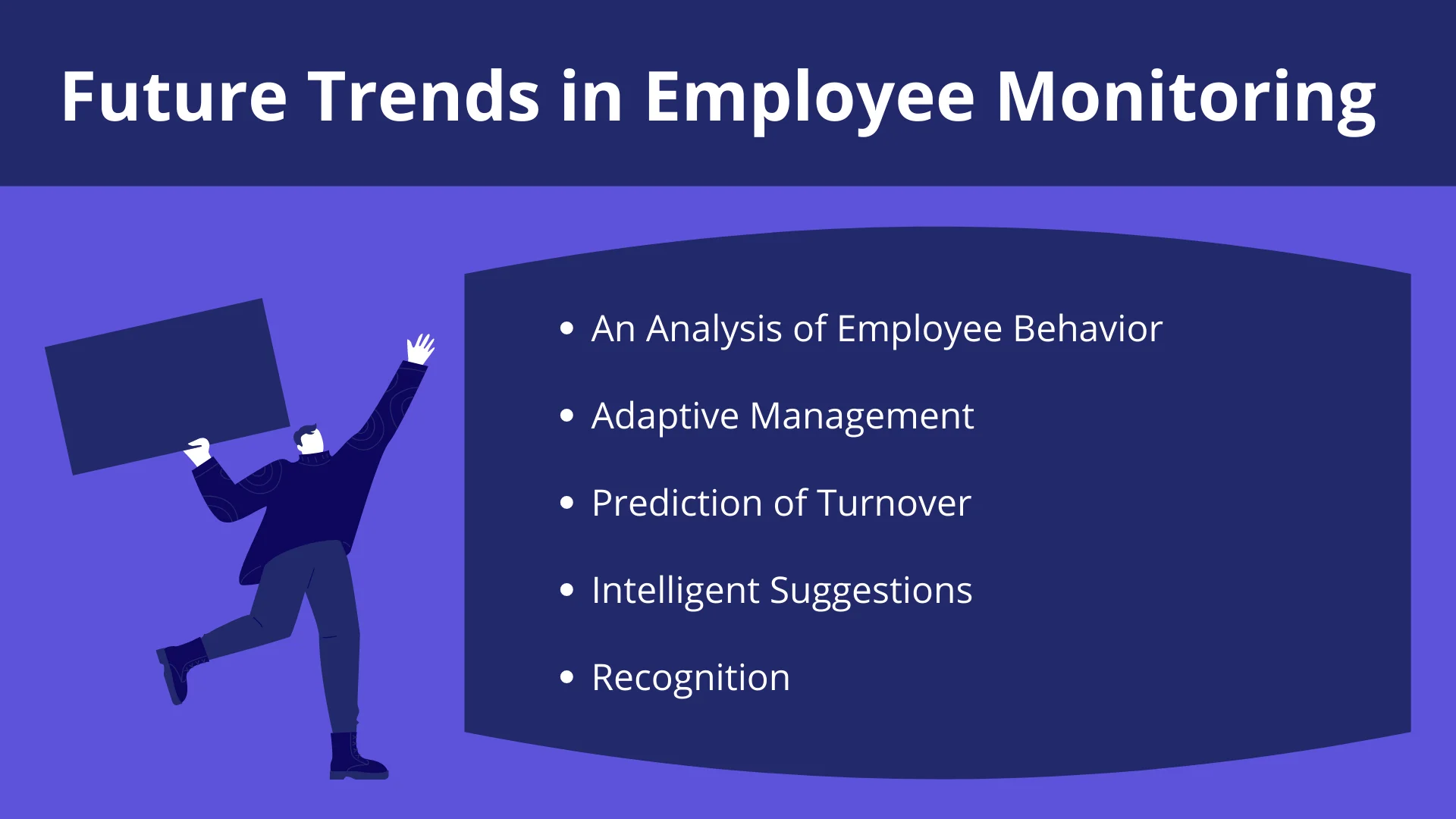 Future workplaces are likely to be very productive. Artificial intelligence and machine learning will enable intelligent employee monitoring in the workplace of the future.
1. Analysis of employee behavior
Hence, the employee monitoring software will be able to track behavioral changes in employees by incorporating AI with current employee monitoring software. It will greatly assist in detecting behavioral anomalies. Such advancement may be an effective way to protect the company from insider threats made by its employees.
2. Adaptive management
Monitoring solutions in the future will include devices such as accelerometers to track employees' movements and special trackers to collect data on how often employees communicate.
3. Prediction of turnover
Monitoring solutions in the future will have the ability to predict which employees are unhappy and thus will be most likely to slack off or resign. These solutions will greatly reduce the cost, time, and hassle of continuously replacing employees.
4. Intelligent suggestions
Certain jobs might be too intellectually challenging and demanding for employees, causing them to lose their way completely. Monitoring solutions for employees in the future will identify certain behaviors that could pose health risks. An employee who spends too much time on their computer, for instance, will be warned to take a break.
Learn more:- Effects Of Working In An Unhealthy Work Environment
5. Recognition
Future employee monitoring solutions will incorporate facial recognition. Employers will be required to monitor access to their premises and the location of sensitive equipment in environments where employees use sensitive equipment.
The Future Workplace
Employee monitoring software will continue to help to track the employee's work in the future workplace, but with some advancements in technology. The future workplace could use software for succession planning, predictive analysis, etc.
With the help of new technologies such as machine learning, neural networks, sentiment analysis, etc., the software will learn from itself. For instance, there could be the case when someone plans a leave, the system will suggest places to go there according to their budget. The system will suggest some best hospitals near you if you apply for sick leave.
If you are taking a leave of absence every month for a certain period per day, the system will automatically ask you, "Would you like to take that leave?" whenever the next month arrives.
Final Words
Therefore, we can say that employee monitoring software makes it easy to keep tabs on your team, whether they are based remotely or in your office. It's beneficial for both: the company and employees.
With machine learning and artificial intelligence, such kinds of software will become even smarter. As a result of these capabilities, businesses will benefit and generate more revenue while becoming more productive.