Major Advantages of Using Project Management Software
Major Advantages of Using Project Management Software
Managers deal with multiple projects all the time. They juggle people, tasks, and goals to ensure the success of every project.
However, being a project manager is, by nature, not an easy job. Due to many moving parts, this can quickly become disorganized and chaotic.
The chances are that you are wasting a lot of time on the little things and doing more work than necessary when you don't use project management software or a solution.
We have a difficult time keeping track of who is working on what. The collaboration process among teams is inefficient, spread over email threads and chat software. Because of this, deadlines are missed, and clients are unhappy.
An efficient project management system can help keep you organized to plan and execute projects smoothly.
Functions of a Project Management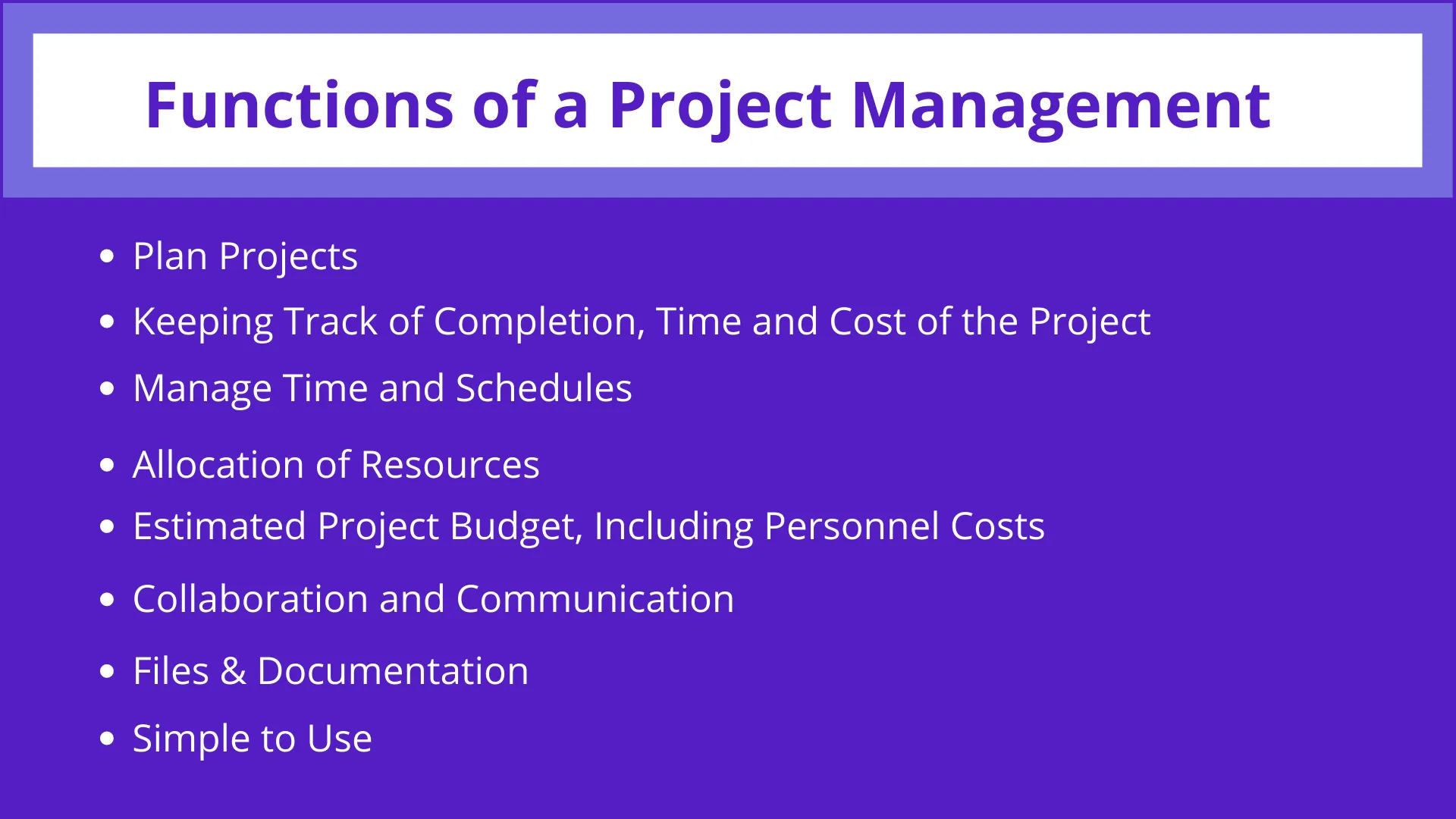 Plan Projects – Easily prepare projects while taking previous experience into account.
Keeping Track of Completion, Time and Cost of the Project – Alert the right people when things go off course.
Manage Time and Schedules – Manage time on work items and take people's work schedules into consideration.
The Allocation of Resources – Ensuring that the right people work on the right things at the right time.
Estimated Project Budget, Including Personnel Costs – Ensuring real-time monitoring of not only the time but also the budget as well.
Collaboration and Communication – Post comments and concerns, communicate with external stakeholders while keeping a complete historical record of all actions.
Files & Documentation – Easily document requirements and specifications directly or via a file.
Simple to Use – The software enables users to complete tasks, and it's simple to use.
What can Project Management Software Do for You?
You can use project management tools to plan your projects effectively, manage available resources, manage problems, keep all project stakeholders informed, and communicate effectively.
The right project management tool can make a significant difference regardless of the services your business offers.
Advantages of Project Management Software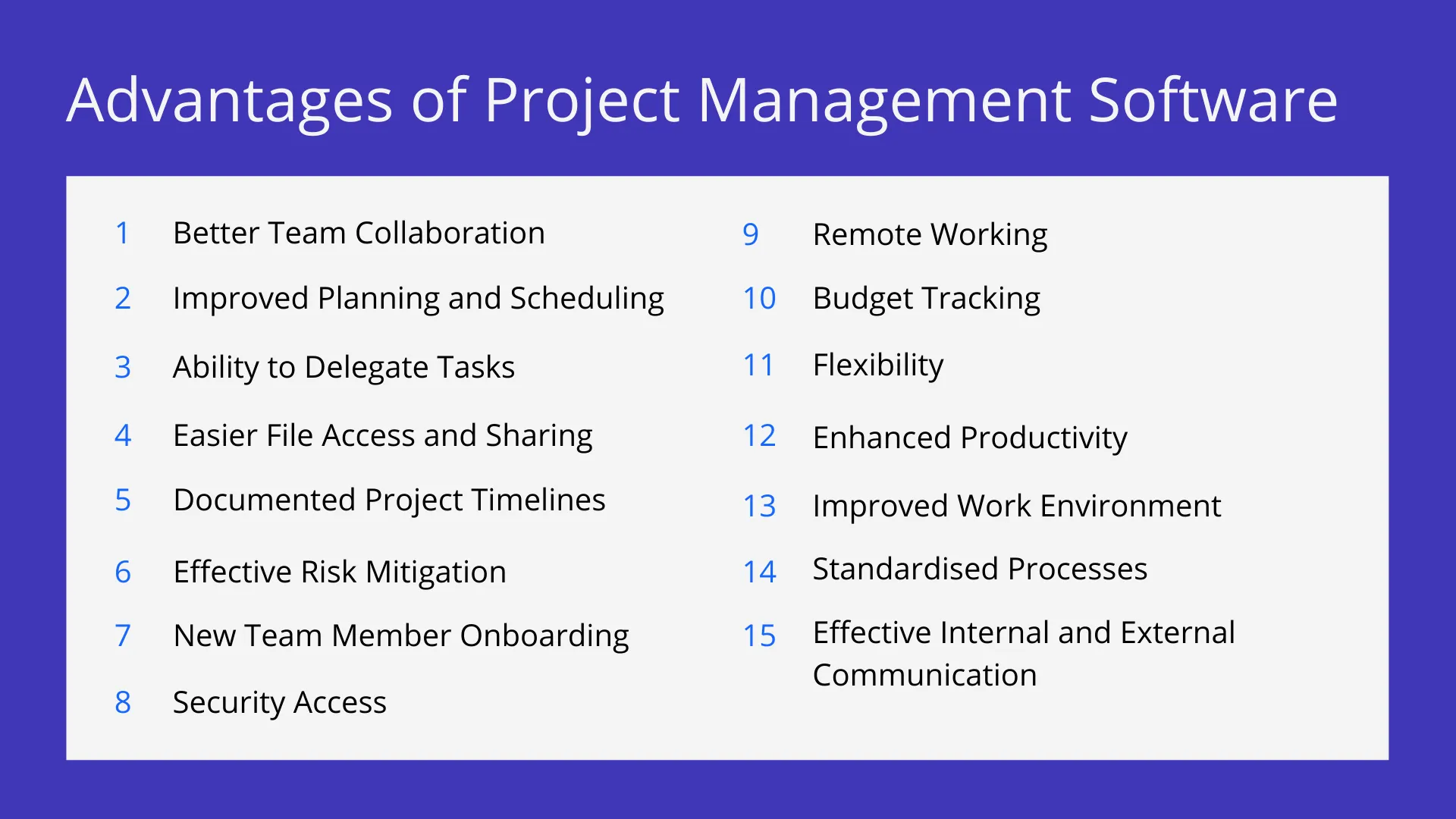 Better Team Collaboration
Improved Planning and Scheduling
Ability to Delegate Tasks
Easier File Access and Sharing
Documented Project Timelines
Effective Risk Mitigation
New Team Member Onboarding
Security Access
Remote Working
Budget Tracking
Flexibility
Enhanced Productivity
Improved Work Environment
Standardised Processes
Effective Internal and External Communication
1. Better Team Collaboration
The project you're working on may involve several employees or departments. You can use a project management solution as a forum for asking and answering questions, bringing up project bugs, and suggesting changes.
Almost all of these tools allow you to attach documents, reports, and other pertinent notes to a given project. In this way, everyone on the project stays organized and constantly communicates.
2. Improved Planning and Scheduling
Project managers need to plan and schedule projects regardless of the methodology applied.
A team's previous records can be accessed seamlessly for the current project through these project management solutions.
In addition, project managers can create a consistent management plan and prioritize tasks to ensure the project's success.
Using project management software, tasks such as allocating resources, identifying dependencies, setting up deadlines, and creating project deliverables can be accomplished conveniently in no time.
All project management tools ensure that the planning process is streamlined to ensure a successful project.
3. Ability to Delegate Tasks
Are you having trouble passing over projects and getting your team members to carry them out? With online project management software, you can assign tasks easily and provide all the information needed to complete them.
All of your employees should be added to a project management system, and each team member should be assigned responsibilities.
It's easy to double-check everything within a project, and any team members or project managers who are not sure what the assigned project roles are can double-check.
4. Easier File Access and Sharing
It is very important to access and share important documents safely. In the past, professionals used shared drives, but project management software was the most practical solution.
A project management solution offers users a collaborative workspace to make edits, leave feedback, and annotate easily.
Furthermore, these programs maintain a changelog so that team members know when changes are made.
5. Documented Project Timelines
Every project has a deadline, whether it is an internal project or one for an outside client.
You can track projects against these due dates using project management tools, which helps you gauge whether you are on track to finish or if the due date needs to be adjusted.
If you go over the due date, you can run a report to show an external client why more time should be added to the project.
Finding the bottlenecks to a project can be accomplished by finding those team members who are causing delays.
6. Effective Risk Mitigation
An effective manager can identify bottlenecks and implement effective solutions. By leveraging project management software, managers can improve their risk mitigation strategies and take advantage of all the resources available to implement effective countermeasures.
In addition to improving the team's efficiency, managers can allocate their resources effectively to avoid project risks.
7. New Team Member Onboarding
You can use online project management to train additional team members quickly if you realize mid-project that you need to hire more people.
This is particularly helpful for freelancers hired specifically for a particular project need. In addition, it allows new team members to review the project timeline, see what has been completed on the project, and review any notes, which reduces the time spent on training.
8. Security Access
The company's team may consist of vendors, clients, internal employees, stakeholders, and freelancers.
Different users might need different levels of access. For instance, you might not want to share any internal team communication with an outside contractor.
It's common for these project management tools to allow you to set user-specific security controls.
Hence, for example, you may want a vendor only to see information related to sign design, while internal staff would see the overall launch of the new product.
9. Remote Working
A project's location or department is not important in today's world. Now that workforces are dispersed managing them can be quite challenging.
The use of project management software for remote teams makes managing remote projects easier, as these programs help managers lead their teams effectively.
10. Budget Tracking
Budgets can also be tracked with project management tools.
If the budget is off mid-project, you can show management or the client why more money is needed to complete the project successfully than if you do so without data or questions about what's changed.
11. Flexibility
It is almost a rule to go as things are planned in business.
You can set out a plan to complete a project, but it could take a different direction once you begin it. Changes can be made along the way without slowing down the project with project management software.
Furthermore, all team members are on board with these changes since they are documented in the system.
12. Enhanced Productivity
In addition to facilitating decision-making and improving productivity, project management software improves your work process. You can always make informed decisions within the shortest amount of time because all details can be found in one place.
13. Work Environment
A project management tool allows all team members and external clients to contribute to a project in a collaborative process, keeping the work moving, making everyone more involved, and helping more projects meet their deadlines and budgets on time.
As a result, repeat business is generated, efficiency increases and communication improves. The team and clients will both be happy with this approach.
14. Standardised Processes
One of the major benefits of project management software is that it ensures that everyone is on the same page. Also, everyone must follow the same process when creating and editing documents to provide the same information.
It may sound superficial, but it is important to standardize everything and ensure each document has the same look and feel.
In addition to looking more professional, it also helps create unity and consistency throughout the company, as everyone follows the same procedure.
15. Effective Internal and External Communication
The purpose of Project Management software is to develop a funnel for communication about tasks and projects both internally within your team and externally with clients and other stakeholders.
People can find comprehensive information through document sharing, whether within the tool or an integrated system from a third party, enabling transparency and communication.
Companies should also communicate and collaborate with their clients and suppliers from a single platform.
Their clients will log in and view only project data directly through project management software. In this way, clients have direct access to feedback, edits, and project updates.
Conclusion
An effective project management software will ensure your projects are successful and that your collaboration is effective.
Project management software helps manage projects, coordinate resources, manage time, and manage change.
The right project management software can help companies become more competitive and set them apart from their competitors.
Subscribe to timeTracko blogs for more interesting blogs.