Best Screen Sharing Software for PCs and Phones
Best Screen Sharing Software for PCs and Phones
Whether you're in a meeting or on the phone with a customer, screen sharing is one of the most effective methods to demonstrate your point without annoying anyone on the other end of the line.
It is said that a picture is worth a thousand words. While the proverb is often true, an image can help you spend less time describing tasks, procedures, issues, and information in the office.
The importance of good screen-sharing software and applications has never been greater. Because more individuals are working from home, utilizing the power of screen sharing increases team collaboration by fostering:
Active participation
Effective presentations
Efficient training and support
Engaging collaboration
Previously, online meeting technologies were mainly focused on chat and video. Those elements are still helpful for communication and teamwork.
Having the ability to show clients what you're working on by connecting them to your laptop or PC display, on the other hand, may enhance any sales pitch or presentation.
Also, do not forget to read our article on the best screen recorder apps and screenshot apps for more detailed information.
For screen sharing, we need the help of screen sharing software. Here we have discussed some of the best screen-sharing software for PCs and Phones in detail.
8 Best Screen Sharing Software for PCs and Phones
Zoom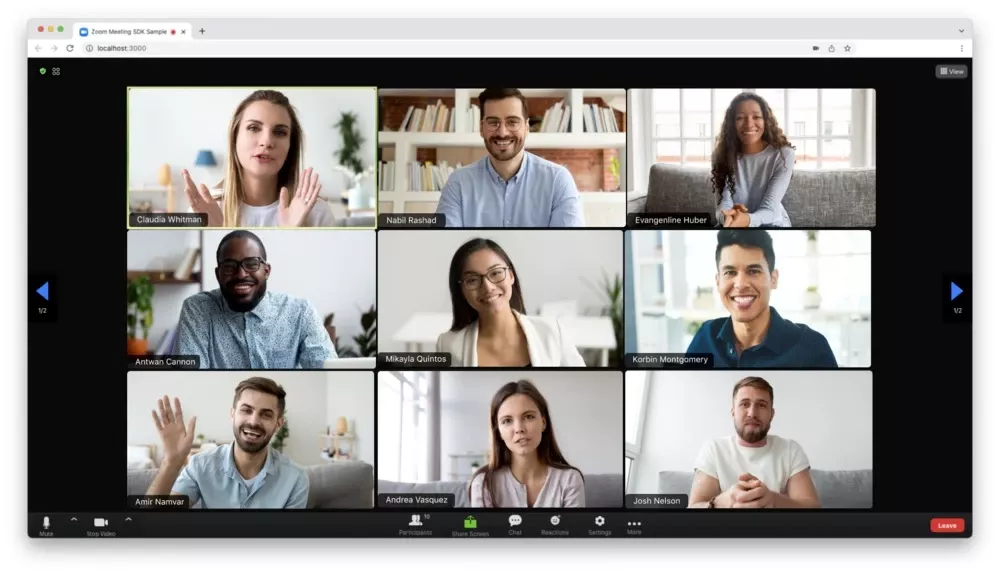 Zoom is a cloud-based video communications platform that lets you set up virtual video and audio conferencing, webinars, live chats, screen-sharing, and other collaboration features.
Zoom is a screen-sharing software for businesses. It's a dependable and straightforward video and audio conferencing and collaboration tool.
It allows you to express yourself, connect with others, and create a future that is only limited by your imagination.
Businesses typically use Zoom to hold meetings with faraway colleagues and clients, but it's also a great way to stay in touch with friends and family.
Attending a Zoom meeting does not require an account, and the platform is compatible with Mac, Windows, Linux, iOS, and Android, making it accessible to almost everyone.
Features of Zoom
Zoom provides numerous features for its user. Some of them are:
It allows you to conduct video calls and share your screen.
Multiple people can share their screens at the same time and talk about ideas for the interactive meeting.
You can record your meetings locally or to the cloud with searchable transcripts with this screen-sharing service.
It provides a next-generation business phone system.
Businesses and organizations can use Zoom to collaborate with their teams.
It aids in the creation of collaborative conference rooms.
Cross-platform chat and file sharing.
Customer Support.
Benefits of Zoom
Inexpensive and straightforward to use.
Seamless transition to video.
User-friendly interface.
Remote control and screen sharing
Call and video quality are both excellent.
Bringing employees together.
Drawbacks of Zoom
Delayed customer service.
Outsider intrusion is a security concern for Zoom.
Google Hangouts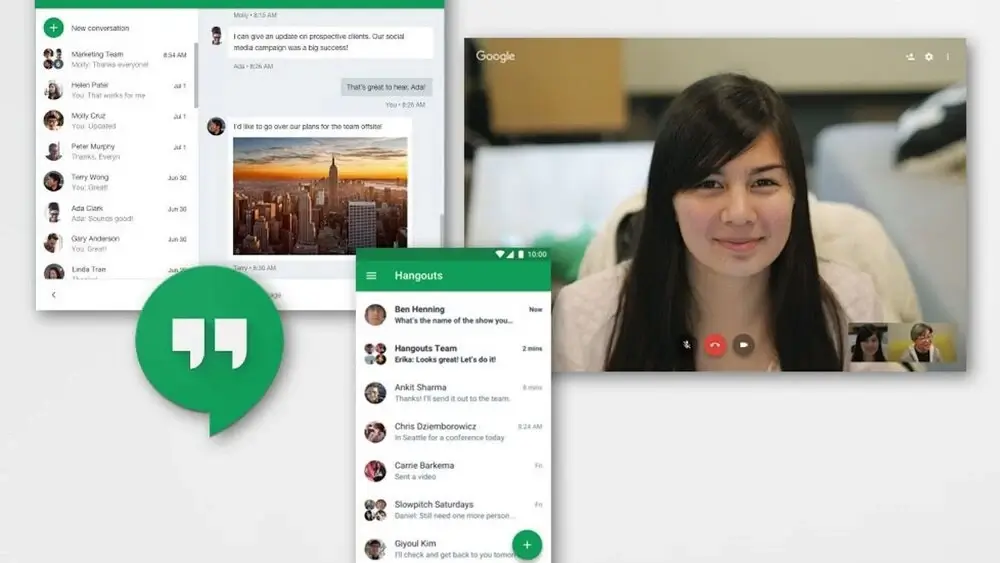 Google Hangouts is a unified communications service that lets users initiate and participate in one-on-one or group text, phone, and video conversations.
It is a communication tool created by Google, as the name implies, and is part of the G Suite suite of solutions.
Screen sharing can be accessed from within Hangouts via the menu bar, which will create a new window for the feature.
Google Hangouts is also powerful enough to meet the demands of most small businesses, and it's simple to use.
It is possible to use high-quality video for two or more people; this is a practical approach to encourage remote learning, web collaboration, and creative conferencing.
Other Google products, such as Gmail, Google Docs, and others, are included in the integrations. Third-party services can also be linked using Zapier or Google's approved API.
Features of Google Hangouts
Some of the exciting features of Google Hangouts are as follows:
Support Instant messaging and voice calls.
The ability to share your screen is built-in.
HD video calls and group conferencing.
This service is the simplest way to screen share and can be used via App, Gmail, or websites.
Compatible with a range of platforms and devices.
Benefits of Google Hangouts
Create brand stories.
Conduct webinars.
Interviews
Demonstrate to clients
Provide business advice
Increase the number of connections
Activate the text chat feature for events.
Saves money and time.
Drawbacks of Google Hangouts
A Google+ account is required.
There is no Message Track.
It is not possible to set a status.
Availability: Apple macOS, Microsoft Windows, Chrome OS.
TeamViewer
TeamViewer is software for remote access, screen sharing, and monitoring. Remote access, assistance, file sharing, and teleconferencing are possible using TeamViewer, an Internet-based software tool.
It allows a user to view the screen of another computer and execute activities as if they were standing right in front of it.
Windows, macOS X, Linux, iOS, and Android are just a few TeamViewer platforms. TeamViewer uses a web browser, allowing users to connect to another computer remotely.
Although it is free for non-commercial usage, TeamViewer is proprietary software and does not require registration.
TeamViewer's functionality varies based on the device and the software's variation or version. Remote access to computers and other endpoints and their control and maintenance are at the heart of TeamViewer.
The remote screen is accessible to the user at the other endpoint after the connection is established.
Features of TeamViewer
Some of the exciting features of TeamViewer are as follows:
It allows you to display parts of your screen or specific programs.
Users can share video and audio with the participant using this free screen sharing app for Windows 10.
It enables you to connect to any PC or server in a matter of seconds.
File sharing, chat, and whiteboard functionality are all supported.
Windows, Mac, Linux, iOS, and Android are all supported platforms.
Benefits of TeamViewer
It is easy to use.
It does not need configurations.
It can access a large number of remote computers.
Easy file share.
One-click connection.
Drawbacks of TeamViewer
It is not accessible for commercial use.
It cannot share large files.
It does not work through proxy servers.
It requires a fast and continuous internet connection.
Microsoft Teams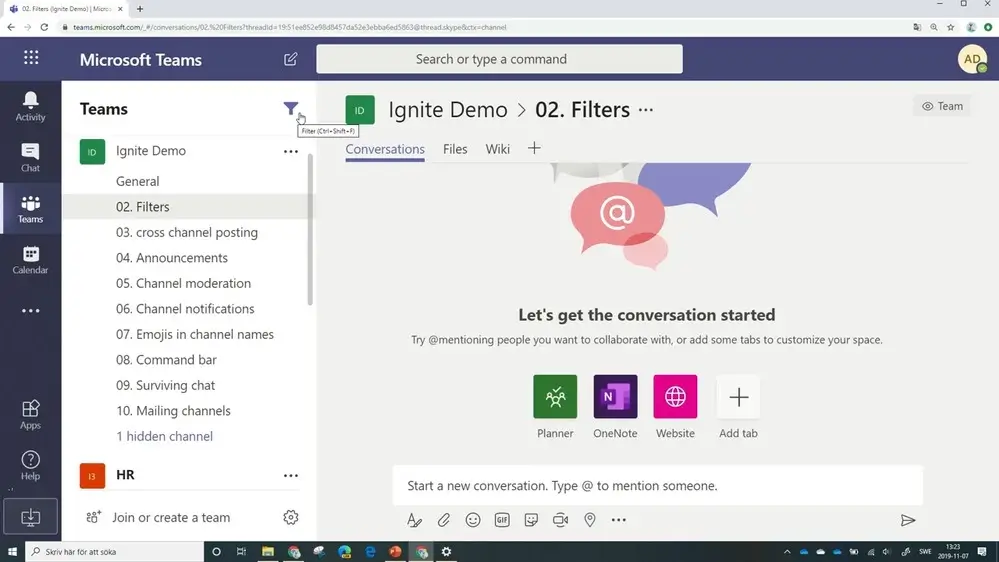 Microsoft Team is a web conferencing and screen sharing application that allows you to share your screen with others.
This program allows for the creation of collaborative classrooms. It also allows you to communicate with students and employees and connect with professional networks all in one location.
Microsoft Teams is a cloud-based team collaboration platform part of the Microsoft 365 and Office 365 family of products.
Business messaging, calling, video meetings, and file sharing are among Microsoft Teams' key features. All sized businesses can use Microsoft Teams.
Microsoft Teams is a straightforward and user-friendly platform. Setup is minimal to non-existent.
Businesses should use Microsoft Teams since it is very user-friendly and can promote collaboration among remote employees or inside a vast organization when it comes down to it.
Microsoft Teams can help with projects, productions, and other aspects of the business.
Features of Microsoft Teams
Microsoft Teams has several characteristics that set it apart from competing for collaboration software:
Online meeting.
Online video conferencing and screen sharing.
Conversations within channels and groups.
Full telephony.
Document storage and sharing.
Audio conferencing.
Benefits of Microsoft Teams
You can create the ideal virtual setting by selecting, uploading, or blurring your background.
Make high-quality, more intimate meetings to boost your productivity.
Your files can securely be stored, accessed, shared, and collaborated on from any location.
It helps to collaborate from anywhere.
You can simplify activities and essential business operations.
Supported platforms: Microsoft Windows
Drawbacks of Microsoft Teams
It has limited storage.
Insufficient notifications.
File structure confuses users.
GoToMeeting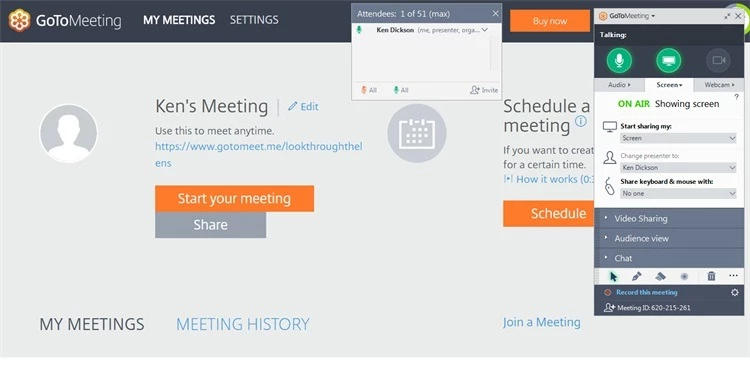 GoToMeeting is one of the top screen-sharing services, with many features such as Screen sharing and team collaboration tools.
It's an online meeting, desktop sharing, and video conferencing software suite that lets you connect with other computer users, consumers, clients, or coworkers in real-time via the Internet.
It is a program that broadcasts a host computer's desktop view to a group of computers connected to the host over the Internet.
High-security encryption and optional passwords safeguard transmissions. Transmissions can be routed past very restrictive firewalls by combining a web-hosted subscription service with software installed on the host machine.
It is also compatible with chat messenger technology on desktop and mobile platforms.
Features of GoToMeeting
Some of the best features of GoToMeeting are as follows:
High-quality screen sharing.
Virtual Whiteboard.
Record meetings.
Built-In Audio.
Meeting Scheduler.
File sharing with one click.
Hand Over Control.
Customer support.
Join via Mobile Options.
Desktop/Application Sharing.
Benefits of GoToMeeting
It is easy to use.
It provides high-quality meetings for more than 1000 attendees.
It helps to share your application, desktop, or file during video chat.
Helps to share files withing teams.
It helps to host, schedules meetings as it is integrated into Google Calendar.
It has excellent customer reviews.
Drawbacks of GoToMeeting
Chat options are limited.
Requires a stable internet connection.
Difficult to get the call-in process right.
Availability: Web, Windows, Mac, iOS, Android
Skype for Business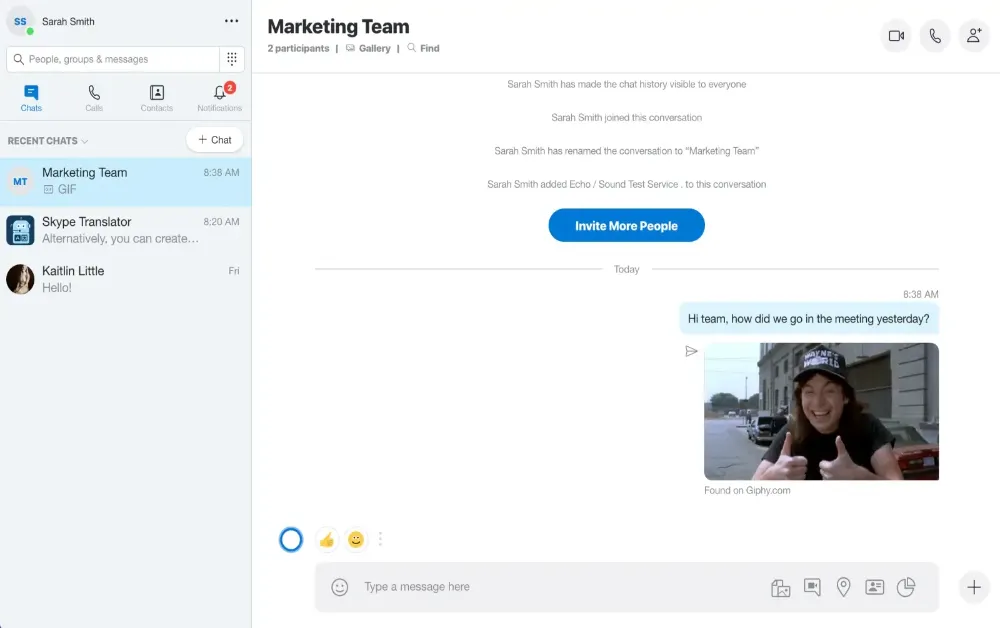 Skype for Business is a user-friendly interface that lets users connect via text chat, audio calls, video calls, and online meetings.
Skype for business, formerly Microsoft Lync Server, is a unified communications (UC) platform that integrates general business communication and online meetings channels such as instant messaging (IM), presence, voice over IP (VoIP), voicemail, file sharing, video calls, web conferencing, and Email.
Skype for business can be set up on-premises, in the cloud, or hybrid service. Clients can operate Skype for Business on Windows, Android phones and tablets, and Apple iOS devices.
It can be accessed from almost any Windows PC or mobile device, on-campus, or anywhere globally with an Internet connection.
Features of Skype for Business
Some of the best features of Skype for Business are as follows:
It has convenient super call abilities.
Quick messaging and screen sharing with one click.
High-powered AES encryption.
Sync with Office 365.
A meeting can be set through Outlook.
Benefits of Skype for Business
It is easy to use and user-friendly.
It reduces traveling expenses.
Receives cross-platform support.
It increases business opportunities.
Helps in screen sharing and intelligent messaging.
It provides HD audio and video call.
Drawbacks of Skype for Business
Connectivity issue.
Weak security.
Availability: Mac, Windows, Linux, Android, iOS
UberConference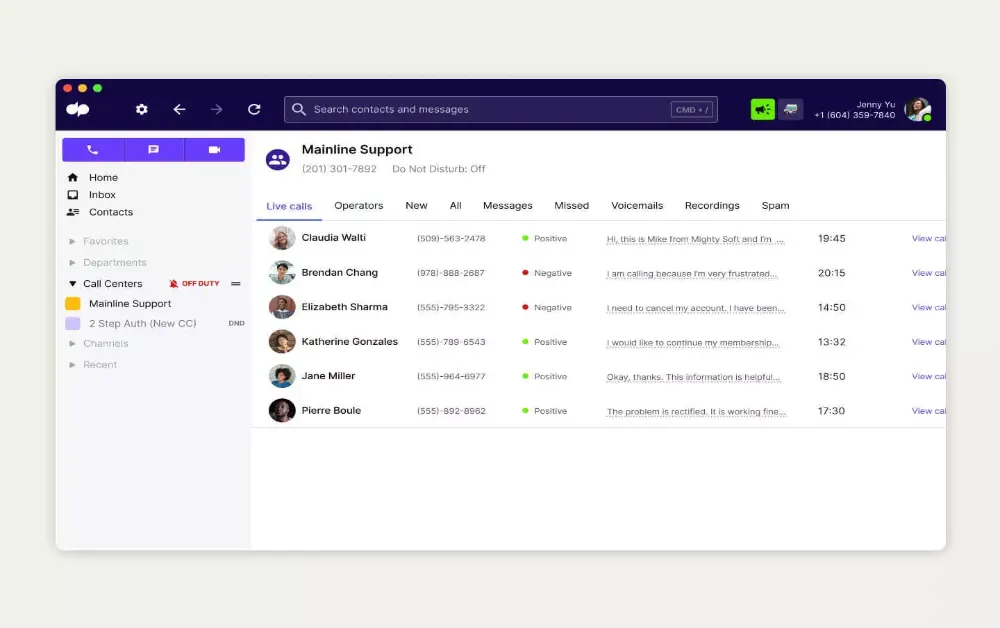 UberConference is a cloud-based audio and video conferencing solution owned by Dialpad suitable for small to mid-size enterprises.
It is a feature-rich web-based screen-sharing application. It allows you to start a high-definition video conference with other users.
During a conference call, you can share your screen. You can also share your screen while watching a video.
It's a visual audioconferencing solution that lets callers view the avatars of other participants on mobile devices or desktop computers. UberConference is a conference calling service, not a video conferencing solution, so keep that in mind.
The UberConference platform lowers overhead expenses for organizations that use expensive conference calling equipment and assists in replacing VoIP solutions.
The high-quality audio, the number of individuals who can participate in the conference, and the interfaces with social media, Google Drive, and other applications are the most delicate features of UberConference.
Features of UberConference
Some of the exciting features of UberConference are as follows:
Screen Sharing
HD Audio and Video
Web Conference
Call Controls
Integrated Social Media
Document Sharing
Mobile Apps
Custom Hold Music
Toll-Free Conference Calls
Analytics
Instant Conference Calls
Recurring Conference Calls
Administrator Login
Benefits of UberConference
It is easy to use.
It has a reasonable and scalable price.
Allows you to share the screen during web conferencing.
It enhances collaboration and communication during an online meeting.
It helps to make communication more personal.
Drawbacks of UberConference
UI is clunky sometimes.
Does not have good mobile apps.
Availability: Linus, App Store, Google Play
Crankwheel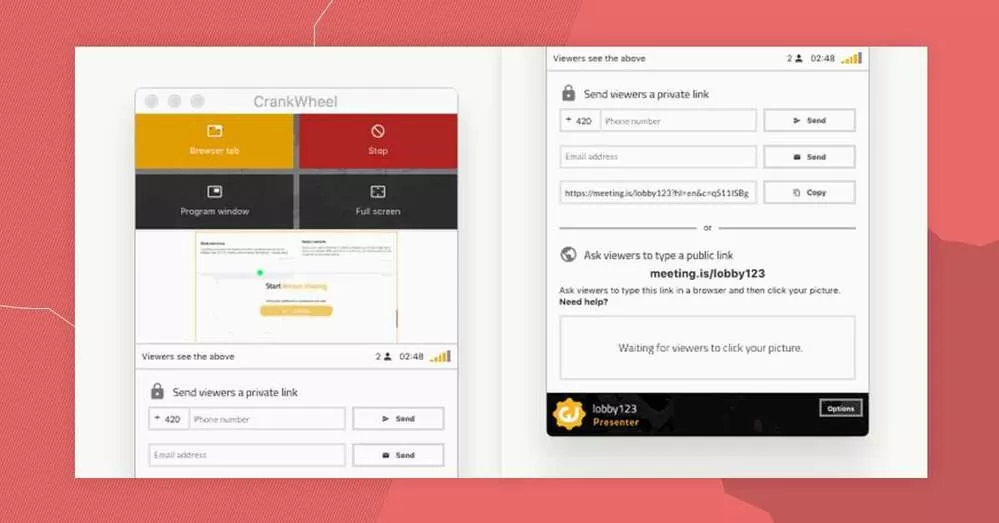 CrankWheel is a screen-sharing solution that focuses on sharing browser tabs with clients and integrates into the enterprise's service offering without requiring installation on any browser or device.
This software allows you to join by sharing a link, sending an email, or sending a text message.
You can also capture leads straight on your website using CrankWheel. You can easily add a "Call me Now" button to provide immediate demos.
When a customer asks a salesperson, the app will look for the next available salesperson in your team. As a result, you'll be able to take your leads straight to their customer journey.
For limited commercial use, CrankWheel provides a free-for-life option. The service provider does not force a limit on the number of users, unlike other corporate software.
You have 16 meetings each month, which is plenty for a developing company. Also, there are no limitations on the fundamental functionalities. When you require additional monthly meetings, upgrades start at $75.
Features of Crankwheel
Here are some of the features of Crankwheel.
Screen Sharing
Remote Control Access
Instant Demonstrations
Public links to meetings
Personal branding
Custom domain name
Usage reports
Restricted sharing
Content filter
Audit log
Benefits of Crankwheel
It is intuitive and user-friendly.
It allows you to make a conference call.
It provides a live preview of the screen.
It helps to show your business to customers in real-time.
Drawbacks of Crankwheel
It requires high bandwidth every time.
Availability: Web, Windows, iOS
Conclusion
To sum up, Users can share their devices in real-time via screen sharing capabilities, allowing outside viewers to monitor their motions.
By converting a user's device screen into a point of conversation, a communal area, or a presentation, screen sharing technologies promote cooperation between teams and demonstrations with their audience.
For secure and easy sharing, use any one of the above-discussed apps. Which one do you want to use? Do not forget to mention that in the comment section below.