Best To-do List Apps to Keep You on Track
Best To-do List Apps to Keep You on Track
Some people keep track of their daily tasks with pen and paper, while others prefer to have to-do list apps to organize tasks easily. To-do lists on paper are fine, but going digital has more benefits and is more efficient.
From notepads to advanced to-do lists apps, the world has drastically evolved. You can efficiently write, reprioritize, and organize your tasks with to-do list apps.
Fully functional to-do list apps not only assist you with task management but enhance your productivity as well.
Whether you're an entrepreneur with multiple teams to manage, a freelancer with a few clients, or simply someone who needs help managing different aspects of their work and life, there's a to-do list app out there for you.
There are 17 million to-do list apps on the market that help you create and manage to-do lists. All of them will not be useful for you. You have to find the best to-do list app suitable to your preferences and needs.
To help you find the best, here is a list of some of the best to-do list apps that help you organize your tasks effectively and increase productivity. Let's have a look at them.
Best To-do List Apps for Better Task Management
Todoist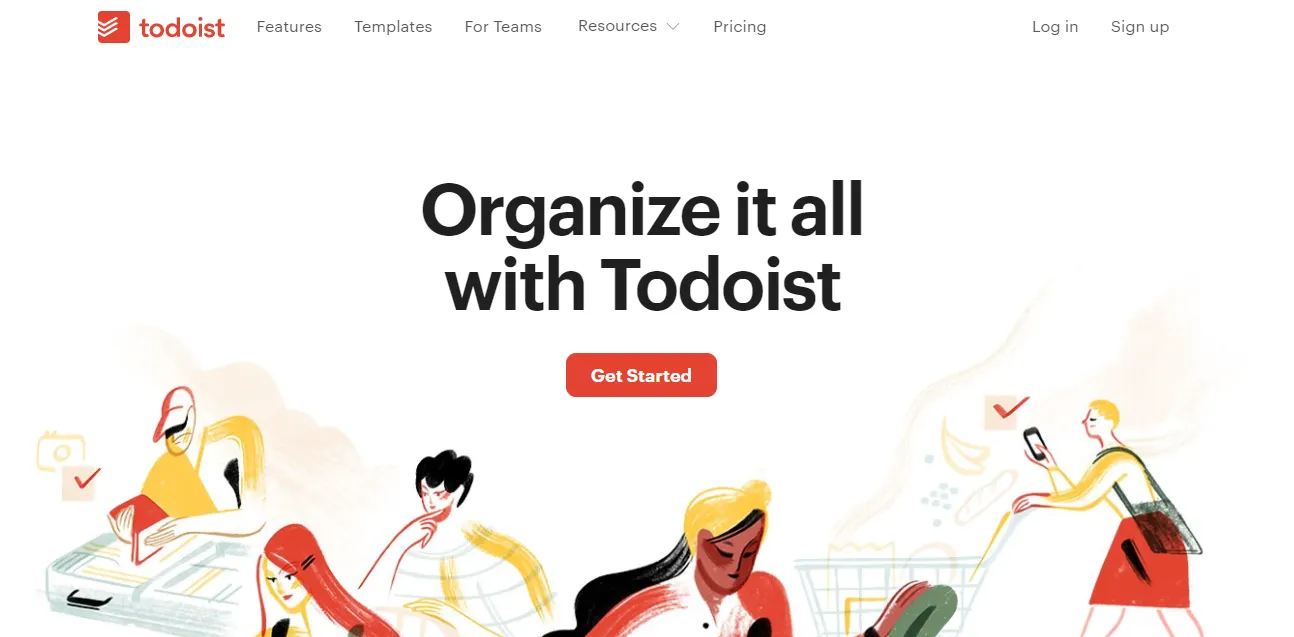 Todoist is one of the best to-do list apps that has been on the market for quite some time. It is easy to use, and you can sign up with your Google account or Facebook profile.
Todoist works great for both professional and personal tasks. You can add different labels and color-coded labeling to separate your work from personal tasks.
It lets you create projects, sub-projects, tasks, sub-tasks, dependencies, assign priorities, mark favorites, and set project deadlines. It's easy to postpone the task to another day or mark it as completed.
It will help you stay on track if you've set goals. , Todoist allows you to keep track of everything in the same place, making it easier to keep track of everything at once.
The best thing about Todoist is that it shows you what you need to do for the day and what you need to do for the week or month ahead to achieve your objectives.
Moreover, Todoist is integrated with other IFTTT, Google Drive, and Sunrise Calendar services.
Price
Basic: Free
Premium: $3 per month and $29 per year
Available On
Web, Android, Windows, Mac, iOS, Chrome
Features
Create, prioritize, and organize tasks
Easily create tasks using your email inbox
Set due dates, label tasks, and color-code them
Set priority levels for tasks to figure out what to do next.
Tasks comments and feedbacks
Variety of preset templates, such as for organizing finances, goal tracking, meeting agenda, social media calendar, and many others
SMS and email reminders and Email notifications
Tracking productivity through Karma points
Real-time synchronization
Keeps your data safe through automatic backups
Open API
Sharing controls
Pros
Variety of preset project templates
Free version available
Powerful third-party apps integrations
Cross-platform support
Cons
Free version lacks a few valuable features
Time tracking feature is missing
No advanced project tracking feature
Asana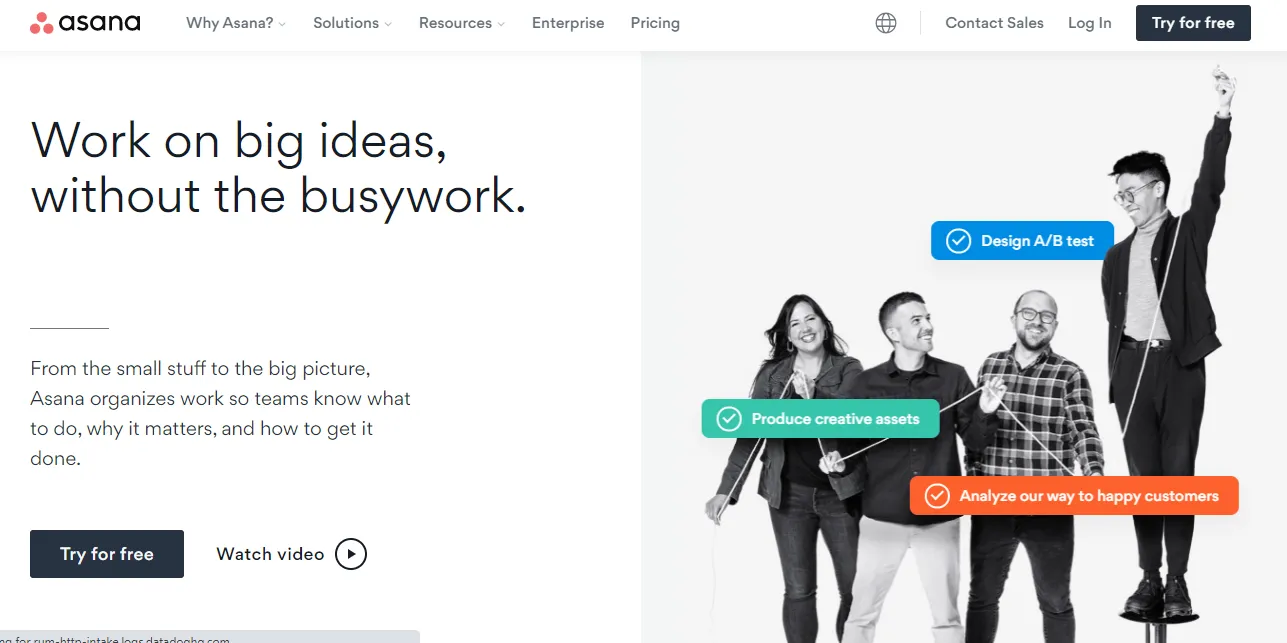 Asana is one of the best business-oriented to-do list apps in functionality and versatility.
Although it's designed for larger teams who manage large projects, you can also use it to manage personal tasks.
The best thing about Asana is its ability to manage complex to-do lists for large projects with multiple collaborators.
You can create a separate thread for each task that eliminates your communication concerns. You can discuss or share a task with only participating individuals without disturbing others.
Asana's free basic plan also offers many useful features and is sufficient for personal needs. However, the pro version is more useful for a large team and provides advanced collaboration options.
Price
Basic: Free
Premium plan: $10.99 per user per month
Business plan: $24.99 per user per month
Enterprise Plan: Custom pricing
Available On
Web, Android, iOS
Features
Third-Party Integrations
To-do list and task management with tracking
Assign a task to several team members
Permission and Access Control
Mark important tasks
Upload files and leave comments on the tasks
Data Import/Export
Search Functionality
A real-time update on tasks
Multiple workspaces
Chat & Messaging (Inbox)
Drag & Drop Interface
Customizable Fields
Team Collaboration
Pros
Free version with sufficient features
Sharing option available
Choice of kanban
Organizes a large number of tasks effectively
Flexible, fast, and clean application design
Cons
Paid plans are expensive
Inability to switch between Kanban view and tasks
Microsoft To Do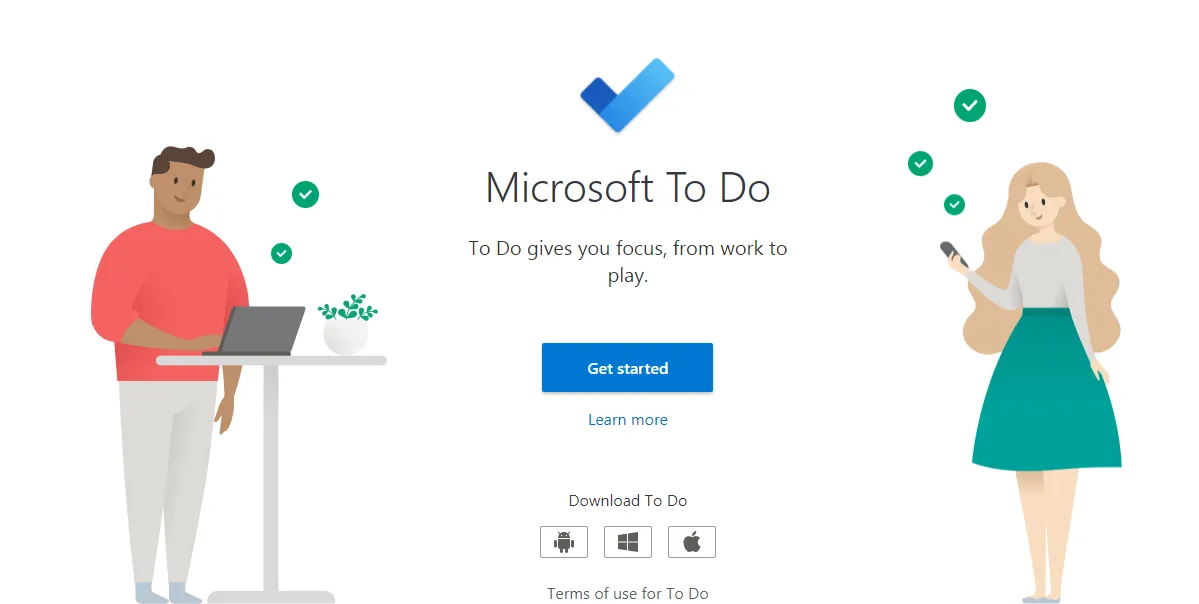 Microsoft To Do is a good choice if you want a free and simple to-do list app that integrates well with other Microsoft apps. The app provides all the basic to-do features you need and lets you keep track of everything.
Microsoft To Do is generally intended for personal use rather than team collaboration. So Microsoft To-Do is a personal to-do list app with all essential features. If you're working with a team, you may need to look for better options.
You can create new tasks or import tasks from other tools like Outlook and Wunderlist. You can use tags like #urgent, #medium, and #low or #1, #2, #3, to set the priorities and sort tasks according to their priorities.
You can easily access the tasks due for the day through the My Day list. In this way, you can streamline your activities and eliminate any confusion.
Its theme-based structure and intuitive layout make task scheduling simple and efficient. It is fully compatible with Windows 10.
Price
Microsoft To Do is free
Available On
Web, Android, Windows, iOS
Features
Manage tasks through to-do lists for the day.
Personalized daily planner
Share lists to streamline communication
Set priorities by defining the urgency of each task
Set task reminders to remember important details
Outlook tasks integration to manage tasks in one place
Cross-device operation
A maximum of 25 MB of attachments
Track due dates to meet deadlines
Personalized Backgrounds
Pros
User-friendly interface
Integration with Microsoft Office 365
Free for everyone
Subtasks work well
Multi-device and multi-platform synchronization
Cons
Lacks advanced task management functionality
No natural language processing
No recurring tasks management
Lack of collaboration tools
No subtask
TickTick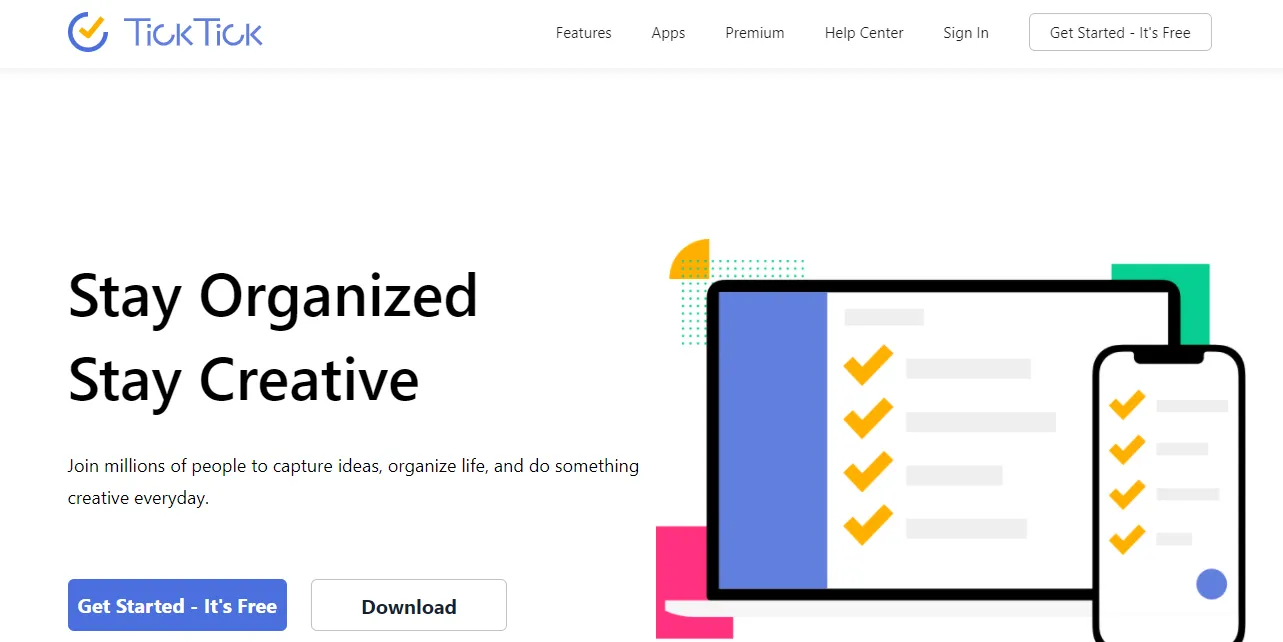 TickTick is a fast-growing and popular to-do list app. It offers a wide variety of exciting and unique features.
Todoist and TickTick have nearly identical user interfaces. But it offers some features that Todoist does not, such as calendar view and a built-in Pomodoro timer.
Additionally, there is a universal keyboard shortcut and widgets and pinned notifications on mobile on the desktop versions, making adding a task quick and easy.
You can organize tasks using tags, lists, and due dates and add subtasks to any task. TickTick also offers Windows and Mac apps for better task management and iOS and Android apps.
Price
Basic plan: Free
Premium paid plan: $27.99 per year
Available On
Windows, Android, iOS, Mac, Web, Chrome Extension
Features
Customized to-do lists
Voice commands for easy addition
Instant reminders and alerts for all the due tasks
Location-based reminder
Drag and drop functionality
Tags and Priority levels for tasks
Keep track of all upcoming tasks with the calendar view
Personalized themes according to personal preferences
Constant backup of data
Annoying alert to ensure you don't miss any important tasks or meetings
Time tracking and achievement Scores
Turn Emails Into Tasks
Share lists with collaborators.
Collaboration Tools
Pros
Module for smart task management
Free version with decent features
Native time tracking
Pomodoro timer
User-friendly interface
Drag and drop features
GTD Method implementation
Cons
Can access advanced features and functionalities only with the paid version
Cannot integrate with other task management apps
Any.do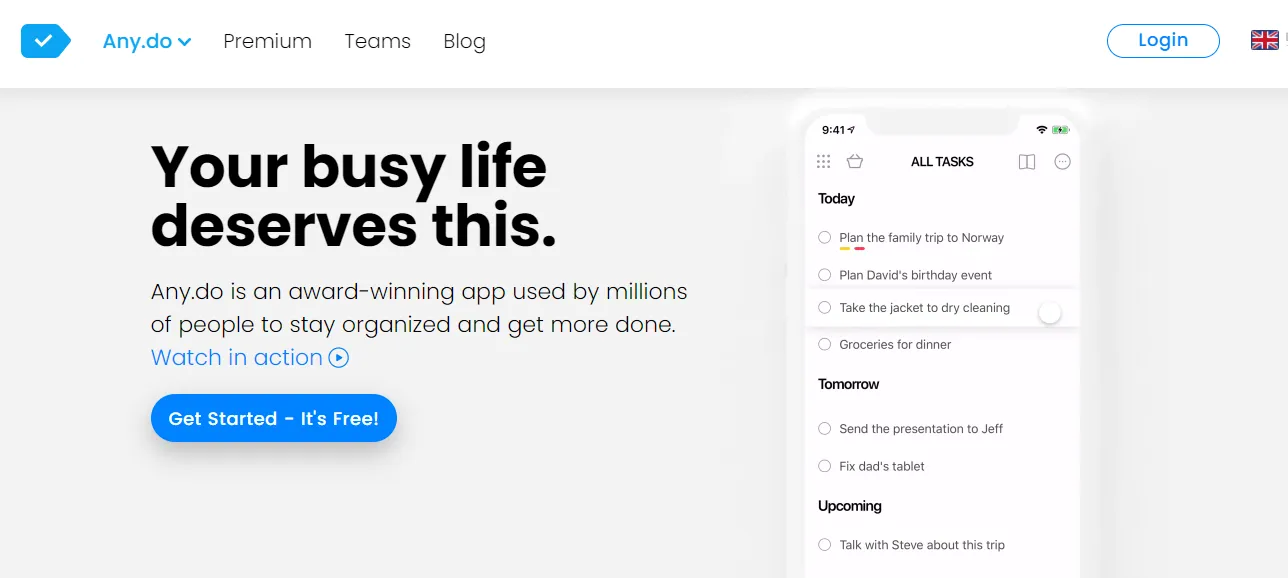 With its user-friendly interface and design, Any.do is one of the best daily to-do list apps available. Millions of people use this app to stay organized and accomplish more.
Any.do is easy and flexible to use. Managing tasks and subtasks is easy with the drag-and-drop feature. You can set reminders to ensure important things don't slip from your mind.
Any.do's best feature is its ability to create tasks with voice. You need to speak to your smartphone and Any.do will automatically create a to-do list of tasks.
You can easily integrate Any.do with Google and Outlook calendars so that you can view all of your appointments and tasks in one place.
Price
Basic plan: Free
Premium plan: $2.99 per month when paid annually
Available On
iOS, Android, Desktop, Amazon Alexa, Chrome, Web, Apple Watch
Features
Easy interface for creating and assigning tasks
Easy to-do list management
Add new tasks by using voice commands
Delete the tasks by shaking the phone
Customized themes according to personal preferences
Location-based reminder
Synchronizes seamlessly with all your devices
Smart reminders
Color tags to organize and prioritize tasks
Notes within tasks if additional information is needed
Unlimited file attachments
Sharing lists with others is easy
Pros
Easy to use
Recurring tasks management
Multiple features for organizing tasks
Can sync tasks with Built-in Calendar app
Available on multiple platforms
Cons
Can access many useful features with only the Premium plan
Do not have the advanced reporting functionality
Google Tasks
Google Tasks is a Google-based app. It fully integrates with other Google services, such as Google Calendar, Gmail, and other productive apps.
Using its Gmail extension, you can directly add and manage tasks from your Gmail account. To prioritize your tasks and make modifications to your to-do list, you can drag and drop.
Google Tasks is only for personal use; there are no team collaboration features. If you're searching for comprehensive to-do list management, you might not find this tool useful.
Price
Google Tasks is free
Available On
Web, Android, iOS
Features
Manages tasks and subtasks
Organize multiple tasks into lists
Priority and Due dates setting
Google Calendar Reminders
Integration with Google Calendar and Google Account
Drag and drop feature to prioritize tasks
Sort Tasks to get what's needed
Add notes on tasks
Pros
Free for everyone
Useful for managing basic to-do lists
Simple user interface and easy to use
"Clear completed tasks" button
Cons
Time tracking is not available
No features for team collaboration
No organization
No recurring tasks
Not suitable for managing advanced tasks
nTask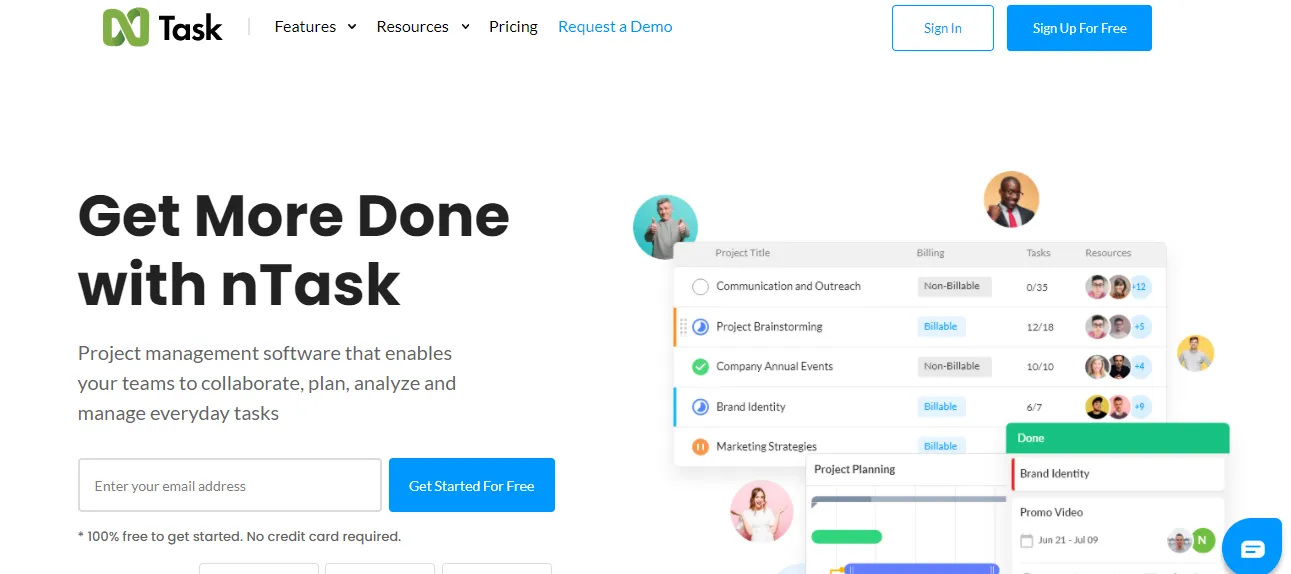 nTask is the most popular to-do list app today for individuals and teams. Within your team, you can easily manage tasks by planning and creating tasks and subtasks, projects, meetings, scheduling tasks as repetitive or one-time tasks, and keeping track of time spent on each task.
Checklists will help you keep track of things to do, organize, prioritize, and monitor tasks. This app keeps you and your team on track with reminders and alerts.
You can save time with nTask's powerful search and filter options. You can search for tasks, meetings, projects, and much more and save time. Furthermore, pre-saved filters are available to save end-users time and effort.
One of its best features is its capacity to arrange meetings by composing and sharing a meeting agenda and bookmarking important discussion points.
Price
Basic plan: Free
Premium plan: $2.99 per month
Business –$7.99 per month
Available On
Android, iOS, Web
Features
Smart project management
A dedicated time tracking module
Meeting management module
With Kanban Boards manage to-do, lists, and tasks
Issue and risk management modules
Powerful search and filter options
Two-Factor Authentication for extensive security
Third-party integration with Zoom, Zapier, Slack, Google Calendar, and more.
Gantt/Timeline View
Reminders, Alerts, and notifications to keep teams on track.
Using Slack convert comments to tasks
Pros
Free version available
Timesheet management to track time
Set repeat tasks
Easy to use tool for project management
Meeting management module to keep teams on track
To-do list progress bar
Cons
Desktop app is not available
No advanced reporting features
No team chat features
OmniFocus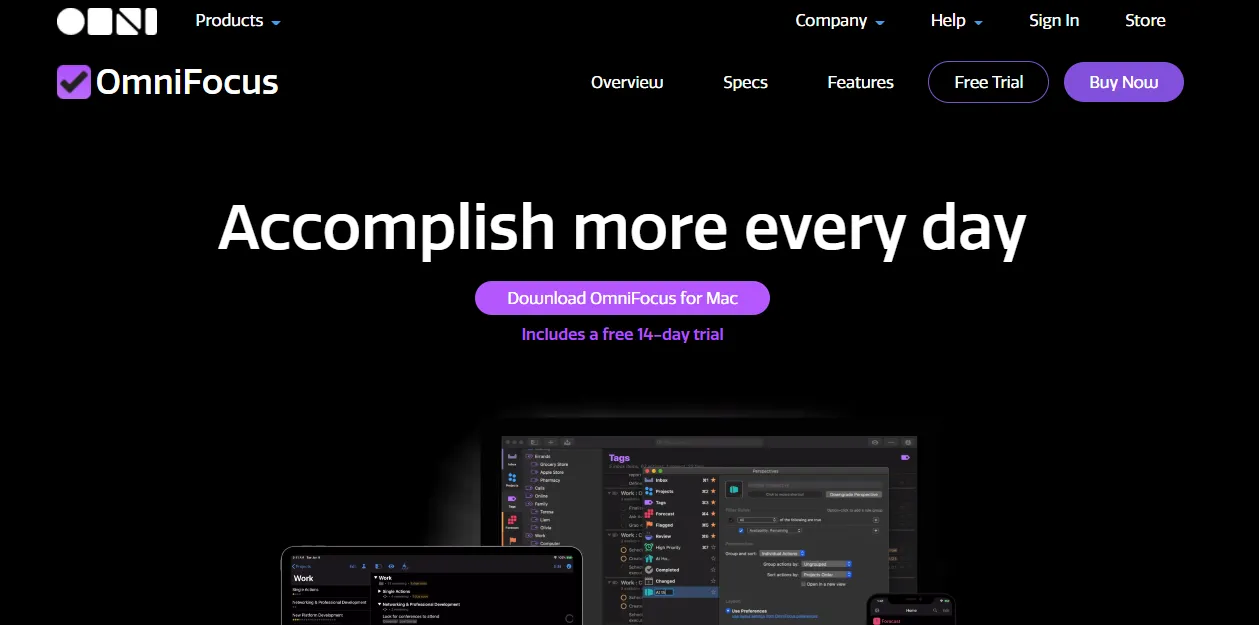 OmniFocus is one of the most useful and best to-do list apps for iOS and Mac that helps you manage your tasks more efficiently.
With color-coded labels, you can easily add a task, identify it, and add it to your inbox. OmniFocus provides customizable tags to process all tasks efficiently and help you track and monitor tasks effectively.
OmniFocus is an app for those who like the Getting Things Done approach as it has a series of dedicated toolsets to assist you in getting things done faster. Some users may find this app's interface challenging due to its complexity.
Price
For Mac
Pro: $99.99.
Standard: $49.99
For iOS
Pro: $74.99
Standard: $49.99
Available On
Mac, iOS
Features
Handy sharing menu that allows you to add items from any other app
A forecast of future tasks based on your order of actions
Personalized task labels
Monitoring progress over time with project and action reviews
Calendar integration keeps you up-to-date about deadlines
Customized tags to add context to the tasks
Custom views to display just the relevant tasks
Dark and light modes
Notification reminders
Organizing and Sorting tasks
Batch editing for editing multiple items
Custom Home Screen
Pros
Beautiful and Engaging user-interface
Calendar integration
Powerful GTD features
Syncing across devices is easy
Cons
Only for Mac and iOS users
Complicated for beginners
Comparable to other to-do list apps, it is expensive
Google Keep
Google Keep is a simple to-do list and note-taking app. With Google Keep, you can create notes and lists, share them, and collaborate with others.
The app allows you to record voice notes, add images to notes, track tasks, write all the important to-dos, mark the tasks as completed, and much more.
Google Keep is completely integrated with other Google services such as Gmail, Google Drive, and Google Docs, making it easy to sync across multiple devices.
Price
Google Keep is free
Available On
Web, Android, iOS
Features
Supports audio notes, photo notes, and checklists
A quick and straightforward way to add a task
Reminders for each task
Transcribe text from images
Collaboration with collaborators by sharing a list
Cross-device operations
Archiving notes
List and grid view of notes
Customized label
Pros
Completely free
Simple to-do list management
OCR and voice command support.
User-friendly interface
Flexible typing and drawing features
Cons
Built-in calendar view is not available
Too simple for managing advanced tasks
No time tracking
Lack of collaboration tools
No recurring dates or due dates
Habitica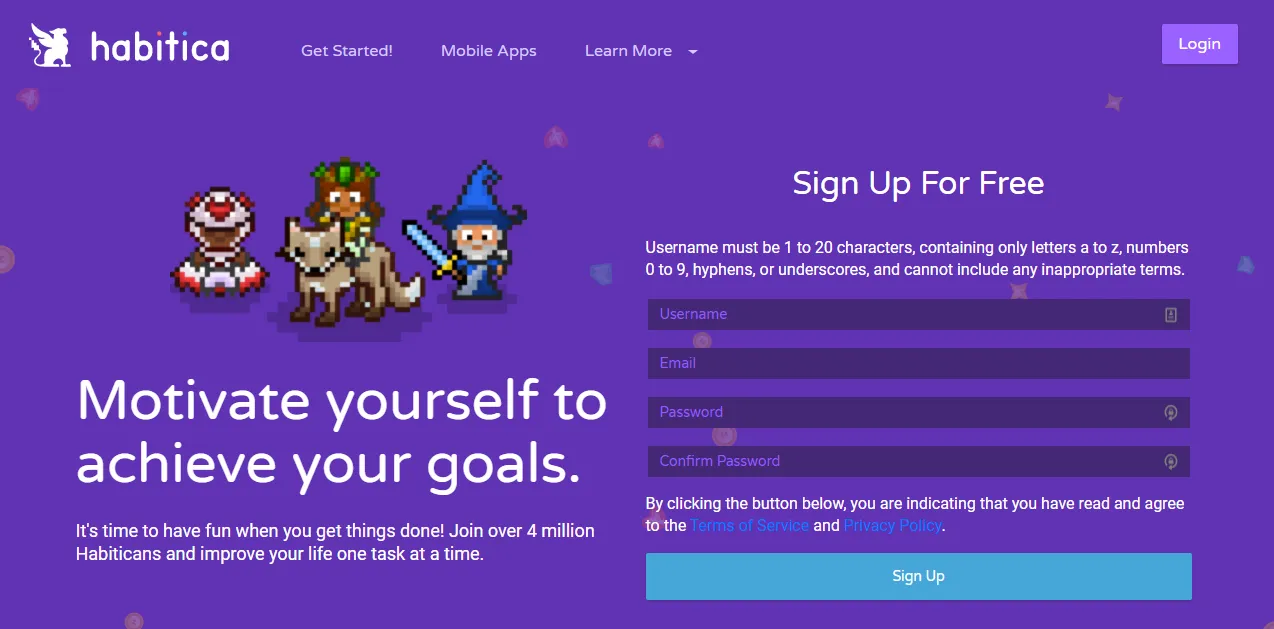 Habitica is perfect for gamers. It uses game-design principles to motivate you to accomplish tasks, and it works quite well.
It allows you to create, add and manage your tasks, habits, and daily activities by making task management more enjoyable.
Additionally, you have a character who gains levels when you complete tasks and suffers damage when you don't get things done.
The more tasks you complete, the more quests and options you unlock. You can buy offline rewards by earning in-game currency.
Habitica is worth a try if motivation is your issue. But it is not the most suitable tool for managing long-term projects.
Price
Free Plan
Paid plan: $4.99 per month
Available On
Web, Android, iOS
Features
Track and manage daily goals, to-do lists, and habits
Adding, Editing & Reordering Tasks
Task completion rewards
Personalize Habitica based on your goals
Share tasks with others for extra motivation
Filter tasks according to tags and due dates
Task reminders to stay up-to-date
Online chat
Levels for tracking progress and moving forward
Pros
Attractive user interface and easy to use
Game-design principles to motivate
Cons
Provides fewer features for complex task management
Native time tracking is not available
Conclusion
With a to-do list app, you can track what you need to do and schedule when you should do it. You can manage your tasks easily by using to-do list apps.
Here are the top picks for the best to-do list apps. From the list, pick the best to-do list app that best suits your needs and make your task management simple and easy.
The best To-do list app will help you become more productive, and you can achieve all your dreams.
For more interesting blogs, subscribe to the TimeTracko blog.