Best Productivity Apps for Windows
Best Productivity Apps for Windows
Productivity apps help employees work more efficiently, regardless of whether they are in the office or working from home.
Here we have listed the best productivity apps for Windows on the market. The categories of apps we chose would help people work more efficiently and faster than those they would utilize primarily to do their job.
We examined the most popular options across multiple productivity categories, testing their ease of use and compatibility with Windows 10/11 (whether traditional desktop software or apps from the Windows App Store).
Windows and PC Management
Adapt your desktop to the way you prefer to work, enhance Windows by making simple adjustments and teach your computer to play nicely with other devices.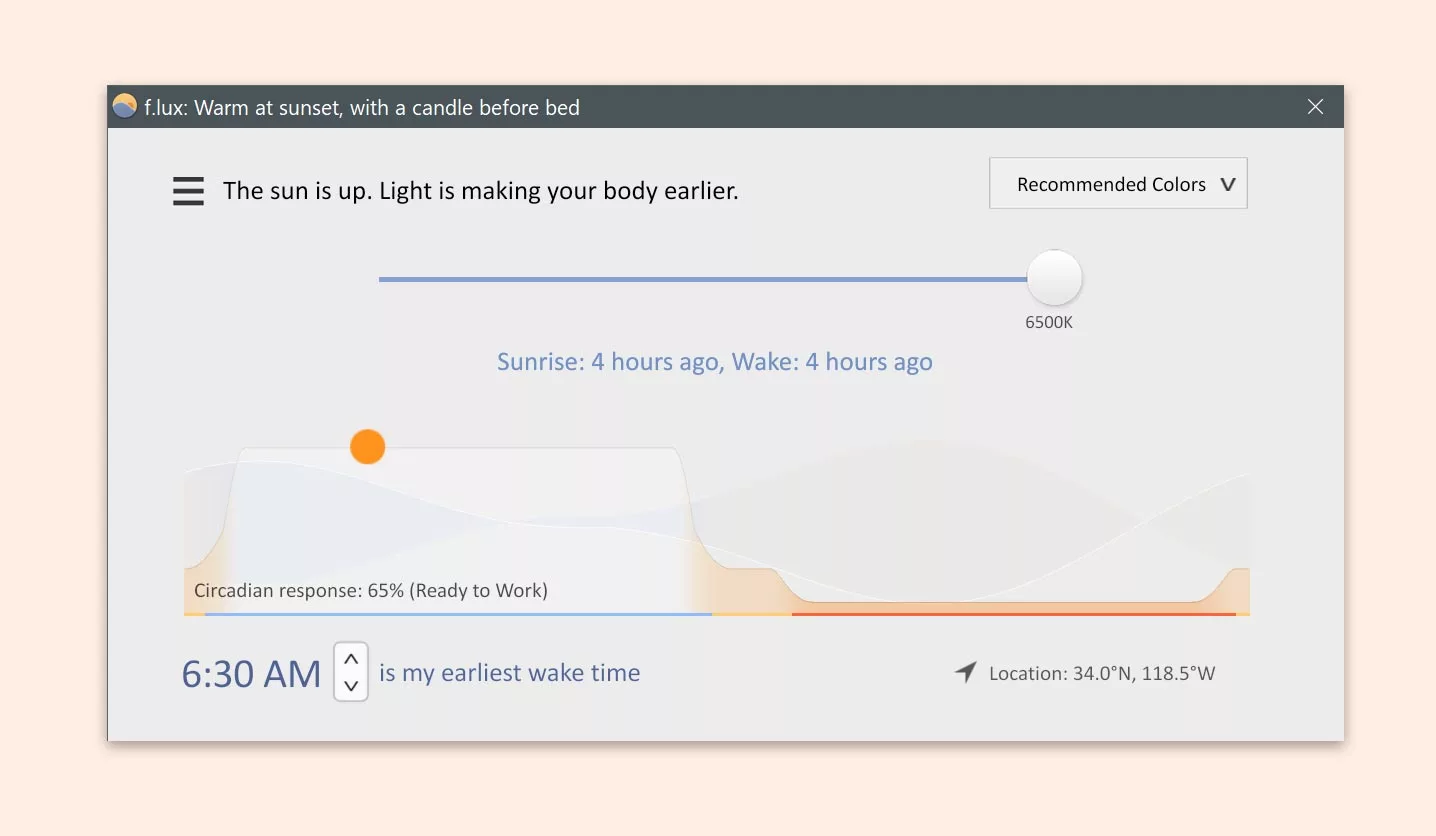 F.lux is a cross-platform program that adjusts the color temperature of a display based on location and time of day, thereby providing an eye-friendly convenience.
This program reduces eye strain during nighttime use, thereby helping to reduce sleep disruption.
There is no doubt that screens disturb the quality of our sleep. Working late at night on your computer can affect your productivity the next day and overall health.
Thankfully, F.lux is here to help. Enter your location and workspace lighting, and the tool will adjust your monitor's color according to the time of day.
During the day, your screen will be bright, but as the sun sets, it will turn into a warmer, dimmer light.
Color settings can also be adjusted for various circumstances, such as reducing eye strain (tints your display both day and night) or enhancing color accuracy (smaller adjustments). Additionally, F.lux is available on Mac, Linux, iOS, and Android.
F.lux Pricing of F.lux:
Free for personal use; corporate license for company-wide usage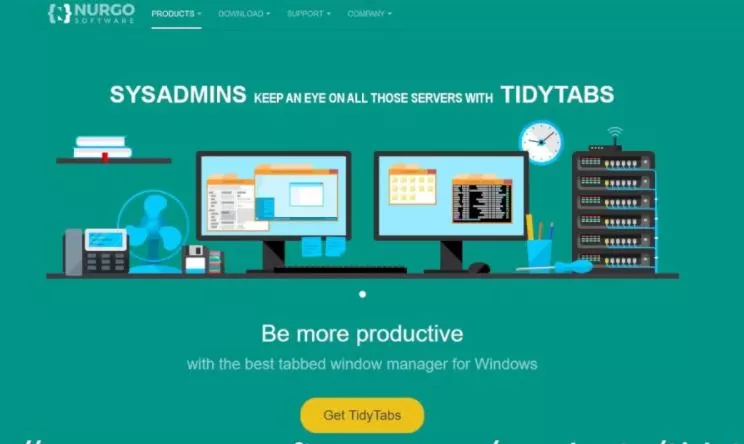 The TidyTabs tool lets you browse through all your programs using tabs. TidyTabs provide tabbed interfaces for every window.
Have you ever wanted to have tabs in Windows Explorer, Microsoft Office, or PuTTY like in Chrome? TidyTabs does exactly that.
It combines nicely with the OS, and you will feel like the multi-tab functionality is a central part of Windows.
Due to their draggable tabs, your windows can now be arranged into logically related groups. Group tabs by dragging them onto one another.
You can remove tabs from a group and insert them into another group. The windows of different applications can even be grouped!
TidyTabs was designed to work well with AquaSnap. Tabbed groups generated with TidyTabs can smoothly be snapped, docked, and tiled thanks to AquaSnap. Both tools can significantly boost your productivity and are extremely complementary.
Pricing of TidyTabs:
Free for personal use
$29 for 1 license/computer
$899 for 1 license/site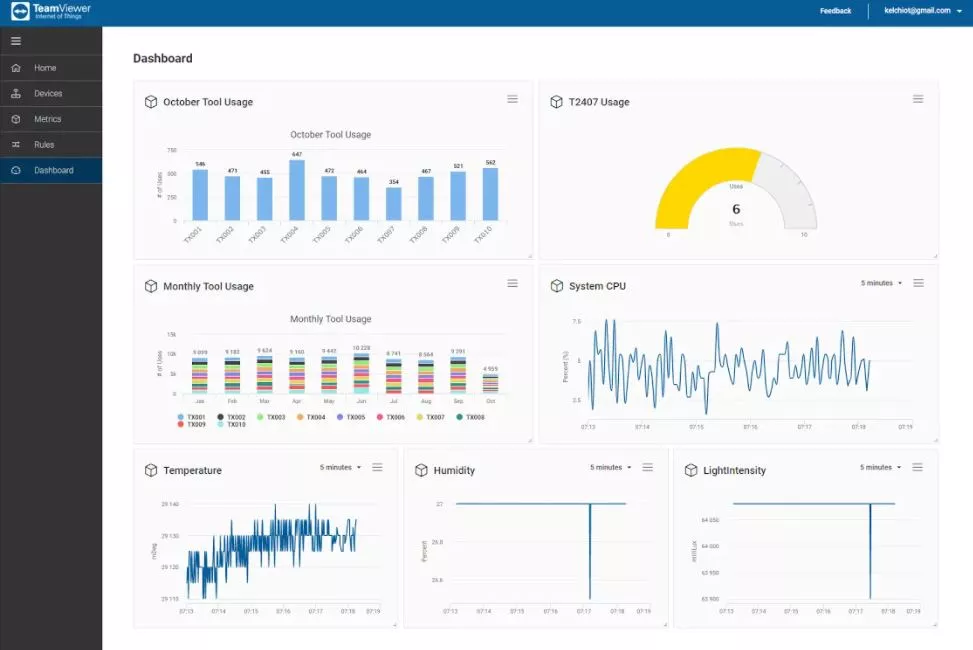 TeamViewer Remote Connectivity Cloud Platform provides secure remote access to any device across platforms at any time, anywhere.
The TeamViewer global access network lets users connect their computers, smartphones, servers, IoT devices, and everything else with fast, high-performance connections, even from outer space or low-bandwidth environments.
With countless use cases and pre-built integration with popular IT and business applications, TeamViewer's remote access and support platform is the foundation of a suite of software solutions.
TeamViewer is one of the most popular remote access software options for PCs, Macs, and Linux, and it is free for personal use.
Once you install TeamViewer on a computer, you can connect to it and control it remotely from another computer or mobile device from anywhere in the world. If you need to troubleshoot your parents' computer, log in to their PC and help them out.
You can also share your desktop with others to show them a demo. You can also retrieve files while on the road by connecting to your home computer.
You can run a program on another computer in another room of your house without leaving your desk.
The TeamViewer software provides remote accessibility, screen-sharing, and online meetings. If you plan to use TeamViewer for work, you need a license.
Pricing of TeamViewer
$38.90/mo for a business license
$72.90/mo for a premium license
Note-Taking
One of the best ways to preserve your mental bandwidth is to get things out of your head and onto paper (or digital paper). You can do that with the software below.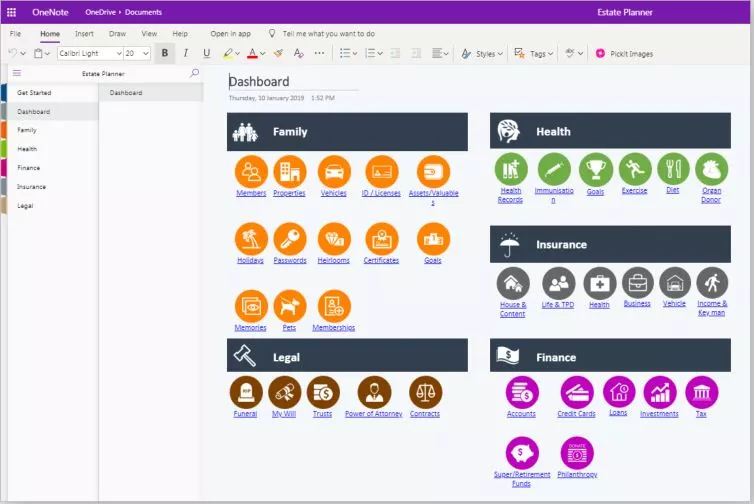 Microsoft OneNote is a note-taking program designed for the free-form gathering of information and multi-user collaboration.
The app allows users to add notes, drawings, screengrabs, and audio commentary. OneNote users can share notes over the Internet or a network.
OneNote is included in the Microsoft Office suite and is also available as a free app from the Microsoft website and the Windows 10/11, Mac, iOS, and Android app stores. OneNote's web-based version is also available as part of OneDrive and Office for the web.
OneNote is one of the most versatile and feature-rich note-taking apps on the market today. The interface mimics the look of real-world notebooks and binders, so you can keep separate notes about your work and personal life or keep notes about various clients or topics.
Each notebook organizes your notes via colourful tabbed sections and groups notes into stacks.
Beyond its organization features, OneNote also lets you create handwritten or drawn notes; tags can be added anywhere on the page; text, tables, and images can be placed anywhere on the page for true flexibility. It works just like writing on paper but includes search, tagging, and other smart features.
OneNote is available as a free Windows 10/11 app and mobile and web apps. You should use OneNote as your primary note-taking app if you have a Windows desktop or tablet that supports stylus input.
Pricing of OneNote:
free to download and free for all users

The Sticky Notes application is included in Windows 7, Windows 8, Windows 10, and Windows 11. User notes can be taken quickly using post-it note-like windows on the desktop.
You will often have to jot down information throughout the day, like a phone number, an offer code, or takeout order information, that you don't want to clutter up your more important notebooks with. This is where Sticky Notes come in.
As a bonus, the Microsoft Windows 10/11 app can save trees and trips to the office supply store while providing intelligent features such as Cortana Reminders for notes with a date and time or maps for addresses added to notes.
Additionally, it supports handwriting and typing. This is an intuitive and smart digital scratchpad that's easy to use.
Pricing of Microsoft Sticky Notes:
With Notepad++, you can edit text and source code in Windows. The program supports tabbed editing, which allows you to work with multiple open files at once. The name of the project comes from the C increment operator.
Notepad++ is a source code editor that features syntax highlighting, code folding, and limited automatic code completion, not intelligent code completion or syntax checking.
Thus, it may highlight codes written in a supported schema, but whether the syntax is internally sound or compilable cannot be guaranteed.
Additionally, Notepad++ has features that improve plain text editing in general, such as:
Autosave
Using regular expressions to find and replace text strings
Guided indentation
Line bookmarking
Macros
Simultaneous editing
Split-screen editing and synchronized scrolling
Operation on line data, including sorting, case conversion (uppercase, lowercase, camel case, sentence case), and removing redundant whitespace
Tabbed document interface
The note-taking app Notepad++ is the best option if you prefer plain text format, but you find Notepad too limited. With hundreds of tricks up its sleeve, it's a free alternative to Notepad.
There are several useful yet basic features, including tabbed interfaces, auto-saving, and collapsing or uncollapsing levels in an outline or structured document.
You can highlight syntax in writing code, use auto-completion suggestions, and edit multiple columns.
Pricing of Notepad++
Offers free version for all users
Productivity and Time Management
Distractions hamper productivity. Although it may sound straightforward, staying focused is tricky, with all the pings coming from Slack and social media sites enticing you to check the news. Thankfully, you have several options for staying motivated.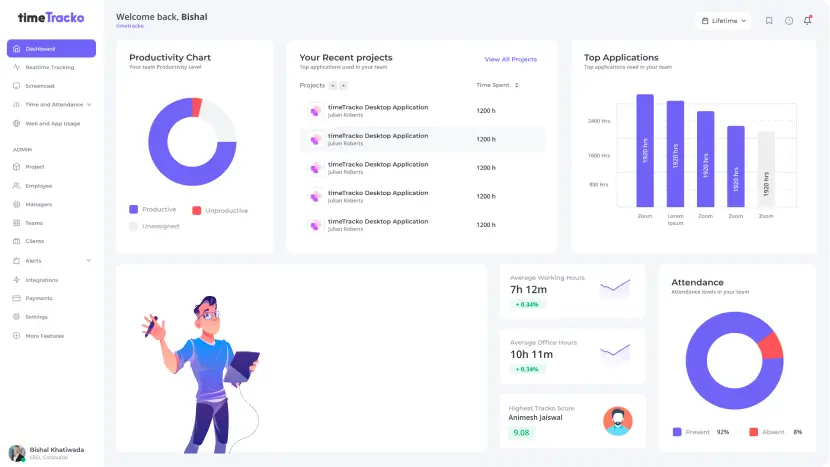 TimeTracko is a time tracking and project management tool for Freelancers and Distributed Teams. Team members can track their work hours and collaborate on projects. You can track an employee's choice using this software.
While working, employees can clock in and out using a timer, add time after completing their tasks, or use a timesheet.
The dashboard section of the application shows the progress of a team's work. After the work is finished, a report contains an accurate timesheet of who worked, when, and what.
Pricing of timeTracko
timeTracko is completely free. It offers:
Free plan with all premium features for unlimited users and no timeliness.
No credit cards required.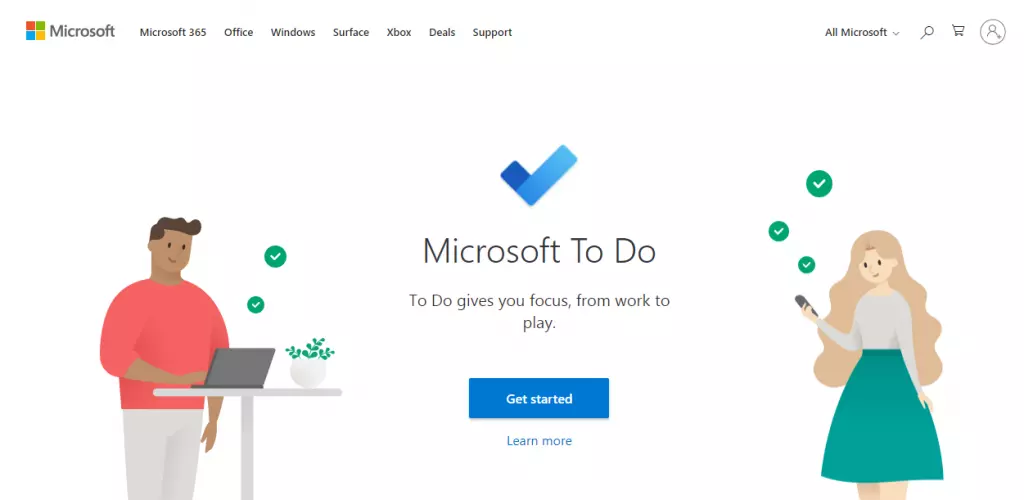 Microsoft To Do (previously referred to as Microsoft To-Do) is a cloud-based task management application offering task management features.
You can manage tasks from your smartphone, tablet, and desktop computer. Wunderlist, acquired by Microsoft, developed it, but the stand-alone apps are integrated into Outlook's existing Tasks feature.
You need a place to write down everything you have to do, but long lists can be overwhelming, not making you more productive. With Microsoft To-Do, you can keep track of all your tasks while prioritizing the most important tasks right now.
In addition to incorporating Wunderlist's best features, Microsoft has simplified the way the lists are viewed — for instance, by adding custom lists, subtasks, and sharing.
Microsoft To-Do doesn't have smart lists like Wunderlist (yet), but it does offer intelligent suggestions on what to do each day.
In addition, the unique My Day feature lets you see a limited list of tasks today and wipes clean the list the next morning, so you're fresh the next day.
You can use Microsoft To-Do on Windows, the web, iOS, and Android, so you can stay on top of your tasks wherever you are.
Pricing of Microsoft To-Do

The most popular office productivity suite is probably Microsoft Office, with the cloud-based Microsoft 365 being its latest incarnation.
Among the reasons Office became the leader was the ease with which different applications could cover data and transfer it between them, making work more efficient and convenient.
The main applications are Word, Excel, Powerpoint, and Outlook, which cover document creation, spreadsheets, presentations, and email – all essential office programs. Besides that, OneDrive offers online backup and storage services for keeping your files safe.
Despite the many alternatives to MS Office, most rivals try to catch up with Microsoft rather than provide innovative new features. Hence, MS Office remains the office suite with the most comprehensive features.
Even if you use one of these alternatives, chances are you'll be using MS Office document formats and handling data from customers and suppliers who use the Microsoft Office platform.
Pricing of Microsoft 365
Microsoft 365 offers a wide range of prices to users.
$3.00 user/month for Microsoft 365 Business Basic
$10.00 user/month for Microsoft 365 Business Standard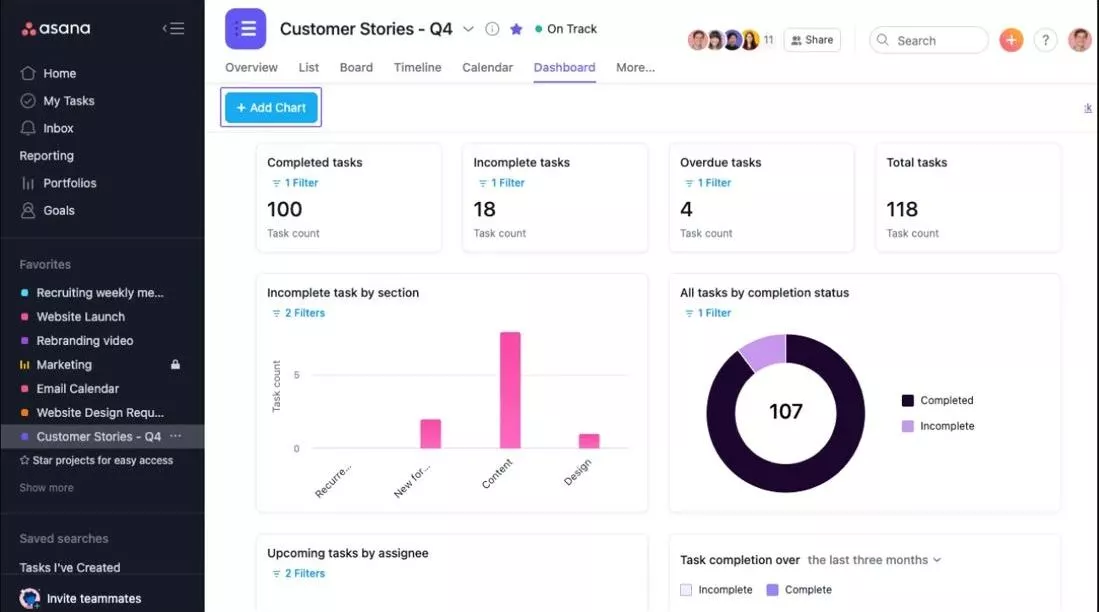 Asana company has been around since 2008 and is a veteran in the collaboration arena. Companies such as Intel, Uber, Pinterest, and TED are all using it as their primary method of communication.
This was designed to make it easier for companies to track employees' work and maximize the results.
You can create to-do lists for ongoing projects, receive reminders of upcoming deadlines, and send requests to co-workers using the platform. Additionally, team members can add comments to posts within the app.
It allows you to organize your projects into lists or boards, and your past work can be found quickly via a search function.
Asana is an excellent way to stay organized and communicate with co-workers about how work is coming along.
Pricing of Asana
$10.99 for a premium plan
$24.99 for a business plan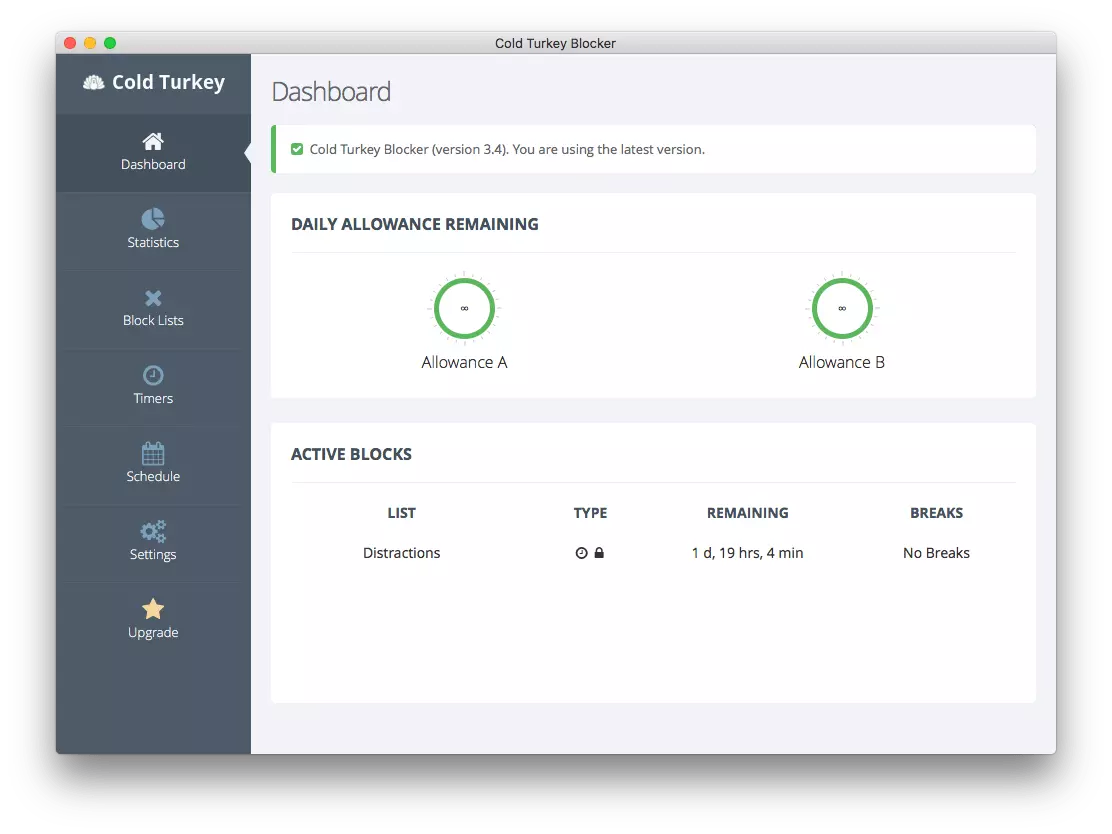 Cold Turkey application blocks distracting websites and apps, allowing you to regain your attention.
Rather than fighting your urge to watch another YouTube video or dive into Wikipedia, remove the temptation completely so that you can concentrate on your work.
Using Cold Turkey, you are in control by blocking access to any site or app on your block list.
It is even possible to block all internet connections or lock your computer for a time (which is great for those who have a hard time not working). It is possible to set how long a block lasts, schedule blocks, view statistics, and more.
You can block everything from specific websites and applications to the entire internet with a few exceptions. Do you want to schedule breaks from your computer? You can do that as well.
Pricing of Cold Turkey
$39.00 for unlimited usage
Conclusion
Hence we have focused on the main features of productivity apps for PC Management, Note Taking, Productivity, and Time Management.
Productivity tools will enable individuals to manage projects so that no matter where they are, they can remain in touch with their team and provide the latest information.
Management tools are also needed to track schedules and work within deadlines, such as time-tracking and task management.
Some tools can increase productivity and efficiency by facilitating complex tasks and making them easier to handle. For more interesting blogs, subscribe to the timeTracko blog.