6 Best SMS Apps for Small Businesses
6 Best SMS Apps for Small Businesses
One of the vital aspects to consider while running a business is communicating effectively. Employees, consumers, and suppliers are all stakeholders with whom businesses must communicate.
Companies can contact their critical stakeholders at any time, enhance their brand impression, increase sales, and optimize income with a practical communication approach.
Business texting is a popular way for individuals in the business sector to communicate. Text messaging software apps are used by businesses to send and receive text messages.
Because most customers use mobile phones, business SMS apps are at the top of the list when choosing the best communication method.
They can also use text messages to buy purchases, communicate with their customer service staff, provide feedback, make comments, and inquire about sales.
There are a variety of business SMS apps available, each with its own set of features.
On the other hand, most messaging apps can send and receive text messages, save contacts, automate processes, integrate with other business apps, and run on several platforms to satisfy the demands of diverse users.
What are SMS Apps for Small Businesses?
A business SMS app is a software that enables companies to communicate with several stakeholders. It's a tool that allows businesses to improve internal and external communication.
The best business SMS apps support communication between individuals as well as teams. It allows an organization to create, modify, delete and receive text messages. Everyone involved in the organization can get SMS via these apps.
What Makes Business SMS Apps Great?
SMS marketing is a vast industry, and there are thousands of applications to choose from. However, not all of them are suited for small businesses.
Small businesses can use these SMS apps for business marketing push and a personal relationship with customers. Great SMS apps for small businesses must have the following features to become the best.
Easy to Use
The first thing to examine is the ease of use. It's hardly worth paying for a text messaging program if it's challenging to use.
Look for text messaging applications or services with an essential user experience, clean and easy to comprehend.
Simply because an app offers more options does not imply better. It simply implies that you and your team will take longer to learn and implement.
Make sure that any app you choose allows you to communicate with consumers more effectively.
True Two-Way Texting Capability
Always search for applications with two-way texting so you can have a normal text chat with your consumers if necessary.
Many of them still allow you to automate replies and collect survey data, but they aren't entirely hands-off platforms. Additionally, some chat SDKs offer true two-way texting capability, allowing you to engage in real-time text conversations with your customers, providing a more interactive and personalized chat experience.
Able to Integrate with Other Apps
It is necessary to integrate with other apps and services. Natively integrated apps and platforms generally perform better in functionality and data storage. They're also usually more user-friendly.
For example, if your company or organization uses QuickBooks Online, you may desire a natively integrated business text messaging software.
Must be Affordable with Low Volume Requirements
Pricing is essential when sending SMS messages to your consumers. All of the SMS services on this list had to be cost-effective for small businesses.
There must not be expensive monthly fees or significant volume requirements. Instead, all services are either pay-as-you-go or offer monthly subscriptions with minimal volume and cheap fees.
Saves Text Messages as Templates
It is a time-saving power move to save the regularly sending text messages. It is a more advanced feature that isn't available in all texting apps.
You can store the text as a templated message to save entering the same message again and over. This feature is ideal for pre-written messages and quick answers to frequently requested topics.
6 Best SMS Apps for Small Businesses
TextMagic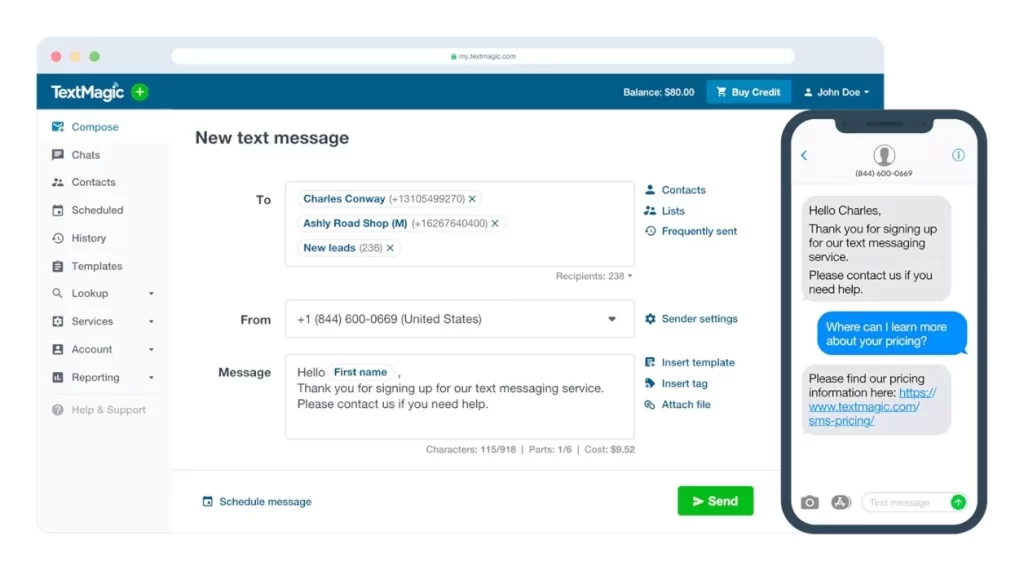 TextMagic is a large SMS service that serves businesses. TextMagic is a text messaging service that allows businesses to send alerts, notifications, confirmations, reminders, and SMS marketing campaigns.
A full-featured business SMS platform lets companies deliver precise and brief messages to their customers, workers, and partners. TextMagic is a safe, efficient, and cost-effective SMS text messaging service.
It includes contact management features for creating lists, a message scheduler, templates for repeating messages, app integration, and iOS and Android apps for sending and receiving texts quickly.
Features of TextMagic
Some of the exciting features of Textmagic are as follows:
Online text sending
Converting email to SMS
SMA gateway API
Two-way SMS chat
Online SMS
SMS distribution lists
Global SMS coverage
Integrations with Android and iOS.
Languages and Unicode SMS
Benefits of TextMagic
It is easy to use.
It makes SMS text messaging more efficient, cost-effective, and secure.
Through their TextMagic account, businesses can manage lists and import contacts.
It offers you to send text messages from your email by simply converting them to a text message and delivering it together with all the responses.
Drawbacks of TextMagic
For advanced marketing campaigns, its features cut short.
Confusing when to use different numbers.
Pricing of TextMagic
It costs $0.04/text.
Dedicated virtual number costs $4/month.
Availability: Web-based, Android, iPhone, Linux, and Windows.
SimpleTexting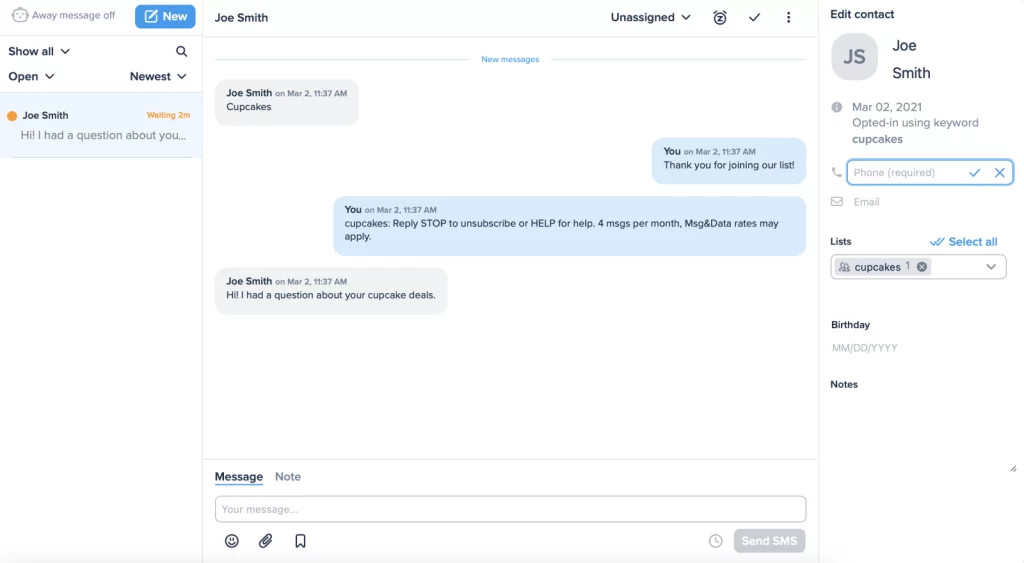 SimpleTexting is a versatile text messaging solution that can be used by businesses of all sizes and in various sectors. It has a user-friendly dashboard with various features, such as segmentation and analytics.
It is simple to use, has many valuable features, and provides comprehensive, cost-effective solutions for organizations of all sizes.
It is a cloud-based platform for one-on-one business texting and bulk text messaging campaigns. A 6-digit short code, an available 10-digit phone number, or a new local number can all be used to send and receive messages on the platform.
Another user-friendly SMS marketing platform includes shortcode messaging and integrations with Mailchimp and Zapier. Send your first promotional message, go to 'Campaigns' from the main screen and choose 'New campaign.'
Features of SimpleTexting
Some of the best features of SimpleTexting are as follows:
Custom auto response.
Scheduling of future messages.
It offers lead-capture forms.
Audience targeted keywords.
Customer support.
Mobile application.
MMS picturing.
Benefits of SimpleTexting
It is faster than phone calls.
Better open rate than email.
It offers an effective way of communication between team members.
Simple with the best user interface.
Drawbacks of SimpleTexting
Not effective tracking.
The mobile app doesn't look promising.
Pricing of SimpleTexting
The cost of your SimpleTexting plan is determined by how many credits you need each month. Here are the pricing plans.
500 credits = $25 per month
1,000 credits = $45 per month
2,000 credits = $75 per month
3,000 credits = $95 per month
7,500 credits = $145 per month
25,000 credits = $375 per month
50,000 credits = $625 per month
Availability: Windows, Mac, Web Browser, Android, iOS
EZ Texting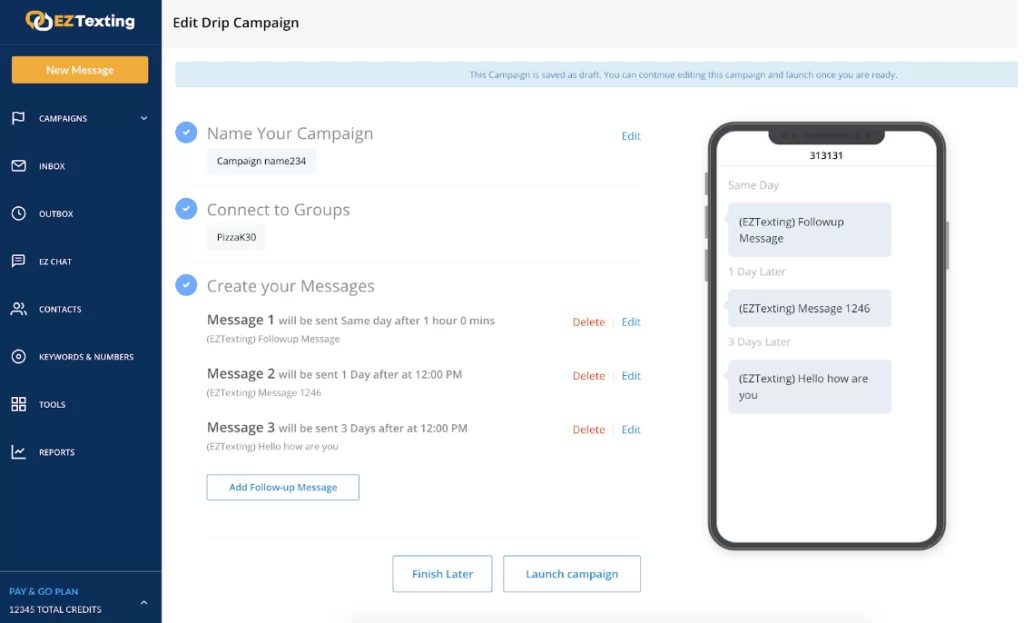 EZ Texting is a simple, easy-to-use, customizable software that allows fast, fun, and affordable to build a custom SMS marketing campaign.
It is low-cost, simple software that makes launching a custom SMS marketing campaign simple, enjoyable, and affordable. Bulk SMS campaigns can also be sent to your marketing team with EZ Texting.
EZ Texting's significant features include advanced texting, image messaging, specialized short code services, contact list building, and on-the-go messaging.
You can text your customers in groups or one-on-one; from the Campaigns tab, you can set up various marketing campaigns; from the Keywords & Numbers page, you can define a signup keyword; and from the Reporting tab, you can examine those reports.
Features of EZ Texting
Some of the best features of EZ Texting are as follows:
Text-to-landline.
Creation of contact list.
Reporting and analytics.
Integrations
Engage your audiences.
Message templates
Easy customization.
On-the-go messaging.
Dedicated short code services
Benefits of EZ Texting
It is easy to use.
Enhance your communications with videos, images, or text
Text forwarding, drip campaigns, and recurring messages are all possible.
Meet deadlines and schedule appointments with your connections.
It notifies automatically after changes.
Coordinate logistic processes.
Drawbacks of EZ Texting
Each account can only have one company.
Out-of-box integrations.
Pricing of EZ Texting
It offers four different pricing plans:
Value: It costs $19/month OR $228 billed annually.
Essentials: It costs $29/month OR $348 billed annually.
Premium: It costs $49/month OR $588 billed annually.
Custom: It costs $299/month OR $3588 billed annually.
Availability: Mac, Web Browser, Windows.
Textline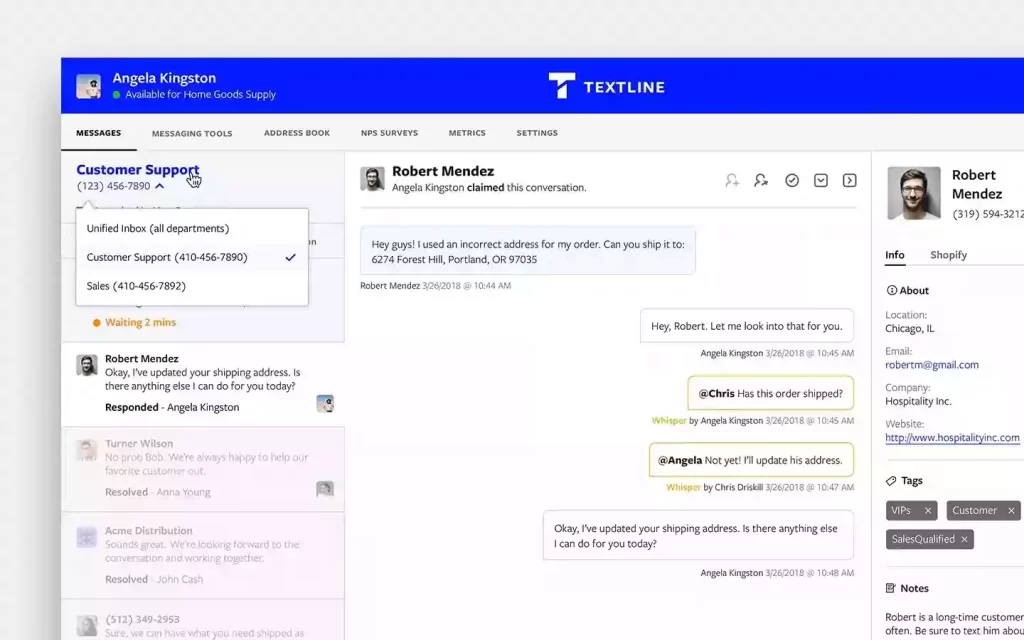 Textline is a web-based tool that allows your company or organization to send text messages to consumers.
It allows your whole team to communicate with consumers using SMS rather than Short Codes. Your consumers will not need to download an app; instead, they will be able to text your business using your dedicated Textline phone number.
It is a mobile-friendly online software that allows your consumers to send and receive text messages across different devices.
Attachments, emojis, whispers, claims or transfers, reminders, and the power tools are the primary features of Textline.
Features of Textline
Some of the best features of Textline are as follows:
Customer support workflow
Emojis
Team collaboration
Attachments
Respond from anywhere
Claiming/Transfers
Process automation
Reminders
Shortcuts
Schedule messages
Autoresponder
Benefits of Textline
It allows communicating with customers with SMS, not shortcodes.
Provides a responsive web app that allows your consumers to send and receive text messages on multiple devices.
It allows internal chat discussion within the chat flow.
Allows sending forms, documents, and forms to your clients fast and simply from your PC to their phones.
Drawbacks of Textline
It has a problem with screen rendering.
Pricing is high.
Pricing of Textline
It offers three different pricing plans.
Limited: It costs $59.97/month (3 agents included).
Standard: It costs $89.97/month (10 agents included).
Pro: It costs $249.95/month (50 agents included).
Availability: Android, iOS
TextUs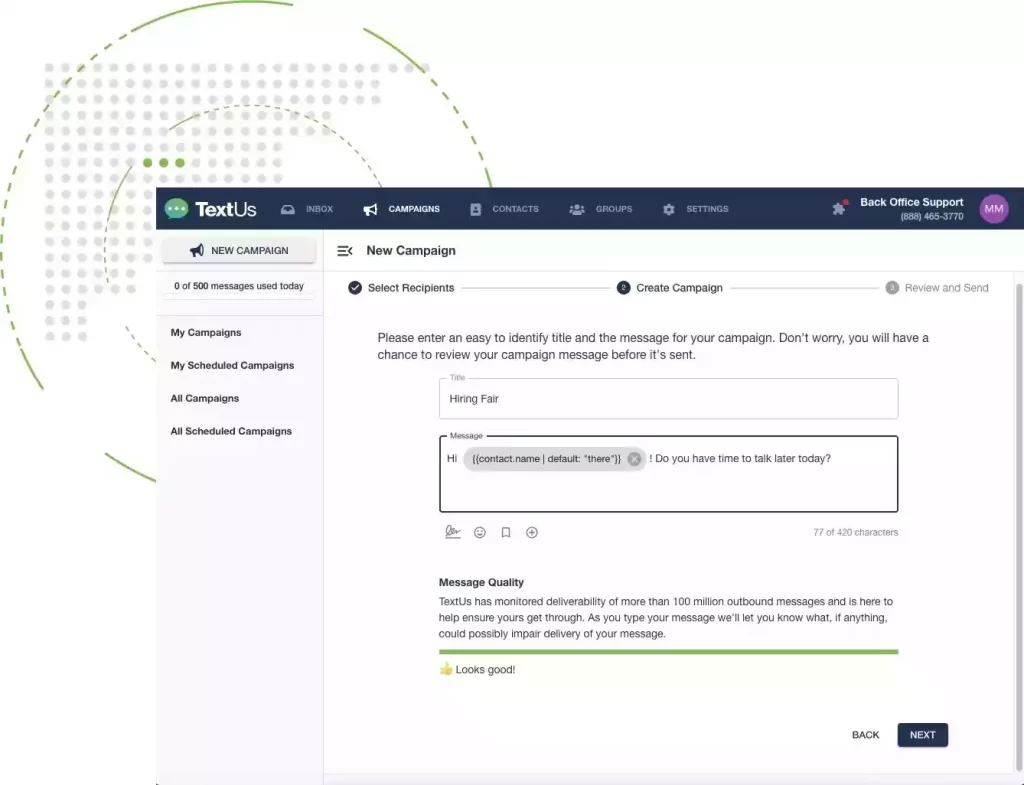 TextUs is an enterprise texting service that enables organizations to engage with customers and workers at scale, with response rates 10x higher than email and phone.
It is a messaging application for businesses. It allows you to text from your computer, manage your messages, and cost-effectively integrate texting into your CRM workflow.
Using message templates, response-rate analytics, and A/B testing, TextUs allows you to take control of your business texting results. It has superficial characteristics that allow you to communicate more quickly and close more deals.
TextUs allows you to send group broadcasts since they have an excellent platform for creating many groups.
Features of TextUs
The feature offered by TextUs are as follows:
Message templates
Upload of contact spreadsheet
Autoreply
Conversation claiming
Messages scheduling
Emojis
Message delivery status
SMS to email forwarding
MMS
Conversation flagging
Signature
Notifications of incoming messages
Personalization merge fields
Benefits of TextUs
It is easy to use.
It provides good performance and good customer support.
It sends a group broadcast.
It converts broadcast messages to one-on-one conversations
It creates contacts by dragging and dropping spreadsheets
It syncs contacts and tracks your inbound and outbound communication.
Drawbacks of TextUs
An extension is slow.
The character limit is too small.
Pricing of TextUs
It offers two different pricing plans, which are:
Standard Team Plan: It costs $250/month.
High Volume Messaging: It has custom pricing. So, contact the vendor for more detail.
Availability: Web Browser for Windows & Mac
Pony Express HQ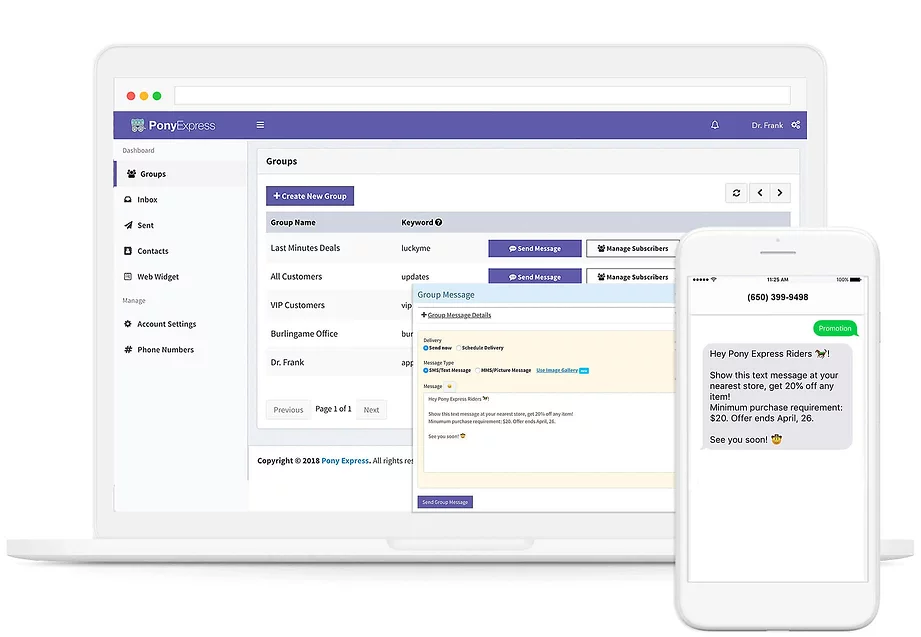 Pony Express HQ is a text message marketing tool that enables small businesses, clubs, non-profit organizations, dispensaries, and communities to send and receive messages.
Pony Express HQ allows businesses, organizations, and communities to communicate with many customers and members by sending and receiving SMS text messages and MMS graphic pictures online.
It was developed for non-technical teams with no training required or no coding. It makes messaging-based marketing inexpensive and accessible to small businesses.
It assists small business owners in reaching out to consumers across multiple messaging channels cost-effectively and straightforwardly.
Small business owners can collect permission to send text messages, manage marketing campaigns across various messaging platforms from a single unified interface, track engagement, and segment users using basic CRM features.
Features of Pony Express HQ
Some of the exciting features of Pony Express HQ are as follows:
Two-way communication.
Message templates.
Call forwarding
URL link tracking
Group SMS
Contact syncing
MMS
Scheduling
Integrated forms and customization.
Benefits of Pony Express HQ
It helps users to send and receive thousands of messages quickly.
It is easy to use.
It enables message forwarding to personal phones.
It helps to establish unlimited keywords.
It provides self-guided service.
Drawbacks of Pony Express HQ
The online format isn't user-friendly.
Pricing of Pony express HQ
It offers different plans. Also, it provides a free trial. Following are the different
Pricing according to text credit.
250 MESSAGE CREDITS: $7
1,000 MESSAGE CREDITS: $22
2,000 MESSAGE CREDITS: $38
5,000 MESSAGE CREDITS: $85
10,000 MESSAGE CREDITS: $150
25,000 MESSAGE CREDITS: $320
100,000: $1,000
Availability: Web Browser, Desktop, iOS, Android
Conclusion
Texting for business has more significant potential than ever before. That implies you should start utilizing it straight away!
You've seen several excellent tools for getting your company's text messaging efforts off the ground. With our advice and the best SMS business apps, you'll be able to interact with your consumers like never before.
Do not forget to mention the best app that suits your business in the comment section below. Also, do not forget to subscribe to us for more exciting articles.