Differences Between Cloud and Self-Hosted Project Management Tools
Differences Between Cloud and Self-Hosted Project Management Tools
How do I choose between a self-hosted and cloud-based project management tool? You will need to decide whether an online or downloadable format of project management software is the best choice for you.
Here are some key features of each to make an informed decision. Each feature has its pros and cons based on your business operations.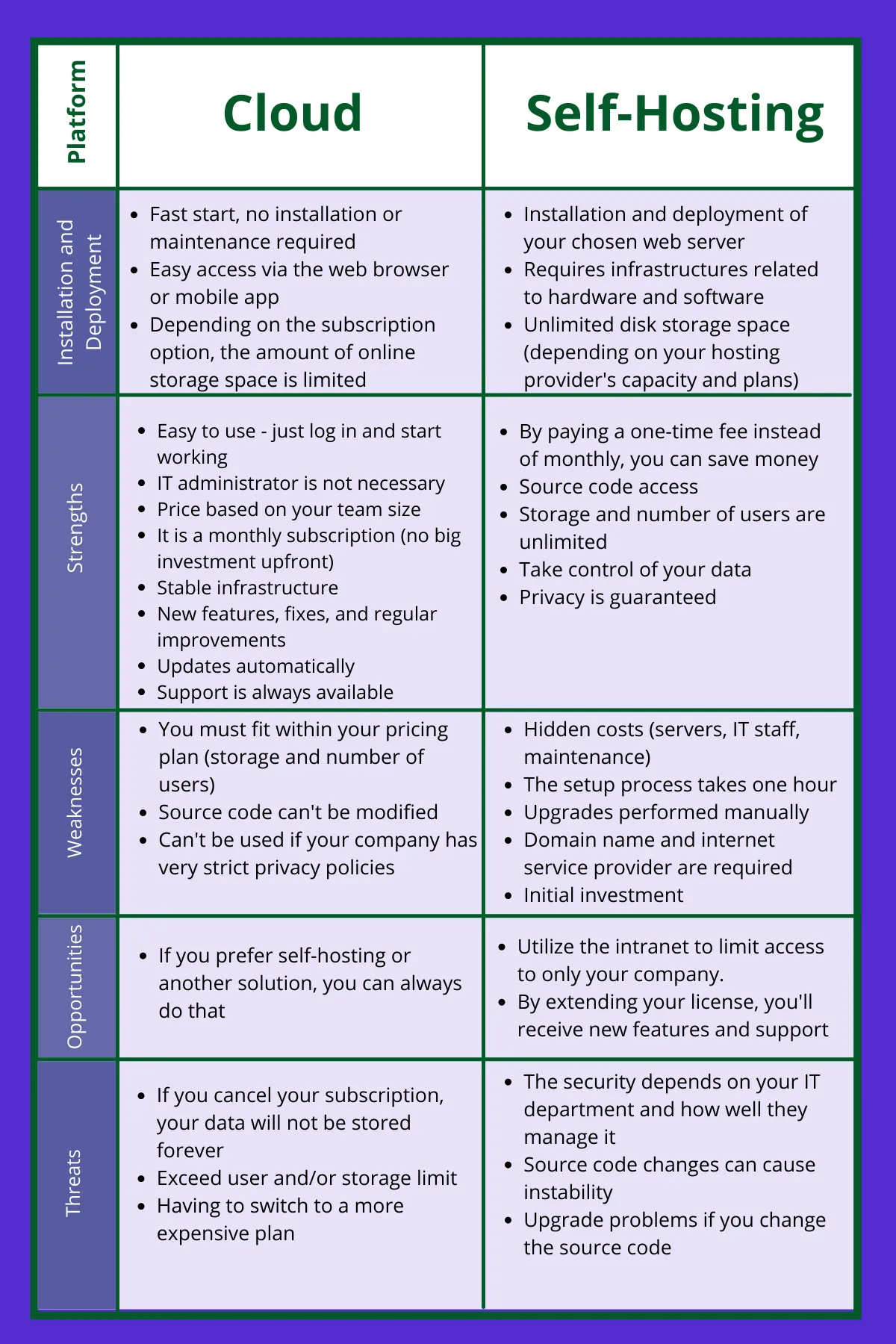 Cloud-Based Project Management
The cloud-based software for project management allows you to plan, collaborate, manage, and execute the team's projects.
Also, you can communicate through the internet with your team. By using a cloud system, you can access, modify, and manage all the files from anywhere in the world.
You can perform activities anywhere on the globe with cloud-based services. Additionally, it helps you manage your projects more efficiently and effectively.
Cloud computing is a system that instantly connects you with your team through a remote server.
A third party hosts a cloud-based project management system.
Therefore, maintenance will be less for you, and you won't have to worry about making room on your server for the project management system.
On the other hand, you won't have management control over system updates. Web-based project management apps automatically update, which can cause chaos when the user interface or features change and teams have to adjust.
Benefits of Cloud-Based Project Management
Cloud-based project management systems offer the following benefits: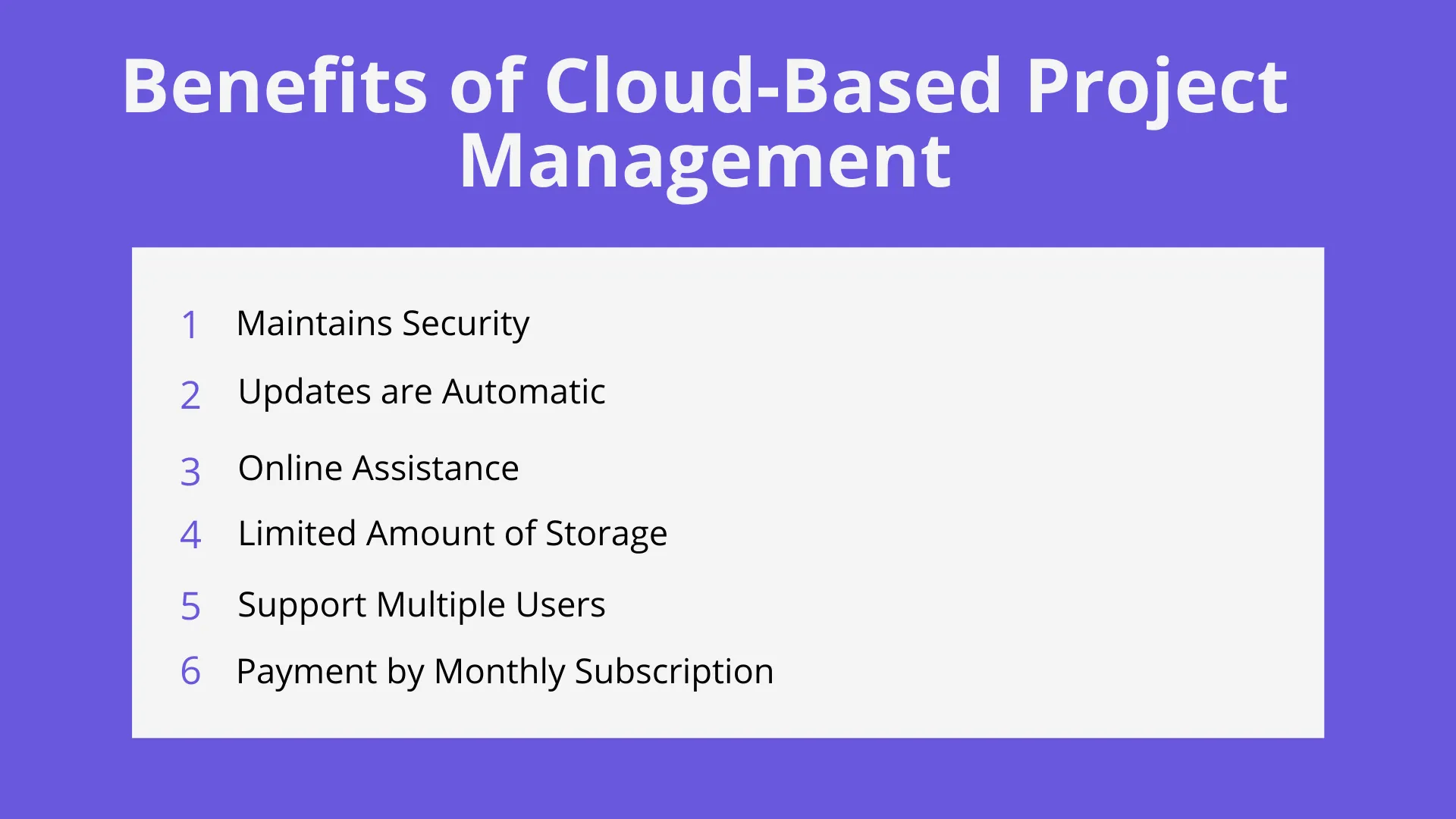 1. Maintains Security
Project management companies utilize cloud-based applications to ensure that sensitive business information is secure. There's no need to buy the latest spyware or assign someone to monitor security issues.
This can be a problem for some companies that handle sensitive or classified data. Theoretically, their data can be accessed by the project management system whose solutions and servers they use.
So if you are considering a cloud-based solution, but are concerned about security, be sure to find out which encryption they employ (if any) to ensure the security of your projects.
2. Updates are Automatic
Companies that provide online project management update their systems automatically for known bugs and upgrades.
Usually, these changes will be made behind the scenes without causing you any inconvenience. If you encounter any problems with the system, you'll be required to propose a change, which might not be implemented.
3. Online Assistance
Cloud-based project management solutions are advantageous if you don't know much about technology or don't have a dedicated IT department because they often provide online assistance.
You're never too far away from help, so you can get back to your tasks and projects rather than spending time figuring out how things work in your project management system.
4. Limited Amount of Storage
All cloud-based project management software companies provide you with online storage for your project.
It is usually sufficient for most companies to start with the initial package. If more storage is needed, these companies typically charge extra for additional storage.
5. Support Multiple Users
You can have multiple users on a cloud-based system. If you exceed a certain number of employees, those systems generally charge more. And if that's the case, you'll have to upgrade your monthly package and fee.
6. Payment by Monthly Subscription
Many cloud-based project management systems charge a monthly subscription fee, but most of these tools let you start for free.
Usually, the app will offer you several options based on the number of users and features you require.
Self-Hosted Project Management Software
A self-hosted software application is kept on your server. You can build self-hosted software with the help of a developer. To host a database, you need to hire a hosting company. Depending on your usage, the price of self-hosting may vary.
It is possible to customize and create flexibility for your software through self-hosted software through self-hosted software.
There are fewer restrictions, and you can create your layouts and designs. Additionally, you can choose from a variety of functionalities.
It can either be on your local system, which all users on the system can access, or on your company's private cloud servers.
Benefits of Self-Hosted Project Management Software
Self-Hosted Project Management Software offers the following benefits:
1. Self-Management
If you choose a self-managed project management system, you're in charge of maintaining it yourself.
Since it's on your server, you have more control over it. Plus, you won't have to worry about possible system updates or outages, and you'll get fast access.
This is not the best option for small businesses since you probably won't have an IT support team to assist you.
2. Keep your Information Secure
You or your company is responsible for providing security for these downloadable project management systems. The setup, bandwidth, and storage space, as well as the level of security, can all be customized.
A company with strict policies on data exposure and storage will benefit from this. You will, however, need to ensure sensitive information doesn't leak out of the project management system.
If you choose to host your apps yourself, you should adopt a security protocol.
3. You Need to Upgrade your System
You must update self-hosted systems. A lot of people have trouble with this. In addition, if something goes wrong during the update, your company's projects could be stopped for days.
4. Utilize Servers for Storage
Due to this self-hosted system running on your servers, you determine the storage size you require. You are not limited to what or how much you can store.
This is particularly useful if you work in a creative field with large design files.
5. Unlimited Number of Users
A downloadable version usually allows you to have as many users as you like. There may be some disadvantages if these users are outside vendors, contractors, or stakeholders.
You may not want everyone to have the same security clearance, so you should watch that yourself.
6. Higher Upfront Costs
If you choose a downloadable version, you will need to pay a larger upfront fee since it will be a one-time fee.
You might find this useful if your company prefers budget items to be accounted for all at once.
This could be a problem if you are a smaller company unable to afford the higher up-front cost. Unlike monthly fee plans, you cannot return or cancel your subscription once you purchase it.
Conclusion
Ultimately, one solution cannot suit all teams. In terms of their usefulness to customer companies, cloud-based and self-hosted project management tools are equally beneficial.
You should determine how your team can succeed before deciding which tool your team should use.
Subscribe to timeTracko blogs for more interesting blogs.