10 Features Every Employee Tracking Software Must Have
10 Features Every Employee Tracking Software Must Have
Businesses are increasingly turning to the latest and most robust employee tracking software to manage remote work and flexible schedules.
In addition to being critical for a fast-changing workforce, robust employee tracking software can also save time and money.
Some features are available in the latest employee tracking software, which can boost a company's bottom line in various ways. Employers must use timesheets to keep track of employee productivity.
Filling them can be tedious and lengthy, making them unattractive to employees. The goal is to avoid wasting valuable staff time chasing down employees and completing timesheets.
Is there a way to simplify and streamline the time tracking process? As the first innovation in time tracking, digital templates replaced physical timesheets.
Today, several employee tracking software is available in the app store to streamline the process.
What is Employee Tracking Software?
Using employee tracking software, you can plan, organize, schedule, and prioritize different tasks within your company.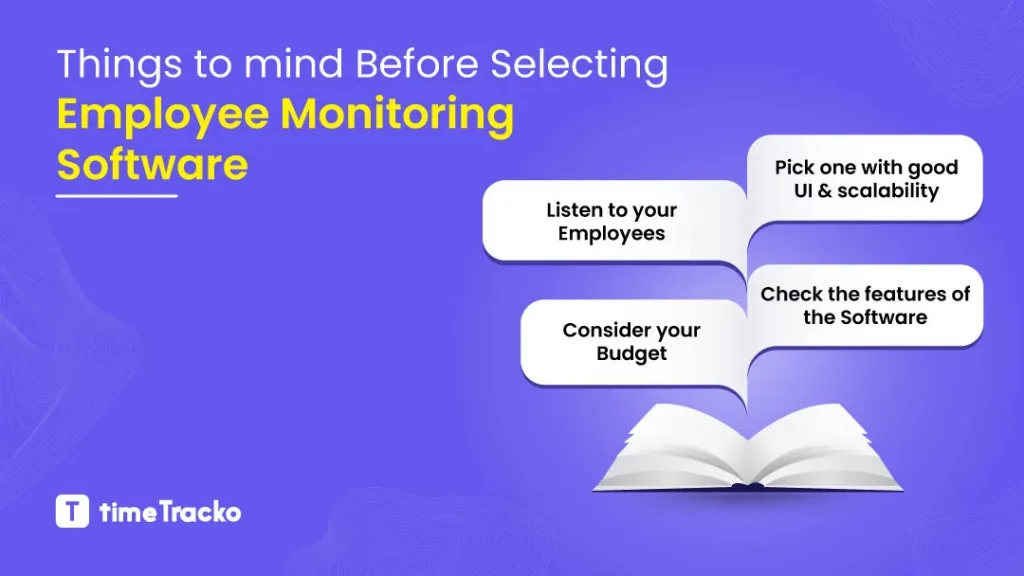 Employee tracking systems use technology-based software to collect employee performance at work.
The employee location tracking system combines hardware and software to track every move an employee makes.
The hardware tracking system records employee activities using video cameras, phones, or digital interactions.
Software monitoring can monitor various computer resources, including internet usage and login/logout times. Taking business forward is important; employee tracking helps monitor employees' activities.
Few ways to responsibly use employee Tracking software are shown in figure given below: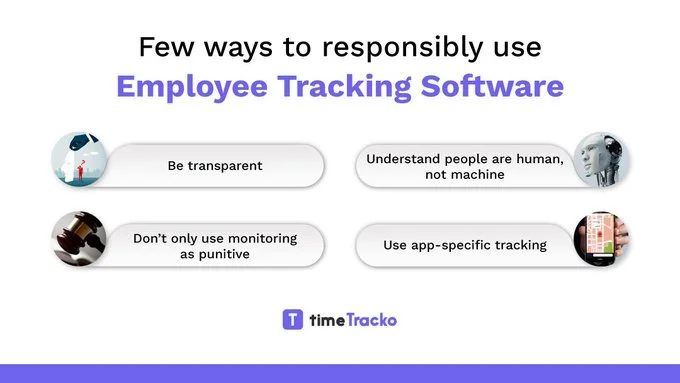 Top 10 Features Every Employee Tracking Software Should Have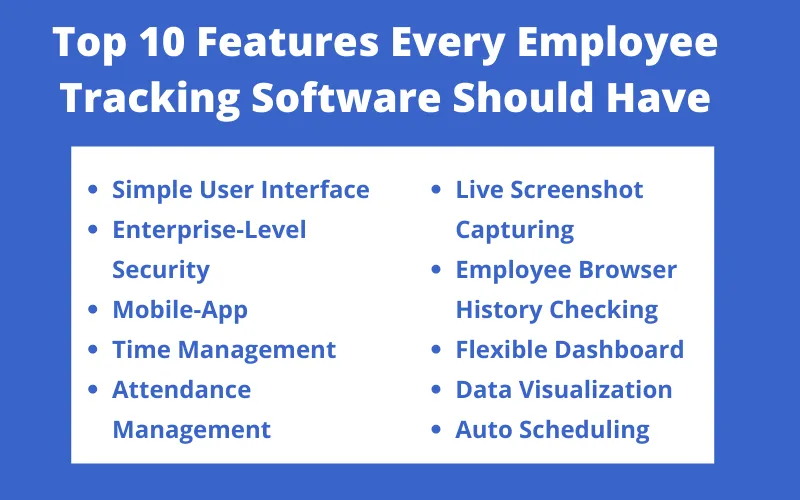 Simple User Interface
In terms of workforce management systems, usability should be the first thing to consider. The demands of consumers continue to rise as digital software develops.
Schedules for employees are no exception. Your system should be simple and enjoyable to use for hundreds, if not thousands, of employees.
Ensure that you have basic, user-friendly features such as automatic notifications, a workflow that integrates desktop and mobile, and easy task management.
Employees can also use drag-and-drop, copy templates, and save their shifts from improving their usability further.
Enterprise-Level Security
Trusting a new system with employee data concerns any business, especially confidential or financial information.
Workforce management systems, therefore, must be extremely secure. So, companies look for software that takes security seriously and promises to safeguard data for large enterprises.
The employee monitoring apps must offer increased security.
Mobile-App
Employers don't want their staff to use their phones at the office. However, employees should know that they must use mobile-friendly technology.
Mobile apps are handy and help employees work from anywhere at any time.
Deskless workers will especially benefit from this, as they may not have convenient access to the intranet or other systems.
A mobile app can make employers choose or let go of employee monitoring systems. It can affect motivation and engagement and also have an impact on employee productivity.
Time Management
Time management is crucial for workforce management. Organizations suffer more due to time theft by their employees.
So, they look for time tracking features in an employee tracking software. With a time tracking feature, they can easily manage shift work and reduce the cost due to time theft.
Attendance Management
Keeping attendance manually and making reports weekly and monthly can be troublesome in big companies with a lot of staff.
So, when companies look for employee tracking software, they'll look at whether it has an attendance management feature or not. Thus, attendance keeping is a must-have feature in employee monitoring software.
Managers can maintain a real-time view of staff per location when employees clock in and out. This monitoring feature saves a lot of their time and effort.
Live Screenshot Capturing
Monitoring employee progress and policy compliance with live screenshots is often considered the most reliable method.
Managers can easily access the data recorded by the best employee monitoring software by visiting online servers.
Employee Browser History Checking
Employers always want to access everything their employees open during their working hours. So, the employee browser history tracking function is preferred by many business organizations.
With this feature, employers can track which websites the employee visited, whether the website is productive or toxic.
Flexible Dashboard
A dashboard is a screen where you can see everything. A user-friendly dashboard attracts everyone.
Buyers will love the employee tracking software when it is easy to see and monitor everything, timesheets, balance sheets, productivity charts, attendance sheets, etc. Thus, a flexible dashboard is a must-have feature.
Data Visualization
However, time tracking data can be beneficial in many different situations. Additionally, it can be a massive amount of data, particularly when dealing with timesheets for multiple employees or employees working on multiple projects.
Whatever timesheet software you use, whether Google Sheets or Slack, you should be able to visualize data. This feature will prevent data loss and theft, a huge advantage for any business.
Auto Scheduling
The auto-scheduling feature is not common in many employee monitoring apps. However, automated and optimized scheduling is an extremely compelling feature to note.
Scheduling automatically frees up the management's time to do more value-added tasks. Team members' shifts can be matched to customer demand while enhancing employee satisfaction.
Advantages of Employee Monitoring Software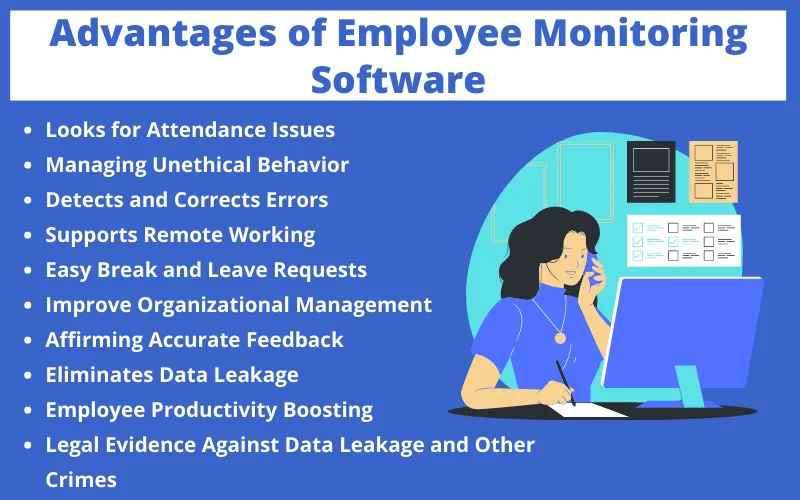 Looks for Attendance Issues
Tracking employee attendance is the main purpose of employee tracking software. Attendance depends on various factors: employee absences, start times, arrival times, leaves, break times, etc.
Additionally, hourly attendance is a very important aspect of analyzing employee performance.
Managing Unethical Behavior
It is not easy for managers to assemble a creative and hardworking team. Members of the team may not follow company rules. Thus, incompetent employees should be identified and fired before corrupting the rest of the staff.
By monitoring employees on the job, managers can get real-time notifications about their behavior and gauge their levels of engagement. With this process, the management can quickly discipline unethical employees.
Detects and Corrects Errors
Occasionally, people make mistakes, but they don't always realize it when they do. The supervisors' instructions are often misunderstood by employees when completing a job.
However, whether errors are deliberate or unintentional, business mistakes can still have drastic consequences.
Superiors must keep tabs on employees' work to avoid error detection. A monitoring program includes sending reminders, checking employee productivity, and staying on task.
Supports Remote Working
It is sometimes difficult to establish a proper workflow without direct supervision. Remote employees can easily be authenticated and held accountable when employers can track their performance and attendance with apps.
Having employees work remotely as if they were in the office is a win-win situation for the management. Remote employee tracking can be valuable in organizations with field staff. Having competent field workers like in-house employees is a key advantage for them.
Easy Break and Leave Requests
Maintaining a satisfying workplace requires employees to request time out promptly. No employee would like to go from one department to another to grant a leave request if they have an emergency at home.
Employee morale will also suffer. Employees' morale improves when companies introduce software that tracks their leave history and lets them request time off.
Improve Organizational Management
Management can't assess an employee's strengths and weaknesses. Management must closely observe employees in different situations to recognize employees' creativity, decision-making, and communication skills.
Managers can use employee tracking software to see who is more creative and is capable of handling a specific project. During a crisis, the company can use the strengths of multiple employees based on the data.
Affirming Accurate Feedback
Employee location tracking can provide managers with real-time, concrete, and accurate employee performance analysis.
Employees can receive the correct feedback when managers have real-time statistics about the employee, such as attendance, leaves, and finishes of projects.
Additionally, employees may not have many reasons for justifying their mistakes when automatic Excel reports are generated. When employees receive accurate feedback from industry experts, they can grow in their careers.
Eliminates Data Leakage
When employees start leaking critical information to others, it can irreparably damage their reputation.
Employees may become selfish at times and reveal the company's secrets to an outsider, or another company, for personal gain.
However, employees cannot send confidential information to outsiders. In a monitored workplace, employees' integrity and data security are safe.
Employee Productivity Boosting
It's no secret that employees waste less time and perform better when supervisors watch what they do.
The office gossip and personal tasks won't distract them. Since one person can oversee hundreds of employees, managers will have no idea where all employees are without employee tracking software.
Legal Evidence Against Data Leakage and Other Crimes
In a wage or salary dispute between management and employees, the monitored data can be used as evidence at trial.
Employee monitoring app supports employee cases if their attendance records are clear. Without them, it is impossible to pass a correct judgment.
Conclusion
Employee tracking software, simple or sophisticated, helps employees achieve a more favorable work-life balance.
In today's employee tracking apps, employees can get Pomodoro timers and Private Time options to ensure that the company does not track their actions.
Thus, it's not just that employee tracking software helps you monitor time, but it can also help your employees better manage it.