Best Remote Work Websites for Freelancers
Best Remote Work Websites for Freelancers
The concept of remote working started in 1980 before the Industrial Revolution. The concept of remote working has been popular since the 2000s'.
Recently more people have been interested in remote working due to a flexible schedule, less commute, work from anywhere, etc. Now more than half of the population in America are working remotely.
According to a study done by Stanford University, the productivity of remote employees is 13% more than onsite employees. Because of this reason, many companies are providing remote working options for their employees.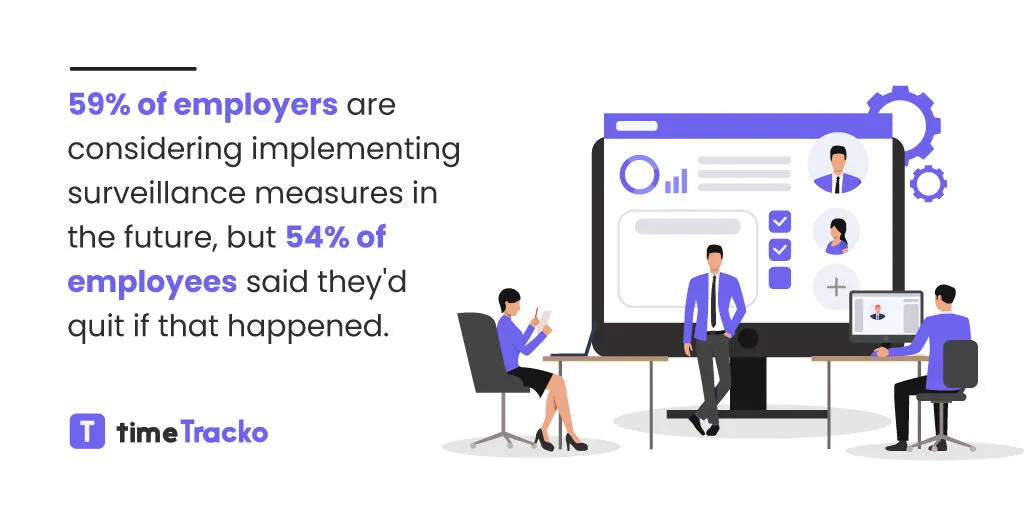 By providing remote working options, companies can hire employees from all around the world.
Companies can add their job vacancies/ employees requirement ads or other websites for freelancers and remote workers looking to find remote jobs.
Many websites allow freelancers and remote workers to find remote jobs and employers to post about employees' requirements. These websites help to connect freelancers and employers.
Remote Work Websites for Freelancers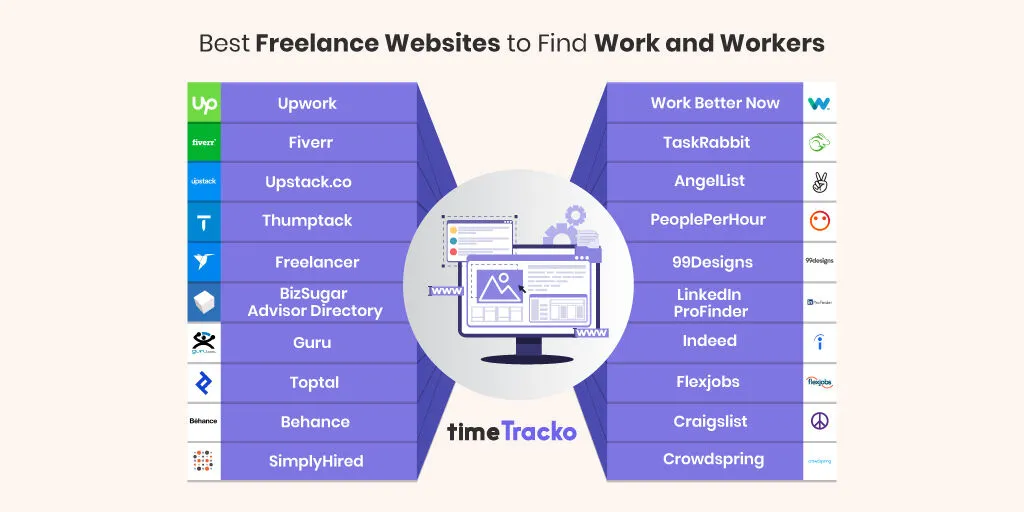 I have listed some of the best websites for freelancers that help them find a legit job without any scams.
timeTracko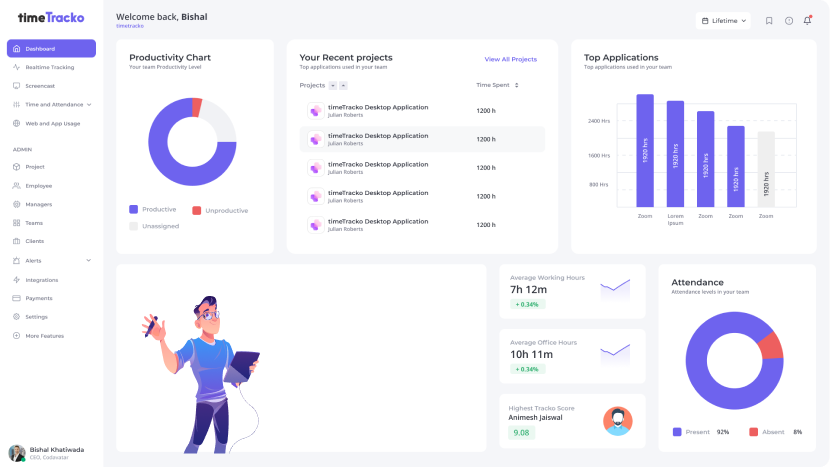 'timeTracko' is a web-based application designed to monitor one's productivity and time. This app promotes time management skills by tracking your time and productivity. It offers a very friendly and easy-to-use interface.
timeTracko lets you keep track of your freelancer's active and inactive hours. Their timer can be paused when they need it, and they can clock in and out using the app.
Pros of timeTracko
Monitors idle time and sends alerts.
Keep track of freelancers' clock-in and clock-out times.
Generate reports on productivity, attendance, and tasks status
Provide an overview of the freelancer's total working hours.
Pricing of timeTracko
timeTracko is completely free. It offers:
Free plan with all premium features for unlimited users and no timeliness.
No credit cards required.
Fiverr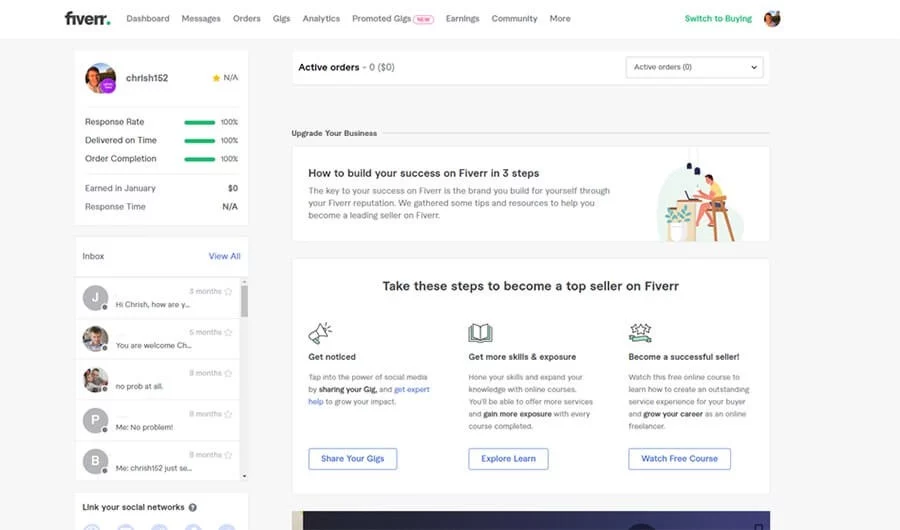 Fiverr is a website for freelancers that allows freelancers to provide service to customers all around the globe.
The website provides a platform for buyers and sellers of various digital services.
Fiverr works as a mediator between the service providers and service buyers. It ensures both parties are satisfied with the result. Here freelancers are the seller who sells their service to their clients, the buyer.
On this website, freelancers list services they can provide, and any interested clients can contact the freelancer and take service from them.
Once the freelancer completes the work given by the client, then Fiverr will pay the freelancer. Fiverr will take 20% of the transaction between buyer and seller.
Price of Service: The service price ranges from $5-$10000.
Pros
Buyers leave some tips for freelancers.
No need to bargain about the price of service.
Allow you to make some extra money.
Cons
The commission is a bit expensive.
Service price is low, i.e., it starts from $5.
FlexJobs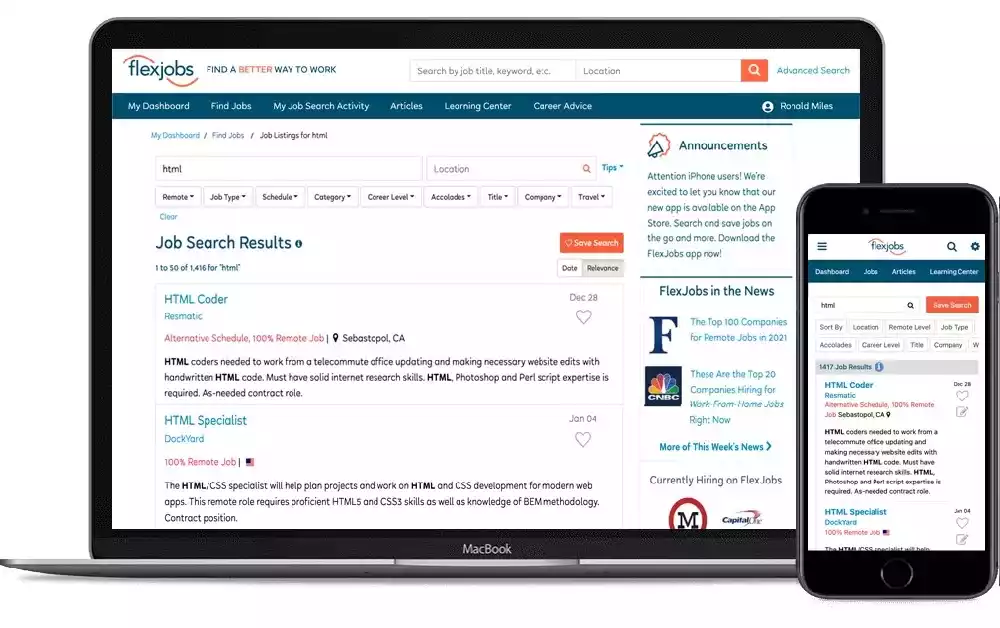 FlexJobs is a website that helps freelancers to find remote jobs/ work from home jobs. Flexjobs means flexible job, as the name suggests the website's service.
You can find both onsite jobs as well as remote jobs using Flexjobs. You can find jobs in more than 50 career fields, including hospitality, education, travel, etc.
As a freelancer, once you find a job using FlexJobs, you do not need to pay any percentage of your earnings to the website.
But you need to be a member of the website and pay some amount as a membership fee. However, you can end your subscription once you get the job.
Price of FlexJobs for employers
Good Value: It costs $299 per month.
Better Value: It costs $729 per quarter.
Best Value: It costs $2,699 per year.
Price of FlexJobs for Freelancers
Great To Try: It costs $6.95 per week.
Smart Value: It costs $14.95 per month.
Most Popular: It costs $29.95 per quarter.
Best Value: It costs $49.95 per year.
Pros
Zero scams.
It offers jobs in over 50 categories.
Refunds money within 30 days.
Cons
Some jobs might not have remote working options.
Detailed information about a job like its salary is not given.
Upwork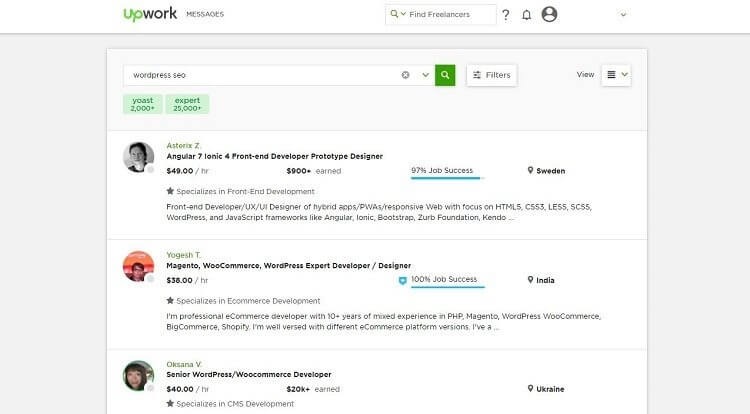 Upwork is a freelancing website that provides a platform to connect freelancers and service seekers. Using these websites, any minor or top business can hire freelancers worldwide.
You have to make a profile highlighting your skills and experience on this website. You can also set your payment option on your profile, making it easier for clients to choose their payment method.
When there is any new post by any client about any new job that matches your skill, you can send the client a proposal. In your proposal, you need to include an introductory letter, fee, and client queries.
One of the exciting things about this website is that it allows you to bid on the job.
Upwork charges some service fees based on the percentage of the earnings. Here is the service charge based on earnings:
| | |
| --- | --- |
| Earning Range | Service charge (in percentage) |
| Below $501 | 20% |
| $501- $10000 | 10% |
| Above $10000 | 5% |
Pros
An excellent platform for freelancers.
Allow you to set the rate.
Allow you to choose the payment method.
Cons
The service rate is relatively high.
You need to send a proposal which can be a lengthy process.
Guru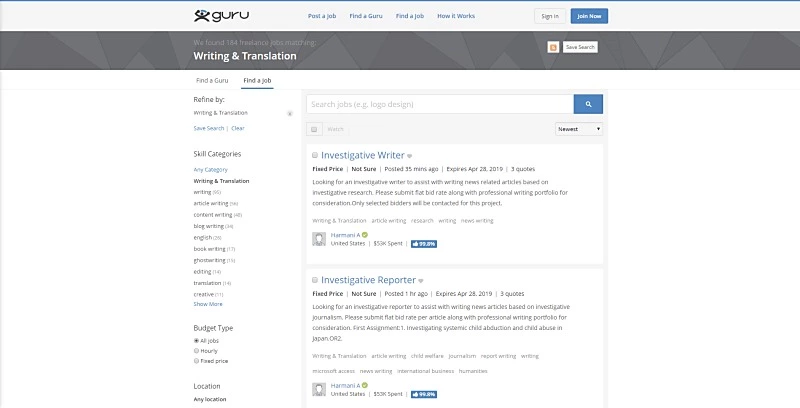 Guru is a freelancer website that works as a bridge between freelancers and service buyers. It helps job seekers to find jobs in their respective fields.
It offers jobs in 9 different categories, including programming and development, legal, business, finance, etc.
If you are an employer looking for someone to do some of your jobs, you can post the job and its description on the website.
Freelancers can send quotes to you, and you evaluate quotes and choose freelancers with the best quote.
One exciting tip of Guru is that you add freelancers to your favorite list if you like freelancing work. And whenever you need service again, you can directly contact the freelancer.
Membership plan of Guru for freelancers
Basic: It is free of cost.
Basic+: It costs $11.95 per month.
Professional: It costs $21.95 per month.
Business: It costs $33.95 per month.
Executive: It costs $49.95 per month.
Pros
Easy to use.
It provides multiple payment options.
Cons
The free plan provides few services.
WeWorkRemotely.com
WeWorkRemotely.com is one of the largest websites for connecting freelancers and job providers. This website of one who prefers to work remotely or work from home.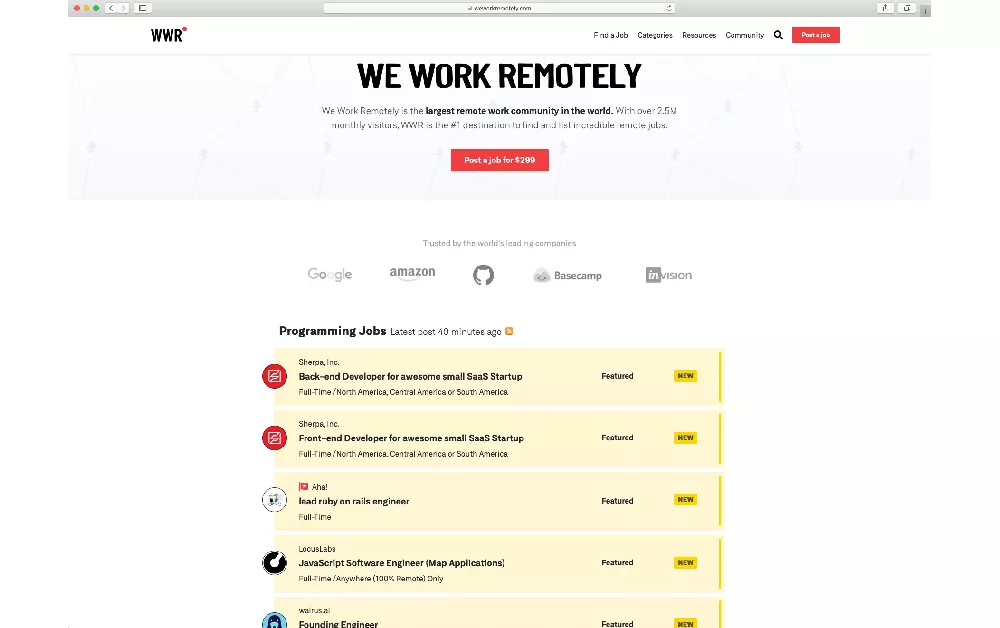 More than 500 new jobs are posted and more than 230000 new visitors every month. You can find both full-time jobs and part-time jobs using WeWorkRemotely.com.
Employers need to post the job vacancy, and while posting their job vacancy, they should also include their job location restriction.
As per the employer's selected plan, their job ad gets visibility. You can view the job once the employer lists their job vacancy. You can find jobs in more than ten categories.
Pros
It has a simple UI.
New jobs are posted each month.
Cons
It's a bit expensive to post a job.
Remote. Co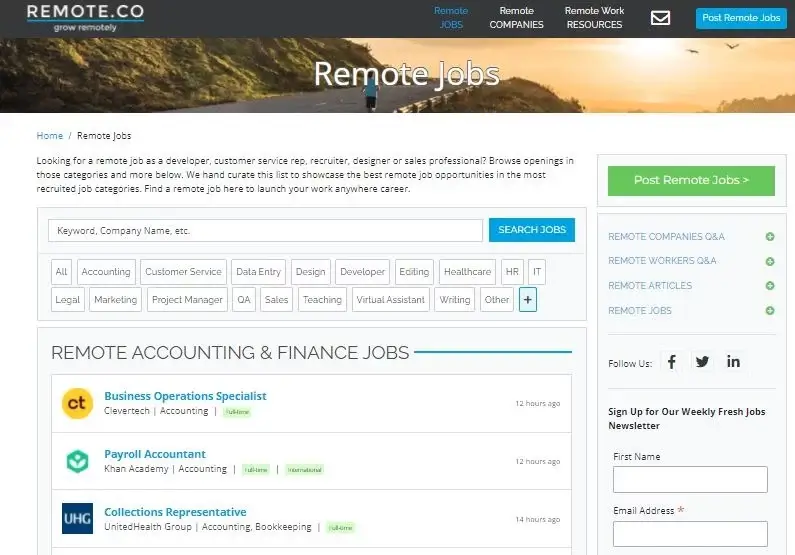 Remote.Co is a website for freelancers, where freelancers can find remote job opportunities. The website is based on the concept that work is done anywhere; you do not need to go to a specific place.
Using Remote.Co you can find jobs in various categories like Accounting, Marketing, Developer, IT, Legal, and many more.
The best part of Remote.Co is that it allows you to share your experience on the Remote.Co comment section. It ensures new employers that the job posted on the website is not a scam.
Once you complete your job through the website, employers pay you via PayPal and ApplePay.
Another best part about Remote.Co is it does not charge any fee from the job seeker. However, it charges some fees from the job provider.
Price plan of Remote.Co
Basic: It costs $29 per month and allows you to post three job posts.
Individual: It costs $59 per month and allows you to post ten job posts and allow five posts to list posts as featured.
Enterprise: It costs $149 per month and allows you to post unlimited job posts and allow 100 posts to list as featured.
Pros
It does not charge any price for job seekers.
Recent jobs are posted on the top.
Cons
The basic plan allows you to post a few jobs per month.
No option for social media sharing.
Remotive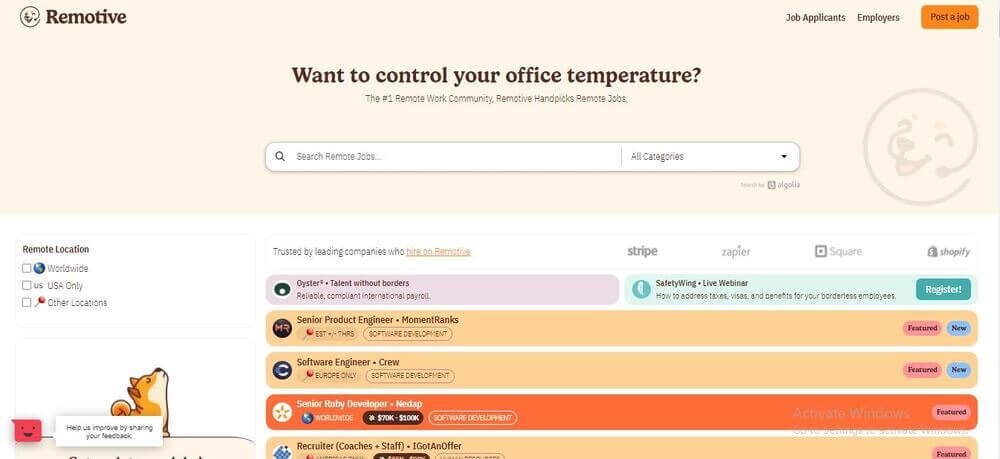 Remotive is a website for freelancers that allows job providers to post jobs, and job seekers can find job opportunities. Jobseekers can post jobs in different fields like Business, Design, Marketing, Medical, etc.
The name Remotive is the combination of two words that is Remote and Productive. It first started as a newsletter, and later on, it began to provide a platform to bring job seekers and job providers together.
More than 936 remote companies are engaged with Remotive and are posting job vacancies on the website.
Job providers can post job vacancies and include all the descriptions about the job, including company information, job description, salary for the post, and more.
The job provider can renew the job post after 30days. However, they have to pay the total amount while renewing it.
Job providers can post job-based on location, and you can search for jobs based on the location. You can search for a job from the search bar based on job title, keyword, or company name.
Pricing of Remotive for Job Provider
For posting job vacancies, it will cost you $299 per month.
If you want to post a job and highlight your Ad, it costs $348 per month.
Posting, highlighting, and displaying logos will cost $378 per month.
If you want to post, highlight, display the logo and pin the post on the top, you have to pay $448 per month.
Pros
Easy to use.
Allow jobs to add their location preference.
You can join the website for free.
Cons
The search bar should be improved.
SkipTheDrive

SkipTheDrive is an easy-to-use website for freelancers to find remote job opportunities. It provides the best way to pool your talent with the best opportunities. You can search for telecommute opportunities based on keywords and job categories.
You can find job opportunities in 31 different categories like IT, Accounting, Analyst, Quality Assurance, etc. You can also search for a job based on your full-time, part-time, location, and interests.
You can easily search for job opportunities without registration to the website, and it won't charge you a single dollar for searching for job opportunities.
One of the exciting features of this website is it allows you to mention your job interest. And once a new job is posted that matches your interest, the website will notify you. On this website, all the job posts are remote job opportunities.
The best feature about this website is job seekers should not share any percentage of their earnings with the website or pay a certain amount to the website for registration.
Pricing of SkipTheDrive for job provider
To post the job on the website, you need to pay $79 per month. You can pay to the website through PayPal.
Pros
It is free for job seekers.
Employers can ask for a refund when they are unsatisfied.
It sends a notification to job seekers based on their interests.
Cons
A frequent update will be better.
It does not allow multiple postings.
There is no feature ads option.
JustRemote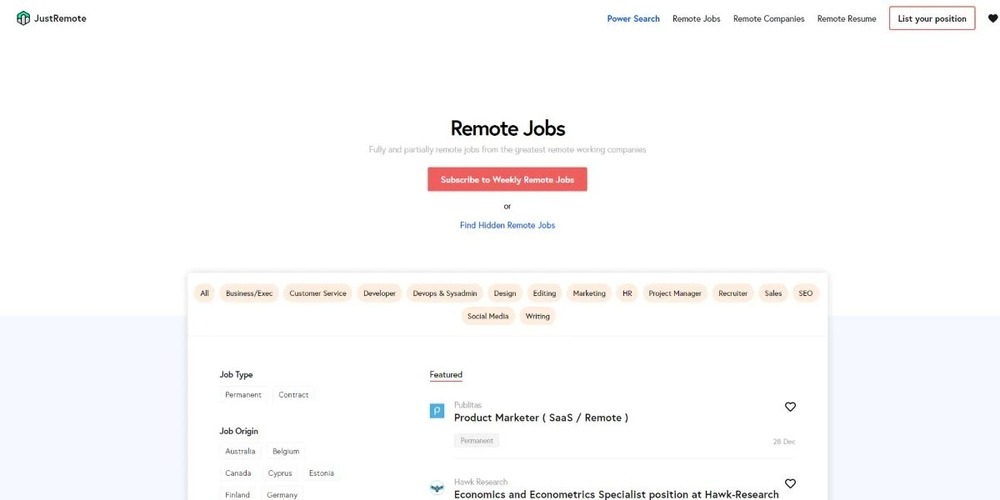 JustRemote is the site for offering remote job opportunities for freelancers and digital nomads. Using this site, freelancers can find remote jobs within a few clicks.
On this site, you can find more than 2000 hidden remote jobs. You can find both full-time and part-time jobs offered by many big companies.
You can even find job-based on location, as some remote jobs can have location restrictions.
The mission of this site is to help freelancers, and digital nomads find jobs that they can do from any place in the world.
JustRemote is easy to use on the website. All you have to do is click on the type of job you are looking for. Here you can also select whether you want a permanent job or a job based on the contract.
With its power search option, you can find hidden remote jobs or jobs that do not do advertisements.
You can use the power search feature by paying $5 for the first month and have unlimited access. You can even cancel the features when you want.
Pros
Allow you to search for permanent and temporary jobs.
It provides a powerful search feature.
Cons
More job categories should be added.
HubStaffTalent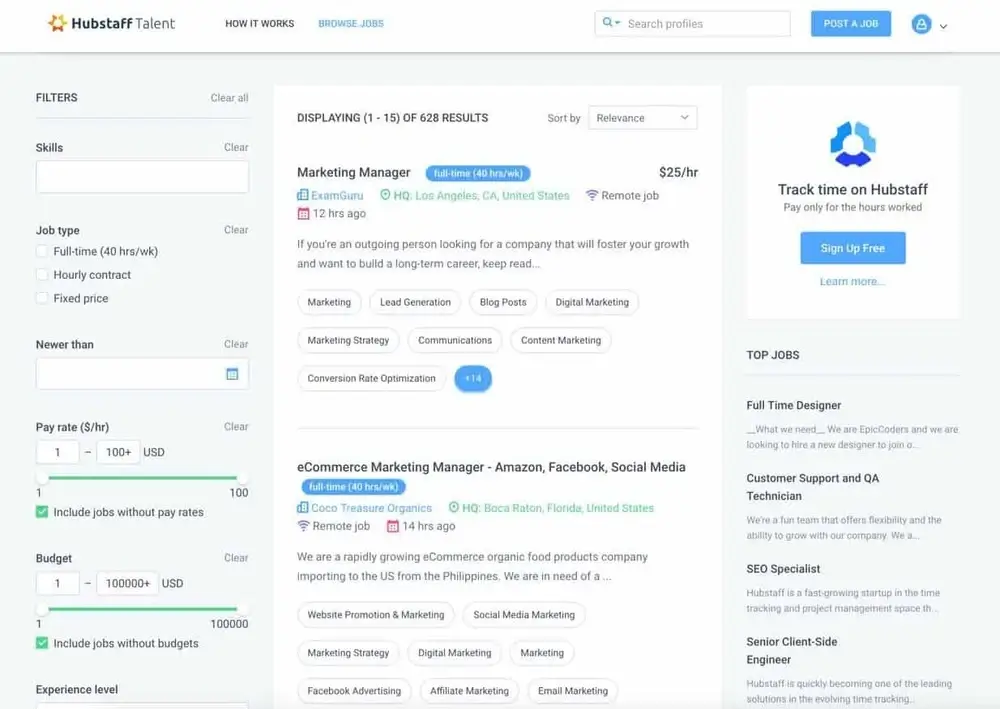 Hubstaff talent is a free website that provides a platform to connect freelancers and job providers. The websites help job providers to find freelancers who fit their requirements.
If you are a freelancer seeking a job, you can create a profile mentioning your skill and experience in Hubstaff Talent.
And job providers can look up your profile and hire you. Job providers, i.e., companies, will pay you directly; there is no mediator or markups.
You can search for job opportunities based on keywords or skills. Job skills are divided into seven categories and are divided based on skills.
As a job provider, you can hire freelancers by browsing freelancers based on their experience, skills, location. You need to contact the freelance you want to hire and hire them.
Pros
It is free for both the seeker and job provider.
Employees can pay both on an hourly or fixed price basis.
Cons
Most of the jobs are paid low.
Working Nomads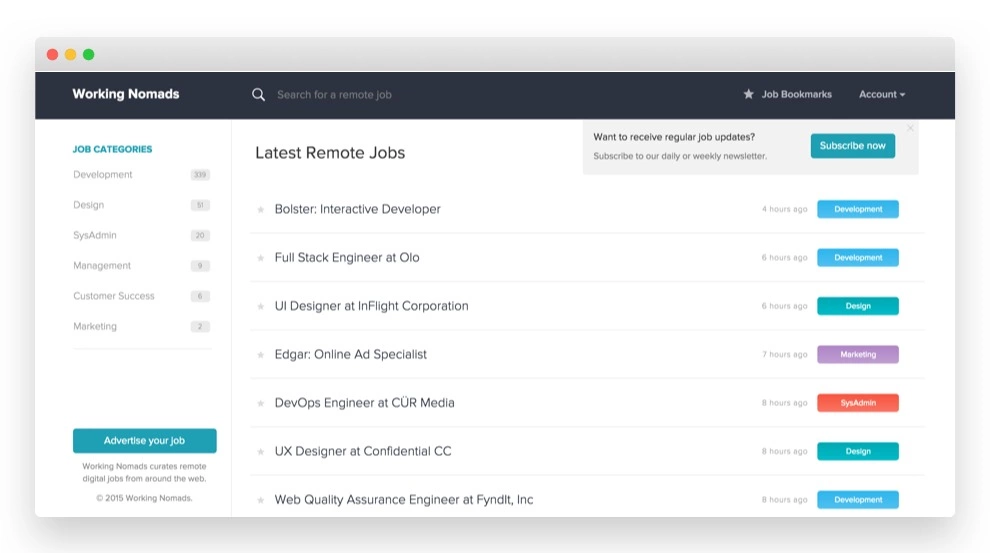 Working Nomads is a website for freelancers to find job opportunities from all around the world. It allows you to search for jobs based on 15 categories like Design, Development, Legal, Marketing, etc.
Most of the jobs are related to website development, sales, marketing, and more on this website.
To find a job, you need to fill up your name email address, select job categories, and select if you want job alerts daily or weekly.
You will receive a new job alert according to your interest daily or weekly on your email when you submit the form.
More than 120,000 visitors per month and more than 1500 job posts are sent to email subscribers daily and weekly.
If you are a job provider/company, the website will provide you following price plan options:
Price Plans
Single Job: It costs $149.
Three Jobs: It costs $129 per job.
Five Jobs: It costs $109 per job.
Pros
It provides multiple posting options.
Send a job alert via email.
It provides location restriction options.
Cons
It does not offer any ads.
Jobs cannot be posted for free.
Remote.Ok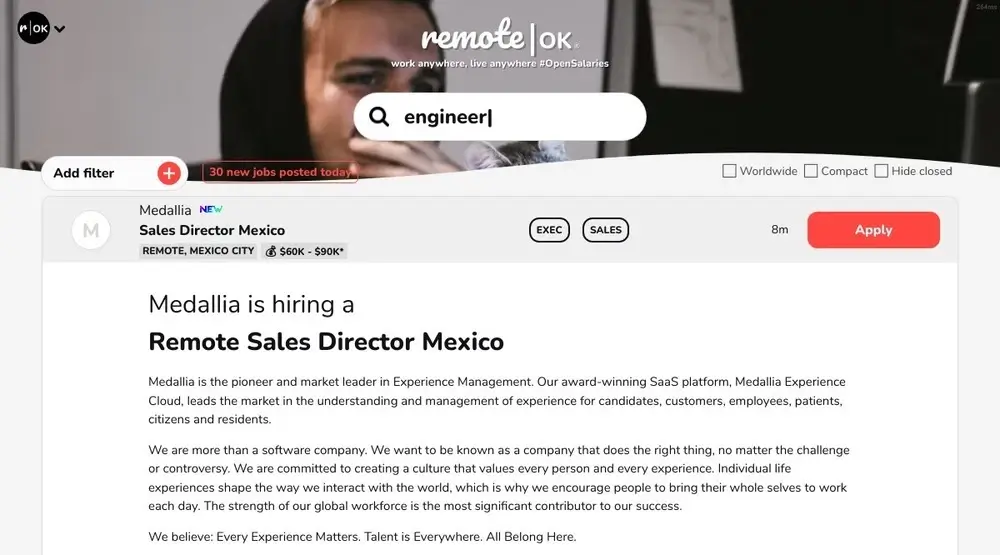 Remote.Ok helps freelancers to find remote jobs from any part of the work. You can find jobs based on categories like Software Development, Design, Non-Tech, Marketing, etc.
More than one million freelancers are using the website to find remote jobs. It ensures that the job posted on the website is legit and there are no scams.
If you are a job provider, you can post your company's logo in the job post, ensuring job seekers that the post is not a scam.
One of the app's exciting features is that it lists job vacancies of top companies on the top. Also, it allows you to customize and filter the search button based on the job experience, job type, and so on.
Pricing for posting jobs in Remote.Ok
For five posts: At $1680, you can post five job posts.
For ten posts: At $3136, you can post ten job posts.
For 25 posts: At $6720, you can post 25 job posts.
Pros
It has a simple interface.
It is easy to use.
Cons
Frequent updates are necessary.
Conclusion
The popularity of remote working has increased with advanced tools and technologies. As people are more aware of the benefits of remote working, the interest in remote working is also increasing.
Many people are willing to work as freelancers but cannot find a legit job online as many websites post scams about online jobs.
This article has mentioned some of the best websites you can use to find a remote job. This website ensures that the job they post is 100% real and there are zero scams.
If more websites offer a genuine job with zero scams, please mention them in the comment section below.